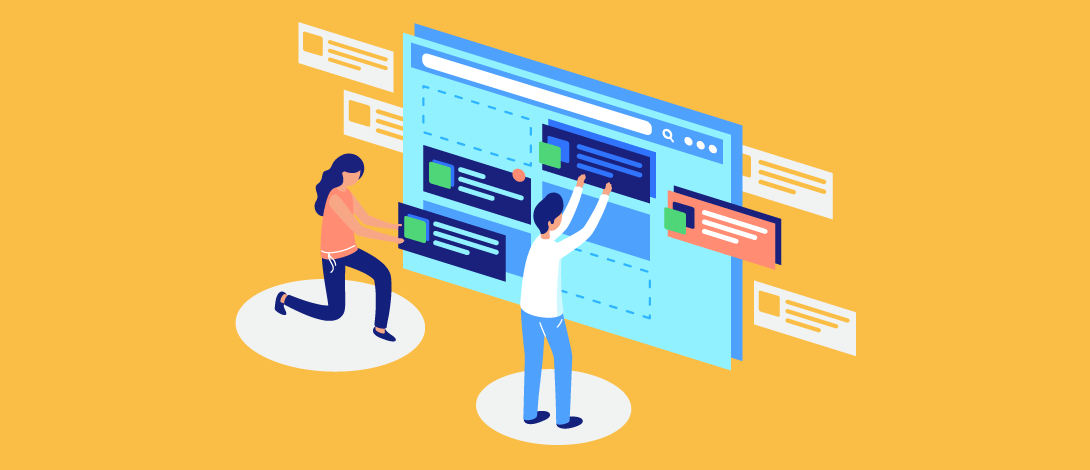 When your project is poorly executed, it might be a consequence of poor planning and weak project management. Poor execution leads to drastic results ranging from, but not limited to, financial losses, resource wastage, and time wastage.
Project management is not a new term or a new concept. It has been around for eons, and the internet is flooded with project and team management techniques (both new and old).
Each day a new tutorial or a blog is there with insights into effective project management that one can utilize to minimize the project blunders. We agree it becomes a wearisome task to find the best solution, out of the clutter, suited to your project needs.
We read all so many blogs out there on free project management tools and software but none of them added real value to users. Some blogs didn't weigh in pros and cons, while others didn't pay attention towards the nuances. Therefore, we decided to create our own list and tried out some free project management software available.
So, without further ado, here's our roundup on 15 best free project management tools of 2019 for agile teams and how they make project management a smooth experience for you: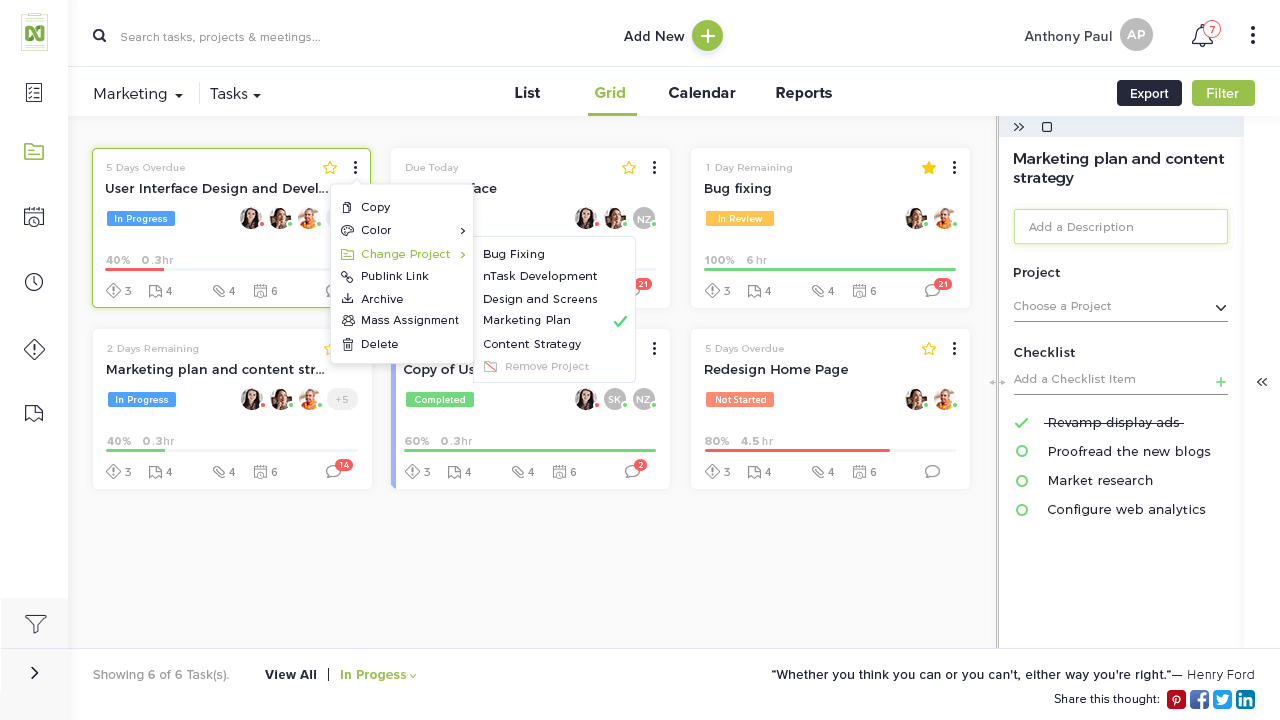 nTask is a new, yet most versatile project management tool available freely in the market. It's an all-in-one software that is packed with the most intelligent features providing a smart over-all coverage to all of your project needs.
With a carefully developed user interface, nTask gives a user-friendly experience on the application, making it easily usable by everyone.
Let's have a look at some of the core features that placed nTask at the top of our list:
Features:
nTask is a complete package that offers a wide variety of options for users to manage and control their projects.
Whether you're a freelancer, part of a small team, member of a big corporation, or simply a blogger with lots of tasks at hand, nTask is a tool that caters a diverse range of professionals.
Some of the key modules that nTask deal with are:
Projects; a board essentially meant for adding new projects and following up on previous projects.
Tasks; a sub-board of projects which makes adding each task in a project hassle-free.
Meetings; organize and manage your meetings efficiently with this board.
Timesheet; makes time tracking activities smooth.
Issues; create customizable issues with reference to the tasks and projects
Risks; high-risk activities can be added for timely management
These modules give the user freedom to choose from any one of the options, in accordance with their distinct needs. The complete range of options provide users with a highly organized look of the projects and tasks and portray a clear picture of all the activities.
There are numerous other interesting features available too that help the users to optimize their work with better efficiency and in an orderly manner, for example; nTask application comes with the multiple 'view' options.
The user can switch from the available options of 'list, grid, or calendar' view, according to the personal ease.
Pricing
The application comes with two main plans:
Free; the basic version of the application is available for free. If you work alone or with a small team of up to 10 members, you can conveniently enjoy the free version and let nTask streamline all of your work for you.
Pro; if your team has more members and you need more workspaces, nTask comes with an affordable pro plan of $2.99 per user/per month. Keeping in view the amazing features, like unlimited team members and unlimited storage space, this price doesn't put a dent in your pocket.
Sign up for the best project management software today, it's free!

Gantt charts, meeting planner, timesheets and more. Sign up today and organize work like never before!
The second tool to make it to our list of best free project management tools is Trello.
Trello is a task management tool that provides adjustable Kanban boards to the users. The boards are open-ended and can be edited in any way the user wants. The choice of making these boards private or public is also available for the users.
Trello comes with an option of drag-and-drop files in the respective panes of 'to do', 'in progress', or 'done' tasks. It greatly helps in easy tracking of all the tasks and activities that are in progress or have been done.
At the moment, Trello is one of the most widely used project management software in the market with more than 1.1 million daily active users.
Pricing
Currently, the software comes with three plans.
Free; coming with the option of unlimited boards and attachments, this plan is most suitable for small startups and for the basic planning.
Business class; this plan is for teams and comes with upgraded or enhanced features. The price of the business class plan is $9.00 per user/month. Some of the key features of this plan are the private/public boards option, integration with other applications, and greater storage space.
Enterprise; designed for big corporations consisting of multiple teams, this plan is elaborate in terms of specifications and the prices are charged according to the no. of users.
Asana is also one of the most commonly used free agile project management tools in the market. Working on the similar principle of Kanban, Asana comes with the options of 'in progress' and 'done' tasks for easy navigation and tracking of workflows.
The timelines can be conveniently created for smooth time management and keeping track of existing activities. One of the key features is the integration of Asana with a diverse range of other applications like Gmail and google drive etc.
Pricing
There are 4 pricing models of Asana:
Free; basic version is free and is for small teams that are gearing up.
Small teams; the second one is designed for small teams with a price of $6.25 per user/month. This package is essentially meant for startups and freelancers.
Premium; with a price of $9.99 per user/month when billed annually, this elaborate plan includes wide array of features to choose from. The premium plans are usually available for entire businesses.
Enterprise; a customizable plan that can be modified according to the user's preferences.
The prices differ when billed annually or monthly.
Wrike is one of the most successful project management tools online. The software fundamentally works on folders and sub-folders' principle, which makes it a little complicated to understand.
The dashboard consists of multiple options like, my overdue tasks, due this week, and overdue by you etc. On the right-hand side, a navigation panel of Activity Stream is designed to get updates from the other team members regarding the tasks.
The folders and subfolders principle works in a way that the main folders act as projects, and sub-folders serve as tasks.
Some features of this free tool are
Time tracking of how long each task takes to complete, and
A visual table or graph showing the time of each task, and assignees of each task
Pricing
Coming towards the pricing of this software, Wrike comes with a range of options to help users select the plan according to their need:
Free; a simple plan that can accommodate 5 users at a time
Professional; 5-15 users who can plan and collaborate on full project. $9.80 per user/month
Business; 5-200 users. This plan can work for businesses at $24.80 per user/month
Marketers; 5-unlimited. With unlimited users option, this plan offers customizable services in $34.60 per user/month
Enterprise; the last plan is also for unlimited users, but comes with enhanced security and control options for the users.
If you're more of a charts type of person, or your team relies heavily on visual tracking of workload, Teamgantt is the right free project management tool for you!
Teamgantt primarily works on creating Gantt charts for all the underlying tasks. The charts are highly organized and come with features such as separate colored bars for tasks and groups, and progress of the task in terms of percentage.
There are multiple advanced options available for users as well, such as; adding multiple resources to the task at any point, creating dependencies among multiple tasks, and rearranging the tasks to denote the rescheduling.
Pricing
The right plan for you can be easily chosen from the options of monthly and yearly plans. Teamgantt comes with 3 standard monthly plans:
Free; just like all other tools, the basic account is free. It's designed for one project and a team of 3 people.
Standard team; for unlimited projects and up to 5 members, the standard team plan comes with a price of $49.75 total per month. An interesting thing to note here is that this plan can be availed for more people. The charges vary according to the number of people added.
Advanced team; for greater team collaboration, unlimited projects, and hourly time tracking, Teamgantt offers this plan. The price for up to 5 team members is $74.75 total per month. This plan, too, can be customized to more team members.
See also:
Meistertask is a cloud-based task management software that also works on the Kanban concept of flowing boards. The boards are adjustable and can be edited in any way the user intends. To make tracking easy, the tasks in respective projects consist of multiple options like a checklist and focus for users.
'Project Properties' dialog box helps the users with a broad spectrum of options like who to add in a particular task and who can gain access to a specific task. Further options of add-ons and time-tracking can also be accessed from this dialog box.
One interesting feature 'Project Properties' dialog box comes with is the 'Custom Field' tab which enables all business users to add pre-defined elements into all of the tasks by just setting them up for once only.
Pricing
Meistertask comes with 4 pricing plans for its users:
Basic; for simple and easy task management, the basic account is free for all.
Pro; for project groups and unlimited integrations, Pro plan can be bought for $8.25 per user/month
Business; businesses can avail this account for $20.75 per user/month.
Enterprise; according to the individual company's needs, the enterprise plan can be customized.
Paymo grabs the 7th spot on our list of best free project management tools. This simple to use tool provides Kanban boards for easy workflow management. If you do not want to use the Kanban boards for task tracking, there are multiple view options available for you as well.
For instance; if you want a Gantt chart view to evaluate the tasks' performance, you can easily access it from the views option.
The Paymo application can be integrated with various other desktop or mobile applications as well. If you want to record the time you spend on various applications, just turn on the Paymo application and let it run in the background.
Each day a new tutorial or a blog is there with insights into effective project management that one can utilize at the end of the day, it will show you the recorded time being spent on each application for a particular task. This feature aids the users in tracking the time it takes for each task to be accomplished.
Pricing
Free; 1 user limit. Perfect for freelancers. This plan offers complete project management and time-tracking features
Small office; this plan is meant for teams in the growth phase. In $9.56 per user/month, the plan gives the options of unlimited users, advanced reporting, and account integrations, along with other noticeable features as well.
Business; especially designed for large teams, the Business plan can be bought for $15.16 per user/month. This plan offers a complete project management solution to the large businesses.
The Small Office and Business plans come with the offer of 15 days free trial for the users.
Bitrix24 combines project management and collaboration in one tool, and it's free, making it one of the most trusted project management applications today. It comprises a social intranet, in-app video conferencing, screen-sharing, HR and customer management tool.
You can organize tasks within your projects and track projects using Gantt charts. Moreover, it enables you to track employee workload and deadlines.
Features:
Activity Stream intranet center
Bulk email
Calendar sharing
Company structure
CRM with reports
Daily planner
Email notifications
Extranet
File sharing and versioning
Instant messages
Photo albums
Project groups
Sales funnel
Simple access assignment
Tasks with Task reporting
Time management
User profiles
Workflow
Basecamp combines project and staff management into one, simple-to-use system. Basecamp emphasizes project completion within the forecast time and budget.
Tasks can be organized in due-range to-do lists, with the freedom to reorder and prioritize assignments at any time. It also caters to team collaboration and document management.
Features:
Project templates
Recurring tasks
To-do lists
Gantt Charts
Task History
File storage & sharing
Scheduling & prioritization
Issue history
Resource allocation
Instant messaging
RSS Feed
Reports
Forecasting
Integrations:
Trello, Asana, JIRA, Wrike, Planner, GitHub, GitLab, Bitbucket, Google Calendar, Google Sheets, Slack, Wufoo, Pipedrive and more.
#10 on our list is Freedcamp. You can plan your project's schedule with calendar and milestone tools. You can organize your tasks as a standard to-do list or a kanban board.
You can also use the calendar to help with short and long-term planning. Manage files, hold discussions inside your projects, and upgrade to add extra tools for invoicing, CRM, and more.
Features:
10MB file upload size
Shared file management
Tasks
Discussion boards
Calendar with Google integration
Time Tracking
Team Milestones
Messaging board
Passwords Manager
Personal Task Manager
Subtasks
Unlimited users, projects, and storage
Support response within 3 business days
Integrations:
Email (Outlook, Gmail), Salesforce, Microsoft Office, Adobe, GitHub, JIRA, Microsoft Teams, Google Calendar Integration, Slack, Developer Portal, Zapier
Producteev is one of the top free Agile project management tools available. This tool provides layers to structure organization in the form of Networks. Through Networks, you can organize projects by various criteria such as department, team, and product.
You can also add projects, tasks, and teams. On creating tasks, you can easily add team members, due dates, and labels. Plus, you can search for tasks using the filter option.
Features:
Unlimited users
Unlimited projects
Unlimited tasks & subtasks
Real-time updates & push notifications
Assign, mention & add followers to tasks
Organize with labels & priorities
Set task due dates & reminders
Filter by people, project, status & more
Track activity of projects & tasks
File attachments
Email in tasks from your inbox
Export tasks with one click
Support community
Integrations:
Sunrise, Toggl, Zapier
Next up – Zoho Projects.
Zoho projects leaves a mark by providing a unique set of features which enable an Agile team to achieve their project goals effectively.  The tool makes team collaboration hassle free by providing an interactive feed and forums to instantly gain valuable project insights and give feedback.
Along with that, the tool also provides advanced reporting functionality through multiple means, like Gantt charts and resource utilization charts, to name a few.
Key Features
Tasks and subtasks management
Kanban boards
Task dependencies
Activity feed
Project progress reports
Time tracking
Issue tracking
Gantt charts
Knowledge base for projects
File attachments
Client invoicing
Milestones management
Documents management
Pricing
Zoho Projects comes with Free, Express, Premium, and Enterprise plans. The paid plans start from $20 per month- billed annually.
#13 tool in this review of free project management tools is Airtable.
The tool combines the functionality of task management and spreadsheet to provide the most user-friendly experience while managing projects.
It comes with a pleasing design and an easy-to-use interface to help users have fun while getting things done.
An interesting feature of the tool is Blocks. Airtable allows you to create a perfect workflow by quickly adding activities to blocks and visualizing the workstream for efficient execution.
Key Features
Tasks management
Time tracking
Pre-built project templates
Video chat functionality
Issues and bug tracker
Powerful project sorting filters
Client project tracker
File attachments
Third-party application integrations
Pricing
Airtable provides Free, Plus, Pro, and Enterprise plans. The paid plans start from $10 per user/month billed annually.
Considered #1 software development tool chosen by Agile teams, Jira gives us all the right reasons to include it in our blog. It allows software teams to use workflow mapping, along with multiple other Agile development functionalities, for releasing the software effectively.
Jira makes sure you get things done right from the beginning by providing an array of features supporting multiple Agile frameworks.
For tracking your project performance in real time, you can get access to a vast library of Agile reports ranging from basic burndown and burnup charts, to more advanced sprint reports and velocity charts etc.
Key Features
Some of the core features Jira comes with are:
Scrum boards
Kanban boards
Customizable project dashboard
Roadmaps
Bug and issues tracker
Customizable workflows
Custom search filters
Numerous Agile reports
Multiple third-party application integrations
Pricing
Jira offers a free trial of 7 days and paid plans. The paid plans start from $10 per month (changes with the number of users).
The last tool in our list of free project management tools is Smartsheet.
Smartsheet has been able to gather quite an audience over the years. Essentially relying on a spreadsheet format for managing projects and tasks, the platform serves as a single systematic and flexible solution for all the task management needs of a team.
A highly customizable project management solution, Smartsheet gives users the leverage to automate their workflows the way they want.
Combining the ease of using a spreadsheet, along with more advanced project management features, it provides an overall solution to project managers.
Key Features
Dashboard
Kanban boards
Calendar view
Gantt view
File attachments
Reminders
Activity log
Summary reports
Team portal
Customized themes
Multiple sorting filters
Pricing
Smartsheet comes with a free trial of 30 days, and upgraded plans starting from $14.
The Top 7 Free Agile Project Management Tools Compared
| Features | nTask | Trello | Asana | Wrike | TeamGantt | Meistertask | Paymo |
| --- | --- | --- | --- | --- | --- | --- | --- |
| Kanban Boards | ❌ | ✅ | ✅ | ✅ | ❌ | ✅ | ✅ |
| Gantt Charts | ✅ | ❌ | ❌ | ✅ | ✅ | ❌ | ✅ |
| Issues & Risks | ✅ | ❌ | ❌ | ❌ | ❌ | ❌ | ❌ |
| Integrations | ❌ | ✅ | ✅ | ✅ | ✅ | ✅ | ✅ |
| Ease of Use | ✅ | ✅ | ✅ | ❌ | ❌ | ✅ | ❌ |
| Affordability | ✅ | ❌ | ✅ | ✅ | ❌ | ✅ | ❌ |
Conclusion
In a nutshell, there are pros and cons associated with each type of these free agile project management tools available, with no single one being perfect.
You just need to find out the one that caters to your individual and team needs and make the best out of the options available.