Scoro is one of the finest project management software out there but what if you want a different set of features or affordable pricing? Fortunately, there are tons of Scoro alternatives in the market that offer better features at a reasonable price.
Finding an app like Scoro, that efficiently manages your projects, is no longer a tough feat. To make things easier for you, we have compiled a list of the top 10 Scoro alternatives. But we'll get to that later…
Why Should You Shift To A Project Management Software?
Staying at the top of your game while manually managing your team is a herculean task. The world has shifted to digitalization and you should too!
Fortunately, project management software has got you all covered. PMs all over the world have gradually shifted to digital platforms to enhance the productivity of their teams.
There are hundreds of software providing a plethora of unique features. Finding the one that suits you best is like finding a needle in a haystack. A lot of thought goes into choosing the right option, PMs take several things under consideration to make the best decision.
Why is it important to find the right project management software? Project management software does much more than just manage a project. Their unrivaled features help you stay focused and complete your tasks in time. With suitable software at users' disposal, PMs can create tasks, assign tasks to team members, customize statuses, update information and do much more.
Since your management software is like your personal assistant and you will perform a wide range of functions through it, it is best if you hit the bullseye with the first arrow.
Why Should You Look For Scoro Alternatives?
Scoro is one of the most sought-after options in project management software. It offers an all-in-one solution to many management-related problems.
Its numerous features allow PMs to stay ahead of their game, alleviating the need to juggle different apps. It allows users to perform all the tasks in one place.
No doubt, Scoro is a good project management software but other alternatives offer better features at a relatively inexpensive price.
Scoro's 'essential' plan starts at $26/user/month which might be a bit expensive for project management tools. Its subsequent plan, 'Work hub' and 'Sales hub' cost $37/user/month with added features.
So, back to the real question. Which project management app is an app like Scoro that provides all the project management features (and more) but at a lower price? The forthcoming paragraphs list several alternatives to Scoro that provide better features at lesser a price. We won't make you wait any further, let's get to the list right away…
The Leading Alternatives To Scoro
Table of Contents
Let's look into the best Scoro alternatives available which you can start using today.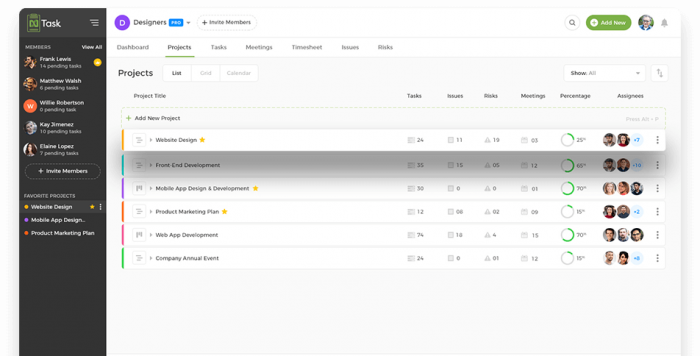 nTask is a relatively new yet one of the most efficient project management software out there. It has quickly ascended the stairs to grab the topmost spot for the best software by offering the most covetable features.
nTask is an all under one roof software that offers the latest features at an affordable price.
It has made project management a walk in the park. Users can collaborate and communicate with their team members and keep each other updated on the progress of a project. PMs can not only subdivide projects into tasks and subtasks and assign an individual for each task.
It also allows you to keep an eye on the progress of a project, its latest status, and how far it is to completion. Besides keeping you organized and easing the management process, it also aids in resource allocation, finance, and billing, etc.
A smartly developed user interface makes sure that users have no trouble getting used to the app and have a smooth experience. You can also visualize your progress via Gantt charts and Kanban boards.
If you are looking for an all-in-one solution, then nTask should be your priority. Let's take a look at nTask's key features that make it stand out among the rest.
Planning projects: nTask allows you to plan your projects from the start till the end. You can not only plan the outlook of the project but can also add details such as budgeting, currency, resource allocation, and much more.
Team collaboration and communication: With nTask you can have seamless communication with your team. You can share updates, chat with the team members, share documents, and have real-time communication with all your team members.
Tracking: nTask lets you track the progress of your project making it easy for you to enhance your productivity. With this feature, you can create multiple subtasks, set repeat tasks, set planned dates, and also add assignees and attachments.
Visualization: Efficient visualization via Gantt charts and Kanban boards make work child's play.
Pricing:
nTask offers 4 pricing plans. Freelancers and individuals can opt for the basic plan available for free. The premium plan is for SMEs and Startups, priced at $3 per user per month. The business plan for larger corporates is priced at $8 per user per month. Lastly, users can get a quote for the enterprise plan by directly contacting the nTask team.
The best Scoro alternative for Free.

Manage projects, tasks, resources, and timesheets all in one place. Sign up today!

Monday is another app like Scoro that offers unique project management features. With Monday's project management software PMs can seamlessly collaborate with their teams and keep everyone on the same page.
It allows you to keep track of the latest updates in the progress of the project. It gives you the freedom to customize your workflows. You can choose from a variety of workflows such as agile, waterfall, sprints, etc.
Users can visualize their progress at a glance and stay informed about the status of each task. Integration with third-party apps allows you to bring into line all your existing tools and keep everything organized in one place.
Monday's user-friendly interface makes it easy for users to quickly get acquainted with its layout. Its collaborative features make it ideal for small to mid-sized corporations.
Pricing:
Monday's plan is available for free forever. The basic plan is priced at $8 per user per month and the standard plan costs $10 per user per month. For complex teams, Monday offers the Pro plan at $16 per user per month. Lastly, you can get the quote for the enterprise plan by directly contacting their team.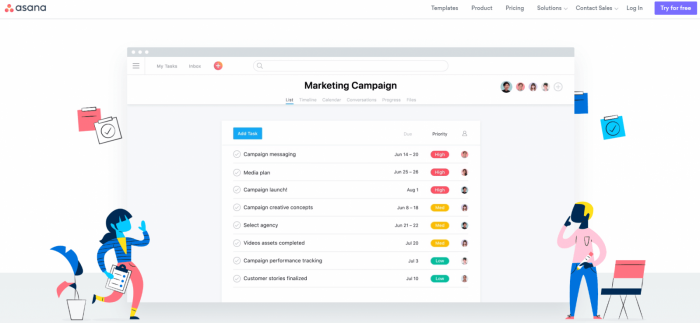 Asana is one of the most popular project management software in the market. It is an app like Scoro that offers efficient project management tools with all-in-one team collaboration features.
Asana is a one-stop-shop for all project management-related issues. You can not only track the progress of your project but can also receive regular updates and reminders to keep you updated about the status of your project.
It also relieves your nerves by providing efficient communication features. It further allows you to share files, converse with resources and clients in one place, share feedback, etc.
It also makes you stay on schedule by letting you map your goals and update priority statuses on each task. This way you can not only keep yourself focused but can also improve your productivity.
Pricing:
Asana has four pricing plans: Basic, Premium, Business, and Enterprise. Basic is available at $0 for up to 15 team members. Premium is priced at $10.99 per user per month while business costs $24.99 per user per month. You can find out the pricing for the latter two by directly contacting Asana.
Related:
Asana Project Management: Will It Help Boost Your Productivity?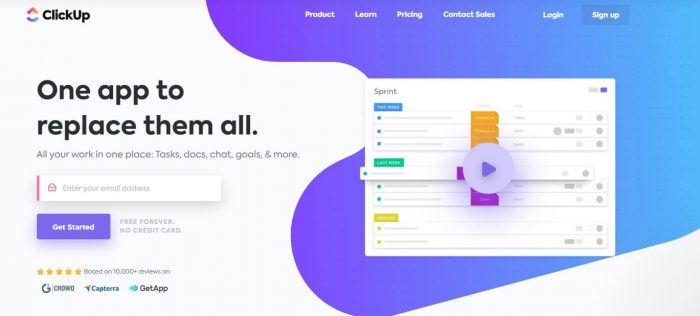 ClickUp is a one-stop shop for project management software, it allows you to efficiently organize your projects, collaborate and communicate with your team, and have a bird's eye view of the progress of your project.
You can manage your resources via a list, boards, Gantt charts, calendar or customize your workflow that suits your requirements.
Additionally, to make sure that your team is aligned, it lets you add comments, share data and files, chat in real-time, etc. You can also get regular notifications so that you stay updated about the progress of your project.
Moreover, you can track time via your desktop, mobile, or chrome, anywhere any time, without any hassle.
Pricing:
ClickUp is a better option in the list of Scoro alternatives in terms of its pricing. It offers two very enticing plans: Free and Unlimited. The free plan is available for free for an unlimited number of members and tasks at $0. The unlimited plan is priced at $5 per user per month and provides more efficient features such as guests and permissions, unlimited dashboards, etc.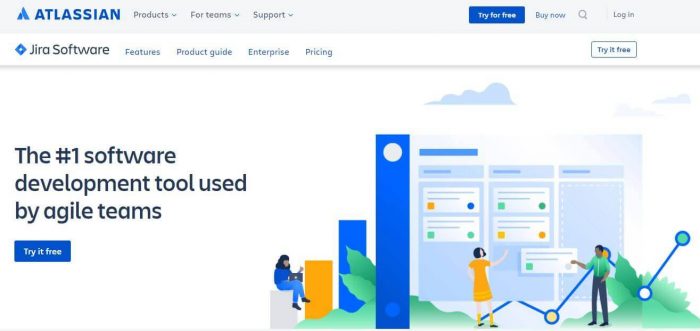 Jira is, by far, the go-to software for Agile teams since it boosts efficiency by visualizing progress. It allows PMs to plan their project from scratch and customize their workflow the way they want.
PMs can create tasks, divide tasks among team members, prioritize tasks, discuss the process with their team and keep everyone updated via visualization through Gantt charts and Kanban boards.
Regular reports inform teammates of their performance and how far along are they. With all the information at hand, PMs can easily keep track of the delivery process and make sure that everything is perfect till the end.
Jira also allows you to align your goals with the goals of the organization by helping you set SMART goals and work towards achieving them.
Jira's automation feature allows PMs to work smarter by keeping them focused and saving their time.
One of Jira's best features is its advanced privacy and security settings, making sure that your data is safe and secure.
Pricing:
Jira offers four plans for pricing: free, standard, premium, and enterprise. The basic plan is available for free, the standard plan is priced at $7/user/month and the premium plan costs $14/user/month. For pricing details for the enterprise plan, you can directly contact the Jira team.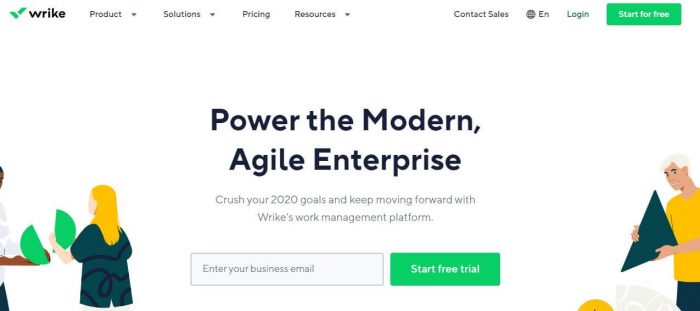 Wrike is another Scoro alternative that has made it into the top 10 of our list due to its ability to enhance your efficiency by keeping you organized.
With Wrike, you can get a bird's eye view of your project and keep an eye on the minutest details. Wrike allows PMs to plan the project from the initial stages and take it to the end of the delivery stage. With each step, PMs get an insight into the working process and can predict an action plan accordingly.
It allows you to customize your workflows to fit your requirements. Gantt charts help you visualize your project schedule and keep an eye on project dependencies. With creative visibility, team members can adjust their work schedules and stay on track.
to make sure that high-priority tasks are finished in time, Wrike allows you to set priority statuses and keeps you focused.
One of Wrike's most covetable features is its proofing and approval tool that lets PMs eliminate miscommunication, exchange feedback, and add comments so that there are no untimely delays or unneeded revisions.
You can also generate reports to make sure that you and your team are always informed about the status of your project.
Pricing:
Wrike offers four pricing plans for its clients: basic, premium, business, and enterprise plans. The basic package is available free of cost. Premium and business plan are priced at $9.80 and $24.80 per user per month, respectively. You can get a pricing quote for the enterprise plan by directly contacting the vendor.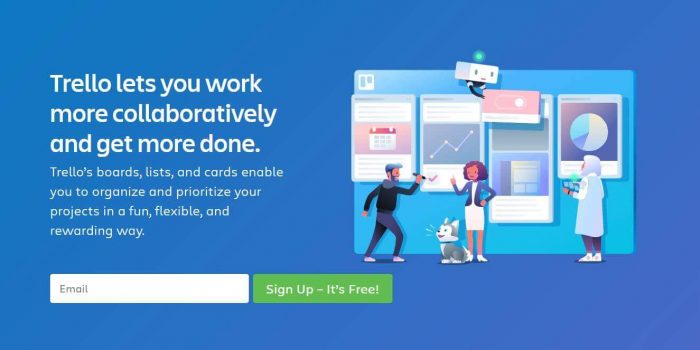 The next software on our top 10 list is Trello. Trello offers unique and enticing workflows that PMs can customize according to their requirements.
Trello's Kanban board allows PMs to stay ahead of their game by helping them keep an eye on the whole process.
Each card in Trello encompasses various details about a single task. Opening a card allows you to manage, track and share data and files with your teammates. Furthermore, you can also see underlying details such as due dates, attachments, conversations, etc.
Trello's build-in automation tool names Butler saves you from a lot of trouble by reducing the number of clicks and repetitive tasks and taking these things into its hand.
You can also integrate third-party apps to keep everything organized and avoid jumping from one app to another.
Pricing:
Trello offers three pricing plans: Free, Business class, and enterprise priced at $0, $10 respectively. The pricing for the enterprise plan can be obtained by directly contacting the vendor.
Check this out:
Trello vs Monday.com: Which One to Choose in 2023

Workfront is s leading name in project management tools. Workfront's optimal features help PMs enhance their working ability and improve their efficiency.
It helps save time by coordinating and unifying different features. PMs no longer have to rely on multiple apps to perform day-to-day tasks. With Workfront they can perform all these tasks in one place without any hassle.
A single dashboard allows you to exchange feedback, plan scenarios, streamline workflow and automate the review and approval process.
Workfront has also made it easy to analyze your performance. It helps detect bottlenecks, provides visual reports, etc. so that PMs are updated about the whole process and are ever ready to tackle any situation that threatens their progress.
Pricing:
Workfront offers four different plans: enterprise, business, pro, and team. The enterprise plan is for entire enterprises, business plan covers up to 10 departments, the pro plan covers 1 department while the last plan is for a single team.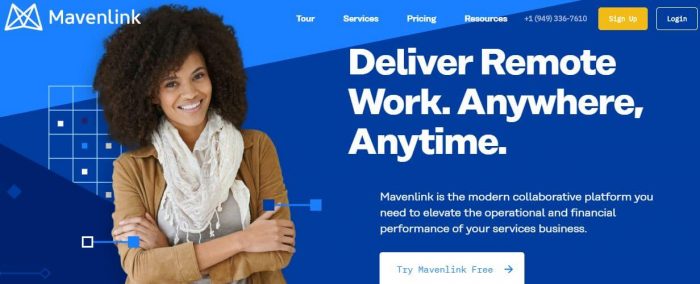 Mavenlink is one of the top 10 Scoro alternatives. It offers advanced project management services by combining project management with professional services automation.
One of Mavenlink's best features is that it allows you to trace the progress of not one but all of your projects. You can manage as many projects as you want and can simultaneously keep an eye on each one of them.
Also, Mavenlink's Gantt charts let you visualize the progress of your deliverables. The real-time visibility makes it easy for you to stay focused and work efficiently.
You can also convert your most successful project templates into reusable templates so that you do not have to start anew with every next project. The powerful automation process saves your efforts and time by allowing you to implement world-class processes.
Also, Mavenlink lets you see the health of a project. Project pulse, another tool for efficient project management, allows you to make both long and short-term improvements in your project strategies, making your project more profitable.
Pricing:
You can get a quote about the pricing plans by directly contacting Mavenlink's team.

Basecamp is one of the oldest project management software that provides some of the best management features. It is another app like Scoro and is one of the top 10 on our list.
Basecamp's dashboard can be shared with the clients so that you can integrate customer service into your project. You can easily report the progress and get approval for future processes.
Basecamp keeps everything smooth and easy with all the details related to one project in one place. You can have a look at the tasks, resources, discussions, etc. related to the project at a glance.
It offers a wide variety of features such as message boards, to-do lists, schedules, docs and files, group chat, and automatic check-ins. Each one of these features is designed to add to your user experience and make work a piece of cake for you.
Pricing:
Basecamp starts at $99 per month with no limitations on the number of users or projects.
At the End of the Day
Long story short, there are Scoro alternatives that provide various features. You can choose the one that suits your work requirements and your budget.
Take your time to find the best Scoro alternative, explore all the available options, and take your pick with careful consideration. You will surely be able to find the perfect fit.
Good Luck!