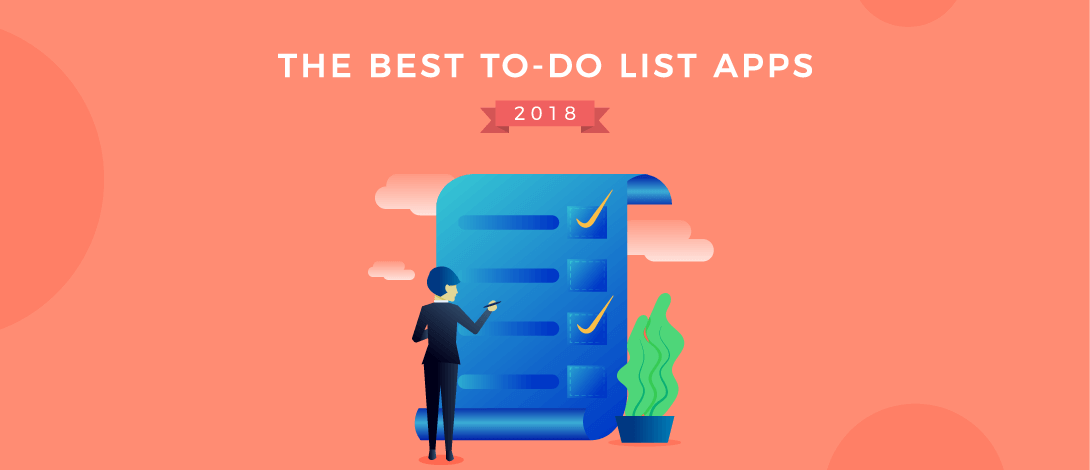 Every new day, a list of tasks awaits us – some more interesting than the others. Nevertheless, the importance of completing these tasks is undisputed especially if they build up on a daily level to help us meet our goals. Plus, the sense of achievement one feels with completing a task is unparalleled to any other feeling.
There are so many apps that claim to make your life easier by giving you the perfect to-do list app. Although most of these apps stand up to mark and can make task completion incredibly easy and organized, the criteria for selection remains a puzzle. Simple and easily workable apps may be dry and not have the complete feature set you require.
On the other hand, flashy and glamorous apps may be a tad bit complicated to use. Who can question the matter of money? Free apps may be a treat but come with limited features. Paid apps may serve the purpose, but is the investment worth it?
Table of Contents
The Top 10 To-do List Apps of 2018:
Let's face it. Looking for the "one" in the to-do list app arena can be overwhelming so we have done the homework for you. Here is a list of our top 10 best to do list apps you can use today absolutely free or with minimum pricing plans.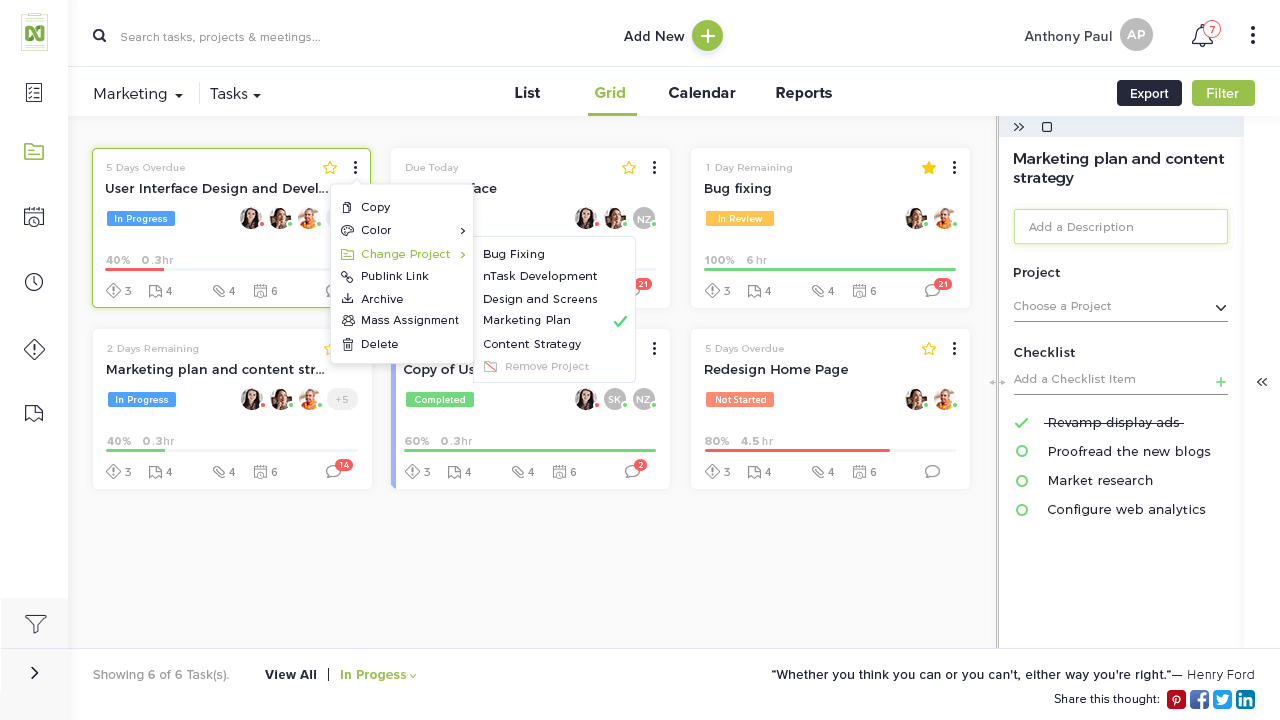 nTask comes first on our list of best to do list apps. nTask is one of the best task management tools created for individual and teams. With its simplified, user-friendly GUI letting you navigate a powerful set of features, nTask stands out of the crowd when it comes to helping with task completion.
You can create tasks and subtasks and schedule them as a single time or recurring tasks. Through checklists, you can list down the things to be done. Moreover, you can create projects and associate multiple tasks under it. You can organize, prioritize tasks and monitor task status.
Options such as progress reports, timeline and Gantt Charts let you keep projects on track. nTask helps you save time with its powerful search and filter options. You can search for tasks, projects, meetings and lots more, and pre-saved filters help you save extra time and effort.
This app also helps you stay in sync with updates and keeps you and your team on track through reminders and alerts.
Key Features:
Out of its vast feature set nTask has to offer, here is a glimpse of some of its core features:
Create, assign, organize, prioritize and share tasks
Schedule recurring
Create and assign projects
Comment on and assign tasks to projects or structure them independently
Convert comments to tasks using Slack
Select from multiple statuses for a task
Alerts, notifications and reminders to keep teams on track.
Two-Factor Authentication for extensive security
A simple user interface with access to a wide range of modules.
Team specific workspaces that can be managed and monitored simultaneously.
Extensive project management resources including project reports, Gantt charts and project timelines to manage and monitor project progress.
A dedicated time tracking module with the option of creating and managing team specific sections for employee task efforts and payroll.
A detailed meeting management module to help teams stay in sync. You can arrange and schedule meetings, be it one time or recurring meetings. Plus, it lets you send invites to attendees, add meeting details and specify follow up procedures.
Issue management module to facilitate identification and listing down of issues related to multiple tasks. You can list down the issue along with the Issue owner and relevant details to track issue maintenance.
Risk management module helps you identify and keep track of potential risks. You can list down the risk and assign a risk owner in order to track risk management.
Powerful search and filter tools that helps you search for tasks, projects, meetings, issues and risks. You can even save more frequently used filters.
Third party access
iOS and Android mobile apps
Pricing Plans:
Free and Pro ($2.99 per month per user with an annual billing) plans.
nTask is your perfect online to-do app?

Use it for personal or team productivity. nTask is free and includes unlimited tasks and checklists.
The second tool you can use to boost your productivity levels is Wunderlist.  It comes with clean interface that is user-friendly. You can add and check off tasks, sub-tasks, add a due date or even reminders. You can also organize lists into folders and insert more items. Plus, you can filter tasks and keep track of your schedule.
What's more? With this app, you can create to do lists and even share them with family and friends. It's is great if you have to submit homework in groups and getting the supplies for an event coming up. Everyone can share the same list of activities. When a task is done, either person can check it off as completed, letting the others know and all of this without affecting the overall user experience.
Key Features:
Some of the prominent options Wunderlist provides you with are:
Create lists and folders
Share Lists
Add comments and notes
Compatible with All Devices
Add reminders and notifications
Easy import to Wunderlist
Tags
Mobile Apps: iOS and Android
Pricing Plans:
Free and Wunderlist Pro ($4.99 per month or $49.99 per year) plans
Microsoft To-Do is another one of the best to do list apps you can get your hands on. Developed by the team behind Wunderlist, Microsoft To-Do is cloud-based and integrates completely with Office 365. It lets you create tasks from scratch or even import tasks from other tools like Wunderlist and Outlook.
This is especially useful if you have to continue with pending tasks without having to rewrite the entire to do list again. You can customize task list presentation with themes and colors, organize and prioritize tasks, add notes and set reminders to keep the tasks in check.
With the My Day list, you get easy access to the tasks due for the day. This eliminates any confusion and streamlines your activities.
Key Features:
Some of the significant options Microsoft To-Do provides you with are:
Task management
Task reminders
Deadline management
Daily task lists
Prioritization
Outlook tasks integration
Data sync across devices
To-do suggestions
Multiple task lists
Due date tracking
Task notes
List sharing
Custom task list themes & colors
Mobile Apps: iOS and Android
Pricing Plans:
Microsoft To-Do is free.
Todoist grown in popularity over the years and has evolved significantly encompassing more powerful features. You can create, organize and prioritize tasks, create subtasks and dependencies as well create projects and subprojects.
You can label tasks, customize through color codes and add due dates to keep track of the tasks. A prominent feature that comes with Todoist is the AI-powered feature known as Smart Schedule. Through Smart Schedule, the app suggests optimum dates for scheduling and rescheduling existing tasks.
Plus, with Todoist Karma, you get points for completing tasks, using advanced features, and meeting productivity goals on a weekly and monthly basis. You can monitor your progress through graphs with differently colored projects.
Key Features:
Todoist comes with the some of the following notable features:
Task creation (single and recurring) and labelling
Task creation from emails
Task comments
Task priority levels
Project templates
Project sharing
Email notifications as well as SMS and email reminders
Contact list integration
Automatic backups
Real-time synchronization
Customizable filters
User management
Login tracking
Centralized team billing
Productivity tracking
Open API
Sharing controls
Multiple integrations
Mobile Apps: iOS and Android
Pricing Plans:
Free for Basic and Premium ($29 per year) plans.
#5 on our list of the best to do list apps is TeuxDeux (pronounced as "To Do"). Termed as the most beautiful to do list on the web, this to do list app allows you to have a visual idea of what's to be done. You can create list of things to do and rearrange them on the calendar.
The tasks can be written down anywhere and can be later dragged and dropped into other lists. If there is a task you can't get done on the specific day, TeuxDeux automatically rolls it over to the next day list. Furthermore, you can also schedule tasks as recurring daily.
Another interesting feature is that it supports Markdown. For those of you that are particular about text formats and presentation styles, this is a great tool to make lists and share them with others.
TeuxDeux supports sharing the app between up to 6 family members. Plus, your lists are yours to keep. This means you can download your to-do lists at any time.
Key Features:
Some of the features TeuxDeux has to offer include:
Creating custom to-do lists
Creating recurring tasks
Create tasks as links to resources
Task switching between lists
Automated task roll-over
Sync with calendar
Support for text formatting with Markdown
Sync on multiple devices
Family sharing enabled (6 people)
Mobile apps: iOS
Pricing Plans:
Free trial and $3 per month.
Any.do is one of the easiest applications to create and manage your to-dos. It consists of simple tasks and subtasks folders which help in the quick creation and checking off of tasks when done. The application comes with easy drag-and-drop option for files.
An interesting feature of the application is the voice-entry one. If you dread typing long to-do lists and prefer speaking, this application is meant for you. Any.do lets you create a to-do list of tasks by speaking into your smartphone and then creates your tasks for you, just like a virtual personal assistant.
The simple UI/UX design of the application makes it extremely easy to understand and aids the user in quickly grasping the functionality.
Key Features
Simple interface for creating lists and associating tasks
Adding new tasks through voice
Division of tasks according to the timeline
Easy sharing of lists with other people
Deadlines and reminders for tasks
do moment to focus only on today's tasks
Colors for organizing and prioritizing tasks
Recurring tasks
Unlimited file attachments
Notes within tasks
Customized themes
Pricing plan
Free and Premium (for $2.99 per month) plan.
Another best to-do list application that made to our list is Toodledo. This application focuses heavily on task management and lets you organize your to-dos in the most simple and easiest way. Under each task, you can add multiple sub-tasks, notes, and priority level, along with other basic information.
In addition to the lists, Toodledo helps in managing tasks by creating an outline. All your tasks and subtasks displayed in the form of an outline consisting of further sections to assist you in keeping your focus on important things and give you an overall view of your tasks.
Although it's primarily for task management, there are other rather interesting features available too. One of them is the tracking of habits. You can log multiple habits at one time and monitor the dos and don'ts to improve your daily routine. Habits come with a calendar, so you can track your progress in days.
Key Features
Tasks and subtasks folder
Public and private sharing of lists
Recurring tasks
Quick notes
Habits tracking and monitoring
Tasks outline
Notes within tasks
Scheduler for time management
Reminders based on the current location
Time tracking of tasks
Integration with third-party applications
Customized tags for organizing tasks
iOS, Android, and web compatibility
Pricing Plan
Free, Silver ($4.99 per month billed annually), and Gold ($7.49 per month billed annually).
This application is for the gamer inside each one of us. Habitica offers something completely different for the users. The application converts your daily to-dos into a role-playing game, at the end of which you can earn rewards (exciting, no?). This fun take on task management compels you to complete the tasks on time and motivates you to achieve more to level up your character.
You can create your personalized character, unlock rewards, buy armor, and at the same time, complete your to-dos. On the flip side, if you miss your deadlines or fail to tick tasks off, your health will deteriorate and your character will lose progress.
Habitica might not be the right choice for you if you're not a big fan of games and are looking for a powerful, serious task management tool.
Key Features
Division of to-dos according to tags
Rewards for completing tasks
Personalized avatars
Levels for tracking progress
Filtering according to tags
Task reminders
Inventory for the character
Online chat with other players
Task filtering according to due dates
Customized challenges to compete with other users
Positive and negative checking off of tasks
Pricing plan
Habitica is free.
Generally, TickTick offers more or less the same kind of basic features other competitors in the market are coming up with. The application supports multiple parameters like lists, tasks and subtasks, priority level, and tags.
Coming with a neat interface, the platform makes management of tasks clutter-free and organized. Like all other tools, you can add tasks, subtasks, set deadlines and reminders, and share them with other people. Recurring tasks can also be added and repetition can be set according to your requirements.
Key Features
Customized to-do lists
Reminders for due tasks
Calendar view
Drag and drop tasks in the calendar to set due date
Sharing of lists with collaborators
Priority level
Personalized themes
Voice entry for creating tasks
Tags for classification
Time tracking
Advanced project statistics
Backup of data
Pricing plan
Free, and Premium ($27.99) annual plan.
The last application in our best to-do list apps is Google Keep. It may not be best for you, because in contrast with other to-do applications, Google Keep doesn't have a robust set of features and it lacks advanced functionality, but if you're someone who likes to create simple to-do lists on the go, this could be the right application for you.
Google Keep is primarily used for making quick lists which can be accessed from any device. Essentially, it is a simple note-taking platform, where you can write all the important to-dos, save pictures and voice notes, and tick off the tasks after they're done. The application is basically connected to Google Drive which makes syncing with multiple devices easy.
Key Features
Quick and easy addition of tasks
Reminders with each task
Sharing of lists with collaborators
Notes archiving
Transcribe text from the uploaded images
Grid and list view of notes
Customized labels for organizing notes
Pin important notes to keep them on top
Audio notes for recording ideas
Pricing Plan
Google Keep is free for all
Well, this marks the end of our top 10 best to do list apps. How do you manage to get your to do lists completed? Suggest the best to do list apps you have come across in the comments below.