Evernote is one of the popular to-do list apps that is designed to help take notes, organize and prioritize ideas and create lists to keep productive and on track.
Although the options Evernote offers can be very helpful, there are some areas where it could introduce potentially more useful features – especially for the price.
Some of the more prominent features Evernote lacks and which can be found in other apps include task creation and management including time tracking. Plus, for a tool that merely lets you jot down ideas without giving you options for listing tasks or monitoring progress, the price is a little steep.
Check out the following tools as your Evernote alternatives or Evernote replacement today. These can be a better deal for notetaking and productivity apps.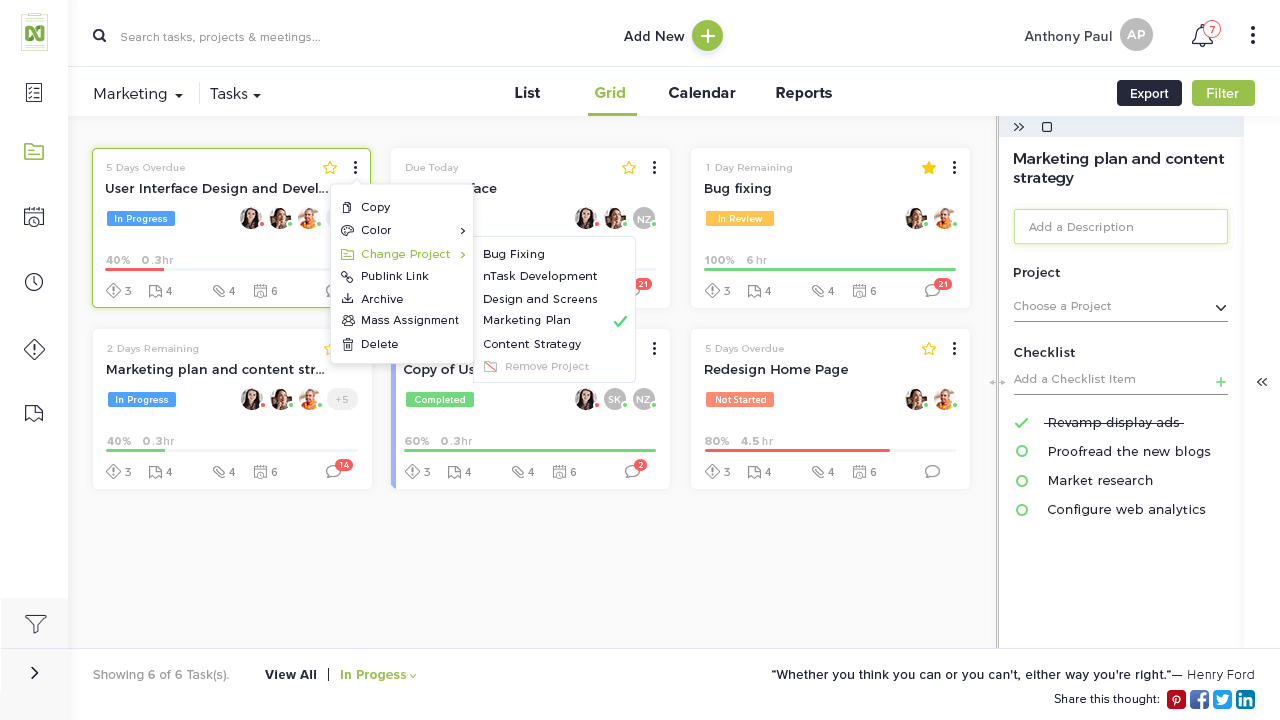 The first on our list of the best Evernote alternatives is nTask. Primarily a task management software, this tool offers one of the best deals when it comes to the price vs value comparison.
You can use this app to work with teams or keep a track of your productivity levels. Comprehensive task and project management modules help you break down your work into easily manageable pieces. nTask is a great choice if you're looking for an all-in-one tool which works for your personal needs as well as a complete project management software.
You can take notes as tasks and assign them to project folders as lists. Plus, you can attach any kind of file, image or document, as additional notes to a task.
In addition, you can track your progress and even share your ideas/tasks with teams and third parties. All of this at one of the most competitive prices the app market has seen in a while.
Key Features
Here is what you get with nTask:
Task management options including creating, assigning, organizing, prioritizing and sharing tasks with multiple statuses
Alerts, notifications, and reminders to stay on track.
Project management capabilities that include but are not limited to creating and assigning projects, using Gantt charts, project reports, and project timelines to manage and monitor project progress
Multiple team specific workspaces that can be managed and monitored simultaneously.
Flexible comments including commenting on tasks to projects and converting comments to tasks using Slack
Meeting management module including arranging and scheduling meetings (one time or recurring), send invites to attendees, add meeting details and specify follow up procedures.
Issue management module to facilitate identification and listing down of issues related to multiple tasks. List down the issue along with the Issue owner and relevant details to track issue maintenance.
Timesheets management module for creating and managing team specific sections for employee task efforts and payroll.
Risk management module helps you identify and keep track of potential risks. Arrange risks in lists and assign a risk owner in order to track risk management.
Powerful search and filter tools to search for tasks, projects, meetings, issues, and risks.
Filter option to save more frequent searches.
Two-Factor Authentication for extensive security
Third party access
Mobile apps for iOS and Android
Pricing
nTask offers the following pricing plans:
Free
Pro at $2.99 per user per month
Looking for the perfect Evernote alternative?

See for yourself why Evernote users are switching to nTask. Create unlimited, tasks, meetings, risks, issue & more.
2. Todoist
At a very reasonable price compared to Evernote, Todoist can easily be considered as a great alternative to Evernote.
Making use of a multitude of options, Todoist helps you capture ideas, and manage them as tasks and projects. You can stay organized while measuring tasks progress with visuals.
In order to help you keep going, Todoist makes use of fun features such as Karma points and levels. Plus, it helps you save time by offering templates you can adapt instantly without worrying about the layout.
To keep a better view of the more important matters at hand, you can color code tasks and prioritize them. Plus, Todoist is not just for personal use. You can delegate tasks to other team members to expedite the process.
Also, with automated reminders and backup of data, you do not have to worry about missing out on tasks or losing any sort of data.
Key Features
Use Todoist in the following ways to stay productive:
Centralized view to keep track of all the tasks and their progress
Capture, organize and prioritize your tasks and projects and organize tasks
Map out your projects and goals step by step with project sections and sub-tasks
Assign due dates and recurring due dates to set repetitive tasks easily
Keep monitoring the day planned and check completed tasks with and without visualizations
Highlight important tasks with color-coded priority levels
Delegate tasks to people
Stay on track with Todoist Karma points, streaks, and levels
Select from various templates to get started quickly
Automated reminders as per date, time and location
Automatic backup of data
Mobile apps for iOS and Android
Pricing
Todoist offers the following plans:
Free
Premium at $3 per month
Customized Business plan
3. Keep and Share
Keep and Share is another one of the best Evernote alternatives. This is primarily due to a larger set of features it offers and, more or less, priced in close proximity with Evernote. To begin with, you can start your day with a to-do list in the form of text, images or other files with Keep and Share.
Neatly placed on your calendar, your notes can be written directly or uploaded. You can even collaborate on them with your friends and family. This makes it easier to carry out a combined task. The tasks can be set with multiple statuses depicting how much is left to be done.
If you run and/or manage a website, you can even embed these files there and set them as downloadable. Selective sharing of tasks ensures your lists stay discreet and your plans secure.
Discussions and sending group messages is another perk this tool offers.
Key Features
Keep and Share has you covered with the following features:
Task management including task creation with start and due dates, checking off tasks directly from the calendar, organizing and prioritizing tasks
Directly write documents in Keep and Share's word processor, and share them
Upload and share any type of file including Excel, Word, and PDFs through selective sharing
Upload photos from off-site and access them online instantly
Filter tasks in your calendar via the corresponding status with options of Current, Future, Overdue, and "Assigned to me"
Overlay To Do Lists on your calendar (including shared lists)
Send a daily copy of your To Do List to yourself and others
Add files and documents to your calendar and events
Allow download of files from your website, newsletters and more
One comments section
Embed your files on websites
Create discussions online with full word-processing features
Stay updated with email and text message notifications
Add photos, screenshots, and color-coding to your discussion topics
Use "Send Message" to send direct messages to group members
Allows multiple people to contribute photos to one library or album
Create personalized tags to group and identify photos
Mobile apps for iOS and Android
Pricing
Keep and Share brings you the following plans:
Basic, free for lifetime
Solo at $9 per month
Team with 5 plans ranging from $19 per month to $149 per month.
4. Casual
The 4th place on this roundup of the best Everonote alternatives goes to Casual. With Casual, you can do more than just take notes and share them with others.
It offers features that let you illustrate tasks to be done through visual representations. It helps you covers multiple stages of tasks from inception to planning. The best part is you can draw tasks as well as connect them with their dependent tasks through easy and effective flowcharts.
Another great feature is that without having to draw from scratch each time, you can use created tasks and snippets of existing flowcharts to create new lists.
If you are working in teams, you can easily assign the tasks to individual team members. Pick one of the pricing plans and start off with Casual for personal use and professional collaboration.
Key Features
Make use of the following features with Casual:
Manage tasks through creation, assignment, and prioritization.
Option to view tasks through lists and flowcharts
Manage project workflows via re-usable project creation, milestones, sub-processes, timelines, charts and visual project summary
Summary reports
Team notifications
Team management and collaboration through messaging and file share
Automatic backup
SSL security
Mobile apps for iOS and Android
Pricing
Select one of the following plans offered by Casual:
Free trial
Personal at $7 per month
Group at $21 per month
Team at $35 per month
Department at $70 per month
Enterprise at $133 per month
5. Turtl
Turtl grabs the 5th spot on our roundup of top Evernote alternatives.
Turtl is more than just a note-taking app as it helps you store just about anything including bookmarks, passwords, files, and lists. This all in one storage is your perfect Evernote replacement especially if you are looking for a free app with a detailed feature list.
You can share lists with teams and ensure a backup to prevent any loss of information.
One of the best features is TeX math rendering, which can be particularly helpful if you are in the Mathematics domain – professors and students alike.
Also, you can write fully formatted notes in the Markdown format directly. This saves you the extra step of refining your notes into a refined document before sharing.
Key Features
Here are some of the features Turtl offers to make your life easy:
Write, organize and share notes including the option to directly write notes easily using Markdown format
Different note types including text, bookmark, password, image, and file/document
Attach photos, files, and documents to notes.
Search your notes with text queries or using tags.
TeX math rendering for mathematical calculations
Multiple translations (German, Spanish, French, and more)
Keep your profile backed up with import/export.
Client-side cryptography to keep all of your data safe
Securely share with anyone without compromising the security of your data
Sharing with different permissions ranging from read-only to full ownership of shared content
Full-text search, filtering by tag (or lack of tag), and sort by create/edit date
A browser extension for easy bookmarking on desktop
RTL text support for various languages
Export/import your entire profile for backup purposes or to move between servers
Semi-offline mode
Open-source server to host your own Turtl data
Mobile app for Android (app for iOS coming soon)
Pricing
Turtl is entirely free at the moment.