Ever since the term Getting Things Done (GTD) was coined by David Ellen in 2001. There has been a wave of tools identifying as one of the best to-do list apps for getting things done. One such popular tool is OmniFocus.
The ever-increasing popularity of the product comes on the basis of numerous industry leaders' recommendations. I have been motivating enough for users from all over the internet.
But there is a catch. Even with some amazing graphics and advanced features for to-do list management, OmniFocus calls for alternatives because of its cross-platform restrictions. Sometimes the integration is lacking, which makes it hard for power users to complete their work on daily basis.
We have appended some of the best Omnifocus alternatives for you to breeze through. Take a look below:
First up on our list of the best OmniFocus alternatives – nTask.
nTask is relatively new when stacked up against other task management tools. However, it comes with some solid features to help get things done faster. The developers kept technical glitches at bay while striving to perfect this program.
This OmniFocus alternative goes beyond the likes of basic task management by providing native modules for elaborate project management.
These modules allow you to tackle your tasks productively, successfully execute your team meetings, and resolve your issues and risks with precision.
nTask provides this spectrum of intelligent features all the while ensuring smooth navigation across the application.
✨ Key Features
Checklist management.
Elaborate task management.
Gantt charts for project tracking.
Comprehensive meeting management.
Time tracking with tasks.
Comments and file attachments.
Color labels and progress status.
Due dates and priority level.
Powerful search filters.
Alerts and notifications.
Third-party application access.
😍 Pros
Simple user-interface with a short learning curve.
Native modules for comprehensive project management.
Multiple views for organizing tasks.
Free version available.
🙁 Cons
Limited functionality of Gantt charts.
Kanban workflow is missing (underworks).
💸 Pricing
The tool is free for basic task management and unlimited workspaces for 5 team members.
Premium plan – Starting at $3/month per user
Business plan – Starting at $8/month per user
Enterprise custom plan also available
Are you looking for the perfect Omnifocus alternatives?

See why teams trust nTask for task management. Create unlimited tasks, meetings & do more.
2. Todoist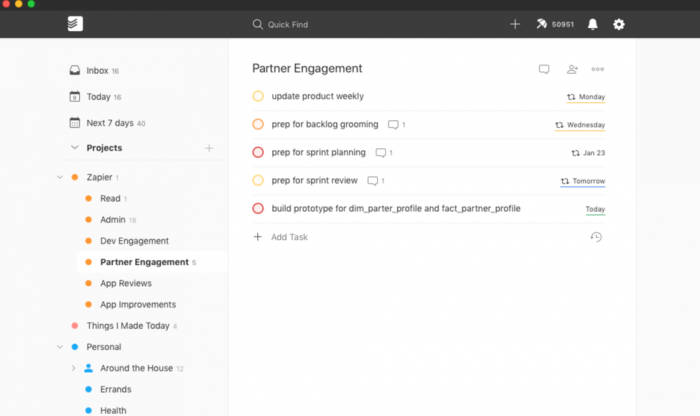 A powerful task management software, Todoist helps individuals and teams to organize their tasks with flexibility. You can quickly create your daily to-dos and assign due dates to stay on track.
Todoist ranks #2 in our roundup of the top OmniFocus alternatives.
The product comes with a multi-dimensional mix of tools including document management, project scheduling, and task management to provide a complete solution under one platform.
Furthermore, with the help of 'Karma points', you can track your project performance over time. In addition, you can also visualize your productivity to take smarter decisions.
😍 Pros
Quick checklist management.
Task priorities.
Built-in project templates.
Recurring tasks.
😫 Cons
No time tracking functionality.
Built-in calendar feature is missing.
Task labels and reminders are not available in Free plan.
Limited features available in Free plan.
💸 Pricing
The Free version can be upgraded to Premium and Business plans for $3 and $5 respectively.
Also Read:
The 9 Best Todoist Alternatives to Try in 2023
---
3. Asana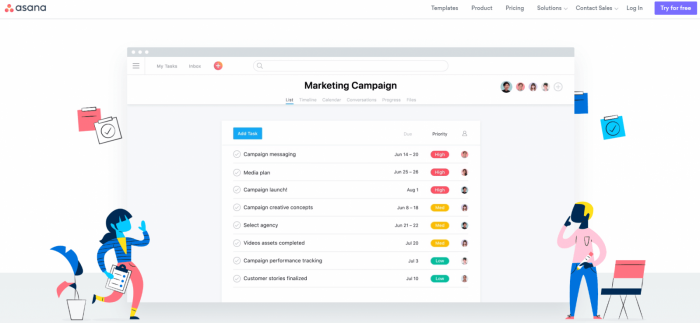 Asana is another shortlisted application in our Omnifocus alternatives' roundup. It is one of the first choices of many teams when it comes to project management. Asana comes with a robust set of features for organizing and managing tasks.
The core functionality of the tool revolves around project management solutions for different types of teams, including Agile. Through project portfolios, you can keep an eye on your project progress over time and plan accordingly.
Some other useful features to help teams always stay on track include project portfolio management, project reporting, dashboard, and project timeline.
😍 Pros
Easy to setup.
Templates for repeatable projects.
Recurring tasks functionality.
Free version available.
😫 Cons
Limited features available in the Basic plan.
No Gantt charts for project scheduling.
Time tracking with tasks is missing. You can switch over to some other application if time is one of your main concerns.
Timeline view is only available in paid plans.
💸 Pricing
Apart from the Free plan, Asana comes with not 1, but 3 paid plans! Premium, Business, and Enterprise. The paid plans start from $9.99 per user/month.
---
4. Evernote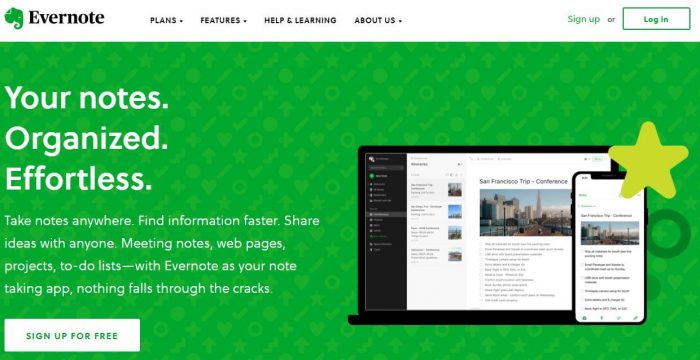 A popular note-taking application, Evernote grabs a fourth place in our Best Omnifocus Alternatives List. Equipped with an intelligent toolset for managing your to-dos, Evernote provides tons of built-in features for organizing your thoughts.
With the help of the web clipping feature, you don't have to lose track anymore. Save any information you may find online to your Evernote interface and bookmark for later use.
The smart document scanning feature allows you to keep all your important documents with you wherever you go without any hassle.
In addition, this OmniFocus alternative lets you share your notebooks with team members to collaborate on ideas from desktop, web, or mobile application. These notebooks can also be edited instantly by anyone.
😍
Pros
Elaborate note-taking features. It is a cornerstone perk for Evernote users.
Web clipping functionality for saving important content.
Shared spaces for team collaboration.
Free basic version.
😫 Cons
No time tracking is available with tasks.
Very limited free features.
Team collaboration features only available in the Business plan.
💸 Pricing
Free, Premium, and Business plans. The paid plans are priced at $7.99/month and $14.99/user/month respectively.
---
5. Remember the Milk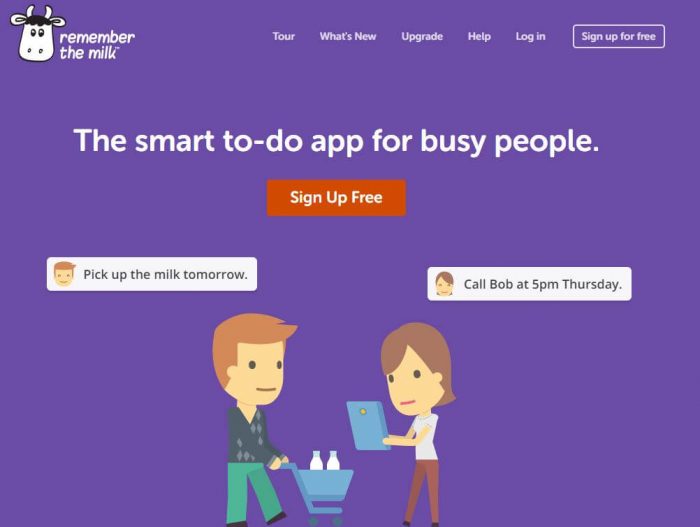 Remember the Milk is one of the oldest tools out there for to-do list management. If you are looking for a fairly simple task management application as a viable Omnifocus alternative, this tool might be the runt of the litter.
Coming with a Smart lists feature, Remember the Milk allows you to instantly add your most important tasks. You can further add due dates and priority so that missing deadlines by accident is a thing of the past.
This makes Remember the Milk rank #5 on our list of the best OmniFocus alternatives.
😍 Pros
Easy to use.
Lists can be shared.
Details can be quickly added to tasks through Smart Add feature.
The basic version is free. Try it anytime you feel comfortable.
😫 Cons
Basic version has limited features available.
No time tracking functionality available.
Subtasks are only available in the Pro version.
Advanced sorting filters are missing in Free version.
💸 Pricing
The Free version can be upgraded to Pro for $39.99 per year.
---
6. Float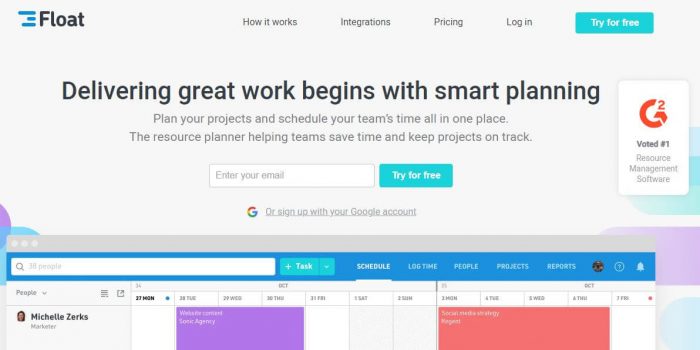 Float is more of a 'one and done' type of project and resource management app. To be honest, it leans more on resource scheduling with a tinge of project and task management on the side. Yes, we know that you thought it was meant for the latter. But that's not the case.
Anyhow, Float combines an intuitive interface with an amazing overlay of tools' shortcuts. Everything is right where it needs to be. You get a brilliant dashboard with an overview of all your important tasks, assignees, and resources.
There's a convenient drag and drop functionality that lets you play around with your resources and their overall management at your discretion. Float has a powerful budget management system to enable contractors and admins with their billable work hours.
To that end, Float also goes through regular updates from time to time. The dev team reportedly gets feedback from users to not only improve on features that are already in the program but also add user-requested features to keep the gears moving on in the right direction.
😍
Pros
Offers a brilliant overview of resource understanding, scheduling, and management through visual cues.
Manage time and resources at your discretion.
Understand the financial health of your projects from a deeper POV.
Easy learning curve.
Attractive pricing and packages.
Friendly support staff.
😫 Cons
Not that we know of. The overall experience has been more than satisfactory.
They don't have Live Phone Support.
💸 Pricing
Float comes with a free trial. The support staff might extend it for you. Paid plans start at $5.00 per month. For more details, you can contact their CSRs anytime.
Read also:
15 Best Free Wunderlist Alternatives of 2023
Have you used any of these top 6 OmniFocus alternatives for task management? Which one is your favorite? Let us know in the comments below. You can also send us an email to get personalized answers to your questions.