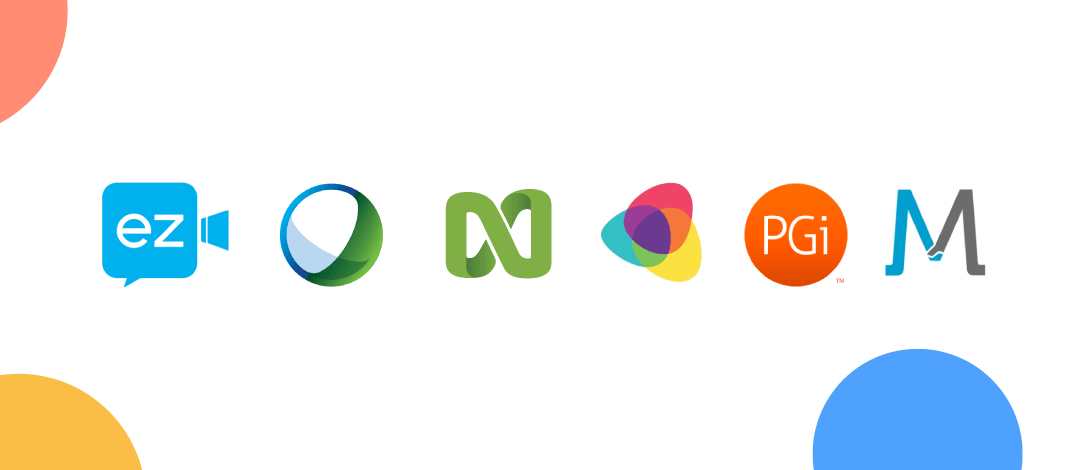 In America, 55 million meetings are conducted on a weekly basis. Whereas the total number of meetings held annually in America, surpass well above a billion. That's right, America meets a ton!
That means more than a quarter of the total time of an average American working in an organization is spent attending meetings. In 2017 Cisco reported that 37% of employee time is spent in meetings.
How much of that total time spent in meetings is actually productive?
According to a report by Attentiv, 63% of the total meetings held annually are conducted without an agenda. Goes without saying, ill-planned meetings lead to ill-achieved outcomes.
Planning your meeting, managing it and then conducting it strategically to achieve a solid outcome from the meeting is all part of meeting management.
Modern workforces have automated their traditional meeting platforms into virtual meetings, with the use of meeting management software.
Meeting management software has been a tremendous help in enabling teams to achieve myriad of goals within a cost-effective approach. However, even the modern methods of conducting meetings have their downside; patchy network, technical issues and choppy video, to name a few.
Which is why we have gathered a list of the 18 best meeting management software that your team will most definitely enjoy meeting within.
Table of Contents
The Top 18 Meeting Management Software of 2018 (Click to view):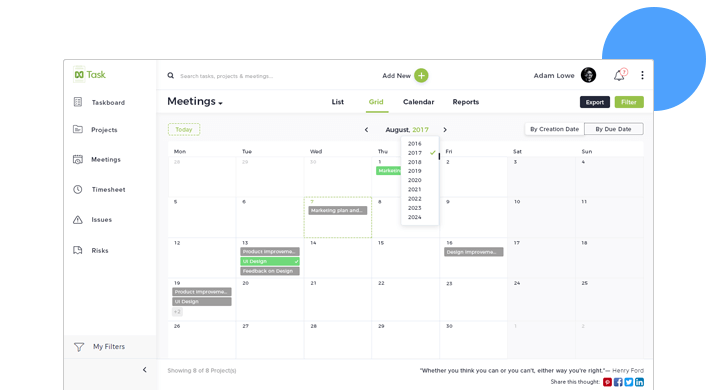 nTask is an emerging task management software that streamlines meeting management with on-going neighboring activities like end-to-end project management, team management as well as risks and issue management.
With nTask you can schedule meetings containing:
Clear concise agenda
Start Time
Linkage to a Task
Duration of period
Date of meeting
Recurrence period
Discussion points
Follow-up actions
Decisions
nTask is compatible with many different devices and equipment, including iOS and Android.
Once the meeting has been scheduled, the organizer can manage control over which attendee can edit and make additions to meeting material (i.e. agenda, discussion points decisions and follow-up actions)
Merits:
Easy to use interface that facilitates editing the Meeting Schedule whenever necessary
Sends email reminders of meetings to every team member
Allows meeting materials to be shared for review by other team members
Allows organizer to share minutes of meeting with each participant
Send meeting invitation to unlimited team members
Unlimited number of meetings in the FREE version
Demerits:
Is only a meeting management software that can be used to schedule and manage the outcomes of the meeting.
Doesn't contain video or audio call feature to facilitate virtual meeting conferences
Use it for personal or team productivity. nTask free includes unlimited tasks and checklists.
---
Sign up for the best meeting management software today, it's free!

nTask is free and lets you create unlimited meetings, schedules, agenda, follow-ups and more.
2. Cisco WebEx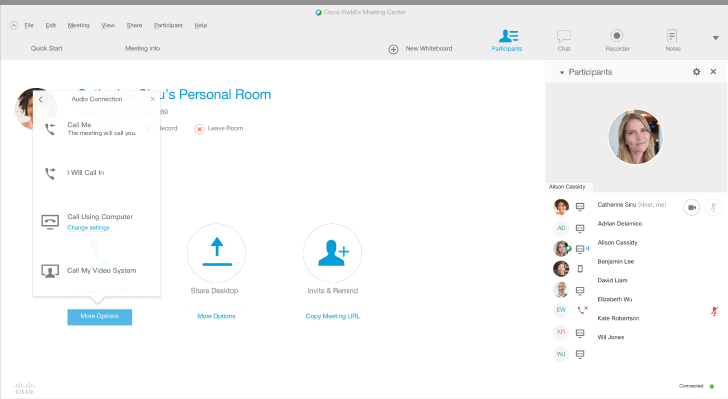 WebEx, a product of Cisco is an enterprise favorite! Known widely for its impressive video conferencing, and webinar hosting feature, businesses of all sizes find it extremely supportive for collaborative purposes.
The WebEx Meeting Center is a built-in tool in the software that allows users to schedule and host meetings ahead of time.
You can schedule a meeting using two set of options. If you're short on time, and all you need to do is quickly schedule a meeting with its name, attendees, date, and duration, then use the Quick Scheduler. On the contrary, you can use the Advanced Scheduler that lets you set an email reminder for the meeting and select its recurrence period. An additional reminder on the phone can also be setup using the 'Call Me' feature. This will send a reminder call on your phone before the meeting is about to take place.
All you need in order to invite a member to a meeting is their email address.
Key Features:
Brainstorm & Chat Tool – Communicate with team members in a private room. Gather and monitor real-time polls from the team
Editing, Recording, and Playback – Record meetings for future reference with a secure password. Playback the meetings on any device to re-visit the discussion
Floating panels – Share your screen with members sitting across the globe, while managing online meeting simultaneously
Merits:
Send easy meeting invitations from phone calls, SMS, email or IM.
Cross-platform functionality that assists users to join the meeting from Mac, Windows, Linux, Solaris and any mobile device.
Share and edit files in a meeting, once the host of the meeting provides access to chosen attendees for making changes.
Switch instantly between devices while on-call in a meeting
Desktop integrations that allow scheduling meetings from MS-Office, Lotus, and other IMs.
Demerits:
Limited types and size of files that can be shared
When scheduling a meeting, no place to set an agenda or design a meeting plan
Expensive if you need 10+ members in a meeting. $39/ user monthly
Meetings can't be linked to tasks or projects
---
3. Meetin.gs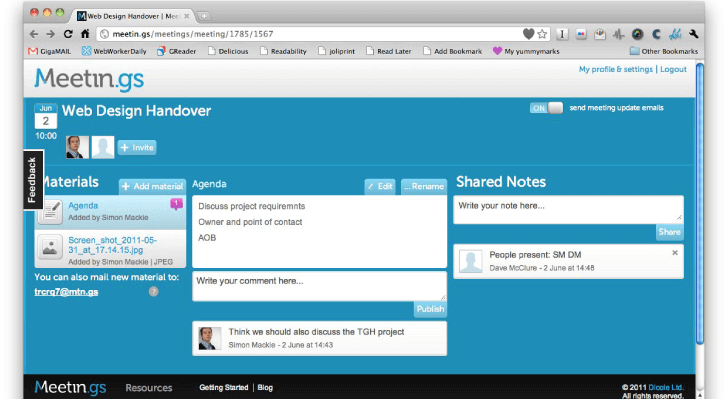 Meetin.gs is easily the most supportive meeting management software a team could use.
It is designed to organize, streamline and align your meeting management load with an interactive interface and visually attractive notification system.
There is so much that you can manage about your meetings using Meetin.gs and that too in the simplest possible way.
Meetin.gs provides numerous integrations with social communication tools (skype, google hangout, Microsoft Lync, your own conferencing solution). These integrations extend out to your calendar, address book and Customer Relationship Management systems (CRM). So, you can schedule a meeting with whomever you want from anywhere, using the easy-to-use 'Schedule' button present on various services.
Meeting.gs Features:
Create and edit agendas for team attendees
Create and edit action points to send team attendees for follow-up, post meeting
Centralize meeting agenda, files & images on a single page for easy visibility and accessibility for the other team members
Send meeting reminders and inform participants to confirm their availability for the meeting
Manage notifications sent to team attendees and manage their control of making changes to meeting materials
Merits:
Send unlimited meeting invitations to people using the integrated address book feature
Track the timeline of each meeting that is scheduled, taking place or has finished
$12/ organizer monthly
Create multiple meeting schedules for various objectives
Demerits:
Is only a meeting management software, doesn't provide video or audio call feature
---
4. Fuze – Meeting Management Software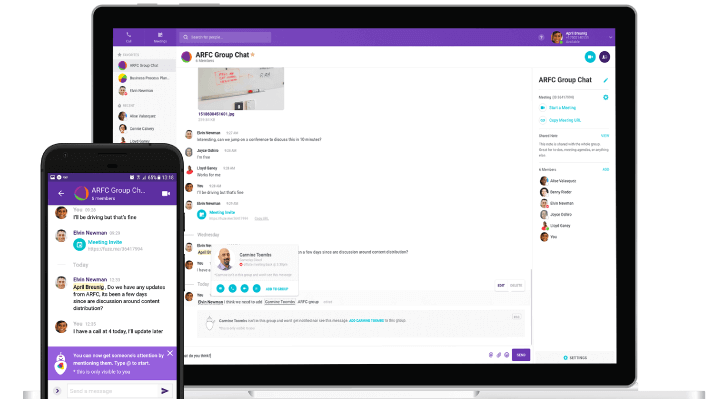 Fuze is another cloud-based meeting management software that is ideal for both large and small businesses alike. It provides a stellar variety of features to modify your meeting management experience at an affordable price. Fuze is designed to assist all sorts of business communications: video conferencing, content sharing, webinars, group chatting and screen sharing.
Key Features:
Enterprise Security – All meeting facets are strictly encrypted to ensure team data & information are secure.
Cross-platform integration with every browser and compatibility with all types of devices
Simple, user-friendly interface to assist unified communication between the team
Merits:
Strong audio and video reception
Allows users to share all types of files and of all sizes, from anywhere
A free plan that allows unlimited meetings with teams ranging up to 25 members
Has its own mobile app so users can join meetings from their mobile phones
Demerits:
Meetings can't be scheduled ahead of time
Meeting agenda, follow-up action, and discussion points can't be created for participants' insight
Meeting reminders can't be sent
Meetings can't be linked to tasks or projects
---
5. GlobalMeet by PGi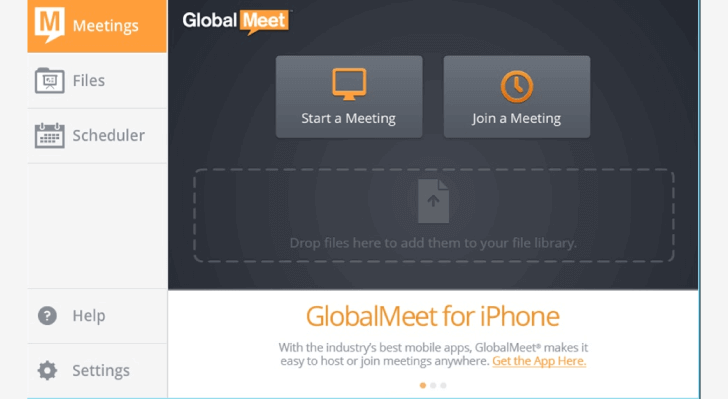 Everything you need in an ideal meeting management software, you can get it in GlobalMeet by PGi. Well, almost everything. It is one of those meeting services that were built keeping end-user functionality in mind.
It enables you to enhance the quality and productivity of your meetings and how you manage them. By far the most number of participants that any software can allow in a meeting is GlobalMeet. You can invite more than 120+ participants in a meeting on a paid plan.
The virtual rooms in GlobalMeet are large and user-friendly, with clear panels containing big buttons for users to navigate everything on a single window.
Meetings in GlobalMeet can be scheduled in two ways. One way is to use the Schedule feature on the software application. You select the date, time, duration and select your participants email addresses. The invitation is sent to the participants via email with the URL of the meeting given in it.
The software has an Outlook integration, so you can send meeting invitations from your Outlook account. All you have to do is use the GlobalMeet toolbar on your Outlook account.
In GlobalMeet, there is a File Library that lets you access your files, images, documents of all sorts without having to enter the meeting.
It stores all your data and information shared during a meeting. You can also move your files around in different folders by simply dragging and dropping them to the intended destination.
Much like Cisco WebEx, users you can conduct surveys and polls to gather feedback from their users during or outside a meeting. Users can create MCQ questions or essay questions, and then edit or delete them whenever they want.
Key Features:
Share screen, files, videos and meeting records with the rest of the team
Online meeting management for viewing meeting reports, adjusting participant and control preferences and access meeting materials
Passcodes for participants to provide access to make changes to meetings' quality
Whiteboard feature to enable team or individual brainstorming, summarizing meeting endpoints, discussion of plans & strategies. The host can allow access to other participants to his/her own whiteboard for collaboration.
Merits:
Lets you transfer your meetings to another device (iOS, Android, Tablet, smartphone) without losing connectivity.
Full control over webcam video feeds and audio speaker at any point during the meeting
Maximum number of meeting participants in a single meeting (as much as 100+)
Instant notifications for each event taking place during a meeting
Engaging interface with accessible and easy to maneuver toolbars for each function
Demerits:
No meeting reminders
No meeting agenda
No meeting recurrence
No linkage of meetings to task
No breakout rooms for private or individual discussion
---
Conduct productive meetings, everytime, with confidence

nTask is free and lets you create unlimited meetings, schedules, agenda, follow-ups and more.
6. Eztalks Meeting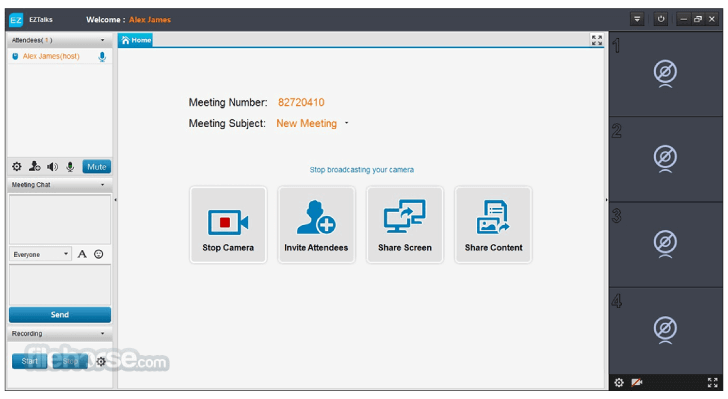 Eztalks meeting is also a cloud-based meeting management software. It is unique and versatile, allowing businesses to schedule meetings as well as conduct them on an instant need basis.
Eztalks provides a comprehensive platform for teams to communicate using their HD video and audio conferencing, creative whiteboards, cross-platform integrations and real-time chatting.
Eztalks aims to make meeting management and meeting assembly hassle free by providing quick access to meetings. You can send meetings invites by email or by sharing the meeting link with your attendees. The attendees don't have to register for an account in order to accept the invitation, they can simply log in using their browser and enter the meeting.
Scheduling a meeting in Eztalks is equally simple. The host assigns a title to the meeting, date, time, subject of the meeting and details to let the participants know of the agenda.
Key Features:
Allows sharing – screen sharing, whiteboard sharing, file sharing.
Record meetings to review later or consult for future reference
Compatible with all devices
HD video & audio service
Merits:
Simple to understand and use interface
Permits control over meeting participants
Allows team members, associates and clients to quickly join the meeting without registering
Enables both organizing and conducting a meeting
Demerits:
No reminder of the meeting
No recurrence of the meeting
No linkage of the meeting to a task
---
7. ClickMeeting
If you are looking for a meeting management tool that is easy to use, does not require huge volumes of storage and gives you a good user experience, ClickMeeting is for you.
This tool makes it to our list of top meeting management software due to its simple yet powerful interface.
Clickmeeting is an online tool created to make online meetings, video conferencing and webinars super efficient. This tool gives you the option to communicate with people across multiple locations and different time zones having different operating systems.
It is highly recommended for teams that need to constantly communicate from remote regions or businesses that cater to clientele globally.
You can collaborate with peers and customers effectively through options that help presenters connect with attendees. Whether you need to deliver uninterrupted, smoothly streamed presentations or need to hold a meeting on an urgent basis, Clickmeeting gives you a great user experience.
Plus, you have an option of sharing videos from other resources and share screen for improved communication.
ClickMeeting plans start at $30 per month for 25 users.
Key Features:
ClickMeeting offers the following features:
Audio and video conferencing
Whiteboard
Waiting room with agenda
Desktop Sharing
Moderated chat (for Q&A)
Private, one-on-one chat
Simultaneous Chat Translation
Webinar Statistics
One-click Recording
Address book
Customized Invitations
Polls, Tests and Surveys
Merits:
Super easy to use i.e. set up a meeting and connect clients.
Can handle large numbers of participants
Availability of a virtual storage for files transferred during conferencing
Option for professionals can customize screen
Offers great pricing for a basic webinar and meeting service
Easy integrations with other tools.
Offers a free trial.
Demerits:
Does not include break-out sessions.
No option for removing meeting attendees during the meeting.
No options to schedule recurring meetings.
No inactivity time-outs in the meeting follow-up features.
No phone support.
Toll-free conference lines are not available.
---
8. Lucid Meetings
Lucid Meetings is yet another meeting management tool that just won't let you down. With so many features to avail, it makes it to our best meeting management software list due to its comprehensive list of features for holding meetings by small teams and grand enterprises alike.
This tool comes with guided instructions for key meetings and lets you arrange audio calls and video conferencing. With action items and follow up features, the team knows exactly where to take the project forward after the meeting.
Also, it helps keep the meetings on streamlined and prevents any overlapping conversation through speaker queues.
You can share information, add attendees and define meeting roles without a hassle. Lucid Meetings comes with a free trial and variety of pricing plans depending on the number of hosts. Paid plans start from $19 per month for 1 meeting host.
Key Features:
You can make use of the following features with Lucid Meetings:
Action Item Tracking
Agenda Management
Attendee Management and meeting roles
Meeting templates
Board Meetings
Committee Meetings
Internal Meetings
Invitation Management
Materials Management
Meeting timers
Speaking queues
Meeting Preparation Tools
Minutes Management
Post-Meeting Tools
Built-in audio with call recording
Audio transcription
Scheduling
Voting Management
Expert-designed meeting agendas
Decisions, issues, action items
Automated meeting minutes
Complete meeting history
Meeting effectiveness reporting
Web conferencing
Document presentation
Screen sharing
Calendars
Reminders
Action items and follow-up,
Reporting,
Ratings and feedback
Merits:
Ease of use
Comprehensive feature list
Multiple, flexible plans for pricing depending on the size of teams
Free trial for all plans
Demerits:
Does not have meeting room booking
Does not include travel management
---
9. Less Meeting
One of the most important aspects of having an effective meeting is covering all dimensions on the agenda within time. When meetings go beyond the time allotted, attendees start losing focus and there is a chance of the meeting going off track.
We have picked Less Meeting as one of our top meeting management software because of its color-coded, time tracking feature. Less Meeting helps in keeping your meetings productive through meeting time visualization.
It lets you set an overall timer before the meeting starts, giving each element on the agenda its own time limit. When the meeting starts, the timer placed at the bottom of the agenda starts keeping you in check of the time spent.
If the meeting goes up to 5 minutes beyond the time limit, the timer turns yellow and beyond five minutes it turns red.
Other than its efficient timing feature, Less Meeting allows you to cater to necessary meeting management functions by offering features such as creating notes that can be arranged through drag and drop, document and file sharing, action items, meeting objectives.
This tool also lets you keep links to previous agendas so you don't have to go back and forth through records with relevant objectives. It also allows for integrations and plugins so you can work with your existing tools without having to start all over.
Plus, in case you cannot access the tool online, you can store your notes to later be synchronized on access to the internet.
Less Meeting offers a free trial and paid plans starting from $12 per month.
Key Features:
Less Meeting helps you carry out effective meetings in less time through the following features:
Invitation Management
Create agenda easily
Efficient meeting timer
Minutes Management
Note capturing and tracking
Photo capture
Audio with call recording and playback
Meeting scheduling
Decisions, issues, action items
Automated meeting minutes
Sync meetings with calendars
Reminders
Action items and follow-up
Merits:
Ease of use
Comprehensive features list
Offers free mobile apps
Security through meeting encryption
One place for meetings regarding different projects
Parking lot feature to store ideas
Offers a free trial
Demerits:
Does not have video conferencing
Does not have screen sharing
Short recording time
---
Conduct productive meetings, everytime, with confidence

nTask is free and lets you create unlimited meetings, schedules, agenda, follow-ups and more.
10. Meeting King
Primarily a task management tool, Meeting King is designed to arrange your workflow around meetings. Meeting King allows you to schedule meetings, prepare an agenda, manage meeting and prepare post-meeting follow-ups and action items.
You can also add notes, share information and assign tasks to attendees through meeting minutes. A unique feature about this top meeting management tool is that it helps you hold a meeting on multiple topics related to different departments.
You can write notes and tasks, which can afterward be filtered out for the relevant department.
Another great functionality Meeting King gives is the availability of a single view to overseen meeting details of multiple meetings. This is especially useful if you are managing multiple teams and projects.
Meeting King comes with a free trial and paid plans start at $9.95 per month per user.
Key Features:
With Meeting King, you can hold efficient meetings with the following options:
Easily create meeting agenda
Standard agenda templates
Agenda template creation
Efficiently write meeting minutes
Meeting minutes templates
Share files and documents
Assign tasks while taking meeting notes
Comments on tasks and minutes
Collaboration on tasks
Powerful search for meeting minutes
Manage meetings and tasks by project, department, and person
Simplified calendar view
Individual use or shared usage by teams
Direct meeting creation from Outlook, iCal or Google Calendar
Follow-up meetings
Automatic task linking
Parking lot feature to store ideas
Detailed view of multiple meeting minutes in one place
Merits:
Simple to use
Great features list
Facility to oversee details for multiple meetings in a single view
Offers a free trial
Demerits:
No attendance management
No appointment management
No screen sharing
No video conferencing
No meeting room booking
---
11. Samepage
Samepage is an efficient and one of the best meeting management software with project management and collaboration features. You can schedule and make audio calls or hold video conferences for one-on-one or team meetings.
With the screen sharing option, you can share presentations with your teams or clients. Through its collaboration features, Samepage also lets you share files and important information.
Throughout the meetings, you can work on your tasks and projects without causing any problems to the workflow.
Samepage offers a free plan and Pro plan at $7 per user per month.
Key Features:
Samepage offers the following features for effective collaboration and meetings:
Audio calls
Video conferencing (individual and group)
Action Item tracking
Invitation management
Agenda management
Attendee management
Board meetings
Committee meetings
Internal meetings
Legislative meetings
Materials management
Text chat and messaging
Manual addition of data, time and initials to comments
Contact management
Content management
Cooperative writing and synchronized editing
Discussion boards
Document management
Group calendars
Project management
Task management
Version control
Merits:
Simple to use
Robust features list
Offers a free plan
Demerits:
No meeting minutes management
No meeting room booking
Lack of automatic date and time as well as initials stamp with comments
---
12. Magic Minutes
Magic Minutes is your one-in-all top meeting management software that lets you carry out all the necessary steps from meeting scheduling to after-meetings follow up plans. You can create an agenda, schedule the meeting and send meeting minutes with ease. You can also search for details regarding earlier meetings and actions to be taken through the stored history.
What's more? You can predefine sentences or phrases that may need to be used during the meeting. You can send these sentences through a single click, which helps save time in manually typing responses or additional details.
You can also assign various tasks during the meeting to the attendees. At the end of the meeting, the meeting details can be downloaded as a single document with all relevant information from agendas to minutes.
Magic Minutes offers a free plan and multiple paid plans starting at $12 per month for unlimited attendees.
Key Features:
You can avail the following list of features with Magic Minutes:
Action Item Tracking
Meeting scheduling
Agenda management
Attendee management
Board meetings
Committee meetings
Internal meetings
Invitation management
Legislative meetings
Materials management
Task assignment during the meeting
Meeting minutes management
Powerful search for meetings or actions
Post-meeting tools
Historical data available
Pre-defined phrases
Pre-meeting requesting and sending reports
Notification
Single document download for meeting details including agenda, minutes and reports
Merits:
Intuitive to use
Great features list
Ability to import reports
Offers a free plan
Demerits:
No travel management
No voting management
No video conferencing
No meeting room booking
---
13. SoapBox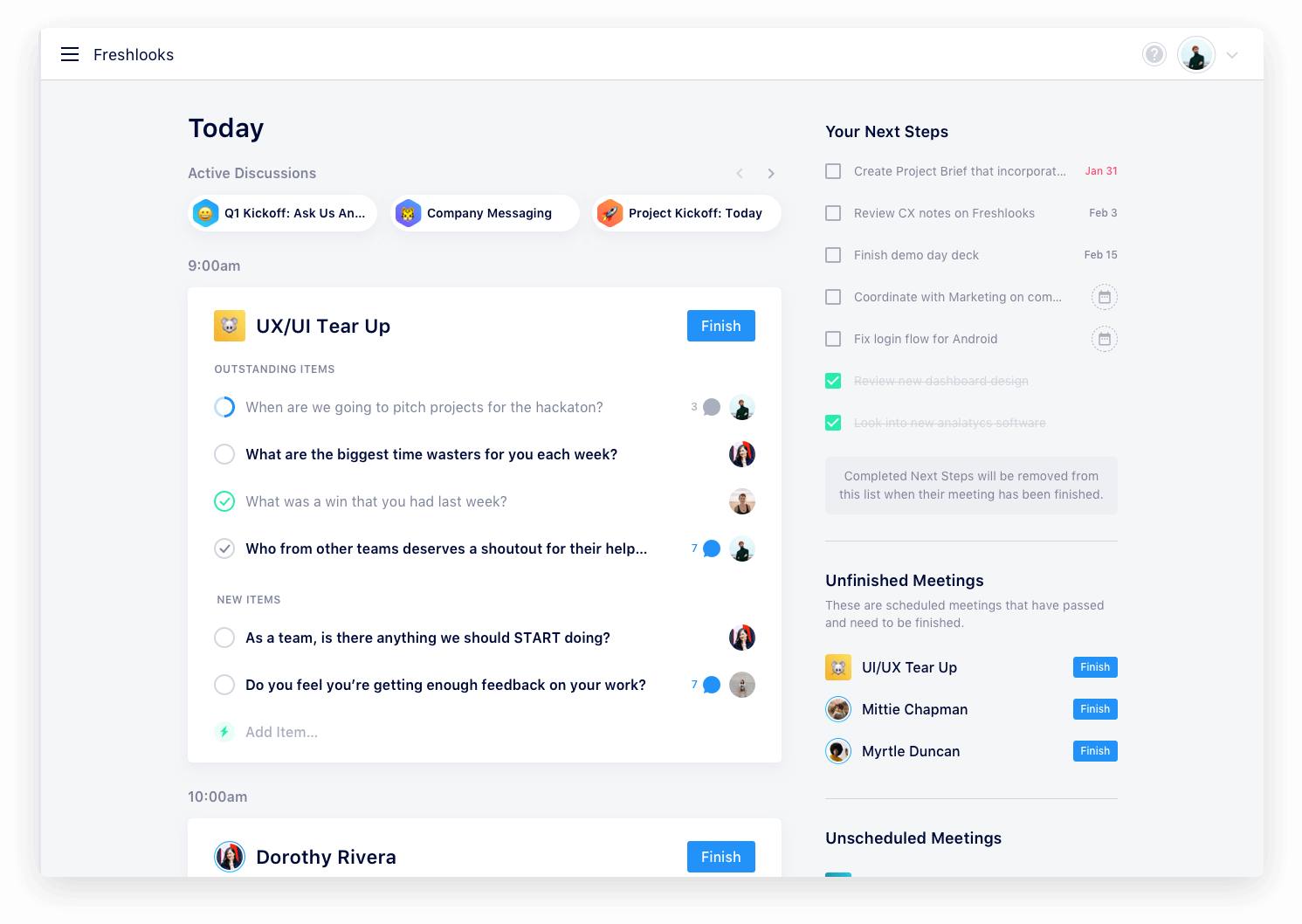 SoapBox is the manager's toolkit for staying organized and prepared. Its goal is to make being a manager easier, natural and fun through its platform for better one-on-ones, team meetings and company-wide discussions.
Key Features:
Create shared online agendas for one-on-ones and team meetings
Comment on agenda items
Take meeting notes right on your agenda
Assign next steps to team members, including a deadline, right in your agenda
Discussions tool lets you gather employee ideas and insights: launch a retrospective, a product kickoff and more!
Merits:
SoapBox basic is free to use, so you can create unlimited one-on-one and team meeting agendas, take meeting notes and more – at no cost
Having your agendas, meeting notes, comments and archives all in one place keeps you organized and holds your team accountable
Integrations with Slack, Microsoft Teams and an iOS app let you add agenda items where and when you're already communicating
The interface is fun to use and easy to adopt
The Question Suggester Bot will recommend agenda items to add
Demerits:
No file attachments
No @mentions for team members
---
14. Vyte
Vyte is not like your regular meeting management software and scheduling tools. Offering you a personal page and meeting schedule straight from the browser, it eliminates complex steps that would generally be involved in setting up other tools.
It comes with some unique yet interesting features including being able to hide attendees from each other, personalized link page and customization for the tool.
Although it does not come with mobile apps, it keeps scheduling efficient and effective through its web-based system that incurs minimum storage space or cost on the customer. If you are looking for a simplified scheduling system that gets the job done, Vyte is for you.
Key Features:
Multiple options for logging in
Invite participants to a scheduled meeting
Send out feasible meeting dates to vote on by participants
Integrate scheduled meeting with your existing calendar
Customizable work environment through personalized logo and images
Time zone detection and handling
Set up "mandatory" invitees to avoid missing out on important attendees
Notifications and updates
Offers one-on-one and group meetings
Merits:
Multiple subscription plans including a free plan
Hide invitees from each other to ensure discretion
Controllable notifications.
Demerits:
No mobile application for iOS or Android
No inbuilt videoconferencing
No screen-sharing
No audio or video recording
---
15. Calendly
Calendly helps you manage your meetings online through a link. This meeting management software keeps things light and simple by merely letting you allot free time on your Calendly and share it through email or embed it on your page. Calendly takes care of the rest of the work for you.
The potential attendees select the time most feasible and that is added to your schedule. How simple is that?
Plus, it gives you options to set up group events so you can easily manage an upcoming webinar, tour or even a class. Moreover, simply use its free version or upgrade it on very affordable rates.
Key Features:
Personalized Calendly link
Customizable branding including removable Calendly branding
Multiple pooled availability options for teams such as round robin, collective scheduling, and multiple team members on one page
Options to set up group events
Automated event notifications
Customizable email notifications and reminders
SMS notifications
Add links to event confirmation pages
Offers invitee redirect
Metrics and reporting
Embeddable and shareable Calendy links
Merits:
Multiple subscription plans including a free plan.
Multiple scheduling options.
Demerits:
No mobile application for iOS or Android.
No inbuilt videoconferencing
No screen-sharing.
No audio or video recording.
---
16. MeetingSense
MeetingSense is one of the top meeting management software that takes minimum time to learn and operate. If you are looking for an instant switch from your current meeting management tool, MeetingSense may be the right pick for you.
With a sleek design, easily workable environment, this app comes with a feature set that helps you arrange meeting in style through by adding as much detail as you want in a customizable and flexible layout.
The potential meeting attendees receive automated email notifications for meeting invitation as well as any updates made on the meeting summary. Also, it can be easily integrated with tools you already use such as Calendar through a few basic configurations.
Key Features:
Pre-meeting settings that include assigning meeting tasks, attach corresponding information to invites and request input
Allows setting up goals for meetings to save time
Attach multiple types of information including files, audio, web, and video conferencing information
Offers note-taking option for all users
Provides post-meeting follow-ups
View upcoming meeting details
Receive information about individual meeting responsibilities
Integration with other web and video conferencing tools
Archive all meeting content, linking files, notes, assignments, and tasks in a searchable database through MeetingMemory feature
Assign and manage post-meeting action Items
View task progress within meeting notes, so all team members are able to see progress from each meeting
Automatic generation of email notifications to recipients regarding updates to action items
Access to meeting records in one centralized dashboard.
Customized online dashboard to manage shared meeting information including published meeting records, notes, on-going action items, opening or downloading files, and real-time team collaboration.
Merits:
Affordable pricing especially if paid annually
Customizable email summary including agenda and decisions
Task allocation during meetings
Easy learning curve
Demerits:
No mobile application for iOS or Android.
No inbuilt videoconferencing
No screen-sharing.
---
17. Ecuria
Ecuria is a cloud-based meeting management software for easy access from anywhere across the globe. A robust set of features, multiple pricing plans from basic to board level and an intuitive interface make it a particularly attractive option for teams on all levels, local and remote.
You can easily set up meetings with predefined templates, assign tasks to attendees during the meeting and even go back to view progress on assigned tasks in later meetings, if any.
This makes it really easy to keep track of the tasks to be done instead of having to meet up, assign tasks and collaborate on different platforms. All of these features and more make Ecuria as one of the top meeting management software any team can adopt today.
Key Features:
Agenda creation with assign time to different points of discussion
Assignment of tasks and goals to team members post=meeting
Keep track of assigned tasks and option to revisit those in later meetings
Option to record clips and sections of your meeting that can be shared ahead
Attach relevant meeting clips with the task for intended assignees
Option for input of opinions/voting
Offers attendance tracking
Real-time meeting moderation for roll-calls, motions, and voting
Alerts and reminders
Automated reports generation
Single dashboard to keep access to information
Merits:
Cloud-based tool for easy access from anywhere
Pre-configured agenda templates
Task allocation during meetings
Mobile apps for iOS and Android
Multiple, affordable pricing plans
Demerits:
No video conferencing
No screen-sharing
---
18. Beenote
Beenote is another meeting management software available today that sticks to the point with its limited yet focused feature set. Instead of bombarding the user with a long list of features that lead to a complex learning curve, Beenote is easy to learn and operate.
Although it focuses mainly on meeting management features, it also comes with a task management module for easy follow up on tasks and projects discussed in meetings. It comes with a free (BeeFree), team (BeeTeam) and board/committee (BeeBoard) level subscriptions.
You can use this comprehensive agenda-to-minutes tool free forever or upgrade it at very reasonable pricing.
Key Features:
Agenda planning with relevant details that include meeting topic, objective, the person in charge, the role of participants, subject length, project folder and more.
Integral or partial voice recording for the meeting.
Automatically generated and easily printable meetings minutes.
Email notification for participants on agenda and meeting minutes.
Merits:
Offers a free version called Beefree with numerous features.
Provides task management features to follow up on tasks post meetings.
An affordable team plan at $8.66 per user per month.
Two voice recording options, integral and partial
Mobile apps available for iOS and Android
Demerits:
No video-conferencing option
No meeting reminders
No screen sharing
Every meeting management software is likely to be a mixture of strong features and some poor ones. But that's ok, seeing as how every meeting has requirements unique to their purpose.
Some meetings are conducted for the purpose of uniformed collaboration, some essentially for learning and some for mere feedbacks and updates.
Check and see which of the meeting management software from our list fully caters to your meeting purposes and let us know in the comments below.
Conduct productive meetings, every time, with confidence

nTask is free and lets you create unlimited meetings, schedules, agenda, follow-ups and more.