Project Management Software

For Modern Teams

>
Deliver projects 3x faster with a powerful, robust, and fully integrated project management solution
Empowering Industry Leading Teams
Plan Your Projects 5x Faster
Plan what needs to be done, with, when, & where in just a few steps. Define your projects, set billing method, decide the payout rate, and allocate resources to your projects
Key FEATURES:
Budgeting
Resource Allocation
Set Currency
Define Work Capacity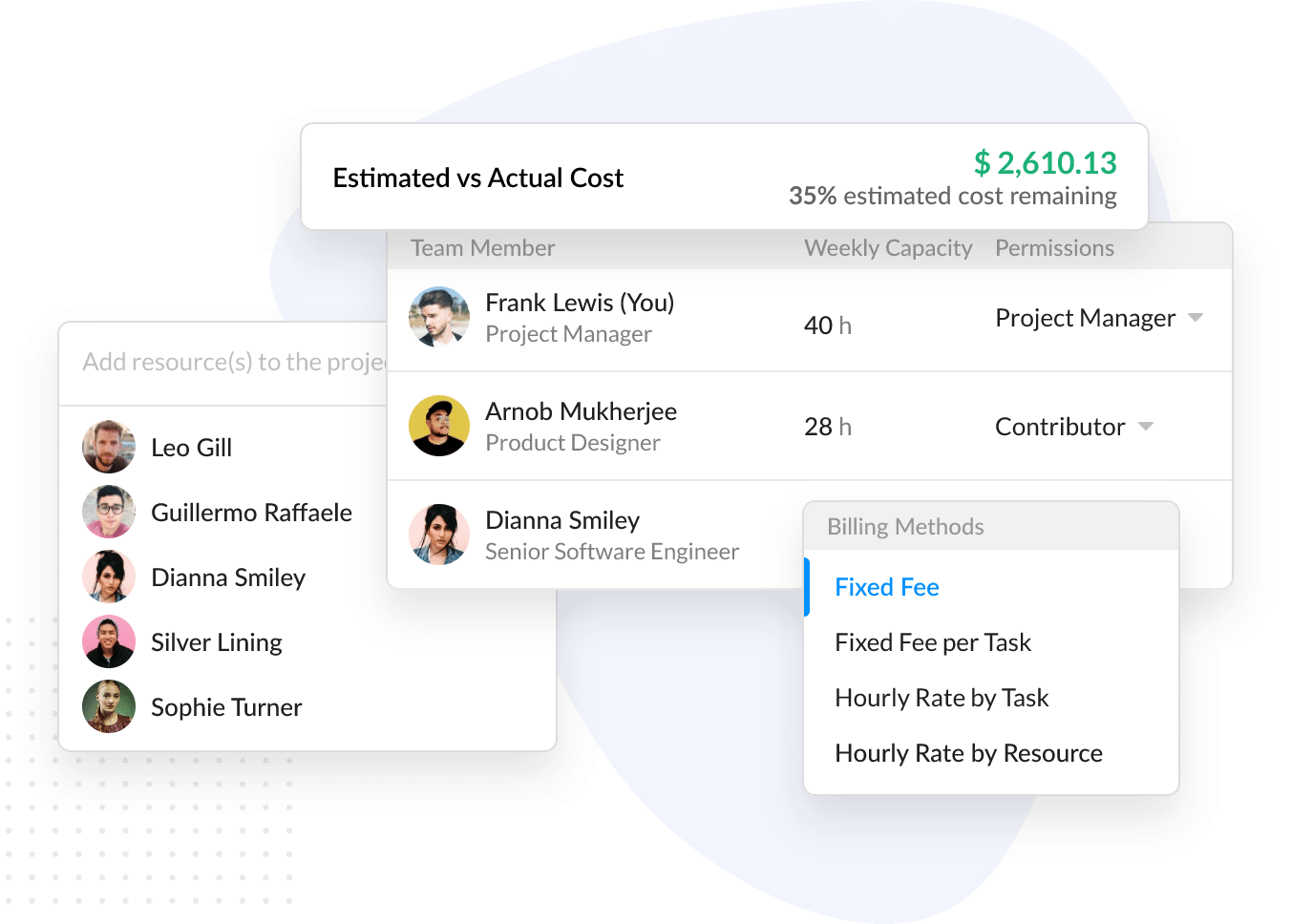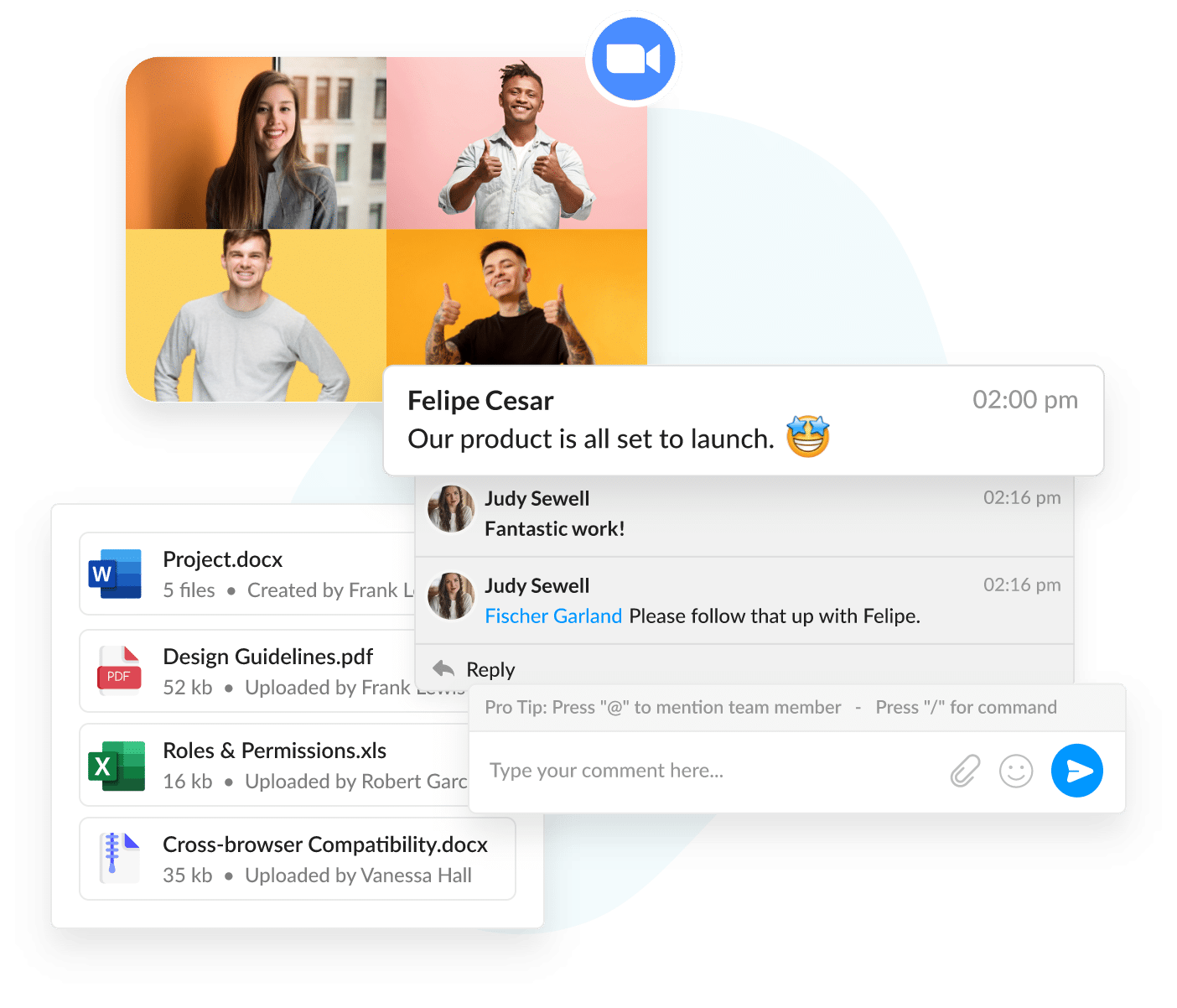 Synchronized Communication & Collaboration
nTask makes it possible for your team to connect anytime on your projects with team chat feature. Share your project updates with everyone or separate team members
Key FEATURES:
Share Updates with Everyone
Chat Personally with Team Members
Reply-Later
Document Sharing and Files Management
Stay Focused on Tasks
Instantly plan, organize and assign tasks in your projects to see what you will be working on, and what is left to be done. Create to-do lists, make unlimited sub-tasks
KEY FEATURES:
Multiple Sub-Tasks
Set repeat task
Add assignees and attachments
Set planned and actual dates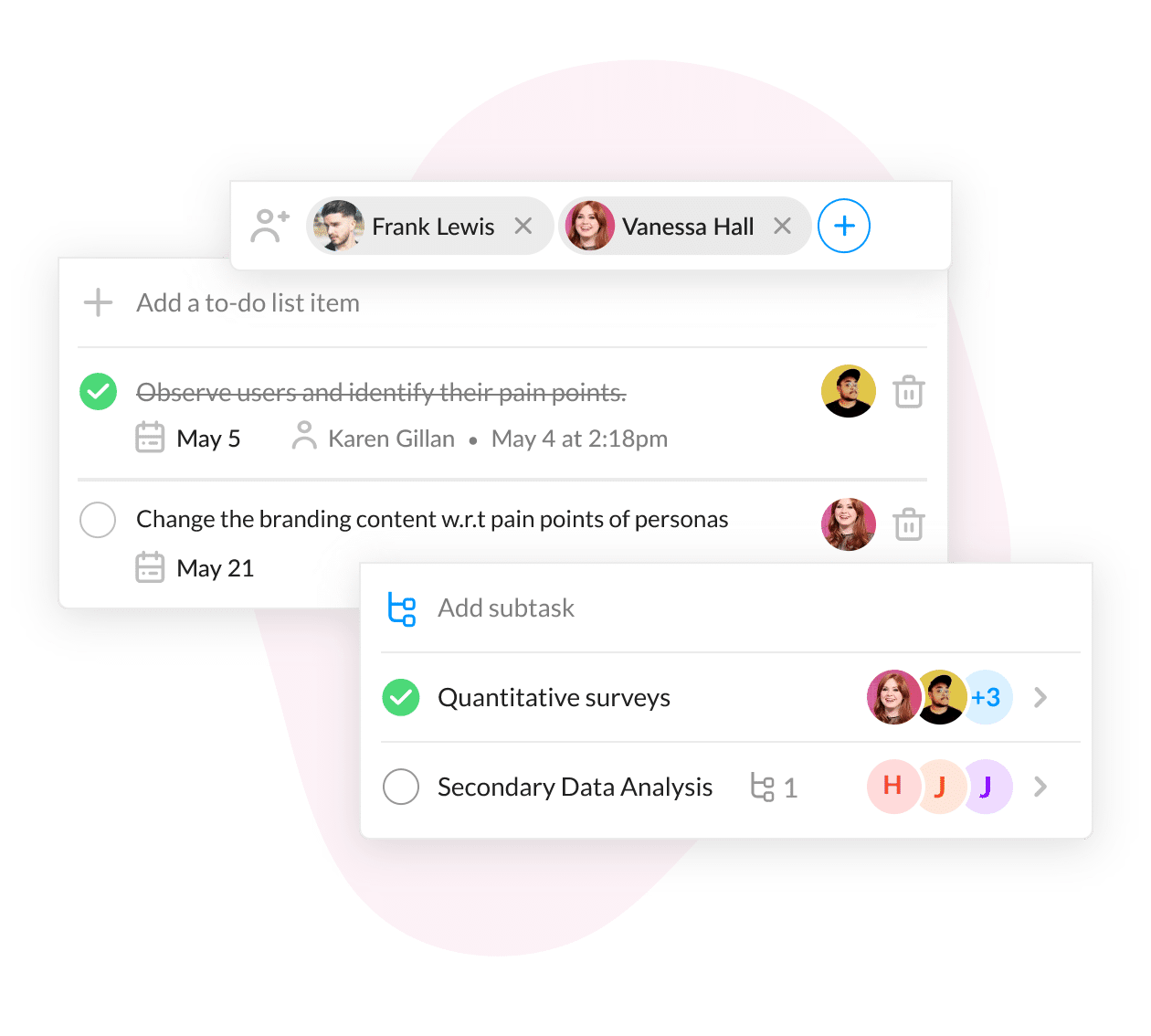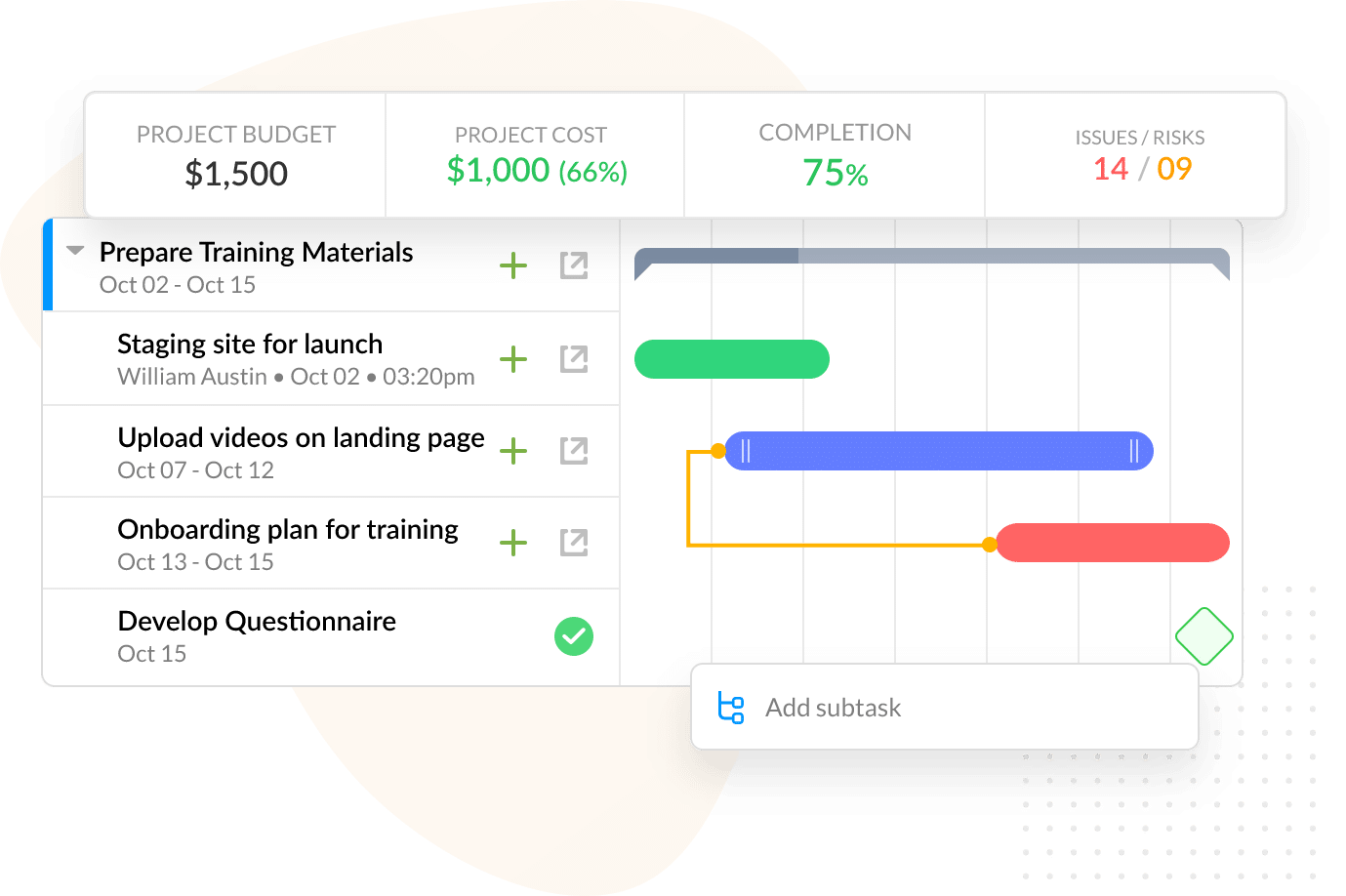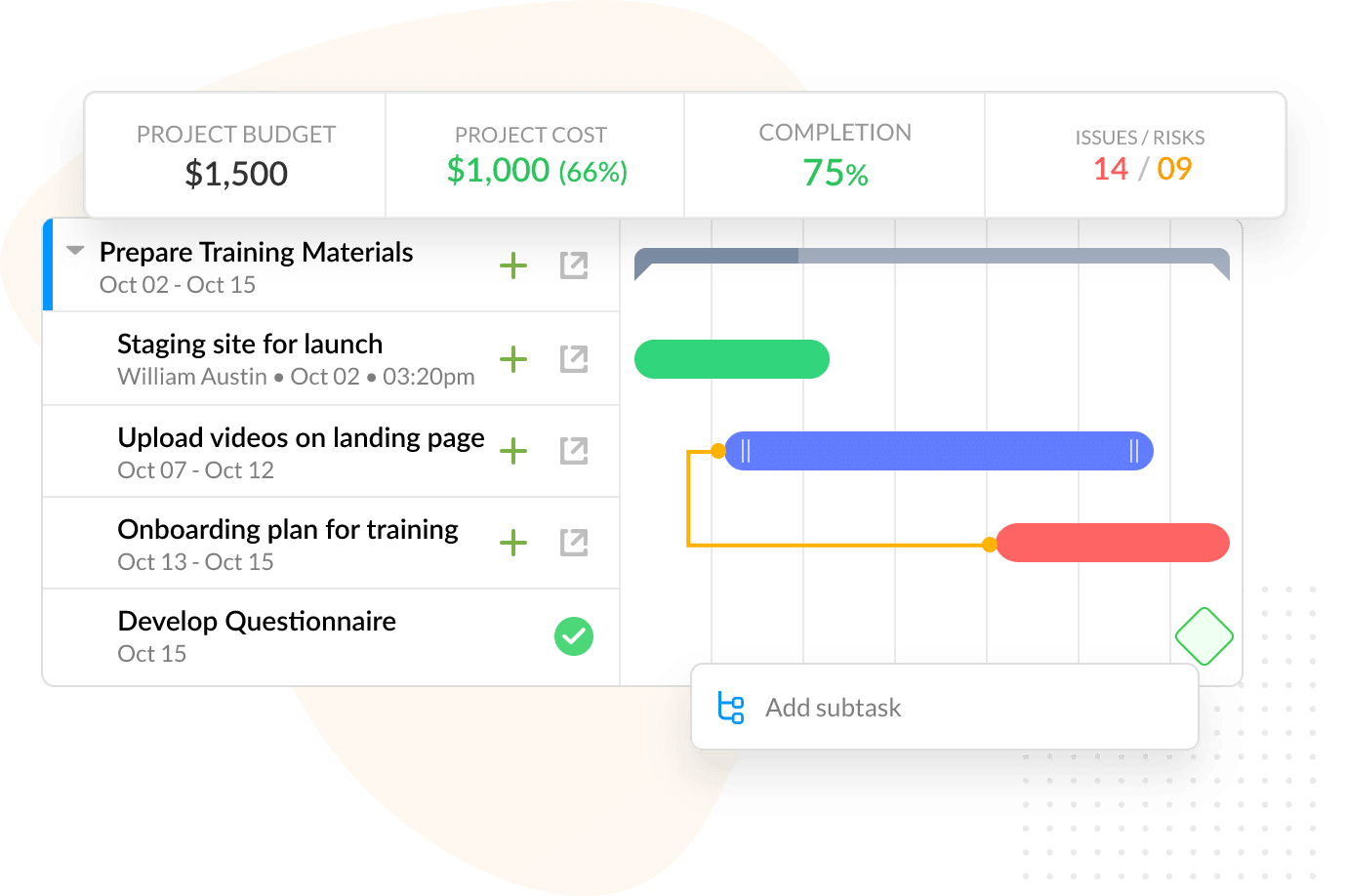 Make Visualization Easy with Gantt Charts
Get organized, gain transparency and become flexible with nTask project management
Key FEATURES:
Set Task Dependencies
Set Milestones
Optimize Progress
Budget Tracking
More

Project Management

Features

>
nTask is loaded with extension features to help you nail your projects!
Book a time with us to get a demo, personalized to your use-case
"Rai has been amazing with us from day one, he helped us understand how we can make the best out of nTask and helped our whole team with the onboarding too.'
Sasha T
Principal Risk Manager
Integrate with your favorite apps
nTask teams up with your favorite software, plus connect with 1000+ apps powered by Zapier to have all the tools you need for your project's success.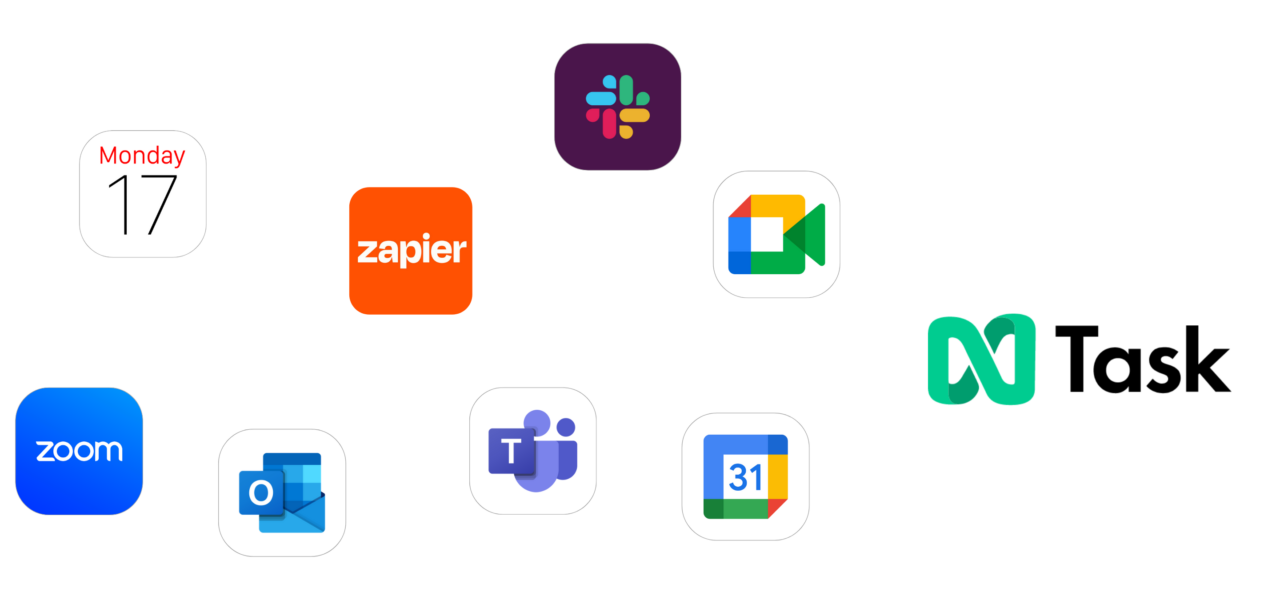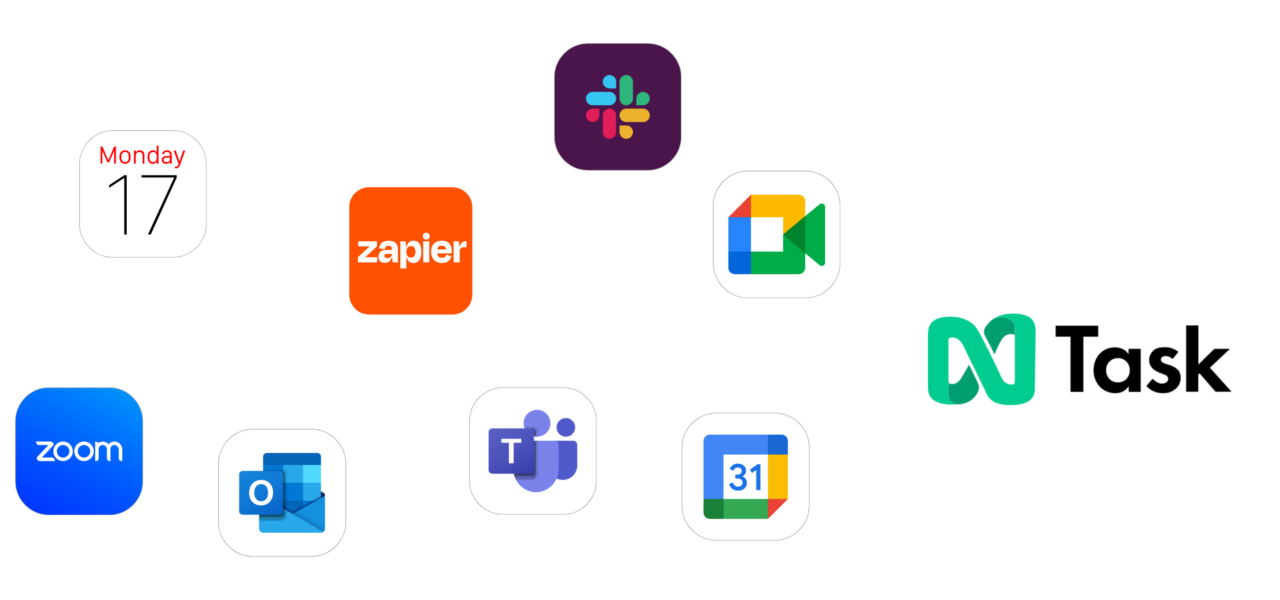 Don't just take our word for it
Hear what other SMB have to say
"nTask not only focuses on task management but also helps us understand the activities that employees are developing to complete projects, we can see everything. This platform has been key to the development of various activities within the company's sectors."
Ana G.
Sales Director
100+ Employees
"A more high-powered alternative to a Trello or Asana style tool, without having to sacrifice good design."
Michelle Nickolaisen
Content Marketer & Strategist
Bombchelle
15 Employees
"I am very satisfied about using nTask, because I can work very well with my team, and very important, I can manage all the situations that we have in our company, and we can easy solve them!"
Laslo Horatiu Dacian
General Manager
Electroplus LTD
500+ Employees
"nTask is designed as a collaboration tool for businesses that is a full project management solution."
Oberon Shaw, MCH
Head of Talent Acquisition
2000+ Employees
"The best thing about nTask is it is all-in-one. You can take care of tasks, communications, reporting, Kanban, Gantt charts, time tracking, meeting management, and a lot more from one app."
Raj Tripathi
Founder
Infuse
100+ Employees
"It really helped me to keep my team on task and it is easy for me to share my files or documents. This is one of the management tools I found less cost than the other. It has many functions just like the expensive one."
Bree D.
Customer Service
250+ Employees