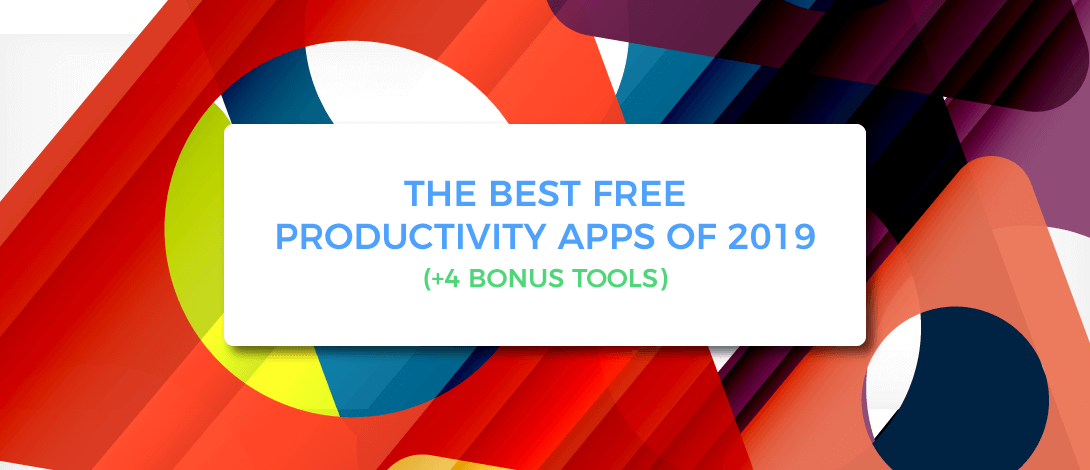 We spend more than one-third of our waking hours working. As human beings, we strive to achieve more and outperform ourselves with every passing day.
We are in a constant circle of brainstorming new ways, planning for better results and trying to discover new methods and frameworks to make ourselves more efficient and our work more effective.
This continuous struggle can, if not managed well, result in negative effects on our productivity and health. In some cases, we get burned out; which leads to a loss of morale and ambition.
In order to make our lives easier personally and professionally, we make use of multiple apps day in and day out for planning projects as small as getting the daily grocery to ideating magnanimous project planning on an enterprise level.
However, at times juggling between multiple apps can get overwhelming. After all, technology is supposed to make life easier.
There are dozens of free productivity apps floating the net and it can be difficult to really make a pick. So, we handpicked a list of apps that can give you more value for your time.
Here is a list of the 16 best free productivity apps that can help you achieve and retain your productivity by helping you streamline your routine and keeping your progress in check.
Table of Contents
The 16 Best Free Productivity Apps of 2019: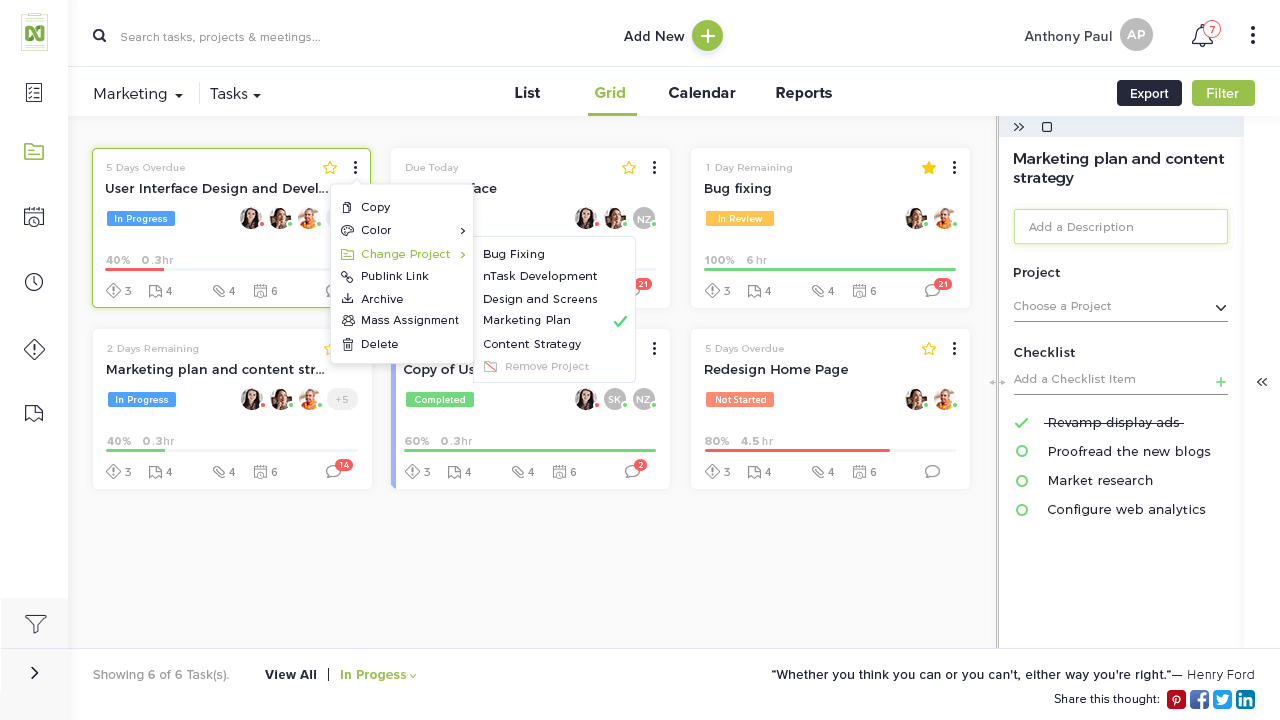 nTask comes first on our list of free productivity apps. Primarily an online task management software, designed and developed primarily for teams, this tool gives you all the options to live life as productive as it can be.
Loaded with a comprehensive and sophisticated feature set, this app presents itself with a simplified interface, easily learned and used by homemakers to freelancers and teams to enterprises.
You can keep notes and use it as a simple to do list app or create an idea or chore as a task. You can create projects and associate multiple tasks under it. This helps you easily track ideas. You can monitor task status and project progress through reports and Gantt charts.
Plus, with resource planning and budget allocation, you can keep your teams productive and project implementation effective throughout the project development cycle.
nTask is a simple all-in-one project management app that provides its users with comprehensive seven natively built modules including tasks, projects, risks, issues and meeting management.
This means you don't have to juggle between multiple apps for getting things done hence making you more productive. These modules facilitate the teams to avoid paying for third-party integrations or constant switching between multiple tools for numerous projects and multiple workspaces.
According to Lucid Agency – an award-winning agency specializing in digital marketing, advertising, and user-focused web & app design, "This is a great option for small development teams that have a need for free bug-tracking or task assignment."
This top productivity app also helps you stay in sync with updates and keeps you and your team on track through reminders and alerts.
Key Features:
With so many features nTask has to offer, here is a glimpse of its key features:
Two-Factor Authentication for extensive security
A simple user interface with access to a wide range of modules.
Team specific workspaces that can be managed and monitored simultaneously.
Create, assign, organize, prioritize and share tasks
Create and assign projects
Comment on and assign tasks to projects or structure them independently
Convert comments to tasks using Slack
Select from multiple statuses for a task
Extensive project management resources including project reports, Gantt charts, and project timelines to manage and monitor project progress
A dedicated timesheets management and time tracking module with the option of creating and managing team specific sections for employee task efforts and payroll.
A detailed meeting management feature to help teams stay in sync. You can arrange and schedule meetings, be it one time or recurring meetings. Plus, it lets you send invites to attendees, add meeting details and specify follow up procedures.
Issue management module to facilitate identification and listing down of issues related to multiple tasks. You can list the issue along with the Issue owner and relevant details to track issue maintenance.
Risk management helps you identify and keep track of potential risks. You can list down the risk and assign a risk owner in order to track risk management.
Powerful search and filter tools that help you search for tasks, projects, meetings, issues, and risks. You can even save more frequently used filters.
Alerts, notifications, and reminders to keep teams on track.
Third party access
iOS and Android mobile apps
Pricing Plans:
Free and Pro ($2.99 per month per user with an annual billing) plans.
Notable mentions:
nTask is ranked #3 on Techworld's list of the Best Free Project Management Software.
Skyrocket team productivity with nTask, it's free!

Manage all your tasks, projects, meetings, timesheets and more in one place. Sign up today!
#2 in this roundup for the best productivity apps is a Gantt chart tool – GanttPRO. Single users, team leaders, project managers, CEOs, etc. will be much more productive in managing plans and projects if every assignment, task or duty will be clearly visualized on a timeline.
GanttPRO gives a perfect opportunity to plan, track, manage, and successfully complete projects in a timely manner and within budget.
In GanttPRO, users can create and assign multiple tasks, track progress, collaborate on projects, invite team members or create virtual resources to work with them on a common goal.
To become an advanced user of the tool, you need up to 10 minutes. The software offers a nice UX/UI design and an intuitive interface.
Key Features:
With GanttPRO, you can:
Create and assign tasks
Create dependencies
Track the progress of each task and project
Set project and personal working calendars
Export charts
Share via public URL
Create baselines
Manage resources
Save own projects as templates
Undo actions
Browse history of changes of a project
Set project and personal working calendars
Pricing Plans:
Free trial. Paid plans start at $5.90 per user per month.
---
Productivity begins with the very inception of a new idea, which can be at any place and at any time. It is important to not let those ideas slip by and have them noted. Evernote helps you do just that – take notes along the way.
With this second app on our list of the best free productivity apps, you can save links, pictures, screenshots, links, articles, travel documents and even sections of a write-up. The application comes with task listing and archiving functionalities for easy accessibility.
With the option of setting reminders and email alerts, you don't have to risk missing out on sharing important information or completing a task. You can also search for the required notes without going over tons of files. With Evernote Food, you can collect food related ideas and information and Evernote Clearly helps you with tasks related to clearing web content.
Key Features:
Some of the core features this app provides are:
Ability to capture and save links, files, photos, notes, web clips, itineraries, confirmations, travel documents
Annotation and markup
Reminders and Email notifications
Search option
Web and Mobile interface
Web clipping and Web clipper browser extensions
Audio recording
Shapes, arrows and quick sketches
Edit rich text and sketches
Sync handmade sketches with notes to any device
Share notes and collaborate on files
Bookmark web pages
Geolocation
Multiple device availability
Single storage for online resources
Pricing Plans:
Basic (Free), Premium ($ 7.99 per user per month) and Business ($ 14.99 per user per month) plans.
Notable mentions:
Trackly, a productivity tracker for teams, listed Evernote #8 on its list of The Best Productivity Tools in 2019.
See also:
The 21 Best To-do List Apps of 2019 for Personal Task Management
---
Standard Notes is an open source productivity app that is both free and secure. With end-to-end AES-256 encryption, this app makes sure that any data sent across the servers is encrypted. This means it is protected against loss, manipulation or even leakage of data.
How important is this? Well, according to Accenture, there are more than 130 large-scale, targeted breaches in the U.S. every year – and this number is growing by a whopping 27 percent per year.
Plus, this software is simple and lightweight. Without complicated features, it lets you sync unlimited data across multiple platforms.
Key Features:
You can avail the following features with Standard Notes:
Two-factor authentication for security
AES-256 encryption for privacy
Note version history (up to 100 years)
Automated backups of data to Email, Dropbox, OneDrive, and Google Drive
Automatic sync (unlimited data)
Unlimited access to powerful extensions, editors, and themes
Web and Offline access
Unlimited devices
Apps on Mac, Windows, iOS, Android, and Linux
Pricing Plans:
Free and Extended ($34.99 per annum) plans.
---
Productivity is all about saving time and doing more constructive work. For example, why type information or capture images to manage later if you can scan existing information and have it organized into various elements on its own? With Scanbot, you can store information through single scans and have that information used in multiple ways.
With a click, you can digitize important documents, images, and multiple pages of a contract. You can store information and send it as fax in more than 50 countries.
What's more? It's super smart. You don't have to spend time adjusting images taken in a hurry. Scanbot will do that for you too through perspective correction. The scanned document is straightened and positioned correctly before converting into a PDF file.
Key Features:
With Scanbot, you can manage your documents as follows:
Scan multiple types of documents including receipts, receipts, business cards, contracts, whiteboards, flip charts notes, and newspaper articles
Detect QR codes for contacts, locations, URLs, locations, hotspots and more
Scan product barcodes and search for it
Save documents to specific folders
Sharing documents through email
Optimize scans for black and white, grayscale as well as color
Save scans to cloud service through customized settings for a specific folder and automatically
Save scans in PDF or JPEG file formats
OCR (optical character recognition) for automatic text recognition from scanned documents
File search through OCR
Add signatures, comments and highlight important information
Lock Scanbot with a unique passcode or with your fingerprint (Touch ID, iOS 8+ only). Protect your PDF scans, too.
Call numbers, open URLs or navigate straight from the scanned documents
Name templates for your scans (date, time or location)
Rename scans via placeholders of calendar entries, date, time, location or custom placeholders.
Multiple themes
Pricing Plans:
Scanbot comes with a Free and Paid ($ 6.99) plan.
---
If you have an active social media life, you need Buffer. Buffer is designed and created primarily for helping you manage social media content. You can share content through multiple social media sites and stay connected to all social media accounts all the while facilitating your social media schedule and posts.
Buffer helps you accomplish this by logging into social media sites in one go instead of you having to log in manually for each site. The software basically does this through automatic post scheduling on all the linked social media sites, taking away the worries of daily posting.
If you own a small business or are a freelancer, this productivity app can be a great asset professionally. It also comes with advanced data analytics.
Through a number of clicks, retweets, user reach, and mentions, you can assess the effectiveness of posts and easily carry out community management.
Plus, this top productivity app helps you integrate with integration with WordPress, Chrome, RSS readers, and other significant tools for tracing out content.
Key Features:
Here is a list of features and facilities Buffer can offer you:
2-step account login (for security)
Multiple posts and tweets with one click
Customized scheduling
Social profile sharing
Multi-media format sharing
Team collaboration (through administrator rights)
Profile management
Analytics and insights
Statistics monitoring and comparison
RSS feeds connectivity
iOS and Android support
Pricing Plans:
Starter (Free, Pro: $15 per month) and Business (Small: $99 per month, Medium: $199 per month, Large: $399 per month) plans.
Notable mentions:
Thrive Agency ranked Buffer #1 on their list of PM Tools for Social Media Managers. Thrive is a creative digital marketing agency headquartered in Texas working with clients globally to offer digital value.
---
We come across eye catching articles, videos, memes and so much on a daily basis. However, as most of us are pressed for time running about our work and life routine, more often than not, we don't get the time to really look into these.
Plus, it is hard to save multiple sources on information only be to visited later through multiple sites and apps. It would be so much easier if we could hand pick them and keep it in our pocket for easy access, right? Well, now, you literally can.
Making it to the list of top free productivity apps, Pocket helps you save links, articles, videos, pictures and so much more to easily access later. You don't have to go back to various websites and social sites, Pocket will get the data for you and display on its interface.
Starting out as Read It Later, designed for saving articles, this productivity app evolved into a more general-purpose service with the ability to save images, videos, links and a lot more. And we are glad it did.
Key Features:
Some of the cool things you can do with this app include:
Save from multiple resources including your browser and more than 800 apps including Twitter, Flipboard, and Feedly
Automated syncs with your phone, tablet, and computer
Offline access to and viewing of articles and webpages
Advanced Search Operators
Search through Title or URL
Search Full-Text, Tag, Author, or Topic
Sort Search Results by Relevance or Date Saved
View Recent Searches
Backup of articles and webpages saved
Suggested Tags for quick organization
Pricing Plans:
Pocket and Pocket Premium (4.99$ per month or 44.99$ per annum) plans.
See also:
---
#7 on our list of the best free productivity apps is Cisco Webex Teams (formerly known as Cisco) Spark.
This app helps your team achieve optimum collaboration making team work easier and teams more productive. In one app, you get to arrange meetings, message teams, share files, make video calls and carry out whiteboarding all the while integrating with WebEx.
Plus, Cisco holds a prominent place in tech security and networking. Cisco Webex Teams helps your data and conversions stay protected against data breaches and security threats.
Key Features:
Here are some features you can avail making your meetings and collaboration more productive:
Team collaboration through group chats, private messages, and video calls
Organize group chats in teams and spaces
Built-in whiteboard app and companion device for brainstorming ideas
Switch devices during the same call
Video conferencing (full-screen, up to 7 video feeds, or split-screen)
VoIP or phone call-in
Markup tools and whiteboard
Record meetings (including video)
Share the presenter role
Free mobile apps
Availability on Android, iOS, Windows, Mac, and Web apps
Pricing Plans:
You can try Cisco Webex Teams for Free or avail one its Premium pricing plans (Premium 8 at $24 per month, Premium 25 at $49, Premium 100 at $69).
---
On #8, we have MindMeister. A powerful mind mapping tool which allows users to visually structure ideas and share with team members to brainstorm on them. MindMeister is one of the best free productivity apps to ideate and document thought processes as you go along.
With MindMeister, you can easily develop mind maps in the form of slides and share with relevant team members to collaborate on them. Team members can comment on all the ideas, vote on them, and discuss the relevant changes required.
Team members can also see all the changes that are made in a particular mind map, so that everyone stays updated on a particular activity.
Key Features:
Built-in presentations
Customized themes
Shareable links of mind maps
Due dates and priorities
Assign tasks
Built-in mind map templates
File attachments
History mode for retrieving older ideas
Meeting management within specific mind maps
Integration with MeisterTask for project management
Pricing:
Basic (Free), Personal ($4.99 per month), Pro ($8.25 per user per month), and Business ($12.49 per user per month) plans.
---
The next app on our list of free productivity apps is Harvest. A time tracking tool which doubles as an invoicing application. Harvest enables you to track time and expenses being spent on a particular task by generating timesheets.
The timesheets are also utilized to track the time each individual spends on a specific task compared with their capacity, on a weekly basis.
Through Harvest, you can generate invoices for your clients by logging billable hours and the corresponding expenses. This creates transparency while producing invoices.
Key Features:
The app comes with following key features:
Time tracking
Expense tracking
Invoice management
Automatic reminders
Notes within tasks
Working capacity tracking with actual work
Multiple third-party application integrations
Pricing:
Free (1 person, 2 projects), Solo ($12 one-person, unlimited projects), and Team ($12, 2+ persons and unlimited projects) plans. Harvest comes with a free trial period of 30 days.
---
Designing is an integral part of visual communication, and graphic designers go through multiple productivity hurdles throughout the day to come up with a perfect piece of art.  Therefore, the 10th spot on our list of free productivity tools goes to Canva.
A simple design platform which provides an easy graphics design solution to teams. Coming with a diverse set of designing features, Canva enables users to create professional designs within a matter of few minutes.
It's a perfect tool for beginners and those who're not really inclined towards advanced graphics design, as it comes with a vast set of images, fonts, and templates to help users build designs from scratch.
Key Features:
Out of numerous design features, some of the key ones are:
Design grids
Custom graphs and charts
Photo straightener
Built-in design templates
Image transparency
Photo editor
Stickers and badges
Photo frames
Drag and drop functionality
Pricing:
Free forever, Canva for work ($12.95 per user/month), and Canva enterprise (pricing upon request) plans.
See also:
Getting Things Done (GTD) Method and 4 Best GTD Apps & Tools
---
A popular online presentation making platform, Prezi takes up #10 position in this collection of best free productivity apps.
Prezi adds fun and creativity to the way people make presentations by providing unique features to make the data more engaging and eye-catching. Instead of using traditional means of switching between slides, Prezi uses a canvas-based approach. You can create your presentations on one wide canvas, zooming in and out on particular frames to shift focus.
An easy-to-use tool, Prezi allows users to have complete control over how they want their presentations to look like with customized templates and a variety of other tools to choose from.
Key Features:
Design templates
Adding of files and images
Presentation analytics
Zooming in and out
Drag and drop interface
Charts and graphs
Integration with Slack and Salesforce
Compatibility with Android and iOS devices
Pricing:
Standard ($5 per month), Plus ($15 per month), and Premium ($59 per month) plans.
---
The 13th free productivity app on our list is Lucidchart. It's an online diagramming tool which allows organizations and teams to create and share professional diagrams. The platform helps in creating flowcharts to cater all kinds of business needs, ranging from simple flowchart diagrams to complex technical ones.
Coming with advanced tools, Lucidchart allows users to create all kinds of diagrams without any technical difficulty.
Key Features:
Organizational charts
Data flow diagrams
Workflow diagrams
Network diagrams
Mind Maps
Concept Maps
Value Stream Maps
Process Maps
ER Diagrams
Wireframes
Pricing:
Basic ($4.95 per month), Pro ($9.95 per month), Team ($20 per month), and Enterprise (pricing upon request) plans.
---
Time and again, we find ourselves working on more than one application to get things done. The perpetual need to hop from one app to another usually results in frustration and decreased productivity.
This is where Zapier comes into play! Integrating and automating the applications that you use daily to provide a streamlined user-experience.
This free productivity app connects your applications and creates workflows, also known as Zaps, so that you keep your focus on important things. By creating a Zap, the application essentially works on a cause-and-effect principle. You set up an action that is repeated every time a specific 'trigger' happens.
An example of this is getting a Slack notification every time you receive an email in Gmail. You just need to create a Zap once and the application will repeat it automatically without any need of further actions.
Key Features:
Creation of Zaps
Activity dashboard
Online Zap templates
Tasks management
Tasks history
1000+ application integrations
Pricing:
Basic (free forever), Premium (starting at $20) plans.
---
Next up, we have Zoom!
Giving us all the right reasons to include it in our list of free productivity apps, Zoom is designed primarily for video calls between team members. You can utilize the platform for all kinds of virtual team meetings, online conferences, and professional webinars.
An effective tool for remote teams, Zoom also allows screen sharing and whiteboarding, along with other collaboration features. Easily create a group of relevant team members and instantly start collaborating.
Key Features:
Group collaboration
Drag and drop file sharing
Video meetings
Screen sharing
Whiteboarding
Audio calls
Third-party application integrations
Pricing:
Free, Pro ($14.99 per month/host), Business ($19.99 per month/host), and Enterprise ($19.99 per month/host) plans.
---
On #14, in this roundup of free productivity apps, we have IFTTT or If This, Then That. The tool works on the similar principle of cause-and-effect by integrating multiple applications for you. Through IFTTT you can connect applications and devices, and the resulting combinations are called 'Applets'.
By creating Applets, you're connecting two devices and prompting the application to automatically complete the tasks for you. You can pre-define a task, and let the application complete it on one app, based on the condition on another app.
The tool comes with pre-built Applets repository that you can easily utilize to make things easy for you, but you can also create them according to your preferences.
Key Features:
Pre-built Applets
300+ Application integrations
Home appliances integrations
Activity dashboard
Custom notifications
Simple user-interface
---
Bonus Tools
17. Drag App for Chrome:
Drag is a task management tool that helps users to streamline their inbox for easy communication. The platform turns your email inbox into respective Kanban boards for convenient tracking and accessibility. The application integrates with other Google Apps without any trouble, facilitating the users to minimize switching between multiple applications.
18. Agilean
Agilean is a project management software designed for IT enterprises. The software provides Kanban boards for planning and execution of respective projects and tasks.  Agilean provides analytics and reports for each task as well, which makes monitoring and controlling easy for the user. Additional features such as task dependencies, Gantt charts, and integration with other applications are also offered.
Notable mentions:
Apiumhub ranks Agilean as no. 1 on their list of 13 Agile PM Tools You Should Know. Apiumhub is a software development company based in Barcelona that transformed into a tech hub, mainly offering services of mobile app development, web development & software architecture.
19. Trackly
Another notable addition to our list of free productivity apps is Trackly. Keeping track of daily time spent on multiple activities can become difficult, especially if you're working on more than one task at a time.
Trackly is a productivity tracker for you and your team, which monitors your daily time spent on various activities and lets you analyze your behavior patterns regarding the time being invested in each activity, consequently helping you to effectively manage your time.
20. Gmelius
The last tool in our list of free productivity tools is Gmelius. A complete CRM solution seamlessly integrated with Gmail and G-suite. Best suited for small and mid-sized companies, Gmelius provides efficient email integration to keep track of all the clients' communication.
Gmelius converts all of the messages in your inbox into tasks and then transfers them to respective Kanban boards, so that you and your team can track them in a better way. This helps the teams to understand the workflow better and act upon it accordingly.
Do you have a list of top free productivity apps that you and your teams standby? Give your suggestions in the comments below.
See also: