A PMI study revealed that 86% of organizations use at least one form of risk management method.
Knowing what risks are likely to occur and wherein a business can be a time-consuming job for project managers who already have enough on their plates as it is. Also, it's important to realize that, with a growing number of projects and business scope, the nature of risks inextricably expands as well. And when that happens, a single static risk management approach does more harm than good.
According to McKinsey, 70% of senior managers have begun planning on adopting digital risk management. In other words, the use of risk management software is becoming increasingly critical to maintain the resilience of a company.
What is Risk Management Software?
Risk Management Software is an indispensable tool for organizations seeking to navigate an increasingly complex and uncertain business landscape. This specialized software assists in the identification, assessment, monitoring, and mitigation of a wide array of risks that have the potential to disrupt or undermine a company's business objectives, operational efficiency, and financial stability.
By systematically analyzing and prioritizing these risks, the software empowers organizations to take proactive steps in managing and reducing their impact on daily operations.
In this way, Risk Management Software serves as a critical component in safeguarding business continuity, protecting corporate reputation, and minimizing the negative ramifications of unexpected events or situations.
Risk Management Software equips organizations with the tools and insights necessary to anticipate, understand, and adapt to these ever-evolving challenges. By leveraging advanced algorithms, data analytics, and artificial intelligence, the software can process vast amounts of information and uncover patterns, trends, and potential threats that might otherwise go unnoticed.
Additionally, Risk Management Software can facilitate collaboration and communication across various departments and teams within an organization.
By consolidating risk data and providing a centralized platform for managing risks, the software enables stakeholders to share information, discuss potential issues, and develop cohesive strategies to address and mitigate risks.
This fosters a culture of risk awareness and proactivity, ensuring that risk management becomes an integral part of the organization's overall decision-making process.
Best Risk Management Software Selection Criteria
What did we look for when evaluating the best risk management software criteria?
Risk Management Software is characterized by a wide range of features and capabilities that cater to diverse industry needs. The following criteria are essential in determining the quality and suitability of such software:
Comprehensive Risk Identification: The software should have the ability to identify risks from multiple sources, including internal and external factors, as well as those that emerge from the organization's supply chain, market environment, and regulatory landscape.
Risk Assessment and Prioritization: The software must facilitate a systematic evaluation of risks based on their likelihood and potential impact, enabling organizations to prioritize them accordingly.
Customizable Risk Matrix: A versatile risk matrix, allowing users to customize the parameters and scoring system, ensures that the software can adapt to the unique needs of different industries and organizations.
Real-time Monitoring and Reporting: The software should provide continuous tracking of risks and real-time updates, along with customizable reporting options to suit various stakeholders' preferences.
Integration Capabilities: Risk Management Software should be capable of seamlessly integrating with other systems and applications, such as Enterprise Resource Planning (ERP) systems, to consolidate data and streamline workflows.
Scalability and Flexibility: As organizations evolve and grow, the software must be able to scale accordingly, accommodating new risks, regulatory requirements, and changing business environments.
User-friendly Interface: An intuitive and easy-to-use interface is critical for efficient navigation and adoption across various organizational roles and levels.
Security and Compliance: The software should adhere to industry standards and regulations, safeguarding sensitive data while ensuring compliance with relevant laws and guidelines.
Customizable Alerts and Notifications: Users should be able to configure personalized alerts and notifications to stay informed about potential risks, enabling them to take timely and appropriate action.
Robust Support and Training: A reliable and accessible support system, along with comprehensive training resources, ensures that users can effectively leverage the software's capabilities and maximize its value.
Table of Contents
The 28 Best Risk Management Software for Business Risk Management:
Take a look at 30 of the best risk management software that will add a cushion to your free fall: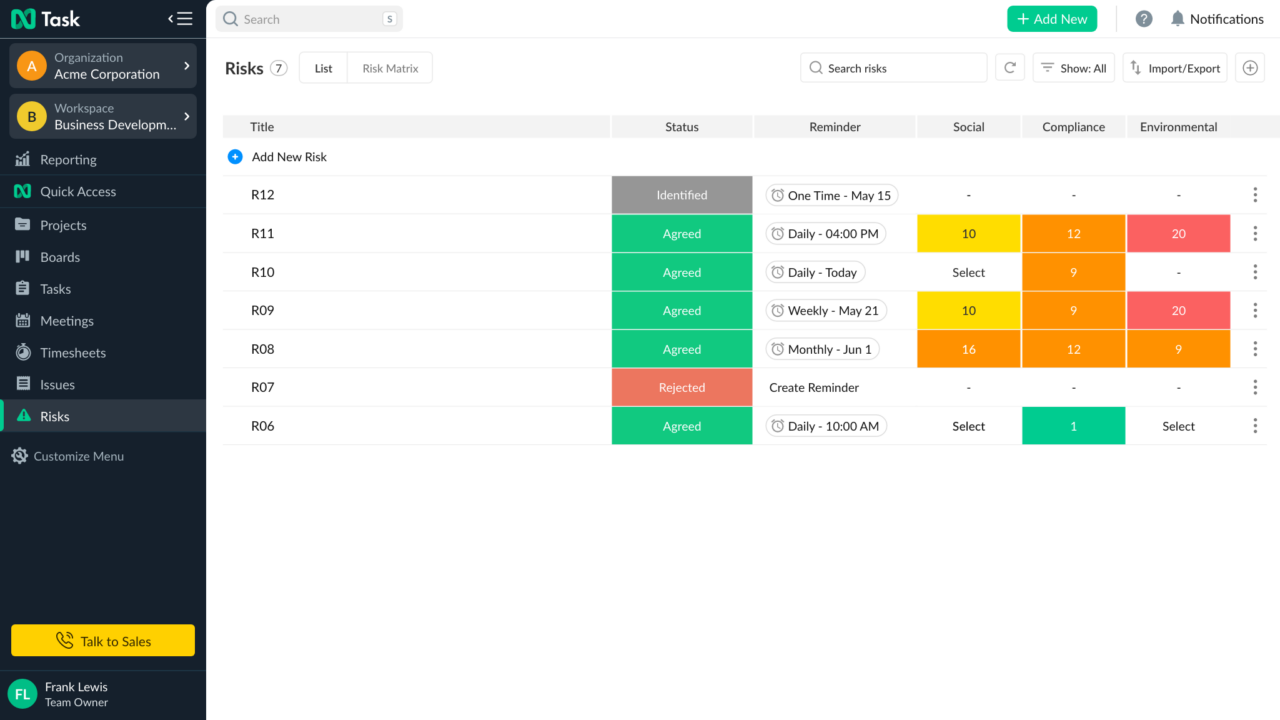 If your risk management software is clunky and complex to use, it will only aggravate your ability to track and assess harmful risks rather than simplifying the process of risk management.
Which is why nTask ranks first on our list. In nTask, the prospect of having to deal with and resolve identified risks doesn't seem too formidable. And the credit for which is single-handedly accounted to the extremely friendly, and pleasantly neutral tones of its risk management board.
The strongest suit that elevates nTask to a higher pedestal than it's fellow contenders is that it is a fully-featured project management tool. So, whether you're working on a task or conducting a meeting, nTask lets you keep one eagle eye on risk updates.
Benefits & Features:
Proficient Risk Reporting – Made to please Agile Teams, in particular, nTask lets you create a plethora of risks whenever the need arises. Each risk is meant to have a specified Risk Owner that is accountable for coming up with ways to resolve the risk and monitor its progress.
Easy Visibility – Identifying risks is not enough. You have to be able to view each risk whenever you require and locate them without having to lose precious time. Using the List view, gain quick visibility of an entire set of risks, where each risk is currently standing, and who is responsible for handling them.
Determine Risk Impact – Risks of any nature, in any department, are at times uncertain and other times fairly predictable. Either way, to keep project stability intact, it is vital that the best risk management software offers the advantage of presaging the likelihood of the risk and how severe is it. Select from three different severity options to let everyone know how urgent the risk is.
Risk Matrix – A self-generating risk matrix that provides a tabular summary of the probability of each risk in cross-reference with its frequency of occurrence. So instead of sifting through each risk individually, access the risk matrix with a single click.
Custom Fields – Add anything related to your business or process to the risk register.
Risk Assessment Graph – See how the efforts made to reduce risk are plotted on a graph.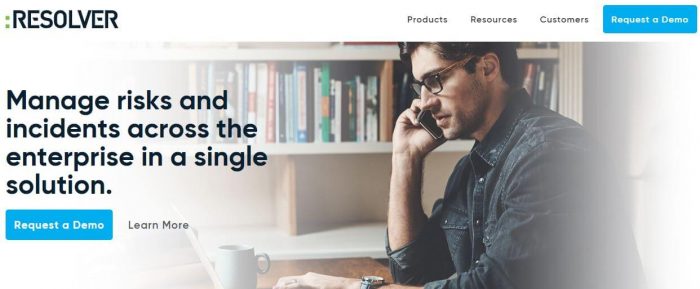 There's no knowing when a risk will erupt and jeopardize the foundation of your project, leaving you with nothing but remorse. The only panacea to this predicament is constructive planning.
Resolver is one such tool that focuses primarily on risk planning and preparation. It supports early planning of risk identification, in stages when project objectives and regulatory requirements are still in the making.
There's an entire set of consolidated products offered by Resolver that are specific to organizations of all sizes and from all industries.
Corporations like Delta Airlines make use of Resolver's Enterprise Risk Management solution for Global Security challenges. On a different front, clients like Farmer Mutual Hail chose Resolver's Internal Audit and Risk Compliance software for efficient reporting of risks to their management team.
Benefits & Features:
Effective Assessment

– Resolver Ballot facilitates a data-driven approach for conducting risk assessment.

Flexible & Custom Reporting

– Visualize your security data, risk matrix summaries and trending threats in customizable reports and heat maps that can be exported into spreadsheets and presentations.

Real-time accessibility & Insight

– A centralized dashboard, that allows easy tracking of total risks assigned, resolved, and unresolved.

Incident Management

– Establish links between risks associated with external events from a third-party source.

Prioritize Risk Analysis

– Use risk-scoring algorithms to rank each threat based on various attributes such as priority and severity level.

Rapid Risk Retrieval

– Resolver integrates with 40+ apps that let you share and transfer your risk inventory with outside parties or on your favorite project management tool.

Risk Response Management

– Manage and monitor your team's thoughts on each vulnerability assessment and mitigation technique used to resolve it.

Sometimes the simplest of vulnerabilities are the most injurious, silently weakening the integrity of the project until it suddenly collapses, resulting in complete and utter project failure. Simple management tools such as TimeCamp, are the perfect fit for addressing such seemingly benign risks.
Though TimeCamp is fundamentally a time tracking tool made to assist teams in delivering on time, users can also conduct a risk assessment with special built-in features for multiple facets of their workflow.
Benefits & Features:
Determine Financial Risk

– This allows users to monitor when their project budget is falling out of proportion. In such cases, users can sort and control leaky expenses with simple and easy editing options.
Evaluate Time Management Risk – Owing to its chief feature of time management, TimeCamp enables teams to reach project and task completion on set deadlines with the help of due date options, instant alerts, inactivity tracking, and a weekly summary of how each employee is spending their time.
Curb Project Failure — In TimeCamp, project managers enjoy the ability to track and monitor the likelihood of a project reaching its completion. Options such as the state of the project and status allow teams to keep a solid check on any impending risks that may be festering beneath the surface and keep the project from meeting its deliverable deadline.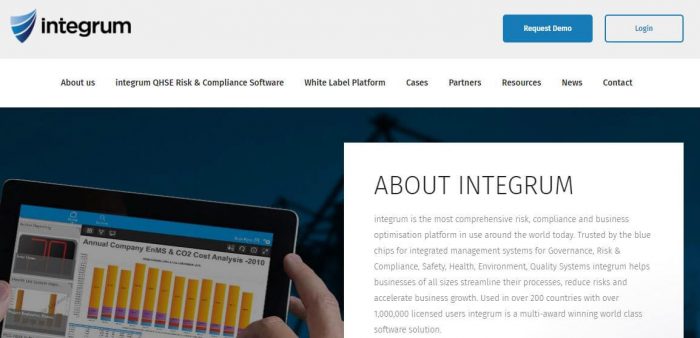 Trusted by many, Integrum is one of the best risk management software in the world.
Winner of multiple awards and appreciated for being the most configurable system on the market, Integrum helps companies accelerate their business by helping them manage and reduce risks creeping out at any stage of a project.
Integrum's strongest suit is that it is particularly built for the health and safety management of an organization.
Australia's largest water supply facility renders successful in supplying safe water and wastewater services to over 500,000 people with the help of Integrum's Quality, Health and Safety Management system. Integrum proffers a sophisticated range of integrations to help a legion of legacy systems streamline their processes and business growth.
Benefits & Features:
Governance Risk & Compliance

– Equipped with features such as incident, investigation, and document management, Integrum aims to help companies in identifying potential risks before, during and at the end of a project.
Business Optimization – Integrum takes great pride in being the most customizable software on the market. You can use their intelligent built-in tools such as the SMARTForms that extract your data to generate comprehensive forms. A similar inbuilt tool responsible for designing workflows helps ensures that company work is up to speed and whether any roadblocks are imminent.
Business Intelligence – Risk identification is incomplete without a proper reporting system. Integrum BI reporting system is a world-class reporting system that allows users to create as many dashboards, reports, and graphical analyses of their mitigation plans. On top of efficient reporting, an easily maneuverable interface is a cherry on top. All and any members of a team can access a complete list of potential and identified risks from a centralized hub where data can be moved from one board to another via the drag-and-drop option.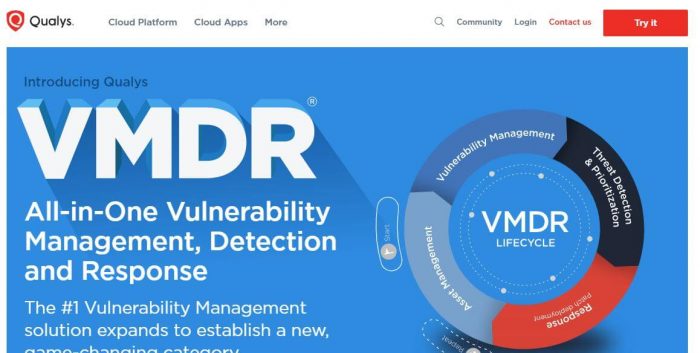 Every Project scope is different from the previous project and the one next in line. With differing projects, arises differing vulnerabilities in the system as well.
The small and menial ones are often captured and dealt with little fuss. It is the highly specialized ones that need a mechanized system of host scanning to avoid any sneaky loopholes that may later damage the entire project development.
Qualys is one of the most advanced tools that offers vulnerability scanning, malware detection, and remediation tracking.
Qualys has a generous compilation of security solutions included but not limited to: asset management, IT security, Cloud security, Web App Security and Policy Compliance. It is because of its simpler, safer and cost-effective suite of features, that Qualys is used across 130 countries and is trusted by major global brands like Microsoft and Deloitte Inc.
Benefits & Features:
Vulnerability Management

–Vulnerability Management works with additional Qualys tools such as Continuous Monitoring that provides teams with a hacker's-eye view of their business empire. This feature proactively sends alerts to whenever there is a risk-breach anywhere within the system. These alerts can be tailored and altered according to user preference or circumstance.

Host Scanning

– Qualys VM conducts a comprehensive scan of the entire business perimeter and protects all fronts of a company by identifying any vulnerabilities and bringing them to surface for remediation. Remediation details and the entire security posture of a project or a company domain can be easily viewed in the executive dashboard. Users can obtain role-based reports and documentation of identified or unresolved risks through VM report generator.

Malware Detection

– Companies can use Web Application scanning to detect viruses roaming close by, faulty website policies and technical infections. The scanner also performs behavioral analysis, which demonstrates visual reports of malware trends, scan activity, and risk-prone pages.

Threat Protection

– Use Qualys powerful search engine to search and retrieve specific vulnerabilities and risk history from the inventory, and fine-tune your results with the help of various filters and sorting options.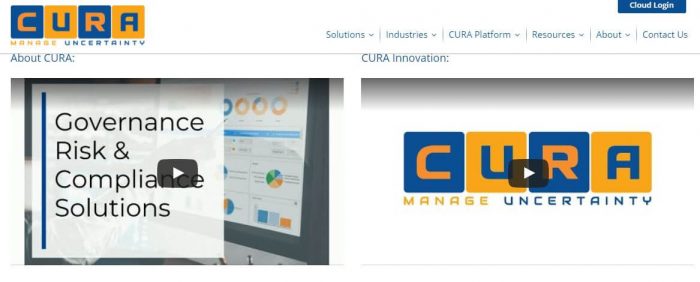 Some risks are fairly predictable, some are hidden, and some are recurring. This is why the monitoring of risks that keep re-surfacing or that are ongoing, should be a vital part of the risk management software that you choose.
CURA provides companies with the expertise of supervising each risk, in accordance with its impact and probability.
It offers solutions, to multiple industries ranging from banks, healthcare, insurance firms, utility firms, and telecommunication, in the form of project risk management, enterprise risk management, operational risk management, and incident risk management.
Organizations all across the world, rely on CURA to manage risks. Kellogg's one of the world's leading cereal producers uses CURA's automation system to manage their SOX Section 404 compliance.
Benefits & Features:
Risk Identification

– With the help of Governance Risk Compliance, users can identify risks and regulatory requirements at any stage of the project from the beginning to the very end.CURA's project risk management is extremely flexible. You can link risks to projects to ensure vulnerability assessment is a major part of your decision-making process. Once the risks have been identified, you communicate the update on the risk management process with teams within the organization and with outside sources such as stakeholders or clients.

Risk Monitoring

– Using the Goals & Objectives features, project managers can examine and monitor each member's performance and activity, related to risk remediation.

Risk Reporting

– In CURA, companies enjoy the highly configurable feature of risk reporting facilitated with flexible dashboards. Users can formulate reports in the form of lists, tables or even visually interactive graphs. Once created, all reports can be exported to a third party via email, Word Docs, Excel Spreadsheets, and PDF.

#7 on our list of the best risk management software is A1 Tracker. It is very user-friendly and powerful. Some of its inbuilt features include a web portal, risk audits and log history, alerts and notifications, dashboard metrics and charts, threat assessments, threat response, and risk ratings as well as documentation. It caters to the integration with financial software and provides modules to track events, incidents, contracts, insurance, claims, projects, and assets.
Benefits and Features:
Some of the processes this risk management tool can address include:
Auditing
Business Process Control
Compliance Management
Corrective Actions (CAPA)
Dashboard
Incident Management
Internal Controls Management
Risk Assessment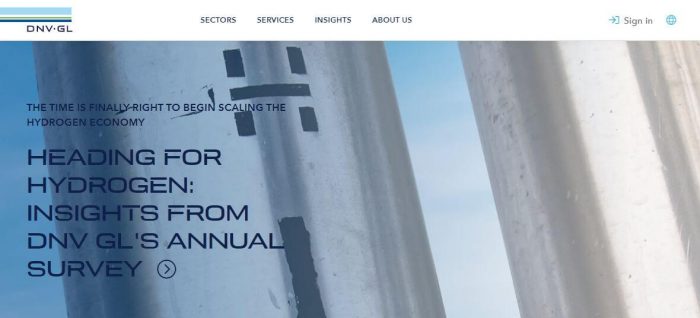 Synergi Life is a risk management tool by DNV GL. It comes as a complete business solution for risk as well as QHSE (quality, health, safety, environment) management.
With this tool, you can manage risk assessments and analyses, non-conformances, audits and provide a channel for suggestions for improvement. It also helps teams communicate, report, manage corrective actions and experience transfer, trends and KPI monitoring.
Synergi Life is among the best risk management software you can use to manage projects and business risks.
Benefits and Features:
Some of the key features you can avail with this risk management tool are:
Auditing
Compliance Management
Dashboard
Incident Management
Risk Assessment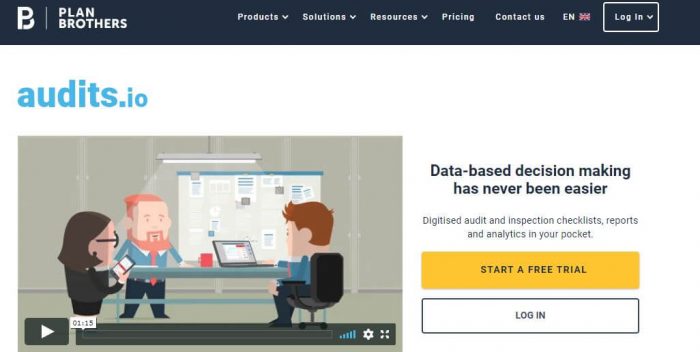 The unique feature of this risk management software is that it is customizable. You can make use of this tool on devices, online and offline. It helps you assign work and notify responsible people, attach images and share files, conduct inspections and audits on the go with your mobile or tablet or in one place, on a computer.
You can even transfer automated PDF reports to stakeholders, assess bottlenecks and trends with real-time statistics.
Benefits and Features:
Here are some features and processes this tool provides:
Auditing
Business Process Control
Compliance Management
Corrective Actions (CAPA)
Dashboard
Incident Management
Internal Controls Management
Risk Assessment

MasterControl complies with FDA regulations as well as with ISO quality standards. An alluring feature of this tool is that it helps in recovering documents that may have been lost in unforeseen situations.
You can easily restore them and continue the project. Moreover, this tool establishes risk evaluation as a separate process. This significantly helps the quality departments in quality decision-making.
Benefits and Features:
MasterControl comes with the following salient features:
Auditing
Business Process Control
Compliance Management
Corrective Actions (CAPA)
Dashboard
Incident Management
Risk Assessment

#11 on our list of the best risk management software is Predict360 by 360factors. This cloud-based Enterprise Risk and Compliance Management Technology specializes in the sectors of Banking and Financial Services, Oil and Gas, and Power and Utility.
Predict360 comes with a user-friendly interface and offers a single platform to integrate audits and inspections, policies and procedures, regulatory information, risks as well as online training.
Moreover, this tool also has pre-configured content to assist functional managers and staff in managing daily risk and compliance matters.
Benefits and Features:
Here is a list of features you can avail yourself with this risk management software:
Archiving and Retention
Audit Trail
Environmental Compliance
FDA Compliance
HIPAA Compliance
ISO Compliance
OSHA Compliance
Risk Alerts
Sarbanes-Oxley Compliance
Version Control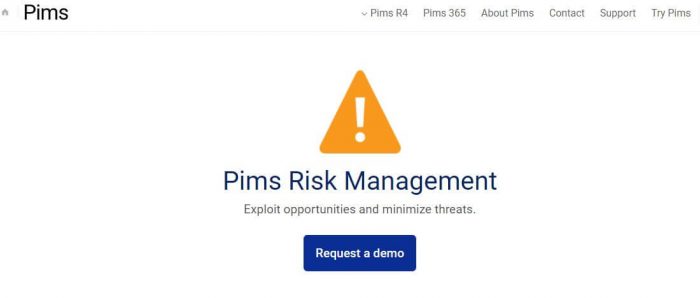 Pims is one of the best risk management software helping teams with risk identification, mitigation, and management. It comes with a simplified interface that users can swiftly learn and be able to work. You can retrieve relevant information regarding risks, add risks or perform editing.
You can even store documentation, assess past risks and accordingly work on historic risk development.
Benefits and Features:
This tool facilitates risk management through the following features:
Auditing
Corrective Actions (CAPA)
Dashboard
Risk Assessment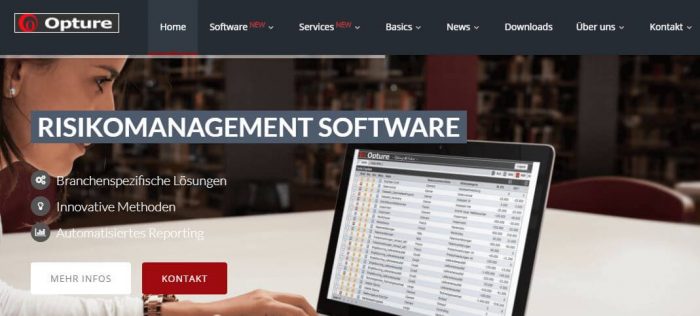 The Opture Risk Management Software is an integrated risk management software that facilitates the entire risk management process. With this risk management tool, you can manage risks efficiently by boosting risk data quality and conducting risk analysis individually. Moreover, it is flexible, easy to incorporate, modularly extendable, and simple to work with.
Benefits and Features:
Opture provides the following features and usability in your risk management process:
Auditing
Business Process Control
Compliance Management
Dashboard
Incident Management
Internal Controls Management
Risk Assessment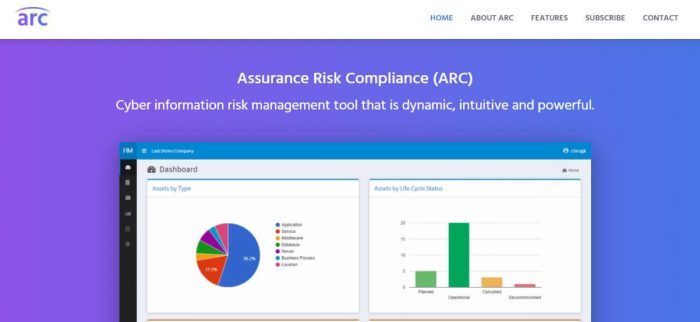 ARC Risk is one of the best risk management software available. It is a Cyber Security Risk Management tool. This tool lets you assess risks, report, and track, manage assets, gap analysis, supports incident management, and provides results that can be audited annually.
It complies with ISO 27001:2013. It saves time spent on information risk management and gives you results that can be audited on a yearly basis.
ARC is a web-based risk management software that can be accessed from anywhere.
Benefits and Features:
This risk management tool gives you the following key features:
Auditing
Compliance Management
Dashboard
Incident Management
Risk Assessment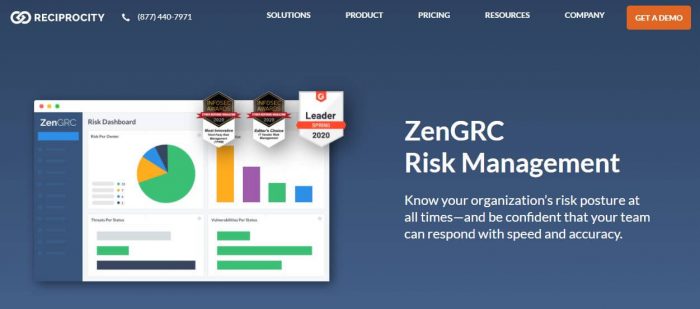 One of the best risk management software you can use in the year of the pandemic is Reciprocity. It is an amazing application that is ripe with an easy-to-use UI and is simple to its very core to help anyone that wishes to use it.
So, if you want software that does all of the work without being all glittery, and loaded with all of the bells and whistles that we see in some expensive tools, then Reciprocity is the way to go.
Let's look at some of the features that the application offers:
Benefits and Features:
Automated alerts and messages to stakeholders
Regulatory and standards-based support for compliance tracking
Real-time risk detection and reporting
Simple, comprehensive dashboard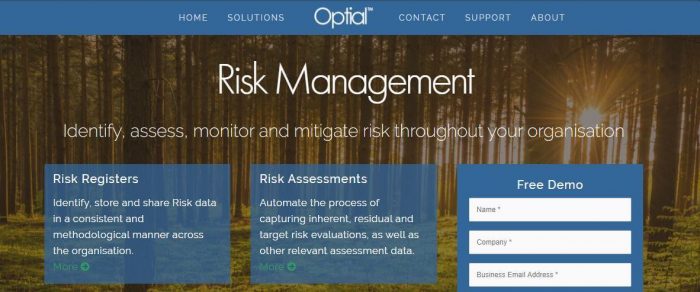 This software is an amazing project management application that you can use in 2020. It is a tool that was designed to work with companies working in industries like finance, manufacturing, and health among many others.
Just isn't it incredible software that you can use to identify and track risks and scope creeps very quickly, I'm not only can you track the rest but you can make processes and strategies to prevent these risks from happening again.
Let's take a look at some features that the application offers:
Benefits and Features:
Timely Reminders
Create risk strategies
Comprehensive risk analysis
Generate risk reports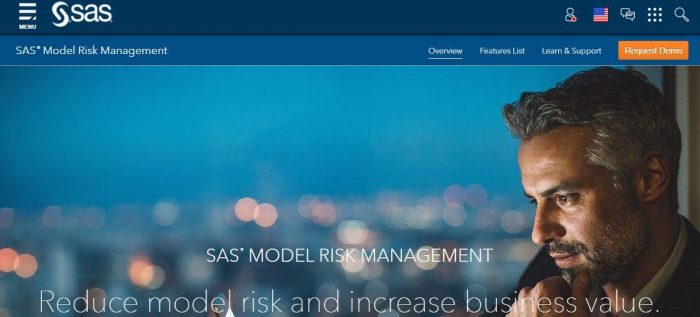 One of the most innovative software is on this list is SAS. It is an amazing software that feels like it was custom-built for every manager that uses it.
Why? Because of the idea on which it was built, which was that every company has its own enemies and the software must adapt to that scenario and handle the risks.
It's an amazing purchase if you are a manager of a big team because this software will always make you feel like it was custom-made to fulfill your needs and requirements.
One thing that this application offers is that you can access the application from the cloud or a dedicated server.
Let's take a look at some of the features that this application offers:
Benefits and Features:
Data tracking and automated documentation
Intuitive dashboard
Regulatory reporting
Real-time performance tracking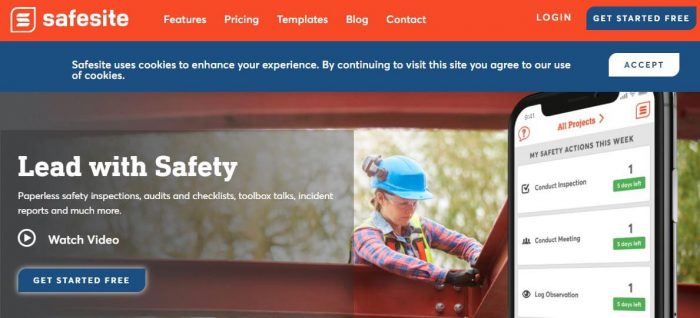 Safesite is not only free, but it comes with an easy-to-use digital interface for anyone who's looking to collaborate, improve safety standards & output, and ditch paper through a risk-free approach.
Needless to say, Safesite is actively used in over 4,000 businesses of varying scale. The platform is highly trusted for its risk assessment and resolution prowess. Users can reportedly perform/ conduct safety inspections, audits, and many other task management functions.
The application is ideal for teams who want to improve safety compliance, reporting, and engagement through streamlined communication. You can visit Safesite's official webpage for price quotes and further details.
Benefits and Features:
Audit management at the multiuser/ multi-department level
Corrective & preventive actions
Incident reporting and management
OSHA compliance, audit, and record maintenance for on-site workers
Training management to empower the workforce

GOAT Risk's name may hit the audience on a lighter note, but the program is perfect for risk assessment and management. This application is loaded with dedicated features designed for non-risk experts and C-suite-level users.
Needless to say, we loved GOAT Risk as one of the best risk management software because of the wide array of tools and flexibility it comes with. Particularly speaking, the embedding, engagement, and impact of risk management are worth commenting on – and that too in a positive light.
On that note, GOAT Risk enables users to raise capability among non-risk experts for better decision-making; admins can engage with C-suite, involve stakeholders, and collaborate based on accountability factors. You also get useful insights through KPIs and KRIs as a risk thought leader.
Benefits and Features:
Flexibility and a wide range of risk assessment features make GOAT Risk an ideal app for organizations of different sizes.
Schools, charities, and small startups benefit as much from GOAT Risk as any other MNC.
Monitor risks as they get flagged by the program's algorithm.
Risk reports are facilitated with exportable reports in multiple formats, such as PDF, Excel Spreadsheets, and Word Docs.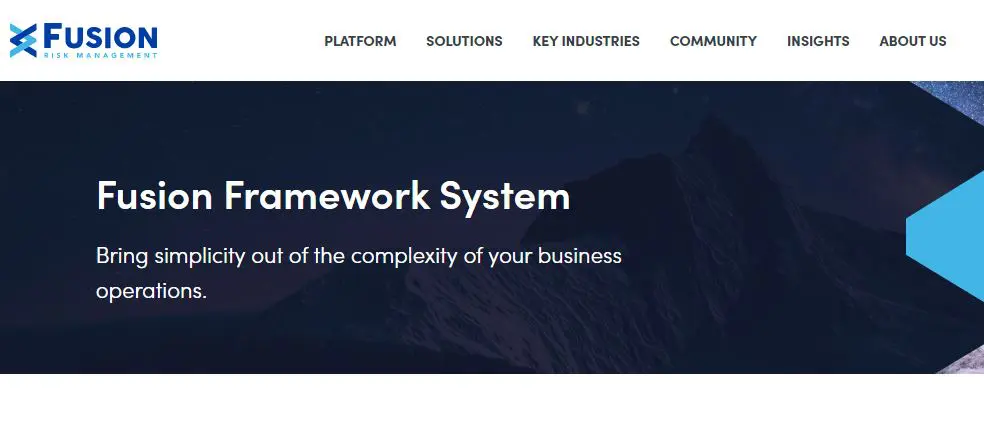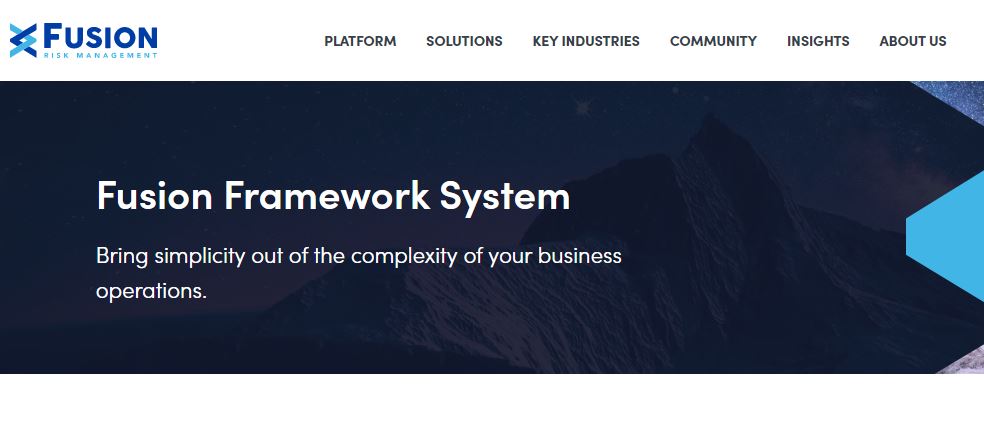 Fusion Framework System is a cloud-based risk management solution. The tool creates custom solutions for its users, ensuring their requirements are fulfilled.
Its objective risk insights can help users analyze their business operations, identify gaps and make improvements wherever necessary.
The risk management solution is perfect for teams looking for digital solutions. Fusion Framework System fuses data, services, people, etc., and brings everything together on a single digital platform.
Highly efficient visualization capabilities allow users to identify links between different business processes, dependencies, risks, etc. The myriad integration options, including Everbridge's emergency notification, Onsolve, ServiceNow, etc., are also a plus point of the tool.
Benefits and Features:
In terms of risk management, Fusion Framework System has the following perks to offer:
codified risk management
resilience best practices
Track critical services and product delivery processes in real-time
Objective risk insights
Automation capabilities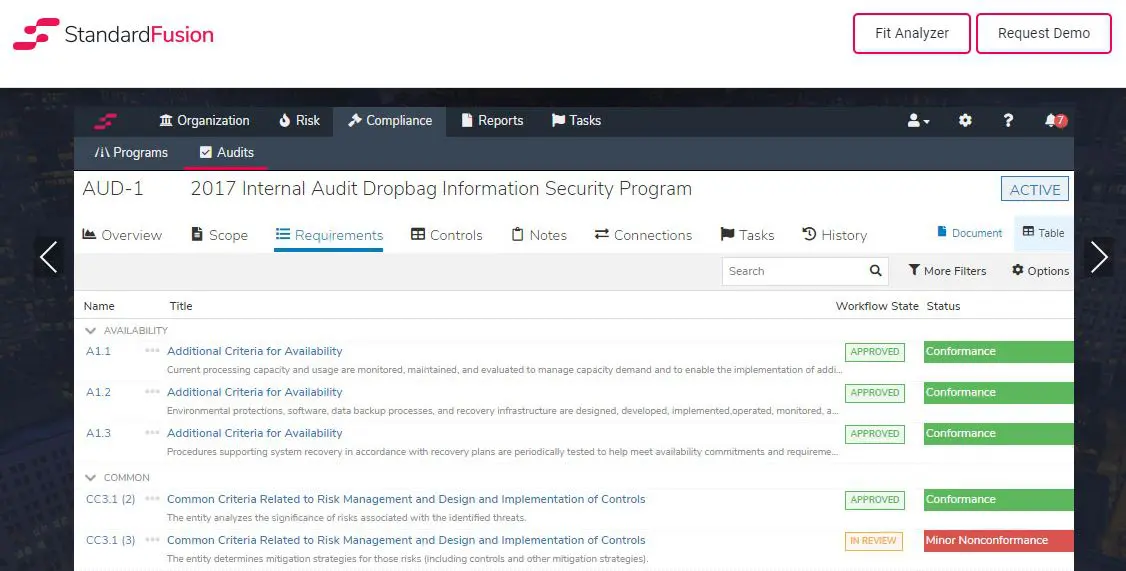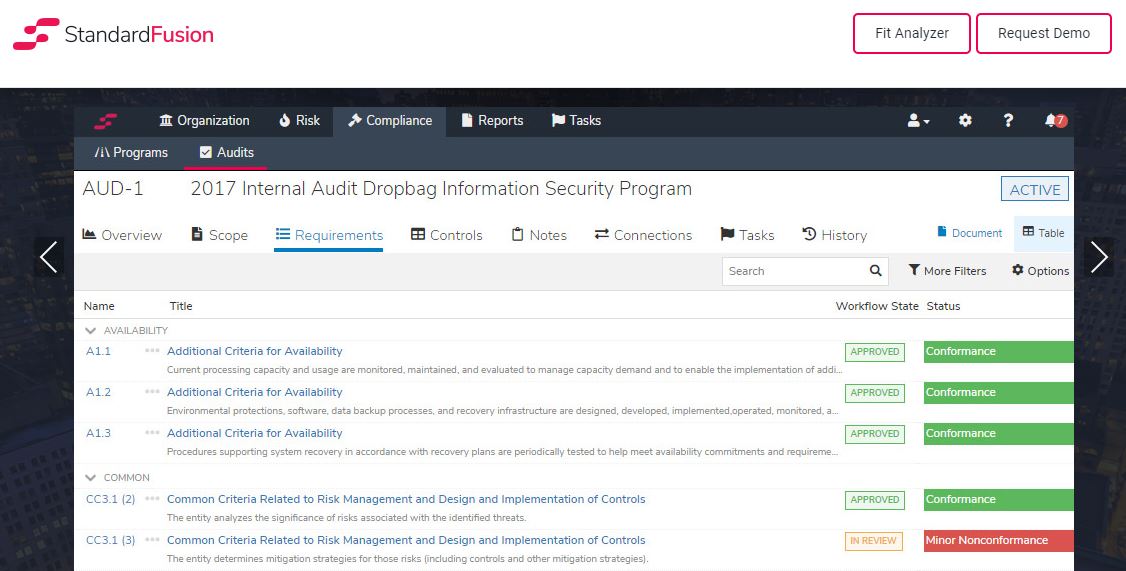 StandardFusion is another incredible risk management solution for companies, big or small. The tool not only helps identify risks but also helps create workflows to minimize these risks.
StandardFusion is a cloud-based GRC solution with a user-friendly interface. The tool is designed to simplify risk management and streamline the process for better efficiency and productivity.
Since it is a solution geared towards organizations, it offers a centralized platform to its users with easy access to different solutions, including risk management, audit management, compliance management, vendor and third-party assessment, and policy management.
The tool caters to the needs of information security teams, ensuring they can effectively manage risks, adhere to standards, and utilize the best techniques to grow their business by leaps and bounds.
The most promising of all features is its intuitive interface and cost-effectiveness. Plus, it offers a free demo, and 14 day free trial period to help with onboarding.
Benefits and Features:
Risk identification with an integrated threat library
Risk assessment using qualitative and quantitative risk methodologies
Identify threats to the organization
Risk treatment
Details reports and high-level summaries
Risk analytics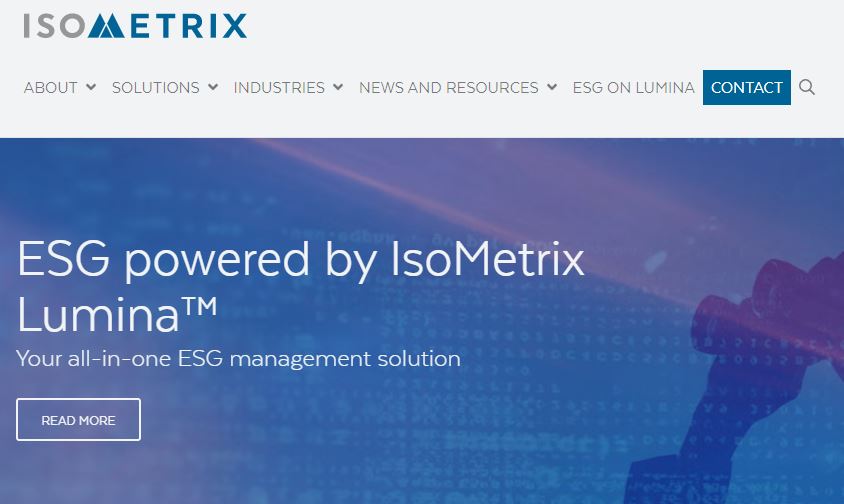 Isometrix has been providing impeccable risk management services for the last 25 years. The tool is designed for mid to large-sized enterprises. It offers a centralized platform for risk assessment and access to the whole organization.
The tool is easy to navigate, making the learning curve much less steep and the onboarding process a lot smoother. Plus, if you face any trouble, you can directly contact Isometrix's team to resolve the issue.
You can also talk to their team and customize a tailored risk management solution that caters to all your needs.
Benefits and Features:
Critical control management
Risk identification and assessment
Real-time reporting
Highly configurable
Corrective And Preventive Actions (CAPA)


ZEBSOFT is cloud-based risk management and compliance software that allows businesses of all shapes and sizes to escalate and manage any and every incident with your project. It also helps you to solve non-conformity and organizational risks quickly and in real-time.
Using the application, administrators from all over the world can align risk management strategies with the company's business goals and milestones and collect inputs from external and internal sources.
These sources are used to validate all of the available data points on potential and actual threats.
Using ZEBSOFT's asset management can also gauge the long-term and short-term effects of risks and identify asset interdependencies to optimize the entire organization's performance.
Employees can also use the platform to review allocated information while auditing, audit checklists, confirm audit reports by attaching evidential documents and photos, and also escalating incidents to managers in real life.
Benefits and Features:
IT Risk Management
Inspection Management
Issue Management
Maintenance Management
Monitoring
Operational Risk Management
Progress Tracking
Quality Control
ISO Standards Management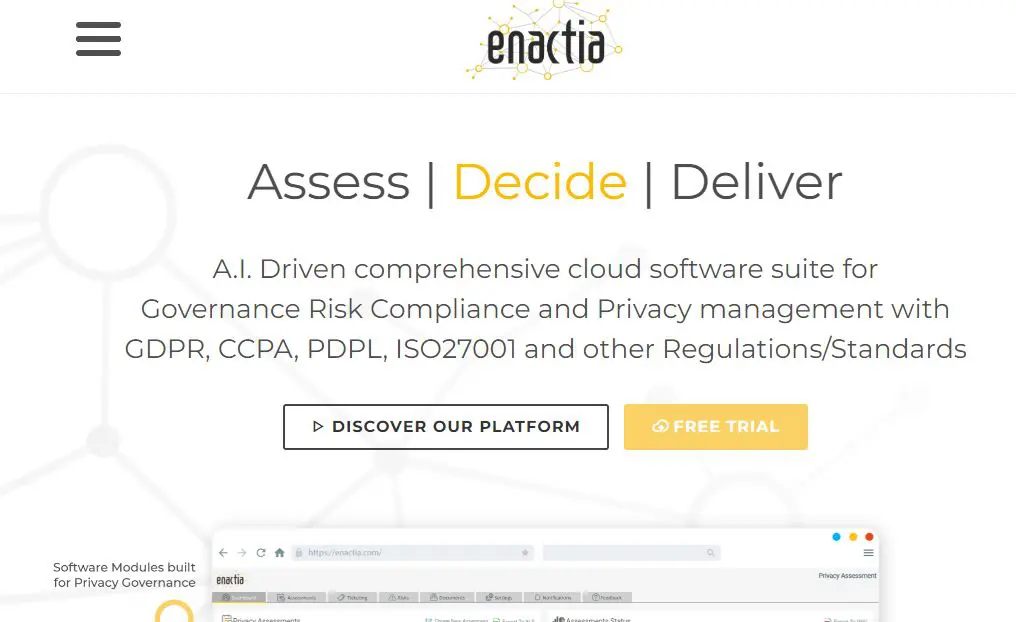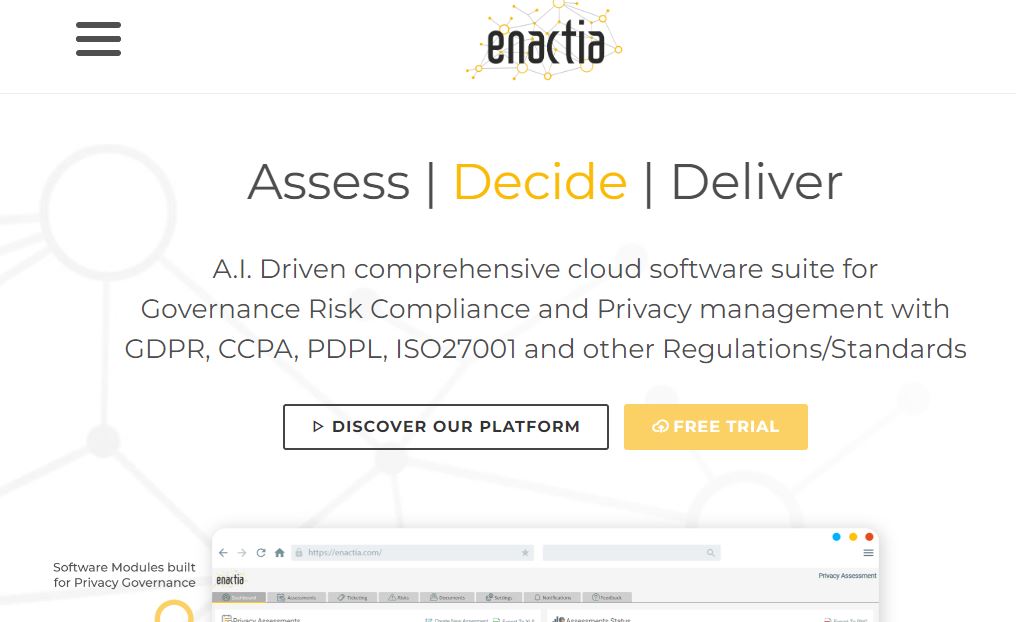 Enactia is an incredible risk management software powered by artificial intelligence to help businesses of different sizes manage cybersecurity and privacy requirements.
The companies using the application can also create compliance assessments in the form of risks, tasks within a specified interface, questionnaires, and specific answers.
The software is incredible in storing documents like supporting evidence, investigation reports, policies, procedures, and much more within a centralized repository.
Benefits and Features:
Consent Management
Incident Management
Policy Management
Sensitive Data Identification
Access Controls/Permissions
Data Mapping
PIA / DPIA
Risk Management to weed out all of the risks and issues in the project
Finding the best risk management software can be a challenge at the beginning. But with free tutorial guides and company training, companies can practice risk control and risk elimination at any level of their business structure.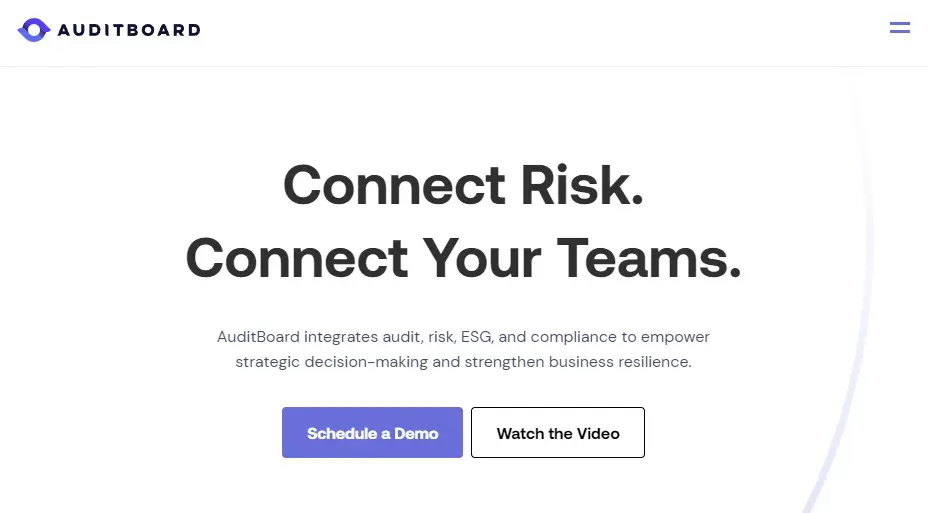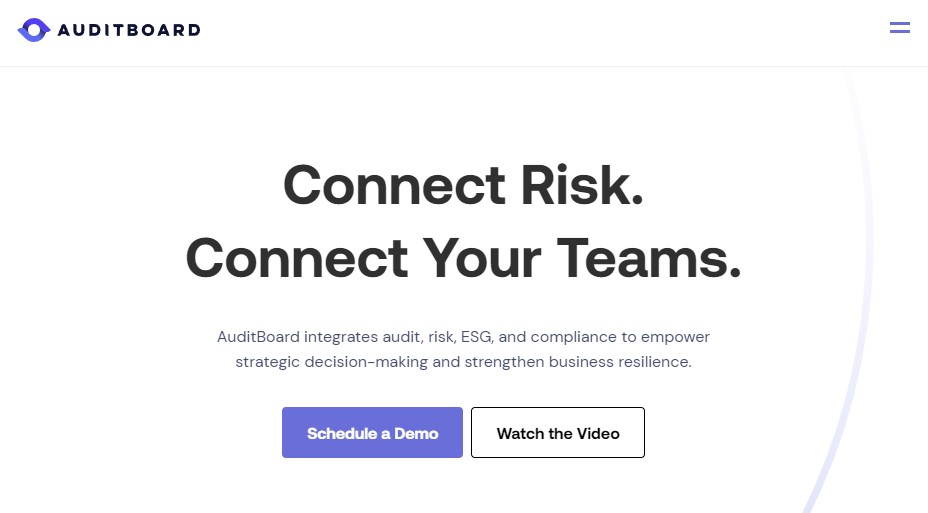 AuditBoard is one of the most popular risk management tools, it is a powerful tool that lets businesses manage their risks in a more efficient and effective way.
It helps companies identify and assess potential risks, investigate possible impacts, and make informed decisions about how to mitigate or avoid them.
One of the main benefits of using AuditBoard risk management software is that it can help businesses stay ahead of the curve.
By constantly monitoring and analyzing their risks, they can prevent major catastrophes from happening and keep their business running smoothly.
In addition to this, it also helps companies reduce the overall costs associated with risk management by automating many of the processes involved. This saves time and money, making it an essential addition to any business's arsenal.
Benefits & Features
Access Controls/Permissions
Activity Dashboard
Activity Tracking
Alerts/Notifications
Approval Process Control
Archiving & Retention
Assessment Management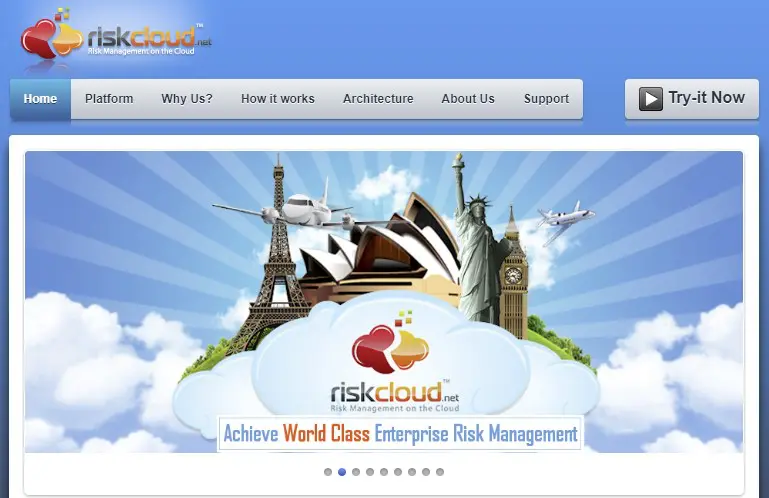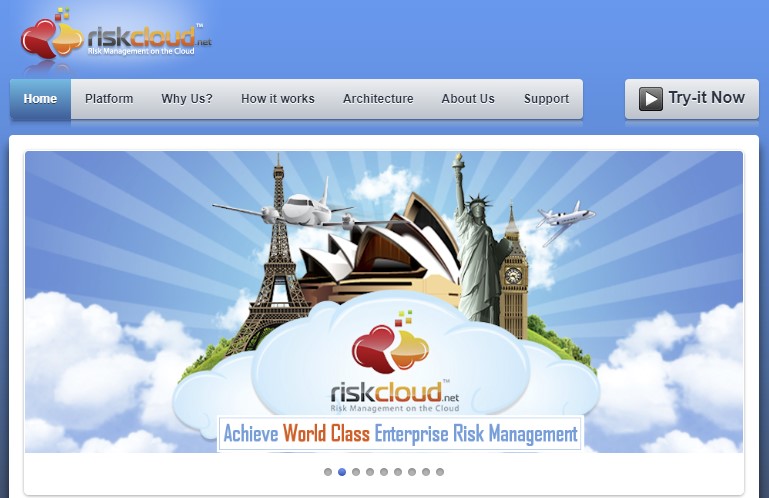 Risk Cloud is a risk management system that builds a model of your organization's risks and threats and then uses that information to help you make decisions.
The main benefits of using a Risk Cloud integrated risk management software are twofold: first, it allows you to identify risks quickly and efficiently, which helps you take action swiftly in order to minimize potential damage.
Second, it provides you with an overview of your organization's overall risk posture, so you can make better-informed decisions about how to protect yourself from future harm.
Risk Clouds can be used by businesses of all sizes and industries, and they are becoming increasingly popular due to their versatility and ability to provide accurate predictions.
They're also relatively easy to set up — all you need is some data on your risks and threats, as well as an understanding of how computers work.
Benefits & Features
Risk Cloud comes with 30+ apps for common GRC use cases
Offers multiple custom integrations in the app
Easy to use and intuitive design for users
Comprehensive record-keeping with a governance structure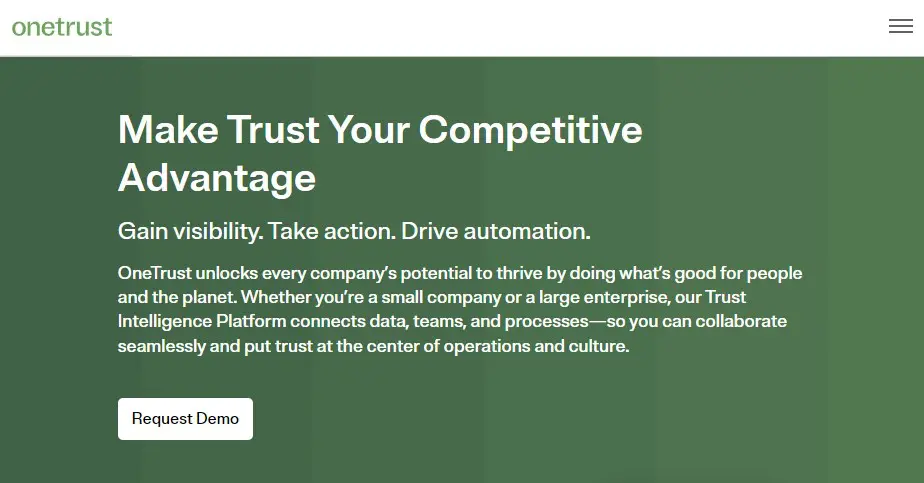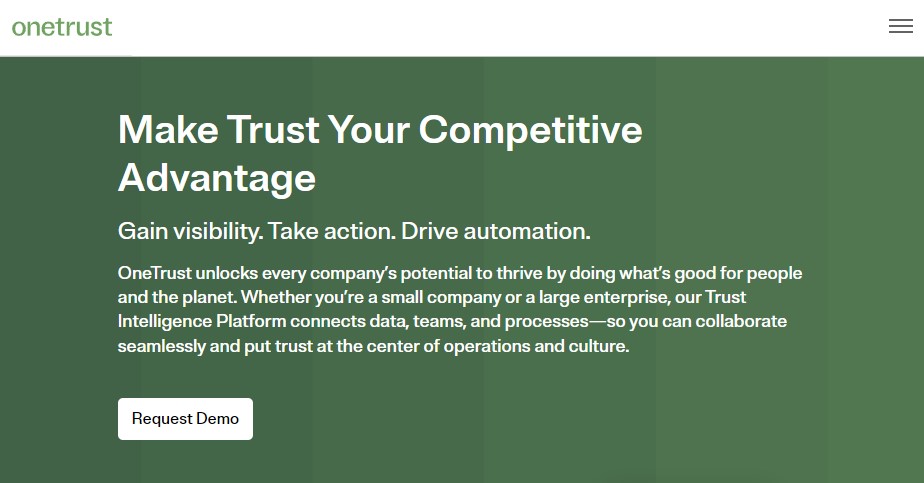 One Trust is a risk management system that uses blockchain technology to manage and track digital identities.
It allows users to access services and products from different providers without having to trust any of them with their personal information.
One Trust uses a three-tiered system for identity verification: conditional access, attestations, and content verification.
Conditional access allows companies or individuals to require proof of identity before granting access to specific resources or services.
An attestation layer verifies the identity of the person using it, and content verification ensure that the information provided is accurate and true.
Finally, the blockchain layer tracks all changes made to user data entries, preventing fraud and ensuring accuracy and transparency in the process.
Overall, One Trust is a very innovative risk management system that has the potential to revolutionize the way we use digital identities. It's rea
dy for use by businesses and individuals alike, so be sure to check it out!
Benefits & Features
Multiple installation copies + secure database for the users
Automatic risk alerts + notifications
Customizable parameters for all users
Powerful risk management applications and analysis features
Organized aggregation of risks for speedy action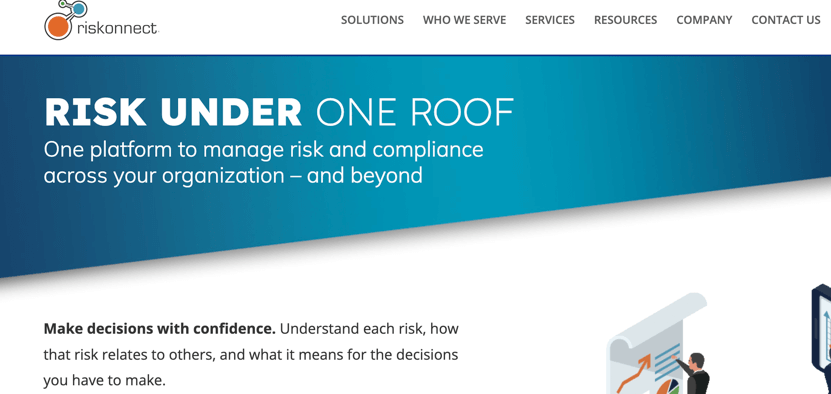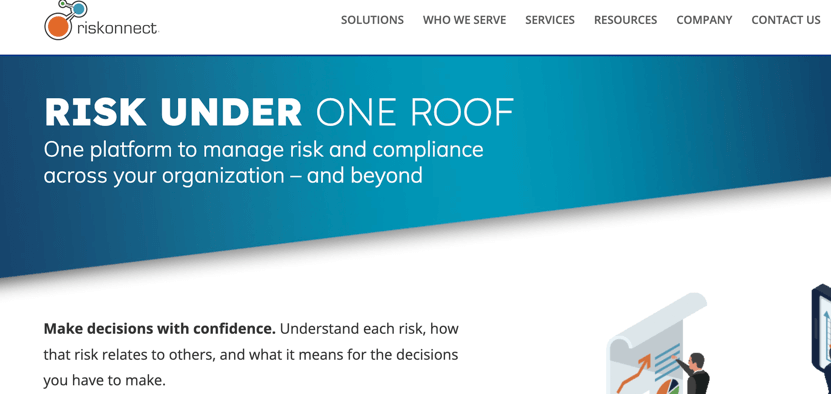 Timely detection of potential risks allows you to take preemptive steps that can help you tackle the situation and find a solution. Riskonnect is another reliable solution for efficient risk management that can not only help with risk identification but also with risk management and much more.
It is an integrated resource management platform that allows users to identify risks and take corrective measures. Along with other risk management features, the tool offers real-time, visual insights allowing for better and faster risk management and risk mitigation.
The enterprise risk management software allows risk management professionals to perform internal and operational audits on all processes within their company. It allows executives to plan audits, keep track of relevant documents, and produce a report on their findings.
Benefits & Features
Offers a full spectrum of risks
Maps risk to visually show how they correlate
Prioritize risk-mitigation activities through powerful quantitative risk analysis
Automates workflows to save time and improve reliability
Attaches relevant documents and files to the record at any stage of the process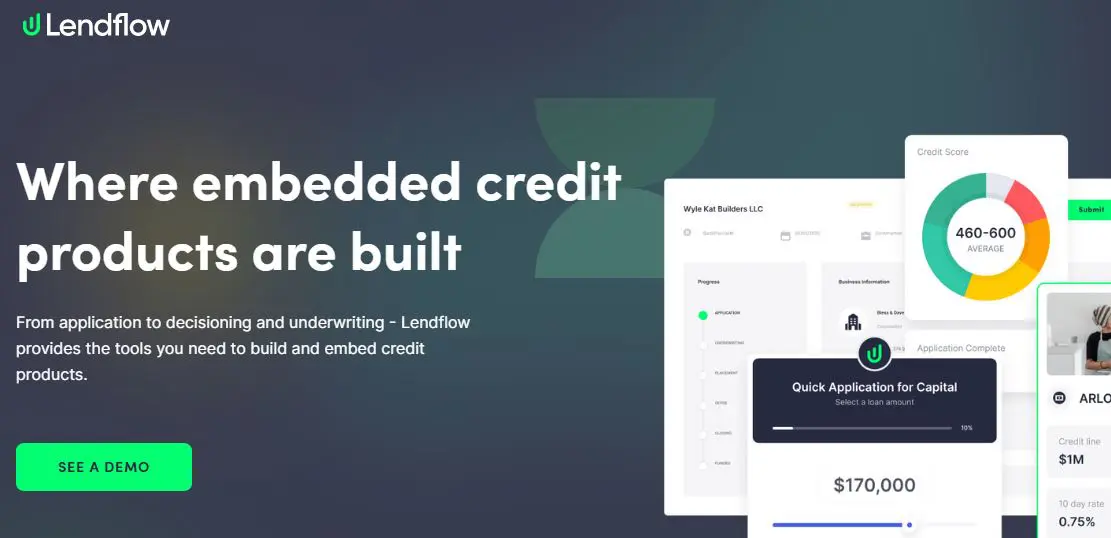 Lendflow is a state-of-the-art risk management platform designed to revolutionize the loan origination and underwriting processes for businesses and financial institutions. By leveraging advanced AI technology, Lendflow is able to efficiently assess an applicant's creditworthiness, mitigate potential risks, and facilitate more accurate decision-making in lending.
With its customizable loan origination workflows, Lendflow streamlines the lending process, significantly reducing the time and effort needed to process loans. The platform seamlessly integrates with leading credit bureaus and data providers, ensuring compliance with regulatory requirements and minimizing the risk of fraud.
In addition, Lendflow's robust reporting and analytics capabilities empower lenders to monitor the performance of their loan portfolios, identify trends, and optimize lending strategies. The platform's intuitive user interface and dashboard visualization make it easy for users to navigate and manage loan data, resulting in better-informed decisions and improved overall loan performance.
Benefits and Features
Improved loan decision accuracy: AI-powered credit scoring and risk assessment enable better-informed decisions.
Faster loan processing time: Customizable loan origination workflows streamline the lending process.
Reduced operational costs: Automation reduces manual tasks, lowering expenses.
Enhanced regulatory compliance: Integration with leading credit bureaus and data providers ensures adherence to regulations.
Robust reporting and analytics: Gain valuable insights to optimize lending strategies and monitor performance.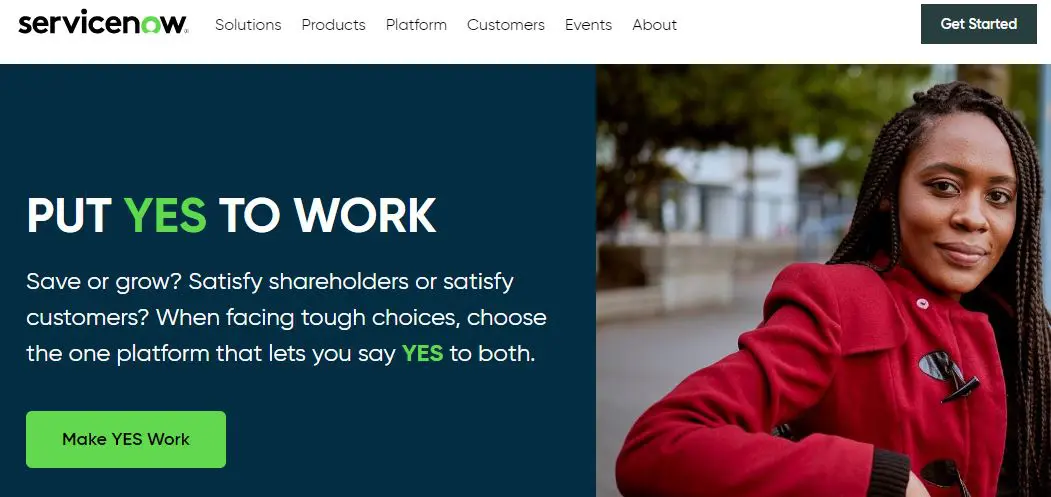 ServiceNow is a comprehensive, cloud-based platform that enables organizations to automate and streamline their risk management, compliance, and governance processes. By providing a single, unified solution for managing enterprise risk, ServiceNow ensures the consistent application of policies and facilitates collaboration among teams, while maintaining a clear audit trail.
ServiceNow offers a wide range of risk management tools, including risk identification and assessment, automated policy and procedure management, and compliance and audit management modules. These features help organizations identify and prioritize risks, establish controls, and demonstrate compliance with regulations and industry standards.
With its customizable dashboards and reports, ServiceNow allows users to monitor risk, compliance, and audit metrics in real time, enabling them to proactively address issues before they escalate. The platform is highly scalable and can be tailored to meet the specific needs of businesses of all sizes, making it an ideal solution for companies looking to enhance their risk management capabilities.
By automating and streamlining risk management processes, ServiceNow helps organizations to increase operational efficiency, reduce manual effort, and ensure compliance with ever-changing regulations and industry standards. As a result, businesses can focus on growth and innovation while maintaining a strong risk management posture.
Benefits and Features
Increased operational efficiency: Automate risk management processes and reduce manual effort.
Enhanced risk visibility and reporting: Comprehensive risk identification and assessment tools provide a clear view of potential issues.
Improved compliance with regulations and industry standards: Automated policy and procedure management keeps your organization up-to-date and compliant.
Scalable for businesses of all sizes: ServiceNow can be tailored to fit the specific needs of any organization.
Customizable dashboards and reports: Monitor risk, compliance, and audit metrics with ease and share results across teams.
5 Best Risk Management Solutions
We have just given you a rundown of 28 risk management software, time to take a look at 5 of the most reliable risk management solutions of all:
Risk assessment: Identifying potential hazards and evaluating the likelihood and potential impact of those hazards.
Risk control: Implementing measures to either eliminate or reduce the identified risks.
Risk financing: Arranging for funds to be available to the organization in the event a loss occurs.
Risk communication: Communicating with stakeholders about the risks and risk management strategies.
Ongoing risk management: Continuously monitoring and reviewing the effectiveness of risk management strategies, and making adjustments as necessary.
OTHER RISK MANAGEMENT SOFTWARE OPTIONS
Here are 5 more options that didn't make the top 28 list, but we believe these also have the potential to improve over time and serve your needs.
Do You Really Need Risk Management Software?
Whether you want it or not, the efficacy of the "best risk management software" comes down to user requirements.
If you are an individual contractor, a solopreneur, or a project manager who is just getting started, perhaps investing in risk management software may not be a good idea. Besides, some of these online solutions are expensive – especially if your business turnover is not pretty.
For small-scale operations, the risks are also smaller and easily noticeable. In such cases, it is easier to manage those skills using conventional management practices.
However, things take a wild turn when they paint a bigger picture.
Here's why you need the best risk management software for improved results…
Risks are an inherent part of bigger businesses.
Organizations need to factor in these risks because they can hinder performance in the long run. Speaking of risks, beware of security, financial, legal, and compliance risks. They are all important and can only be managed through robust risk management software.
What's more important is that you need to keep in mind the following risk categories for optimal results.
Risk Management for Corporate Environments: In a corporate setup, risks take a bigger form. The company needs to identify, evaluate, and deprioritize risks according to the foreseeable impact. These risks have reputational, financial, and regulatory aspects that cannot be ignored or buried for a prolonged time period.
Risk Management for Enterprises: Also known as ERM (*Enterprise Risk Management), these risks evolve to affect enterprises in different shapes and forms. Their nature ranges from framework destabilization, document and file storage, and stakeholder management. To handle these risks, you need risk management software with solutions catered to meet the requirements of enterprise-level users.
Risk Management In Case of Mergers & Acquisitions: Many small companies merge to form a thriving business. However, business owners on both sides are oblivious to the ongoing and previous liabilities of the company that they are anxiously looking to acquire. During the aftermath of the 2008 recession, governments and debt rating agencies have revised their policies to reflect an accurate estimate of a business's credibility in terms of numbers.
Benefits of Risk Management Application
There are countless benefits of financial risk management software, here are some of them:
Improved decision-making:
Automation of risk management processes: A risk management application can automate many of the manual processes involved in risk management, such as data collection, analysis, and reporting.
Improved data visualization: They can provide graphical representations of risks and their potential impact, making it easier to understand and communicate the risks to stakeholders.
Better collaboration: A risk management tool can facilitate collaboration among different departments and teams within an organization, allowing them to share information and work together more effectively.
Increased scalability: It can handle large amounts of data and can be easily scaled to meet the changing needs of an organization.
Real-time risk updates: These tools can provide real-time updates on the status of risks and their potential impact, allowing organizations to respond quickly and proactively.
FAQ's
What is risk assessment software?
Risk assessment software offers global risk management solutions that help to identify and quantify the risks associated with different investment options.

The goal of the risk assessment process is to make informed decisions about which investments are best suited for your personal financial situation.

This can involve analyzing factors like market volatility, creditworthiness, and liquidity.
What is the best enterprise risk management software?
There are many enterprise risk management software options available on the market, so it is important to choose one that fits your needs.

Some of the top erm software solutions include nTask, One Trust, Risk Cloud, Audit Board, etc.
What are the 5 types of financial risks?
Financial risks can include the potential loss of your savings, investments, or retirement funds. There are five main types of financial risks:
1. Liability risk refers to the possibility that you may be held liable for losses incurred by another party as a result of your actions. For example, if you invest in a company that goes bankrupt, you could end up losing all your money.
2. Credit risk is the chance that an entity will not be able to repay its debts when they come due and this could have negative consequences for both individuals and businesses alike. credit scoring is used to assess the likelihood of defaulting on loans or credits cards
3. Market risk occurs when prices for assets  fluctuate unpredictably and has implications for investors who hold these assets through individual holdings or institutional portfolios such as mutual funds or pension schemes
4. Opportunity cost includes the fact that some choices might not offer an optimal return relative to others because there's always a trade-off between two competing rewards.

What are the three major types of information risks?
There are three major types of information risks: intentional, accidental, and reputational.
Intentional risk occurs when someone intends to do harm by releasing confidential information inaccurately or without authorization. 

Accidents can happen anytime data is mishandled or lost in the course of normal operations, whether this is human error or a mistake made with technology.

Reputational risk refers to damage that can be inflicted on an organization's reputation as a result of the unauthorized disclosure of sensitive information.

This could include a damaging public opinion about the company's products or services, causing financial losses for shareholders, and harming relationships with key partners and customers.

It is important to keep these risks in mind whenever data is being handled and stored so that they don't have any negative consequences for your organization.

By taking steps such as implementing practices such as access control management laws and protocols along with incident response plans, you can minimize the chances of incidents occurring in the first place.

How can IT Risk Management Software help?
IT Risk Management Software can help you to efficiently identify, assess, and mitigate IT risks.

By automating the assessment process, this software can help reduce the time it takes to identify risky activities and make informed decisions about risk mitigation.

Additionally, this software can enforce compliance with established policies and procedures through automatic alerting of employees.
In addition to these benefits, IT Risk Management Software also enables managers to track progress over time and measure results against objectives.
What are risk management solutions?
Risk management solutions are a set of methods and techniques that organizations use to identify, assess, and manage potential risks that may impact their operations.

The goal of these solutions is to reduce the likelihood and impact of risks, while also ensuring that the organization is prepared to respond effectively in the event of an incident.

By implementing these solutions, organizations can improve their decision-making, increase efficiency, protect their reputation, and comply with regulations.
What is the top risk management software?
We included 28 risk management solutions in this article, but if we are asked about the top risk management software then our first choice will be nTask.

nTask is a comprehensive management solution for everything a team needs. It offers a suite of advanced features at affordable pricing. A friendly interface and efficient solutions make it one of the best, if not the best, risk management tools out there in the market.
WHAT'S YOUR VIEW ON THESE RISK MANAGEMENT SOFTWARE SOLUTIONS?
Have you tried out any of the best risk management software solutions listed above?
What do you use for risk control?
We would love to hear your thoughts…