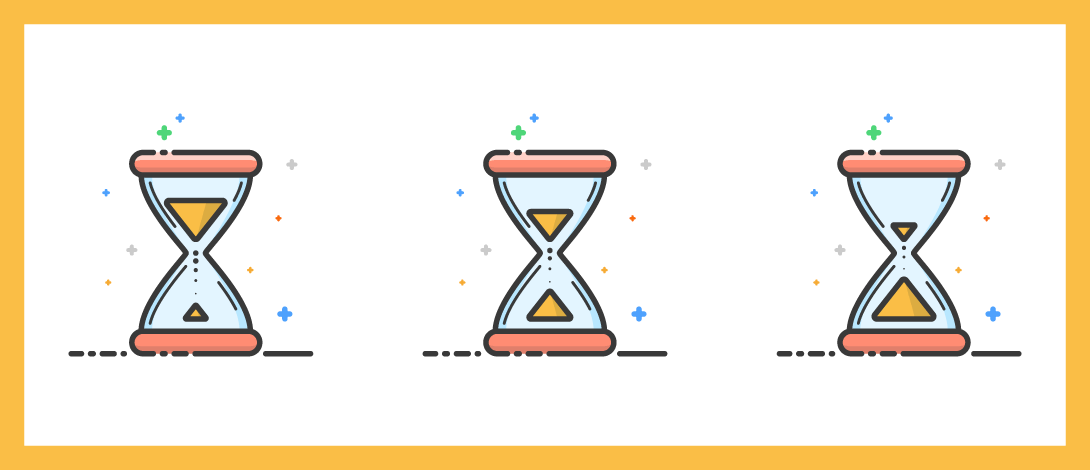 Late for work again? Can't keep your focus on one task at a time because of heaps of workload on you? Fail to effectively manage daily errands and always run short of time? Not on time for an important appointment?
These are some of the scenarios that the majority of us have gone through during our lives and each time we run across one of these situations, they put a huge question mark on our time management skills.
It's highly likely that you've even tried to solve this issue over the course of time but failed each time because one thing or the other didn't work out in your favor. For this reason, you need to keep reading, because we've just gathered some of the most effective time management techniques for you!
For your ease, we've divided them into two main categories that accommodate both your personal and professional time management needs.
Effective time management at work
How you effectively manage time says a lot about your time utilization skills and it's imperative that you show some at your workplace to come across as a trustworthy person for the job. For some people, time management turns out to be an easy task, while for others it can be quite a hassle.
The following list consists of some of the most effective time management tips that you can easily follow to increase your work productivity:
1. Prioritize
Begin your day at work by prioritizing the tasks that lie ahead of you. This is a great way to get a heads up for the rest of your day.
Prioritizing the work according to urgency would really help you with deciding the time you need to spend on each task and it's also an effective way to decide which tasks require your utmost attention and which ones can be delayed for some time, essentially decluttering the heap of tasks.
So, without waiting any further, start prioritizing now!
2. Optimize time spent on the social media
Social media addiction is real. A survey of 1200 employees from different companies indicated that 18% of the respondents admitted to using the social media 10 times or more during the day.
If you're one of those people who consistently spend unnecessarily long hours on social media in the name of 'getting a break from work', then my dear friend! This is the problem. You need to get rid of this habit if you want to increase your output at work.
Find out how much time you're spending daily on social media during the working hours and analyze your daily social media usage patterns. This evaluation will help you in analyzing the total time spent on social media, consequently helping you with decreasing this time as much as you can for improving your work efficiency.
3. Utilize peak energy hours
Each person has a 'body clock' that guides the person to eat, sleep, or work at specific times and it varies from person to person. For instance; my sleeping patterns could be different from you and vice versa.
Similarly, according to this body clock, the productivity levels at specific hours of the day also differ for each individual. According to Redbooth, typically a person would complete most tasks (9.7%) at around 11 AM. Afterward, the productivity levels are likely to drop.
You might have heard from people around you that they're not morning people or they work better at night. That stands true because for some of us mornings are a glory and maximum output is delivered during the daytime, while for some others, night-time is comparatively more productive for work and their peak energy hours are found during them.
For effective time management at work, you need to identify your peak energy hours and plan your day around them. Get the most out of the day by working on high priority tasks during those hours. By doing so, you can achieve more in less time and can master the skill of completing your work on time.
So, don't dread those deadlines at work and follow this simple technique to complete your work on time!
4. Optimize
Observe time taken for key tasks and optimize your workflows for better management of time. Try to automate your tasks. One way to do this can be to delegate the most time-consuming ones into smaller subtasks to get more done. This division into smaller sub-tasks would also help you in understanding the nuances of the task.
Bonus tip: using professional time management tools
Let's just admit that without proper tools or Software, it becomes a nuisance to efficiently manage all the individual and team tasks at work, which as a result makes time management difficult.
There are numerous project management tools available on the internet that can be used for managing and controlling all your work-related activities, but from my personal experience, there is one project management tool that can make your life easier and is budget-friendly too.
nTask is new to the market but has all the features to smartly manage your projects and tasks for you. There are separate boards for all the issues and risks too which make tracking extremely convenient for you.
Some of the other popular project management tools that you can use are Trello, Asana, and Wrike etc.
Effective time management in personal life
As much as time management is critical at the workplace, it's highly significant for your daily routine too. Some of the time management techniques that you can incorporate in your daily errands are:
1. Leverage to-do lists
To-do lists come in handy for almost every occasion. Planning your day or week beforehand gives you an edge to execute your activities on time.
Create a to-do list for all the things that you need to accomplish during the day or week, and watch how everything falls into place with this proactive planning tip. This list also helps you to understand the tasks that you don't need to do or want to eliminate from your daily routine.
Start making a to-do list for your personal life and your routine would be all sorted out with everything being done according to proper coordination.
2. Add a buffer
Adding a buffer to your time schedule basically means buying some extra time in between the activities to help you manage your time in a better way.
Let's take an example here; you need to make it to a doctor's appointment 2 hours from now. Considering the commute takes around 30 minutes, you will not leave after an hour and a half.
You will add a buffer and leave a little earlier so that you have bought yourself enough time to be there on time, in case anything else comes up or you're stuck in traffic.
Adding buffers to your daily house chores or any other daily commitments will substantially save your time because, at the end of the day, these buffers would lead to all the work being done on time and as a bonus, you'll end up with some extra time in your hands too!
3. Maintain a healthy sleep schedule
Getting enough sleep during your daily sleep-wake cycle is important to keep your concentration levels intact. Identify your sleep-wake cycle and choose the time that suits you well according to your body needs, then do all of the work with greater focus.
This technique will help you with having greater energies to fulfill your daily tasks successfully and with more punctuality.
In a nutshell, effective time management is not as complicated as it might seem and you'll definitely agree with me if you start following some of the above-mentioned techniques.