Over the past few years, Scrum has become the default face of agile project management. One of the most popular agile frameworks, Scrum is widely adopted by software and non-software development teams alike.
Due to its up-roaring popularity, there are numerous tools that have jumped on the bandwagon and have started to recognize themselves as the best Scrum tools. The criterion for the best Scrum tools is simple enough. The tool that fits perfectly with your project needs, helps you in effectively achieving your sprint goals, and doesn't put a dent in your budget.
If you search the internet for a list of Scrum tools, it will probably overwhelm you with so many choices it has to offer and the overabundance will leave you more confused than ever.
So, to make things easy for you, we have compiled a list of best Scrum tools that'll take the burden off your shoulders and help you with choosing 'the best one' for your team.
Speaking of Scrum, if you're not sure whether you should go for it or not, you can check out this Kanban vs. Scrum comparison for a detailed analysis to help you out with the decision.
Best Scrum Tool Selection Criteria
Every organization has different needs and requirements.
A digital agency cannot utilize the same scrum tools that a hospitality business might need.
But there is a certain set of elements that you need to have in the best scrum tools.
We've utilized the following elements in our evaluation for this purpose:
Product Backlog
Visualization
Reporting & Notifications
Integrations
Pricing
How to Select the Best Scrum Tool for your broader team?
You need to ask yourself the following questions when selecting the right scrum tool for your organization:
What do you require it for?
Which tools should it integrate with?
What's the size of your team?
What is your budget?
16 Best Scrum Tools to Increase Your Productivity
Starting off the list with one of the most versatile free scrum tools available online, nTask takes the cake for being an all-rounder when it comes to incorporating scrum.
Primarily a project management software, the tool provides a unique set of features that make Scrum implementation painless for you. The only tool that comes with a myriad of features to manage every aspect of your project, and that too without any complicated add-ons.
nTask comes with a powerful meeting management solution that lets you productively execute your daily scrum meetings without any fear of losing productivity along the way.
Let's see how nTask helps in the effective implementation of scrum:
What you should look out for:
Project portfolio: all your projects in one central location, listed according to your preferred view for quick access
Tasks management: all the associated and independent tasks right in front of you for instant assignment and monitoring of progress
Daily Scrum management: smart meeting management features, along with advanced meeting participant controls
Team collaboration: provide timely feedback to your team members through comments within tasks and an updated activity log
Issue tracking: the timely resolution of issues with elaborate issue management functionality, including issue severity and issue assignment
Progress reporting: built-in Gantt charts and timesheets for tracking the project progress and deciding the next course of action
Risk management: creation and prioritization of risks with relevant projects to mitigate their effect on the project
Team management: independent workspaces for teams working on multiple projects simultaneously, to ensure transparency
Third-Party Integrations: nTask offers integration with Zapier, Zoom, Google Calendar, Outlook Calendar, and many more.
Pricing
Free: Unlimited workspaces, timesheet reporting, unlimited tasks, and Scrum meetings
Premium: Starting at $3 per user/month with unlimited everything
Simpler project management for Scrum teams, absolutely free!

5 workspaces, meeting management, project Gantt charts, bug and issue tracking and a lot more.
2. Monday.Com

Formerly known as 'Da Pulse', Monday has been making its name in the project management industry by leaps and bounds. We have mentioned Monday previously in or blog posts on the nTask website.
As a scrum tool, Monday's capacity to deliver on projects, and tasks for scrum teams is uncanny. There are a couple of reasons for that. For starters, you can create and visualize your roadmap from the convenience of your dashboard. Later, it can be shared with the rest of the team members by sending them invitations.
Monday is blessed with an intuitive interface that's not only visually appealing but also places everything right where it needs to be. At first glance, you get a simple dashboard with a left sidebar that has all the necessary shortcuts.
Scrum experts will find that their backlogs, dependencies, and spring planning shortcuts are placed within the dashboard sub-menus.
This tool is not technically Agile or Scrum, but it can be used in a way to fulfill those requirements. The only setback of using Monday as the best Scrum tool is the lack of proper burndown charts. There is a reporting feature, but that does not offer the sprint progress, effort grading, and capacity.
Overall, it's a nice tool for program and project managers alike.
Key Features:
Visualization, brainstorming, and planning is always on the go with any number of projects on Monday.
Colorful interface with sleek design aesthetics.
Non-intrusive notifications to help you maintain your focus on work.
Integration with mobile, other project management tools, and 3rd party apps is a nice add-on experience.
An awesome learning curve followed up by a friendly support staff, available 24/7.
Pricing:
Monday.com's basic pricing plan starts at $39 per month. It goes all the way to the enterprise plan, billed accordingly to your company. Contact the support reps for custom packages and further information.
3. Jira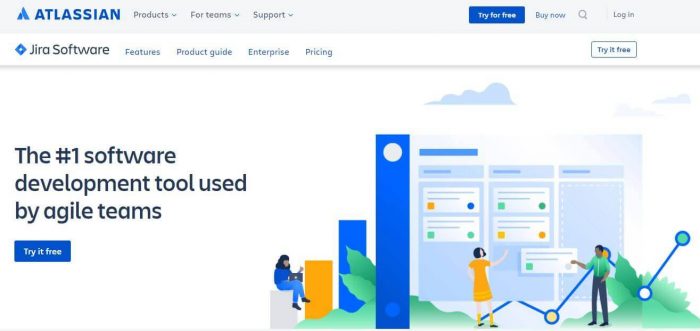 You've likely heard of Jira. It's one of the most widely used agile tools for Scrum, so without a doubt, the second spot in this list goes to Jira.
The tool comes loaded with features that make Scrum implementation seamless for the users, including customizable Scrum boards, custom filters for backlog management, and a number of visual project reports.
Although it comes with a well-balanced functionality, Jira can seem a little overwhelming for the starters. It can take quite some time to get a hang of the software, and it would not be a wise decision to opt for it if you're new to Scrum.
Let's see what key features Jira comes with:
Key Features
Customizable Scrum boards
Powerful progress reports
Backlog management
User stories mapping
Bug and issues tracker
Time tracking
Customizable dashboard
Sprints management
Custom filters
Real-time reporting
Numerous third-party application integrations
Pricing
Up to 10 users: $10 monthly
11-100 users: $7 per user/month
More than 100 users: upon request. For large teams
Jira comes with a free trial of 7 days.
4. Targetprocess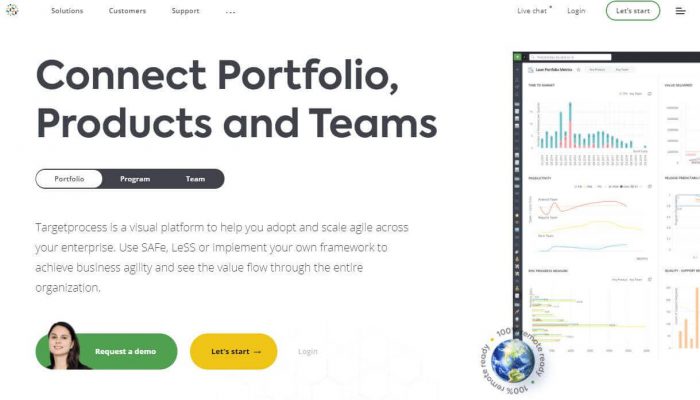 First-time users may feel intimidated by TargetProcess's overly simple user interface. It's not rich in color as Monday or other best scrum tools on this list.
However, TargetProcess is more of an underdog.
We surveyed the market and discovered that the software has been holding up a repute for over 15 years now. Aside from that, TargetProcess comes with friendly user experience. You just feel right at home when using this program as a Scrum tool.
For instance, there is a high degree of customization with TargetProcess. Take the example of numerous templates that are free to use. There are custom cards, graphical reports, and other reporting documents that make up for the meat of Scrum methodology.
The best thing about this tool is support for SAFe methodology. The Scaled Agile Framework is an Agile method that TargetProcess's dev team had an eye on for a long time. This calls for the implementation of the Kanban framework, which is a subcategory of SAFe, value streaming of programs, and team micromanagement.
Key Features
Centralized projects dashboard
Drag and drop interface
Project timeline
Backlog management
Issues and bugs tracking
Shareable boards
Sprint management
Multiple project reports
User story mapping
Numerous third-party application integrations
Pricing
Team: free for unlimited users and basic support
Company: $20 per user/month
Enterprise: upon request. Premium support and other advanced services
See also:
The 8 Best Trello Alternatives for Kanban Project Management
5. VivifyScrum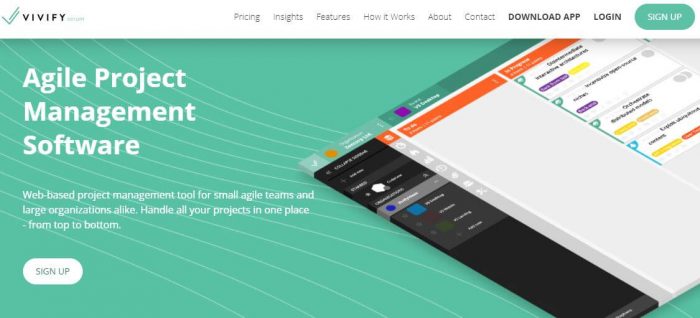 In the 4th place, we have VivifyScrum.
Coming with features tailored to the needs of Scrum and Kanban methodologies, VivifyScrum is a rather easy to use software that comes with a clean and clutter-free interface, making it aesthetically appealing too.
The tool allows users to create virtual organizations and add all the relevant team members. Users can conveniently add projects and boards within an organization and track progress effectively.
VivifyScrum also provides online Scrum training free of cost, in case you want to educate yourself or your team about Scrum.
Key Features
Scrum board
Product backlog management
Invoice creation and sharing
Project calendar
Customized roles and permissions
Powerful charts and Scrum metrics
Time tracking
Customizable project labels
Third-party application integrations
Pricing
Free plan and a premium plan of $8 per user/month
6. QuickScrum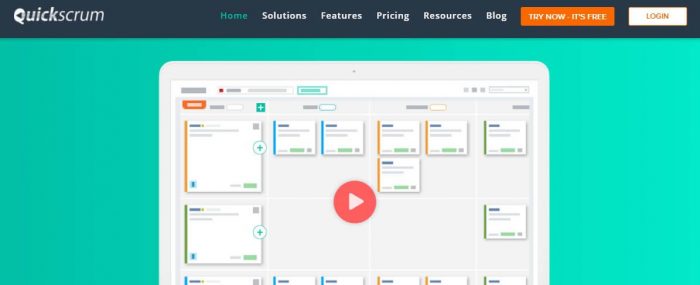 On #5 of our list for the best Scrum tools is QuickScrum.
A web-based tool coming with a simple drag and drop interface for easy backlog management, QuickScrum is one of the most user-friendly tools available online. With an interesting list of clients to bag, this tool can be your next choice for easy Scrum implementation.
While tools like Jira can be complicated for new users, QuickScrum can be easy to use an alternative that's quick to set up too.
Just like VivifyScrum, QuickScrum also provides online Scrum training to individuals and teams.
Key Features
Scrum board
Drag and drop functionality
Comments within work items
Activity tracking
Work item statuses
Customizable filters
Workflow tracker
Individual efforts tracker
Burn up and burn down charts
Multiple third-party application integrations
Pricing
14 days free trial and a paid plan of $3 per user/month
7. Yodiz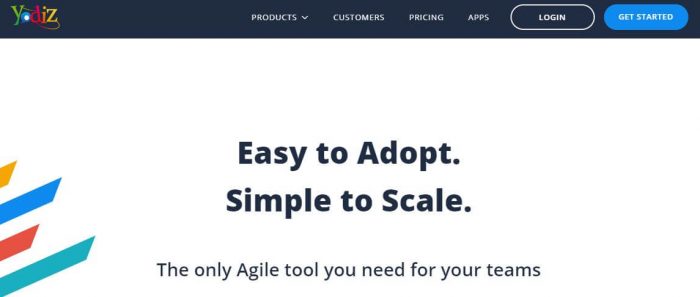 Yodiz is one of the most comprehensive Scrum tools you can opt for. The tool comes with a rich feature set fitting perfectly with your team needs. The elaborate toolkit allows you to manage your epics, backlog, sprints, and releases without getting into the hassle of third-party add-ons.
A module for epic management lets you track your feature requests in a better way. You can set priorities to define urgency for your team members, so they have a better picture of what needs to be done in due course of time.
Burndown charts let you evaluate the amount of work that remains during a project lifecycle. Furthermore, these charts and other project metrics allow you to effectively track your releases and manage sprints accordingly.
Key Features
Sprint management
Product Backlog management
Swimlane diagrams for viewing user-stories
Issue tracker for timely issue management
Due dates and custom fields
Burndown charts for monitoring the workflow
Comments and tagging
Android and iOS apps
Third-party application integrations
Pricing
Starter – free for up to 3 users, unlimited projects, and other core features
Issue Tracker – at $3 per user/month, for small teams
Agile Tool – at $5 per user/month, full agile solution for teams
Self-hosted – custom plan, all premium features
8. ScrumDo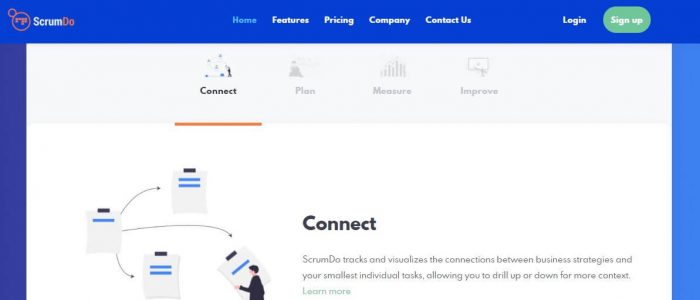 The next best Scrum tool we've reviewed here for you is ScrumDo. Another pretty powerful Scrum tool you can try right now. The tool's core features enable you to implement Scrum as smoothly as possible. The powerful reporting capabilities of ScrumDo let you systematically monitor your project performance with much more accuracy.
These reports include lead time histogram, burndown and burnup charts, cumulative flow diagrams, and much more. The project timeline allows you to keep your project deadlines in check and make informed decisions whenever required.
In addition to that, the dashboard view lets you quickly glance at your project performance, so you know where your projects stand at the moment.
Key Features
Tasks and subtasks management
Project timeline
Consensus-based estimation
Burnup and burndown charts
Lead time histogram
Cumulative flow diagrams
Project dashboard
User story mapping
Multiple third-party application integrations
Pricing
Scrumban – at $8.99 per month, for small teams
Safeban – at $55.99 per month, up to 10 users
Business Agility – custom pricing for large organizations
9. Pivotal Tracker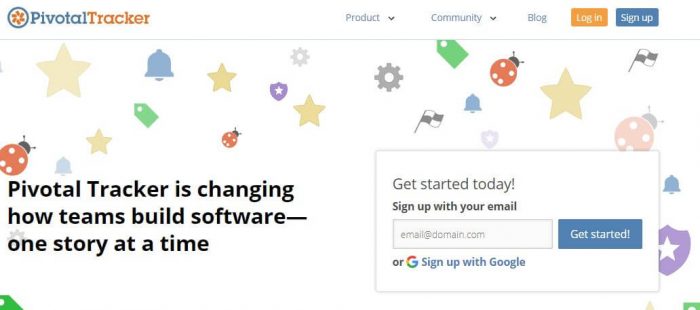 As the name suggests, Pivotal Tracker is an agile project management tool which lets you track your project performance as effectively as possible. The tool comes with all the essential features you need to manage your agile team successfully throughout the project lifecycle.
Through a shared and prioritized backlog, you can collaborate with your team on what needs to be done in due course of time. This also helps with understanding each and everyone's role in achieving project goals.
Other noticeable features this Scrum tool comes with are user-story tracking, iteration management, multiple performance tracking reports, and third-party application integrations. In short, Pivotal Tracker has got you covered!
Key Features
User story mapping
Backlog management
User mentions and story follows
Searchable task labels
Burnup charts and cumulative flow diagrams
Workspaces for multiple projects
Project history for tracking decisions
Third-party application integrations
Pricing
Free – for up to 3 users, 2 projects, and 2GB storage
Startup – starting at $12.50 per month, up to 5 users, 5 projects, and 5 GB storage
Pro – starting at $62.50 per month, up to 15 users
Enterprise – custom pricing, for large organizations
10. Scrumwise

Next tool to make it to our list of best Scrum tools is Scrumwise. It is a simple and intuitive tool that comes with dedicated Scrum features to help you achieve your sprint goals effectively. The tool has a simple interface which further makes it a go-to tool for Scrum implementation.
You can create backlog items and categorize them through lists, tags, and filters for quickly accessing them whenever required. You can also conveniently break down your tasks into subtasks and checklists for managing them in a better way.
The tool also comes with native time tracking to help you with evaluating detailed time logs of your team members and for billing clients accordingly.
Key Features
Product backlog management
Tasks and subtasks management
Native time tracking
Comments and file attachments
Kanban boards to visualize workflow
Burnup and burndown charts
Team chat functionality
Autosaving of updates
Drag and drop interface
Third-party application access
Pricing
Scrumwise gives you the option to either pay monthly $9 per user/month, or an annual $7.50 per user/month.
11. Asana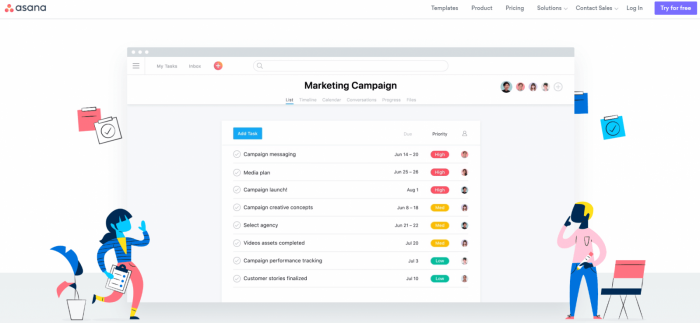 Although Asana is primarily a project management software, it comes with some solid features to help you with Scrum implementation, which is why we added it to our roundup of best Scrum tools. Through a vast library of native templates, Asana makes sure you don't have to plan your product launches from scratch.
Easily track your backlog items through Kanban boards. This also helps with identifying any bottlenecks that might be affecting your sprint goals. Furthermore, through the project timeline, you can keep an eye on your project schedule.
Asana also comes with task dependencies and project milestones which make project performance tracking even more streamlined.
Key Features
Kanban boards
Project timeline
Built-in project templates
Backlog management
Meeting management
Comments and file attachments
Dependencies, and milestones tracking
Pricing
Basic – free for some basic task management features
Premium – at $9.99 per user/month
Business – at $19.99 per user/month
Enterprise – custom plan for large organizations
12. Bitrix24

For any number of best Scrum tools to be considered by power users, there has to be a certain number of features in there.
For any Scrum process, the tool needs to offer solutions for:
Retrospective meetings.
Stand-up meetings/ daily progress meetings etc.
Sprint planning and reporting.
Epic planning and reporting.
The answer to the question of whether Scrum suits your daily workflow requirements!
Keeping in view the aforementioned highlights, Bitrix24 comes close to being dubbed as a highly recommended Scrum tool for Agile teams. Yes, it does have its setbacks. However, if you look at the bigger picture, you are getting away with many solutions to occasional bumps that Scrum masters and project managers face.
Key Features:
Multiple language support for the global user community.
Email notifications.
Bulk file sharing.
CRM reports and planning.
File sharing and versioning.
An amazing reporting system for tasks and timeline-oriented milestones.
Collaborate with team members for retrospective sessions.
Extranet support.
File sharing and versioning for developer data management.
Pricing:
Bitrix24 comes in 4 packages. Starting with the Free plan, you get 12 user access, 1 Admin role, and 5 Gigs of data storage per month. The paid plan details are appended below:
Plus plan costs $39 per month.
Standard plan costs $99 per month.
Premium plan comes at $199 per month.
13. Nutcache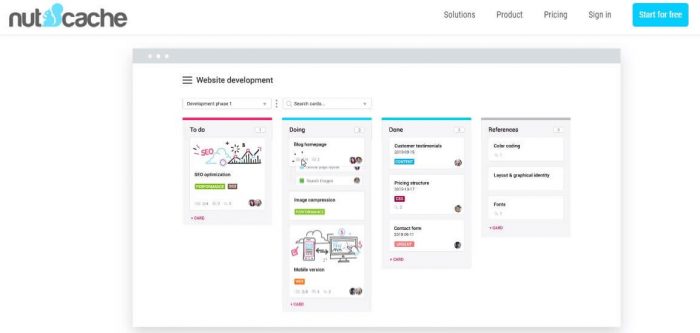 Nutcache is a powerful tool that offers 'Scrum on Steroids' experience to project managers. For instance, if you are looking to take off a project initiating from the planning phase and all the way to successful execution, this tool is for you.
How so?
By default, it is a scrum enabled collaboration platform. There are many minute features in Nutcache that make up for a wholesome user experience. Think about color-coding your projects/ tasks, switching to Scrum boards, organizing schedules, and talking to team members along the way.
And there's more…
Sprints are there. Yes, they are essential to a project manager's timeline, and that is all the more reason where the dev team laid extra emphasis. You can create Sprints with duration, complexities, tasks, and story point easily. Once the project is complete, the Sprint can be closed.
Last but not the least, for those who have a knack for Gantt Charts, Nutcache offers a visual plan to organize stuff in Gantt view. The rest is up to you – as wherever, and however, you take this tool to work.
Key Features:
Ideal Scrum tool for individuals, teams, and businesses of varied proportions.
Create sprints and epics with different feature-packed options for flawless project execution.
Based on the latest Agile methodologies for expedited workflow.
Nutcache holds nothing back when it comes to offering robust CoC tracking, reporting, and budgeting features.
Contains a dedicated client portal.
Powerful collaboration tools for internal communication among project teams.
Pricing:
Nutcache comes with a Free trial for anyone who wants to evaluate the software.
Paid plans start with Nutcache basic at $6.0 per user/ per month.
14. Clarizen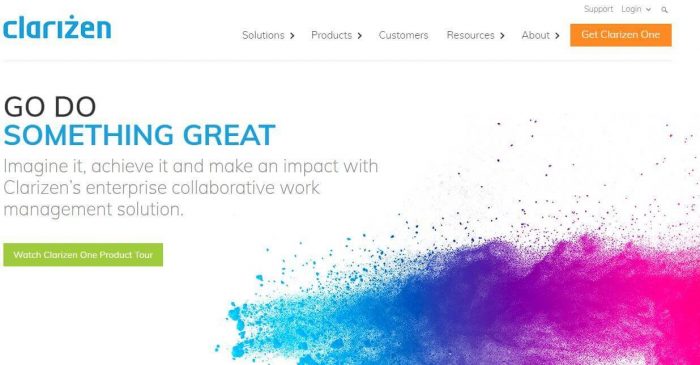 Clarizen aims to help your projects run faster with timesaving workflows. This project management software is a great tool for repeatable processes with its powerful and flexible workflow automation.
This software can easily be configured to be able to support agile as well as hybrid methodologies.
Project portfolio management is completely covered with Clarizen's features, allowing project and portfolio optimization which in turn allows you to easily align projects with your business objectives.
Key Features:
Flexible workflow automation
Task management and planning tools
Dashboards allow for teams to easily become aligned and aid in collaboration
Project timelines for easy planning
Option to run scenarios to stay on top of your project's progress
Real-time insights available to see available resources, schedules, and tasks
Integration options with other enterprise tools
Pricing:
Contact provider for pricing plans
15. MeisterTask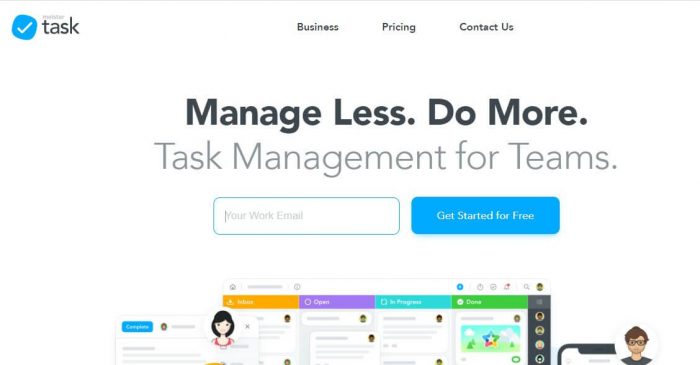 Up next is MeisterTask. It is a beautifully designed task management tool for agile teams.
With flexible Kanban boards, the tool can adapt to your team's workflow. There are also multiple options available to integrate with your favorite tools. This allows for the software to create a seamless workflow with smart automation allowing you to work both efficiently and consistently.
The tool is easy to use with its free webinars, as well as an extensive online help center. There is also quick email support that is available in multiple languages. This makes it easy for your team's onboarding to the tool.
Key Features:
Backlog management
Options to view the progress of your project and reports with Gantt charts or a timeline view
Request and resource management
Status tracking abilities
Team management
Workflow management
Kanban boards
Milestone tracking
Pricing:
Basic plan as a free agile tool
Pro plan for $4.19 per month
Business plan for $10.39 per month
Contact for custom enterprise plan
16. ProjectManager.com

Projectmanager.com isn't a dedicated scrum tool but given it's an award-winning project management software, it's worth giving a shot.
Projectmanager.com has some very important features that any team which wants to adhere to the scrum methodology could do well to utilize to its advantage.
With this software, you will find Kanban boards that provide real-time dashboards that will support you visualize your work.
The notifications are basic but useful – you have the capability with ProjectManager.com to set up automated alerts to stay on track for your tasks.
Multiple integrations are available including Google Apps like Gmail, Calendar, etc. as well as Microsoft Project and Microsoft Office.
ProjectManager.com also provides integrations with Zapier with which you can sync the app with other software solutions.
Key Features
Visualization
Notifications
Reports
Integrations
Product backlog
Pricing
Personal: $15 per user/month
Team: $20 per user/month
Business: $25 per user/month
Enterprise Options: Contact Sales
Have you used any of these Scrum tools? Which one is your favorite? Let us know in the comments below.
---
Also read:
The 33 Best To-do List Apps of 2023 for Personal Task Management