With the number of project management tools overflowing the Internet and ruling the project management arena, Asana has made its mark as one of the must-have project management software for teams across the globe. Robust features, great interface and a roaring list of clienteles – Asana seems to have its game on point.
However, despite the seemingly perfect option that you may take up blindfolded, Asana has its own set of limitations that one should consider before investing in the tool. These limitations call for using replacements that would be a better fit for an organization in terms of usability, pricing, and work patterns.
Why You Should Switch to an Asana Alternative
Some of the notable limitations Asana embodies as a tool that project managers rely on include:
Task Assignments:
Asana allows for assigning a task to a single person. However, often, a project may require that certain tasks be assigned to more than one team member. Asana does not allow for that.
Task Status:
In Asana, you can set a task status to either Open or Closed. There is no way to identify whether the task is in progress, being reviewed or even pending. This makes the situation confusing for the team.
Comments:
You can leave comments on tasks in Asana, which is a good feature to share extra information on a task. However, often times, during conversations and in the middle of projects, comments may go unnoticed or forgotten. You do not have the option of converting the comments to task assignments, which is offered by multiple tools.
Pricing:
Considering most of the project management tools offer a broad range of features for free or a minimal price, most of the important features in Asana are paid. The free version allows for up to 15 users in a team. For this reason, at $ 9.99 a month, Asana can get expensive.
Mobile Apps:
Project management is all about managing workflow from anywhere at any time. Mobile versions of project management applications hold a significant position be it any industry. However, although Asana has a mobile app, it is quite limited in terms of features compared to its internet version.
In short, although Asana comes across as a great project management tool, there are some features that it does not come with by default or for free.
In such cases, organizations have to pay to buy the premium plan, make use of integrations (free or paid) or adopt more tools to work on along with Asana even for project management related critical features such as Gantt Charts.
We have made a list of top 5 free Asana alternatives. With these free Asana alternatives, you can get your hands on the same or more number of features at lower prices and in some cases, even for free.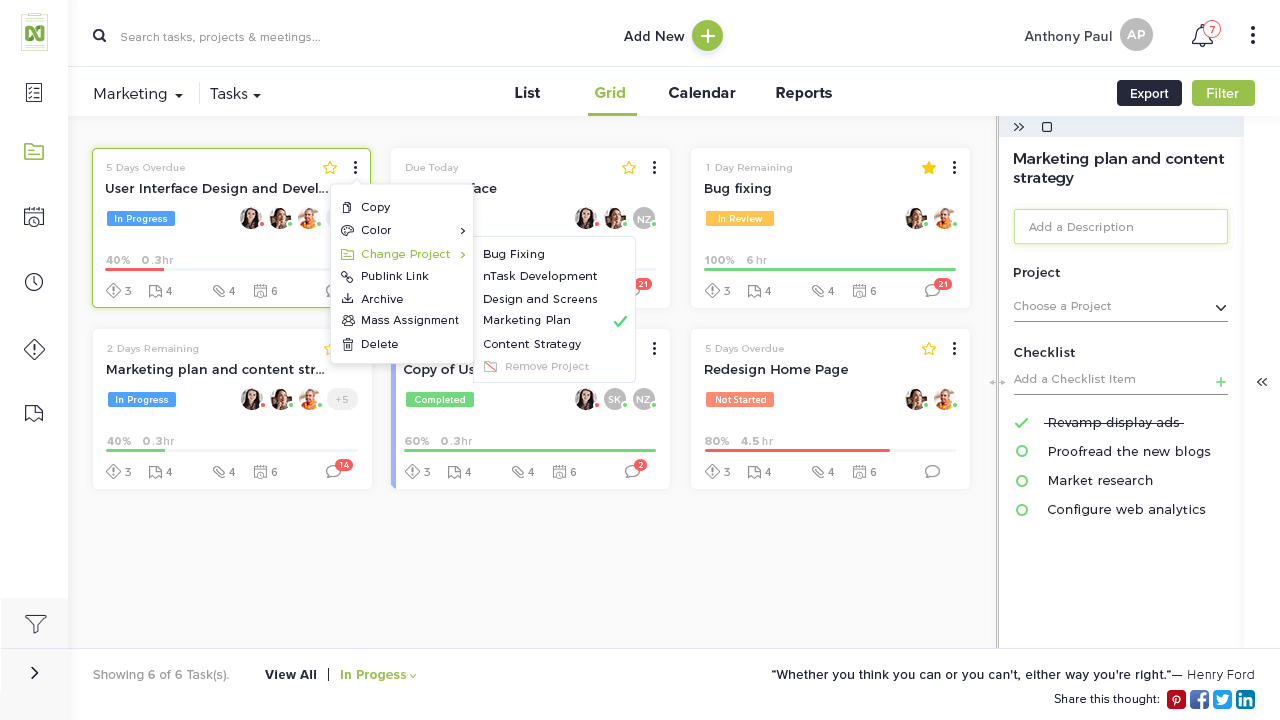 nTask is a free, online project management tool designed and developed for teams. Although created for teams, it has a simplified workable user interface that can be used by individuals for personal use or freelancers in multiple industries.
It works well with teams of all sizes and industries. As one of the top free Asana alternatives that made it to this list, nTask comprises a wide range of features that facilitate collaboration and helps streamline projects and work processes.
nTask can help you manage multiple projects related to software development, marketing, human resources, design as well as legal.
Key Features:
Some of the features and modules of nTask include:
A simple user interface with access to a wide range of modules.
Team specific workspaces that can be managed and monitored simultaneously.
Create, assign, organize, prioritize and share tasks
Create and assign projects
Comment on and assign tasks to projects or structure them independently
Convert comments to tasks using Slack
Select from multiple statuses for a task
Gantt charts, project reports and project timelines to manage and monitor project progress
Timesheet management with the option of creating and managing team specific sections for employee task efforts and payroll.
Meeting management helps you keep your teams in sync with arranging and scheduling meetings. You can set one time or recurring meetings along with sending invites to attendees, added meeting details and specifying follow up procedures.
Issue management module facilitates in identifying and listing down issues related to multiple tasks. You can list down the issue along with the Issue owner and relevant details to track issue maintenance.
Risk management module helps you identify and keep track of potential risks. You can list down the risk and assign a risk owner in order to track risk management.
Powerful search and filter tools that help you search for tasks, projects, meetings, issues and risks.
Alerts, notifications, and reminders to keep teams on track.
iOS and Android mobile apps
Pricing Plan:
nTask offers a free and Pro pricing plan.
Paid Plan: nTask charges $2.99 per month per user with an annual billing plan.
Free Features:
Here are some features you can get with free subscription:
5 free workspaces
Up to 10 team members per workspace
5 MBs file attachment size
200 MBs of storage space
Unlimited tasks & meetings
Team timesheets
Create up to 5 projects
Risk and Issue tracking
Quire is another free asana alternative you can adapt for your project management practices. It is a free app that facilitates task management for creative teams.
This app is selected as one of our top free Asana alternatives especially for teams who need to manage complex, laborious and time-consuming projects.
Quire helps you achieve this by breaking down tasks into smaller and easily manageable components. You can then prioritize the tasks as required.  One of its key features is its organized and easy to navigate interface. Plus, it does not restrict the number of manageable tasks and subtasks.
Some of the key features this tool can offer you include:
Unlimited tasks and subtasks
Organize and prioritize tasks
Assign and comment on and set status for each task
Easy to use and transparent all-in-one workspace
Instant and real-time collaboration channel
Exclusive third-party access
Integrations with Siri and the camera for iPhone
Team roles and permissions
Smart folder + Filter feature
iOS and Android mobile apps
Pricing Plan:
Quire is entirely free-to-use and offers no enterprise pricing plans for now.
This free Asana alternative is an online task and project tool. Like other tools, MeisterTask also helps teams collaborate more efficiently while helping project managers have complete control on the projects. Teams can monitor projects progress in a simple to use application.
One of the key features of MeisterTask includes Kanban project dashboards. The tasks are organized and transparent for teams to view, monitor and stay notified. It also integrates with other tools to make project and task management easier such as such as BitBucket, Dropbox and Google Drive.
Key Features:
Here is a comprehensive list of features you can avail with Meistertask:
Kanban Project Boards
Custom Dashboards
Tasks and sub-tasks
Notes and comments
File attachments and information sharing
Organizing tasks and placing tags and stars
Task Relationships
Automations
Integrations
Mobile Apps (iOS, Android, Windows)
Pricing Plan:
Meistertask comes with free, Pro, Business and Enterprise payment plans.
Paid Plan: Meistertask Pro charges $8.25 per user per month.
Free Features:
Some of the free features you can get in the free plan include:
Unlimited projects and tasks
Unlimited project members
Customizable dashboards and project boards
Two integrations with your favorite apps
File attachments up to 20 MB per file
Mobile apps
Freedcamp is another Asana alternative, which is a cloud-based collaboration and project management created teams and individuals. This service comes with a broad list of capabilities with reference to task assignment, communication, time tracking, scheduling and more.
All this without making expensive purchases. Some of the core features include setting up task lists and setting them up as sticky notes on Kanban boards.
Key Features:
The key features this service brings you include:
Task and subtasks management
Multiple statuses for tasks
Team member addressing
Project templates
Kanban boards
Gantt Charts
Messaging and discussion boards
Team milestones
Calendar
Invoice management
CRM
Issue and time tracking
Time tracking
Document and shared file management
Read-only guest access
Data backups
Pricing Plan:
Freedcamp offers free, Lite, Business and Enterprise Plans.
Paid plans start from $ 3.99 per user per month.
Free Features:
Here are the features you can avail for free with Freedcamp:
Unlimited users, projects, and storage
10 MB file upload size
Calendar
Messaging and discussion boards
Passwords Manager
Personal Task Manager
Shared file management
Tasks and subtasks
Team milestones and time tracking
Support response within 3 business days
The last Asana alternative on our list is KanbanFlow, a lean project management tool with a simplified user interface that is easy to use. The Kanban board keeps everything in sight keeping workflow visual for easy tracking.
An interesting feature of this tool is time tracking through the Pomodoro method. This method encourages working with full concentration for 25 minutes before taking a break.
Key Features:
Some of the key features you can avail with KanbanFlow include:
Team collaboration
Tasks and subtasks
Task addition via email
Process and workflow analysis
Team assignment
Data import/export
File sharing and document attachments
Filter and search
Revision history
Swimlanes
Time tracking with Pomodoro support
Users and roles
Integrations
Mobile support for most smartphones
Pricing Plan:
KanbanFlow offers a free and premium plan.
The paid plan is charged at $5 per user per month with a 10% discount on annual payment.
Free Features:
The free features this tool offers include:
Unlimited boards
Unlimited tasks
WIP limits
Subtasks
Filter
Recurring tasks
What is your favorite free Asana alternative? Share your experience in the comments below.