The Gantt Chart has become one of the most critical tools for project managers in various industries. According to Capterra, some of the major industries employing Gantt charts include education, finance, marketing, IT, and construction.
What is a Gantt Chart?
Gantt charts provide a visual overview of the project at hand, which facilitates quick yet effective project planning, management, and monitoring. Instead of having to go through multiple instances of tedious reports and documents, a Gantt Chart gives a pictorial overview of the workflow, the milestones achieved, planning phases, and associated bottlenecks and risks.
Gantt Charts can also be used to show dependencies between different activities in a project and project status. Online Gantt Charts offer a smarter way of project management by automatically notifying of issues such as potential delays of excess time consumption by activities.
You can have an overview of multiple tasks associated with a single project or a high-level view of multiple projects.
Melanie Haselmayr is a real estate agent and real estate investor with CURATED. According to Melani, "Gantt Charts are best for projects that are timetable dependent. Their layout in timeline format allows you to stay on top of your deadlines, and keep an overview of the progress of the project."
📨 Gantt Charts and Team Collaboration
One of the numerous advantages a Gantt chart project management tool can offer is increased teamwork and streamlined collaboration among teams. Integrated with a Calendar, a project management tool encompassing the Gantt chart features can make project planning and monitoring easier by keeping the team on one page.
Certain Gantt chart apps even allow depicting the task owner with the task on the timeline. With project relationships and dependencies structured in a transparent manner, it is easier to shuffle task priorities, share the workload and arrange substitutes in case resources are not available. This helps deter overwork, identify issue owners and expedites the process to identify root causes of problems.
According to an article by Scott Berinato, a Senior Editor at Harvard Business Review, "visual communication is a must-have skill for all managers, because more and more often, it's the only way to make sense of the work they do."
💡 Benefits of Gantt Chart
Here are 6 effective benefits of Gantt charts:
1. Proper Understanding of Everything
When working on a project, an efficient team is very open to modifications to make the project better. For that, they have to incorporate a lot of changes in their schedule, whatever they may be and wherever they may come. That's where the Gantt chart comes into its own.
Gantt charts are the key to untangle rigid schedules. You can easily find openings in your schedule which are needed to add in new projects, thanks to these charts.
2. One Single View for Everything
With the presence of so many productivity platforms in the market, Gantt charts are an amazing method to see each and everything together with also the added functionality of displaying any potential problems that may arise along the way.
3. Easily Break Down Projects into Smaller Pieces
If the company is not implementing proper resource management strategies, Gantt charts are the perfect way to lay out all of the tasks and projects for the whole team to see. From this view, all of the activities can be effectively dispersed all over the team and the workload can be easily dealt with.
4. Check Dependencies
You can also check the dependencies of the tasks on each other. This will help you check the tasks on which you can work on simultaneously and which are dependent on each other, saving you a lot of precious time.
If you want to experience this Task Dependency, head on over to nTask which has the perfect configuration of this feature incorporated in their software.
5. Automatic Scheduler
If you want your Gantt Chart to work properly then you have to put in the work. What you have to do is, you have to enter all of the expected time frames your tasks are going to take and then track it. This will provide enough information for the charts to effectively do its work and project the required results.
What are the required results? Well, these are projections of the procedures you have to adapt to meet your goals, and also it will display all of the changes you need to make which will optimize your development procedure.
6. Transparency
The most amazing feature of Gantt Charts is that it's very transparent about the work it does. It displays all of its information quite clearly compared to all of the estimations. It's also one of the fastest procedures that can help you monitor the task progressions and can also alert you of all of the changes that are required to be made.
📊 How to Make a Gantt chart?
A Gantt chart can be defined as a bar chart that illustrates a project schedule through a work breakdown structure (WBS) of a specific project. The first Gantt chart is known to be devised by Karol Adamiecki in the mid-1890s.
Adamiecki was a Polish engineer that worked on management ideas and techniques. Later on, an American engineer, Henry Gantt took up the idea of such charts between 1910 and 1915. In turn, these charts became associated with his name.
A Gantt chart is essentially made up of the following basic elements:
Defined timeline maker i.e. showing start and end dates of the project
Project tasks and activities
Task owner
Start and end dates for each task
Time duration for each task
If needed, task grouping and dependencies/relationships
Try interactive Gantt Charts with nTask. Start your Free Trial.
👨‍🏫 Who Uses Gantt charts?
A Gantt chart can be used by anyone who needs to keep a check on projects or workflows. It isn't limited to a specific industry. Rather, multiple roles can be using the same Gantt chart to oversee progress from their level. Some of the common roles using Gantt charts include:
The C-Suite i.e. CEOs, CIOs, CFOs and CTOs
General Managers
Project Managers
Marketing Managers
Operations Managers
HR Managers
Administrators
Scheduling managers
Team Leads
Laura Shin is a crypto/blockchain journalist and host of the Unchained and Unconfirmed podcasts. Laura says:
"I highly recommend Gantt charts for project management, whether you work on a team or solo. They are visual representations of how long each project will likely take and what your start and finish dates are. It is immensely helpful not only in projecting future timelines but also determining when you have too much work on your plate."
Pros and Cons of Gantt Charts
As with everything else, Gantt charts also come with their own sets of advantages and disadvantages. Here are certain factors you should know before deciding whether or not to adopt a Gantt chart software into your project management practices:
Pros
✅ Simplify complex workflows into manageable activities
Gantt charts can reduce a seemingly overwhelming task into a manageable set of tasks with a transparent view.
✅ Organize tasks and projects
You can organize complex workflows into tasks and projects. This helps design and prioritize major activities relevant to each project goal.
✅ Help set realistic timeframes
You can set realistic timeframes for task initiation and completion.
✅ Identify critical path
Gantt charts help identify the critical path of a project. In essence, it is the path that determines the minimum amount of time required to complete a project.
✅ Facilitates goal attainment
Gantt charts help you attain your project goals due to a practical time-frame on all levels.
✅ Provide a transparent view of work
It is easier to keep atop of every detail through a transparent visualization of the tasks involved.
✅ Highlight potential problems
Gantt charts can help highlight issues and risks including time overlaps, milestone delay or excess time consumption by any activity.
Cons
❌ May increase in complexity levels
Although intended to simplify work, depending upon the number of projects being managed simultaneously, a certain Gantt chart can become complex. It needs an eye for detail and good management and improvisation skills.
❌ Need constant monitoring and updates
To ensure the project is rightfully depicted as it goes, the Gantt chart needs to be monitored for consistent updates, by all team members. It is important to have your resources and work assigned carefully planned to render results efficiently.
❌ Not feasible on paper
Although initial Gantt charts started in physical form, these are difficult to retain on paper. Therefore, these are mostly limited to and best managed digitally i.e. cannot be printed effectively as done with reports and other forms of documentation.
Using nTask to Make a Gantt Chart
The following attributes are essential to making an effective Gantt chart with nTask. Let's take a look at all of them in a nTask Gantt chart example.
1. Project and Tasks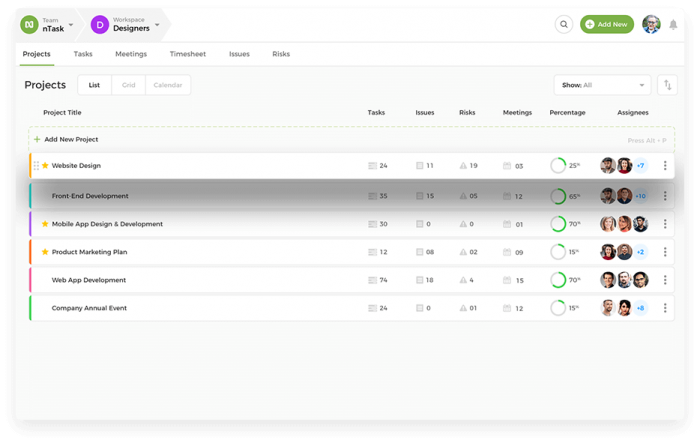 Whenever you make a project in a workspace in nTask software, you're going to fill it up with different tasks related to it.
When the tasks are completed according to the criteria you set for them, their completion percentage/progress will show up on the interface as shown below.
2. Start & End Dates
When you are using nTask, all your task scheduling activities are going to become a lot easier as the application provides the option to schedule deliverables according to different dates.
These dates are the start and end dates that are necessary to track those applications and check if the deadlines have been met or not.
You can set the dates from their respective sections, as shown in the Gantt chart example below. Also, you have multiple options for dates, such as; 'Actual', and 'Planned'.
You can easily choose from these categories according to your requirements.
3. Assignees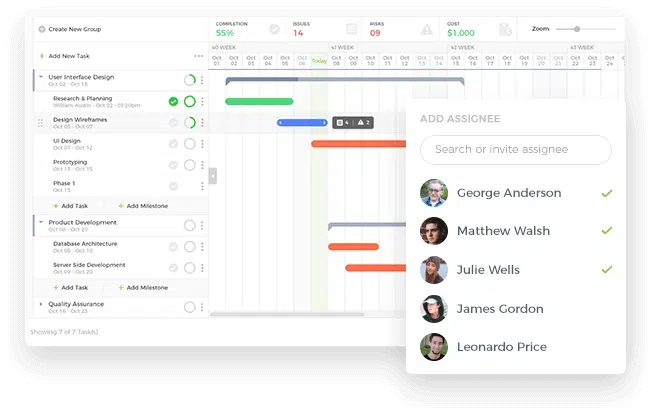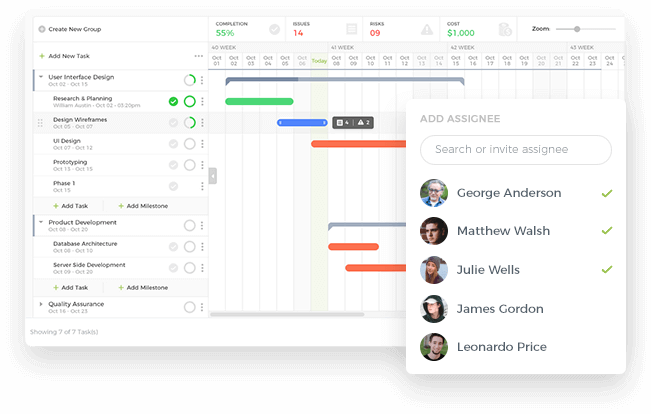 After creating the tasks and setting updates, the next step is to appoint team members who are going to perform those tasks.
These Assignees can be easily designated via the interface by adding their email addresses in the assignee list of that particular task.
4. Milestones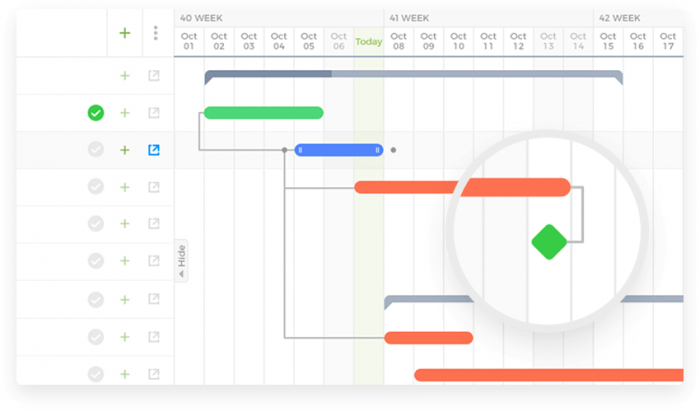 There are different types of milestones that you can set inside your projects and tasks, using nTask. Once they have been created via the interface, you can check their progress from the same interface.
5. Checklists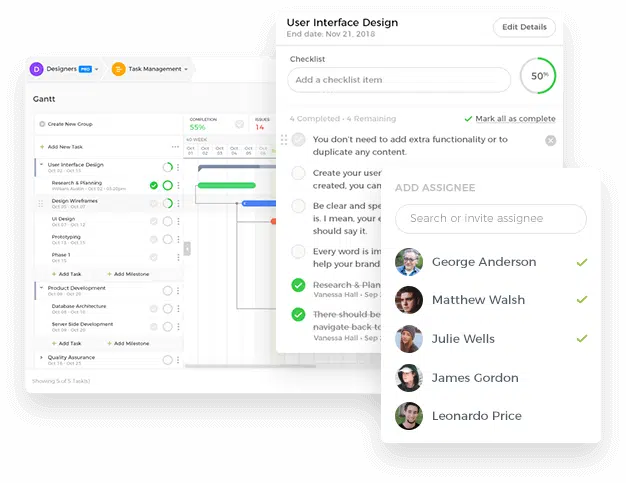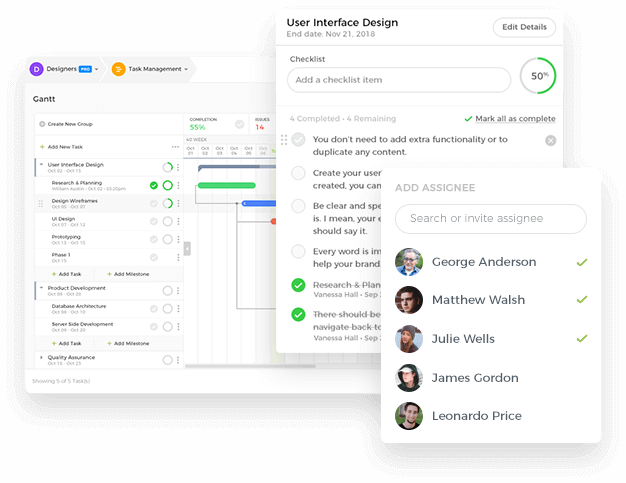 The next step is to create the checklists that are going to help you track all of the different tasks and processes that the team is working on.
These lists are the progress meters of the tasks that let you keep eyes on everything that is going on and if the deadlines are being met or not.
6. Task Status
In nTask, you can also set the status of all of the different tasks included in the projects. You can set them to 5 different options, as shown below, to indicate the progress of the task.
7. Dependencies
When you use nTask for Gantt charting, you can create different task dependencies with other tasks, task dependencies with milestones, and milestone dependencies with other milestones.
You can identify these dependencies and order them as:
Start to start
Finish to finish
Start to finish
Finish to start
8. Project Cost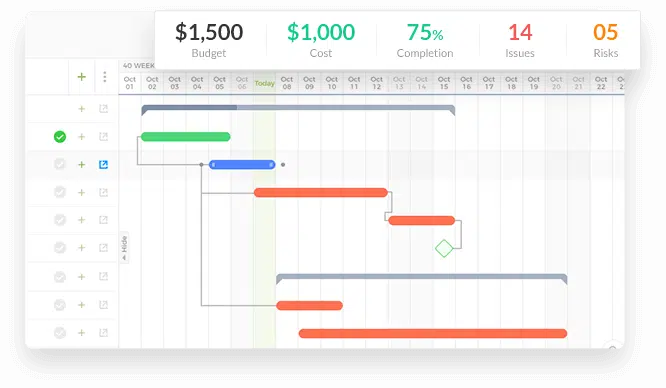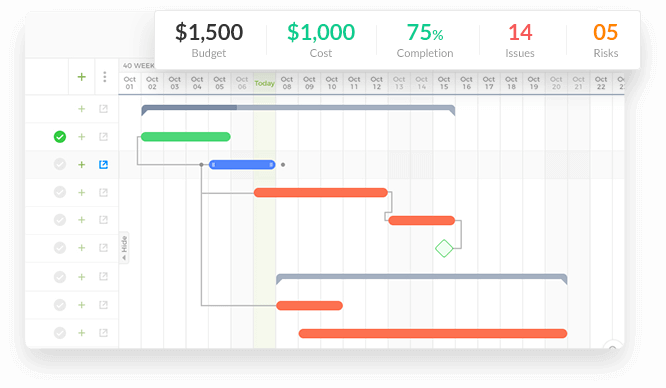 You can also track the budget related to all of the tasks being performed in the project development process, and also for the overall project when you use nTask to create your Gantt charts.
9. Project Summary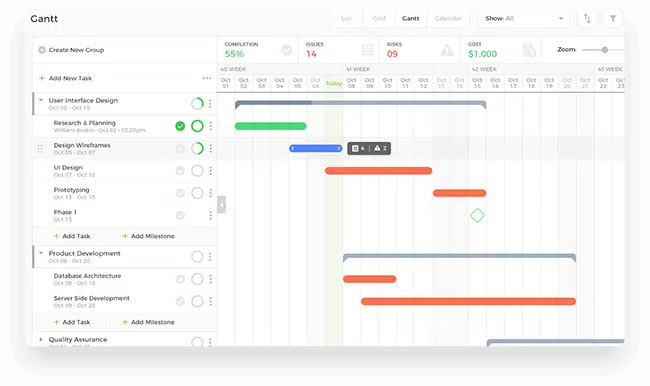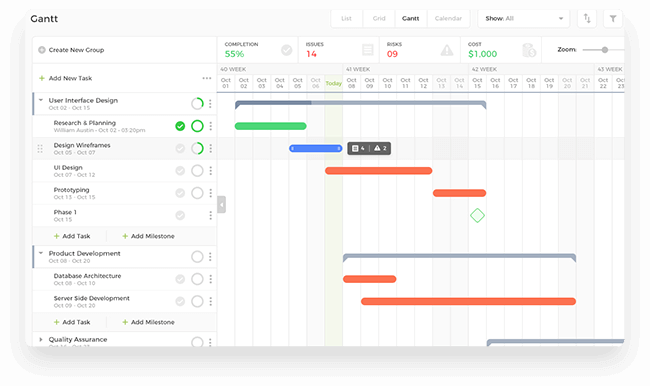 During an ongoing workflow, especially when the tasks and the overall project are completed, nTask provides a summary of all of the different elements and activities that transpired in the project. Use them to your advantage to analyze any loopholes that were overlooked the first time.
With this available data, your next project(s) can be completed efficiently and way before the deadline.
Gantt Charts for Project Management
Despite various tools and frameworks for project planning, Gantt charts continue their popularity levels globally with professionals. Incorporated in the latest developments of project management solutions, project management has become easier and more efficient using Gantt charts.
Especially with the option of switchable tasks between projects and repeating tasks, Gantt charts are far more dynamic than ever before.
According to a recent survey by Software Advice, a significant number of project management professionals, about 43%, still carry out project planning using manual methods i.e. creating and maintaining Gantt charts. 35% of the respondents show an inclination towards applying Gantt charts within project management tools.
Do you use a Gantt chart software? If yes, how do they help you out in managing your projects and workflow? Share your story in the comments below.