The concept of applied project management timeline is constantly shifting with every season but there is one thing that will always remain the same, i.e. — No matter how a project is initiated, 'Planning' remains a uniform factor.
To that end, if you have prepared for every scenario and planned for every outcome before investing a single second of your time and resources into the development process, no matter how huge or minute your project is.
You should always take planning very seriously even if you are trying to plan the tasks and activities which are a part of the same project. This planning session will help you to plan all of those activities and complete them in time.
This is where the project management timeline comes into play. Wondering what the heck that is? Let's start from the very beginning and find out what Timeline project management is.
What is a Timeline and its Role in 'Project Management Timeline'?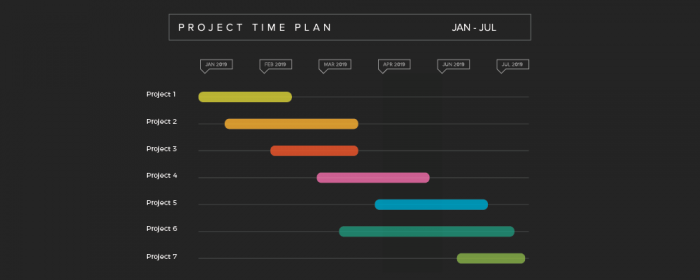 According to the definition at Wikipedia:
"A timeline is a display of a list of events in chronological order. It is typically a graphic design showing a long bar labeled with dates paralleling it, and usually contemporaneous events; a Gantt chart is a form of timeline used in project management."
That means that a timeline is a trail of all the activities related to the project that helps the managers and the team members to keep track of everything that they are doing in the project development process.
When you use a timeline in a project management process, you see these three details about the project:
What tasks are being worked on right now, by the development team?
What tasks have already been completed by the team?
What tasks are going to be completed by the team shortly?
Key Elements of a Project Management Timeline
The following are the key elements of a project management timeline. Keep in mind that these elements change from project to project, but these are some of the most important elements that you generally see in most timelines. They are:
Task Dependencies
Task Duration
Dates related to the tasks (Start and End Dates)
Assignees
Advantages of Timelines in Project Management
Given below are some of the most important benefits when it comes to using timelines in project management. They are:
It helps to boil down all of the different project management phases and tasks into a central location
If offers a trail of all of the processes related to a project, which helps to reset the process to a more stable stage if things go sideways
It provides a visual representation of the project for the teams and the project managers so that they can discuss all of the different changes in the project later on
It enables the team to keep their focus on the most important work processes rather than wasting their time on useless activities that won't bring any value to the company
Let us now move on to the best project management software that will help you create the best timeline of a project management process.
The 9 Best Software for Project Management Timeline
Here are some of the top timeline software you can start using today.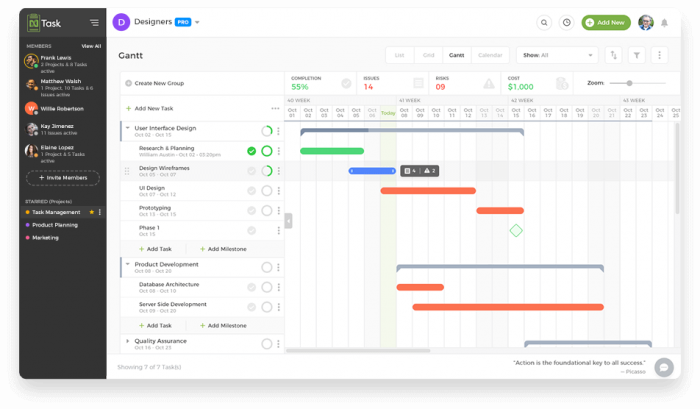 nTask is the best project management software in the market right now. Hands down. It is your only solution when it comes to anything related to project management.
The software is so feature-packed that you can perform nearly every activity related to project management at it and it will perform it admirably. It covers all of the different elements of project management like:
Task Management
Time Tracking
Issue Management
Risk Management
Bug Reporting
And many other features. So naturally, this software is more than capable of creating the best timeline for you that you can monitor, to make sure that all of the activities are being performed at their appropriate time and nothing is being ridiculed.
Some of the other features that this application provides are as follows:
Key Features
Resource planning
Search functionality
Feedback management
Data export
Approval process control
Reporting
Risk analytics
Collaboration tools
Task comments
Project time tracking
Project risks
Status tracking
Prioritizing
Project budgeting
Cost estimating
Email invites
Deadline tracking
Team performance reports
Project management
Pricing
Basic Free Plan
Premium Subscriptions starts at $3/month
Business starts at $8/month
Use the Best Timeline Software to Manage Your Projects!

Manage all your tasks, projects, meetings, timesheets and more in one place. Sign up to nTask Now!
2. ProofHub

The next one on the project management timeline software list is ProofHub. A project management software, this application can help you a lot in your project management related endeavors such as task management, planning different activities, and conducting meetings.
Key Features
Customizable templates
Document storage
Gantt charts
Multi-language
Project notes
Time tracking by project
Search functionality
Workflow management
API
Role-based permissions
Reporting & statistics
Pricing
Paid Subscription starts at $45.00/month
3. Bitrix24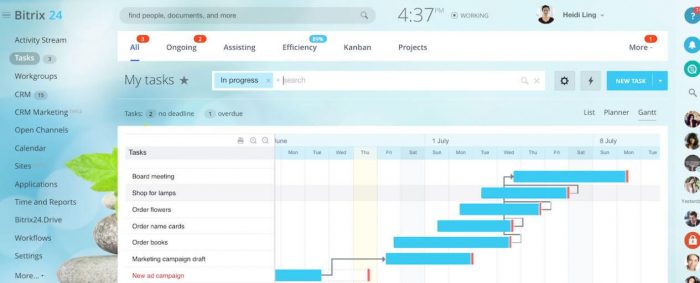 Bitrix24 is an amazing project management timeline software that is perfect for small business owners because of its free version that contains many amazing features including a fully interactive Gantt chart that you can use to make your project a success.
Key Features
Customizable fields
Version history
Automatic notifications
Computer telephony
Custom CRM forms
File sharing and versioning
Document sharing
HR management
Invoice management
Meeting management
Pricing
A Free version is available
Paid Subscription starts from $24.00/month
4. GanttPro

Another entry in this list is GanttPro. The software is an amazing web-based solution for all your timeline and Gantt Charting issues, and with its highly intuitive and easy-to-use interface, GanttPro makes even the most complex and formidable projects seem very simple and easy.
Key Features
Collaboration
Prioritization
Product Road-mapping
Export/Import
History of changes
Multiple Projects
Project Planning
Project Tracking
Real-Time Notifications
Import/Export
Collaboration Tool
Project Members Mentioning.
Pricing
Paid Subscription starts at $5.90/year
5. Wrike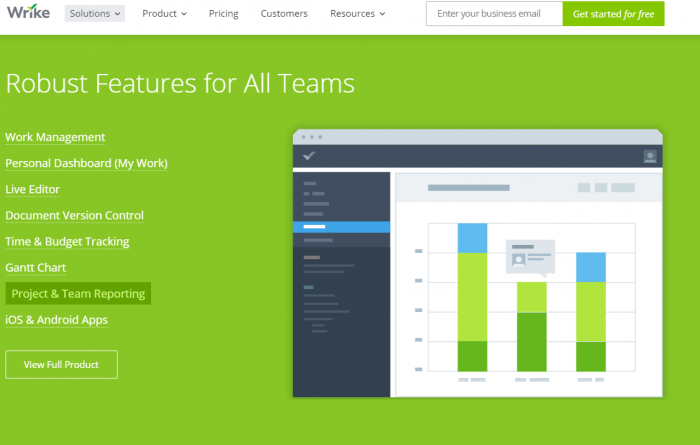 Wrike is one of the best applications on this list. It is one of the all-time greats when it comes to task management and work management as a whole. This application can be used for small-scale and enterprise-level businesses simultaneously.
The software enables the project managers and the team members to organize all their tasks and activities in one place and even lets you collaborate with your team members and the clients about all of the activities related to the project, in the most productive way possible.
Key Features
Personal dashboard
Prioritizing
Project reporting
Project tracking
Real-time reporting
Resource management
Secure data storage
Subtasks
Pricing
Paid Subscription starts at $24.80/month
6. Workzone

A cloud-based project management application, Workzone is an amazing piece of software that enables the managers and the team members to organize all of the tasks and processes related to the project development process while assigning responsibilities and notifying all of the people involved about the changes being made in the project.
Key Features
Approvals Workflow
Custom Branding
Expense Tracking
Flexible Permissions
Gantt Chart
Image Markup
Project Request Forms
Projects Overview Dashboard
Pricing
Paid Subscription starts at $200/month
7. EasyProjects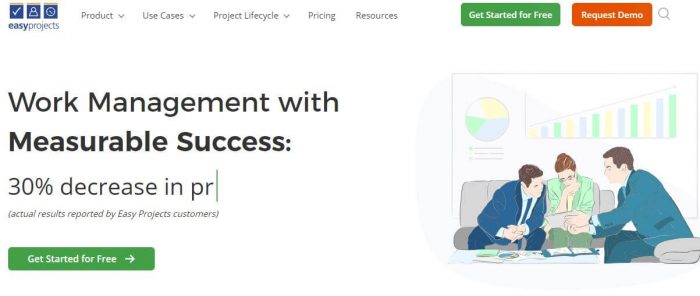 Yet another cloud-based project management tool, EasyProjects is an amazing application that is very intuitive and can be customized to match your exact needs and requirement so that you can manage all of the projects and their associated tasks and activities, more efficiently.
Key Features
Communication management
Custom fields
Desktop notifications
Drag & drop
Email notifications
File sharing
Guest/client portal
Image annotations
Pricing
Paid subscription starts at $24.00/month
8. Celoxis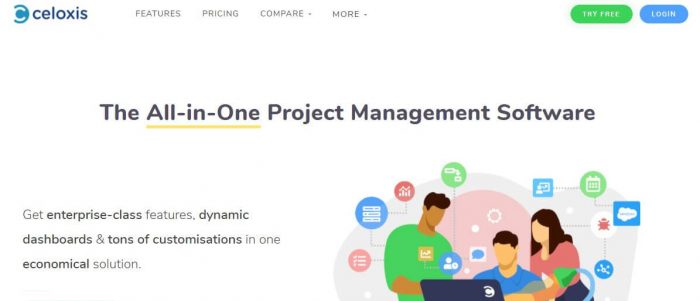 One of the most easy-to-use and affordable project management solutions on this list, Celoxis is packed with all kinds of different features that allow the managers and the team members to manage all of their projects, timelines, timesheets, collaboration activities, and workflows.
Key Features
Activity Stream
Custom reports
Document management
Project portfolio management
Visual health indicators
Auto and Manual scheduling modes
Custom apps
Role-based security
Pricing
Paid Subscription starts at $25.00/month
9. Smartsheet

Designed to take on all of the different challenges that an enterprise-level business can throw at it, Smartsheet is an incredible software that enables the managers and the team members to collaborate among themselves and the clients in the most innovative ways.
The application can be accessed through any mobile device you are using and has many amazing features that will make your life as a project manager easier and more productive.
Key Features
Familiar spreadsheet-like interface
Collapsible sub-tasks
Access via mobile & tablet devices
Periodic reporting
Activity tracking
Automatic backup
Automatic reminders
Calendar sync with Google
Pricing
Paid subscription starts at $14.00/month
Conclusion:
If you are an aspiring project manager who is just about getting started, don't take undue stress. Project management timelines are not easy to manage; especially when you are dealing with large scale MNCs.
Sign-up for training under a mentor's wing, read tons of training material, and "apply" your skills gradually. Your certifications will take you as far as securing a project manager's role; the rest is a matter of skill.
Good luck!