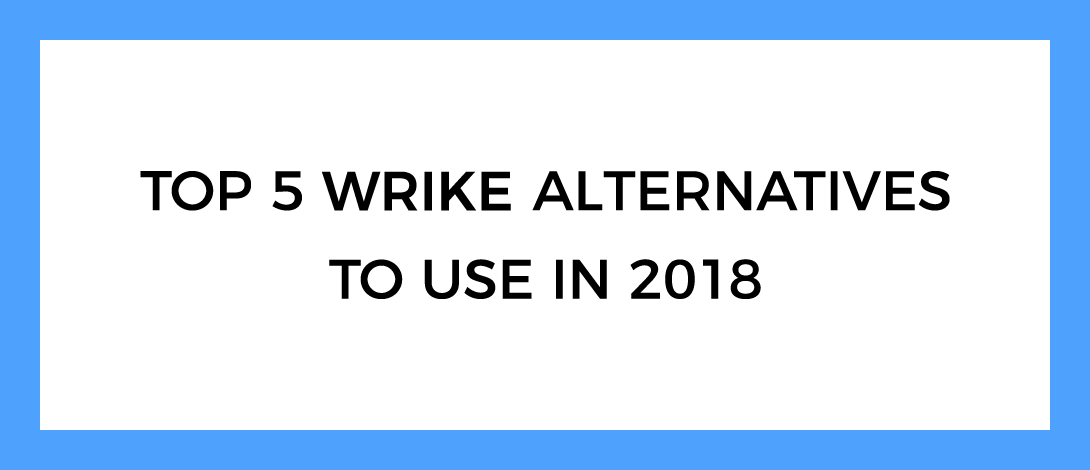 With more than 17,000 customers globally, Wrike has definitely made its mark as one of the top project management tools the Internet has to offer today.
However, not all organizations are as complex and diverse with most being at the small or medium enterprise level. No project management software is a one-size-fits-all solution and Wrike is no exception.
Despite its robust set of features and a growing number of subscribers, Wrike, too, has its own set of cons or limitations. In this article, we explore some limitations that teams may incur with Wrike and the alternatives they can use without compromising on effective team management and efficiency of their project development.
Wrike Limitations
Some of the important features that are not up to mark or are simply missing, include:
Tasks and subtasks
Breaking down the work into multiple tasks can be a little confusing as each task can be associated with a number of attachments and comments. There is no option of subtasks and no option of setting a task to repeat on a weekly basis.
Tasks and Projects Progress
There seems to be no option for determining task progress percentage. Projects that are partially completed do not have a progress percentage so it is difficult to assess where the project stands.
Time reporting
A critical feature such as time reporting seems to be missing.
Usability
Although having a comprehensive feature list is a plus, for some teams and individuals, it can take some time getting a hang of the tool.
Pricing
At $117.60/year per person for the Professional plan (teams of 5, 10 or 15), the price can seem a little steep.
Here is a list of top 5 free Wrike alternatives that you implement into your workflow.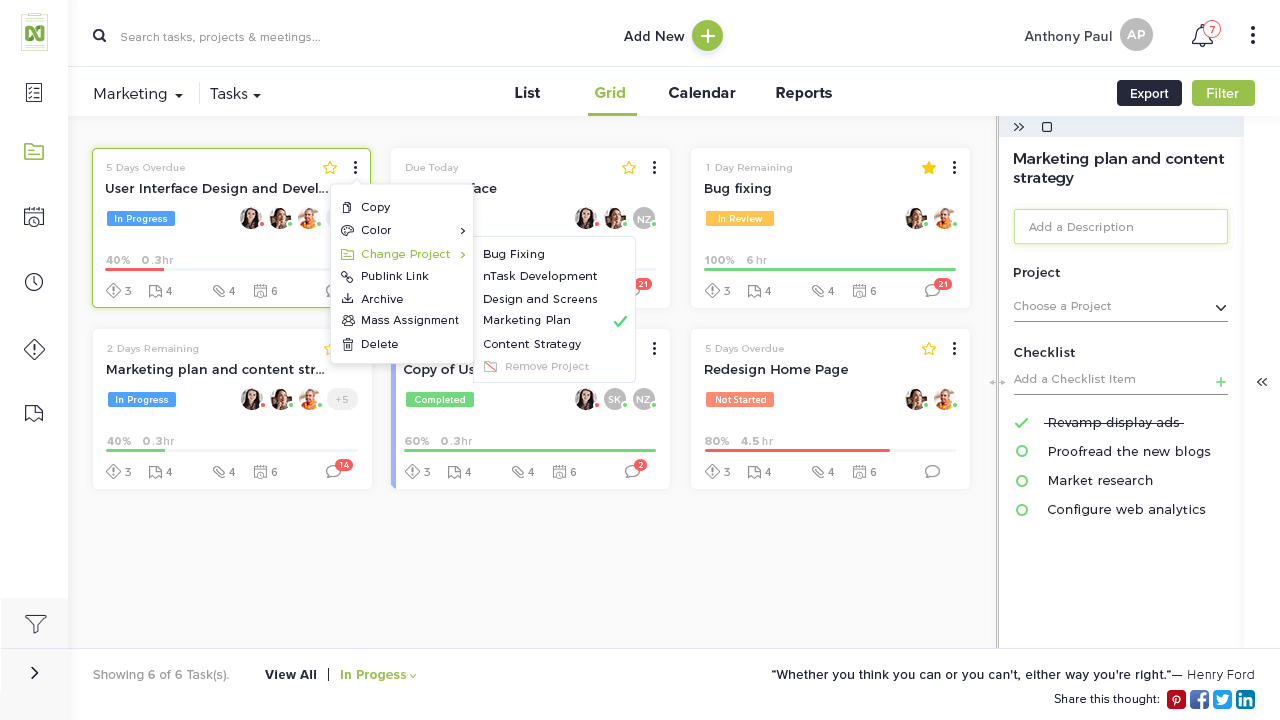 nTask is an online task management software, designed and developed primarily for teams. However, with its simplified interface, anyone from homemakers to freelancers, teams to enterprises can make use of its comprehensive list of modules and features.
This makes it perfect for project management on all levels. Moreover, with the easy navigation and transparent feature set, it is good to go for personal use and productivity as well. nTask makes to the top of our list of free Wrike alternatives. With nTask you can avail a broad spectrum of features that improves team collaboration and eases workflow.
Key Features:
nTask feature list makes it easily adaptable in any industry and on any organization level. This is a chunk of what nTask has to offer:
Two-Factor Authentication for extensive security
A simple user interfaces with access to a wide range of modules.
Team specific workspaces that can be managed and monitored simultaneously.
Create, assign, organize, prioritize and share tasks
Create and assign projects
Comment on and assign tasks to projects or structure them independently
Convert comments to tasks using Slack
Select from multiple statuses for a task
Extensive project management resources including project reports, Gantt charts, and project timelines to manage and monitor project progress
A dedicated timesheets management module with the option of creating and managing team specific sections for employee task efforts and payroll.
A detailed meeting management module to help teams stay in sync. You can arrange and schedule meetings, be it one time or recurring meetings. Plus, it lets you send invites to attendees, add meeting details and specify follow up procedures.
Issue management module to facilitate identification and listing down of issues related to multiple tasks. You can list the issue along with the Issue owner and relevant details to track issue maintenance.
Risk management module helps you identify and keep track of potential risks. You can list down the risk and assign a risk owner in order to track risk management.
Powerful search and filter tools that help you search for tasks, projects, meetings, issues, and risks. You can even save more frequently used filters.
Alerts, notifications, and reminders to keep teams on track.
Third party access
iOS and Android mobile apps
Pricing Plan:
nTask offers a free and Pro pricing plan.
Paid Plan: nTask charges $2.99 per month per user with an annual billing plan.
Free Features:
Here are some features you can get with free subscription:
5 free workspaces
Up to 10 team members per workspace
5 MBs file attachment size
200 MBs of storage space
Unlimited tasks & meetings
Team timesheets
Create up to 5 projects
nTask features not found in Wrike:
Clean and simple UI,
Native meeting management,
Time tracking, and
Highly affordable Pro plan
Second on our list of top Wrike alternatives is Hibox. Hibox is a productivity application that facilitates team collaboration and task management. With its task management, team messaging and video conferencing modules, all under one roof, it makes it an attractive option for small to medium teams.
It is especially useful for teams or freelancers that need to communicate and manage work remotely.
What sets Hibox apart is that it holds a Virtual Assistant powered by Artificial Intelligence to help users work more proficiently.
The best part: all these features are built in so you don't need to go for expensive or heavy integrations for basic functionalities. However, it gives you an option of integrating with extra tools if the need be.
Key Features:
Here are some of the prominent features list Hibox has to offer:
Task and project management
Instant messaging for collaboration and communication
Tasks/project time tracking
One-click videoconferencing
Personal AI Assistant
Powerful search engine
Integrations with Dropbox, Google Drive, and Box
High grade security
iOS and Android mobile apps
Pricing Plan:
Hibox offers a Free, Pro and Enterprise Plan.
The paid plans start from $4 per user per month.
Free Features:
Up to 10 users
2GB total storage
Basic task management
Basic online support
Search most recent messages
Hibox features not found in Wrike:
Simple UI,
Time tracking, and
Cheaper paid plans
Sendtask is another worthy mention on this list of top free Wrike alternatives. It is a task management solution that facilitates collaboration on all levels i.e. between teams, with clients and suppliers under one tool. With all important entities in a single place, you can easily streamline your workflow.
You can carry out task management with the options of managing, monitoring and scheduling tasks as well as communicate with teams and stakeholders with ease.
A unique feature that Sendtask allows is that users can collaborate with everyone regardless of having a Sendtask account. This avoids unnecessary bottlenecks in communication especially in case of urgent changes and information update.
Key Features:
Take a look at some of the significant Sendtask features you can adopt today.
Task and subtask management
Task Monitoring and Scheduling
Email to Task Conversion
Project Collaboration
Email Management
Team collaboration
Integration with additional tools
iOS mobile app
Pricing:
Currently in Beta and is free indefinitely.
Sendtask features not found in Wrike:
Simple UI, tasks and subtasks, time tracking and free for use.
Freedcamp is a project management tool that comes with an easy to use interface. This cloud-based project management software uses Kanban boards for task management and offers efficient collaboration channel for teams.
With a broad spectrum of features project management, team communication, and collaboration, Freedcamp is among the top free Wrike alternatives for a number of reasons.
Key Features:
Here is an extensive list of features you can avail with Freedcamp:
Creation and management of tasks and subtasks
Assign multiple statuses to tasks for task status update
Assign tasks to teams
Project templates for facilitating similar projects
Kanban boards for easy visual access
Team milestones and Gantt Charts for project planning and monitoring
Messaging and discussion boards for team collaboration
Calendar for scheduling tasks and meetings
Issue management and time tracking
Documentation store and shared file management
Passwords manager
Read-only guest access
Calendar
Team wikis
Invoice management
CRM
Data backup
iOS and Android mobile apps
Pricing Plan:
Freedcamp offers Free, Lite, Business and Enterprise Plans.
Paid plans start from $ 3.99 per user per month.
Free Features:
Unlimited Tasks
Unlimited Projects
Unlimited Storage
Unlimited collaborators
10 MB File Size
Core Applications
Calendar sharing
Freedcamp features not found in Wrike:
Tasks with subtasks,
Time tracking, and
Simplified UI
Another free Wrike alternative we recommend is Hygger. Perfect for Agile teams, this project management software helps you design and implement your project development cycle through Scrum, Kanban or a combination of the two – Scrumban.
With its product management features, you can store all sorts of information including project ideas, issues and bugs, and customer feedback.
Plus, users can work on multiple projects in parallel without compromising on project flow. You can also combine multiple projects based on a certain criterion.
Key Features:
Here are the prominent features of Hygger for project management teams:
Task and project management
Progress tracking and monitoring
Reporting: Burndown report for Scrum and Cycle Time for Kanban real-time monitoring for a release.
Gantt charts and percent complete tracking
Time tracking report for accounting and payroll.
Release management
Time, milestone and expense tracking
Create and share roadmaps
iOS and Android mobile apps
Pricing:
Hygger offers a Free and Professional plan.
The paid plan starts at $9 per user per month (3 months free on annual billing).
Free Features:
Kanban Support
Scrum Support
Time tracking
Versions & Releases
2Gb of storage space
Hygger features not found in Wrike:
Simplified interface with multiple options,
Subtasks via checklists,
Tasklinks, and
Time tracking
Do you have any recommendations for a task management or project management software to use a Wrike alternative? Let us know in the comments.
See also: