There are a plethora of project management tools in the marketplace right now. It's like every time you search for an agile project management tool, there is a new name on the block!
The number of companies is increasing at almost the same pace as the number of cutting-edge agile project management tools.
This makes it extremely difficult to select the best one that fits your company. This is why we have taken the liberty to search for you!
This listicle contains the top-notch agile project management tools for the year 2023.
But before that, let's see what Agile is.
What is Agile?
The literal meaning of Agile is to move quickly and easily. Anyone who knows the English language is aware of that.
That is precisely what this methodology does – it moves your product as fast as possible from the production to the end-product.
Agile was originally designed for software projects. But, its process of breaking tasks into further sub-tasks has made it popular in other sectors as well.
This approach is flexible, self-improving, easy-to-use, and highly beneficial for modern teams.
Why are companies going Agile?
The same reason they are in business in the first place; produce better products to earn more.
Agile methodology is everything that a modern, productivity-driven firm stands for. This set of processes allows the workplaces to achieve maximum results with the resources at their disposal.
The Agile approach focuses on having a clear focus on what should and should not be done while executing projects.
List Of The Best Agile Project Management Tools
Table of Contents
The Best Agile Tools for 2023:
So, that was the Agile project management methodology. Now let the spotlight shift to the agile project management tools that you should try!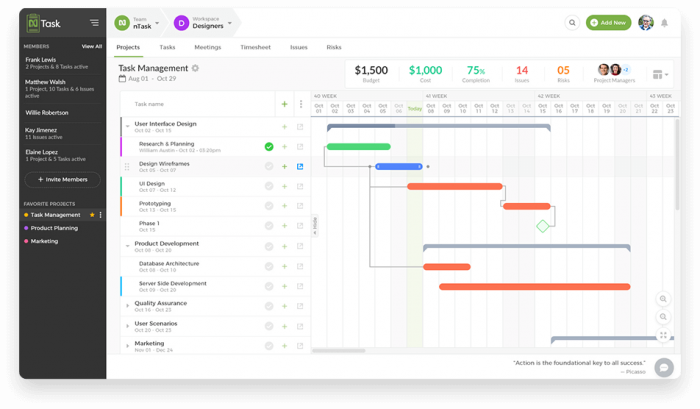 Here's the best free agile project management tool right at the top of the list.
Fun fact: many of you won't have to go through the whole list, this is a complete all-rounder.
nTask boasts of features like built-in Gantt charts, milestones tracking, budgeting, scheduling, and task management.
It works on Kanban methodology which increases the fun element of working on a project.
As far as agile project management software is concerned, few others offer the perfect blend of features and cost-saving as nTask does.
Key Features
Affordable price
Super features like Gantt chart, Kanban boards
Interactive user interface
Project planning, scheduling, tracking and management
Task management
Issue tracking
Time tracking and timesheets
Meeting management for scrum and sprints
Pricing
Basic Forever Free Account
Premium plan starts at $3 per user/month
Business plan starts at $8 per user/month
Custom enterprise plan
Use The Best Agile Project Management Tool nTask

Manage all your tasks, projects, meetings, timesheets and more in one place. Sign up today!

This is a strong contender for the best agile project management tools.
Monday is not limited to any business size. It has the potential to work equally well for SMEs and large corporations.
The software has industry-leading features like reporting, Calendar, time tracking, planning, etc.
Moreover, Monday offers integrations and collaborative tools to have your data like Emails in one place.
Key Features
Better security
Loaded with features like Gantt Charts, Timeline
You can create user stories and plan sprints
Excellent collaborative features
Pricing
Free (trial)
Annual subscription: $25 per 5 users/month for Basic package
Annual subscription: $39 per 5 users/month for Standard package
Annual subscription: $59 per 5 users/month for Pro package
Check out the Monday.com comparison with other apps:
Asana Vs Monday Vs nTask: Which Project Management Tool Is the Best?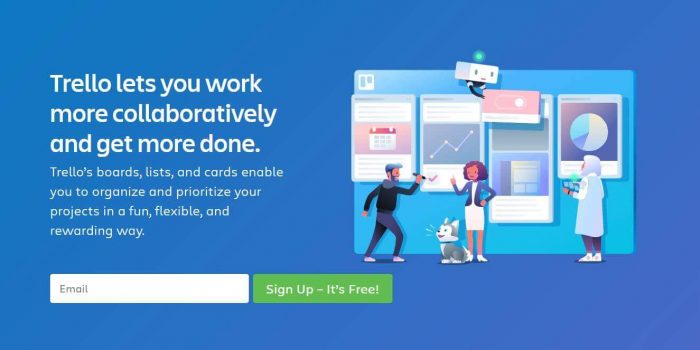 Trello is not a new name on the block, but it certainly is one of the most recognized.
Its simplicity is its USP. The awesome tool is interactive, super-fast, extremely easy to use and a lot of fun to work with.
With its Kanban-based card system, teams can interact and view/edit task progress in real-time.
Project managers love this app for their small-sized teams as assigning tasks monitoring them is a lot easy on Trello.
Oh, and did I mention that Twitter uses Trello?
Key features
Interactive Kanban cards
Easy, drag and drop editing
Progress meter checklist
Pricing
Basic – free
Annual subscription: $9.99 per user/month for business-class
Annual subscription: $17.50 per user/month for enterprise-class
Check out the Trello comparison with Asana:
Trello vs Asana – Who Wins the Battle?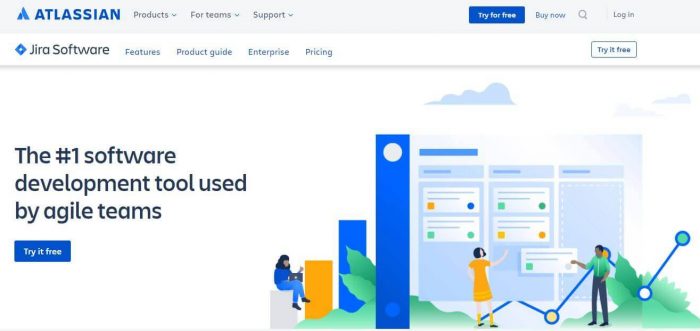 Another widely used and acclaimed agile project management software is JIRA. The makers of JIRA – Atlassian – are also the makers of Trello. Talk about having ana amazing product portfolio!
JIRA is kinda like, perfect. It is loaded with features, it is user-friendly, and it is suitable for SMEs and large firms as well.
The software offers a range of customization options to make you feel like sitting at your workplace while working remotely.
JIRA provides greater control to the team members as well. Other tools limit most of the functionalities to the team leader/project manager.
Key Features
Customizable Boards
Reporting features like burnout char, sprint report, cumulative flow diagram, velocity chart, etc.
Custom filters using JIRA Query Language (JQL)
1000+ add-ons.
Fantastic mobile app
Pricing
Cloud: $10 per month for up to 10 users for small teams and $75 per month for up to 15 users
Self-hosted: $10 as a one-time payment for 10 users on the server and $12,000 per year for 500 users on Datacenter.
Learn more apps like Jira:
Top 24 Jira Alternatives for Smarter Project Management in 2023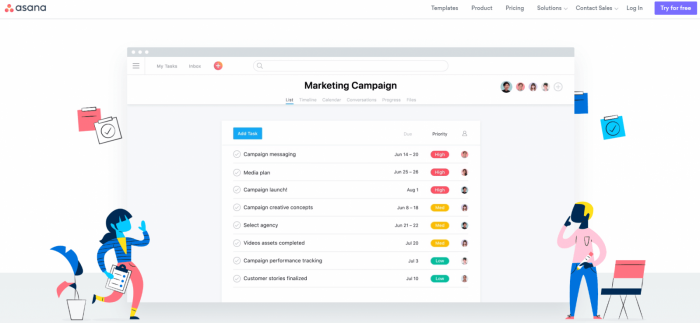 It's really hard to stand out among the crowd of project management tools like nTask, Monday, and Trello. However, Asana still manages to do that. It is THAT good.
Asana offers 100+ integrations with other apps. How is that for starters?
Additionally, Asana Workspace is highly useful, customizable, and you can add notes, comments, attachments with each task separately.
Key features
100+ third party collaborations
Gantt charts
Custom calendar
Customizable dashboards
Pricing
Basic – free
Annual subscription: $10.99 per user/month for premium package
Annual subscription: $24.99 per user/month for business package
Here are the apps like Asana:
The 19 Best Free Asana Alternatives of 2023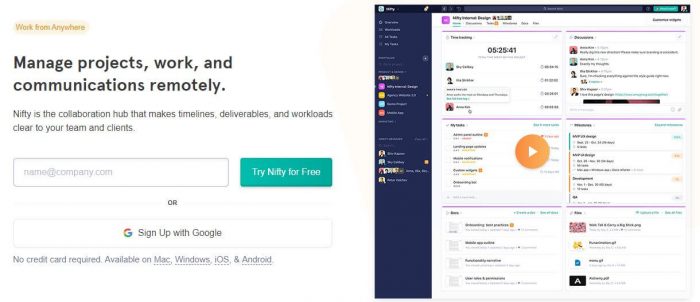 It sounds cute. But don't take this agile project management software lightly.
Nifty focuses on tow things to get work done; automation and breathtaking visualization.
The software's roadmap is incredible. Also, it has features like time tracking and reporting and in-built team chats to enable real-time interaction.
Key Features
Kanban-style Tasks
Birds-eye view of project progress
Team chat widget
Intuitive interface
Time tracking & reporting
Pricing
Annual subscription: $39 per user/month for Starter package
Annual subscription: $79 per user/month for Pro package
Annual subscription: $124 per user/month for Business package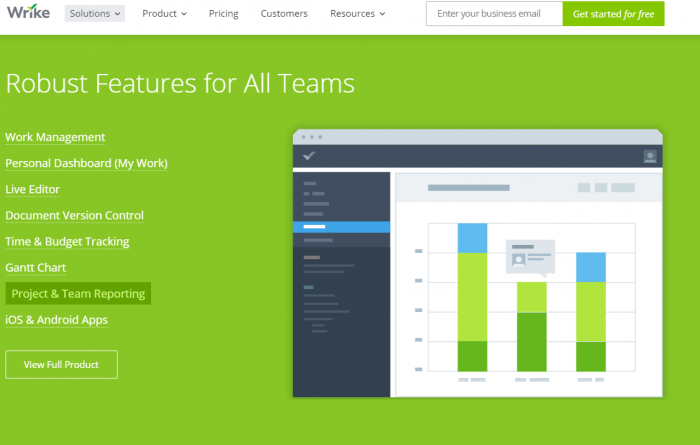 To the ones who are familiar to project management tools, Wrike needs no introduction. Hootsuite, Fitbit, and Loreal are some of the big names that use Wrike.
Wrike, just like Asana, has an amazing number of integrations available. In addition to that, Wrike has Gantt charts, interactive Dashboards, and many customization options.
Wrike is mainly used for mid-sized or large projects. And to top it all, Wrike has an app for your mobile devices as well.
The only downside, however, is that it's too expensive for small companies and projects.
Key features
Efficient File Management
Time Tracking
Visual Timelines
Super Task Management
Pricing
Basic – free
Full version at $9.80 per user/month
Apps like Wrike:
The 12 Best Free Wrike Alternatives To Use in 2023 (Free & Trial)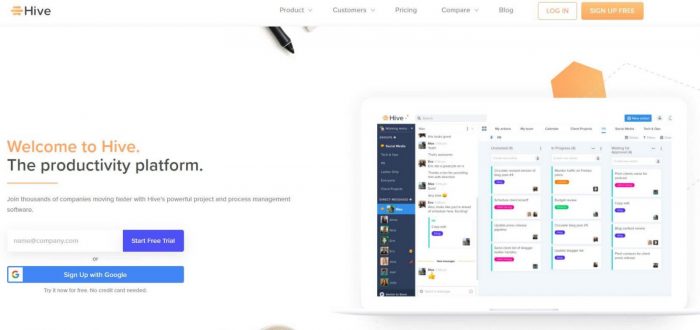 Hive is a simple yet highly customizable Agile project management software. It has all the necessary features that are found in modern project management tools.
You can either organize your project by Gantt charts, Kanban board, table, or calendar.
The thing that sets Hive apart from the competition is its AI. Hive is one of the most intelligent programs out there. Give a try to its analytics. You will be amazed.
Key Features
Customizable workflow
Action templates
Action cards
Pricing
Free trial available
Annual subscription: $12 per user/month for Basic package
Add-on price starts at $3 per user per month.

If software were ranked according to their names, Icescrum would have been rich higher on this list!
Icescrum is open-source agile management software. The tool offers 40+ integrations. This allows you to have all your work in one app and reduce the time of app-shifting.
Another add-on is its super backlog.
Key Features
Agile indicators like burnup and burndown charts
Seamless online collaborations
Wide range integrations
Icescrum backlog
Pricing
Cloud – Free to use (optional paying plans available)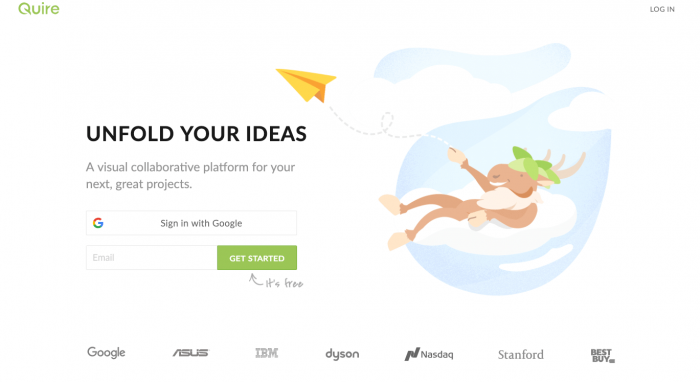 Quire works on Kanban boards to provide higher productivity and easier operations.
It is suited best for the teams that require extensive tracking of the process, or higher collaboration agendas.
Quire allows the project managers to exercise greater control over teams by giving multiple options and team permissions.
Considering it is a free app, the features offered by Quire are nothing short of impressive!
Key Features
Nested task list
Kanban boards
Easy-to-use
Dynamic Report
Pricing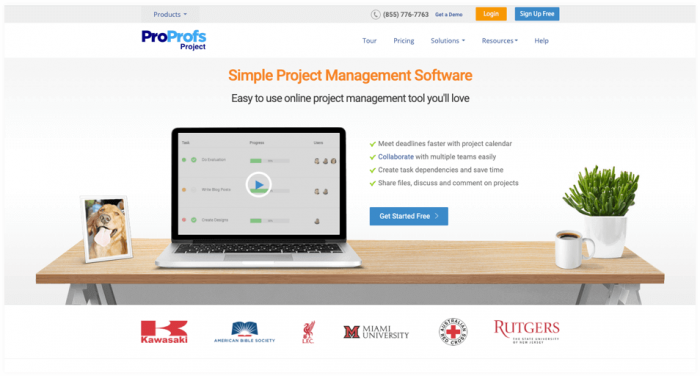 ProProfs Project is a comprehensive agile project management tool that tracks multiple projects on a single dashboard. Access insightful reports on project status anytime and anywhere.
Set start and end project dates easily. Meet deadlines faster with effortless team collaboration.
Bring the ProProfs Project onboard to perfectly plan and deliver projects on time.
Key Features
Real-time discussions and training
Insightful reports and analytics
Seamless third-party integrations
Alerts and notifications
Customizable dashboards
Pricing
15-day Trial Available
Essentials Plan: $2/user/month
Premium Plan: $4/user/month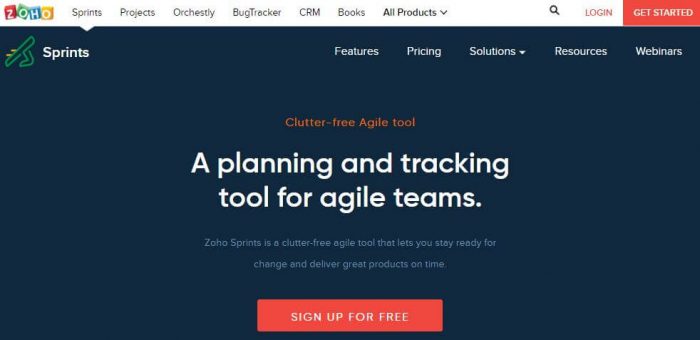 Lastly, Zoho sprints have gained much attention in the project management sector. The reason? It's pretty damn good.
Zoho allows you to organize and edit tasks with its drag-and-drop planning center. It streamlines the operations by letting project managers log for billable and non-billable hours for every item!
This lets you stick to your budget while working on the project.
Key features
Timesheet function
Interactive Dashboard
Amazing reporting features
Pricing
Annual subscription: $10 per 12users/month for professional package
NioM has a simple UI/UX along with automation.
If you want an all-in-one software that can handle the project planning, and development task for positions such as; project manager, scrum master, and developer.
NioM is suitable for any project size. Just log in to NioM, invite your team members and track your projects seamlessly. It gives you the AI functionality to forecast your future projects and help make decisions proactively.
Key Features
Time tracking and automated timesheets
Automate sprint planning
Epic, User story with Task & Bug Management
Leave management
Pricing
Free plan
Custom paid plan
Conclusion
Most of the advancements in project management methodologies are associated with Agile project management tools.
The widespread use of Agile management tools is because of the flexibility and improved productivity of the method. That is why new players are seen entering this market in big numbers.
The aforementioned tools are the best of the best. There is a high chance that you will get the one you are looking for.