The popularity of Airtable, a tool that combines features of a spreadsheet with a database, has been on the rise over the years. Unlike other databases, Airtable holds a fun interface with a variety of options to store and visualize data. This article will highlight the best Airtable alternatives that you can put in use right now.
Why you should look for free Airtable alternatives?
Customers have been using Airtable in different professional domains including creative projects, personal productivity, customer data management, and more. Plus, with affordable subscription plans, Airtable can entice quite a number of teams.
However, when it comes to project management in general, it does not serve as your all-in-one tool. Here are some of the reasons:
Primarily acts as a data storage and visualization tool
Task and project management features are limited
Lacks time tracking for projects
Not to worry, here is a list of 18 best free Airtable alternatives you can switch to today without having to worry about data loss or workflow mismanagement.
One the top of our list of free Airtable alternatives has to be nTask. nTask is an all-in-one, online task management software created for solopreneurs and teams alike. Comprising an intuitive interface, this tool holds a variety of modules neatly placed together with options for multiple views.
Primarily a task and project management tool, you can use nTask to store just about any information through its activity checklist and team management feature sets. This makes it perfect for project managers working on basic to enterprise-level projects.
It has a short learning curve and a clean look, which makes it easy to work with everyone from homemakers to freelancers to students.
Looking for a perfect Airtable alternative?

See for yourself why Airtable users are switching to nTask. Create unlimited, tasks, meetings, risks, issues & more.
Key Features:
Here's a sneak peek into the vast array of features and modules nTask offers:
Create, assign, organize, prioritize and share tasks with multiple statuses
Convert comments to tasks using Slack
Create and assign projects
Create recurring tasks
Comment on and assign tasks to projects or structure them independently
Multiple workspaces to work with simultaneously
A simple user interface with access to a wide range of modules.
Team-specific workspaces that can be managed and monitored simultaneously.
Extensive project management resources that include Gantt charts, project reports, and project timelines to manage and monitor project progress
Timesheets management module that lets you create and manage team-specific sections for employee task efforts and payroll.
Meeting management module to take collaboration a notch up. Arrange and schedule meetings (one time or recurring), send invites to attendees, add meeting details and specify follow-up procedures.
Issue management module to facilitate the identification and listing of issues related to multiple tasks. List down the issue along with the Issue owner and relevant details to track issue maintenance.
The risk management module helps you identify and keep track of potential risks. Arrange risks in lists and assign a risk owner in order to track risk management.
Powerful search and filter tools to search for tasks, projects, meetings, issues, and risks. Plus, make use of the filter option to save more frequent searches.
Alerts, notifications, and reminders to keep teams on track.
Two-Factor Authentication for extensive security
Third-party access
iOS and Android mobile apps
Pricing Plans:
nTask offers a free and Premium pricing plan (Starting at $3 per month per user with annual billing).
---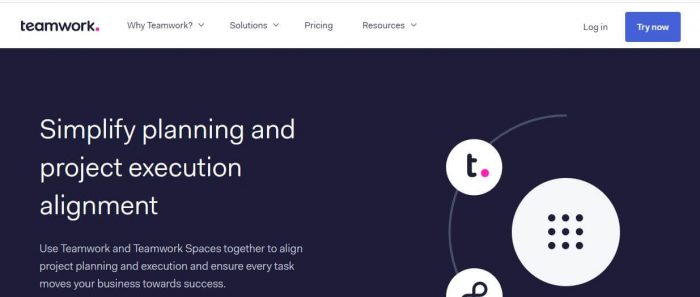 Teamwork is the next project management tool that you can consider as one of the best free Airtable alternatives. It comes with a broad list of features that help you organize your workflow and manage teams under one roof.
Teamwork can be used on Windows and Linux and can be integrated with peer tools such as Teamwork Desk and Teamwork Chat. This makes your project management experience even easier without the need for extra integrations or unnecessary expense.
Key Features:
Make use of the following features with Teamwork:
Task and subtask management including task priorities, dependencies, tracking and log time
Extensive project management features including project charts, reports, owner assignment, Milestone tracking, and cost-to-completion tracking
Kanban boards
Various color themes and templates
Idea and budget management
Time tracking
Powerful search
Mobile apps: iOS and Android
Integration with multiple third-party apps
Pricing Plans:
Free Forever
Pro ($ 45 per month)
Premium ($ 75 per month)
Enterprise (customized) plans.
---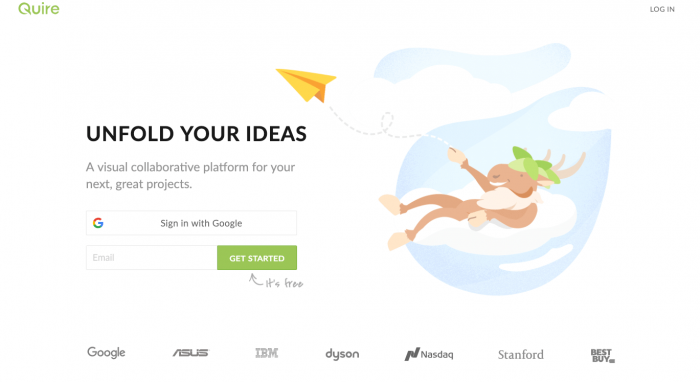 If you love Kanban boards and need a crisp but focused interface without having to go through too many features that you can easily skip, give Quire a try. It happens to be designed primarily for creative teams, its features can be equally useful for other professions as well.
From ideation to completion, give your projects a brand new workflow through unique tree structures and transparent team collaboration.
Key Features:
Some of the key features Quire has to offer include:
Real-time and instant team collaboration
Unlimited tasks and subtasks with unique trees
Organize, prioritize and assign tasks
Easily updateable task statuses
Start and due date/time for tasks
Transparent and simple, an all-in-one workspace
Exclusive third-party access
Integrations with Siri and the camera for iPhone
Multiple team roles and permissions
Smart folder + Filter feature
Integration with multiple third-party apps
iOS and Android mobile apps
Pricing Plans:
Quire is entirely free as of now, making it a great choice for this free Airtable alternatives roundup.
---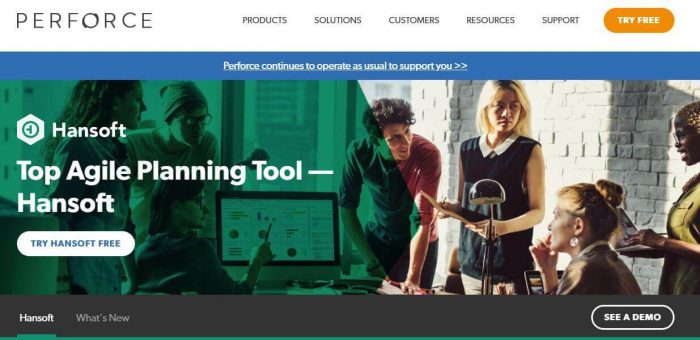 Hansoft is an Agile project management tool that offers numerous features that support Scrum and Kanban. Hansoft happens to be a viable free Airtable alternative owing to its intuitive work environment and a vast set of capabilities it extends to its users.
Make use of Gantt charts, customized, visual dashboards, Kanban boards, to-do lists, customized reporting, efficient resource allocations to tasks and a lot more. Plus, your team stays in sync with ease through its efficiently designed team collaboration channels.
Key Features:
Try the following features in Hansoft for your projects today:
Create and link scheduled Items
Split scheduled items for expedited project delivery
Multiple task assignments
Fixed work/duration
Define relationships and dependencies
Kanban boards and backlogs
Resource leveling for optimized usage of resources
Monitor workflow and task progress through a percentage of completion
Option to set Items as "Out of Office"
The critical path for project deadlines
Multiple options for baselines for specific projects
Pricing Plans:
Hansoft offers a free trial. No pricing information listed on the website, however, offers email contact for requesting relevant information from customer support.
---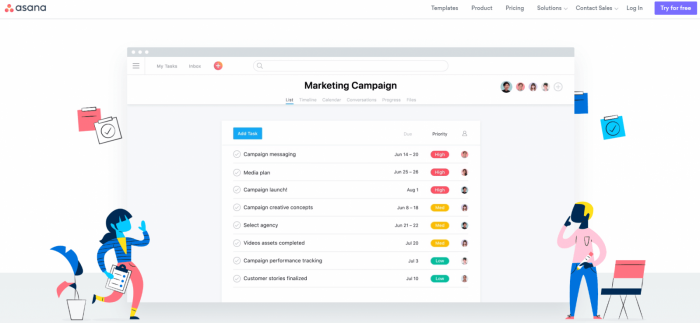 Asana landed the 5th spot on our list of free Airtable alternatives. Asana requires no formal introduction to the suite of project management tools. It encompasses a vast set of capabilities for use by single users and teams alike.
Asana lets you make the best of tasks and project management while giving teams transparent channels to collaborate and communicate effectively. Team members can easily collaborate with each other on the work at hand through comments, likes, and follow options.
Plus, Asana makes it easy to share files and other information, and even tag a team member in the comments to involve them in a certain task. Asana saves you the need to use email or other third-party add-ons for collaboration.
Key Features:
Activity feed for centralized updates on the workflow and team activities
Comprehensive task management including task tracking, adding assignees, uploading attachments and adding comments to tasks, options to show the importance for tasks through 'hearts' and task dependencies
In-depth project management through setting project permissions, Gantt charts, Project Sections, and Search Views
Set goals, priorities, and due dates
Real-time updates on tasks and projects
Automatic updates to the inbox
Customize calendars and select from multiple views
Email bridge
My Tasks list and Focus Mode
Notifications and reminders
Multiple workspaces for handling multiple teams in parallel
Option to view team members' tasks and priorities
Comment on tasks for further clarification
Kanban support
Meeting minutes
iPhone support, HTML5 mobile site
Integrations with multiple apps
Pricing Plans:
Asana offers a Free
Premium ($9.99 per user per month)
Enterprise (customized) plan
---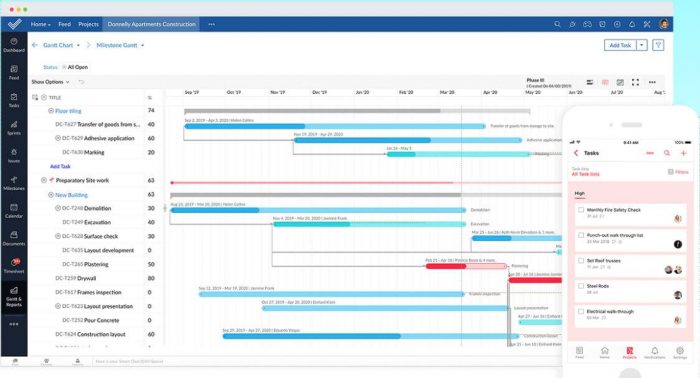 Zoho Projects is a powerful Airtable alternative that teams of any size can opt for. The tool comes with a range of features that enable an Agile team to achieve their project goals effectively.
The tool makes team collaboration hassle-free by providing an interactive feed and forums to quickly gather valuable project insights and provide feedback.
Through the project milestones and task dependencies, you get to understand your project trends better and make informed decisions faster. For project reporting and analytics, Zoho Projects provide numerous built-in reports.
Key Features:
Out of a robust set of features Zoho Project comes with, some of the core ones are:
Tasks and subtasks management
Milestones tracking, along with task dependencies
Online feed to instantly collaborate with team members
Forum and chat rooms to discuss ideas with any team member/s
Built-in project progress reports tracking progress over time
Resource utilization chart for effective resource planning
Time tracking with tasks to evaluate time being spent on tasks
Conversion of timesheets into invoices to bill clients accurately
Issue tracking and issue management
Multiple third-party application integrations
Pricing Plans:
Free
Standard ($20 per month)
Express ($40 per month)
Premium ($85 per month)
Enterprise ($125 per month)
---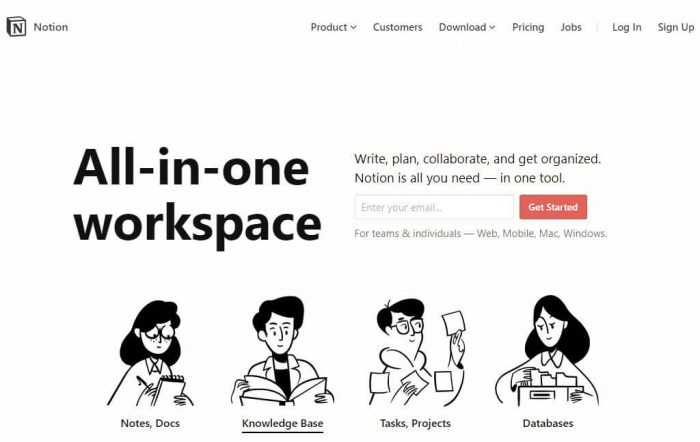 The next Airtable alternative we've added to this list is Notion. Primarily a note-taking application, Notion comes with a pretty solid task management feature set that allows you to manage your tasks without getting into the frustration of complicated functionality.
It's a tool that comes with a pretty neat user interface combining note-taking, task management, spreadsheets, and databases all under one platform. Through a knowledge base, Notion combines all your team's knowledge in one centralized location to be accessed whenever needed.
Key Features:
Some of the key features you can get with Notion are:
To-do list management
Knowledgebase for common team data
Tasks management through Kanban workflow
Documents management to keep all your documents in one place
Third-party application integrations
Pricing Plans:
Free
Personal ($4 per month- flat rate)
Team ($8 per user/month)
Enterprise ($16 per user/month) plans
---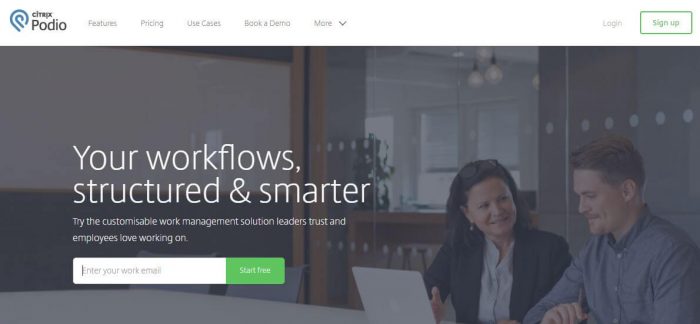 If you're looking for a tool that provides a rich set of collaboration features, Podio might be best suited for you. The platform combines content, context, and collaboration in one place, providing a unified task management solution.
The tool ensures transparency and accountability by providing a solution that comes with elaborate social communication features, like file attachments, likes and sharing, and instant audio and video calls. Not only this, but you can also create workflows by adding if-this-then-that logic and streamline your processes effectively.
Key Features:
Podio provides:
Personal dashboards for monitoring progress in a glance
Task management, with integrated workflows
Private and public workspaces for multiple projects
Recurring tasks for tasks repeating on a regular basis
Activity Stream to keep a check on current updates
Comments, likes, and file sharing
Audio and video calls with team members
Podio chat for instant messaging with team members
Pricing Plans:
Free
Basic ($9 per user/month)
Plus ($14 per user/month)
Premium ($24 per user/month) plans
---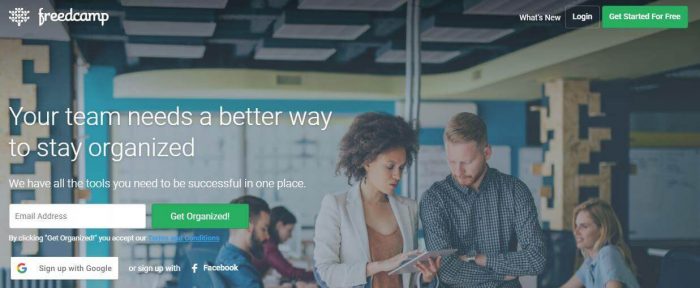 Freedcamp is a free Airtable alternative that is designed for single as well as multiple users to organize and manage their projects effectively. The tool lets you create private tasks for maintaining privacy, along with Gantt charts to monitor your project progress.
Additionally, the tool comes with a wiki to keep all of your organization's knowledge in one place, to be accessed whenever required. It also allows you to store all your contacts and leads in one place for effective customer relationship management.
Moreover, you can easily bill your clients and create invoices on the basis of your timesheet entries too.
Key Features:
Tasks and subtasks management
Kanban visualization of workflow
Pre-built Project templates for recurring projects
Gantt charts for project scheduling
Wall for team members to communicate on one platform
Milestones to track your project's significant events
The issue tracker for tracking and managing issues
Document management for keeping all your team data in one place
Time tracking, along with invoice generation
Third-party application access
Pricing Plans:
Free
Minimalist ($1.49 per user/month)
Freelancer ($3.49 per user/month)
Business ($7.49 per user/month)
Enterprise ($16.99 per user/month) plans.
---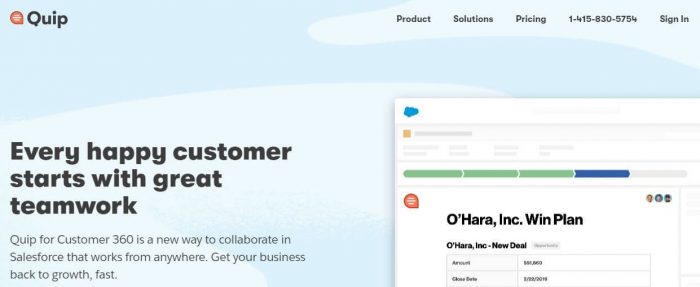 On #10 of Airtable alternatives, we have Quip. Coming with a beautiful user-interface, Quip provides documents and spreadsheets functionality to keep track of your important team data. Just like Notion, Quip also combines spreadsheets, documents, slides, and chat into one collaborative space.
The diverse features set facilitates quick collaboration among team members. You can easily create and edit spreadsheets, to-dos, or documents, and communicate with team members through a built-in chat feature inside each document.
Key Features:
Document management
Chat within documents and spreadsheets
Slides for making team presentations
Version history to keep a record of all the changes made
Team member mentions addressing the right person
Salesforce integration to effectively close deals
Shared team folders to keep important data in one place
Customized permissions for documents to maintain the privacy
Import/export Excel documents into quip spreadsheets and vice versa
Pricing Plans:
$30 per month for a team of 5. The plan changes to $10 per additional person.
For Enterprise, the tool is priced at $25 per user/month.
---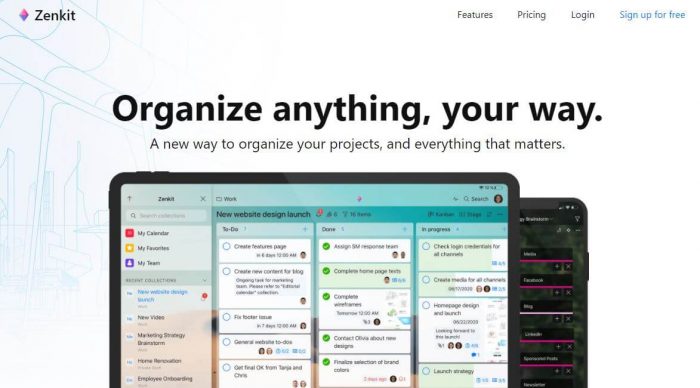 Of course, when it's about the best alternatives to Airtable, Zenkit is also on the list. We handpicked this tool because of two main reasons – i.e. a. Clutter-free design, and b. ability to collaborate with people from both inside and outside the organization.
Zenkit flexes on plenty of other highlights too. For instance, the tool streamlines everything so that your projects are delivered to the exact specifications while enhancing both individual and collective productivity.
Key Features:
Collaborate with stakeholders and team members for better project delivery.
The calendar feature allows you to mark important business days.
File-Sharing supports multiple file formats and extensions.
Prioritization of tasks for easy risk management.
Product Road-mapping
Project Management
Offline mode is available for those who rely on secondary/ local data storage in case of power failures, etc.
This tool can also be used for Scrum, Agile, and SDLC frameworks.
Pricing Plans:
Personal plan is Free of cost.
Plus, Business and Enterprise Plans range from €9 to €25+ respectively.
---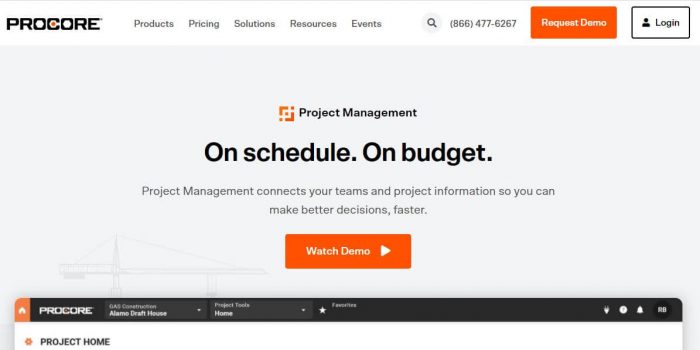 To be honest, Procore is a tool slightly less heard of. We surveyed the market while we were looking for the best Airtable alternatives.
This tool hit our radar because of unlimited seamless collaboration, allowing people to work with anyone, from anywhere, in real-time. Apart from the collaboration aspect, Procore also reportedly helps people to make project-related decisions because of real-time data availability.
Key Features:
Manage documents like never before with Procore's signature document management
Although it's not a mind mapping tool, this program does allow drawing storage and management.
Comes with plenty of collaboration tools.
Track emails easily with 3rd party app integrations.
Meeting scheduling and management.
Also offers Procore Drive to clients looking for extra storage space in the cloud.
Pricing Plans:
The basic 'Project Management' Plan costs $375, billed per year.
'Project Management + Financial Management' Plan costs $575, billed annually.
---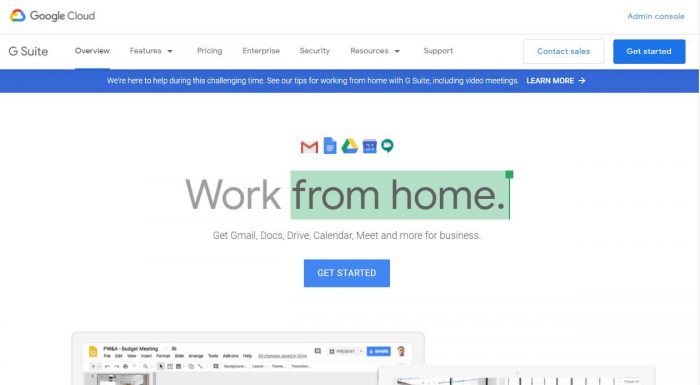 Google's G Suite is the combination of every single app that falls underneath the big G category. Think about Google Docs, Google Keep, Google Sheets — the whole lot.
So, why are we recommending the G Suite instead of highlighting one single application? Well, there are a couple of reasons. The most important reason is that all the G Suite apps are free to use. If you are looking to try free Airtable alternatives without spending a dime, G Suite's going to take care of everything.
If not "everything", you could at least expect to get by with most of the work that you used to do on Airtable.
Speaking of a centralized approach to productivity, G Suite makes up for the best Airtable alternatives of 2020 because of spreadsheets and docs management. If you recall, we did mention at the start of this write-up that Airtable is remarkable for having a 'Fun interface with a variety of options to manage spreadsheets in a database.'
As a handy Airtable alternative, G Suite has multiple apps for effectively doing all the work that you would have done on the former application. In fact, G Suite apps are constantly updated with an abundance of user-requested features.
Google has a thriving workforce of application developers behind the G Suite platform. That's all the more reason to use their apps in terms of future-proofing.
Key Features:
Make lightning-fast decisions when you are face to face via Google Meeting or their famous Hangouts app. This way, scheduling meetings is easier. It can be set on "Auto Recurrence" for any number of days in a week.
You can manage and secure your data in the cloud. Google is best known for its 24/7 remote access. Millions of users depend on it.
Centralize all your productivity-related chores in one place – i.e. under Google's tutelage.
Collaborate with stakeholders by inviting them to view workflow – and that too without the possibility of interrupting anything. You can set permission levels to avoid any interruptions.
Pricing:
Basic plan at $6/user per month
Business plan at $12/user per month
Enterprise plan at $25/user per month
---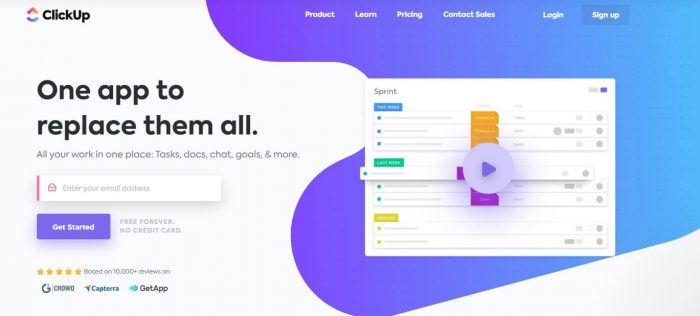 ClickUp is an intuitive and easy-to-use platform for all your project management needs that can increase your team's productivity by tenfold.
The versatile features in this app offer tools and capabilities to scale with different users and business types.
With ClickUp you can also customize and optimize features according to your team's needs.
Key Features:
Document management
File sharing
Data import/export ability
Product planning and road-mapping
Task management
Workflow automation
Supports Waterfall, Scrum, and Agile
QA and Testing management
Pricing:
ClickUp offers a Free Forever option
The Unlimited plan costs $5/month, per user
Business plan for $9/month, per user
Contact the provider for a quote for the Enterprise plan.
---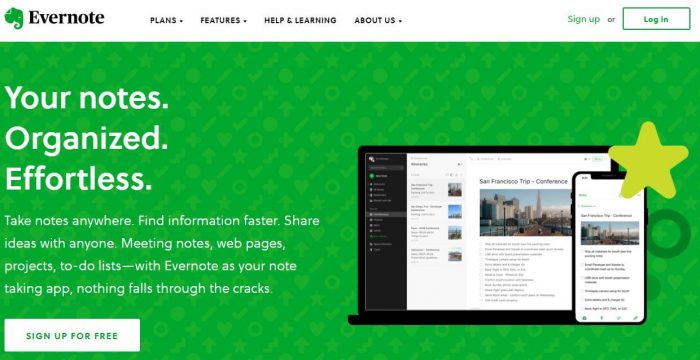 Evernote is a web-based application that helps you and your team to get things done.
With Evernote, you have features that can help with project collaboration, task management, and scheduling; all through a centralized platform.
All thanks to multi-device connectivity, staying connected on the go with Evernote has never been easier before.
Key Features:
Geolocation
Web clipping support
The ability to sketch on a page and sync notes to any device
Save your favorite webpages
Store notes, files, web clips, and images
Edit texts and sketches
You can also share notes and collaborate on files
Give feedback and share ideas with ease
Pricing:
Evernote's basic plan can be accessed for free with the ability to sync 2 devices
The Premium plan costs $7.99/month
You can also upgrade to the Business plan which is for $14.99/month, per user
---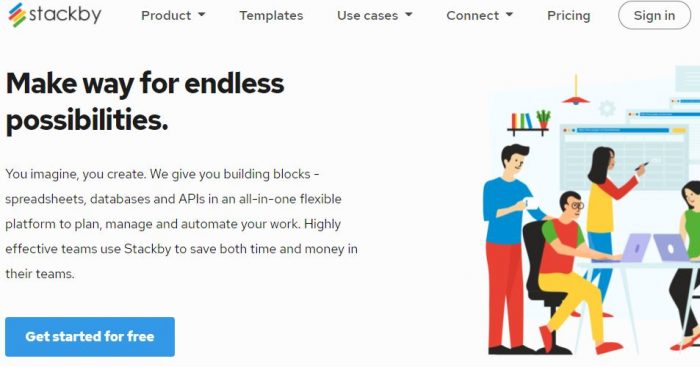 If you're looking for an Airtable alternative with better automation, then Stackby is for you.
It's straightforward as a spreadsheet, functions as a database, and is often touted as the missing half of Airtable as it's supercharged with APIs and automation.
Built for non-technical teams – it's a collaborative platform, that allows you to customize your own work tools your way. With over 25 unique column types and 30+ native column connectable API integrations with popular services like Google Analytics, YouTube, MailChimp, and Facebook Ads – it's powerful, yet simple to use.
Key Features
Build a database from scratch, import from spreadsheets, or choose from 100+ templates.
25 unique column types like Attachments, Dropdowns, Link, Lookup, Formulas, and Aggregation
Connects columns to third-party APIs: Users can also connect columns to popular third-party APIs to get desired information.
Visualize and work with data in multiple data layouts – Table, Kanban, Calendar, Gallery, Custom Forms, and Internal updatable forms.
Collaborate with your team in real-time with checklists, chat, reminders, and slack notifications on each row
You can connect to thousands of apps or services or even access the data programmatically via an API.
Pricing Plan
Personal plan is free of cost; if you reach out to them in support
Economy plan starts at $9/user/month and the Business plan at $18/user/month
---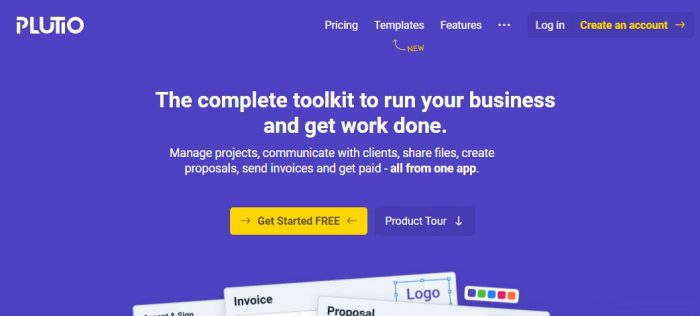 Plutio is one of the most innovative and business-minded management platforms that was built for small business owners and freelancers that are starting from the ground up.
The application is a simple yet innovative solution to help its users manage different businesses and work closely with the end-users of their business.
The application also allows its users to collaborate and communicate with their team members about their work, all from a single seamless interface.
One of the best things about this software is that it is extremely customizable and you can easily provide all of the information about the tasks and processes that the team is performing, to the relevant people using this tool.
The software also reduces the need to juggle many different apps and features for different products and even eliminates it as its interface has everything that you need to run your business if you are just starting.
Some other features that this incredible Airtable alternative has to offer are mentioned below.
Key Features
Time tracking to keep all of your tasks and processes in check according to the duration allotted to their development
Invoicing
CRM
Inbox
Tasks management
Project management
Proposals & contracts management
Calendar
Pricing plans
There is a free trial of the software available
Solo plan at $15/month
Studio plan at $20/month
Team plan at $30/month
---


Another incredible Airtable alternative you can use right now in 2023 is Agiled. The application is perfect for making contracts, invoicing, CRM, employee management, and even project management.
The application was originally designed for business management. It offers an extremely easy-to-use and intuitive interface that helps you track and manage your expenses, tasks, and projects without any obstacles.
Key Features:
Here are some features that this incredible Airtable alternative has to offer to its clientele around the world.
Alerts/Notifications to make sure that you don't miss any updates regarding any and every single task and project that you are performing using the application
Billing & Invoicing to make sure that all of your employees have their compensation transferred to them and there is a proper directory of all of the different transactions happening in the company
Budget Management to make sure that all of the budgets that have been allocated to the various development team members and the development teams are being spent in a constructive way
Calendar/Reminder System to make sure that all of the important events and interactions related to the company are performed on the right days, and there are no missing interactions
Collaboration Tools to make sure that all of the stakeholders, managers, and the different development team members are in collaboration and communication with each other on every single task and project being worked on in the company
Client Portal to make sure that all of the queries of the clients and customers and the interactions with them are recorded properly so that they can be helped easily and quickly
Pricing Plans:
The company offers a free trial for all to experience its wonderful features without paying any money, but if you want to buy the software and enjoy the premium feature-set, then you will have to pay $15/month that comes with 5 users using the application
Which tool do you use to organize your workflow and collaborate with teams? Share your recommendations for free Airtable alternatives in the comments below.