No matter what you are working on, whether it is a project you are doing solo or working with a team you are bound to be engulfed by a load of different tasks that need to be completed.
However, managing these tasks efficiently is a feat in itself. That is why you need to adopt different task management strategies to help streamline and simplify the entire process.
With the right task management strategies, you can ensure that your work gets done on time and in the best way possible.
There are loads of task management strategies that you can adopt to help with your workload, but here are our top picks.
Best Task Management Strategies for Agile Project Managers
Tip #1: Single-Tasking to Avoid Multi-Tasking

The first tip to help you better manage your tasks is to avoid what so many of us do as a habit. That is to multi-task.
While it may seem that you are doing more work when you have your mind and hands-on a multitude of different tasks and projects, the truth is this could be costing you in your overall productivity.
We should all take a page from Christopher Westra's book, he said that "the quickest way to do many things is to do one thing at a time" and it is this quote that encompasses what single-tasking really is.
There are multiple ways that single-tasking can help you manage your tasks more effectively and efficiently, and eventually benefit you in the long run. Here are just a few of the benefits of single-tasking:
Avoiding multitasking allows you to conserve energy: When you single-task you allow your brain to completely focus on the task at hand. You are not constantly trying to recall where you left off on each of your tasks helps your short-term memory. Multi-tasking is taxing on the brain's energy reserves and therefore single-tasking allows you to conserve energy.
Switching from multi-tasking to single-tasking improves productivity: Different studies have highlighted how an individual's performance is benefited when one focuses on a particular task. In fact, studies have shown that multitasking reduces productivity by as much as 40 percent.
Multitasking increases stress levels: Not only is multi-tasking a cause of increased worry and stress because you are trying to stay on top of multiple things but not getting to the conclusion of any. Chronic multitaskers have also been found to have increased amounts of cortisol, also known as the stress hormone. Therefore, it can be said that switching to sing-tasking is one of the greatest task management strategies to avoid stress.
Therefore, it is clear that adopting single-tasking and switching from a multitasking habit is a great choice among task management strategies in the sense that it allows you to conserve energy, be more productive, and avoid stress.
Not to mention, these are just three of the many benefits you can gain from adopting sing-tasking and switching from multitasking.
Tip #2: Keep Communicating and Collaborating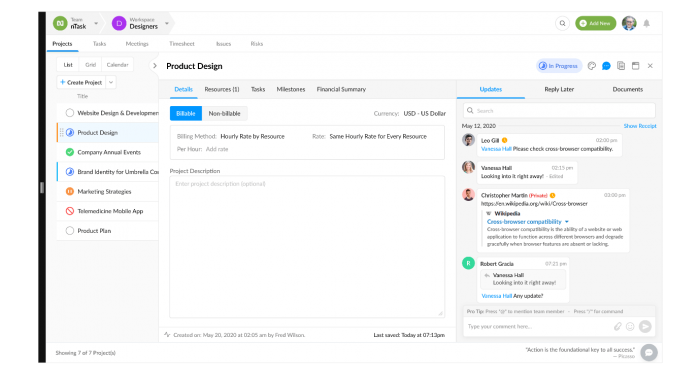 Communication is an important part of any organization or business, no matter which industry you are working in.
In fact, the importance of communication is evident in research conducted by Gallup who found that workers who are disengaged have been found to cost American businesses approximately $450 billion to around $550 billion annually.
Creating communication channels will streamline your team's communication. This way each member will know exactly what they need to get done, while also feeling comfortable enough to ask for help or clarification if they get stuck.
The flow of such communication will ensure that work does not get delayed unnecessarily and tasks can be completed on time and within quality expectations.
Communication also helps with collaboration.
Such collaboration is not only limited to the projects you are working on but can also help with task management.
If you are working with a team it is important to get their feedback and input in strategies you are using to manage your tasks.
You may like this resource:
13 Best Apps on Task Management for Mac in 2021 (New Guide)
Tip #3: Prioritize Tasks that Need to be Completed First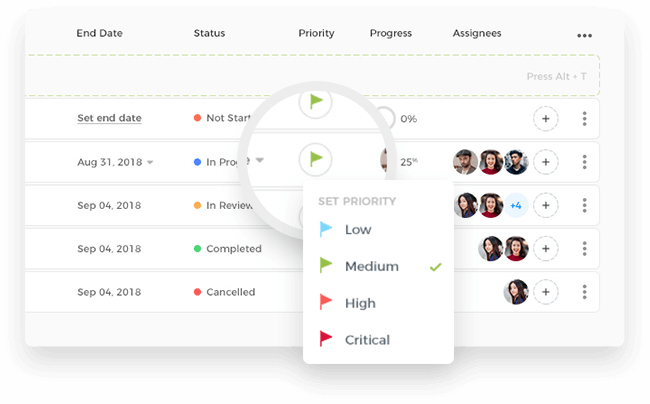 In order to streamline your task management, one strategy you need to undertake is prioritizing your work.
Whether this is just for yourself or if you are working with a team, everyone needs to know exactly which tasks are of top priority so that they can get their responsibilities completed.
In fact, as we are speaking of team task management, it is an important strategy for task management that each one of the members of your team is fully and clearly aware of their roles. It is important that you define each member's roles.
This ties into knowing which tasks are of high priority.
Knowing exactly what needs to get done, exactly which member of your team is responsible for doing it, and precisely when it needs to be completed is important for the productive functioning of the work environment.
Therefore, prioritizing work streamlines processes making task management simpler and more effective.
One way to ensure that each task's priorities are communicated to the correct member of your team, or even just to remind yourself, is through the help of task management or project management tool. We will touch upon this in more detail below.
Tip #4: Know Your Environment and When You are Most Productive

Another strategy you can use to task manage effectively is learning more about yourself, or if you are a team leader or manager, learning about your individual team members.
Not all individuals work the same and taking these differences into consideration is a great tactic and strategy to task manage efficiently.
This could be considered in different ways.
Maybe try and determine whether the environment you are working in is helping your productivity. You could try facing an open window or bringing in plants near your desk.
Also, take notice of the posture you sit in. If you are sitting in a bad posture this could tire you out faster and lead to reduced productivity. Try switching out your chair to one that supports your back while also being comfortable. You could also opt to use a specialized pillow for this purpose.
Moreover, each individual has different times of the day when they are most productive. Manage your tasks according to when you find yourself your most efficient work-wise. If you feel your brain juices flow better later on in the day it may be best to keep more difficult tasks for this time than trying to get them done in the morning when you don't work your best.
Figuring out what works for you, or what works for each of your team members can help both you and your team work more productively thus providing a great strategy to manage your tasks.
Tip #5: Take Advantage of the Tools and Apps That are Available to You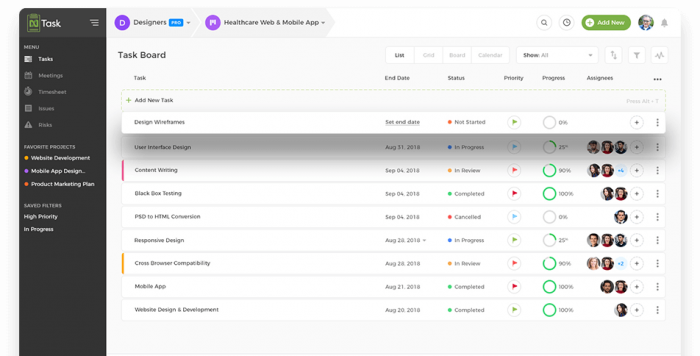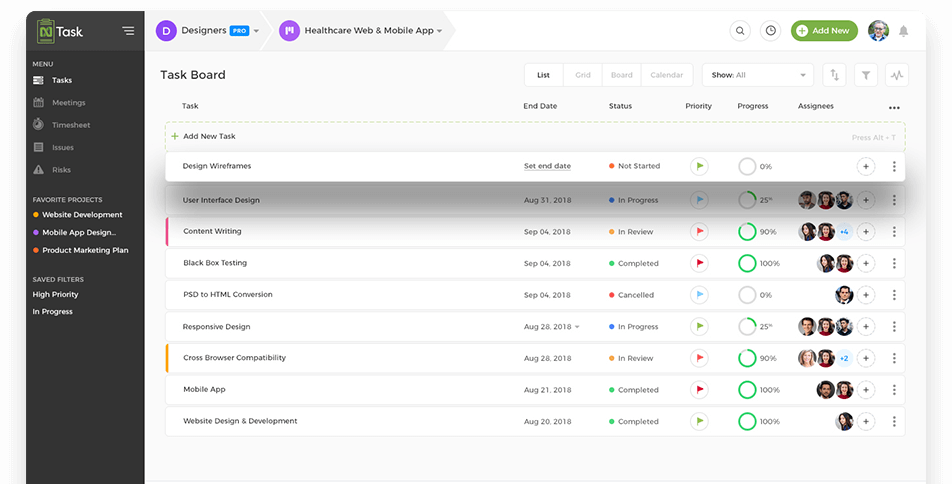 One of the best and most popularly used task management strategies is using one of the loads of tools or apps that have been created to help with this very thing.
By this, we are mainly referring to task management and project management software. Such software can take your task management to the next level and allow your task management to be a breeze.
Let's look at what task management and project management tools can do for you in light of the features available in nTask.
nTask is a project management and task management tool that provides a range of features to help you manage all your tasks efficiently.
With such a tool you take the burden of organizing and keeping tracking of all your to-dos off your plate and hand this task over to the tool itself.
With nTask, you can benefit from all the task management features that are provided in the platform.
nTask's task management features include the ability to create an unlimited number of tasks. You can assign these tasks to different projects or keep them as wholly independent tasks.
If you are working with a team, nTask allows you to assign tasks to different members so that each individual in your team knows exactly what they need to be working on.
You can set deadlines for each task and enable notifications and reminders ensuring that you do not miss or overlook any item on your task list. Notifications can be sent to your email, be seen as desktop notifications, or be seen on the application itself.
As mentioned previously, prioritizing tasks is also an important task management method. With task management tools such as nTask, you can identify exactly what priority each task carries. This can help you and your team know exactly which of the tasks created need to be completed first.
Moreover, you can also create task dependencies that allow you to know which task needs to be complete in order for another to be started.
Apart from task management features, nTask also offers a load of other feature modules. These include:
There are multiple such tools and apps available to meet your particular needs. Check out our blog post on the top project management tools to choose from. You can also see in detail what nTask has to offer here.
Therefore, you can easily incorporate different apps and tools that are available to help you manage your tasks more effectively thus helping you work more efficiently in the long run.
nTask is the Best Free Task Management Software.

Manage all your tasks, projects, timesheets and more in one place. Sign up today!
Conclusion
There you have it, some of the top task management strategies that are easy to implement to help you streamline your processes and work more efficiently and productively.
We picked out such task management strategies that are great choices not only for yourself as an individual but also great strategies to implement if you are looking to streamline work for your team.
We hope this helped!
---
More Articles: