Managing any kind of project involves juggling skills. Think of running a load of different tasks, resources, and different elements – and that too in a simultaneous environment.
This kind of situation is no different for those that actively undertake at any advertising agency.
That is why many agencies seek the help of advertising agency software to help keep everything organized and stay on top of all the tasks and work items that need to get done.
But with so many such software available to choose from, the choice factor itself can often pose a hindrance to the overall productivity. You know that you want to rely on a smart automated solution, but which one is the right pick for the day?
Don't worry, that's where this list of best advertising agency software comes in. We have explored the internet far and yonder to handpick the most reliable solutions for medium to large scale marketing operations.
Have a look below and see what piques you the most.
What is Advertising Agency Software?
As mentioned earlier in this post, advertising agencies have to deal and juggle with multiple elements. Advertising agency software are those tools that can help agencies to run their business efficiently.
Such tools are a mix of marketing, project managing, data analysis, consulting, etc.
Due to the nature of advertising agencies, such tools house a wide array of capabilities within a single platform to streamline processes and help teams work together and work more productively.
Why Use Advertising Agency Software?
If you are still on the fence and wondering why you should even consider using an Ad agency software, here are some of the benefits you and your team can gain if you invest in such a tool.
You can view the current status of each of your projects. You will also be able to see where each task stands in the project lifecycle. This will also allow you to see what each resource is working on.
You can track your project schedule and timeline as well as your workflow to easily identify any bottlenecks. Such identification can help you overcome the issue and get your project back on track.
Create easy invoicing and billing by being able to record how much time was spent working on the project.
Manage relevant documents all within one platform.
Effectively communicate with your team members with specific software for it. You can set check-ins with your team to ensure everyone is on the same page about the progress of your project.
Best Advertising Agency Software
Now that you know what an ad agency software is and why you should invest in such tools, here are our top picks for the best advertising agency software to choose from.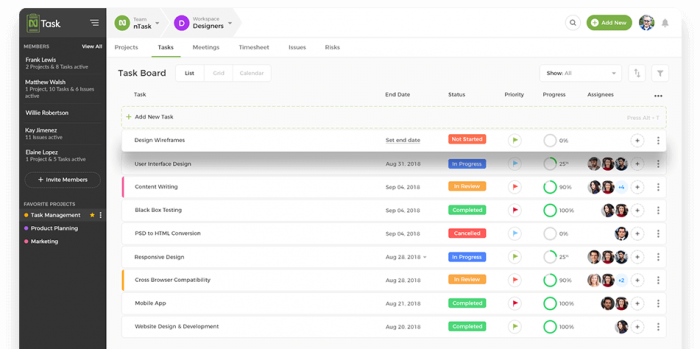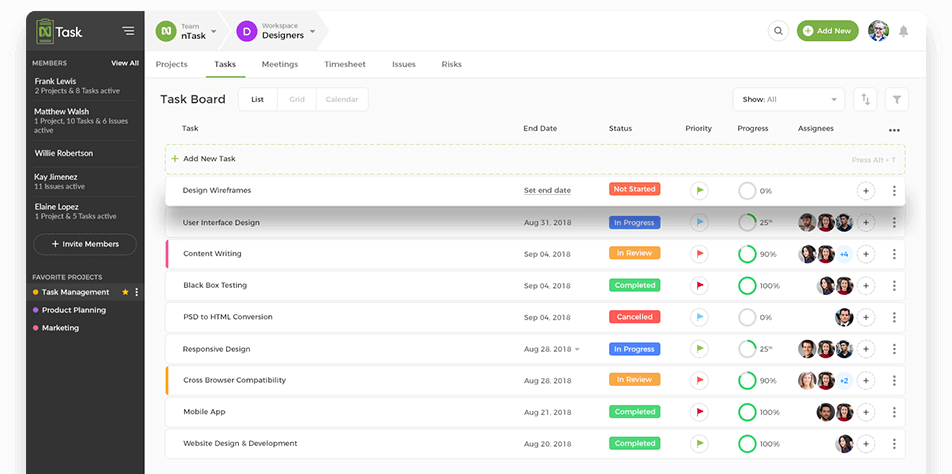 The first pick on our list is nTask. nTask is a project management tool that provides teams with the ability to manage all kinds of projects, tasks, and workflows including those for creative teams and advertising agencies.
The software is feature-rich but still easy and simple to use and provides multiple integrations to streamline your entire marketing and advertising lifestyle all within a single platform.
Key Features:
Project management
Task management
Meeting management
Gantt charts
Issue management
Risk management
Timesheets
Collaboration tools
Document management and file storage
Billable hours
Pricing:
Free Basic Plan

Issues tracking
Timesheets
Meetings
Unlimited tasks
Unlimited workspaces
Limit of 5 members per team
100 MB storage

Premium $2.99 Per Month

Everything provided in the basic plan, plus
5 GB storage
Projects
Gantt
Bulk Actions
Custom filters

Business Plan for $7.99 Per Month

Everything provided in the premium plan, plus
10 GB storage
Save custom filters
Risk management
Custom roles and permissions

Enterprise Plan Available at Custom Rates

Everything in business, plus
Custom onboarding
Dedicated account manager
Dedicated cloud
Get More Done with nTask Productivity App for Agencies.

Manage all your tasks, projects, team collaboration and more in one place. Sign up today!
2. Wrike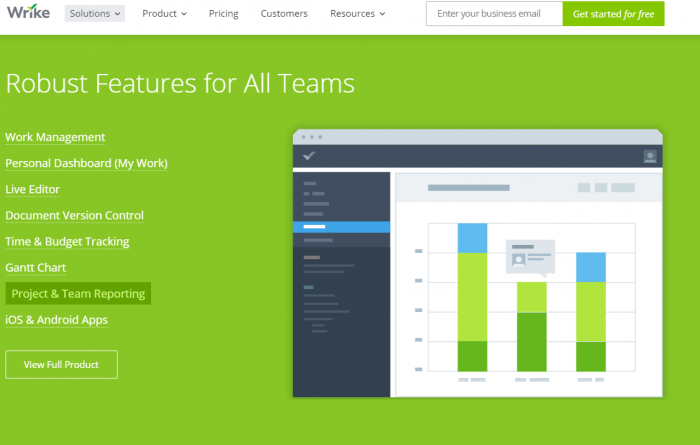 Wrike is the second most wanted tool on our list.
It is an easy-to-use but powerful enough tool that enables teams to create dashboards, customize workflows, create request forms & reports, and much more.
With the tool's visual aids and graphical representations of your projects, you can easily visualize your campaign's deliverables.
The tool not only has templates for common organizational processes but also offers specific solutions catered specifically for marketing teams.
Key Features:
Project monitoring
Customer Ideation
Progress monitoring
Budgeting
Release forecasting
Work capacity
Pricing:
Free plan
Professional plan for $9.80/user, per month
Business plan for $24.80/user, per month
Want more apps like Wrike? Check it out: 
The 13 Best Free Wrike Alternatives To Use in 2021 (Free & Trial)
3. Ravetree

Ravetree is a work management software and offers project management, resource planning, digital asset management, expense tracking, and CRM.
With the software agency teams are empowered with all the tools they need to get their work done in one centralized tool.
Key Features:
Billing and invoicing
Document management
Proposal generation
Campaign management
Collaboration
Pricing:
Yearly plan for $29/month
Quarterly plan for $34/month
Monthly plan for $39/month
4. Monday.com


Monday.com is next up and a great choice as it helps clarify the sequence of work by providing project management and resource management modules along with great collaboration features.
The tool is customizable to your needs and allows you to work in any methodology your organization or team follows. The software also provides tools for automating your processes and streamlining your workflow.
Key Features:
Custom workflows
Progress monitoring
Work capacity
Pricing:
A basic plan for $8/user, per month
The standard plan for $10/user, per month
Pro plan for $16/user, per month
Related: 
Asana Vs Monday Vs nTask: Which Project Management Tool Is the Best?
5. Mavenlink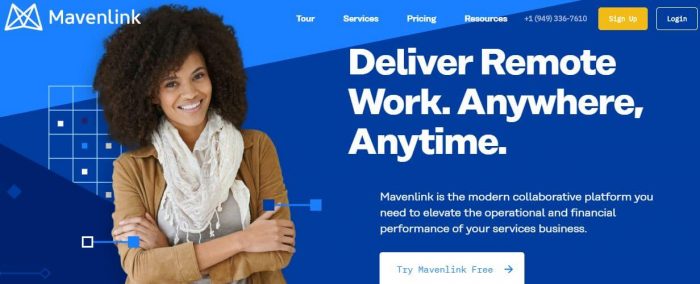 Mavenlink offers a robust feature-packed platform to manage all your advertising projects with ease.
The software comes packed with project management tools, resource management features, business intelligence, project accounting, and collaboration tools.
Key Features:
Time tracking
Gantt charts
Project accounting
Forecasting
Progress reports
Business intelligence
Project management
Expense tracking
Resource management
Real-time analytics
Pricing:
Contact for pricing plans
Related: 
13 Top Mavenlink Alternatives for Project Managers
6. Productive

Trusted by many agencies across the world, Productive is a resource management tool built for agencies to get macro and micro overviews of resources, utilization, and profit. With centralized resource planning, Productive helps agencies optimize their performance so that profit margins can consistently increase.
With Productive you can plan out your work ahead and learn who's overbooked, who can take more work, and who's on vacation or sick leave. Get an entire overview of your team schedule at a glance. 
Productive is feature-rich with in-built timers, collaborative tools, sales reports, and task management just to name a few.
The tool is great to keep everything organized and manage all the elements of your project from a centralized platform.
Use placeholders to precisely plan upcoming projects. This can help you plan and track your agency's upcoming workload. Assign projects to your team members and get a clear picture on who's working on what and for how long.
Forecast your cash flow in the upcoming period by scheduling your team's work. The more accurate your schedule, the better forecast you have.

Key Features:
Understanding the current and maximum capacity of your resources

Forecasting revenue and profit of your agency

Quickly scaling when demand increases rapidly

Effective resource scheduling and hiring

Available integrations with accounting tools 

Customizable projects
Pricing:
A premium plan for $20/user, per month
The standard plan for $12.50/user, per month
7. Admation

Admation is a workflow management and project management solution that is specifically catered to marketing teams and advertisement agencies and therefore had to be one of our top picks.
Much like the other tools that are mentioned in this list, Admation provides a centralized hub to manage your projects from a single platform. The tool offers resource management, project management, asset management, and approval workflow.
Key Features:
Advertising management
Document management
Custom forms
Workflow management
Digital asset management
Resource management
Time tracking
Online proofing
Pricing:
Contact provider for a pricing quote
8. Metadata

Metadata is a software that provides automatic account-based advertising for business-to-business companies.
The software automates your repetitive but important tasks to streamline your workflow. The tool optimizes your budget while simultaneously targeting the right audience for your business.
Key Features:
Lead generation
Pipeline management
Contact database
Analytics
Engagement monitoring
Campaign personalization
Progress tracking
Pricing:
Growth plan starting at $3,950/month
Scale plan starting at $5,650/month
9. Forecast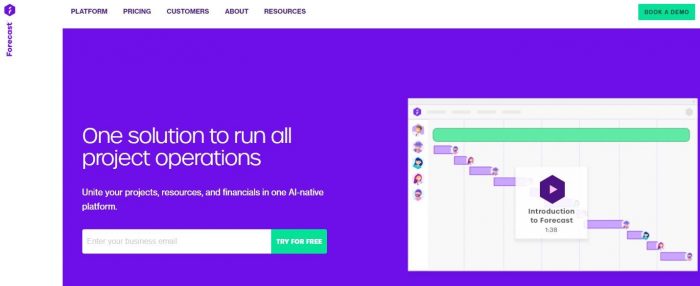 Forecast is the next software on our list and is a project management and resource scheduling tool designed for agencies.
Forecast offers a range of features to help your agency work within a schedule, scope, and budget.
With projects management, campaign management, document management, and much more the tool caters to all your needs.
Key Features:
Billing and invoicing
Client portal
Project management
Resource management
Time and expense tracking
Customizable templates
Budget management
Collaboration tools
Pricing:
Annual Lite plan for $29/user, per month
Annual Pro plan for $49/user, per month
10. Quantcast

Quantcast is a software that provides artificial intelligence-driven insights on your audience. The software can target this audience and measure data.
The tool is great for artificial intelligence-driven real-time advertising. With advertising that works on real-time audience profiles.
The software provides for all your campaign needs, and works for all the platforms your audience is on.
Key Features:
Campaign management
Engagement monitoring
Custom reports and dashboards
Digital analytics
Pricing:
For pricing contact the provider
11. FunctionFox


FunctionFox is a leading choice for creative professionals and therefore takes up this spot in our list.
Although simple, the tool is powerful and offers project management and time tracking features to help keep your team and your projects within the schedule you created.
This tool is also great if you are working with either a team that is in the office or even if your team is working remotely.
Key Features:
Budget management
Milestone tracking
Collaboration tools
Resource management
Time and expense tracking
Document management and file sharing
Project management and task management
Pricing:
Classic plan for $5/user, per month
Premier plan for $10/user, per month
In-house plan for $20/user, per month
12. Intervals

Intervals is a robust agency management tool packed with features to help manage your team and workflow.
The feature-rich software offers expense, time, and task tracking features for generating detailed reports among other tools.
Key Features:
Ability to log billable and non-billable hours
Billing and invoicing
Timesheets management
CRM
Document management
Project management
Resource management
Time and expense tracking
Graphical workflow editor
Pricing:
Lite plan for $29/month
The basic plan for $49/month
Not so Basic plan for $69/month
Professional plan for $99/month
A premium plan for $149/month
Top Shelf plan for $199/month
Unlimited plan for $259/month
13. Workamajig

Workamajig is the next on our list. This tool is a single platform for your project and workflow management which was built specifically for agencies and in-house creative teams.
The tool offers campaign management, file sharing, project management, time tracking, and much more.
Key Features:
Campaign management
File sharing
Collaboration tools
Task and project management
Time tracking
Billing and invoicing
Marketing calendar
Gantt charts
Budget management
Pricing:
Pricing for 5-9 users at $50/user, per month
14. CurrentTrack

CurrentTrack is a great web-based ad agency software. The tool is created to be able to capture reports and documents.
The platform offers a simple and convenient management system that is flexible yet still providing everything you need in a single space.
Key Features:
Collaboration tools
File sharing and document management
Project and task management
Time tracking
Pricing:
Tier 1 plan for $35/user, per month
Tier 2 plan for $25/user, per month
Tier 3 plan for $15/user, per month
15. NetSuite

NetSuite is an Enterprise Resource Management solution and provides everything you could need from a business management solution to run your business with ease.
The software offers solutions to streamline back-office processes like eCommerce, CRM, and inventory.
Key Features:
Invoice processing
Billing and invoicing
Financial management
Marketing management
Time and expense tracking
Reporting and analytics
Resource management
Budget management
Gantt charts
Collaboration tools
Capacity management
Pricing:
Contact provider for pricing details
16. AdScale

AdScale is an artificial intelligence-powered to help you optimize and automate pay-per-click management across different advertising platforms.
The software was specifically designed for Pay-by-click managers, advertising agencies, private advertisers, as well as marketing teams.
With a load of features, AdScale had to make it onto our list of top picks for ad agency software.
Key Features:
Campaign management
Budget management
Keyword tracking
Search marketing
Social marketing
Pricing:
17. Screendragon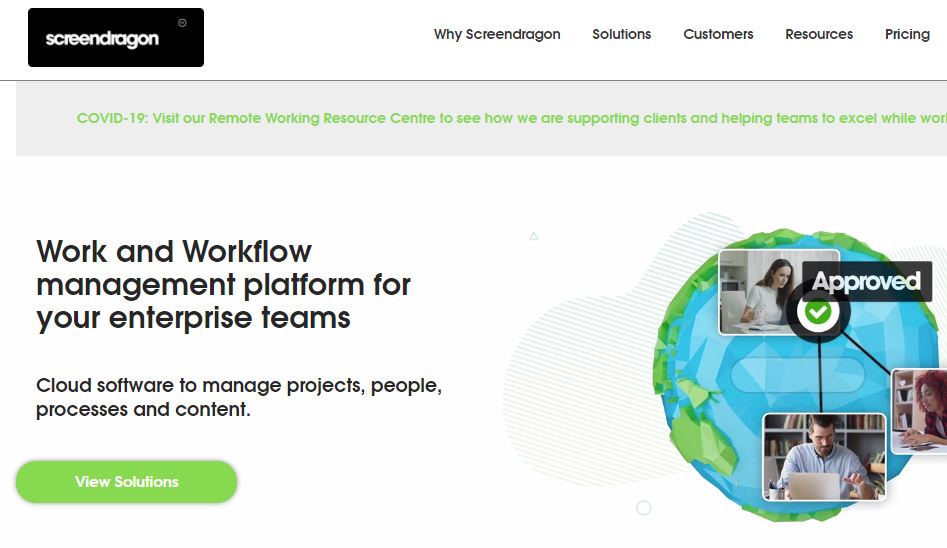 Screendragon is a popular project, workflow, and resource management tool which is specifically designed for marketing, agency, and professional service teams to meet their needs.
The software offers teams the ability to manage campaigns, share files, manage projects and tasks, and trick time among other things.
Key Features:
Business process automation
Document management
Forms management
Calendar management
Workflow configuration
Task management
Pricing:
Pricing for Screendragon is based on the number of users in your team.
For 50-149 users, the price is $40/user, per month
18. Celtra

Celtra is a cloud-based software for automating creative production and is a creative management platform for digital advertising.
The software helps you manage the entire creative lifecycle for digital advertising thus improving your agency's advertising effectiveness.
Key Features:
Campaign management
Creative optimization
Custom reports
Workflow capability
Collaboration tools
Pricing:
Contact provider for pricing details
Frequently Asked Questions
Why Should You Use a Software to Manage an Advertising Agency?
The reason why you should use software to manage your advertising agency is the nature of such agencies in general. Advertising agencies deal with a lot of different elements and projects that are all running at one time.
There are needs of different clients and internal needs that have to be managed at once. Investing in such software decreases administrative burden and helps teams increase productivity and efficiency.
What are the Different Kinds of Promotions one can do?
There are four main categories of tools for promotion. These four tools are sales promotion, public relations, advertising, direct marketing, and authorship or referencing.