Building cohesive teams that thrive on teamwork requires consistent effort on behalf of the management and the individual employees. Teams need guidance and a framework to help them navigate their ways through the professional thick and thin. In fact, 75% of employees leave an organization due to poor management & because senior leadership does not know how to manage people.
However, high-paced work environments and the cut-throat competition for success today puts to-the-minute team management out of question The key is to develop an atmosphere where the teams are willing to cooperate, practice problem solving and take ownership of the tasks and responsibilities handed over.
Did you know that teams that work together well (teams in the top 25%) incur lower healthcare costs?
Here are 5 tips that can help create such an environment and help you adopt best practices in how to manage people
Constructive feedback
Your feedback to your team matters. Did you know 4 out of 10 workers are actively disengaged when they get little or no feedback?
To ensure effective team management, it is important to give regular feedback on the work done. It helps your team get back on track after setbacks. Even if you are not around, your suggestions and input can help them manage on their own without sabotaging the project.
Check this out:
The Top 20 Team Management Software of 2021
Transparent communication in managing people
How to manage people and effective team management can only be enabled by effective communication. Strong channels of communication can significantly impact teams and ultimately projects. In fact, 86% of employees and executives have cited a lack of collaboration or ineffective communication for workplace failures.
According to Marc de Grandpre, Senior Vice President of Marketing at KIND Healthy Snacks, an authentic and transparent work environment is critical.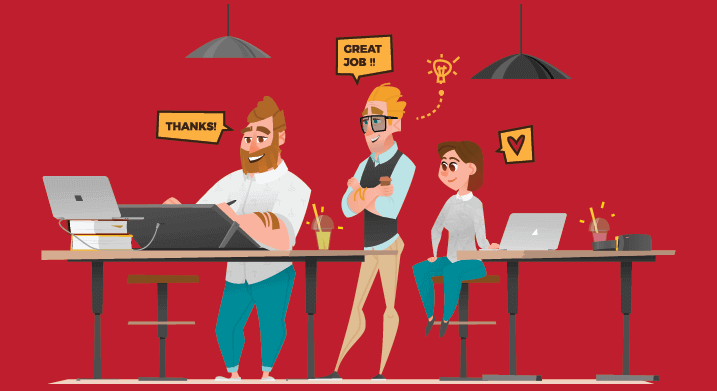 Give autonomy
Hovering about your team to get work done is a thing of the past. Research shows that empowering workers drives innovation and expertise in small businesses and autonomous employees are also more likely to stay on the job, reducing turnover costs.
Cameron Doody, the co-founder of Bellhops endorses this by saying, "People don't just want a job anymore; they want a fulfilling job," he says. "Fulfillment at work comes with the freedom to make decisions and own your position."
Know your team
Every team member is different. Some can strategize better, others can improvise better. Regardless, it is important to be well aware of the skill sets each team member holds and the targets they achieve.
According to David Mattson, the CEO and President of Sandler Training, one should think of team members' abilities as unique "cogs" in your team "machine". The machine runs well when these cogs are positioned correctly.
On the other hand, if they grind together, the machine flow gets disrupted.
ALSO READ: Introducing Team Management in nTask
Set a standard in effective team management
It takes more than just a set of instructions to manage virtual teams effectively. Teams look up to their managers and mentors. Leaders spend most of their time managing teams and coordinating with people. This leaves little time to actually make things happen.
According to Larry Bossidy and Ram Charan, authors of "Execution: the discipline of getting things done", the key to strong leadership is to find ways to make things happen and not let it all be just words.

Explore Team Management in nTask – the free online team management software
The art of how to manage people and teams is something that is not alien to either the corporate or public sectors; it just takes time and consistency to hone in on your skills and to learn the art of empathy to understand who you're dealing with and what experiences they bring to the table.
What's your take on this subject? Have you mastered your capabilities in how to manage people or are you still midway? Please leave a comment…
See also: