According to various recent surveys, the top three requirements that project managers look for in software are reliability, ease of use, and integration. It all sums down to offering team management in nTask through viable options.
Project managers need reliable tools that make project management not only easier but also trackable, in a way that can adapt to the changing requirements in technology.
At nTask, we believe that teamwork and collaboration play a critical in achieving goals and milestones. And it is for this reason that we are very excited to introduce team management in nTask. With the brand-new team management feature, nTask users will be able to create dedicated workspaces for their teams and manage users in a more comprehensive manner.
Whether it's HR or Sales, your team needs an efficient work environment to be able to achieve more in less time. With all the tedious administration out of the way through nTask, your teams can perform better to maximize results.
nTask was designed and developed as a tool to optimize your work effortlessly for a better outcome. With nTask, you have the option of either using the basic version, which is free forever or purchase our premium version with an array of pricing plans to choose from.
Although, nTask is an impeccable team management software, on the whole, let us highlight some of its key features to help you understand why we claim it to be the best.
Control and Manage Securely:
Begin your work confidently with a secure account. Through the 2 Factor Authentication feature, you don't need to worry about the confidentiality of your data.
Plus, nTask services are hosted on the Amazon Web Services (AWS) EC2 platform. With secure servers and policies for enhanced privacy, your data on nTask remains in safe hands.
So go ahead and create, manage and store your work with unperturbed peace of mind.
Task & Project Management:
You can manage your tasks and projects with a variety of options that can make your project management a breeze. From creating and assigning to sharing and copying, manage your tasks to better suit your project goals.
With the option of switching tasks between projects, your tasks can be reusable at different times without having to recreate tasks for each project.
The archive feature allows you to keep some tasks for later so you can focus on the urgent ones first.
Beautiful Board Backgrounds:
Who doesn't like a good view? With nTask you don't have to settle for boring backgrounds to compensate for excellent functionalities.
Instead, nTask comes with good-looking, clean backgrounds that help your teams stay focused and look forward to work every day.
Additional Task Colors:
nTask helps you stay more organized and lets you align tasks with color codes. So whether you have to group a few tasks or keep track of processes, the color codes will always be a handy tool to keep your taskboard organized at all times.
See also:
Introducing nTask 2.0 – Our most awaited update yet
Public Links:
Project managers need to communicate with customers and other third parties for presentations and project updates. While projects are confidential and customers cannot be given full access, nTask resolves this matter through Public Links.
Through Public Links, you can connect to customers and external teams through third-party links. This provides a safe way to keep customers in sync with project progress.
Risk & Issue Management:
Issues are inevitable in all projects and work environments. The trick is to be able to identify and resolve these issues in a timely and effective manner.
nTask not only helps you manage issues better but through its transparent and systematic structure, you can even highlight potential risks before time. Identifying likely risks and managing existing ones effectively is crucial for an unhindered project course.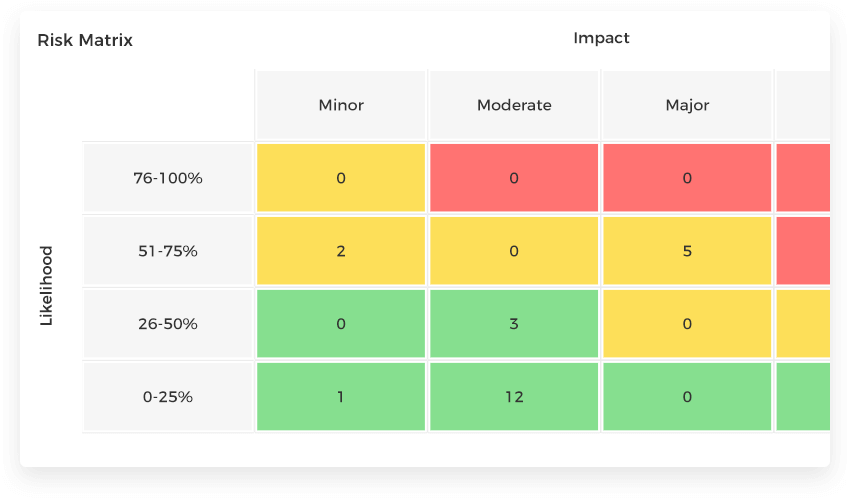 Meeting Management:
Meetings help ensure that the projects are in the right direction. Whether face-to-face team meetings or online customer interviews, nTask is designed with meeting functionalities that let you schedule your meetings easily and effectively.
You can create and share a meeting agenda beforehand so that your team can prepare better. Also, you can ensure that everyone on the team is in sync with the latest development by sharing recorded meeting minutes.
With our premium version for nTask, make use of the added option of searching through past and planned meetings. This allows for improved evaluation meeting agendas and corresponding minutes.
Task Comments & File Attachments:
More often than not, teams need to communicate with each other for information exchange, clarity, and new ideas. Task comments in nTask allow team members to connect and exchange instant feedback, without any delay.
Moreover, through the attachments feature, teams can attach multiple types of files as ideas and supporting material.
Timesheet Management:
One of the important aspects of managing projects is to be able to estimate costs correctly. In fact, businesses have identified "capturing time/costs against projects" as their biggest project management challenge.
This is why it is important that a good task tracking tool can cater to flawless calculations. You don't have to worry about this with nTask because with its timesheet function, you can plan for your projects better by assessing time and cost estimates proficiently.
This function also allows you to manage your team input better through direct monitoring of project hours.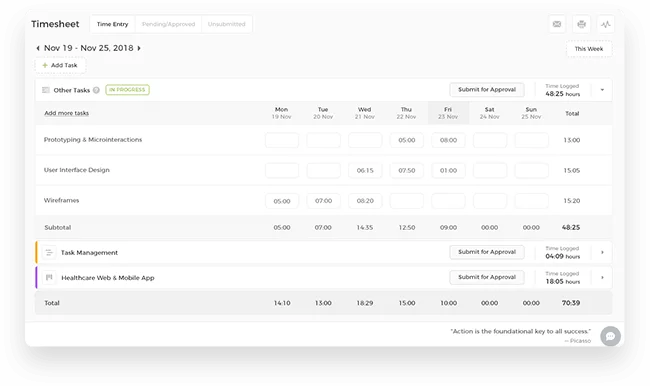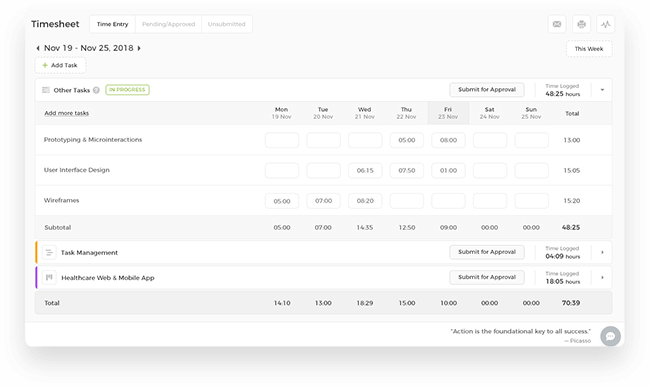 Team Management:
The new team management feature in nTask helps you manage multiple teams simultaneously with ease and transparency. With a friendly, simplified user interface, you can easily create, manage and switch between workspaces each with dedicated modules of Tasks, Projects, Meetings, Timesheets, Risks, and Issues.
With a choice of several team roles, you can define team hierarchy as required. Plus, at any time you can enable, disable or promote team members to administrative roles. Each workspace can have a unique setting for time zone, workdays, and pricing. No matter the size and type of the team, you can easily monitor their input, data usage, and other details.
In the basic version, nTask allows for up to 5 workspaces with up to 5 team members as free users. This means you don't need to worry about costs while structuring and assigning your work. With our Pro version, you can add an unlimited number of workspaces with an unlimited number of users.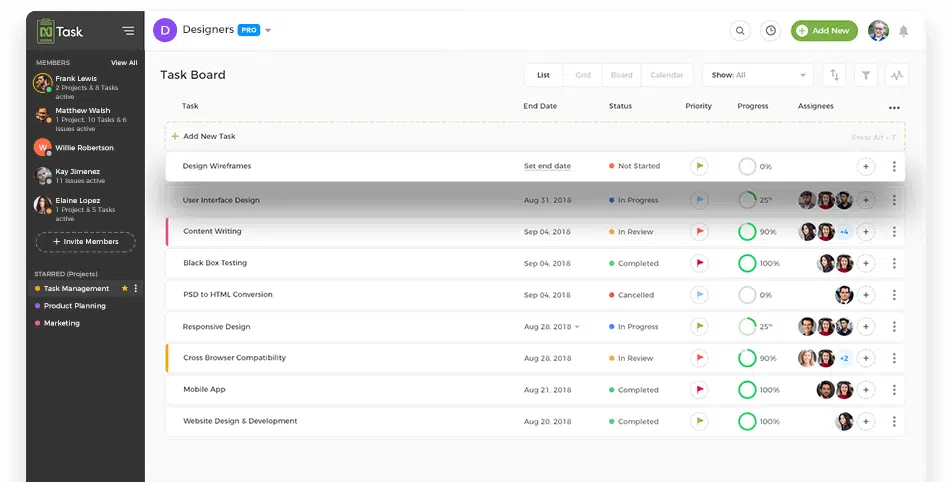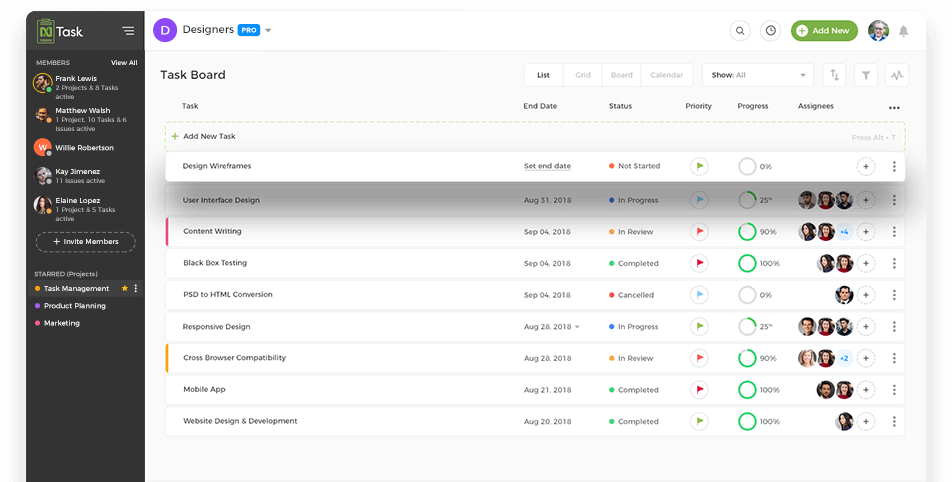 Pay as you Grow:
We wanted to keep the pricing for teams and workspaces as transparent as possible. This is why for Premium teams on nTask, there are no hidden costs.
Our pricing starts at $1 per user per month for an annual billing cycle, with the ability to add unlimited team members to your workspace.
You only need to pay for the features you use instead of incurring heavy costs with flat rates.
nTask Enterprise:
For large businesses and organizations, nTask comes with an Enterprise version that comprises features for improved scalability and enhanced security.
To begin with, it comes with a dedicated account manager, custom subdomain URL, and tailored pricing plans; which means you get to make your own deals based on your budget and team size. Plus, through First Update Rollout, you also get to be notified regarding any new nTask feature or module before other subscribers.
With Fraud Alerts, your nTask Enterprise is super secure so you don't have to worry about data breaches or other security threats. Intelligent features such as Project Success Prediction and Advanced Machine Learning let you stay a step ahead with your projects and workflow. You also get access to custom reports and branding.
With on-prem installation, nTask is installed and runs on computers within your premises instead of a remote platform. This makes processing much faster without depending on distant servers.
Some more features that will be a part of nTask Enterprise soon include:
Single Sign-On (SSO): With SSO, you can use your nTask login credentials to access multiple applications. This means no time-consuming, multiple sign-ins for different applications.
Advanced Machine Learning: With AML, nTask will be able to read your preferences and priorities and make adjustments for different projects and teams according to your requirements.
Integrations: Integration with other apps including Salesforce, HubSpot, and Zapier for better collaboration and project run.
Stay in touch so you don't miss out!
Priority Support:
At nTask, we are proud of our customer support. As nTask users, you and your team can maintain a smooth flow of your work processes with 24 hours of customer support 7 days a week.
Our team will ensure that your issues are resolved on time without affecting project flow and team progress. Especially with nTask Premium, Business, and Enterprise version, you receive Priority Support, which means your issues come first and will be taken care of on priority. You can contact support at support@ntaskmanager.com
Want to know more? Have a look at nTask today and look around. Don't forget to give us your feedback in the comments section below.
Happy nTasking!