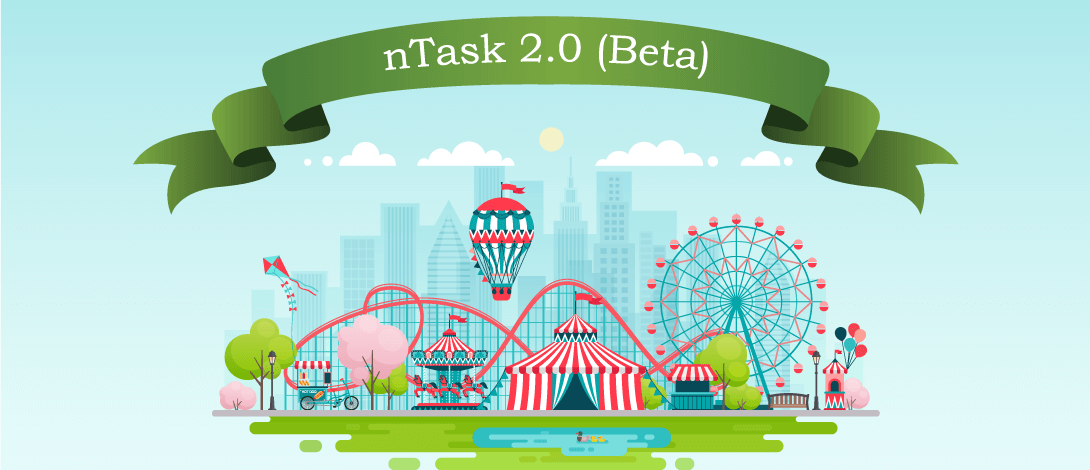 The entire team at nTask is overwhelmed to bring this exciting news to you! The long-awaited nTask 2.0 (Beta) is almost here. A ground-breaking revamp of the application that will completely transform the way you manage your projects.
Keeping the project management methodologies, and of course, your valuable feedback into consideration, the Agile experts and certified developers at nTask have come up with the biggest update of nTask till date.
A Year in Review: 2018 📅
2018 has been nothing short of amazing for everyone here at nTask. From listening to all feedback and suggestions to introducing new features and functionalities, each day has been extraordinary. We thank you for being a part of this amazing journey.
As we move towards 2019, we proudly look back at some of our achievements that made our efforts successful. The most notable ones are mentioned below: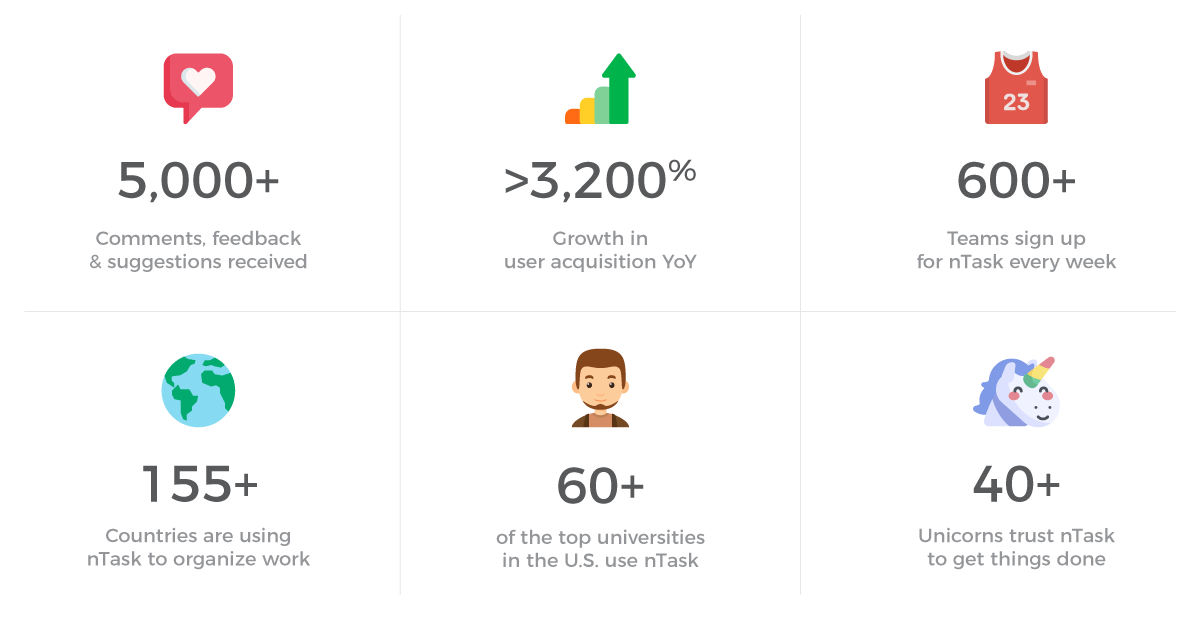 Reimagined to Make You Fall in Love with Work 😍
Owing to the remarkable success of nTask over the past year, it was time to bring some valuable updates to our platform.
For everyone trusting us for project management, we, at nTask, have been working tirelessly to bring some fruitful changes your way.
If you've been using nTask, all the shortcomings that you felt were in the previous version, have been completely wiped out, with exciting new features that make nTask smarter, faster, and more productive than ever.
Introducing modern project management techniques, valuable user experience, and aesthetically pleasing design were the prime goals behind this update.
Let's have a look at what nTask 2.0 (Beta) is bringing to the table, in detail:
What's New in nTask 2.0 (Beta)? ✨
Technology Switch: React JS and Redux Framework 👨‍💻
For the advanced functionality we had in mind for nTask 2.0 (Beta), we needed the supporting infrastructure and therefore, the decision to switch to React JS came naturally to us.
By using React JS as a new tech stack for nTask 2.0 (Beta), the overall performance of the application has improved dramatically.
React JS has enabled our developers to efficiently track and fix any upcoming bugs, making the application more stable and faster than ever. How much faster you might ask? We are experiencing a performance boost up to 500%.
Hierarchical Project Flow 👨‍👩‍👦
With a classy new task board design, nTask 2.0 (Beta) works on hierarchal project management. The intuitive design lets you systematically create projects, associate relevant tasks, and then proceed as changes come your way.
This defined hierarchal approach greatly helps in smoothly tracking the workflow and making timely amendments, wherever needed.
Here is the new hierarchy flow in the all-new nTask 2.0 (Beta):
New Advanced Dashboard 🏡
The new beautifully designed dashboard of nTask 2.0 (Beta) is what dreams are made of!
As soon as you launch the application, a sleek overview of all your projects, tasks, and recent activities will be right in front of you.
We've also added useful project performance metrics for you to get a quick glimpse of where your project stands at the moment. That way, the new dashboard simplifies project monitoring for you.
Beautiful, Interactive Gantt Charts 💅
As much as Gantt charts are crucial for monitoring the project performance, the limited functionality of them in nTask was keeping us awake at nights too!
The Gantt charts in nTask 2.0 (Beta) have gone through a major transformation with all the essential features now easily accessible.
With the added functionality of task dependencies and milestones (to name a few), the new intuitive Gantt charts will easily make the data stand out for you to analyze the project performance.
Super-Fast Collaboration Features 🚀
nTask 2.0 (Beta) has set the bar quite high with an all-new set of collaboration features which give you maximum control over your tasks, whilst improving the team communication at the same time.
Some of these amazing features are:
✅ Drag-and-drop functionality
✅ Docking – for multitasking
✅ Timer with tasks
✅ Custom status and priority tags
✅ Option to follow or unfollow a task
You'll further see new collaboration features being added in nTask 2.0 (Beta) over the course of the next few months.
Cost/Budget Estimations 👩‍🔬
The resource planning and budgeting functionality of nTask went for a complete makeover and came back as a powerful and elaborate means for you to do advanced calculations without any technical errors.
Easily log billable hours and calculate each resource's task efforts in terms of the total budget. You can also assign project managers, and authorize them the right to approve or disapprove timesheets.
Customized Kanban Boards 👩‍🏫
It won't be untrue if we say introducing Kanban boards was one of the main focuses of nTask 2.0 (Beta).
The uproaring popularity and an utmost need for the functionality compelled us to work towards bringing the best Kanban experience for you.
The beautifully designed Kanban boards in nTask 2.0 (Beta) allow for a smooth workflow visualization, whereby cards can be floated freely without any technical glitches.
The boards are completely customizable and allow you to easily invite as many members as you want.
Integrations, Integrations and Lots of Integrations! 🤖
Connecting nTask to your favorite applications will now be easier than ever.  Already providing users with Slack integration, with the help of Zapier, you can automate, sync, manage and import data from more than 1000 applications.
How Do I Opt-in for nTask 2.0 (Beta)? 🧐
We'd love to have you onboard to try the beta version of nTask 2.0 (Beta). No difficult onboarding procedures. No complex sign-ups.
Simply click the link below and fill out a quick form to become our very first few users who will get access to the all-new nTask 2.0 (Beta).