They say managing virtual teams was a lot "easier" before the advent of the IT industry. As much as the latter has helped increase productivity, managers often lament common managerial norms because of a certain number of obstacles.
Today, we interpret the success of a modern-day manager by his ability towards 'Managing Virtual Teams' in a productive style.
How fast can a manager get something done from the convenience of his office when the rest of the team is sitting across the globe? How effectively can everyone collaborate on the same worksheet when all, or a majority of the employees are working remotely spread across the globe?
Think about such issues and you might just be surprised that managing virtual teams is not that easy anymore. Read on.
Virtual Team Management Challenges & Tips
Virtual team management challenges come in different forms and colors. Many leading teams and organizations have global offices with one central headquarters located in one part of the world. All the teams are working remotely from every corner of the globe.
With this high magnitude of personnel and a lot of other dilemmas, managing virtual teams has become more of a herculean task. Today we take a look at some of the most common problems of such issues at hand; how to resolve them through time effective software and various ways to obtain results in an efficient manner?
Virtual Team Management Challenge #1: The Flake Out Effect
The "flake out" effect is one of the most common challenges that managers face when managing virtual teams. These are not good lookin' healthy flakes, mind you. We are talking about team members phasing out, team communication gaps, emotions frizzling and a lot of frustration for managers when things are not getting done the way they were supposed to be.
Eventually what happens is that a minority of workers quit; managers are often relocated to other offices where the same cycle repeats, and things crawl at a snail's pace. As much as 'flake out' seems like a daunting nightmare, there is a solution to it.
Virtual Team Management Tip #1: Dealing with Inhibitions
Productivity and Communication are two stringent strategies that are used to counter this initial challenge at hand. The best way of increasing communication flow is through phone calls, emails and constant updates. However, an even better solution is to use a project management software; it cuts the unnecessary barriers and helps to resolve queries in real time. We will talk about it in more details later.
For now, know this that there are a bundle of project management programs available online. The key is to go for something that would help collaborate team members and keep everything there is to it about the project on the same page.
The main issue with going for a virtual team management software is choosing the right "product" for your company. There is a lot of choice factor; every other software seems like the next best thing and managers generally make the mistake of buying something too expensive with a ton of useless add-ons or going for a program that doesn't offer too much productivity solutions.
Just to help curb these issues, we have made a proper list of recommended virtual team management software that you should definitely take a look at. For now, let's move on to the next challenge of team management.
Also Read:
9 Effective Team Management Techniques for Project Managers
Virtual Team Management Challenge #2: Impromptu Meetings
Remember that time when managers were able to go from one cubicle to another and call impromptu meetings whenever they wanted? Well, it still happens but not in that much frequency due to how things have advanced.
With a virtual team working remotely from different locations, impromptu meetings might become a big challenge. However, there is a solution.
Virtual Team Management Tip #2: Use a Team Collaboration Software
Conference calls and video conferencing is not the latest trend. In fact, they have become more of a hassle lately. According to a recent study conducted on the correlation between managing virtual teams and virtual team management software, a lot of managers relied on using a task management program; silent, effective and on the dot.
Online interaction between a manager and his co-worker is no longer dependent on third-party chat and phone call programs. There are hundreds of virtual team leaders who like to stick with work boards offered through project management software solutions. Given that the work board has a 24/7 cloud synchronization and public chatbot, you can get a lot of things done in half the time duration.
---
Virtual Team Management Challenge #3: Timezone Dilemmas
Several decades ago, when management was still in its infancy, constant round-the-clock communication was not a norm. It was more of a challenge in itself. Anyhow, when things changed for the better, constant communication at all hours was resolved to some extent.
Today, the problem is effective communication channels and time zone differences. Since virtual teams could be scattered all over the world, communication at a balanced time schedule becomes a major obstacle. A manager is not able to take conference calls in the middle of the night, despite the fact that the rest of the team is situated at some part of the world where it's daylight.
Virtual Team Management Tip #3: Finding Alternatives
Time zone is a universal barrier; there is no software, real solution or anything that can directly nail the problem. However, studies and practices reveal that managing virtual teams becomes easier if they all adopt the "follow the sun" rule.
It implies that you do not put unnecessary pressure on team members who are in a different time zone. As an alternative, you devise a solution where such members can pick up right where the most recent team left. This is exactly the kind of system that a project management software is capable of offering.
Different team members work on the same project sheet, task or work board of that matter. They all come in and go out as their time zone allows, while the entire activity is constantly synchronized. Put it this way; team members are able to anticipate, comprehend and follow the context of what has happened before their involvement in a meeting, and after it.
Such practices eventually help to clarify who needs to consult with whom.
---
Virtual Team Management Challenge #4: Dividing Work and Building Trust
As part of managing virtual teams' daily rituals, many issues emerge when you have to divide work between different teams. Some issues stem from how to complete/ handle the said task because some workers are more competent, while others feel threatened altogether.
Likewise, organizational resistance arises when the fear of losing a deadline comes close. Managers often see workers blaming one another when a goal is not achieved. These work categorization related issues were resolved after the advent of Greenberg & Antonucci's journal on "Creating and Sustaining Trust In Virtual Teams."
Virtual Management Tip #4: Cognitive and Effective Trust
So, now that we have talked about the aforementioned issue, it is time to see how work can be managed among workers spread over different sites. Technically, managing virtual teams these days is done through dedicated virtual team management software, but the principle is basically the same.
Cognitive Trust vs. Project Management Software:
As a manager, you can build cognitive trust with your team members, or subordinates by assessing their individual work-related activities and getting back to them accordingly. This form of trust is also built as the manager spreads the word of appreciation through common boards in the virtual team management tools kit.
Developing Effective Trust Through Virtual Team Management Tools:
As part of the 4th challenge at hand, virtual team managers also rely on building effective trust with their subordinates individually. How so? Since conventional communication channels are out, the best way to reach team members is through one-on-one chat sessions, Kanban Board, meetings and personal feedback.
This form of trust develops emotional ties with coworkers and works to resolve many obstacles during the lifeline of a project. A lot of project management software these days are loaded with chat tools, and other means of personal-to-public mediums so that both cognitive and effective relationship can be developed.
---
The 5 Best Virtual Team Management Tools
As of now, the online industry is brimming with hundreds of virtual team management software and tools. As a manager, you just need to scale your requirements against what a particular software is offering.
Our personal favorites are those virtual team management tools that work on the basis of 'SaaS' model. At least, this way, you don't have to download them and install them to get by with your work.
Anyhow, take a look at the appended list of programs for ready reference.
1. nTask – Best Virtual Team Project Management Software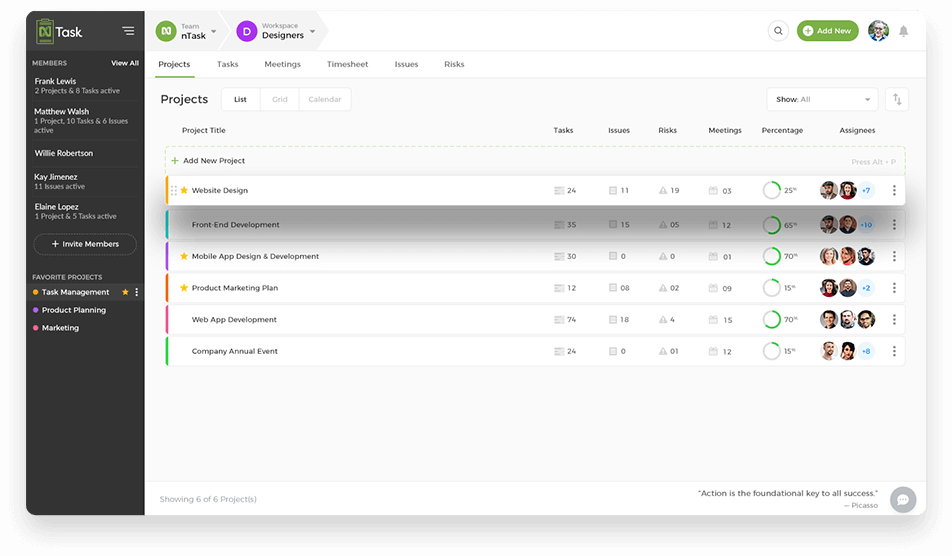 Off the top of my head, I'd recommend nTask as a unique project management software with a nice flow of nifty features.
As a virtual team manager, if you are facing one such predicament where choosing among virtual team management tools is a pickle, go for nTask; your team is probably going to thank you later.
The program is modeled around the SaaS strategy, which is why you don't have to install it on your computer. nTask's beautiful interface focuses on ease of use, and user experience. It leverages effective team collaboration, monitoring and reporting with 7 modules built natively inside the platform.
The best thing about nTask is that the team is about to release Version 2.0. We heard that the upcoming update will improve the overhaul and introduce many extra features. Let's take a look at the pricing.
Pricing:
The basic version of nTask is available for free. However, the Premium plan start at $3 per user per month. If you ask us, it is a nominal cost to pay for a bundle of inexpensive virtual team management tools.
Looking for a virtual team project management software?

Use nTask for personal or virtual team productivity. nTask is free and includes unlimited tasks and checklists.
2. Slack – Virtual Team Communication App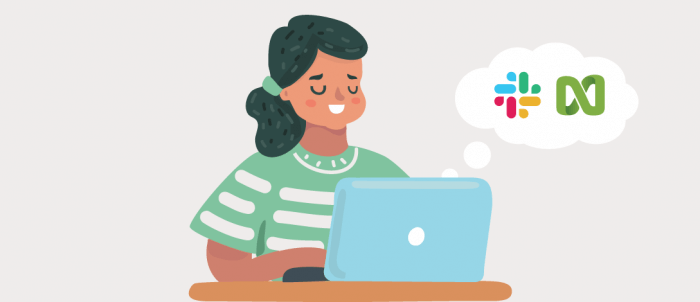 Constant round the clock communication is not only a necessity for virtual team managers but also a bit of an intimidating factor. To help improve project stability and effective communication channel, you should give 'Slack' a chance.
It heavily leans on the "communication" aspect of the business, and has helped reformed the IT project management scenarios in tenfold.
Slack is not primarily used for managing projects because it lacks Gantt Charts, Kanban Boards and other project management features.
However, it makes up for that "deficiency" by offering an array of communication tools.
Features:
Minimalistic UI combination with an overall sleek design style for instant navigation from one panel to another
Individual and collective resource management from project to project
Ability to assign tasks to individual employees, or an entire team from a multi-user perspective
Cloud-based support allows access to remote area subordinates from anywhere in the world
Improved collaboration through the centralized chat system
Pricing:
The Free version for Slack comes with approx. 10,000 messages limit, and a virtual team management threshold of 10 – 15 people. However, you can pay a menial upfront fee of $6.67/M to unlock unlimited messaging, Slack tracks, and many other advanced functions.
3. Zoom – Virtual Team Video Conferencing
Zoom was introduced a virtual team management tool for those who are looking to collaborate through meetings, reminders and online conferencing.
The program offers a number of video meeting related solutions especially to board executives and top tier managers who have to either get frequent reports or update their concerned subordinates through the same medium.
What makes Zoom so special is the integration of security modules in the program. As a virtual team management strategist, you get SSL encryption, AES 256 bit encryption, and password protection so that meeting rooms can stay private without any interruption, or whatsoever.
Zoom's services are focused on larger audiences spread over various demographics.
Features:
Multiple price brackets make Zoom affordable for managers from all over.
High-quality video conferencing results.
Uninterrupted lag-free performance.
Plenty of security layers and top level administrative tools for a completely secure experience.
Pricing:
Zoom is offered at different price levels. The basic version targets managers who have a small organization and can get by with introductory level features. At the same time, if your organization conducts webinars and active real-time chat sessions with over 10,000 simultaneous connections, you can go for Zoom Enterprise plan at $19.99/M or Zoom Business Plan at the same cost.
4. Google G Suite – Virtual Team Cloud Storage
If it comes from Google, you know that it has to have a sleek set of advanced features. G Suite is more of an enterprise productivity program that runs, manages and "enterprises" stuff through cloud-based services.
As a virtual team manager or part of one such team, you get your basic level integration with Google Sheets, Google Drive, Presentations, Google Calendars, and many other essentials right away. Since Google has already been adopted by a vast majority of users from all over the world, it makes it all easier to just use G Suite and pick up where your team left.
G Suite is backed up by hundreds of powerful servers to help store and retrieve data easily. Meetings, critical project management folder hierarchies and a bundle of eDiscovery tools make G Suite a preferred choice for virtual team managers of any scale or size.
Features:
Live exchange of data through collaborative and smooth communication channels. For offline members who have a time zone difference, managers can leave comments under appropriate project sheets/ boards for them to view later.
Professional real-time chat and various communication channels. You can communicate with managers directly either through public chat modules or simple IMs.
Ability to set up dedicated email domain for a more professional overhaul.
Corporate emails, online security, spreadsheet management, and various administrator privileges help make setting up team member access hierarchy easy.
Pricing:
The basic version of GSuite is offered at an introductory price of $5.00. You can opt for Business or Enterprise level access if your business reflects such large communication and team volume. The advanced level plans can vary anywhere from $10.00 to $25.00.
5. XMind – Next Gen Idea Management and Mapping on The Go!
Last but not least, XMind comes as an award-winning idea mapping software solution. It offers easy integration of multiple brainstorming aspects, and further outputs them into mappable files for team members to follow up on.
The 8th update of XMind has a multitude of development tools for idea management. Furthermore, the program offers a very "straightforward" type of interface where users fee right at home when using the XMind suite for the first time ever.
Features:
Mind mapping options: You can view tasks, edit other people ideas and collaboratively create a perfect "plan" to complete any range of projects at hand.
XMind exclusive Org-Chart, Logic-Chart, Tree-Chart extensions for customizable idea maps.
Plan, visualize and implement ideas in an orderly fashion.
Various presentations modes.
Audio notes for to-the-point cues.
Ability to export projects into compatible SVG, PDF and various other file formats.
Pricing:
XMind targets a specific audience; their services are rather expensive for startups and small business industry. The basic plan is available for free, but the paid XMind 8 Pro and Enterprise versions are offered at $129/M and $60/M fee.
Virtual Team Management is Constantly Evolving
Since we are already in the middle of 2019, the managerial side of the business is already moving to more advanced styles of management. The typical "just do it" management model no longer applies to a majority of businesses because the nature of the industry has changed a lot.
As a result of such implementations over the last few decades, managers have to make do with whatever virtual team management tools are available at their disposal. The above list was more of an introductory case report that we wrote in a very user-friendly format. There are tons of things that we'd love to talk about in details.
If you are a manager, struggling to cope with the conundrums of virtual team management strategies, don't forget to send up an email or leave a comment through the comments section below.
---
Some Other Useful Reads on the nTask Blog