Since the inception of lean Agile project management, the organizational paradigm has inclined, more or less, towards managing remote teams that can work from anywhere rather than office-based staff.
There are several reasons why they did that, but our main concern regarding this article is how they keep track of all of the billable hours that their employees are putting in on a daily basis.
Sure, they can trust the word of their employees, but this is 2022 and we have incredible online timers that can easily track the time and the overall productivity of the employees that they are putting into their work.
So, in this article, we are going to talk about 11 of the best online timers that you can find on the market right now, to keep your team in check.
12 Time Trackers to Track Your Billable Hours
Here is a list of the trackers that we are going to talk about in this article.
Let's take a look at all of them in detail and find out how they can help you to keep track of your billable hours with ease.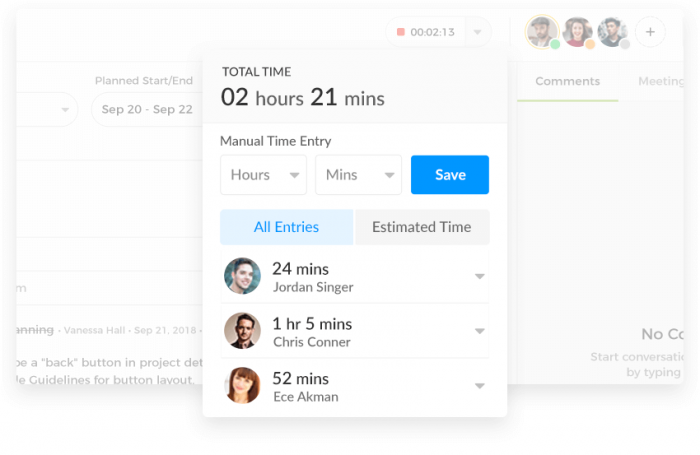 One of the leading project management applications on the market right now, nTask is an incredible online timer that allows you to keep track of the billable hours that your employees are putting in and they can even keep track of those hours themselves, using the interface.
Other than that, the application is fully equipped with some incredible project management features that allow all of the managers in the organizational paradigm to keep track and manage all of the other activities of their employees regarding the project development project.
Key Features
Timesheets
Multiple board views
Checklists
Public links
Activity logging
Due date tracking
Task filters
Meeting follow-ups
Activity tracking
Notifications
Calendar sync with calendar apps
Issue management
Project risks
Pricing
There is an incredible free trial available for use if you want to check out the software before purchasing a subscription
The paid subscription of the application starts at $3
nTask devs also released a dedicated Kanban feature that helps to visualize and execute project plans effectively. As of right now, over 100K+ users from across 155 countries are reportedly using interactive Kanban boards to throttle their productivity by tenfold.
Another great example of an online time tracker is Timer Tab. The application is incredible in setting up a timer for your routine task and also helps you track open-ended projects with a stopwatch.
The application is incredibly intuitive and the interface is so easy-to-use that you are not going to have any issues being a master of it from day one.
Key Features
Using the application, you can work on and track a lot of different tasks and their respective times
You can also use the application for your daily alarms, timers, and stopwatch activities
The application provides you with a multifunctional interface with a lot of visual noise
You can perform a lot of different fixed and open-ended tasks using the application
Pricing
This online timer is free to use
The Tomato Timer application is an incredible tool that was created with the Pomodoro Technique in mind. Don't know about it? Well, basically what it does is that it involves breaking your whole work-day into many different 25-minute chunks which you can use to complete your work and be more productive.
Using that logic, the Tomato Timer can help you select several short 5-minute or 10-minute Pomodoro-styled break times that can help you to easily track your billable hours.
The application is full of different keyboard shortcuts and other useful features that you can use to work more and spend less time fiddling with the application.
Key Features
Using the application, you can easily track all of your routine tasks and processes
It can easily help you eliminate any time-wasting activities from your schedule and helps you to work more productively
It helps you to increase efficiency and ultimately helps you to be more productive
Pricing
Truly one of the best online timers on this list is Toggl Track. It is an incredible application like nTask which allows you to save all of your timing information regarding your tasks and processes into a cloud-based account which you can later access from anywhere around the globe.
The application can easily help you analyze your data with its easy-to-use reporting suite.
Here is a list of some of the other features that this application has to offer.
Key Features
Using the application, you get a wide range of time-tracking options that allow you to track and manage all of your tasks and the times associated with them easily and effectively
You can also use the application to manage a team and also track their billable hours easily and efficiently with the help of the amazing interface that the application has to offer
You can also analyze your overall efficiency over longer intervals while using the application
Pricing
There is a free version of the application if you want to check out the software before purchasing a paid subscription and get to play with some extremely cool features
The Starter package of the application is priced at $9/user/month
The Premium package of the application is priced at $18/user/month
If you want to purchase the Enterprise version of the application, you have to contact the company so that they can custom design a subscription for you, according to your needs and requirements
Looking for more Toggl-like apps? Check it out:
15 Best Toggl Alternatives for 2022 & Counting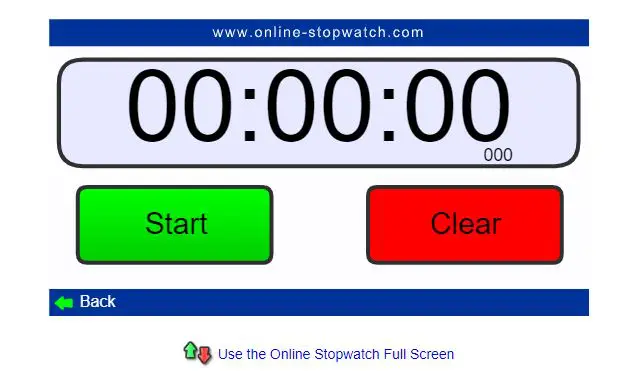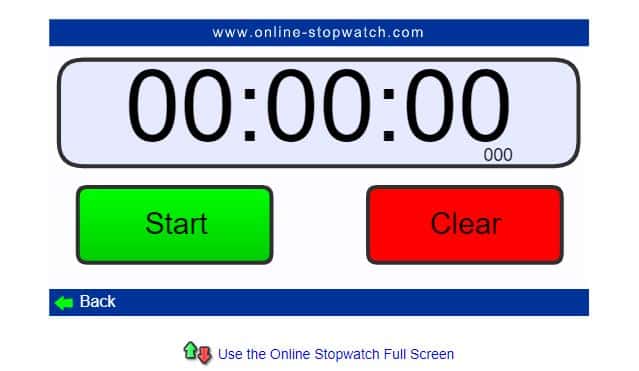 If you want the simplest and yet most effective online timer, then you need to check out Online-Stopwatch. This simple tool doesn't waste time with unnecessary features and quirks to get your attention, rather it does what it offers and the rest is history.
Key Features
You can use it to time all of your billable tasks
You can also use it as a countdown generator for your activities
If you don't want to check out the entire toolset of the Toggl Track application and just want to use an effective online timer to keep track of your billable hours, check out Toggl Track's Online Timer. It has an incredible interface and it is no-nonsense when it comes to time-tracking.
Key Features
Free to use
100+ integrations
Exceptional time-tracking tool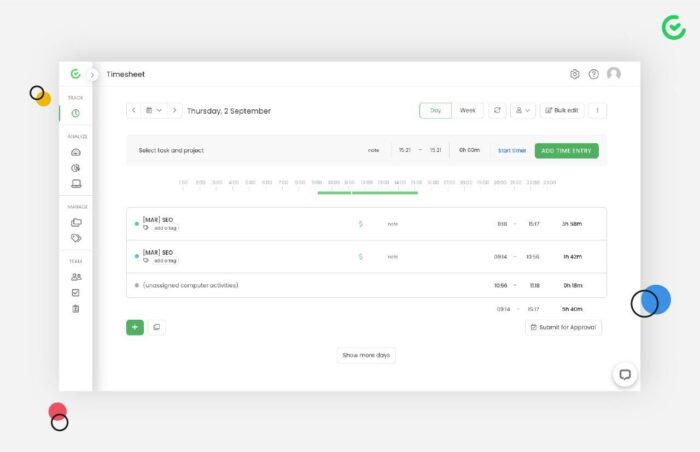 If you need a robust time tracking system with an online timer, choose TimeCamp! It tracks working hours and automatically fills timesheets with time entries so you and your team can reduce time spent on administrative processes.
TimeCamp ensures your team's robust reporting, which is a massive help for daily performance analysis. Attendance tracking streamlines workflow management; you can see when your employees are clocking in or out, their vacations, sick leaves, or remote workdays.
With TimeCamp, you can set and track each project's time and money budget. Don't forget to assign tasks as billable or non-billable to streamline the payroll.
Key features:
Automatic time and activity tracking,
Daily and weekly timesheets,
Wide range of preset and custom reports,
Billable/non-billable hours,
Attendance management with timesheet approvals,
Invoicing,
Custom management roles and Guest features,
High availability: web timer, desktop app, mobile app, a browser extension for Chrome and Edge,
Direct integration with 30+ tools
Calendar integration
Report/Invoice exporting
Pricing:
Free 14-day trial and free plan available for unlimited users, it includes e.g., unlimited projects and tasks
Paid plans start at $6.30 per user per month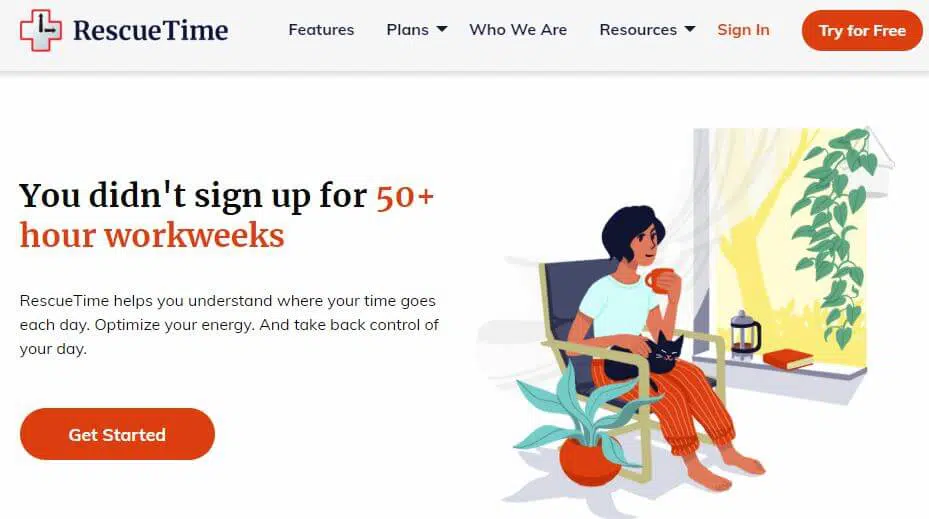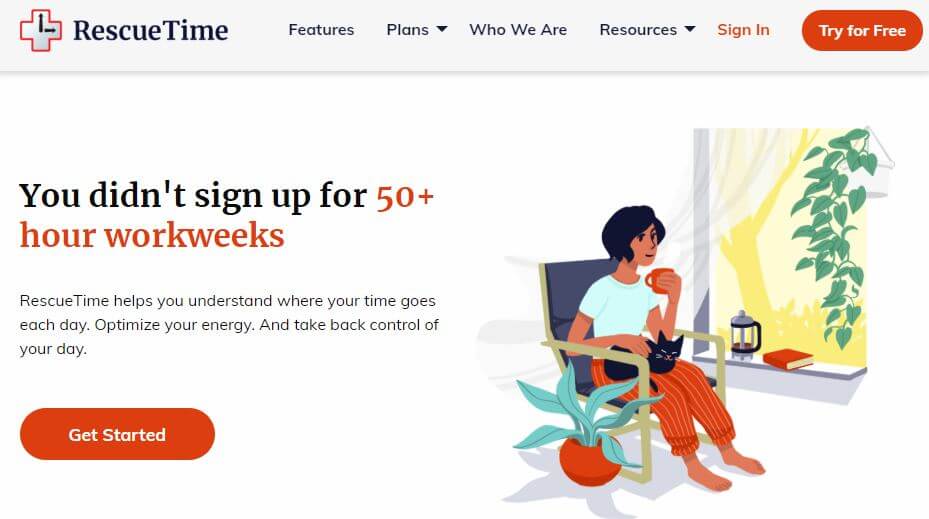 RescueTime is another renowned online timer with comprehensive features to boost productivity and enhance efficiency. With over 2 million users worldwide, RescueTime has become one of the best online timers of all time.
Logging time in and out is a task most of us often forget. ResuceTime, however, rids you of this task with its automatic time tracking capability. The tool is more than just a timer. It gauges productivity levels and generates accurate reports on how you spend your day.
RescueTime is especially useful if your goal is to improve your productivity.
Key Features:
Time management features
Automatic time tracking
Focus Session
Personal daily Focus Work goal
Alerts and notifications
Insightful reports
Identify distractions
Pricing:
RescueTime offers a free trial for new users
It offers a free version called Lite, loaded with all essential features for newcomers
Its Premium plan is available at $6.50 per month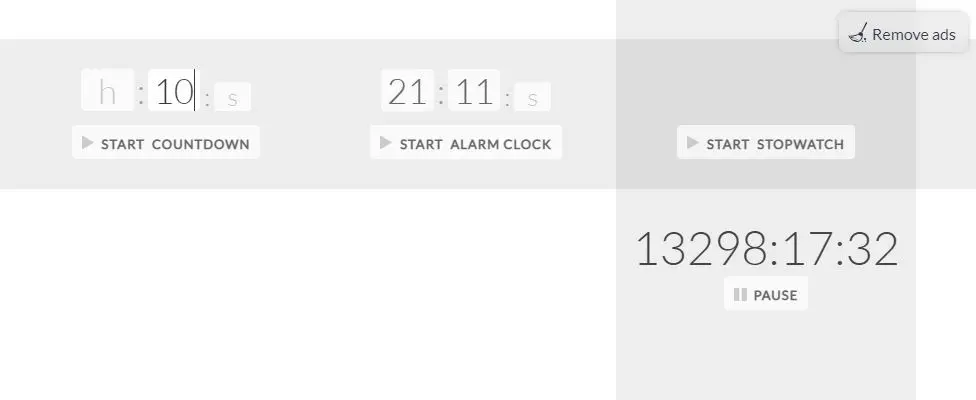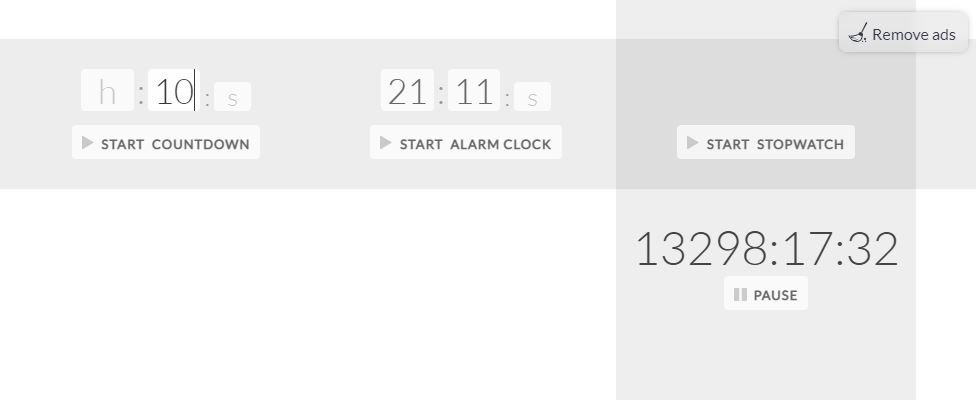 The online timer is as simple as it can get. With a clean interface, users can easily find their way through the tool and harvest its perks. If your goal is to keep it neat, clean, and simple, Timer Tab should be your first choice.
This app is a multifunctional tool that not only offers a timer but also functions as an alarm clock and countdown timer. It gives you different options to time your day, ultimately helping you find the best way to make your time more productive.
Key Features:
Countdown timer
World clock
Message tab
Customization options
Full screen, zoom-in options
Timer tab, Msg tab, and Countdown tab
Share countdowns
Pricing: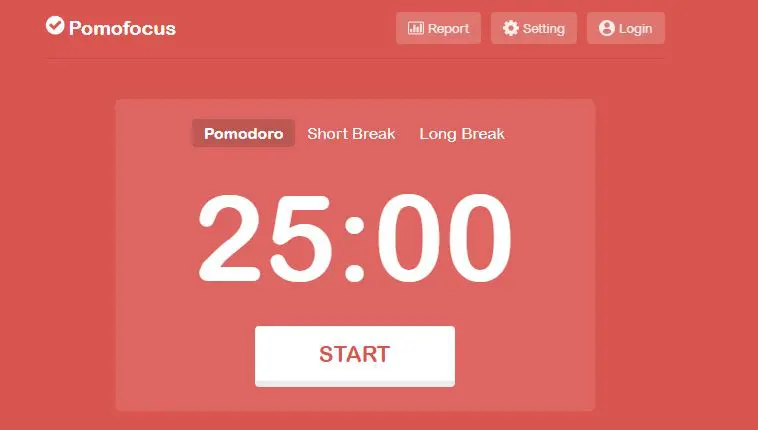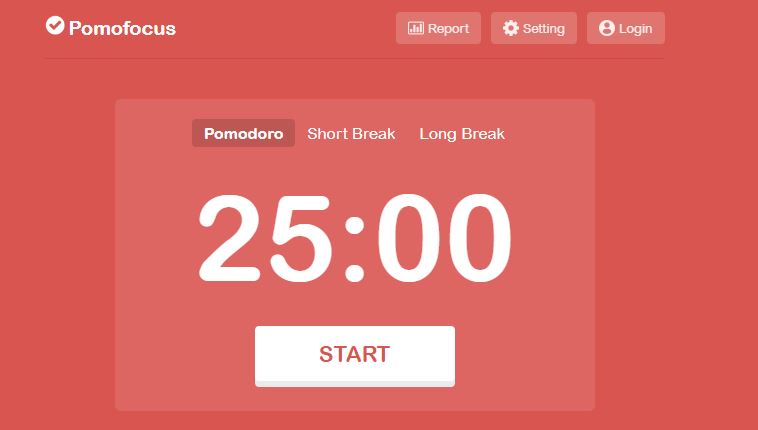 Pomofocus is another great timer with a clean user interface. Pomofocus timer relies on the Pomodoro technique to keep track of your time. The tool lets you create task timers for different tasks in a project. You can set the time for 25, 25, or 5 minutes.
You can customize the tool to suit your taste and use the tool on your desktop or mobile phone. You can also get regular notifications to stay on track. Pomofocus also offers different reporting options based on which you can analyze how much time you put in daily, weekly, or monthly.
Key Features:
Different timing options – Pomodoro, short break, and long break
Responsive design
Color Transition
Audio notification
Detailed reports
Customizable settings
Pricing: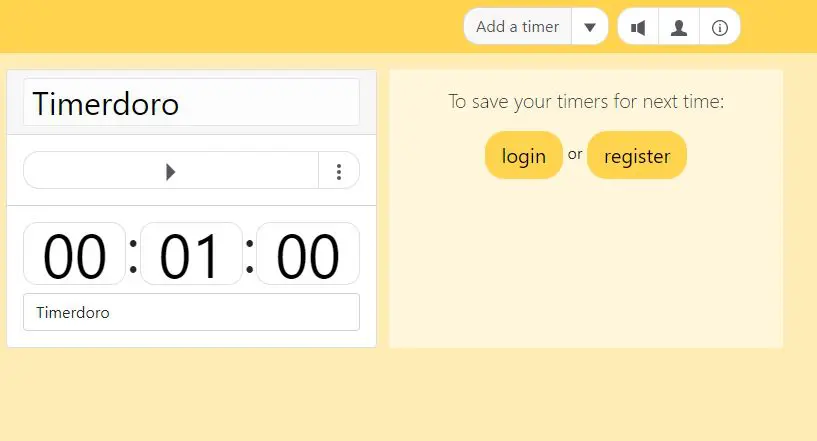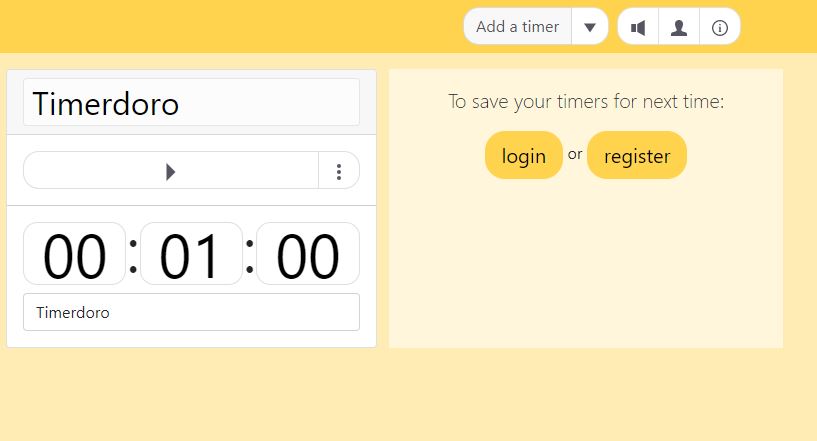 Timerdoro is another app built on the Pomodoro technique. The technique allows for a perfect work-rest balance with 25 minutes of work followed by 5 minutes of rest. The time management method helps maintain focus and plays a significant role in improving productivity.
Timerdoro is specifically designed to help you keep track of your timer. With its customizable options, you can set your own break time with audio notifications.
Key Features:
Unlimited timers
GTD 2-minute task
Eye strain reminder
Enhances focus
Customizable settings
Pricing: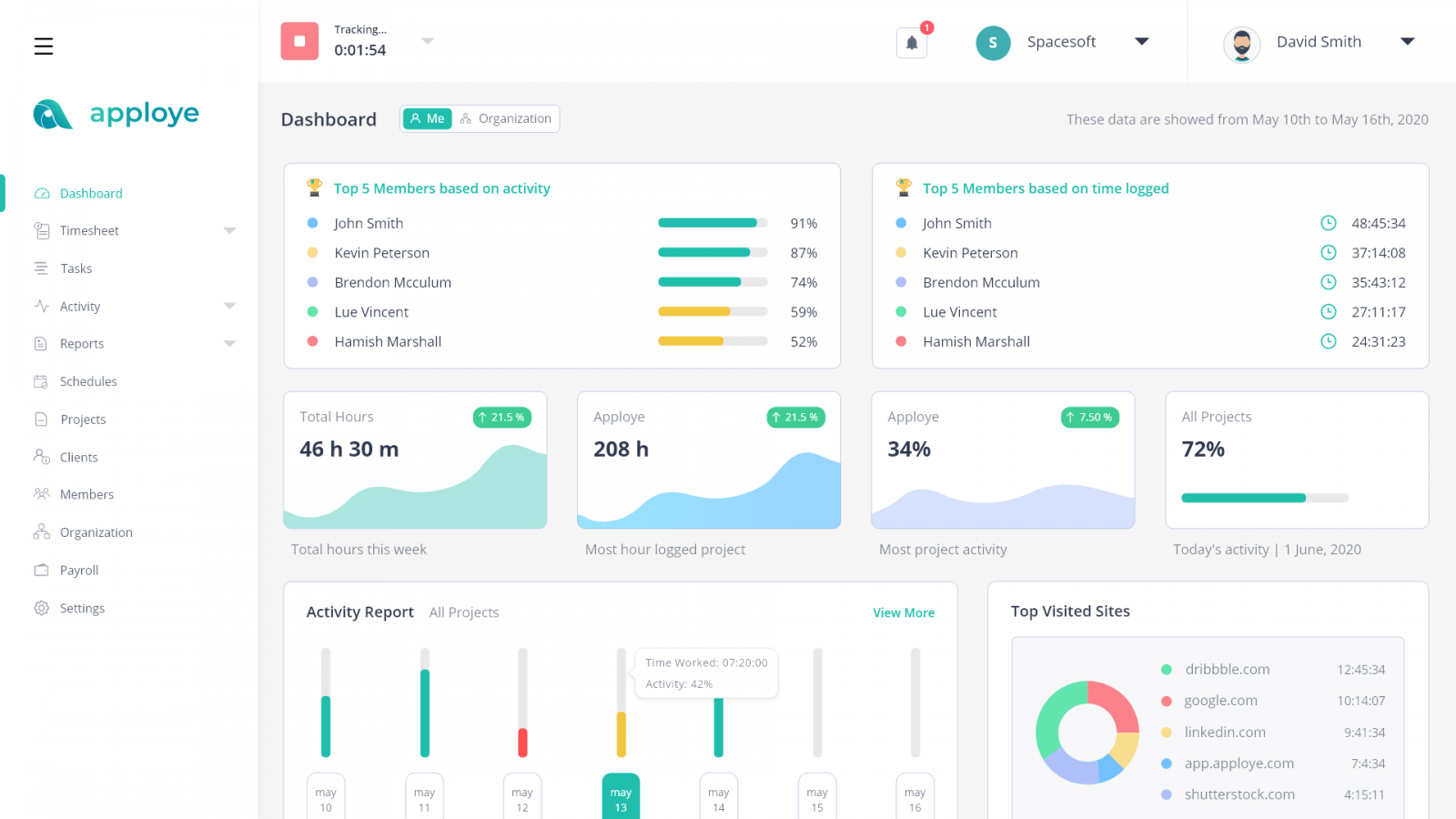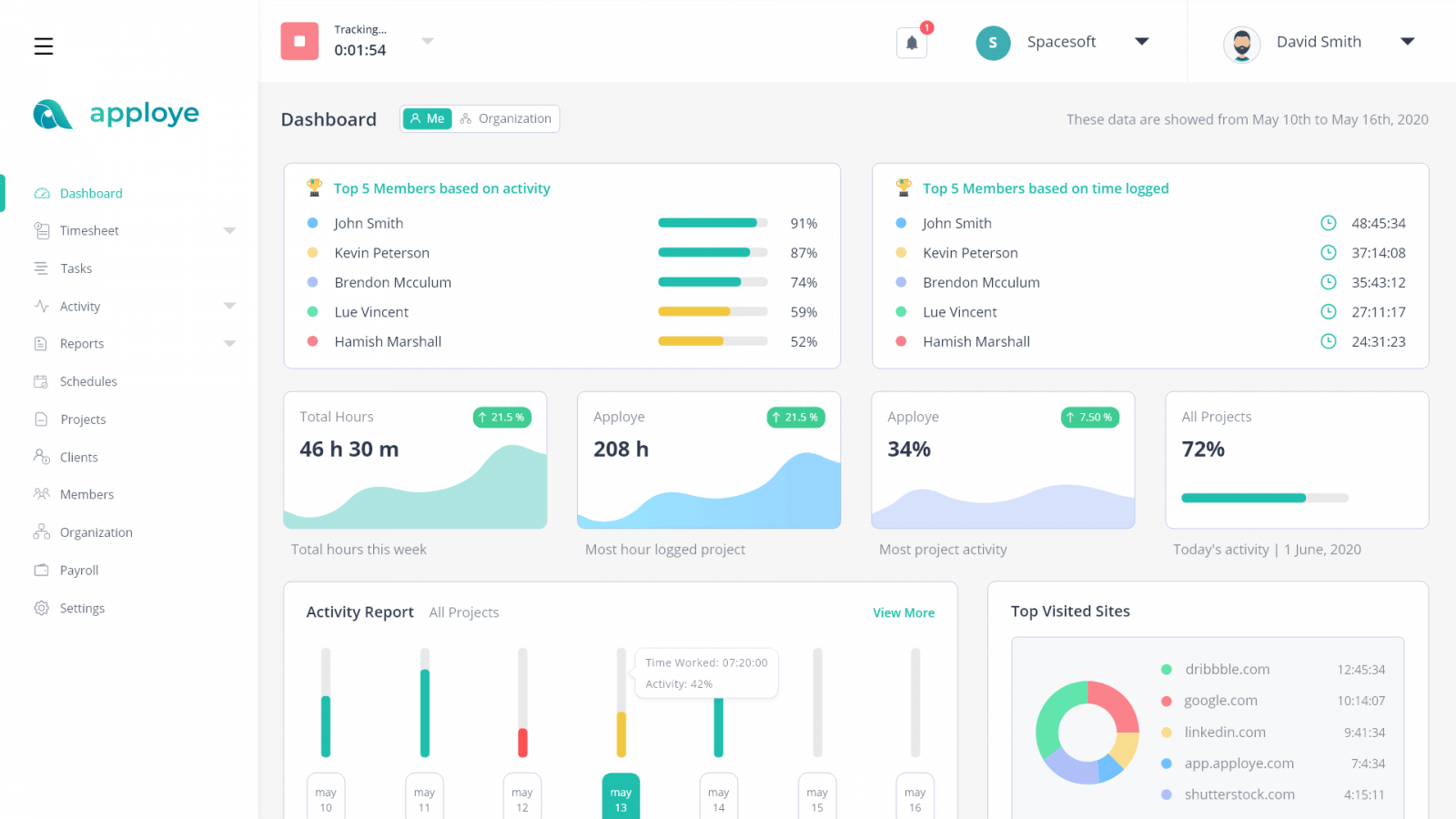 If you are looking for an online timer that tracks employees' time and calculates billable hours, Apploye can be a remarkable choice for you. It can also act as an employee monitoring software that offers screenshots and activity monitoring. It features an online timesheet, reporting, and an intuitive dashboard as time tracker.
Apploye stands out due to its prolific time-related data that can provide insights into your business's profitability. It can expedite team productivity, generate reports on employee performance on different tenures, manages task based time log and track the employees internet and apps usage.
On the top of these, Apploye helps manage multiple projects, allocating budgets, including/excluding specific projects from the billable amount calculation while invoicing clients and delegating roles to your team member. So implementing Apploye is a wise decision, least to say.
Key Features:
Time tracking in both online and offline modes.
Online timesheet with customized views.
Screenshots, apps usage, and URL tracking
Multiple Projects, budget allocation.
Client & invoicing.
Reporting & Dashboard, exportable reports, performance comparison.
Task Management, Task-wise time log.
Idle timer, Pomodoro timer.
Pricing:
Solo: $4/user/month
Standard: $5/user/month
Premium: $6/user/month
Elite: $7/user/month
Best time tracking app for integrating with your team's project management tool
One of the best time-tracking apps for integrating with your team's project management tool is nTask. nTask offers an easy-to-use interface that allows you to track time, create and manage projects, set alerts and goals, analyze productivity data, and much more. All these features make it a great tool for improving team productivity by ensuring tasks are completed efficiently.
With its integration capabilities, you can sync all your time entries with popular project management tools like Asana, Trello, or Basecamp and even share reports with colleagues or clients directly from the app. In addition to this, nTask also offers a detailed analysis of your team's performance helping you identify areas for improvement so that you can get the most out of your efforts.
Best time tracking app for visualizing time differently
nTask is one of the best time-tracking apps available on the market. It allows users to visualize their time differently and in a more efficient way. The app can be used to measure and track both individual tasks as well as team projects, set daily reminders, create automated reports, and receive personalized insights into what's taking up your workday and how you can optimize it for greater productivity.
Additionally, nTask has a free version that offers basic features such as tracking billable hours, tracking specific clients or projects, setting hourly rates for client-based jobs, and customizing invoices to send clients directly from the app. The Pro plan grants you access to more advanced features like timesheet management tools which allow you to control how long each person is working on a job or project through an easy-to-use dashboard system.
In addition to this, nTask also includes powerful analytics tools which let you gain valuable insight into where and how your team's time is being spent so that you can make informed decisions about future investments.
What makes the best time tracker?
The best time tracker is one that is user-friendly and customizable. It should have an intuitive design, allowing users to easily add and view tasks quickly. It should also enable the user to organize their work into categories such as "Current Projects" or "Completed Projects" to help increase productivity and accuracy. Furthermore, it should offer a range of reporting features to supply data-supported insights so users can track their development over certain periods of time.
Additionally, integration with other tools or services will allow for smoother collaboration within teams; this could possibly include tracking attendance or producing invoices with ease. Good integrations may vary depending on the industry but ideally, a good time tracker would at least integrate with email clients like Gmail as well as provide integration for nTask, Slack, Asana, monday.com, Trello, etc. Lastly, the ability to access a mobile app version would enable users to access information from any location which increases flexibility when using the platform in different settings.
In conclusion, therefore, the best time trackers are those that are user-friendly and customizable offering integrations along with mobile applications allowing people from different settings easy access to stay organized making them one of the most valuable tools a business can use today.
Online Time Trackers are Kind of a Big Deal
As we said earlier, we handpicked these online time trackers in terms of their effectiveness.
There is plenty of other fish in the sea. If we failed to mention your all-time favorite time trackers on this list, feel free to send us an email. We'll gladly oblige.
Good luck and Happy nTasking!
---
Related Articles: