Welcome to our latest blog post, where we are going to be discussing the best planner app for iPhone in 2023.
Whether you're a busy executive who needs to stay on top of your schedule, or you're a busy parent who wants to be able to manage all of your family's activities with ease, there is the best planner app for iPhone and Mac out there that is perfect for you.
In this post, we are going to be discussing the five best iPhone planning apps and why they are so popular. We hope you enjoy it!
What Is a Daily Planner App?
A daily best planner app for iPhone is a type of app that helps you plan and organize your day. It usually includes a calendar, to-do list, and notes section.
There are many different daily planner apps available on the market, each with its own unique features and advantages. Some of the more popular ones include the Oblio Daily Planner, Habitica Daily Planner, and the Apple Daily Planner.
The best way to choose a daily planner app is to try out a few different ones and see which one works best for you. Once you've found one that you like, make sure to stick with it so that you can get the most from it.
Features to look for in a planner app for iPhone
Here are some of the top features that are must-haves for a planner app for iPhone,
The ability to create, edit and manage your schedule
The ability to share your schedule with other people
The ability to track your progress and see how much time you've saved compared to when you started
The ability to add notes or reminders for specific items on your schedule
The ability to keep track of your finances and expenses
An easy way to keep track of your goals and objectives
It's important to choose a planner app that has customer service available if needed. This way, you can get assistance with setting up your account, adding notes, or making changes to your schedule. So what are you waiting for? Start planning your day today with the best planner apps for your iPhone!
The Best Planning Apps for iPhone and Mac
There's no need to struggle with planning everything on your own anymore. With the best planning apps for iPhone and Mac, life will be a lot easier. Some of the top options include Meal Planner, Home Budget, and 3-Month Calendar. Each app is easy to use and customizable to fit your specific needs.
Plus, they all offer great features like meal planning, budgeting, and tracking your goals. So what are you waiting for? Pick one of these apps today and start living a more organized life!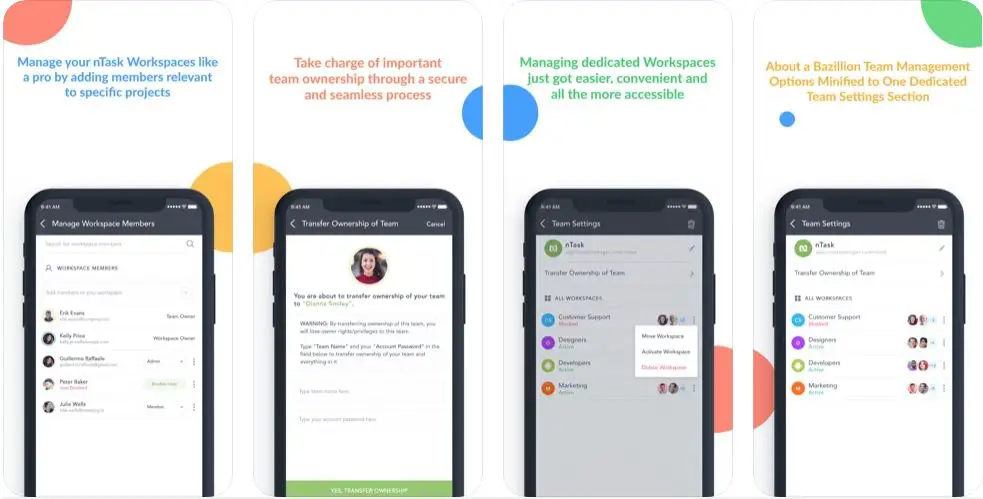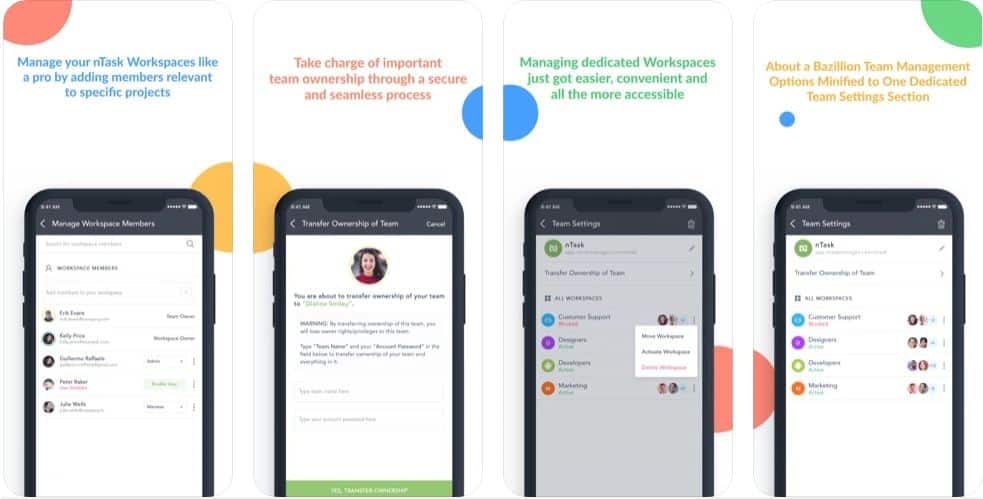 nTask planner is the best planner app for iPhone that allows you to easily manage your tasks and keep track of your progress. It's perfect for busy people who want to stay on top of their work schedule.
The nTask planner app has a simple, easy-to-use interface that lets you create, add, and manage your tasks quickly and easily. You can also set deadlines for your tasks and see how much progress you've made toward completing them. Additionally, the app provides helpful tips and tricks to help you get the most out of it.
Key features
It's easy to add tasks, appointments, or notes, and the subtasks are easily accessible.
You can create different views for your tasks so that you can see them in the order that you want them to be done, or according to their category.
The app allows you to share your tasks with others by sending them an email or posting them on social media.
There's also a timer feature that lets you track how long each task will take.
Pricing
Basic free plan
Premium $3/month
Business $8/month
Enterprise/Contact for pricing

Customer Ratings
Download on Mobile
Get The Best Planner App
For Android & iOS!
2. Todoist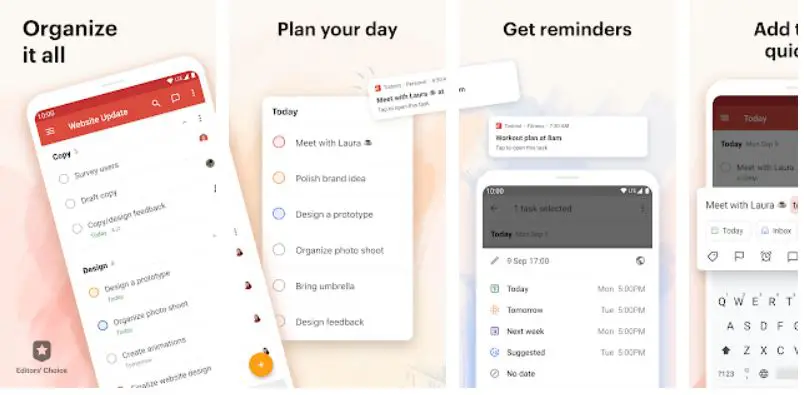 Todoist planner app is an app that helps you keep track of your to-do list. It has a variety of features, including the ability to sync with all your devices, access your to-do list on the go, and share it with other users.
The Todoist planner app is especially helpful for people who want to prioritize their work and stay organized. It lets you create different categories for different tasks, add due dates and deadlines, set priority levels for each task, and more. You can also use the app to track your progress toward your goals, see what's left on your to-do list at any given moment, and more.
Key features
Ability to create and manage tasks with a simple, easy-to-use interface
Integration with other services like Google Drive, Dropbox, and Evernote to make task management even more seamless
Automatic syncing of tasks between devices so you never have to worry about losing your work again
Timestamping and tagging of tasks for easy retrieval
Notification capabilities so you can be notified when a task is completed or due
Pricing
Pro $4/month
Business $6/month
Customer Ratings
3. Google Calendar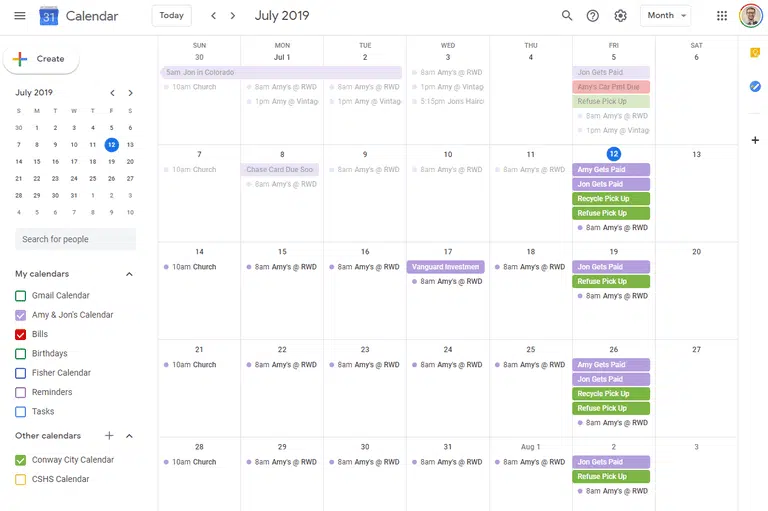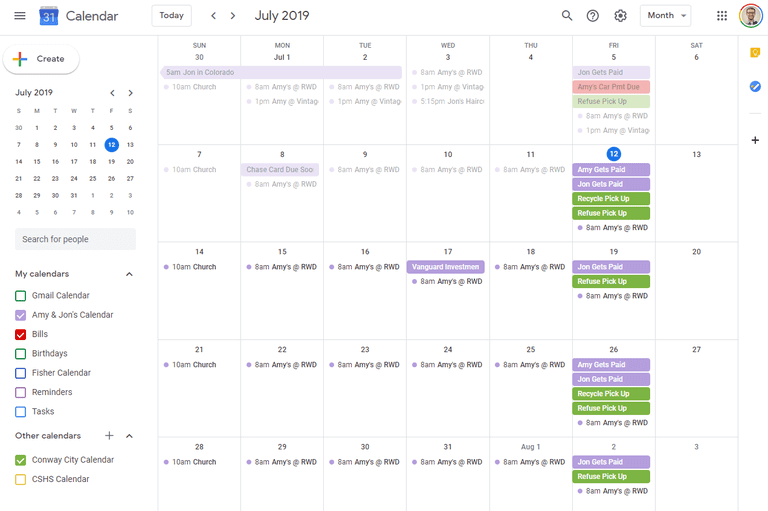 Google Calendar is one of the best planning apps for iPhone is a free tool that lets you plan your upcoming events with ease. It includes features like customized calendars, event reminders, and collaborative planning. Plus, it allows you to add links to documents or websites so that you can easily share information with other people involved in the planning process.
Overall, the Google Calendar planner app is a great tool for anyone who wants to stay organized and keep track of their schedule. It's also great for people who want to avoid last-minute stress by having everything planned out in advance.
Key features
The ability to see all your events in one place, so you can stay organized even when you're working on multiple projects at once.
The ability to create notes and reminders about your events, so you don't have to remember everything by heart.
The ability to share your calendar with friends and family members through email or social media, so they know what's coming up for you.
The ability to add multiple events at once makes it easy to organize your schedule.
Pricing
Business starter plan $6/month
Business Standard plan $12/month
Business plus plan $18/month
Customer Ratings
4. ProofHub


The ProofHub planner app for iOS is a great way to organize your life and stay on top of your to-do list. It's easy to use, and it has all the features you need to get stuff done.
You can use it to track your goals, tasks, and deadlines. Plus, you can add notes and pictures to make it even more visual. You can also share your plan with friends or family so that they can help you out when things get tough. Overall, the ProofHub planner app is a great way to stay organized and get everything done.
Key features
A calendar that allows users to track their appointments, tasks, and meetings clearly and efficiently.
A to-do list that enables you to keep track of your commitments and tasks easily.
An editor that makes it easy to add notes, thoughts, or sketches while working on projects.
Integration with different apps to make it easier to get the information you need when working on your projects.
Pricing
Starts at flat $99/month
Customer Ratings
5. Clockify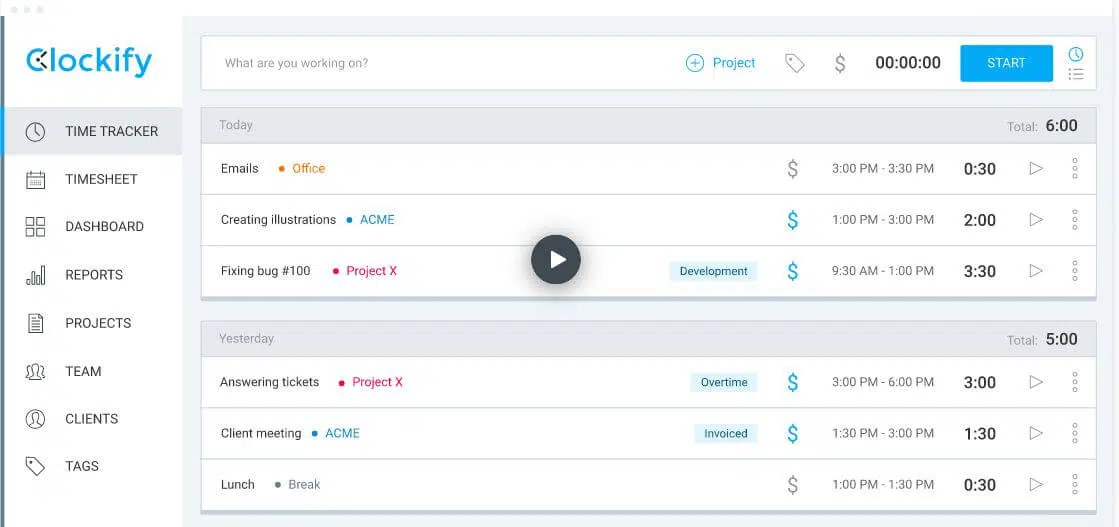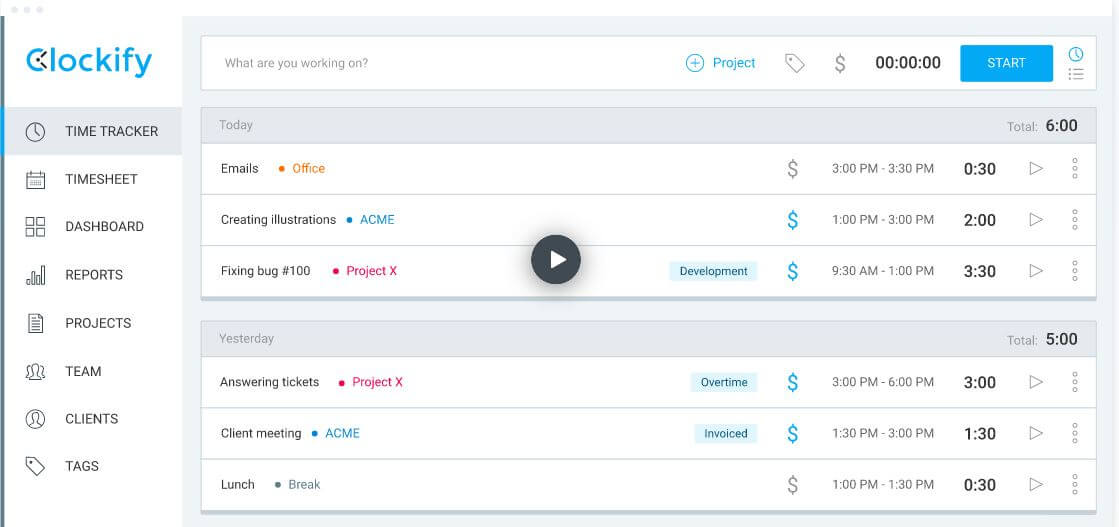 Clockify is a planning tool for the iPhone that allows you to manage your time better and organize your life in a more efficient way. It's easy to use, and it lets you focus on the things that are most important to you.
One of the main features of Clockify is its timeline feature. This allows you to see all of your upcoming tasks and deadlines side by side, so you can make sure that everything gets done on time. You can also add notes and reminders related to each task, so you don't have to worry about forgetting anything.
Key features
A calendar that shows all your upcoming appointments and events with the option to add notes and comments
A note section where you can jot down anything you need to remember, including addresses, phone numbers, and more
A list of tasks that you can add or edit at any time
A to-do list that helps you stay on top of everything you have scheduled or want to do
An alarm clock that lets you set specific times for tasks or appointments so that you don't forget them
Pricing
Basic $3/month
Standard $5.49/month
Pro $7.99/month
Enterprise $11.99/month

Customer Ratings
6. Notion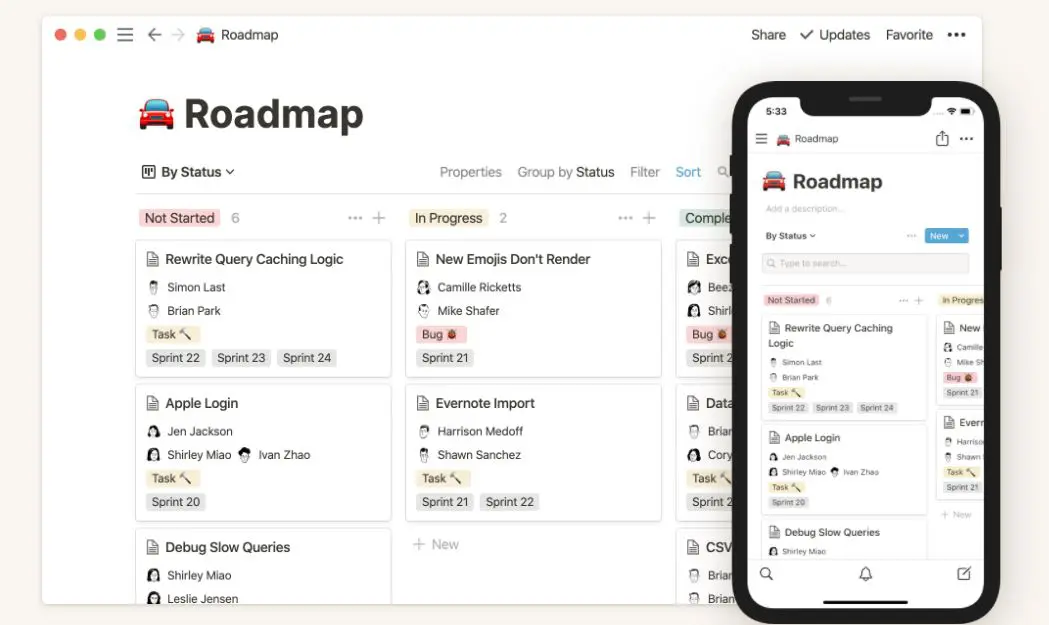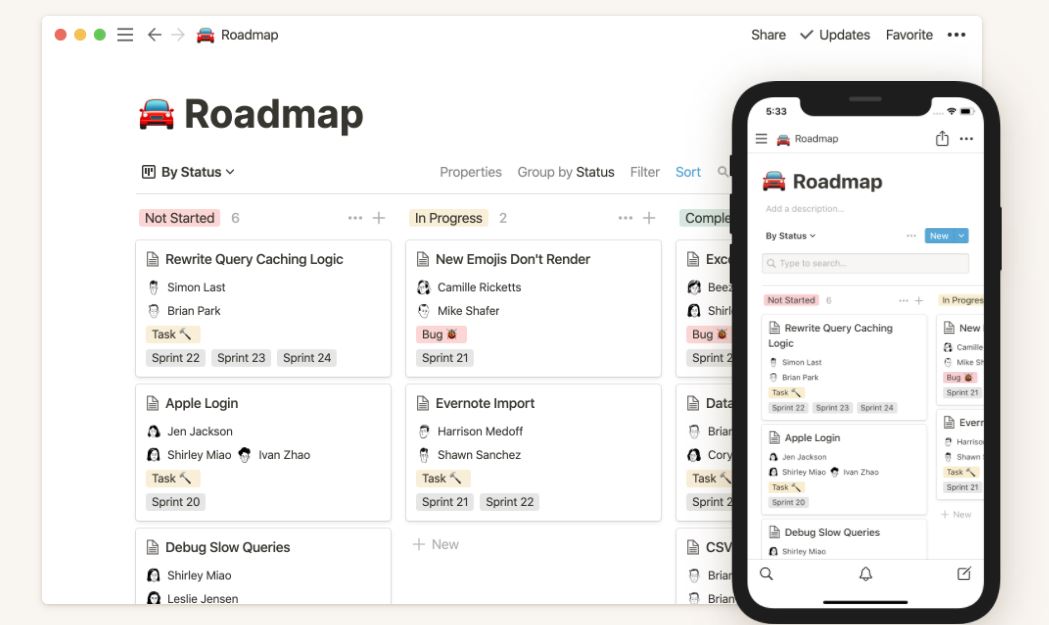 Notion is an iPhone planner app that allows you to create and manage your schedule in a variety of ways. You can add events, tasks, and notes to your calendar, and view them all in one place. You can also see what's scheduled for the next day or week, as well as how much time you have left until it expires.
Overall, Notion is an excellent choice if you're looking for a reliable iPhone planner app that integrates well with your existing workflow.
Key features
Notion offers a visual overview of your daily schedule, which makes it easy to see what's scheduled for each day and when.
It allows you to add multiple tasks and notes at once, which makes it easier to get everything sorted out.
It has an intuitive drag-and-drop interface that makes it easy to move items around on the schedule.
It also provides useful tips and instructions, which make it easier to use.
Pricing
Personal Pro $4/month
Team $8/month
Enterprise/Contact support
Customer Ratings
7. Trello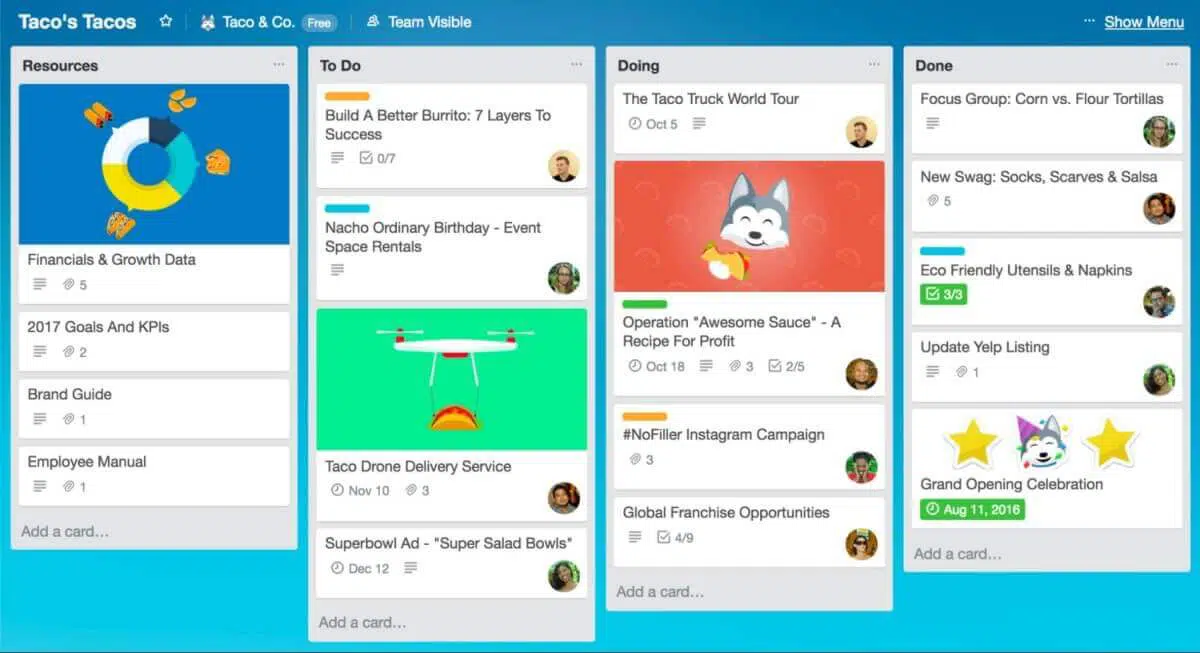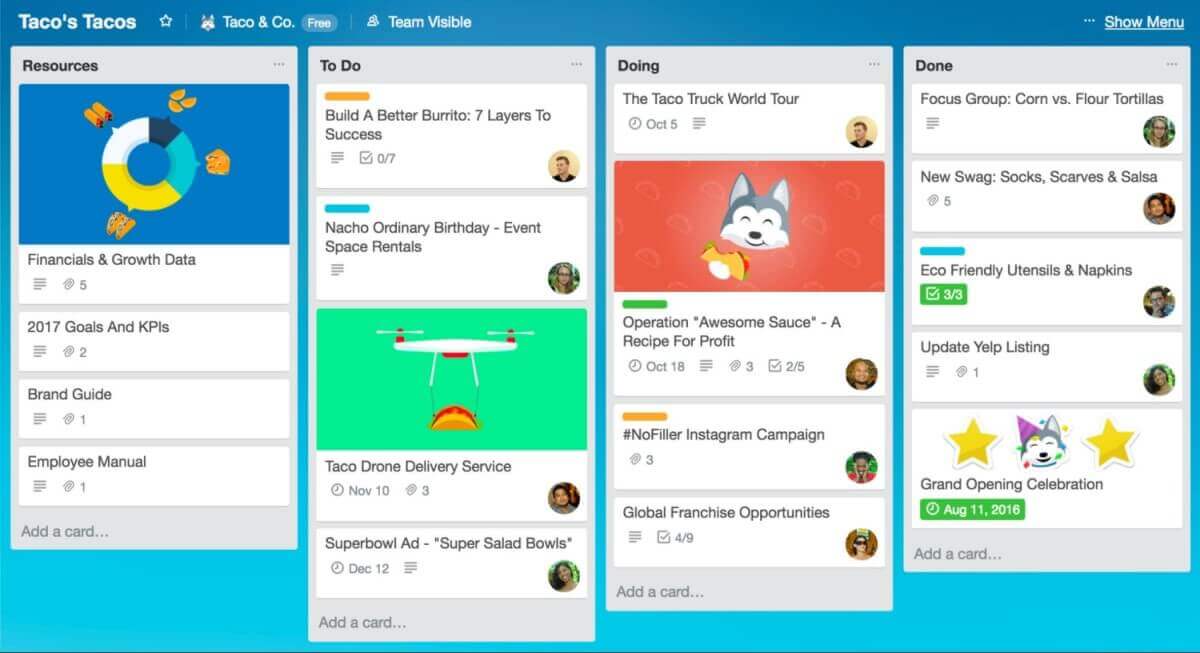 Trello is a cloud-based project management and best planner app for the iPhone platform that lets you easily manage your workflows and projects with others. It's perfect for teams of any size, and it's also incredibly easy to use.
One of the best things about Trello is that it works on both Mac and iPhone. This means that you can access your Trello boards no matter where you are, whether you're at home or at work. Plus, since it's cloud-based, there's never any need to worry about backups or losing data – everything is always safe and secure.
Key features
Trello is highly intuitive, making it easy to use even for beginners.
It has a modular design, which means you can group related tasks together so they're easier to find.
It supports multiple boards and lists, which makes it perfect for managing different projects or tasks.
Trello can be used as a digital notebook, where you can write down ideas and notes as they come to mind. This is great for keeping track of your progress on specific projects.
Pricing
Standard $5/month
Premium $10/month
Enterprise $17.50/month
Customer Ratings
8. Any.do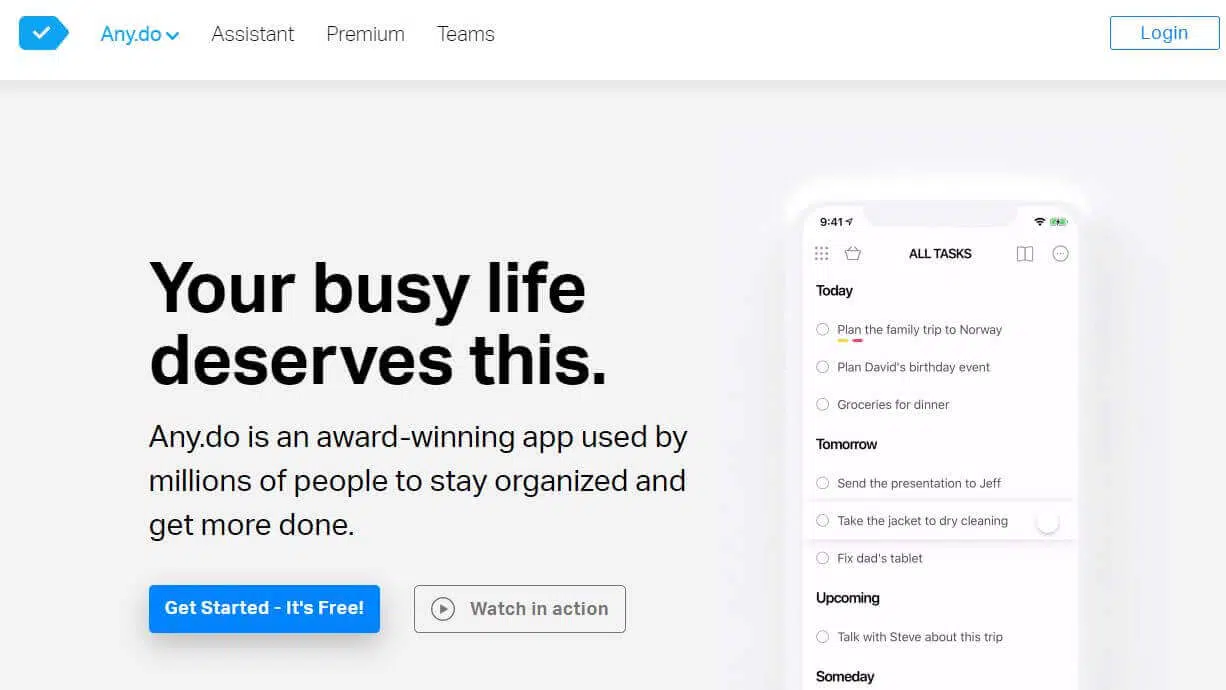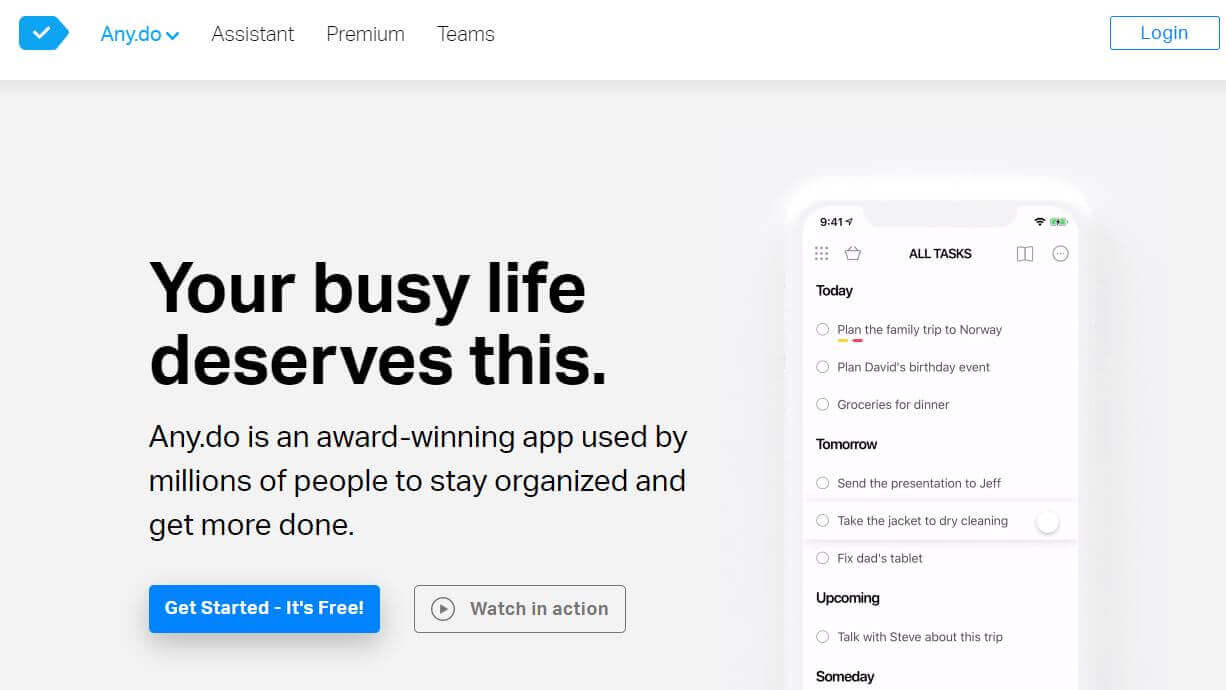 Any.do is a popular mobile app that helps you organize your life by keeping all of your tasks and projects in one place. The app is available on both iOS and Android platforms, and it has a very user-friendly design that makes it easy to use.
One of the great features of the Any.do app is its calendar section. This allows you to see all of your upcoming deadlines and tasks in one place, so you can stay on top of everything. Additionally, the app lets you add notes and attachments to any task, which makes it easier for you to remember important details.
Key features
The Any.do planner app has a beautiful interface that's easy to use and navigate.
It has dozens of modules that allow you to easily organize your tasks, projects, and calendar entries.
The app supports both syncing with other devices so you always have the latest version, as well as offline mode so you can access your data even when you're not connected to the internet.
The filters allow you to quickly find the information you're looking for, making it easier than ever to get things done.
Pricing
Premium $3/month
Teams $5/month
Customer Ratings
9. Habitica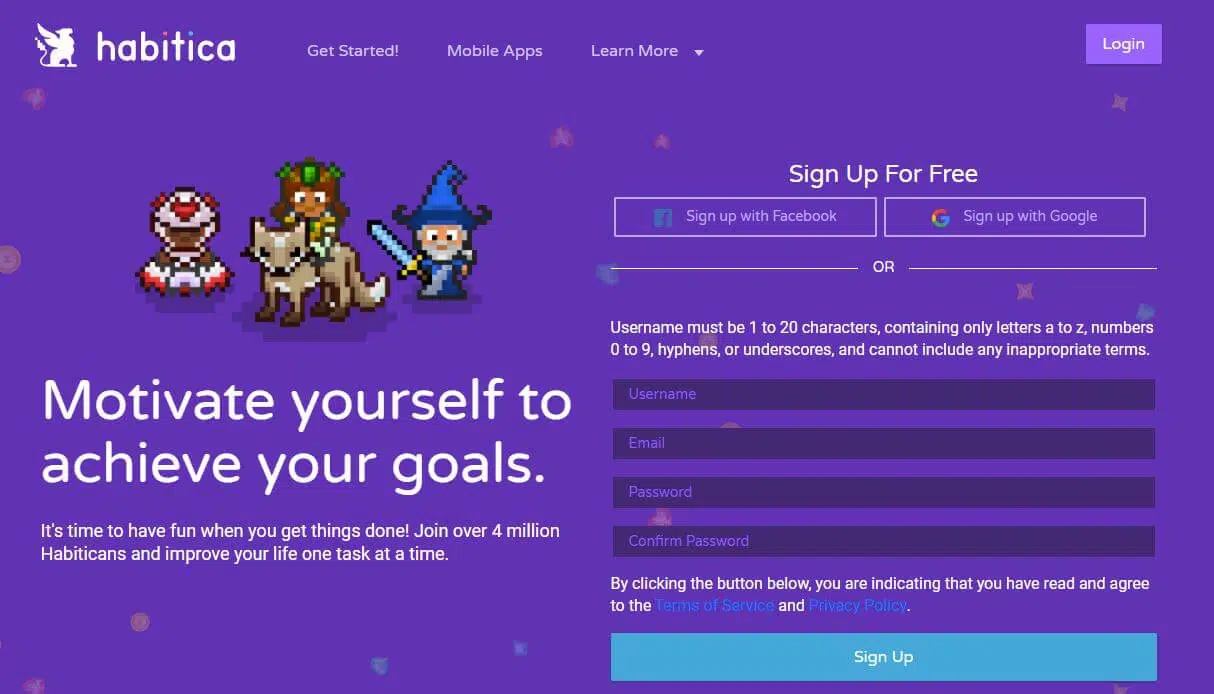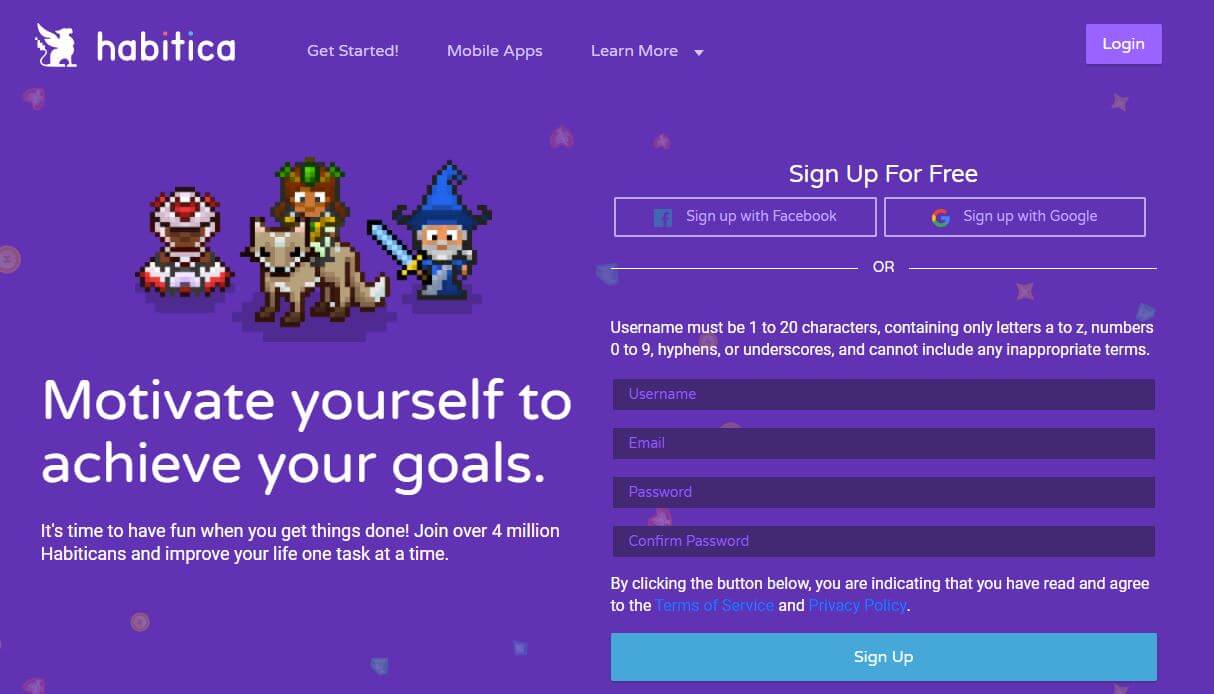 The Habitica iPhone planner app is designed to help you manage your daily habits in a simple and efficient way. You can use it to track your sleep, eat, work, and other activities. It also has an integrated task list so that you can see what needs to be done each day.
One of the great things about the Habitica iPhone planner app is that it's easy to use. You don't need any prior experience with habit tracking or goal setting in order to use it. Plus, it's available for free on the App Store so there's no reason not to give it a try!
Key features
Habitica is free to download and use, and it has a lot of features for budgeting, tracking goals, and making lists.
It has a wide range of colors and designs to choose from, so you can find something that suits your taste.
You can add notes and drawings to your pages, which will help you remember what you were planning to do.
The app has a calendar that lets you see what's coming up next and when you should be doing each task.
You can also create multiple plans for different days or weeks so you have everything sorted out in advance.
Pricing
General subscription $5/month
Group plan $9/month
Customer Ratings
10. Things 3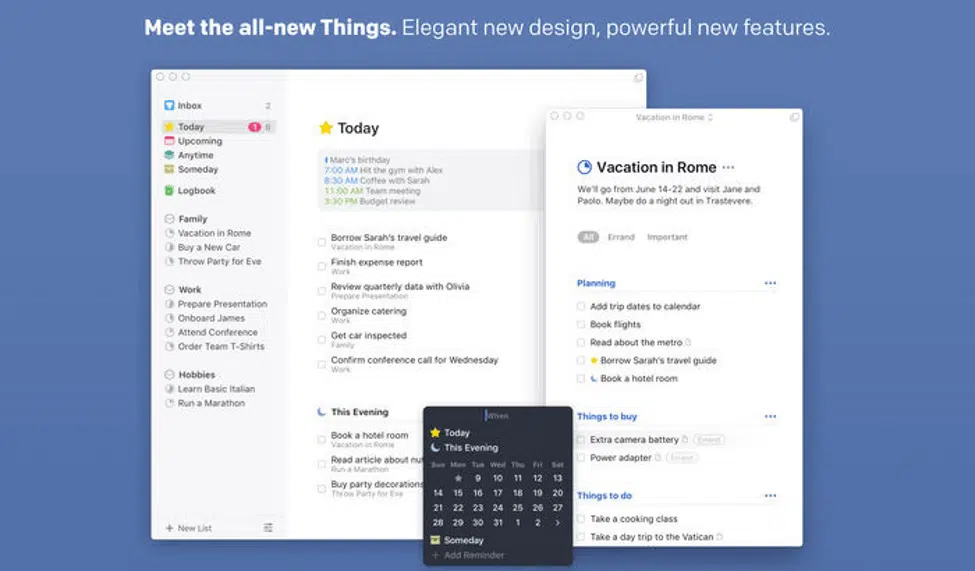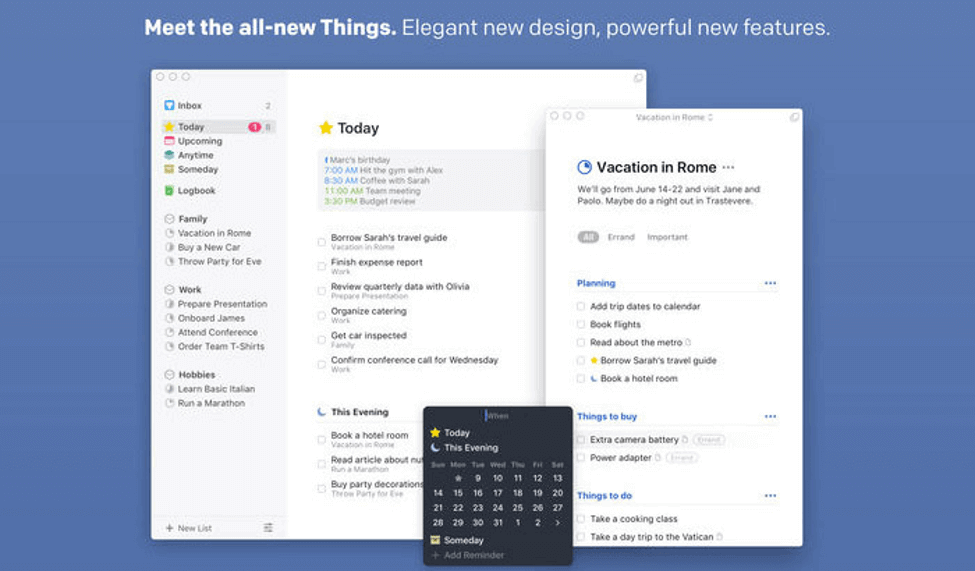 Things 3 is an iPhone app that lets you keep track of your to-dos, goals, and notes in a simple, organized way. It's perfect for anyone who wants to stay on top of their busy schedule.
To get started, you first need to create a project or task list. Then, you can add details like deadlines and instructions for completing the task. You can also attach photos and videos if necessary. Finally, you can share your project with others by sending them a link or copying the link into their email inboxes.
Key features
A drag-and-drop interface that makes adding tasks easy.
The ability to add multiple tasks at once makes it easier to get your priorities straight.
The option to add photos, videos, and notes to your tasks, makes them more informative and easier to remember.
The ability to track your progress over time by using the milestones feature.
A wide range of filters that you can use to customize the look of your tasks.
Pricing
Customer Ratings
11. TickTick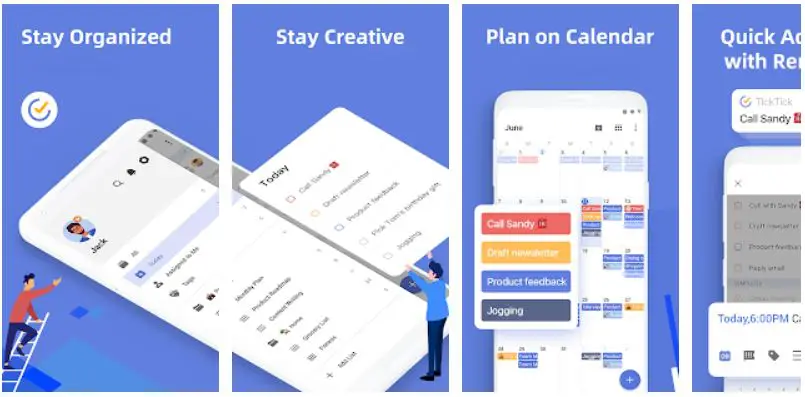 If you're looking for an app that will help you plan and manage your life to the T, look no further than TickTick. With its intuitive design and plethora of features, it's the perfect app for people who want to be in control of their lives. From tracking your expenses to collaborating with others, TickTick makes it easy to get organized and stay on top of things.
Plus, the app's detailed budgeting functionality makes it the perfect choice for people who want to stay on budget. So, if you're looking for a planner that will help you stay on top of your life, TickTick is the app for you!
Key Features
TickTick is the all-in-one solution for managing your to-do list and deadlines.
Stay on top of your tasks with our easy-to-use interface and powerful features.
Organize your tasks by category, priority, or time frame to get a comprehensive view of your work schedule.
Sync your tasks with the cloud so you can access them anywhere, anytime!
TickTick is the first and only app that provides real-time updates on stocks, commodities, currencies, and indices.
Get access to up-to-the-minute news and information on the markets so you can make informed investment decisions.
Check stock prices, read analyst reports, and track trends in your favourite sectors – all with the convenience of a mobile app.
Pricing
TickTick offers a free account as well as a paid Premium plan that costs $2.99 per month or $27.99 per year.
Customer Ratings
12. Evernote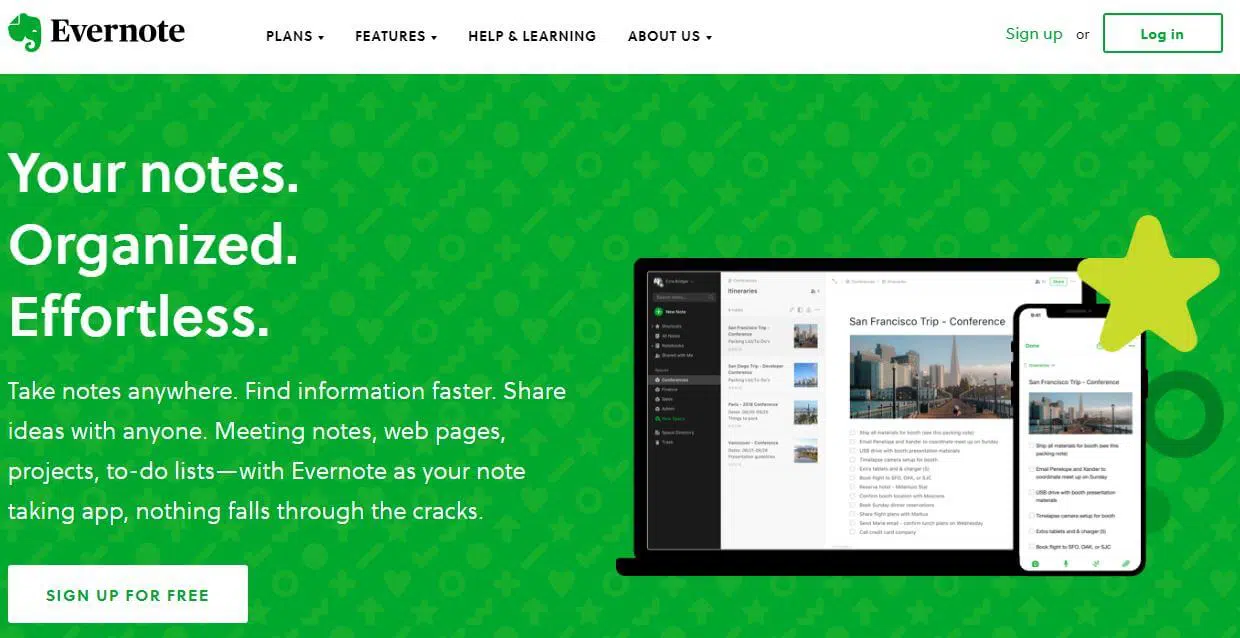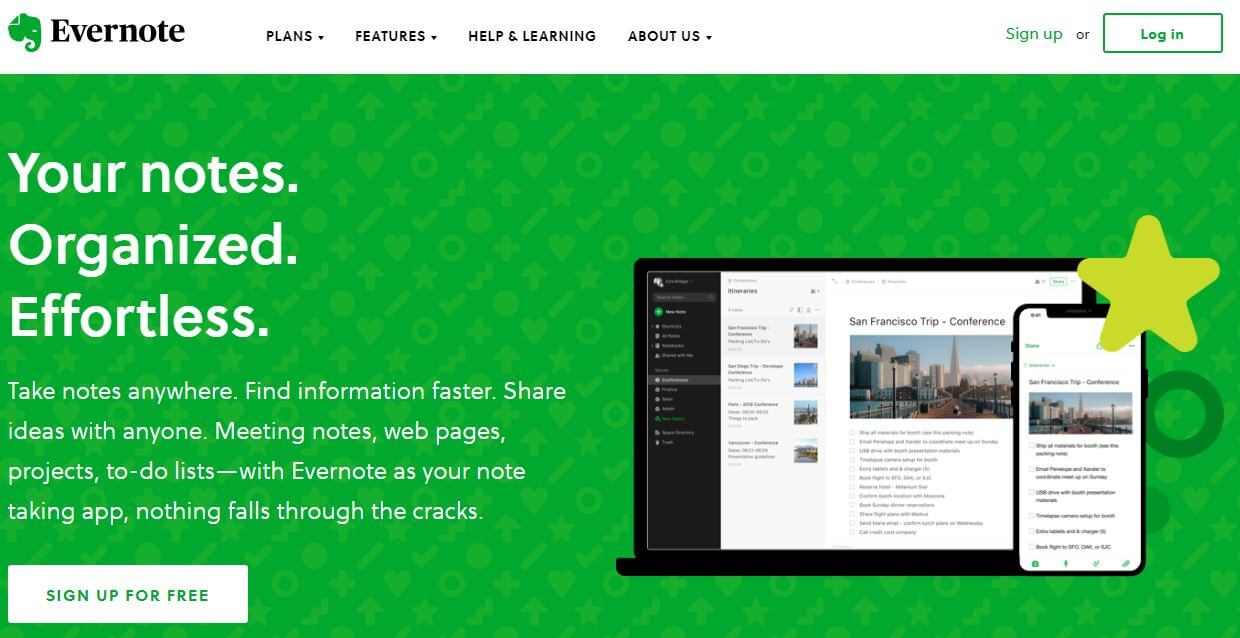 Evernote, another popular planning tool, has a vast user base. Students and professionals are more familiar with it. Moreover, It is frequently used in corporate.
It simplifies creating, organizing, and finding notes. Evernote's user interface is simple and functional. It instantly syncs several devices and is available on PC, mobile, and the web. The application ensures constant navigation across all devices.
Key Features
Users can make audio notes, PowerPoint presentations, and checklists. Notes also have file attachments option.
Categorized, and organized your notes into folders where you can update, commented on, search, and export as a notebook.
The user can format notes in a number of ways, in addition to that the app gives you a variety of templates to choose from  
Collaborating feature gives you  control over who can see and update the notes and notebooks
Take a screenshot of a webpage and then highlight critical information with text, callouts, or comments to make sure you remember why you saved it in the first place
One of the main reasons this app is on our list of the best planner app for iPhone is the ability to import folders. You can command the app to watch a folder on your desktop and any files you save there can be imported.
The app provides internet sync and backup services. It is strongly linked with other devices such as a recording system, a camera, and local and cloud storage
Customize Evernote by changing the backdrop, dragging and dropping widgets, moving widgets, and saving changes
Within  Evernote, users can password-protect any text, picture, or other file format
Pricing
Free
Personal premium – $7.99
profesional premium – $9.99
Evernote Teams- $14.99
Customer ratings
13. Microsoft Outlook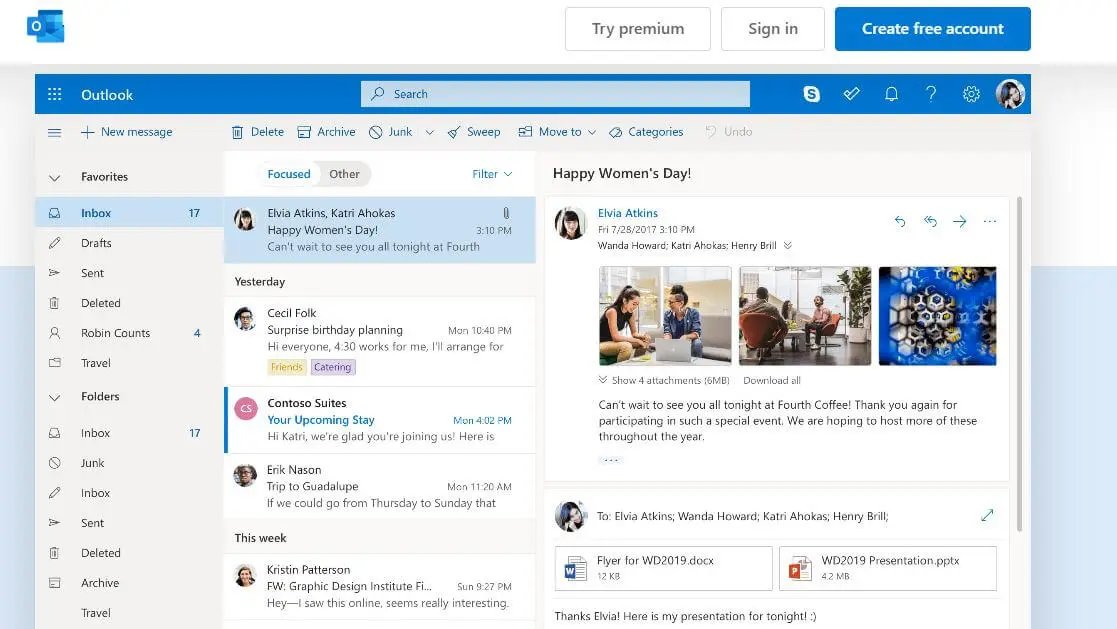 Microsoft Outlook has robust utility and features making it one of the best planning apps for iPhone free. Outlook has a simple and clean interface that sits in your web browser.
The strong connection with third-party services provides it with an advantage over competitors' more limited offerings. Ads in your email might be annoying, but if you want greater privacy, you can delete them and add so much more.
Features
 Send or receive emails via Outlook more efficiently. It doesn't matter what webmail service the sender or the recipient is using. Emails will always reach their intended destination.
you can attach documents, such as videos and photos, to transfer to the intended recipient. After composing an email, hit the send button and it should get to the recipient within seconds.
Outlook provides spam prevention by directing all emails that seem to be spam to the Junk folder.
With your own domain name, you may establish a customized email address. If you don't already have a domain name, you can purchase one.
Microsoft's enterprise-grade security capabilities are available in the premium edition.
You can generate new meetings, appointments, tasks, and contacts all from a single window.
The calendar-sharing feature can help you save time and boost teamwork. 
Pricing
Free
Business Basic – $ 6.00
Apps for business -$ 8.30
Business Standard -$12.50
Business premium – $22.00
Customer rating
How Do You Choose The Best Planner App For Your Needs?
There are a lot of different planner apps out there, and it can be hard to decide which one is best for you. To help you choose the right one, we've put together a list of some key factors to consider.
First and foremost, you need to decide what kind of planner app you need. Do you want an app that's purely for planning your day-to-day tasks, or do you want an app that can also help with projects and goals?
Next, consider the features that you need. Do you just want an app that can create monthly or weekly plans, or do you want more functionality like timers and syncing capabilities?
Finally, decide how much money you're willing to spend on your best planner app for the iPhone. Are there specific features that are essential to you, or are there more affordable options that still offer great functionality? With these questions answered it's easier to find the perfect planner app for your needs!
What Makes The Best Calendar App For iPhone?
Using a calendar app on your iPhone can help to keep you organized and productive, but with so many different applications available, it cannot be easy to know which one is the best.
When choosing the perfect calendar app for your needs, there are several factors that you should consider. One of the most important features of any good calendar app is its ease of use.
It should be intuitive and easy to use, allowing you to quickly input events, appointments, or reminders with minimal effort. An effective organizational system should also be implemented for users to customize their views or create recurring events quickly and easily.
The ability to sync the data across other platforms (including Macs, PCs, and Android phones) is a bonus that could save time by eliminating the double entry of information over multiple devices.
An integrated task manager is great, too, as users won't need separate apps for managing tasks as well as their calendars; all data will stay organized in one place.
Last but not least, a good calendar app must have reliable performance; no matter what device it's used on, it should function without crashing or freezing up constantly—a major inconvenience when managing vital information such as appointments, meetings, or due dates!
How I Tested The Calendar Apps?
To narrow down my search for the best possible option, I looked at various online reviews from satisfied customers about each particular application. This gave me insight into user experience levels and, ultimately, how effective each option was based on real-life testimonies instead of advertising materials alone.
In addition, I also made sure that these tests were run on all necessary compatible devices, including both iPhones/iPad tablets and Mac/PCs, so that any features involving syncing could be put through proper testing no matter what platform they needed to be accessed from.
I also kept notes about specific types of functions each application offered, such as task management capabilities within the application itself, along with specific options like event sharing within a group setting.
These tests helped determine just how wide an individual's workflow could become without having separate programs competing against each other among various screens across hardware setups specifically designed around iOS products.
Here's Why nTask Is The Best Planning App For iPhones
nTask is the best planning app for iPhones because it offers a comprehensive and easy-to-use interface that makes it perfect for busy people. It has all the features you need to plan your day, week, or month, and its intuitive design makes it easy to use even for beginners.
Moreover, nTask is reliable and secure, so you can rely on it to keep your data safe and confidential. And, last but not least, nTask is affordable, so you can get all the features that you need without having to spend too much money.
Frequently Asked Questions (FAQs)
How do I create a daily routine on my iPhone?
Some tips for creating a daily routine on your iPhone include setting up timers or alarms to wake you up in the morning, checking email and social media notifications first thing after waking up, starting your day with a good breakfast (focusing on nutrient-rich foods), working out if you're able during the day, taking breaks periodically throughout the day to relax and recharge energy levels, and winding down at night by reading inspirational books or watching peaceful videos.

By following these guidelines consistently over time, you will be more likely to achieve success in achieving your goals both professionally and personally.
Is there a weekly planner on the iPhone?
There may not be a weekly planner on the iPhone, but you can easily create one using an app like Basecamp. This application lets you keep track of your work and personal tasks, as well as calendar events. You can add expenses, to-do lists, and notes to memos for quick reference. Additionally, this app enables collaborative working by letting team members see each other's edits so that conflicts can be resolved quickly.

nTask is free to download and use, so it is a great option if you want to organize your life efficiently and effectively.
Do Apple notes have a planner?
While not specifically marketed as a "planner," Apple notes do include features that make it a good choice for someone looking to use a planner. For one, the grid layout makes planning easy and straightforward. Additionally, you can attach photos, drawings, or other files to your notes which keeps them more visually engaging.

And finally, there is also built-in list management which lets you add items quickly and easily without having to search through folders.
All of these features make Applenotes an ideal choice for anyone who wants a simple but effective way to organize their life and work tasks.
What is Apple's Calendar called?
Apple's Calendar is often referred to as the "macOS" calendar because it was one of the first applications that shipped with Mac computers. It has been updated many times over the years, and now operates using Apple's new iCloud feature.

The calendar offers a variety of features such as scheduling events, managing appointments, and accessing your contacts. You can also add notes and links to events so you can keep track of what's going on while you're away from your computer. Additionally, Calendar synchronizes with other devices that are running macOS or iOS 11 so you always have access to your information no matter where you are in the world.
Conclusion
Planning your life can always get complicated, which is why we put together this list of the top 11 planning apps for the iPhone. From creating shopping lists to managing finances and everything in between, these apps will help you do all your planning in no time. So if you are someone who likes to make the most out of technology then keep checking them out from now on.
And remember one thing: Before downloading any app, do ensure it follows proper security measures as well as keeps a track record of its previous versions!
---
More Related Articles: