Are you finding it hard to juggle your work and personal life? Do you feel like you're never able to get everything done? There's a good chance that you're struggling with time management, and you need good time management tools.
It is ok if you're struggling to manage your time, you're not alone. In fact, time management planning is one of the top challenges that business owners face. But don't worry – there are many tools and strategies out there that can help you get organized and get more accomplished in a shorter amount of time. 
In this post, we'll explore some of the most popular time management tools and how they can help you stay on track. So if you're looking for a way to increase efficiency and productivity in your work life, read on!
Best Time Management Tools
Let's take a look at the best time management tools to get productive this year.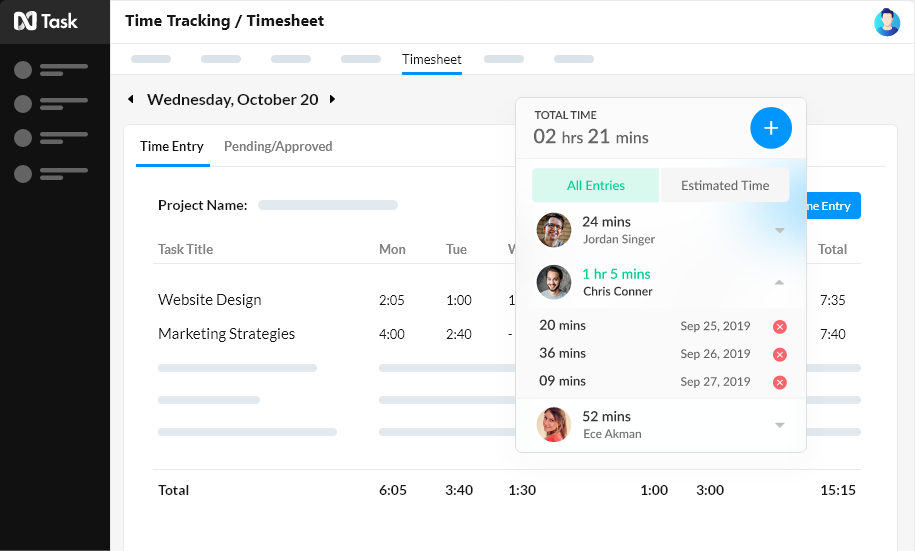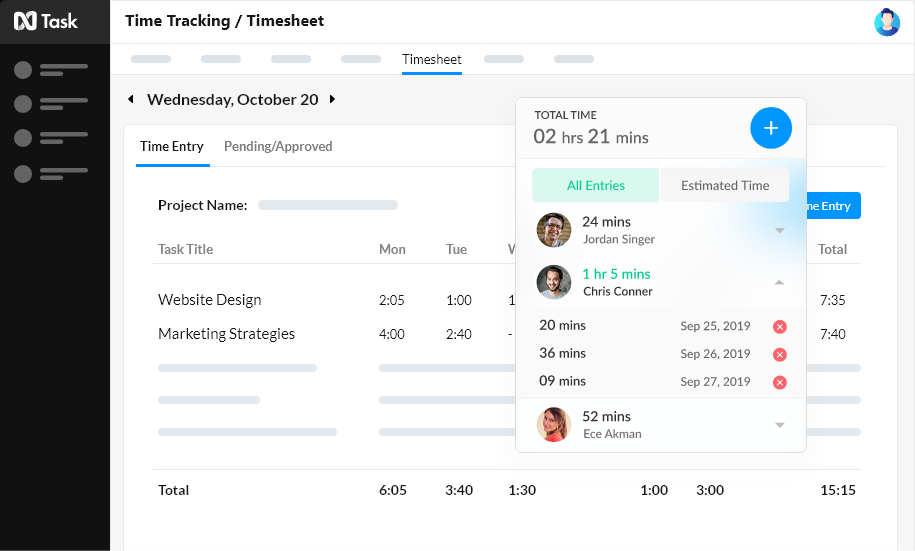 There is a lot of discussion around time management and how to manage our time more effectively. However, some people find it difficult to get started because they don't know where to start. That's why it's important to have nTask time management tools in project management at your disposal.
nTask is a time management tool that helps you to get organized and manage your time more effectively. nTask also includes a built-in Pomodoro timer to help you work for 25 minutes at a time and break in between tasks.
nTask is an online task manager that makes it easy for you to organize your tasks into categories, add notes and deadlines, and track the progress of each task. You can also set up multiple projects using nTask and monitor their progress in real-time management. This way, you always know what needs attention next and when you should be expecting results from each project.
Apart from being a great tool for managing your personal schedule, nTask can also help businesses optimize their workflow by streamlining the process of completing tasks. For example, if there are several employees who need access to certain documents or files, setting up permissions rules in nTask will make sure everyone has access without any confusion or conflict arising later on down the line.
Features:
Some of nTask's features include:
A daily overview that shows how much work has been completed, what was completed, and where the unfinished items are located.
Enable users to track time for the tasks in real-time, and have the ability to share the timesheets with the managers for approval.
The ability to add new tasks easily by dragging and dropping them into the timeline.
Detailed progress reports show how far each task has progressed, as well as information about any conflicts or errors encountered along the way.
Communicate effectively with co-workers
Pricing:
For whichever package you choose, nTask offers a 7-day trial period, and there is no credit card required to join.
For a premium plan, the cost starts at $3 per month and varies depending on the plan chosen.
2. Wrike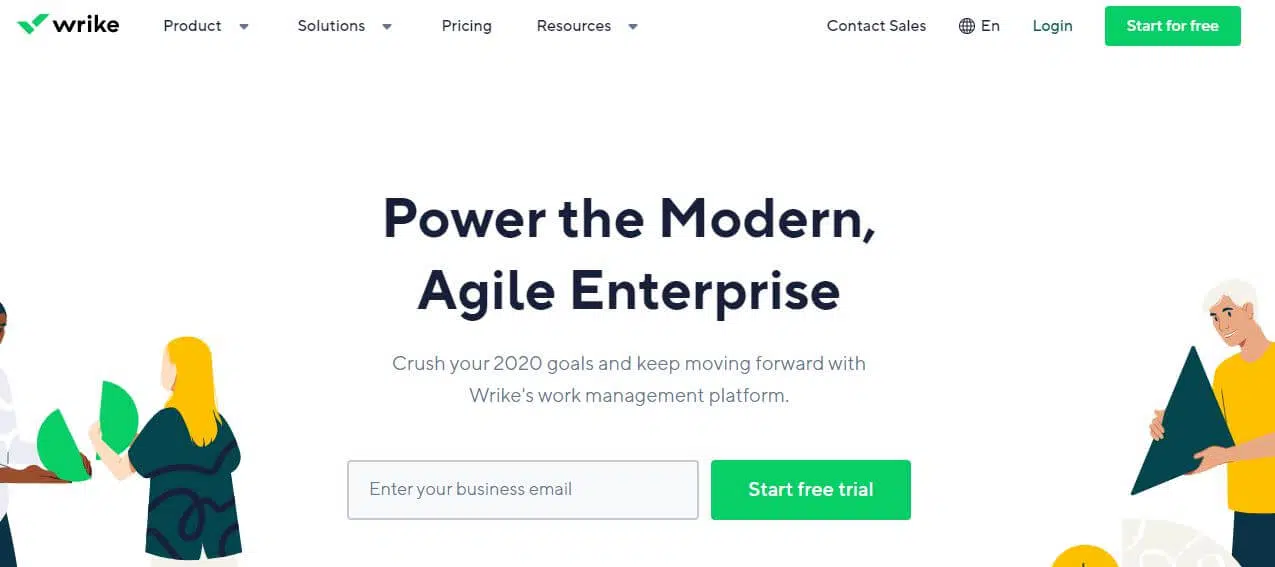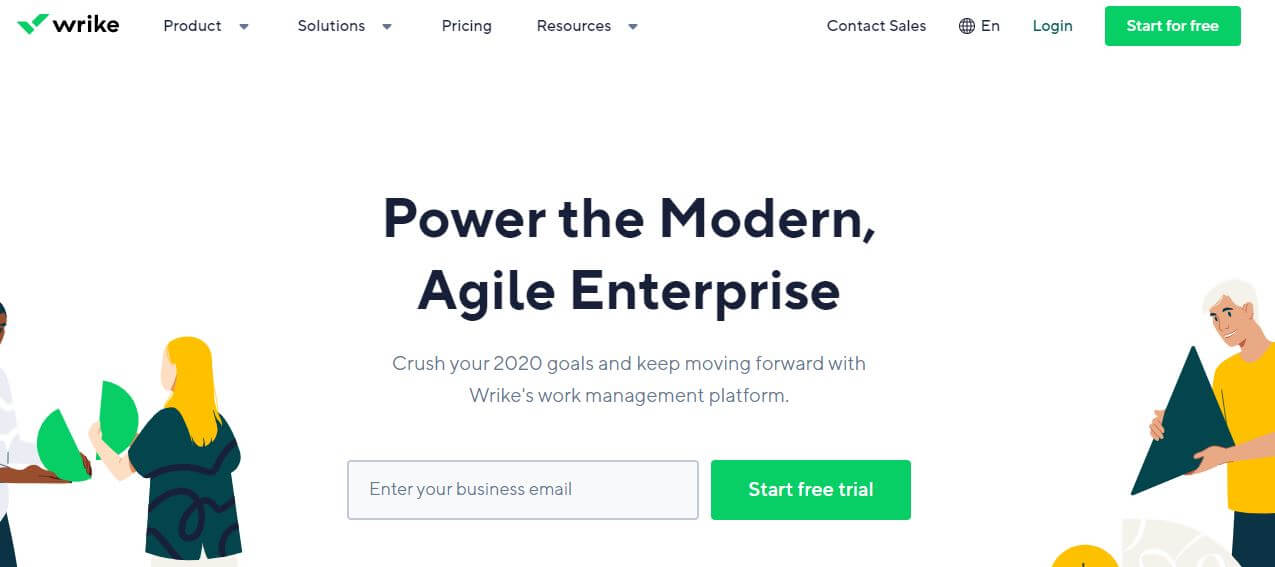 Wrike is an online time management tool for employees that helps businesses with their marketing tasks. It offers a variety of tools and services to help marketers create, manage, and track campaigns, as well as measure the results. Some of the features available on Wrike include content creation tools, social media management capabilities, website design and development services, email marketing services, lead capture forms, and more.
The aim of Wrike is to make it easy for business owners to successfully market their products or services online. Whether you're starting from scratch or need help fine-tuning your strategies, Wrike has everything you need in one place. Try out its free trial today!
Features:
A collaborative project management tool that allows employees to share resources and tasks collaboratively.
An email notification system that alerts employees when important changes or updates are made to the projects they're working on.
Automatic tracking of deadlines so workers know exactly how much time remains until tasks are due.
Add employees or contractors as needed, set their hours and budgets, and track their progress easily. Plus, assign multiple tasks to a single resource for maximum efficiency.
Set realistic goals based on estimated completion times, then track both actuals and targets in real time so you always know where you stand. And if things go off schedule – no problem!
You can adjust deadlines accordingly while still keeping track of critical information such as total budget spent versus completed tasks.
Pricing:
Wrike starts at an excellent free tier for individuals and small teams before increasing to $9.80 for the Professional plan and $24.80 for the Business plan per month.
3. Nifty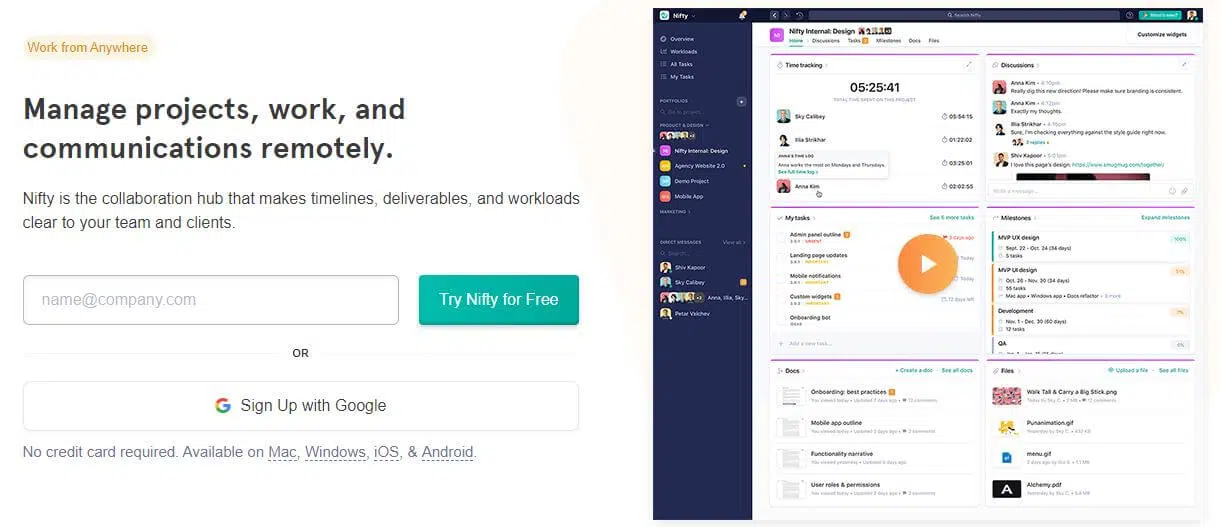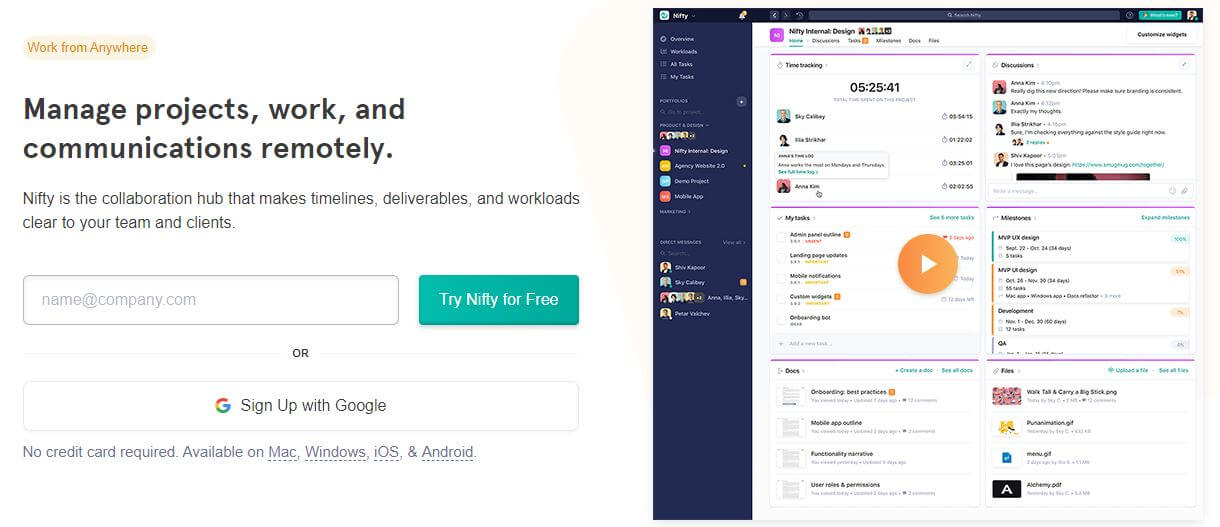 Nifty's simple, interactive dashboard lets you examine everything about your work, from project files to deadlines, and was created to keep everyone in the loop (literally).
You can keep track of work assignments, activities, and time records across projects using Nifty's simple UI and adaptable style. To know exactly where you and your team stand with the development of your project, you may filter tasks by due dates, task assignees, and milestones. Stop attempting to determine who is doing what!
To give real-time project reporting and status updates, you may also automate your progress monitoring depending on task completion.
Features:
Use Sass for better design consistency across pages and screens.
Add animations to highlight important content or reinforce key messages.
Make use of responsive design principles – Google has made them mandatory for all websites running on its search engine indexing platform starting this year!
Enable anonymous browsing
Great way to make your site more user-friendly
Pricing:
14-day free trial. No credit card needed. Nifty offers a free plan and others start from $39 per month
4. Time Doctor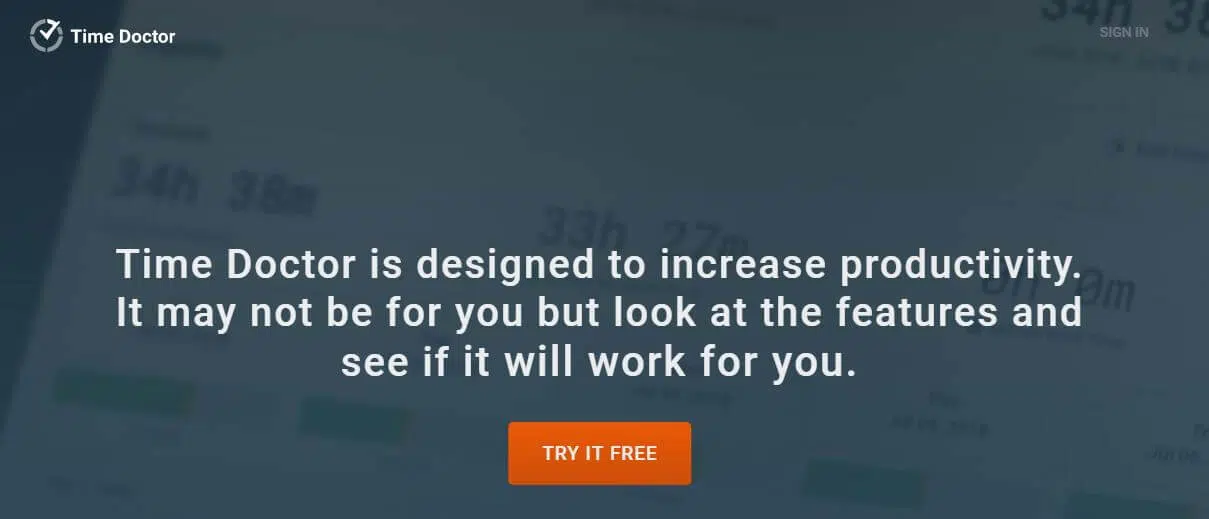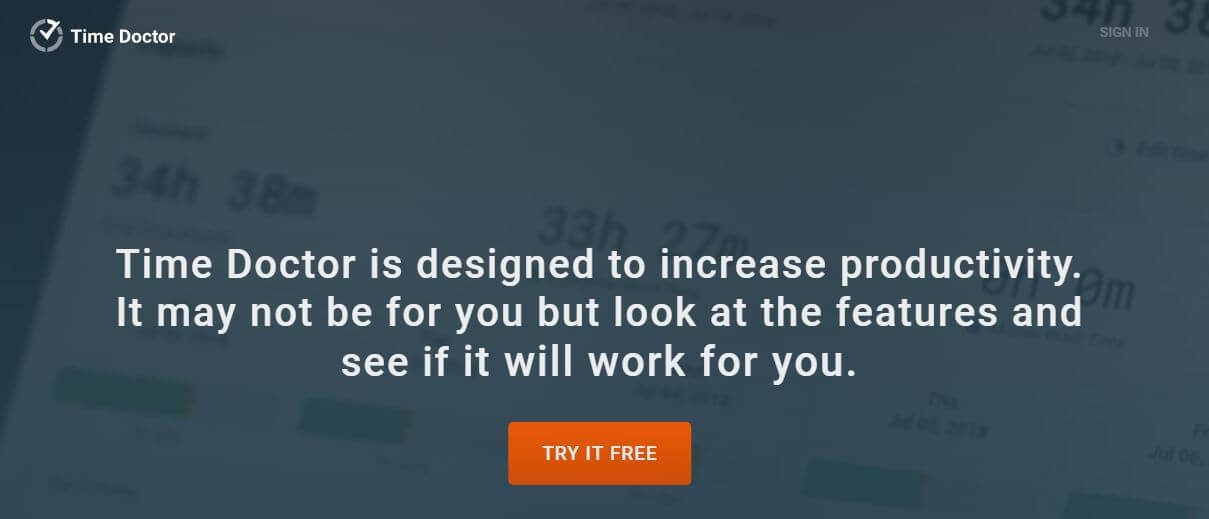 Time Doctor is a new and innovative app that helps users manage their time better. By providing a comprehensive overview of your day, Time doctor can help you to identify areas where you are wasting time and make adjustments accordingly.
The app includes daily statistics such as how much time you spend on each activity, the amount of time spent on different projects, and how well you're performing relative to your goals. Time Doctor also provides helpful tips and advice designed to help improve your efficiency and productivity.
For people who struggle with managing their time or feel overwhelmed by the amount of work they have to do every day, Time doctor could be an invaluable tool. By helping them track their progress over time, the app can provide critical feedback that leads to improved performance.
Features:
Track time and sleep quality remotely.
Keep a log of your daily activities to see how you're spending your time.
Get notified when there's been a change in your schedule or health condition
Provides tips and advice on how to live healthier lives based on your unique needs and habits.
Time Doctor integrates with other popular fitness apps such as Fitbit or Jawbone UP so that it can track your progress over long periods of time.
Pricing:
Time Doctor has two pricing plans, from $49 to $99. A free trial of Time Doctor is also available.
5. Clockify Time App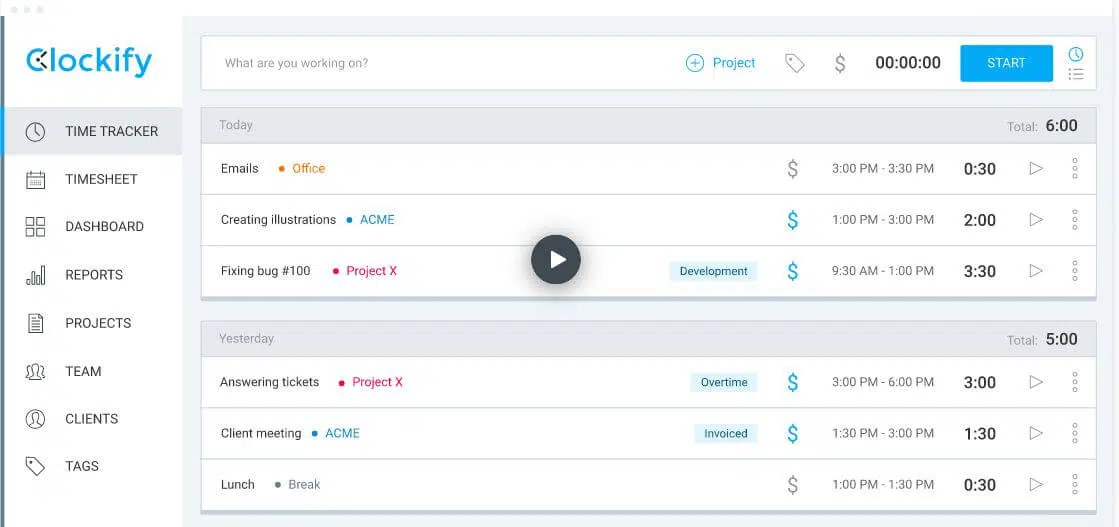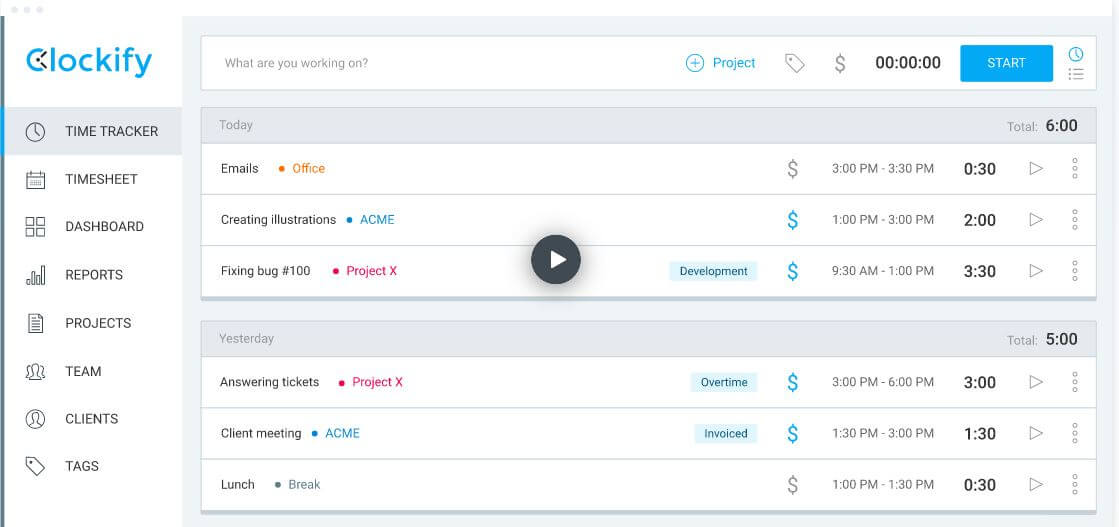 Clockify is the best time management tool in project management that helps you keep track of the time wherever you are. You can use it to see the current time in your local currency, as well as global locations like London and New York. It also has features for setting alarms and timers, syncing with calendars, and more.
How does Clockify work? Clockify uses GPS location tracking to calculate the current time based on your device's latitude and longitude coordinates. This means that it works even if you're offline or without an internet connection! Additionally, Clockify uses artificial intelligence (AI) to automatically detect daylight saving times in different parts of the world so that you always have accurate timing information.
Overall, Clockify is an easy-to-use tool that can help you stay on schedule no matter where you are.
Features:
The ability to add notes related to the clock
Create personal calendars
Share clocks with friends via email, text message, social media platforms, or an online community forum
A sunrise/sunset feature that allows you to watch sunsets from anywhere in the world!
Dark mode for night-time usage
Pricing:
Clockify offers a free plan. Apart from that Clockify has 4 different plans. The pricing for Clockify starts at $3.99 per user per month.
6. Monday.com


Monday.com offers an easy way to manage your time and stay on track with your work goals. With our personalized daily plan, you can set realistic goals and make sure that everything you need to get done is included. And if something comes up later in the day, we've got you covered – our 24/7 support team is available anytime to help get things moving again.
It is a website that offers tips and advice on time management tools and techniques. It contains a variety of articles, videos, and tools designed to help users learn how to manage their time more effectively. Some of the main topics covered on Monday.com include ways to get organized, strategies for reducing stress, and techniques for getting out of bed in the morning feeling refreshed and energized.
Features:
Customizable templates that make it easy to create your own to-do list design.
A daily summary that shows how many tasks from the current day have been completed, as well as an overall progress bar for the week.
One-click emailing of completed tasks so you can quickly move them onto your calendar or project tracker.
Automatic syncing between devices so you never lose any data.
The mobile-friendly interface makes it easy to keep track of your tasks on the go
Pricing:
Monday.com costs $10 per month for the Basic plan, $12 per month for the Standard plan, and $20 per month for the Pro plan. Offers a free plan too
7. Insightful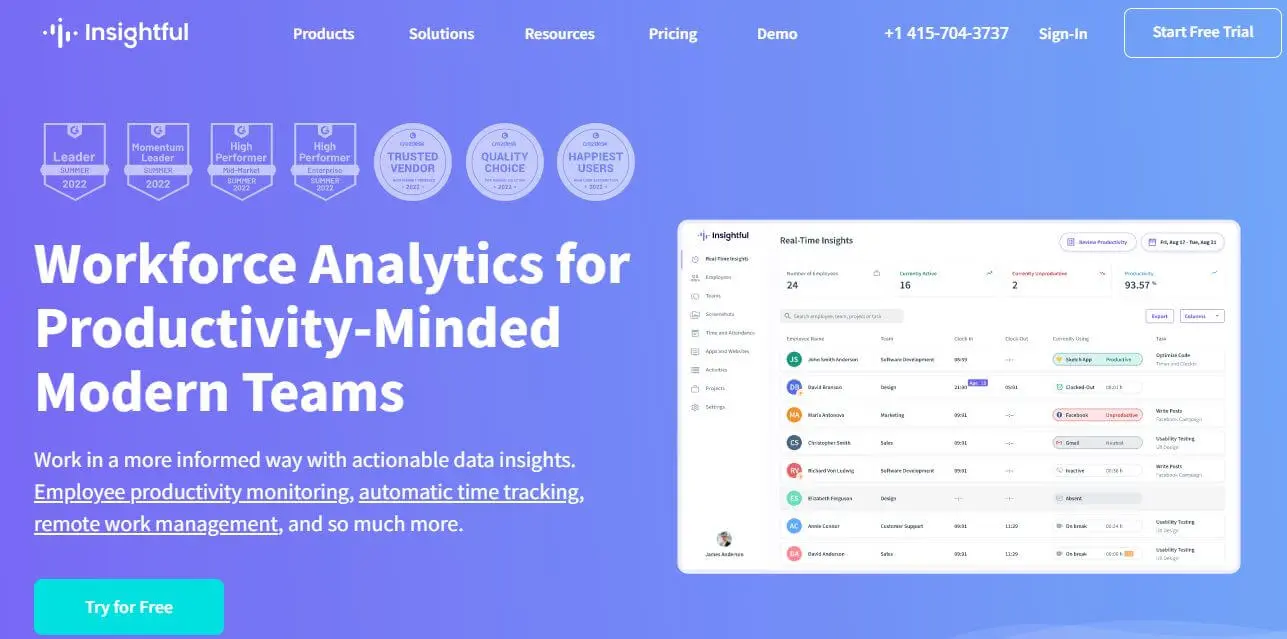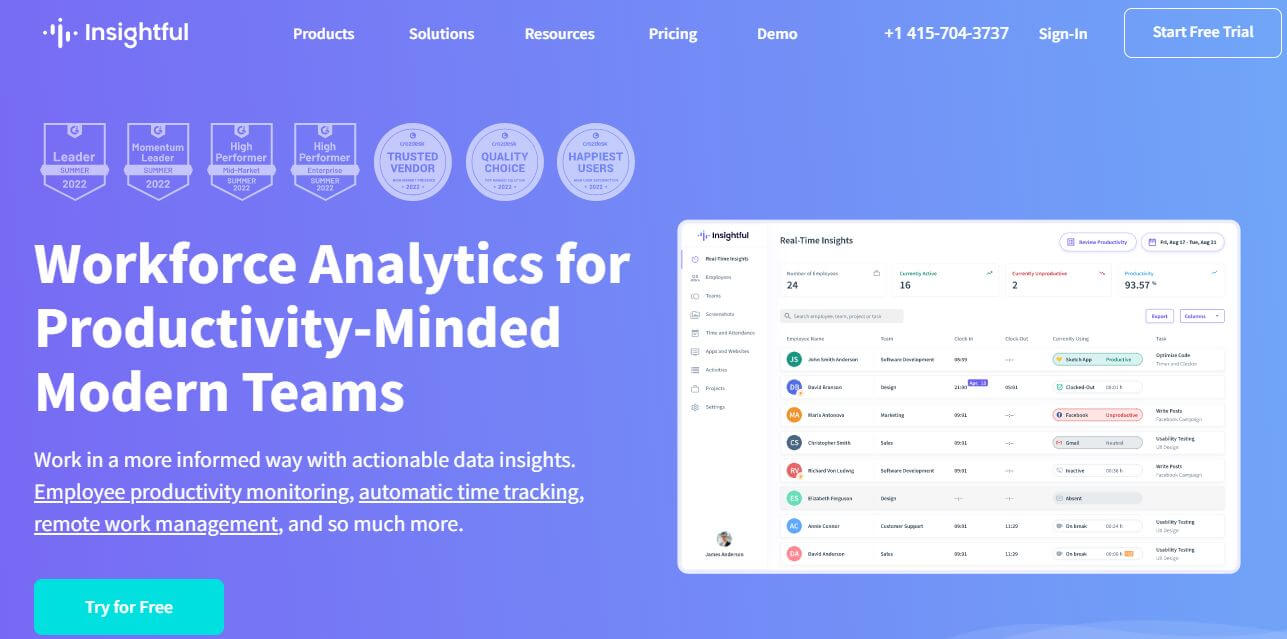 Insightful is a time management tool for the workforce and business owners that help you to better manage your work schedule. It provides tools such as customizable calendars, to-do lists, and timers so that you can stay on track and achieve your goals.
Insightful also offers reports that let you see how well you are performing compared to other users, which can help you set personal targets.
Features:
A daily planner with customizable tasks and goals, so you can focus on what's important and get things done efficiently.
An assistant that reminds you when it's TIME TO DO SOMETHING! Insightful will remind you of the time for the set schedule like meetings, or project tasks.
A timer that keeps track of how long you've been working on a certain task, so you know when it's okay to take a break.
The tool can be used for attendance management.
Integration with Google Calendar (and other calendar apps) for easy scheduling and tracking of appointments.
Pricing:
Insightful plans are starting at $8.00 per month for employee monitoring. The time tracking plan is $10.00 per month. While the automatic time mapping is priced at $15.00 per month.
8. Clockly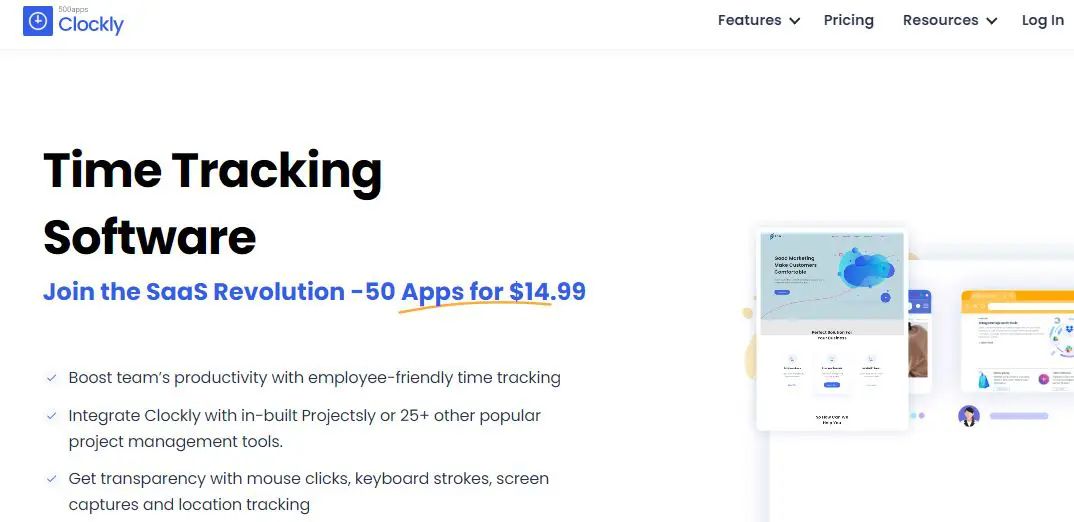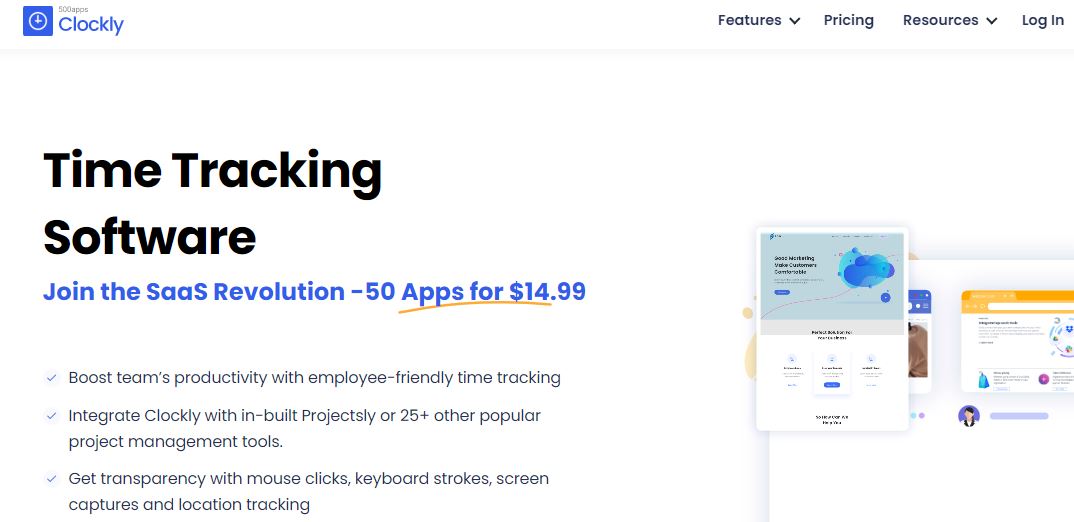 Clockly is a time management tool for teachers that helps users to better control their time and get things done. It contains a variety of features designed to help users stay on track, from personalized schedules to goal-tracking tools. Clockly also offers an intuitive user interface, making it easy for anyone to use.
Clockly can be used as a standalone tool or integrated into other apps and websites. It is popular among professionals who need effective ways to manage their work schedules and assignments, as well as students who need efficient ways to organize their studies. Clockly is available in both iOS and Android versions, so there's sure to be a version suited to your needs!
Features:
Templates make it simple to start tracking your progress immediately.
The goal setting tool makes it easy to set realistic goals and see how far you have come along.
The Reporting feature lets you view all of your data in one place, so that you can analyze and learn from your data.
The import function allows you to easily add information from other programs into Clockly. This makes it easier than ever for users who want to combine Time Tracking with other business tasks like billing or accounting.
Pricing:
You can get Clockly with 50 Apps for One Price, starting at $14.99/month.
FAQs
What are five time management strategies?
1. Set boundaries and stick to them. 
2. Break down tasks into smaller, more manageable pieces. 
3. Find a work/life balance that works for you. 
4. Delegate and outsource tasks when possible. 
5. Take a break every now and then!
How do you manage your time management with your employees?
You can manage your time management with your employees by setting clear and concise goals, delegating work appropriately, and providing feedback. Additionally, you can also set up time-tracking software so that you can monitor the progress of individual employees.
How do you manage time in the classroom?
There is no one answer to this question since it depends on the individual and their learning style. However, some tips that may be helpful include: breaking the material down into small chunks so that it can be assimilated more easily, using group work or interactive activities to help students learn from each other, assigning different tasks to different students in order to increase collaboration, and providing visual aids (such as Powerpoints or drawings) so that all students can follow along at once.
Conclusion
The list of time management tools above are the most loved tools that can help you stay organized and achieve your goals on time. You just need to try them one by one to find out which one works best for you. Moreover, you can also use these tools together to become even more efficient!
In case you have any questions about how to use these time management tools effectively, feel free to contact us via our website or connect with us using Twitter and Facebook.
---
Find more related articles here: