Between work, errands, and social obligations, finding the time to get everything done can be hard. That's where time-blocking comes in.
Time blocking is a popular productivity technique that allows you to organize your day by task. By setting aside certain blocks of time for specific tasks, you can free up your schedule to do other things.
Planning your day can be daunting, but it's not impossible with the right time-blocking app.
The tool makes planning easier by allowing you to create schedules with predetermined start and end times, as well as duration restrictions (for example, one hour per day).
There are a number of time blocking apps available on the market today, and each one has its own advantages and disadvantages.
In this post, we'll be introducing you to eleven of the best time-blocking apps that can help you get organized and make sure that you're productive throughout the day.
We'll also include a list of other helpful resources so that you can make the most of your time and achieve your goals. Ready to get started? Let's get started!
What is a time-blocking app?
A time-blocking app is a productivity tool that allows users to set time limits on tasks they want to complete. It's similar to the Pomodoro technique, but with added features that make it easier to use.
These apps allow you to track your progress and stay motivated while working towards your goals. They also have a built-in timer that helps keep you on schedule.
How does a time-blocking app work?
A time-blocking app works by allowing users to set quotas for the amount of time they would like to spend on specific tasks. For example, a user might set a quota for working on their project for the day or reading one book per week.
The app will then block out specific hours during the day or week in which these activities are allowed. This way, the user can still complete their task while avoiding distractions and staying organized.
Time blocking apps are helpful not only when it comes to productivity, but also when it comes to stress management and weight loss goals.
By limiting how much time we spend on certain tasks, we can better control our overall environment and focus more fully on what is important.
These apps can also be useful for those who have trouble sticking to schedules – by setting parameters down in advance, they know exactly what is required of them without having any surprises thrown at them later on!
Who is a time-blocking app for?
Time blocking apps are for people who want to focus on specific tasks in a specific amount of time. Time blocking helps you better manage your time and stay organized, making it easier to achieve your goals.
They are especially useful for people who don't like planning their day ahead in advance. They allow you to easily focus on your tasks without having to worry about running out of time or getting overwhelmed by too many details.
Plus, if done correctly, time blocking can help increase your productivity overall because it allows you to optimize your working hours and maximize the amount of work that you do in a given period of time.
There are several different apps available online, so it's important to choose one that fits your needs and style of productivity.
What makes a great time blocking app?
There are tons of time blocking apps available on the market, and it can be difficult to decide which one is right for you. However, there are a few factors that should always be considered when choosing an app:
The app should be easy to use and navigate.
It must have features that enable you to integrate the app with your current calendar.
It should provide plenty of options for customizing its settings in order to fit your unique needs.
It should have robust options in terms of integrations with other tools.
Related:
Timeboxing-An Efficient Time Management Technique for Boosting Productivity
The Best Time Blocking Apps To Plan Your Day
There are a number of great time-blocking apps available that can help you stay on track and get things done. It can be tough to decide which one is right for you, so we've put together a list of the eleven best apps for time blocking available on the internet.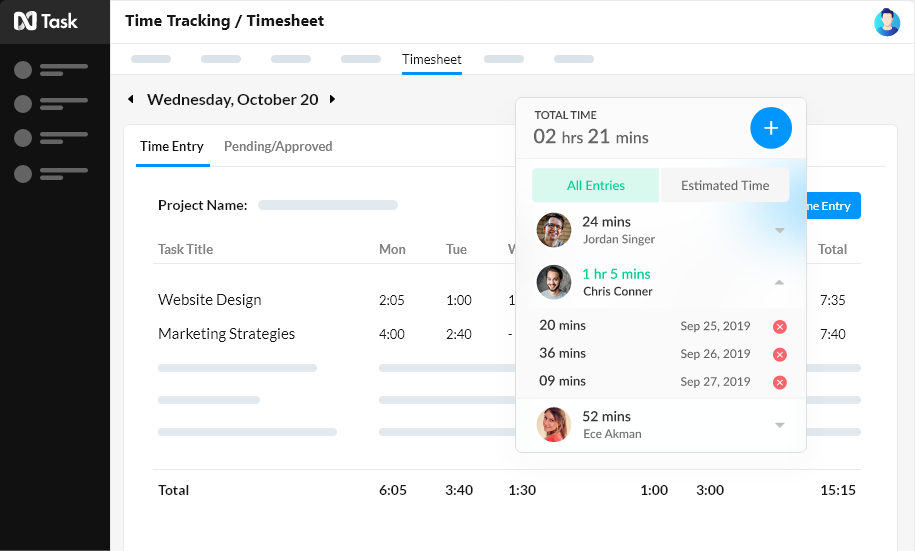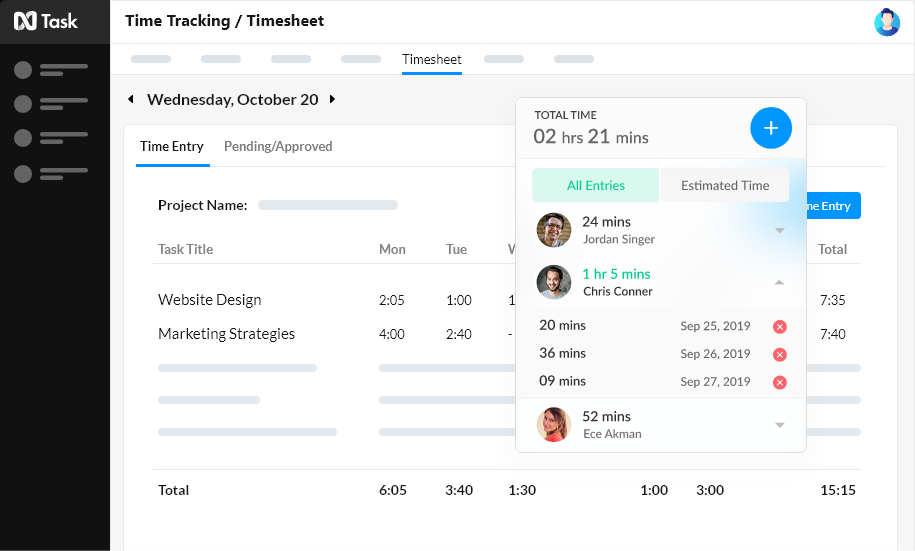 Designed for teams that are growing and facing challenges, nTask is a powerful project management solution made for growing teams. It allows you to create multiple projects, assign tasks and track progress on the go.
Not only does it make planning easy but also helps in making accurate estimates of the work required and completion time.
All this with the help of smart features like analytics and reporting which yield actionable insights that can be used to improve processes or develop new ones.
With advanced features like Kanban, Gantt, and Timeline, nTask gives you all the information you need to plan and track your tasks.
With nTask, you get an all-in-one solution that tracks your progress on the go. And its powerful features help you manage workflows and processes across team members quickly and easily.
Features:
Break down complex projects into manageable tasks
Keep everyone on track with accurate planning
Overview of your project's progress at any time with powerful data visualization capabilities
Collaborate and plan together in an effortless way
Easy task management, analysis, and tracking for everyday tasks
Complete visibility of project progress with Timesheets
Time estimates for projects and tasks
Easy time tracking and manual entries
Real-time monitoring and management
Pricing:
Basic – $0
Premium – $3 per month
Business – $8 per month
Enterprise – Custom pricing
Available for (Web, macOS, Windows, iOS, Android)?
nTask is available for Web, iOS, and Android.
2. Planyway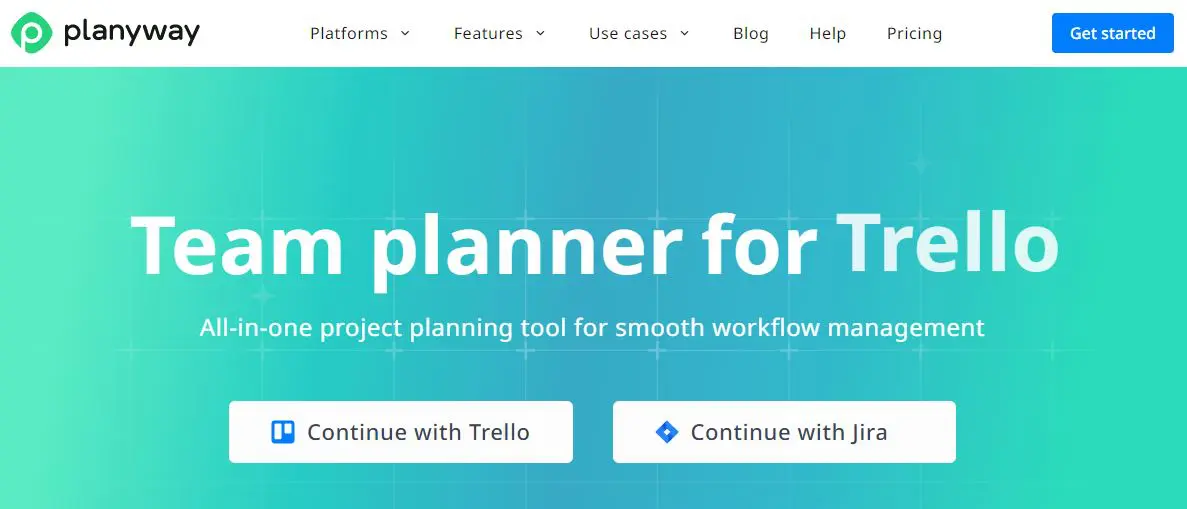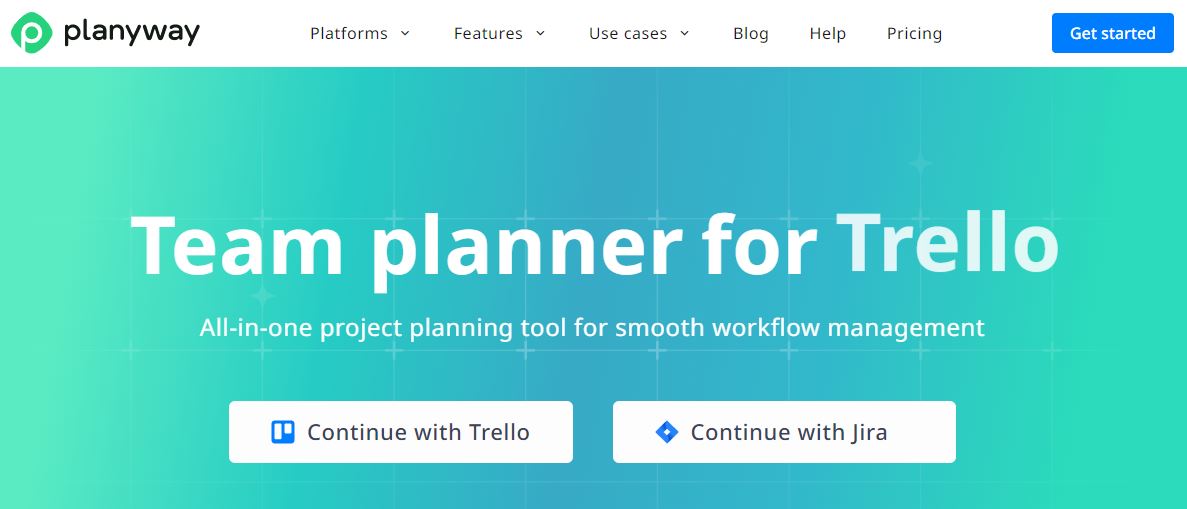 Planyway is an all-in-one project planning tool that helps streamline workflow management by integrating with various software and platforms so that you can collaborate on projects from anywhere and on any device.
From keeping track of upcoming tasks to tracking file changes over time, Planyway has you covered.
Features:
Build project roadmaps, manage your team workload and keep track of progress
Plan all your meetings, events, and daily to-dos on a single calendar
Track time spent on tasks
Easy-to-use interface
Integrates with a wide range of software and platforms for seamless project collaboration
Easily share your projects with others
Pricing:
Free – $0 forever
Business – $4 per user per month
Enterprise – Custom pricing
Available for (Web, macOS, Windows, iOS, Android)?
Planyway is available for Web, macOS, iOS, Android, and Windows.
3. Clockify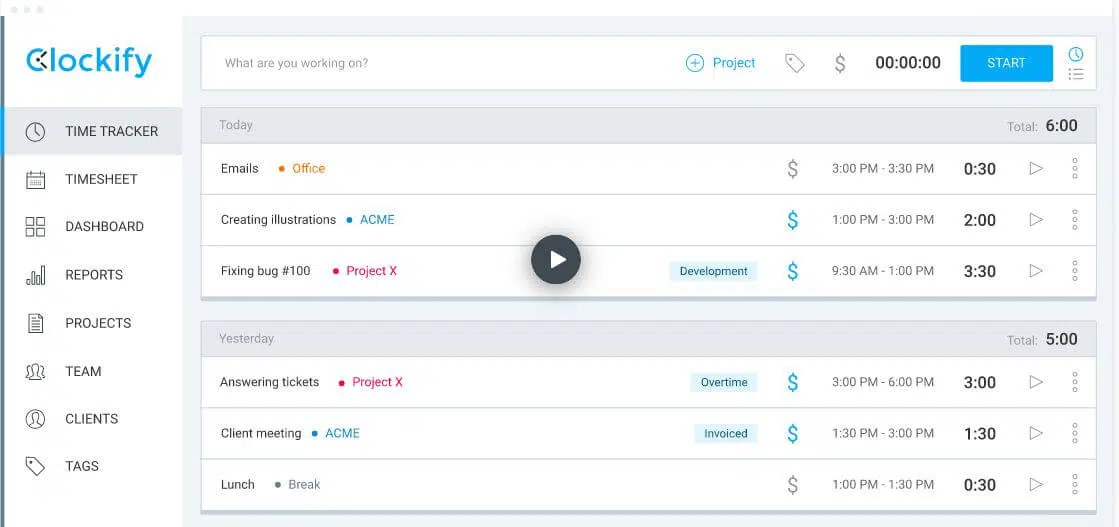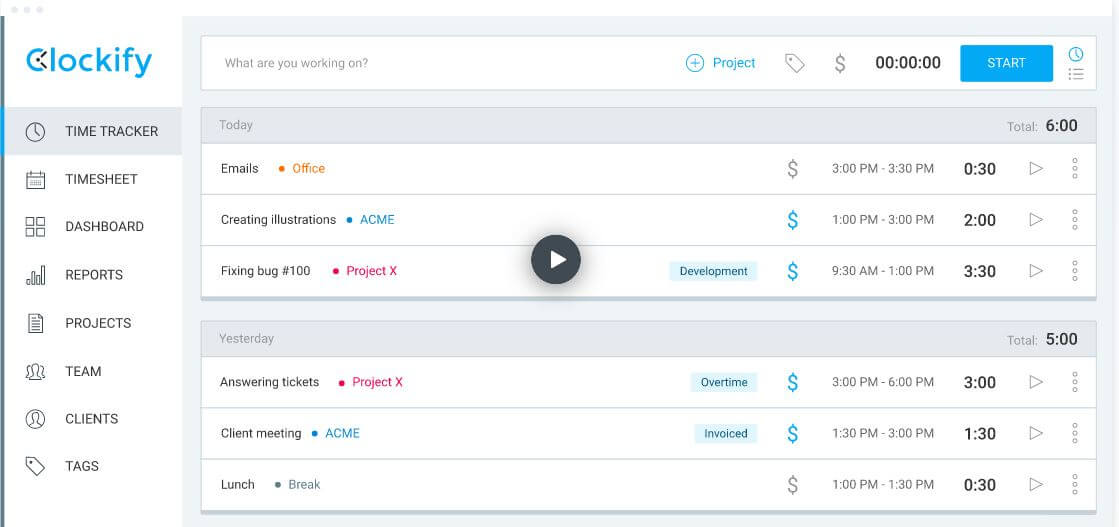 Clockify is a free time tracker for teams that helps managers stay organized and in control of their team's work.
It allows users to track the hours worked, the number of hours spent on specific projects, and how much progress has been made on those projects.
This information can help managers make better decisions about which tasks to assign to members of their team and monitor results more effectively.
Clockify is the perfect solution for teams that want total control over their time and space. It is also great for teams who want to improve their organizational skills through a better understanding of how employees use their time at work.
Features:
Timestamps for every task, project, and conversation to help you keep track of progress and timelines.
Customizable reports that show you where your team is spending its time and how it can be better utilized.
Integrated chat support so that you can ask questions or provide feedback without ever leaving the app!
Monitor your team's productivity and manage their time more effectively.
Get insights into your team's performance and find ways to improve it.
Visualize your time and block out activities.
Mobile and desktop apps
Pricing:
Basic – $3.99 per user per month
Standard – $5.49 per user per month
Pro – $7.99 per user per month
Enterprise – $11.99 per user per month
Available for (Web, macOS, Windows, iOS, Android)?
Clockify is available for Chrome, Firefox, Edge, Mac, Windows, Linux, Android, and iOS.
4. TickTick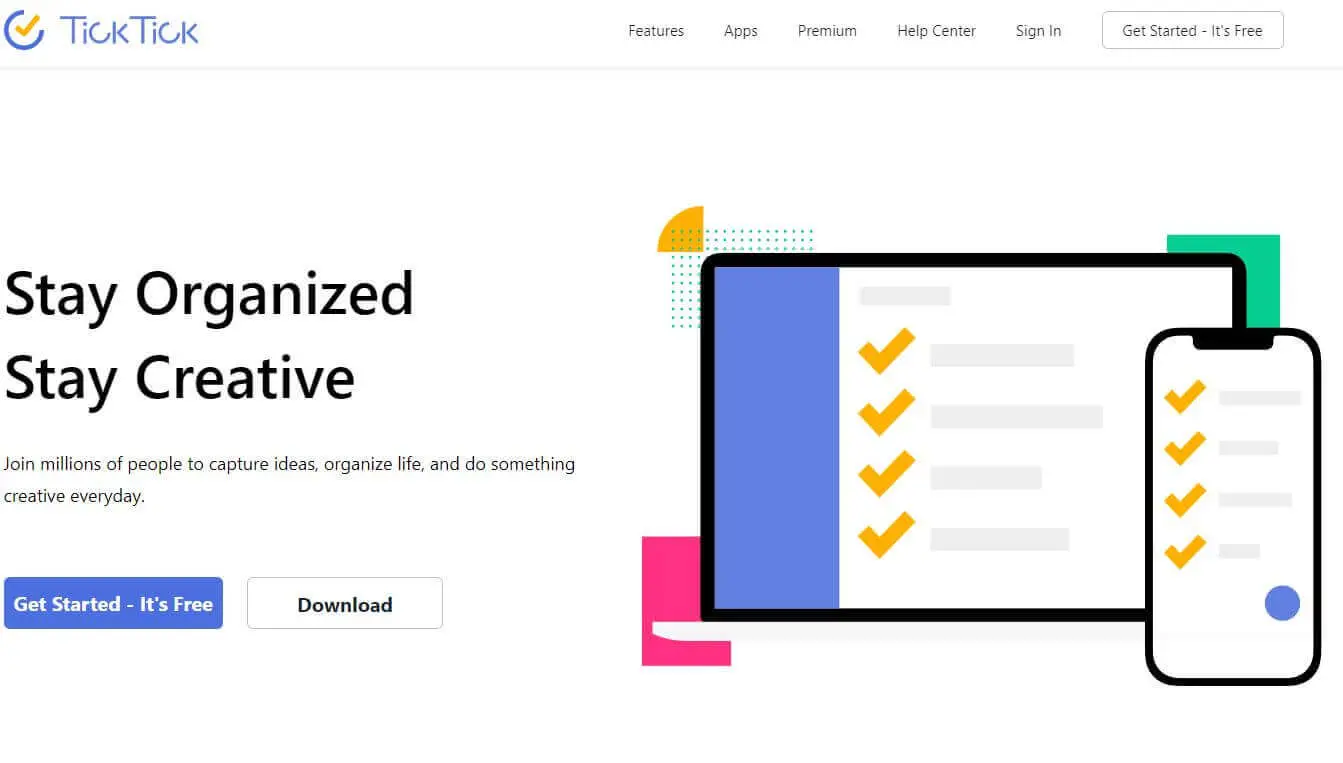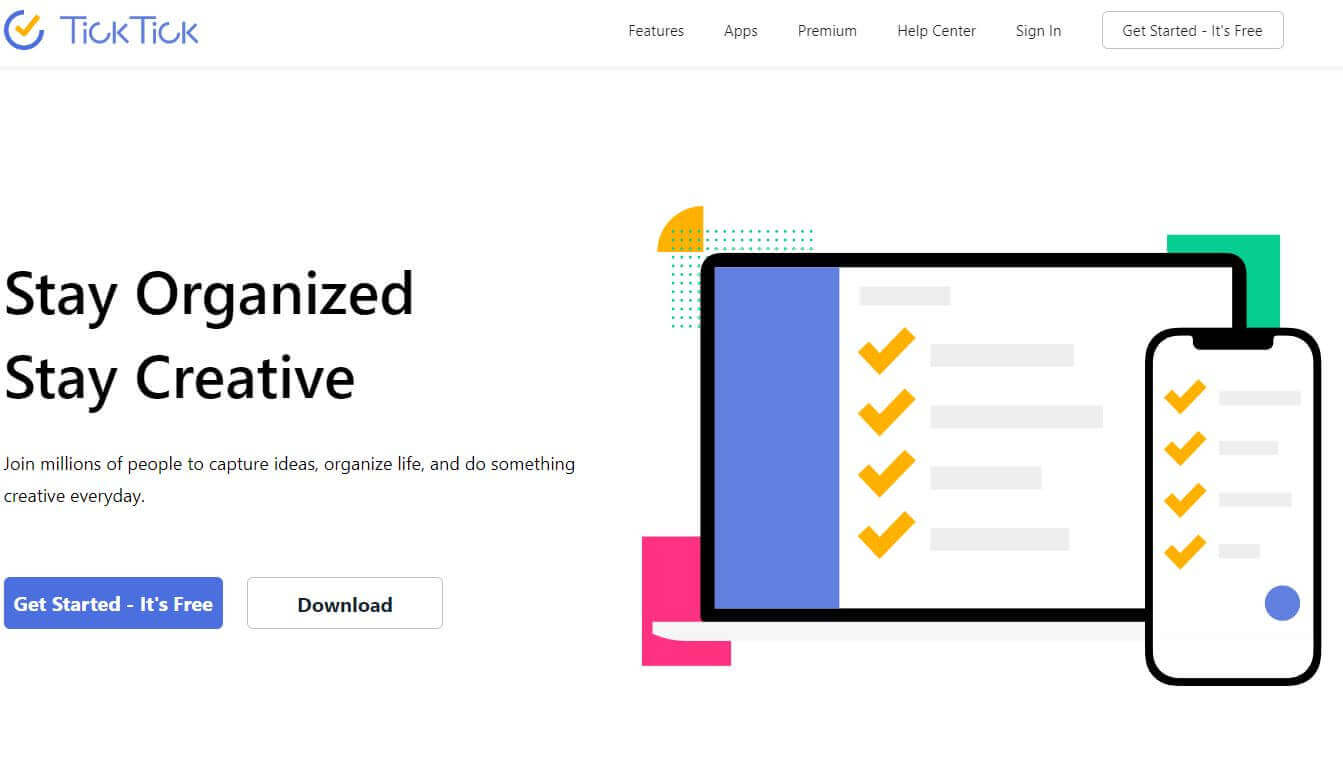 TickTick is a task management app that helps you stay organized by creating a detailed list of your tasks. With its innovative user interface, it makes sure that every task gets noted down properly.
The best part about this app is that it auto-updates every time you create a new task in the app, making it very easy for users to track their progress over time.
Features:
Easily track your tasks by adding details such as due date, priority, and more.
Stay informed about the progress of your tasks with notifications and alerts.
Get tasks completed on time with a virtual checkmark.
Easily share your tasks with friends and family for collaboration.
Break down your task into smaller, more manageable pieces and get them done faster.
Add notes and reminders for each task so you don't miss a beat.
Tag and color-code tasks for easy identification.
Add photos, videos, or notes to each task to make it easier to remember.
Pricing:
TickTick's premium version is available for $27.99 annually.
Available for (Web, macOS, Windows, iOS, Android)?
TickTick is available for Windows, iOS, Android, Mac, Linux, Web, Chrome, and Firefox.
5. Google Calendar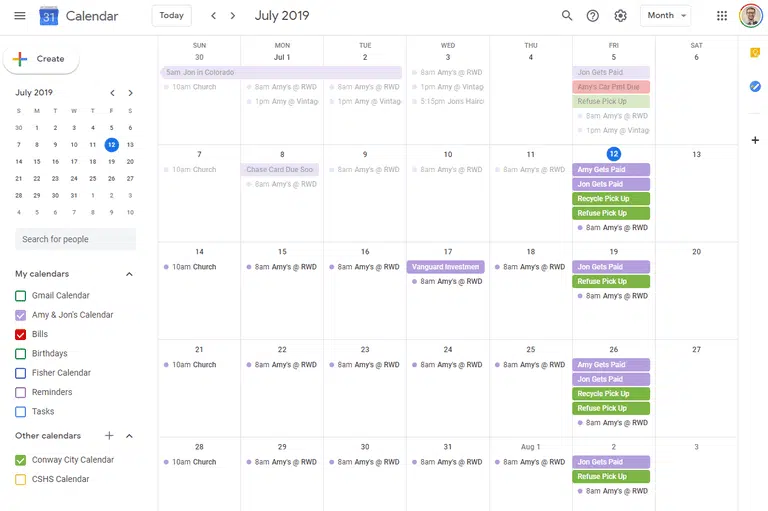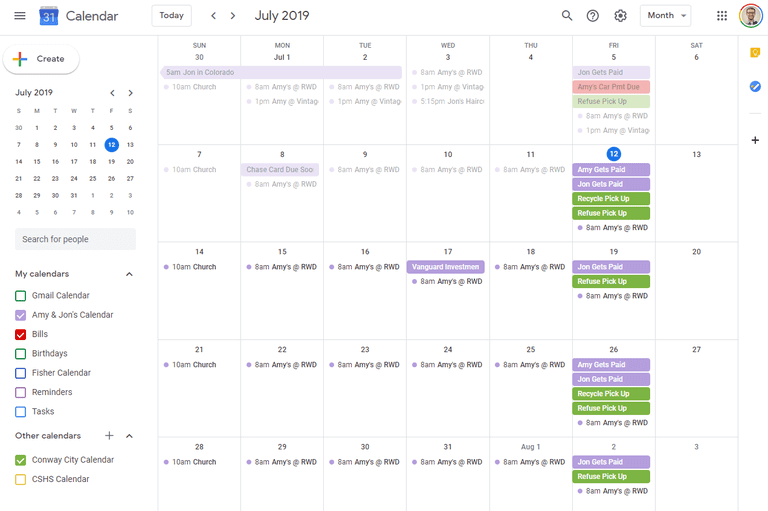 Google Calendar is a time-management and scheduling calendar service that helps you organize your life. With a beautiful and interactive UI, it makes it easy for you to plan ahead and stay on top of things.
You can also create events, add multiple entries, set reminders, etc. with just a few clicks. And when an event is created in the calendar app, the relevant details are saved via Google Drive or another cloud storage app like Dropbox or Google Docs.
Features:
Manage multiple calendars simultaneously and switch between them easily.
Add notes, photos, and links to make your calendar more helpful.
Get notifications for important events so you don't miss a beat.
Add a due date, time, and category for each task you want to remember.
Keep your calendar synced with your computer, phone, or tablet.
View your calendar on the web or in app form.
Share your calendar with others by email or through a link.
Easily add additional collaborators if you need help managing your calendar.
Pricing:
Google Calendar app is available for free.
Available for (Web, macOS, Windows, iOS, Android)?
Google Calendar is available for Web, iOS, and Android devices.
6. Sorted3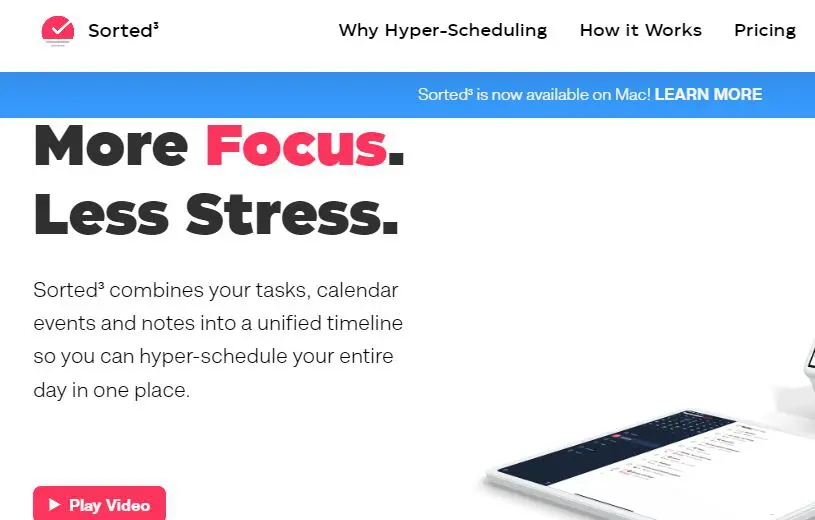 Scheduling your day is already a breeze with Sorted3. The app combines tasks, calendar events, and notes into a unified timeline so you can hyper-schedule your entire day in one place.
With tools like tags, notes, reminders, today's view, and more, you can streamline your life so you never miss an important event.
You can create your own free account or log into an existing one with ease. The app then syncs your calendar and tasks to the Cloud so you can access them from any device or computer.
Features:
Organize your tasks, calendar events, and notes in a beautiful timeline so you can get more done in less time.
Get an overview of your day and plan your activities accordingly.
With its sleek design, you can work on tasks, plan your day and keep track of important events with ease.
The task list is constantly updated so you always know what's due and when.
Add any notes or reminders you may have and they will be stored securely.
Have a clear overview of all your tasks, appointments, and notes at any time.
Pricing:
Free – Free Forever
Pro (iOS) – $14.99
Pro (macOS) – $24.99
Available for (Web, macOS, Windows, iOS, Android)?
Sorted3 is available for iOS and macOS.
7. TimeBloc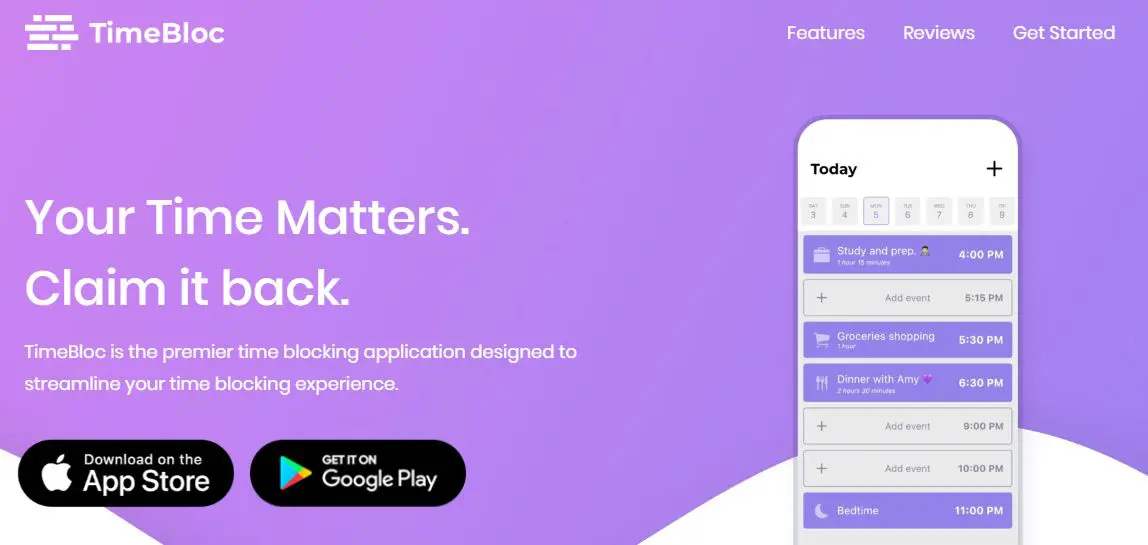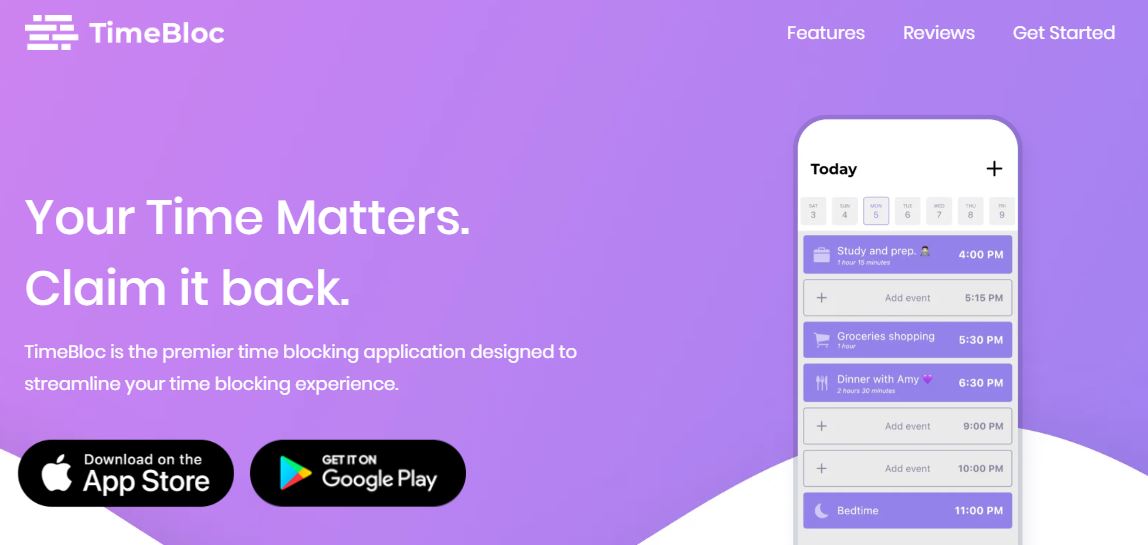 TimeBloc is a premier time-blocking application designed to streamline your time-blocking experience! With its easy-to-use interface and powerful features, you'll be able to breeze through your tasks quickly and efficiently.
Designed for streamlining your experience, TimeBloc makes it easy for you to set a timer and block yourself from certain websites or apps until it is up.
It also allows you to block multiple websites at once, so you can focus on one task without being distracted by the latest updates.
Features:
Create custom blocks for any task, schedule, or goal.
Manage your time more efficiently with TimeBloc's unique social sharing feature.
Stay on top of your to-dos by being notified when you have unblockable time.
Easily see how much progress you've made on each block and stay focused on the task at hand.
Easily see how much time you have left for each block of time, and easily add new blocks of time as needed.
The sleek and modern design makes TimeBloc easy to use and visually appealing.
Pricing:
TimeBloc is available for free.
Available for (Web, macOS, Windows, iOS, Android)?
TimeBloc is available for iOS and Android.
8. TimeCamp


Meet TimeCamp is a simple yet feature-rich time-tracking app that helps you gain insights into your projects and tasks.
With its intuitive user interface, it gets out of your way and lets you focus on what matters most – growing your business or becoming an expert in your field.
TimeCamp makes it easy for you to track your time spent on tasks, so you can gain insight into how productive you are. You can also see a breakdown of how much time you spend on each project and set daily goals by category.
Features:
Set a daily or weekly goal and track your progress.
Get insights into your progress by viewing stats such as hours worked, completed, estimated duration, and more.
Easily connect with other TimeCamp users to collaborate on projects and tasks.
Stay organized and track your progress by exporting your data in various formats.
View your projects in the calendar or list view.
Add details such as start and end dates, hours worked, and more.
Attach files or photos to your tasks for a visual reminder.
Pricing:
Free – Free Forever
Basic – $6.3 per user per month
Pro – $9 per user per month
Enterprise – Custom pricing
Available for (Web, macOS, Windows, iOS, Android)?
TimeCamp is available for iOS, Android, Chrome, Microsoft, Linux, Windows, and macOS.
9. Sunsama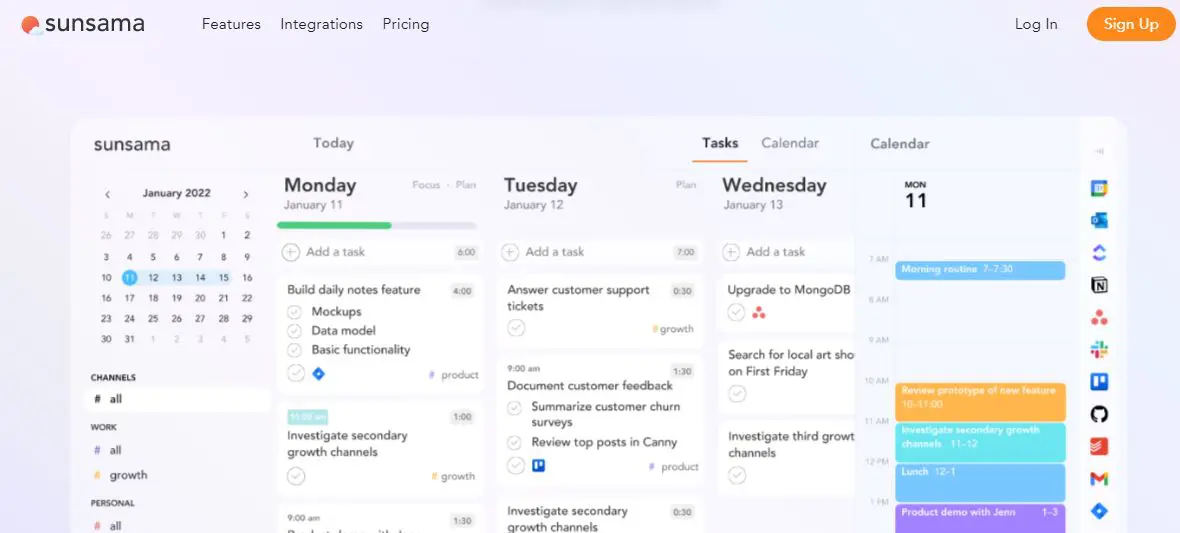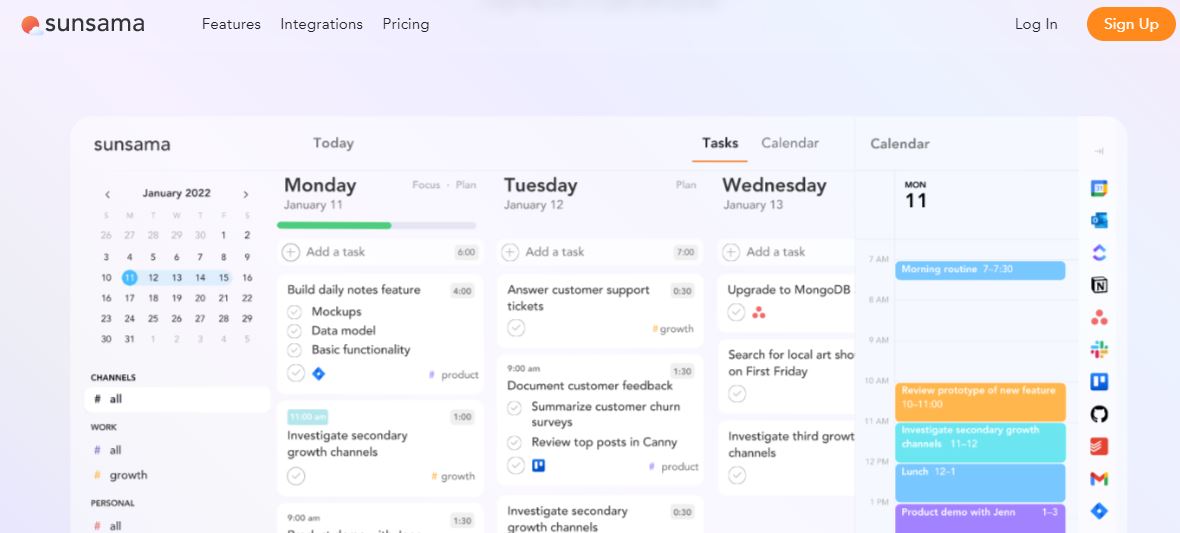 That feeling when you get up in the morning and know you have a simple, yet meaningful task for that day, that will ensure productivity. That's what Sunsama is all about.
Organizing your work one day at a time so that every day feels calm and focused. Guided daily planning so that you know your goals are realistic, and a unified daily view where every little detail is accounted for to make sure everything runs smoothly.
Sunsama provides the peace of mind you need to focus on your work without worrying about how it's getting done. It takes care of everything from organizing your schedule to keeping track of progress so you can relax and enjoy your success.
Features:
Plan your days, weeks, and months with ease.
Scan and add your items to the planner quickly and easily.
Stay on top of your tasks by adding due dates and notes.
Get organized and stay productive by staying on top of your daily planner.
Add notes, goals, and to-dos to your planner.
Set alarms for important events or meetings.
Pricing:
Sunsama is available for $16 per user per month.
New users can start with a 14-day free trial.
Available for (Web, macOS, Windows, iOS, Android)?
Sansama offers a desktop app as well as iOS and Android apps.
10. ClickUp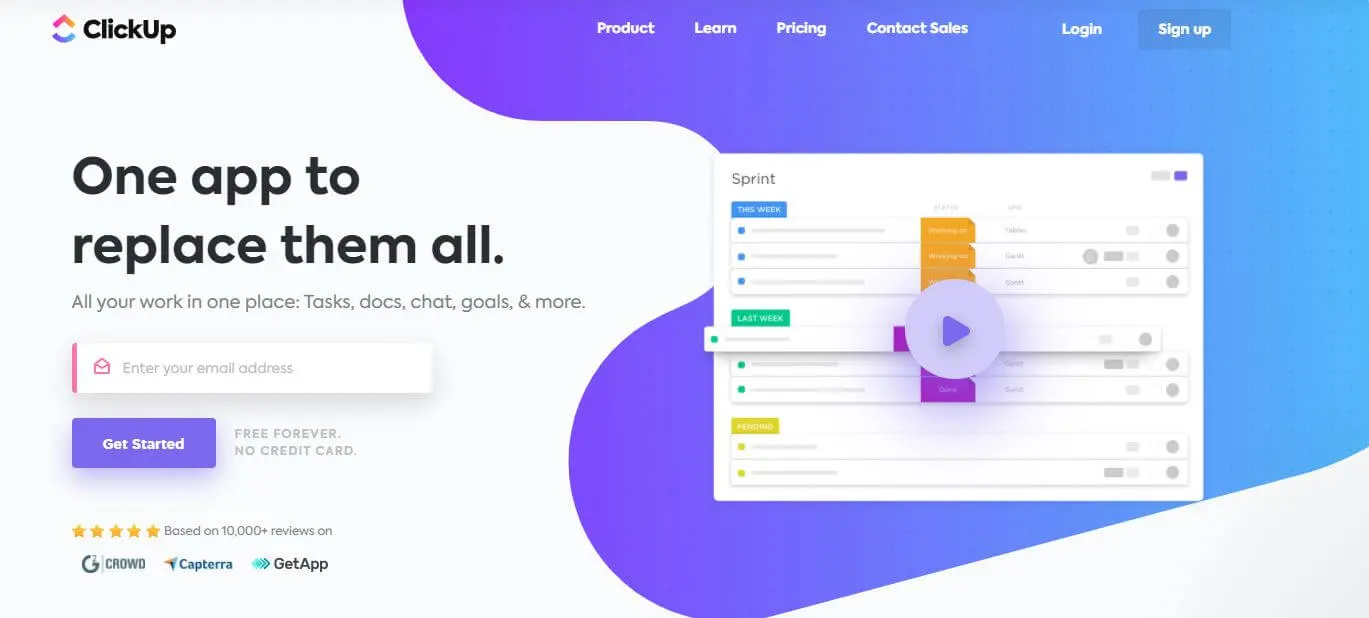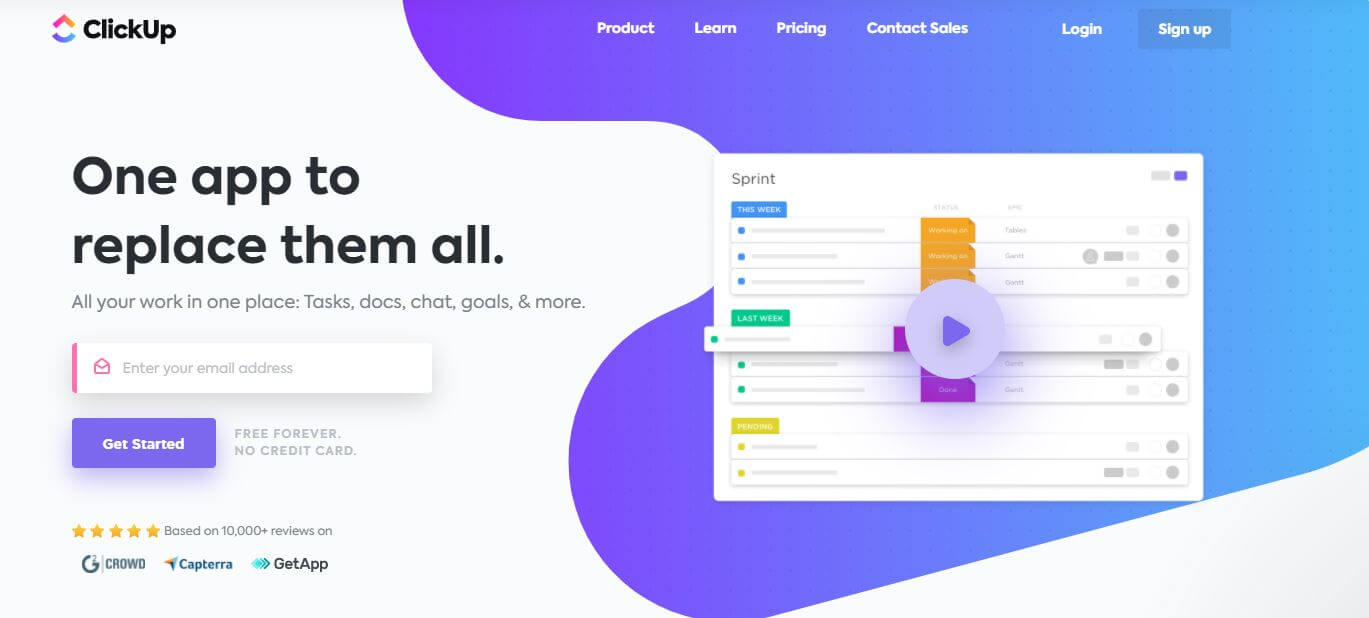 Built for teams of all types across any industry, ClickUp is your perfect companion on the road to productivity. From organization to time tracking, it has everything you need in one place.
And because it's designed by experts with SaaS experience, you can be sure that every feature works perfectly right out of the box.
ClickUp helps teams work together more effectively.
Whether you're a small business looking for ways to improve communication across your organization or a large company looking for new ways to streamline your workflow, you'll find everything you need in one convenient place.
Features:
Increase team productivity and collaboration by automating workflows and tasks.
Manage your email, calendars, files, and more in one place.
Task management features make it easy to schedule, assign, and track your work.
Automated reporting makes it easy to see what's going on and where you stand.
Easily share files, collaborate on projects, and track your progress.
Track progress, milestones, and deadlines with ease.
Access the latest industry trends and insights so you can stay ahead of the competition.
Pricing:
Free Forever – Available for free
Unlimited – $5 per user per month
Business – $12 per user per month
Business Plus – $19 per user per month
Enterprise – Custom Pricing
Available for (Web, macOS, Windows, iOS, Android)?
ClickUp is available for iOS and Android.
11. HourStack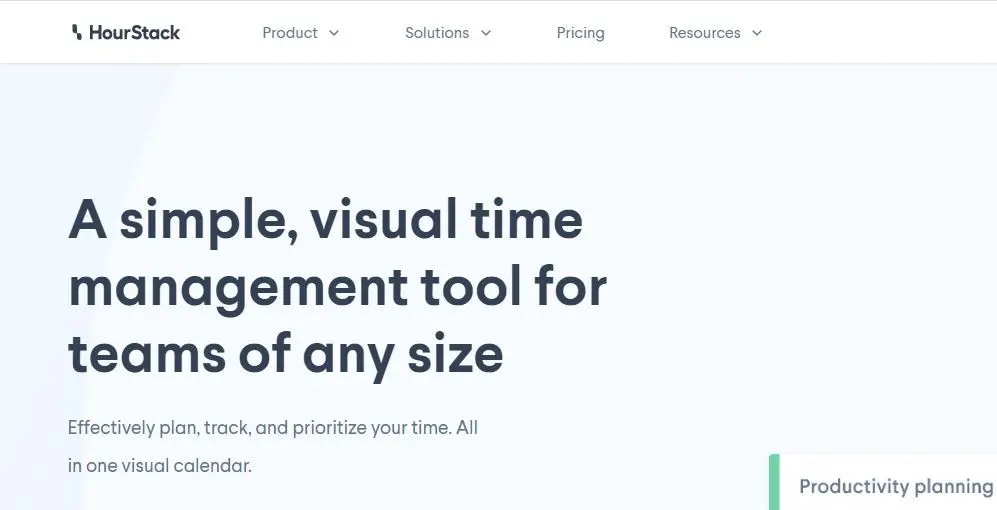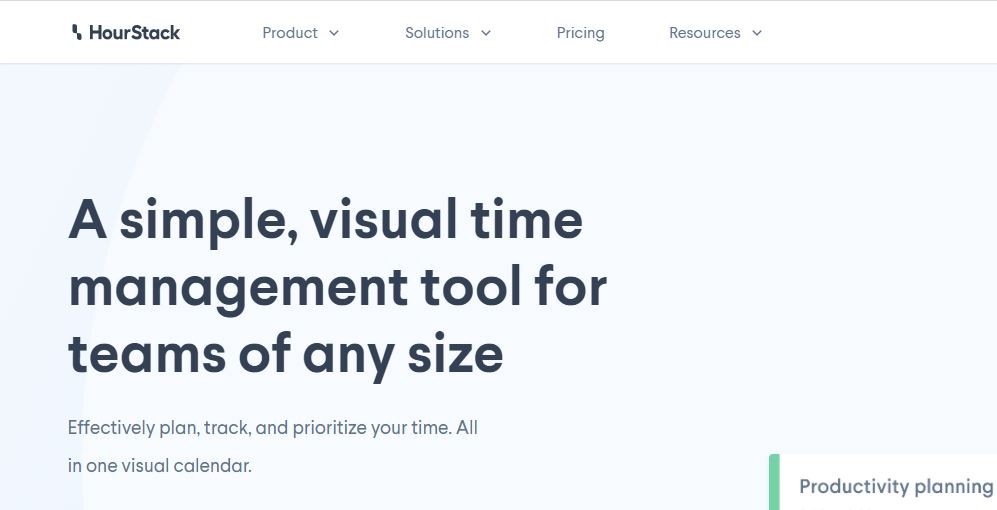 Try HourStack for time management – the tool that sets your team up for success.
With its intuitive interface and user-friendly features, you'll be able to quickly find the information you need when you need it most.
And thanks to its robust scheduling functionality, you'll never have to worry about forgetting an important appointment again.
From its powerful search tool to its interactive scheduling calendar, there's nothing this time management app can't handle. With one app, you can see who's working where, track their progress, and even get updates on how they're feeling throughout the day.
Features:
Stay organized and on top of your work with HourStack's visual calendar.
Easily see where you stand against your goals and objectives.
Manage your time from anywhere in the world with a web browser or our desktop app.
Stay organized and improve your productivity by tracking your hours, projects, tasks, and goals.
Report your work activity every day, including progress reports and summary reports.
Capture specific details about the tasks you complete, such as duration, steps taken, and more.
Easily see how your time is performing and make informed decisions based on the data.
Pricing:
Personal – $9 per user per month
Team – $12 per user per month
Available for (Web, macOS, Windows, iOS, Android)?
HourStack is available on the Web.
Conclusion
Time blocking apps are not just a great way to organize your day, but they can also help you stay on track.
All the apps we have mentioned above will make sure your life is more organized and it won't be tedious at all. nTask, however, is our favorite time blocking app of all time.
So, don't hesitate anymore! If you have never tried one before, get started today and start improving your productivity levels.
---
More Resources For You: