While leading your team as a project manager, you also, have to keep the stakeholders in the loop. A project roadmap is just the right tool you need to keep everyone in the know. The visual medium allows you to communicate the major elements of a project.
A roadmap is the cornerstone of your project, an overarching document that puts everything into perspective, helping you see the big picture. It narrows down the origin of your project and how things will pan out during the process.
In this article, we will guide you on the basics of a project, its importance, benefits, and how to create one for your business.
What Is a Project Roadmap?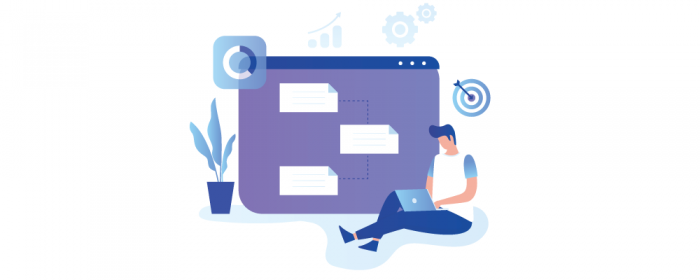 A project roadmap is a strategic overview of the project. It highlights the core features of the project without going into the details of each step.
A project roadmap not only coveys the aims and objectives of a project but also, helps keep stakeholders in the circle. It explains all the whys of the process.
Before you move on to the more specific details of the project such as a project plan or schedule, you must create a roadmap to make sure things are understandable from the get-go.
PMs use the project roadmap as a communication tool to kick off the project. A good project map comprises the following:
Aims and Objectives: The aims and objectives you wish to achieve by the end of the project.
Deliverables: The end product of the project i.e., software, an actual physical product, etc.
Timeline: Bird's eye view of the schedule that highlights key activities of the project.
Potential Risks: The risks involved in the process that may hinder the progress of the project.
Milestones: Milestones indicate a change in the development cycle.
In addition, it can also include a list of key resources who will work on the project, the reasoning behind certain activities, facts, and figures, etc. that back your approach.
What kind of projects requires a Project roadmap?
A roadmap may help any project or program that has strategic goals, a budget, a timetable, and several stakeholders.
A roadmap, for example, might be used by a project manager at a manufacturing facility to oversee production lines or new equipment.
A roadmap can help a business analyst envisage the installation of a new business intelligence technology. 
A roadmap can help an event manager envision event strategy and preparations for the future year. Naturally, the focus of any roadmap will be determined by the details of what you are managing.
Building the correct roadmap for your project requires clearly identifying the project's scope, success criteria, requirements, and internal and external stakeholders.
Project Roadmap Types
The most frequent forms of roadmaps are:
Market and strategy,
Visionary,
Technology,
Platform, and
Product (Internal & External).
Each kind is useful for a certain purpose, and you can combine them to tell a larger tale.
1. Strategy and the Market
Market and strategy roadmaps depict the markets you intend to pursue and how you intend to develop products for each segment.
2. Visionary
Visionary roadmaps provide a comprehensive view of business and societal trends. By displaying the patterns, you can then demonstrate how your goods fit into the larger picture and how you are capitalizing on market momentum.
3. Technology
Technological roadmap project management show what technological trends are occurring in the larger market and enables you to match your company's products and releases to them. They are a wonderful method to demonstrate how your organization is capitalizing on emerging new opportunities generated by technology.
4. Platform
Platform roadmaps are used by companies that have an overarching platform strategy that relies on partners working closely with them. Examples include Windows, Google, macOS, and several other systems. 
A platform roadmap describes what will happen to the core platform software as well as what the platform business will provide in terms of its own products and the development tools that partners will need to support the platform.
5. Product (Internal & External)
Product roadmaps indicate when new product releases will be available, what the main theme or important features will be, and what secondary features will be included.
Internal project roadmaps may be used to drive development goals, connect with upper management and other departments, and assist the business in obtaining financing. 
External roadmaps are used to communicate with customers, partners, the media, and analysts. External roadmaps should be built on internal roadmaps, but they should be much broader.
Before moving ahead with the details, we would like to elucidate the difference between a project roadmap and a project plan since both of these are often confused as the same thing.
What Is the Difference Between Project Roadmap and Project Plan?
A project is a detailed summary of all the ins and outs of the project. It outlines the very specifics including:
The division of tasks
Proposed deadlines for each task etc.
A project plan allows PMs to strategize the whole process and keep an eye on the progress of the process.
A project roadmap, in contrast, is a much broader overview of the project. It does not detail the bits and pieces of the project. It offers a surface-level outline of the project. Additionally, roadmaps help the team give a general idea of the project at a glance.
Typically, PMs create a roadmap first and then, use that roadmap to carve out a detailed plan.
Why Are Roadmaps Important?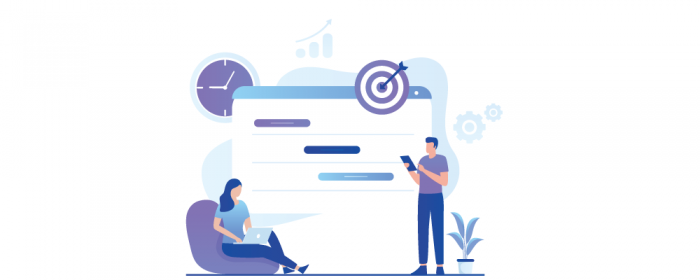 Well, you might wonder what makes roadmaps so important. Why are we urging you to create one? What does it do for your business? etc.
We are here to answer these questions for you. Since roadmaps mainly target stakeholders and team members, their importance can be gauged from the following points:
Initiate a project: Sometimes it is difficult to move ahead with a project because of the uncertainties involved. A project roadmap can put things into perspective for you so that you can narrow down your focus and work and kick off the project.
Time-saving: Time is money. You do not want to waste the time of your stakeholders or anyone else for that matter. In such cases, roadmaps can help you summarize the key points so that you can convey your idea in a time-efficient manner.
Contextual importance: With a roadmap, you can highlight the importance of the project and convince the stakeholders by helping them understand the context of the project.
Team communication: Since you are to work with a team, a roadmap can help you communicate the goals and objectives of the project to the team members. Also, with the roadmap in view, you and your team can build upon the roadmap and strategize a project plan accordingly.
Identify priority tasks: Roadmaps can help you identify the most important parts of a project. It can also help you measure the work required for the efficient completion of tasks.
Seamless communication with stakeholders: The lack of communication with the stakeholders often results in dissatisfaction with the work. A roadmap can help you avoid such situations by making sure that everyone, stakeholders and team members, are on the same page.
Streamlines communication: Stakeholders are often unwilling to spend hours and hours reading or listening to the details of a project, they prefer a general overview of the progress. Roadmaps, in such cases, appropriately summarize the progress without delving into details.
Clarifies aims and objectives: A roadmap helps clarify the aims and objectives of your project before you move on to a kick-off meeting or project planning.
Snapshot of your project: Roadmaps serve as shareable snapshots of your project. You can update your roadmap with the progress of the project so that you can show it to anyone, anytime.
Create a barrier between stakeholders and team members: Stakeholders play an important role in businesses and their involvement is inevitable, sometimes their involvement can be uncomfortable for the team members. In such cases, roadmaps can help you shield team members from stakeholders' micromanagement.
Stepping stone for a project plan: As we mentioned earlier, roadmaps give way to project plans. Once you get the approval of stakeholders on the roadmap, you can transform it into a project plan.
How To Create a Good Project Roadmap?
To create a good project roadmap, you must consider the following:
1. Hold a Kick-off meeting:
Before you start making your roadmap, you should hold a kick-off meeting with the stakeholders and team members.
The kick-off meeting will serve as a way of bringing everyone on the same page, understanding stakeholders' expectations, clarifying any questions, etc.
2. Collect background information:
Since your project roadmap will give a strategic overview of the project, it must answer all the whys of the project. And, for that, you must have all the related information, facts, figures, etc. at hand.
The extent of information depends on the requirements of the project but it might include market research, analysis of market trends, etc. the information will help you validate your ideas in front of the stakeholders.
3. Include necessary information:
The roadmap will eventually transform into a project plan and will be the guiding star for your project, as such, you must include all the necessary information in it. The information in question can include:
Aims and objectives
Project deliverables
Milestones
4. Make the roadmap: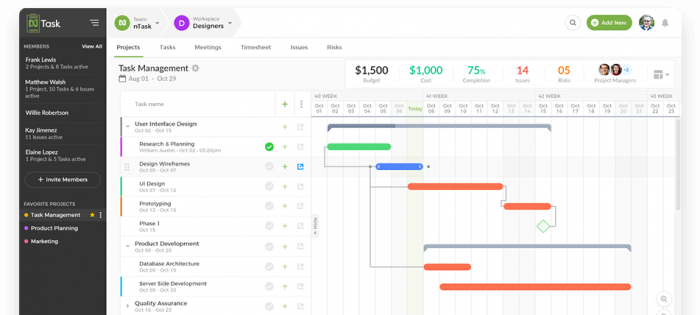 The last step is the most important of all, and that is to actually create the roadmap. You can use a template to fasten the pace of things or customize your own roadmap.
You can also employ the use of a project management tool to carve out your project roadmap.
5. Follow-up steps
Since your roadmap represents the big picture, you should include the follow-up steps or what happens when the project is completed successfully.
Tips And Tricks That Might Come Handy
Now that you have made your very own project roadmap, we will suggest a few tips and tricks that might come in handy.
Create your roadmap before project plan: Before you break your project into smaller chunks and dive into the details, a roadmap will help you keep the important things in view so that you do not go astray in the later stages.
Use roadmap in kick-off meeting: you should display your roadmap in the kick-off meeting. It will help you clarify a lot of details and will play an important role in the successive development of strategies.
Update your roadmap regularly: Keep your roadmap updated at all times and make sure that it is accessible to all team members. So that whenever a stakeholder views the roadmap, he can see the progress at a glance.
Use Roadmapping software: Manually creating a project roadmap from scratch can be a taxing job. Instead of wasting your brains, make use of roadmapping software that can help you create an efficient roadmap. These tools offer unique features, templates, etc., and are relatively easy to use.
Collaborate with the stakeholders: This helps make sure that stakeholders are not only involved in the project but are also satisfied with its progression.
Explain risks involved: Nothing is perfect, your project can also fall victim to uncertainties. Keeping stakeholders in the loop helps make sure that they are aware of potential risks and that there are no last-minute surprises.
Project Roadmap FAQs: 
What is a project roadmap?
A roadmap is a strategic tool that may assist demonstrate both long-term and short-term strategies graphically. In a nutshell, it states where you are and where you intend to go in the coming years.
What are the different stages of roadmap project management?
Traditionally, the road mapping process is divided into three stages:
Activity Preliminary
Development
Follow-up
What is the function of a roadmap?
It functions as a communication tool, a high-level document that aids in the expression of strategic thinking—the why—behind both the objective and the plan for achieving it.
What should a project roadmap contain?
A roadmap is a strategic plan that describes a goal or intended outcome and the essential actions or milestones required to achieve it. It also acts as a communication tool, a high-level document that aids in the expression of strategic thinking—the why—behind both the objective and the strategy for achieving it.
It's A Wrap!
Before we say our goodbyes, we would like to add that besides a specific roadmapping tool, you can make use of your existing project management tool to make the roadmap.
Agile Project management tools, such as nTask, are loaded with all the features required to create a project roadmap. So, kick off your project with a roadmap designed with the help of a specialized tool.
That's all from our side. We have explained all the essentials of a project roadmap and how to construct one on your own. You can reach out to us in the comments section if you have any queries, and we will promptly reply to your queries.
Signing off!
---
More Resources: