Project Management certifications or a certified professional are not essential to an organization's core structure, but their involvement makes a difference in ten folds.
From the 1960s to the early 2000s, Agile Framework adoption was still in its infancy. Teams and organizations who were looking to expand unknowingly adapted to a specific set of daily rituals that were later termed Agile Project Management, PMP, and other such condiments.
Today, technology and businesses have gone through a metamorphosis that has led to such organizations in dire need of certified project managers. These individuals are qualified to handle the requirements of ongoing projects; whether they are related to software development or physical boundaries.
The nature of the certification, in turn, determines how the skills of a certified IT Project Manager can be applied and benefited from.
Why Are Project Management Certifications Important?
The average certified project manager has undergone various vigorous project development units, with each one being a training module of its own nature.
As a result of these certifications, the project manager is eventually capable of handling a wide variety of challenges and preset tasks to help increase the flow of the business industry.
Likewise, based on IT Project Management Certifications, such as; Agile, Scrum, or PMP+ modules, the certified manager can overlook an entire workforce responsible for achieving a milestone.
These project managers handle Scrum Masters and Product Owners who, in turn, are tasked to monitor "sprint" marathons within the organization.
Obviously, we don't expect you to know the aforementioned terminologies. However, at the helm of each project, it comes down to obtaining the concerned Project Management Certifications.
Otherwise, you won't be treated as an "accredited/ recognized" individual who is equipped to handle the laborious tasks within the life cycle of a project.
See how much do project managers earn:
How Much Do Project Managers Make?
The 17 Best Project Management Certifications of 2023
Pro Tip: Are you facing trouble in setting up milestones for your tasks and projects? Don't you worry! You can do it in a few clicks with, nTask | Work Management Software, It's about time you dot your I's and cross your Ts to perfection!
A lot of organizations, especially in the IT sector, bit the bullet after the second quarter of 2023, and most of them are now offering project management certifications online. These organizations were in the minority because most of the major businesses had adopted the trend of hiring either a Certified Associate in Project Management or a highly skilled Project Management professional.
Needless to say, statistics revealed a noticeable slump in their budget overturn, project completion rates, and client satisfaction percentage. As a result of those findings, most of the leftover companies and institutes have shifted towards the current trend.
Some of the best Project Management Certifications and IT Project Managed Courses are highlighted below. Bear in mind that we encourage you to carry out your own research to weigh out the pros and cons of these certifications.
1. Project Management Professional (PMP) Certification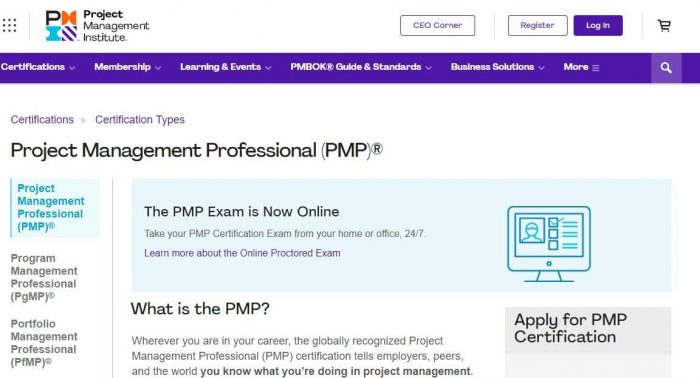 Project Management Professional Certification cycles around three constraints: Time, Cost, and Scope. It is a challenging course that constitutes various modules to assist academia in identifying the weak spots within a project.
As a result, the project manager can brief his/ her team to come up with alternatives for completing the test sprint phase, and eventually achieve all the milestones towards a deliverable product.
The Project Management Professional certification is accredited by the Project Management Institute (PMI). They work constantly to introduce new changes within the course contents to keep it up to date and aligned with the rapidly changing requirements of the industry.
Project Management Professional (PMP) Requirements
3 years minimum experience in the project management field
5 years or an equivalent 7,500 hours of experience as someone who directed projects in PM-related areas
Additional 35+ hours of project management education and a qualified person certification
Recommended Reading to prepare for PMP certification:
---
2. Certified Associate in Project Management (CAPM)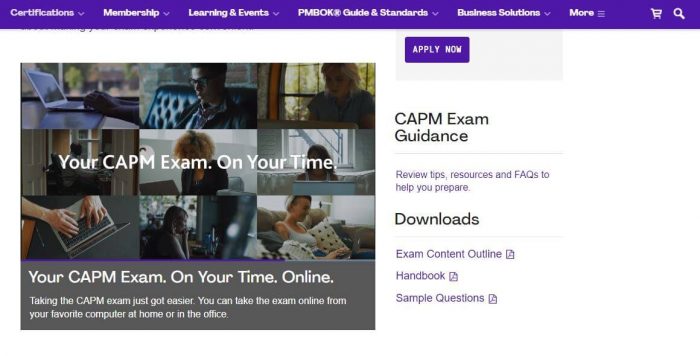 Expected Salary: $90,000 – $101,000
Accreditation & Significance: Project Management Institute
Cost: $200 – $300
As mentioned earlier in this post, the CAPM is part of the basic level IT Project Management Certifications. The high tier certifications not only carry prerequisites but are also demanding as well.
The Certified Associate in Project Management is also administered by the PMI. It is a basic-level certification that's lined up with plenty of learning and growth opportunities for beginners.
Certified Associate in Project Management (CAPM) Requirements
Since this is an entry-level certification, it does not have a lot of prerequisites. At the least, interested candidates with a high school diploma or an equivalent 1,500 hours of project management experience (without any previous certification) can apply.
If you do not qualify on the basis of the two aforementioned "requirements", you can still opt-in if you have completed a minimum of 23 hours of cumulative project management education.
Certified Associate in Project Management Examination can be taken at an entry cost of $225 for registered PMI website members. If you are a non-member, the test fee will be $300. In both cases, the fee is non-refundable.
Recommended Readings to prepare for CAPM certification:
Also Read: Agile Best Practices Every Agile Team Should Have in Place
---
3. Certified ScrumMaster (CSM) – Agile Project Management Certification

Expected Salary: $85,000 – $80,000
Course Duration: 1 Year
Accreditation: The Scrum Alliance
Cost: $990 – $1,400
The CSM: Certified ScrumMaster certification enables the "certified professional" to overlook a team of individuals who are responsible for working on the behest of the assigned product owner.
The majority of Scrum series certifications are associated with The Scrum Alliance, a globally recognized institute that was initially founded to promote an Agile mindset in the software industry.
The CSM also works as a jump-off/ tipping point for basic level Scrum Practitioners who wish to advance to the next level.
As of the most recent statistics, there are over 450,000 Certified ScrumMasters around the world. Most of these individuals started on Agile Project Management Certifications back in 2,000.
This certification is accredited with Scrum Alliance. They are a nonprofit organization who have been volunteering mostly in the IT industry for a number of years now.
Ironically for a nonprofit organization, The Scrum Alliance charges a whopping $1,000 to $1,400 as examination and training fee. The training course spans over two days, followed by a test, which is held on the next available immediate date, or whichever schedule suits the candidate.
Certified ScrumMaster (CSM) Requirements
Basic level familiarity with Scrum and Agile mindset. You also need to complete The Scrum Alliance introductory module to better orientate yourself towards the requirements of the Certified ScrumMaster program.
Additional Reading to prepare for CSM certification:
---
4. CompTIA Project+ Certification

Expected Salary: $80,000 – $85,000
Course Duration: Not Applicable
Accreditation: CompTIA Project Co.
Cost: $285
CompTIA Project+ is yet another certification within the realm of Project Management Certifications. However, its requirements are slightly less stringent, and it mildly correlates to the computing industry.
It is safe to say that the CompTIA Project+ certification is scaled within the same league as that of Certified Associate in Project Management (CAPM). CompTIA Project+ mostly has to deal with aggregating feedback from respondents, government representatives, and research institutes.
Later on, the qualified professional points the organization in the right direction to seek experts who'd be able to complete the project at hand.
CompTIA Project+ and other associated IT Project Management Certifications are accredited with CompTIA Co. They are an institute like PMI and The Scrum Alliance. The only difference is that CompTIA Co. is targeting a specific mindset of the IT business industry.
CompTIA Project+ certification fee is $285. Some accredited training centers also organize CompTIA-recognized training classes and mock test programs. You can check that by consulting with your nearest CompTIA Co. branch.
Study guide to prepare for CompTIA Project+ certification:
---
5. Agile Certified Practitioner (ACP) Certification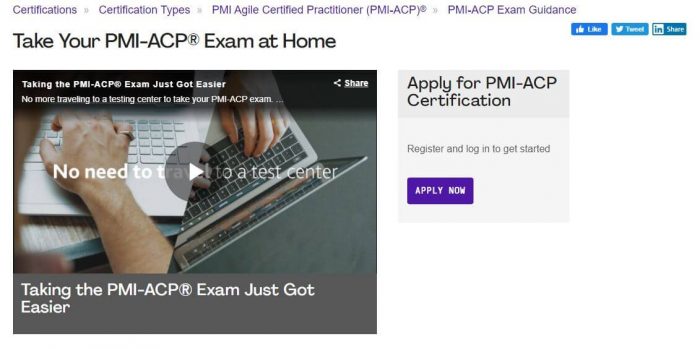 Expected Salary: $110,000 – $123,000
Course Duration: 24 Hour Approval & Eligibility Period
Accreditation: Project Management Institute (PMI)
Cost: $490 – $640
The Agile Certified Practitioner (ACP) Project Management certification is administered by the PMI. This certification strictly follows Agile mindset businesses; mostly companies that believe in identifying core problems and then doing more in less capacity. "Agile" itself is a vast description.
The PMI instructors give a brief walkthrough of the Agile philosophy through a ground-up approach. The certification further delves into a practical hand-on strategy where different training modules are conducted to further equip the individuals with Agile frameworks.
Speaking of Agile frameworks, Scrum is part of the Agile mantra. Scrum is also a specific systematic approach to getting things done, but it is related to Agile – you can also call it a subcategory of Agile.
A major perk of seeking certification as an ACP is that this is a globally recognized achievement. Students are enrolled to explore different tools and then apply their skills in real-life issues concerned with Agile hurdles.
Agile Project Management – ACP Certification is administered by PMI. They are also heading various other PM certifications, degree programs, and courses to help aspiring individuals from all walks of life.
Agile Certified Practitioner (ACP) Requirements
ACP is scaled as an advance tier certification within the Agile Project Management Certifications lineup. To be able to take the ACP exam, you need to fulfill the following requirements:
High School Diploma, Associate Degree, or Equivalent Experience
Over 2,000 Work Hours of Experience or Cumulative 2,000 Hour Work Experience.
Prior Experience in Agile Work Teams/ Companies
If you have references from Agile Business Industry, you should use them to brighten up your chances of enrollment in the PMI ACP program.
As part of the PMI's recognized certification, the ACP enrollment fee is $495. You can shave off an extra 60 bucks if you are already registered at the PMI website.
Signing up as a Project Management Institute member incurs a payment of $135. In exchange, they offer a flat $60 discount on all certifications and vice versa.
PMI also makes up for the spike in registration fees by offering online freebies to make students feel right at home. Occasionally, they introduce "dumps" that have previous year examination questions, lab exercises, and much more.
Preparation material for ACP certification:
---
6. PRINCE2 – Projects in Controlled Environments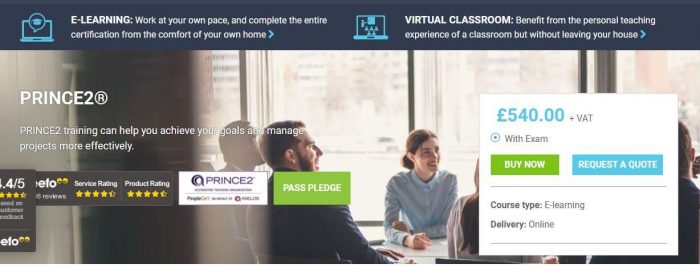 Expected Salary: $90,000
Course Duration: 3-5 Yeas
Accreditation: AXELOS Ltd.
Price: $900
PRINCE2 is an advanced tier degree in the project management certifications chain. You need to clear a couple of pre-requisites; otherwise, the governing administration will not allow you to sit the exam. However, that's not bad news; it just means that you will be able to complete this certification after clearing a few basic milestones first.
PRINCE2 Certified engineers are highly reputed in their concerned field. Organizations expect a lot from these individuals since they are well equipped with the knowledge of validating employees, core project management skills, concepts about IT project management lifecycle – and yes, business development tools as well.
PRINCE2 Certification Requirements
Since we already mentioned that PRINCE 2 is one of the top-level project management certifications, sitting the exam does have a few requirements. Take them as perquisites, because there's no other way of taking the paper if you don't have one of the following certifications in hand:
Any of the IPMA Level A to B Certifications
Certified Project Management Associate Certification
PRINCE 2 Foundation Course
PMP Project Management Professional Certification
Please bear in mind that if you have not previously cleared the above-mentioned project management certification course, you could go for the easy ones. The basic requirement for PRINCE 2 exam is that you need to have at least one certification that qualifies you as "eligible" for the examination.
Recommended book to prepare for Prince2 certification:
Also, check this Prince2 certification guide:
Prince2 Certification Guide for Misguided #ProjectManagers
---
7. Certified Project Director – CPD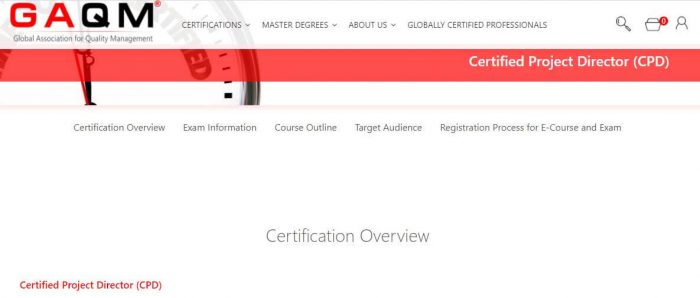 Expected Salary: $138,000 – $173,000
Course Duration: Not Applicable
Accreditation: GAQM
Price: $400 – $555
CPD is a directorial level project management certification where it is not only hard to take the exam, but the accredited institute also has certain requirements to keep the CPD course validated. As a Certified Project Director, you are obligated to "maintain" your certification by completing a preset number of hours in field duty.
Likewise, training sessions conducted for subordinates also count as an added plus point. CPD has two modules; formal CPD and informal CPD.
They are not to be confused with one another since a Formal Certified Project Director is deemed a professional who has earned structured online education, a proper certificate, and supporting documentation.
Regardless, CPD is one of the most prestigious certified project management courses. As much as CPD itself is a daunting venture, it rewards qualified personnel with equal employment and salary-related opportunities.
Certified Project Director Requirements
Since CPD is accredited with the GAQM, they have mandated having strong knowledge about the principles & methodologies of project management. In addition, you need to demonstrate hands-on knowledge in the field of project management as a director to qualify for the exam.
---
8. Certified Project Manager – CPM-IAPM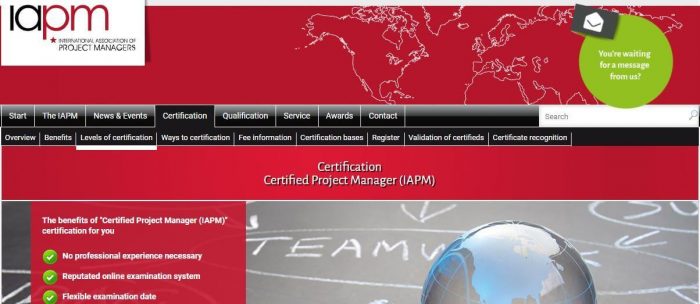 Expected Salary: $65,000 – $96,000
Course Duration: Not Applicable
Accreditation: CCPC Global
Price: $630 – $800
Certified Project Manager – CPM has introduced over a decade ago when September 11, 2001, terrorist attacks rocked the foundations of the US government. The presiding body at that time introduced the Certified Project Manager course because of the unforeseen nature of the disaster at hand.
Besides buildings and other physical devastations, the attack also sent jolts through IT infrastructure. Businesses were not equipped to handle such pressure and needed certified project managers to benchmark their skills through hands-on experiences. Since then, this certification is globally recognized by project management training institutes.
Certified Project Manager Requirements
CPM and CPM-IAPM are relatively easier to complete. There are no prerequisites to sit the exam, other than proof of taking 3 days' duration training course.
E-Books to prepare for CPM certification:
---
9. Professional in Project Management – PPM

Expected Salary: $104,000
Accreditation: PMTI/PMI
Price: $135 – $555
Although it is not as challenging to get a certification as a PPM, companies prefer hiring experienced professionals as compared to those who have just completed their courses. Regardless, Professional in Project Management (PPM) is treated as a mid-level project management certification course where individuals are taught various skills.
As a certified PPM professional, if you are looking to step into the job market, a lot of businesses will expect you to have knowledge/ skill concerning resource allocation, quality deliverance n' maintenance at minimal risk, effective communication and tenacity to bring change in the company.
Just like CPM, the Professional in Project Management Certification is lined up with risk and crisis management training.
Professional in Project Management Requirements
Unlike its counterparts, PPM certification examination does not require for you to have a formal college degree
Candidates need to have at least some experience in the field of project management. If that's not a possibility, you need to demonstrate your knowledge and familiarity with project management in one form or another
---
10. Master Project Manager (MPM)

Project Management is growing at a fast pace and it is used in all industries be it health, telecom, chemical, energy as well as in the social sector. Master Project Manager – MPM Is modeled for professionals who aim for greater productivity at the workplace.
The MPM is primarily focused on professional project managers, but in addition, it also supports those professionals in the technical and business management roles.
MPM is one certification that helps you earn additional points for IT professionals who are within the project management domain of their companies. It provides a simple but effective training environment for professionals with a technical background by defining and associating the teachings of management with engineering.
Professional in Master Project Manager Requirements
Three years of training and project management experience make applicants eligible for waivers who hold a Masters Degree, with relevant job experience
Graduates with less than 3 years of project management experience are also eligible to appear for this certification.
Recommended reading to prepare for MPM certification:
---
11. Associate in Project Management (APM)

Expected Salary: $55,000 – $66,000
Price: $128
The Associate in Project Management (APM)™ certificate is an entry-level certification in the field of Project Management.
It is an important globally recognized credential in the field of project management that demonstrates that the candidate has the required knowledge in the field confining to the entry-level of project management.
The exam comprises 50 Multiple Choice Questions out of which the candidate needs to score 70% (35 out of 50 correct) to pass the exam and the total duration of the exam is 1 hour (60 Minutes).
Professional in Project Management Requirements
No formal education or experience required
---
12. Certified Project Management Practitioner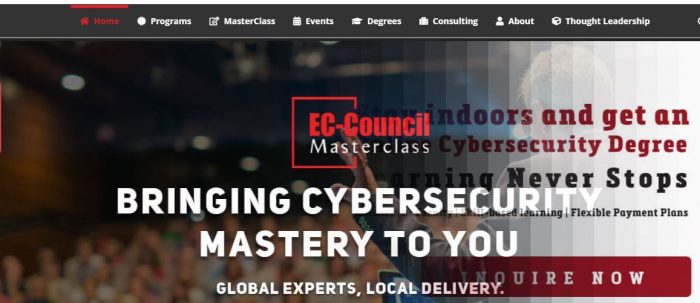 Expected Salary: $50,000 – $88,000
Course Prep Duration: 3 Days Max
Accreditation: EC Council
Cost: $199.00 Per Exam/ Per Attempt
Right after the EC-Council was founded in 2001, the government wanted to address some of the core issues that resulted from the infamous terrorist attack. For that matter, the CPMP certification was created as a benchmark for those who had a knack for managing post-disaster recovery operations.
People having a Certified Project Management Practitioner certification are expected to take on a number of projects related to infrastructure development, managerial obstacles, and leadership hurdles. Although CPMP certification is not a high-tier degree, it does serve to work as a very strong foundation for anyone looking to get into a field that requires hands-on experience.
As a result, value over time to managerial experience, leadership traits, and technical skills is added.
Certified Project Management Practitioner (CPMP) Requirements.
The requirements for the CPMP course are fairly simple. There are no pre-requisites to this certification. You are, however, required to submit a non-refundable fee of $200 for the exam. CPMP is taught at various training companies over a span of 2 – 3 days. They do charge a hefty fee for those classes, so, set aside a huge chunk of your budget in advance.
---
13. Certified Six Sigma Black Belt (CSSBB)

Expected Salary: $97,200
Course Duration: Several years or until you have demonstrated 2 projects at least.
Accreditation: ASQ
Cost: $540 Per Exam/ Per Attempt
The next one on the list is CSSBB – also known as Certified Six Sigma Black Belt certification. Yes, it does have a fancy name, and that name is accompanied by a nice fat paycheck and a whole lot of challenges.
Another interesting thing about CSSBB is that it is not the only certification in this tier. If you are not up to the challenge or don't meet the pre-requisites, you can sign up for the Certified Six Sigma Green Belt certification. This one's a lower-level certification and works as a stepping stone for those who are looking to get the "Black Belt."
CSSBB is recognized globally, and it's accredited by the ASQ institute. Other than the CSSBB certification, the ASQ Body of Knowledge is embellished with 18 other certifications. Three of those certifications make up for project managers, while others escalate the PM level expertise to a more professional level.
CSSBB certification is tough. The path is rigorous because of complex prerequisites and a varying fee structure. The good news is that once you are done with it, you will enjoy the benefits of a decent pay scale and many other perks that professionals are offered by big companies.
Certified Six Sigma Black Belt (CSSBB) Requirements:
In order to take the exam, or be eligible at least, you need to show that you have completed two different projects before. The ASQ will ask you to produce past project affidavits in addition to 3+ years of experience in the field.
The deal-breaker in this entire certification is that it remains valid for three years only. That's not the bad part. In order to retake the exam, you need to retake all 18 certification exams that are part of the CSSBB structure! Sounds, cool, right?
Recommended Books for Certified Six Sigma Black Belt (CSSBB) certification preparation:
---
14. Certified Six Sigma Green Belt Certification: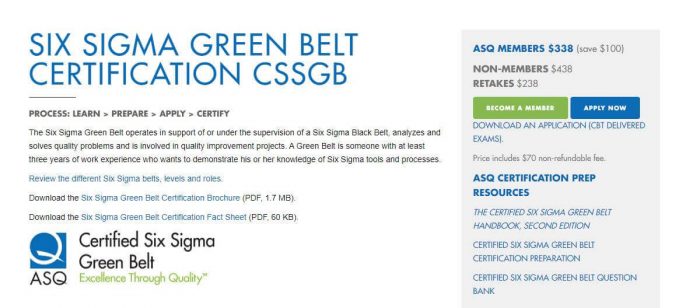 Expected Salary: $77,000 – $80,000
Course Duration: 1 Year or until the prerequisite requirement has been met
Accreditation: ASQ
Cost: $440 Per Exam/ Per Attempt
This certification is part of the other certification in the Certified Six Sigma Black Belt certifications group. There are a total of three certifications, and CSSGB is one of them. The three certifications are essential for anyone who's looking to hone his/her skills as a project manager.
As usual, the CSSGB certification is accredited by the ASQ institute. Prior to the exam, candidates are expected to have at least three years of experience in the Six Sigma projects field. In addition, the work experience has to be full-time and paid for. Therefore, internees or part-time workers are not able to take the certified six sigma green belt exam.
The good news is that within the confines of green belt body certification, you will be able to do one of the following with great ease and comfort.
Handle phase-related projects. Phases in Six Sigma could be customer voice, PM basics, project identification, planning and resource management, team dynamics and vice versa. Each "phase" is a legacy on its own.
You will also be able to do process analysis, measure the performance and capabilities of team members in a project and collect data crucial to the existing Six Sigma setup.
Certified Six Sigma Green Belt Certification (CSSGB) Requirements:
The requirements for CSSGB certification are a little complex. As mentioned earlier, you need to show affidavits or contracts for at least 3 years of experience as a full time working individual on Six Sigma projects.
Recommended Books for Certified Six Sigma Green Belt (CSSBB) certification preparation:
Also Read: Scrum vs Kanban vs Agile vs Waterfall – A side-by-side comparison
---
15. Project Management Certificate (PMC)

The Project management certificate (PMC) is a part of a professional graduate certificate offered by Harvard. This certification can help you in the entire project management process from planning, initiation, project execution, evaluation, monitoring, and closing project. You can gain both the management and the technical skills in the project field. This certification is aligned with the PMI's experts and gives you the required leadership skills to make others accountable.
With the PMC course you will learn the following:
To gain the PMC certificate, you are required to complete at least 16 credits for certificates at the graduate level, get minimum B grade, and complete it within 3 years' time.
16. BVOP Certified Project Manager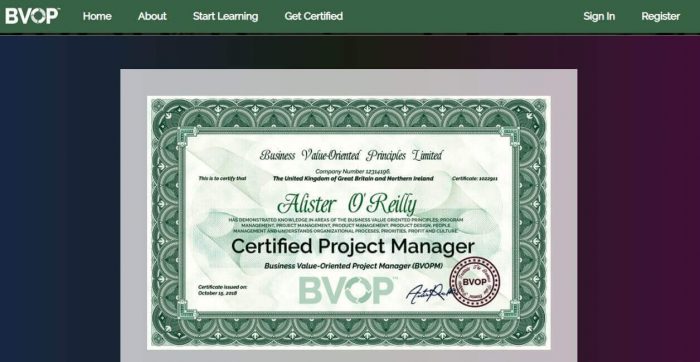 Course Duration: Not Applicable
Cost: $130
Accreditation: BVOP.org
This project management certification is quite new but gained much traction in recent times, especially in the United Kingdom. The Business Value-Oriented Principles (BVOP) Certified Project Manager Certification is based on the agile framework. This certification gives value to the business by emphasizing the best project management practices and activities needed for business success.
The BVOP Certified Project Manager is useful for program directors, cross-teams, business persons, and other stakeholders. This certification will help you build processes that are efficient, transparent, and agile for project management. You will not only develop project management skills but also get familiar with people and product management for business.
In the BVOP Project Management certification, you will learn:
Requirements for BVOP Certified Project Management:
There is no strict prerequisite for the BVOP project management certification, but you will need to have a basic understanding of project management principles, terminologies, and best practices.
Recommended reading to prepare for BVOP project management certification:
17. GPM-IPMA Levels A – D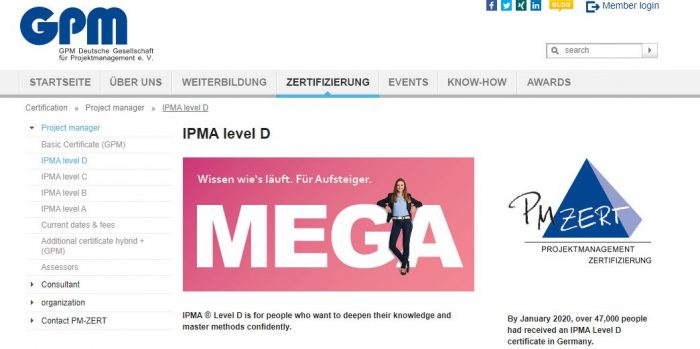 Expected Salary: € 80,251
Course Duration: Around 7 days
Accreditation: International Project Management Association
Cost:

For the basic certification: for GPM member €203, for students €150
For level A certification: €2,475
For level B certification: €1,935
For level C certification: €1,530
For level D certification: € 567 for GPM members, €250 for students
GPM-IPMA certifications are those that are issued by the German project management association "Gesellschaft für Projektmanagement" (GPM).
The GPM is part of the industry association International Project Management Association (IPMA). Therefore, the GPM's certifications are on par with certifications offered by national associations and are also mutually recognized by them.
GPM offers five levels of certification the basic certification, Level A certification, Level B certification, Level C certification, and Level D certification. With the most popular GPM certification being Level-D certification.
The exam comprises of both oral and written papers attested by GPM examiners in Nuremberg. However, there is also an option to hold this exam at a company site, granted there are enough candidates and that the company supports this.
This certification is referred to by the IPMA as "Certified Project Management Associate".
Successfully passing the level D certification qualifies a candidate as "Zertifizierte(r) Projektmanagement-Fachmann/-frau" (Certified Project Management Associate).
Requirements for GPM-IPMA Levels A-D:
There are no specific requirements for starting the GPM-IPMA certification. However, you need to pass the respective levels to get full certification.
---
Comparison of Project Manager Salaries
An important question to consider is what effect do project management certifications and other factors have on a project manager's salary?
It is easy to see the rise in median incomes for project managers by looking into salary reports published by industry associations such as:
The median salary for project managers in the US is around $116,000 across all industries.
This average salary however differs depending on certain factors including location and industry. Let's consider some of the factors that may affect your earning capacity.
1. Years of Work Experience
The years of work experience you have has an impact on the salary you will earn.
Project managers that have less than three years of work experience earn a significantly lower salary compared to those individuals who have more than ten years of experience.
The salary factor is also impacted by the relevant experience in the industry. The more experience you have in project management, the higher the salary you can expect.
2. Your Position
Another factor that affects your salary is your job position. The higher your job position; the greater your salary will be.
Consider, for example, a portfolio or program manager or the director of a project management office. These individuals are managing several complex projects rather than one project that another individual might handle.
3. Industry
The industry that you work in also has an impact on the salary that you earn.
If you look into the PMI salary report highlighted earlier in this post, you will find the difference in the salaries of those project managers working in different industries per the location they are in.
4. Your Status as a Project Management Professional
Acquiring a PMP (Project Management Professional) certification can deepen your project management knowledge and also increase your salary prospects.
On average individuals who are PMP certified earn 20% more than those project managers that do not have the certification.
Benefits of Project Management Professional certification
Here are some of the benefits of PM professional certifications:
• Enhance professional credibility and marketability: Achieving a Project Management Professional (PMP) certification from the Project Management Institute (PMI) will demonstrate your understanding of project management tools, techniques, and processes to potential employers. It will also provide an edge when competing for new roles and opportunities.
• Stay current on industry best practices: PMP certifications require ongoing education in order to maintain the credential. This allows you to keep up with the ever-evolving field of project management and stay informed on the latest advancements influencing your profession.
• Broaden career prospects: The PMP designation is an internationally recognized certification that can open doors both nationally and internationally, as you can apply these skills in any industry or field. 
• Increase salary potential: Many organizations view PMP-certified professionals as more experienced than their uncertified peers, due to their advanced knowledge base and expertise in managing complex projects effectively. As a result, many companies offer higher salaries for certified candidates over non-certified applicants – potentially opening up additional earning opportunities
What are the best online accredited project management courses?
Project Management Professional (PMP) Certification Training Course offered by Simplilearn: A comprehensive training course that covers all aspects of project management, including risk management, stakeholder management, and the PMI framework. 
Certified Associate in Project Management (CAPM) Certification Course offered by edX: An introductory level certification course designed to give professionals a better understanding of key concepts involved in project management. 
Project Management Foundations Online Course offered by LinkedIn Learning: A basic-level educational program designed to help individuals learn how to plan, execute and monitor projects for successful completion. 
Advanced Project Management Course from Harvard Business School Online: An advanced lecture series providing detailed guidance on effective planning, scheduling, and controlling of a wide variety of projects. 
Masterclass in Strategic Project Management from Coursera: Learn the latest approaches and techniques used in complex projects with this comprehensive course featuring case studies and real-world scenarios.
What are the basic project management courses?
Project Scheduling and Planning: includes topics such as project objectives, resource allocation, budgeting, task assignment, and project timeline.
Risk Management: covers strategies for recognizing, assessing, and mitigating potential risks that may affect the success of a project.
Project Communication: teaches techniques for effectively disseminating information about the project to stakeholders.
Quality Management: provides insight into methods for ensuring quality control throughout the lifecycle of a project. 
Team Leadership: explores best practices for managing team dynamics in order to optimize performance.  
Change Control Processes: examines procedures for adapting to unforeseen circumstances in an orderly fashion without disrupting workflow or compromising quality standards.
Frequently Asked Questions
How to Prepare for Project Management Certifications?
There are different approaches to preparing for Project Management Certification Courses. Some people like to partake in study programs conducted at globally recognized institutes, while others rely on self-taught skills.

The key approach to reaping the most benefits from any range of Project Management Certifications is to make an informed decision on getting the "right" certification. It can only happen if you have taken the right course after evaluating its scope in the market, return on investment, and many other job-related possibilities.

PMI tests are usually based on 200 questions. According to experts, 25 out of those 200 questions are spontaneous. These questions define the difficulty curve of the computer-generated PMI Certification exam(s).

Moreover, a majority of these certifications are based on closed-book policies. Some institutes allow their students to bring reference material to consult with, but PMI strictly prohibits such an approach.
Where to Start with Project Management Certifications?
Consult with an expert from the industry to see which certification holds the most value for you in years to come. According to some experts, the only reason they took up ScrumMaster, Agile or Lean Business certifications was due to the sheer excitement factor.

They were able to innovate business and impact the "means to an end" philosophy in a positive manner.

Regardless, project managers are highly rewarded for their skills. Their pay scale easily levels against that of CEOs and high-profile business designations.
Why is a project management certification important?
Having a project management certification has many benefits. Here are just a few:
– Your resume will stand out. Such certifications are in high demand by recruiters. Having such a credential increases your credibility with hiring managers.
– You can earn a higher salary. Such certifications enhance your marketability and allow you to expect a salary hike of around 20%.
– You add to your knowledge and skill. Such certifications require you to build your knowledge in project management, and thus this will help you manage your next project.
How long does it take to get a project management certification?
Depending on how prepared you are and the prerequisites of your program, getting a project management certification can take up to 8 t 12 weeks.
Some Other Useful Reads on the nTask Blog