Technological advancements in recent years have made the digitalization of business processes an inevitable feat. Companies all over the world endeavor to transform their business, equipping it with the latest technologies and machinery in an attempt to stay abreast with the rapidly transitioning world.
The transition from the physical to the digital world is unavoidable, the same goes for paperback documents. Digital documents are the latest means of storing digital data. Millions of bytes of data are stored in these documents every day.
While paper-based documents are vulnerable to damage, spoilage, etc., digital project documents, on the other hand, are safe from these risks. Not only are they a safe storage place for confidential information but are also shielded from spoilage, theft, and other such hazards.
The undeniable benefits of digital documents have compelled businesses to change their ways and adopt the latest stream of digitalization.
While there are tons of benefits of digital documentation, it can be quite a hassle to store large amounts of data, organize and manage it. Much like paper documents, digital documents also need sorting and organization so that you can quickly search and gather the information you need.
This is where document management software comes in.
What Is A Document Management Software?
Document management software is a beneficial tool that completely transforms the way you store your company's documents. The software is equipped with some of the latest features that help you store and organize documents efficiently and simply.
Not only can you store large volumes of your company's documents but also, organize them in such a way so that it is easy for users to access them anytime they want.
In this article we explore the top-of-the-tier document management software loaded with advanced management features. The list includes their key features and pricing details. Let's take a look at the list.
List Of the Best Document Management Tools in Town:
Table of Contents
Top document management apps for 2022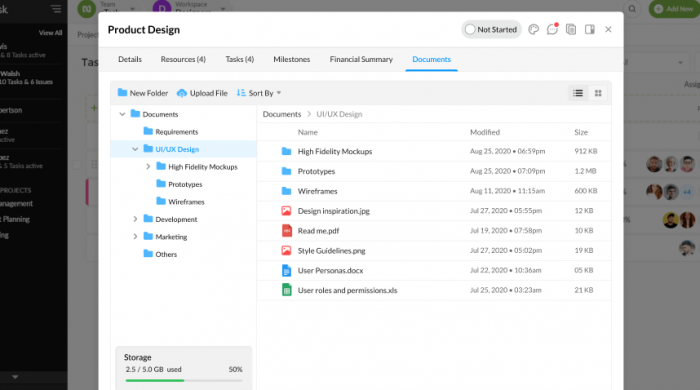 When it comes to safe and secure document management, our first choice is nTask. Over 250,000 companies utilize the services of the software to scale up their business. Over the past few years, nTask has established its standing as a trusted tool for management solutions.
The tool offers 7 management modules, all equipped with some of the latest features designed to help you efficiently manage your company. The seven management solutions in question are:
Task Management
Team Management
Time Tracking & Timesheets
Meeting Management
Issue Tracking
Risk Management
In addition, the software hails some of the most efficient tools for visual reporting. nTask's Kanban boards and Gantt charts offer a bird's eye view of your project. So, you can easily track your performance and identify the potential risks and issues at a glance.
When it comes to document management, nTask does not lose out against any of its competitors. Its document management system is as enriched as for any other tool out there.
Let's take a look at some of nTask's core features as document management software.
Core Features:
Offers extensive features for efficient document sharing and files management
nTask's cloud servers offer 100% security making sure your files are fully protected
You can divide and subdivide your important documents into folders and sub-folders to keep everything organized
The organization of documents helps you quickly retrieve important files
Allows you 24/7 access to your files and documents from anywhere in the world
You can also share relevant files in the task board to keep everything aligned
Offers drag and drop feature with which you can instantly upload files into the comment section of tasks to collaborate efficiently
You can also view a list of all the documents related to a specific task via 'View all Attachments'.
Allows you to view, organize and download all your project-related documents from one centralized place.
1000+ third-party integrations keep your flow of work smooth
Pricing:
Basic plan – available for free forever
Premium plan – $3 per user per month
Business plan – $8 per user per month
Enterprise plan – Custom pricing
Stay on top of document management, only with nTask

Manage documents, teams, tasks, issues and projects now. Sign up today!
2. Bitrix24

Bitrix24 is a famous project management software, known for its quick and efficient features. As a document management software Bitrix24 offers a secure place where you can place different files for download, personal use, or collaboration purposes.
The tool is used by over 9,000,000 users all over the world and is available on the cloud and on-premise. Its internal search feature makes it easy for you to retrieve files quickly.
Core Features:
Offers three types of Drives for personal and shared documents:

My Drive: A drive for employees' personal use. My Drive is inaccessible to others.
Group Drive: Contains files shared in a particular workgroup. All members of the group can access these files.
Company Drive: All the documents made available to the employees of a company.

Activity Stream allows you to write comments, attach different versions of documents, and much more.
Allows you to save documents in Documents Library.
With Bitrix24's 'like' button you can make your documents rank higher in search results.
Allows you to view different versions of your documents.
You can 'lock' your documents to keep them inaccessible for however long you want.
Integrations with Google Docs, Office 360, and MS Office Online allow you to create and edit your documents in the web browser directly.
You can use other apps to edit your documents.
Pricing:
Free – $0 forever
Start+ – $24 per month for all users
CRM+ – $69 per month for all users
Project+ – $69 per month for all users
Standard – $99 per month for all users
Professional – $199 per month for all users
3. Google Drive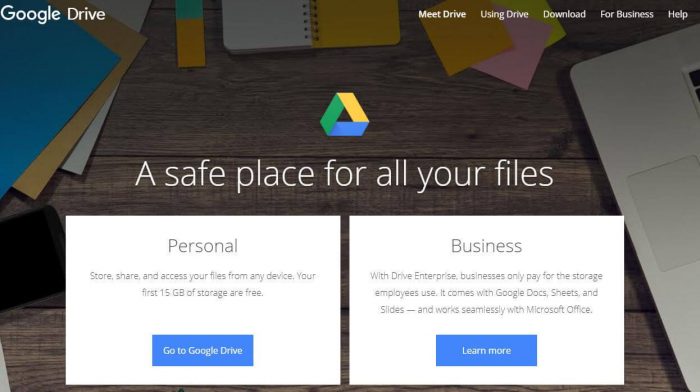 When it comes to storage, all businesses turn to Google Drive. The popularity of Google Drive is unrivaled with over 2 billion monthly active users from all around the world. As of 2019, Google Drive has 6 million paid users.
The statistics are evidence of the tool's reliability. Over the years, Google drive has reigned as one of the ideal tools for document management.
Core Features:
Offers seamless integration with cloud-based apps
Allows you to store files without converting file formats
Can easily integrate with other applications used by your teams
Google's AI and Search technology speeds up your search capabilities by almost 50%
Offers shared spaces for teams
Data Loss Preventions (DLP) makes sure that confidential data is inaccessible to outsiders
Allows you to create, view, and edit files offline, the changes are synced when you come back online
Pricing:
15 GB – Free
100 GB – $1.99 per month
200 GB – $2.15 per month
2 TB – $9.99 per month
4. Confluence
Confluence has secured the fourth position in our list of the best document management tools. The tool is widely known for its team management and file sharing features.
The cloud-based software offers a unified space for the storage and organization of all your files. With its efficient features and a penchant for simple document sharing, Confluence has garnered over 60,000 users from all over the world.
Core Features:
Organizes your team's documents into Pages and Spaces:

Pages: Documents can be created and edited in pages. Employees can also discuss their work here.
Spaces: Spaces are the place where pages are stored for individuals, teams, and strategic projects.

Makes search and retrieval of documents easier with Advanced search and search tree
Offer 75 customizable templates
Offers real-time commenting and editing
Sends notifications to users whenever they are tagged or assigned a task
Offers 'Permissions' to help you control the access to documents
Mobile app available on iOS and Android
Pricing:
Free – $0 for 10 users
Standard – $50 per user per month
Premium – $100 per user per month
Enterprise – Enterprise plan pricing is available when you enter 801 or more users above
5. SharePoint Online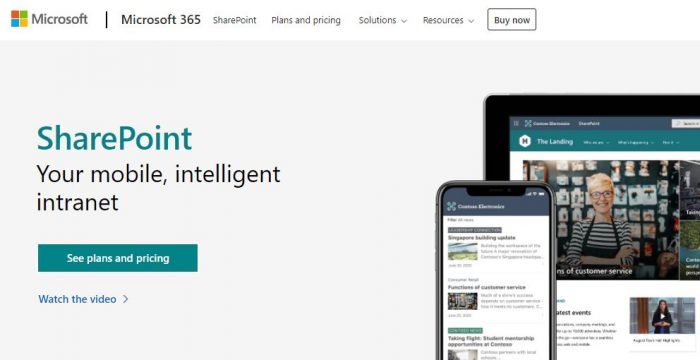 SharePoint Online is our next pick for this list. The Microsoft tool offers a combination of document management, team management, and workflow management, all of which will help you take your business to new heights of success.
With the help of SharePoint Online, you can organize your documents according to the requirements of your business. The tool helps more than 200,000 and 190 million people all over the globe with its powerful features.
Core Features:
SharePoint Syntex uses artificial intelligence to go through your documents and generate insights for better working
Helps you organize and manage your documents with ease
Improves collaboration by allowing teams to create and edit documents together
You can customize metadata fields for all the files stored in the system
Multiple integrations keep your workflow unified
Offers Mobile apps for easy document management
Pricing:
SharePoint Online (Plan 1) – $5.00 per user per month
SharePoint Online (Plan 2) – $10.00 per user per month
Office 365 E3 – $20.00 per user per month
6. eFileCabinet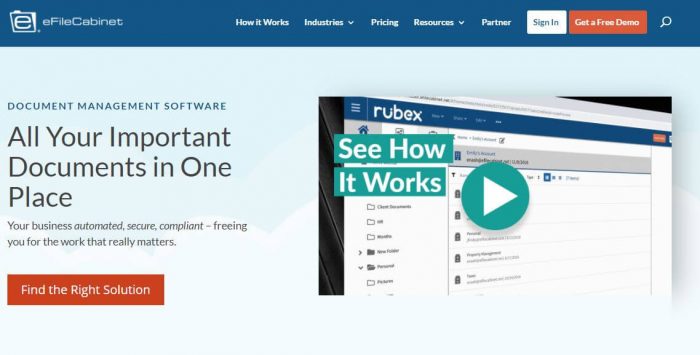 eFileCabinet is another tool loved by many. The document management tool has a user-friendly interface for your ease.
You can easily store and organize as many documents as you want. Also, file retrieval is a piece of cake with eFileCabinet. You can use pre-defined files names or templates for folders to search and retrieve your files quickly.
The tool further helps you improve your efficiency by offering automated workflows.
Core Features:
Rubes, an automation tool offered by eFileCabinet, organizes and names your files according to the information contained inside.
Offers snapshots of your workflow to update you on the ongoing processes
You can create templates with predefined document names and standardize these throughout the organization
Offers a secure connection for file sharing
Allows outside users to rename or upload files when given guest access
You can automatically import files from your emails
You can generate direct links to give access to clients
Pricing:
Starter – $15 per month
Advantage – $55 per month)
Business – $99 per month
Unlimited – $199 per month
7. PaperTracer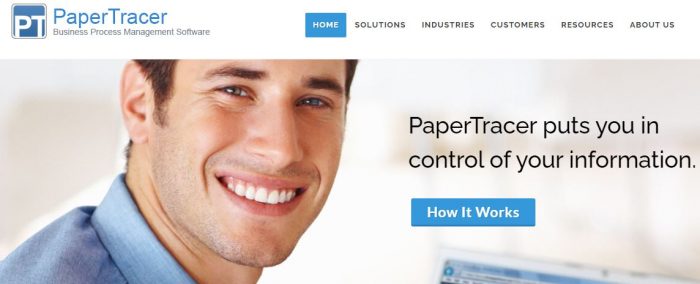 PaperTracer is our last pick for this list. The tool offers various features to store, and track your documents with extensive security to make sure your data remains safe and secure.
In addition, with PaperTracer you can customize data fields and others. Its HIBBA compliant solutions and security features make it one of the best tools for document management.
Core Features:
You can scan all the new documents added into the system
Files can be added with a simple drag and drop feature
Optical Character Recognition (OCR) helps you search the content contained in a file
Allows you to track changes made in a document
You can easily create and manage your workflow on PaperTracer
Automated workflows streamline your work and enhance your productivity
Pricing:
PaperTracer offers three pricing plans, the price for each plan can be obtained by contacting the PaperTracer team.
Conclusion
Storage and management of digital documents require acute efficiency so that the data remains protected from malware, viruses, ransomware, hacking, etc.
You need elaborate solutions for document management in your company, the solutions that can not only store your data but also, organize it for quick and easy retrieval.
Since there are multiple options available in the market, we have narrowed down and highlighted 7 of the most popular document management software that can help you up to your game.
Picking and choosing the right software for your business is all up to you now.
Have we missed something? What other software would you like to add to this list? Let us know in the comments section or email us at fwilson@ntaskmanager.com.
Signing Off!
---
More resources for you: