Business process management has taken the front seat in recent years. Keeping in view the steady increase in business process management, it is estimated that the market will be worth $13 to $14 billion soon.
With the growing need for efficiency, precision, and productivity, businesses go above and beyond to maximize their chances of success. A survey conducted by Redhat highlighted three key pointers that compel companies to invest in process management:
42% of companies invest in process management to improve customer satisfaction
65% do so to enhance efficiency and agility
The investment helps 37% of companies change projects underway
The importance of process management is undeniable, but how about using tools rather than employing the use of manual labor?
Process management tools are your best option in this case. The management systems are your gateway to simple and easy process management, with no hassle at all. In this post, our target is to compile a list of the best project management reviews and rank them accordingly. Read on…
What Are Process Management Tools?
Business process management software are tools designed to increase the efficiency of business processes. The use of these tools helps organizations in various facets, lowering their burden and enhancing their productivity.
A good process management software helps at every front, optimization of work processes, automation of repeat tasks, workflow management, and much more. The use of such a tool can be your key to easier process management in business.
With the increasing use of process management software, several candidates have emerged on the scene. All these tools offer different degrees of efficiency with a wide variety of features at affordable costs.
While it is nice to have many options, it can get troublesome to look through all of them and narrow down your favorite ones. To save you from the tiresome task, we have reviewed some of the best process management software in town and compiled a list. All you have to do is to grab a drink and some snacks read through till the end and then pick the one that seems the best for your business.
Reviews Of the Top 8 Best Process Management Software:
Here is a list of process management software reviews:
Table of Contents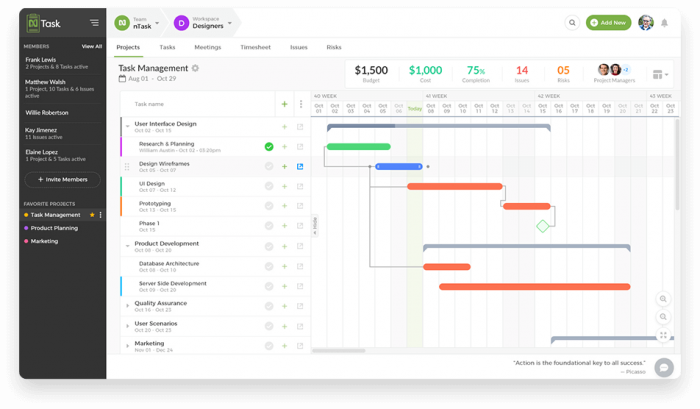 nTask is a game-changer in the business world. the tool is a robust solution for all your business management needs. From a comprehensive project management solution to a simple and fun interface, nTask has all that it takes to drive business management processes without any hiccups.
Over the course of its inception, nTask has continued to develop and redevelop its features, offering flexibility, enhanced efficiency, and much more. The usefulness of the tool is evident from the fact that as of now nTask helps over 250,000 teams across 150+ countries.
The tool offers a fleet of seven management solutions to help you manage all the processes in the organization. From automation to reminders, nTask has got it all covered for you.
Key Features:
Task creation and assignments
Time tracking and timesheets
Risk tracking and mitigation
Issue management
Visual and interactive Gant charts
List, grid, board, and calendar vies
Project planning, execution, and monitoring
Resource management
Finance summaries and budget management
Task dependencies and sub-tasks
Team communication and collaboration
Document management
Multiple integrations
Two-factor authentication
Pricing:
Basic plan – available for free forever
Premium plan – $3 per user per month
Business plan – $8 per user per month
Enterprise plan – Custom pricing
Use nTask Process Management Software Now

Manage tasks, issues, projects, Gantt charts, and risks, all in one place. Sign up today!
2. Pipefy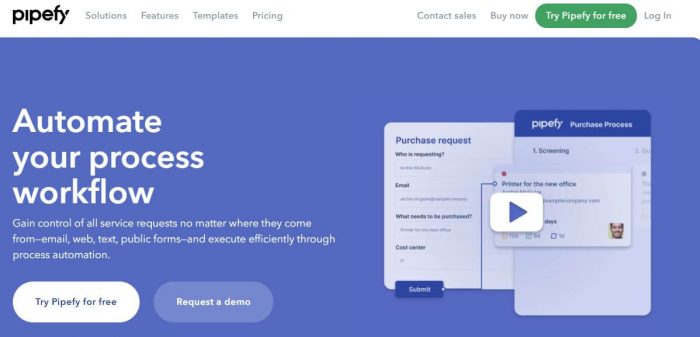 Pipefy is an all-in-one process management tool helping businesses optimize their processes for increased efficiency and productivity. The customization features of the tool make it more flexible to use. Companies rely on the tool for different processes such as communication, automation, and much more.
Investing your capital in Pipefy will yield you very profitable results and it will also add to the long-term development of your business.
Key Features:
Digital collaboration
Automation of manual work
Centralized information
Automatic updates
Sharable forms
Email automation, email templates, and comments
Multiple integrations
Mobile app
Visibility with dashboards
Foolproof security
Pricing:
Starter – Free
Business – $18 per user per month
Enterprise – $30 per user per month
Unlimited – Custom Pricing
3. Zoho Creator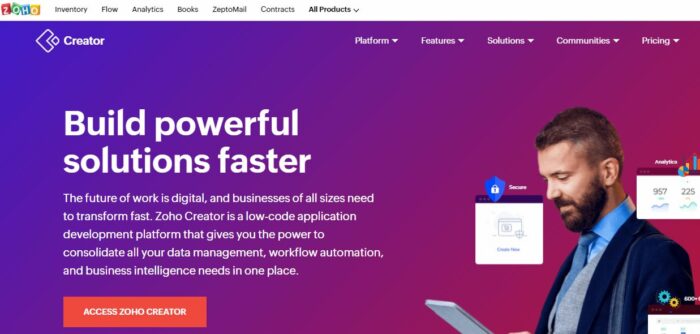 Zoho Creator is our 3rd pick for the list. Zoho allows business to customize their own apps, this way they can create an innovative, personalized app that caters to their needs. It is an easy-to-use tool that helps businesses create custom solutions for their business needs.
Key Features:
Readymade code blocks
Intuitive, visual builders
Ai-assisted migration tools
Gather data, generate model and visualize data structure and relationships
Cross-functional reports
Automate repetitive tasks
550+ app integrations
Customization features
Pricing:
Professional – $25 per user per month
Ultimate – $400 per month, billed annually
4. Bitrix24

Bitrix24 is a renowned name in the project management business, it occupies one of the top positions due to its efficiency. The tool is loaded with some of the most advanced features, ideal for the management of processes in an organization.
With Bitrix24, you can create any business process and run it like a pro.
Key Features:
HD video calls & conferences
Private and group chats
Time tracking
Generate leads
Sales automation
Lead management
Work management
Automate recurring tasks
Visual project management tools
Customizable contact, feedback, and callback request forms
Website builder
Create and publish your online store
Pricing:
Free – 100% free
Basic – $30 per month
Standard – $60 per month
Professional – $120 per month
5. Asana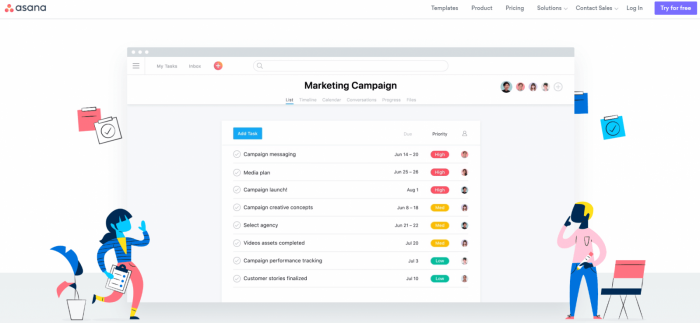 Asana is another popular name in the project management world. The tool offers efficient solutions for every process in a business. Asana has over 100,000 users in 190+ countries. It is ranked at number 3 by Capterra in business process management.
Key Features:
List-timeline, calendar, and board views
Break Asana projects into tasks and subtasks
Share files and attachments
Real-time overview of projects
Dashboards
Control access
Communicate via private and group messaging options
Android and iOS apps
Integrations with other tools
Pricing:
Basic – Free forever
Premium – $10.99 per user per month, billed annually
Business – $24.99 per user per month, billed annually
Enterprise – Contact sales for custom pricing
Related:
The 31 Best Free Asana Alternatives of 2022
6. Trello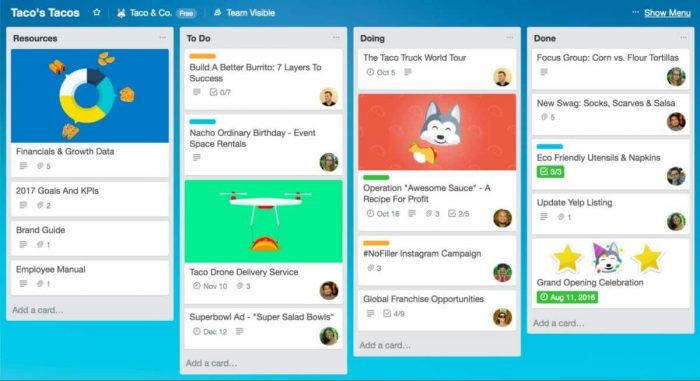 Our next pick for this list is Trello. Over the course of its development, Trello has climbed the ladder to become one of the most popular tools in town for process management in business. It offers different solutions for communication, management of projects, increase in productivity, and everything else you could ask for.
Key Features:
Manage projects
Organize tasks
Meeting, events, and goals setting
Customizable workflows
Trello board
Trello cards
No-code automation
Integrate other tools
Pricing:
Free – $0
Standard – $5 per user per month, billed annually
Premium – $10 per user per month, billed annually
Enterprise – $17.50 per user per month, billed annually
Find more tools like Trello:
The 22 Best Trello Alternatives for Kanban Project Management
7. Jira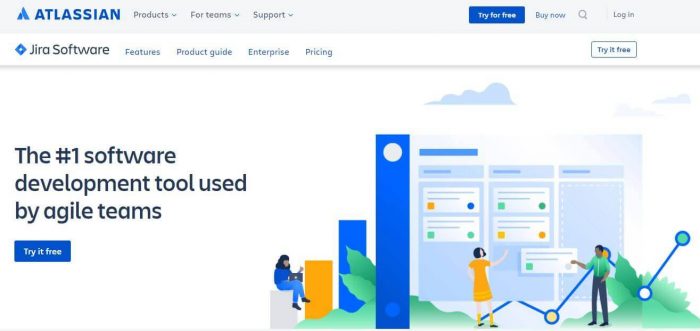 On number 7th is Jira. Jira offers a spectrum of innovative features to help companies establish and maintain their standing. With Jira, you can strengthen your foothold in the market and manage your business without any obstacles hindering your way.
Key Features:
Customizable scrum boards
Flexible Kanban boards
Realtime reporting
Instant visibility into your pipeline
Automation
Customizable workflows
Mobile apps
Pricing:
Free – $0
Standard – $75 per user per month
Premium – $145 per user per month
Enterprise – Custom pricing
8. Kissflow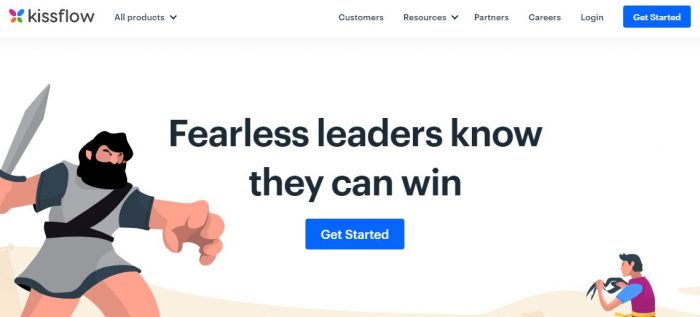 Kissflow is one of the best solutions for process management. The tool is helping over 10,000 customers all over the world and has established itself as a reliable and efficient business process improvement tool.
Key Features:
Visual workflows and forms
Ticket system
Team collaboration
Task assignment
Reporting and Analytics
Pricing:
Basic – $10 per user per month
Advanced – $9.90 per user per month
Fully loaded – $19 per user per month
Enterprise – Custom pricing
Get Set Go!
That is all from our side. These were our process management software reviews. We compiled a list of the best tools keeping in mind their key features and pricing details. The list of process management software reviews shows that most of these tools offer free plans but with limited pricing. For advanced features, users will have to sign for priced plans.
We have covered the most difficult part for you i.e., curating a list of best process management software reviews, now, it is your turn to make the most of it and make a smart decision for your company.
Best of luck!
---
You may also like: