The past few years have pushed our limits, from working 9 to 5 in offices to shifting to remote work and now frequently alternating between both. The ever-changing norms over time have made the creation of a hybrid workplace a necessity.
Hybrid workplace is a combination of office and remote work. It typically consists of a core team that stays in the office while other members transition to and fro as per their convenience.
For some teams, a hybrid workplace is the norm.
Others, however, may find it difficult to navigate through the changing setup. Making sure that your connection remains smooth and work is accomplished without any conflict is of primary importance.
Here are 7 tips that will help you create an efficient Hybrid working environment with effectively communicating teams, easy workflows, and smooth progress of work.
1. Create A Dedicated Workspace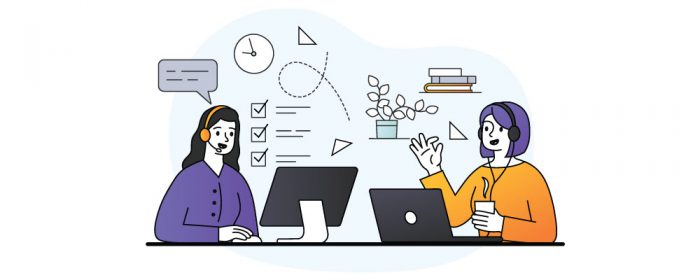 First things first – having a dedicated workspace where all the teams can communicate easily, conduct meetings, and meet-up whenever they have to, is of primary importance. Hybrid workplaces have to be conducive for both office and remote workers.
Remember your workspace will be shared by remote workers as well as office employees and it has to be made as such. Not only should it provide for a suitable meeting place for onsite employees but also cater to those who are working from their homes.
It must be, at one and the same time, a 9 to 5 office and an occasional meeting place. It should be capable of housing onsite team members and also offer separate rooms for smaller meetups involving online meetings. Soundproof rooms and small booths will be perfect for communicating with remote employees.
Make sure that it has smaller rooms for when online team members have to communicate but should also offer conference rooms where all team members can occasionally meet.
2. Keep Your Employees in the Loop
While organizing your very own hybrid workplace make sure that all your employees are also on board. Their participation and satisfaction with the work schedule will contribute to the success of your business.
Each and every employee working in your organization should be informed about his role and expectation. Also, you should always keep all the employees in the loop about the latest work schedule or how the hybrid workplace will function.
In addition, task delegation, tracking, etc. are also to be kept in mind. It is your responsibility to make sure that employees' goals align with organizational goals and their performance is reflective of the same.
Keeping all the employees on the same page and making sure that everyone is keeping up with the progress will help you in the successful completion of your projects.
3. Leverage Communication and Collaboration Tools
The above paragraphs highlighted the importance of communication, we will now focus on the means of communication in a hybrid workplace. A hybrid working environment leverages the use of online tools to keep everyone in the loop.
Unlike regular workplaces, employees cannot talk face to face or conduct meetings. Some of the employees work 9 to 5 in the office while others work at a different time schedule from home. Finding a common ground can be difficult but is, nonetheless, a necessity.
This is where online communication and collaboration tools come in handy. Tools like Slack can help teams communicate with one another anytime, from any place. You can conduct audio and video calls, exchange comments, feedback, etc.
In addition, you can also message privately or in groups. The tools are also helpful if you want to involve stakeholders in the conversation.
Online meetings are no longer a herculean task with efficient communication and collaboration tools that work like a wonder. You can look for any tool of your choice and start collaborating now!
4. Create A Workable Schedule and Stick to It
Since your workplace is scattered across various regions, you cannot let your workflow fall into chaos otherwise it will be impossible to revive team spirit and bring everyone back to their original pace.
The best thing you can do to keep your Hybrid working environment organized is to devise an organized and well-structured schedule detailing different tasks required to accomplish the goals. A detailed plan will include:
Tasks and subtasks
Resources allocated to all tasks
Deadlines set for each task
Task descriptions
Start and end dates
To-do lists, etc.
Once you have devised a proper plan you can share it among your employees. But, wait a minute, your job is not done yet. Not only do you have to create a schedule but you also have to make sure that all employees stick to it.
The successful accomplishment of tasks is entirely dependent on the performance of your employees, how they manage their workload and how tasks are completed on time. Tracking the activities of your employees, identifying and mitigating issues and risks, helping employees with any difficulties they encounter, etc. is your job.
5. Be Open and Accepting to Feedback
One of the biggest perks of a hybrid workplace is the satisfaction it offers employees. The ability to work from anywhere they want and being able to work around their schedule adds to their happiness.
While working in a hybrid workplace, do not forget that remote employees can also face issues that may need their attention. Moreover, their overall involvement in the work processes is as necessary as that of other employees.
Keep them engaged in the work processes. Ask for their feedback on the work schedule and address their issues, if any. Make sure that they feel like a part of the organization and a valued asset of your company. Your trust will strengthen their resolve and increase their motivation.
Also, be ever-ready to mold your plans for the betterment of the working environment and to establish a healthy work culture.
6. Ensure The Safety and Security of Your Data
One of the biggest concerns of businesses around the world is the safety and security of data. A slight breach in the protocol can lead to the loss of millions.
Since employees are working from different areas, ensuring the safety and security of your data should be your top concern, and any negligence in this aspect can be detrimental to the future of your company.
To make sure that all your files are safe and are not susceptible to any kind of threats, hacking, etc. You can make use of online safety management tools that guarantee the safety of your data. You can also look for cloud storage space to keep your data organized and secure.
Some of these tools also offer efficient management and file organization features that can make file retrieval a piece of cake for you. Once you have made sure that your data is locked safely and can only be accessed by relevant personnel you can rest assured and work without any stress.
7. Digitize Your Hybrid Workspace
Hybrid workplaces can be made more functional with the help of digital tools. You can completely transform the way you work by digitizing your hybrid workplace.
To do that you can make use of several online tools. These tools can include:
Video conferencing tools
Communication and collaboration tools
Visual reporting tools
Analytical tools
The above-listed tools are just a glimpse of a variety of different tools available in the market. Besides these, hundreds of others can make work easy for hybrid teams.
Furthermore, several all-in-one tools offer multiple functionalities in one so you can get just one and sign up your whole team on one tool. That way everyone will have no problem navigating from one app to another.
Not only will these tools come in handy for remote teams but will also work as a wonder for onsite teams. They will surely help you improve your performance and enhance your productivity, leading to more profitability in the business.
Using the right tools will make work much easier for you and your employees. Digitize your hybrid workplace with the right tools and start working smartly.
It's A Wrap!
Take the stress off your shoulders and make your employees happier by transitioning to a hybrid workplace. We are sure your employees will love the benefits that come with a flexible hybrid working environment.
We hope the 7 core tips will help you establish an efficient and highly functional hybrid workplace.
Best of luck!
---
You may also like: