There is great emphasis on voice and text chat apps these days. Communication has become the backbone of every organization.
Luckily, with communication tools like Discord, you can keep in contact with everyone in your life easily.
However, while Discord is a great tool, it is not the best communication tool for everyone.
But with so many such apps to choose from, which one is the best?
You need not worry though!
We have curated this list of the top Discord Alternatives, including reasons for looking for such tools, and a review of our top picks to help you pick the best solution.
So, without further ado, let's get to it!
Table of Contents
Top Discord Alternatives to Use in 2023:
Before we get into Discord alternatives, why don't we first go over the Discord tool and the reasons why you may need an alternative?
What is Discord?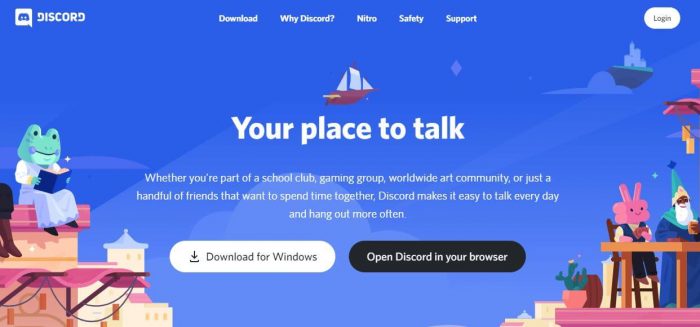 Discord is a popular voice and text chat app, a favorite, especially among gamers. This app has now transitioned into other communities.
Discord gives you a place to create a home for your friends and groups.
The way Discord is built is around "servers". Each server is filled with text channels, where you can chat with people, as well as voice channels.
Each server in Discord is usually populated by multiple channels, each of which is related to a different topic, or has different rules.
Starting or joining a server is free. However, you have the option to upgrade to Discord Nitro which allows you
Higher upload limit
Enhanced quality of live streaming
Custom Discord tags
Higher video quality
Server boosting
Moreover, Discord also lets you chat through messages, voice, or video calls, and vice versa.
Therefore, as you can see there is a lot you can gain from using Discord. However, this may not be the best option for everyone.
Here is why.
Reasons to Look for Discord Alternatives
Don't get us wrong, Discord is a great tool, and provides a lot in terms of facilitating communication, but is it the right tool for you?
Here are some of the possible reasons why Discord is not the right tool for you.
For starters, consider how the software started, Discord is primarily targeted toward gamers. Thus it may not be the coolest communication app, i.e. If you are looking for a tool for your business or organization.
Although the app is free to use, this has been seen to cause many issues in the past.
Users have reported instances of harassment, chat bombarding, and server raids.
Depending on the purpose you want to use such as a text and voice chat app, the fear of such an occurrence may overshadow what you can gain from Discord.
Keep in mind that Discord's servers are overall safe, and there is the ability to add your safety measure. However, with so many other options in the market, an app similar to Discord may be the better choice.
Other features that you can find in Discord alternatives, and are lacking in the software, include:
Privacy assurances
Robust integration options
Self-hosting availability
Professional user interface
Now that you know the basic issues with Discord, what should you look for instead?
Discord Alternatives
So how do you pick the best chat app out there?
Well, we have done the hard part for you and created this virtual tour of the best chat and communication apps.
Ready? Read on…
1. TeamSpeak

When looking for an alternative to Discord, we had to include TeamSpeak. TeamSpeak is a VoIP communication system made for voice conversations.
The software allows you to communicate with teams cross-platform while providing clear sound, high-quality security, unparalleled reliability, and performance.
Features:
Automatic microphone volume adjustment, echo cancellation, and background noise reduction
Lag-free communication
Control your user, by being able to decide who can join channels, who can talk, and more
Ability to synchronize your servers, preferences, and settings between devices with cloud-based service
Multiple add-ons and voice packs to choose from
Pricing:
TeamSpeak's pricing depends on you downloading and installing the server software and registering for a Gamer License. You can then choose from their Gamer License pricing plans
1 virtual server's annual renewal for $55
2 virtual server's annual renewal for $100
2 virtual server's annual renewal with 256 slots for $175
2 virtual server's annual renewal with 512 slots for $300
2 virtual server's annual renewal with 1024 slots for $500
Rating:
4 stars on Google Play Store
8 stars on Trustpilot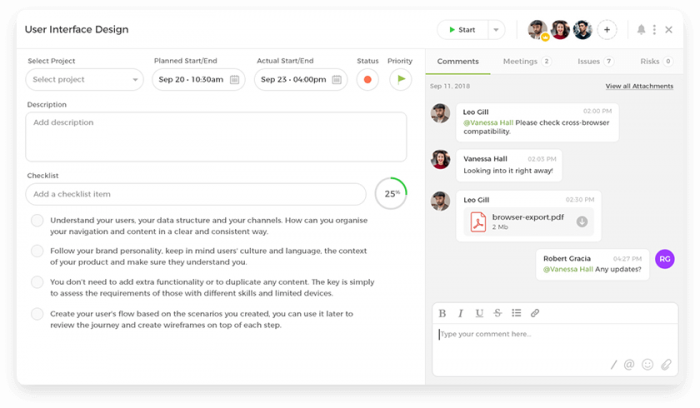 The next tool on our list is nTask. nTask is a project management tool with a range of communication and chat features.
Since nTask is a project management tool, by investing in the app you can not only gain software for communication and collaboration features but also take advantage of task management, time tracking, progress view, and much more that nTask offers.
However, due to the scope of this post, we will focus on the communication features in nTask.
Features:
Task comments give you the ability to streamline team communication to help provide timely feedback within task functionality.
With the ability to send files and attachments, you can communicate on critical matters and ensure that you are on track while moving forward.
nTask gives you the ability to create a meeting and link it with a particular task to provide better communication.
nTask's meeting module gives you the ability to develop clear meeting agendas.
Write down key discussion points during your meeting to ensure you don't miss any detail being discussed
Note down decisions that are to be taken after follow-up actions and add them to your nTask meetings
Pricing:
Basic plan you can access for free

Issues tracking
Timesheets
Meetings
Unlimited tasks
Unlimited workspaces
Limit of 5 members per team
100 MB storage

Premium $3/month

Everything provided in the basic plan, plus
5 GB storage
Projects
Gantt
Bulk Actions
Custom filters

Business plan for $8/month

Everything provided in the premium plan, plus
10 GB storage
Save custom filters
Risk management
Custom roles and permissions

Enterprise plan that can be customized according to your team

Everything in business, plus
Custom onboarding
Dedicated account manager
Dedicated cloud
Rating:
5 stars on G2
4 stars on SoftwareAdvice
3. Slack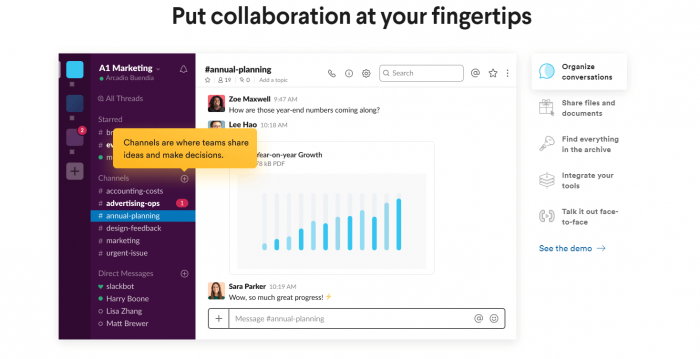 Slack is a popular team chat software. With a centralized event feed, Slack allows you to collaborate faster.
Compared to Discord, it provides value-driven features concerning integration with various third-party tools.
Features:
Intuitive user interface
@mentions let you grab people's attention and make sure everyone is on the same page
The ability to upload files makes sure that all your important files and photos are shared with the eight people with ease
Pricing:
A Standard plan for $6.67/month, per user
A Plus plan for $12.50/month, per user
An Enterprise grid customized according to your business
Rating:
5 stars on G2
6 stars on GetApp
Related:
The 7 Best Slack Integrations and Add-ons of 2023
4. Telegram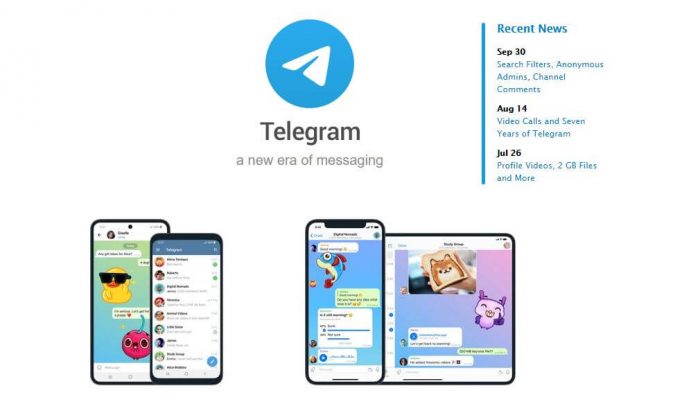 Telegram is an instant messaging app that provides a secure platform packed full of features.
Telegram is an open-source application that is available across devices, thus making it a popular choice for many individuals.
The fact that the software is open-sourced, assures the security of client-side data.
Features:
With Telegram your messages are heavily encrypted and can even self-destruct.
Telegram allows you to share media and chats with no limit on the size
Groups in Telegram can hold up to 200,000 members
You can customize your messenger according to how you want it
Telegram delivers messages faster than other applications
Pricing:
The software is free to use
Rating:
7 stars on GetApp
5 stars on G2
5. Flock

Flock is a real-time messaging software with in-built productivity tools.
With Flock, you access basic communication tools such as chat, video, and voice calls but also take advantage of extra features.
Features:
Channel messaging
Video conferencing
Ability to send voice notes
Integrated search
File sharing
Pricing:
A starter plan is offered for free which is best suited for small teams getting started
A pro plan offers additional features for $6/month
You could also go for the Enterprise plan which costs $10/per month
Rating:
5 stars on GetApp
4 stars on G2
6. Chanty

Chanty is a team chat and task management app. It allows you to exchange chat and voice messages, and have audio and video calls with your team members. Manage tasks from a single place – you can turn messages into tasks and assign them to your team members.
Boost productivity by integrating Chanty with third-party apps including Trello, Asana, Zapier, Google Drive, Dropbox, Onedrive, Github, Gitlab, Bitbucket, Mailchimp, Giphy, and others.
Features:
Unlimited searchable message history
Task management – turning messages into tasks
Kanban board
Audio and video calls
Teambook hub
Voice messages
Screen sharing
Pinned messages
@ mentions
Discussion threads
Pricing:
Free plan
Business plan starts at $3/user per month
Ratings:
Capterra rating at 4.9
G2 rating at 4.6
7. Wire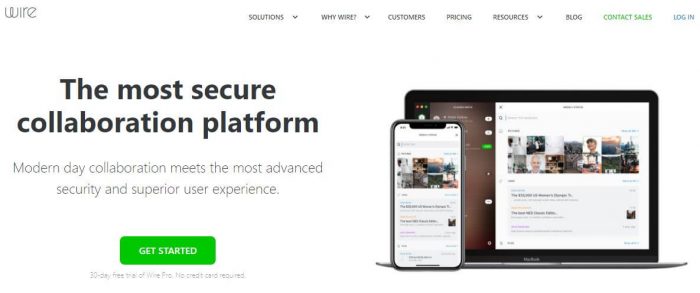 Wire lets you and your team safely make video calls, share files, video conference with screen sharing, and also create groups to discuss different tasks and projects.
Wire also gives you the ability to create encrypted groups and invite other users to them.
Features:
Conferencing features
Data synchronization
Instant messaging
File transfer abilities
Real-time notifications
Two-way audio and video
Pricing:
Wire Pro for $5.83/month when billed annually
Wire Enterprise for $9.5/month when billed annually
For other available plans contact Wire's support team
Rating:
5 stars on GetApp
5 stars on Capterra
8. Rocket.Chat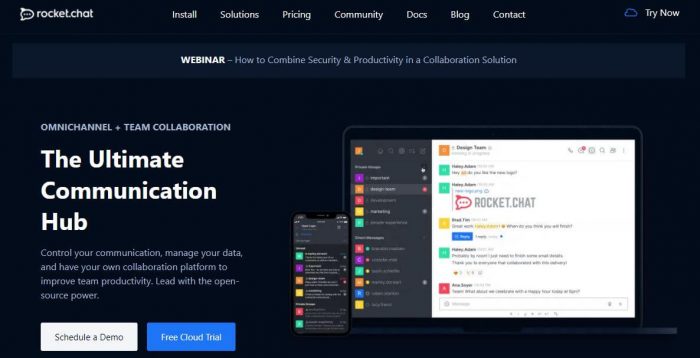 Another open-source team communication app is Rocket.Chat.
This software lets you host your team chats on your server. This ensures you do not lose your data.
You have the option to create public or private channels where team members can chat with ease.
Features:
Free audio and video conferencing
Screen sharing capabilities
Guest access options
Live Chat
Security in the sense of two-factor authentication
End-to-end encryption
Pricing:
For Rocket.Chat that you can self-manage you have options to access the software for free or upgrade to the pro version for $30/user annually, or a customizable enterprise plan
For cloud offering hosted by Rocket.Chat you can access its features starting from as low as $2/user, per month
Rating:
4 stars on GetApp
8 stars on G2
9. Hangouts Chat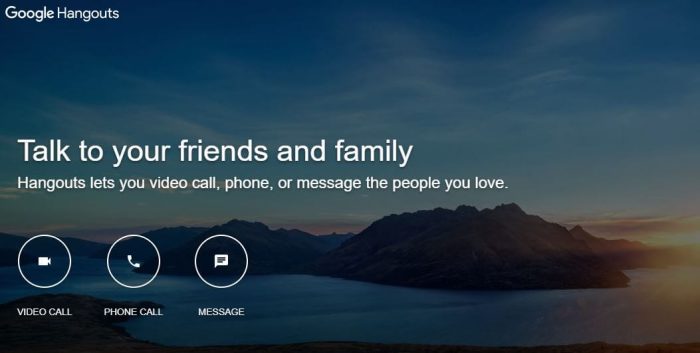 Hangouts Chat is Google's version of a proper team messaging space.
The software is only available via a Business G Suite account. The software provides a single platform that lets teams get work done.
Features:
File sharing
Mobile application
Audio and video conferencing
Integrations to help with workflow
Rating:
4 stars on Trust Radius
4 stars on G2
10. Element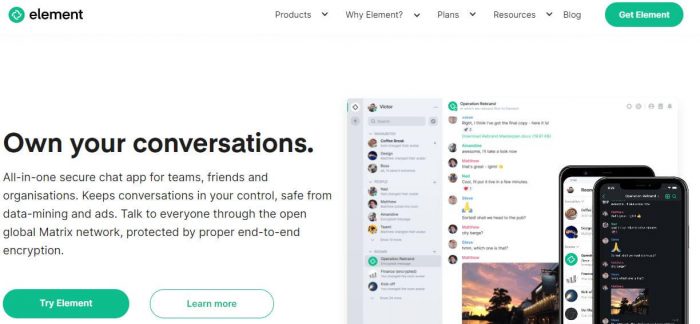 Previously known as Riot, Element is another app similar to Discord. However, unlike Discord, Riot has mastered end-to-end encryption.
The application lets you securely communicate aside from file-sharing features.
Features:
Fast sharing through drag-and-drop features
Hold one-on-one or group conversations
Join or drop ongoing calls without needing an invite or disturbing ongoing calls
Send, view, and receive files while online
Pricing:
Free plan
A "nickel" plan for $2/user, per month
A "silver" plan for $3/user, per month
A "gold" plan for $4/user, per month
A custom "platinum" plan
Rating:
4 stars on G2
9 stars on Google Play
11. Mumble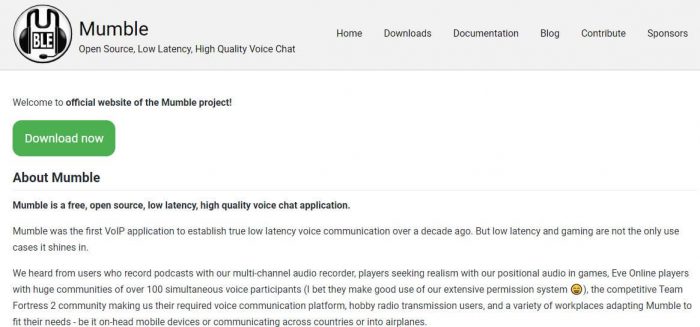 Next up on our Discord alternatives list is Mumble.
It is an open-source, high-quality voice chat software. Similar to Discord it is intended for use while gaming.
While the premise behind the app may be similar to Discord, the actual software is very different.
One such major difference is that it does not include browser support.
Features:
Supported by Android, iOS, Windows, macOS, and Linux
Voice quality is exceptional with positional sound features
Security features in the sense of authentication requirements
Chat Encryption
Pricing:
Starting at &.50 for 15 slots
Rating:
4 stars on Google Play
6 stars on Apple Apps
12. Microsoft Teams

Microsoft Teams gives you a platform to chat, share files, video and voice calls, and work with business apps.
The software is a great hub that brings everything together in a shared workspace.
Features:
Group chat, calling, online meetings, and web conferencing
Collaborate with built-in office 365 apps
Get security features such as end-to-end security and administrative controls
Pricing:
Rating:
4 stars on GetApp
2 stars on G2
13. Skype

Skype is a good audio and video chat software without the gaming features that Discord has.
You can also use the feature to text, and share files.
Features:
You can make one-on-one or group private audio or video calls
You can use the software to share files and open multimedia files
Hosts a bandwidth of 100kpbs for voice calls
Rating:
3 stars on G2
4 stars on Capterra
14. Tox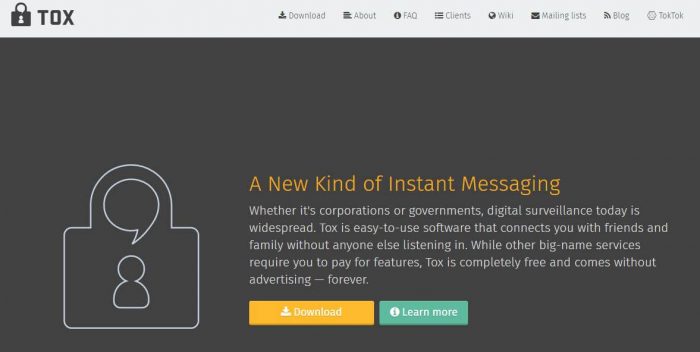 Tox is a user-friendly software that allows you to connect and communicate with friends and family while also providing high-end security features.
Tox is a free alternative to Discord without any advertisements.
Features:
High-end encryption keeps your information secure
Allows text, voice, and video chat
You can also share your screen during video calls
Can be used on Windows, macOS, Android, iOS, and Linux devices
Pricing:
Rating:
1 star on Google Play
3 stars on Ghacks.net
15. Ventrilo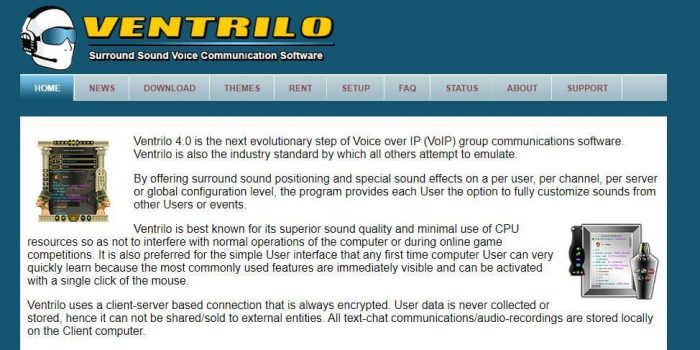 Ventrilo is an app similar to Discord while surpassing it by providing superior sound quality and a minimum amount of CPU resources.
It is also packaged in a simple user interface.
Features:
Lightweight design and low latency voice calls
Supports Windows, macOS, and Android
Is client-server based thus allowing for constant encryption?
Everything is stored on your computer
Pricing:
Starting at $2/month for 5 slots
16. Viber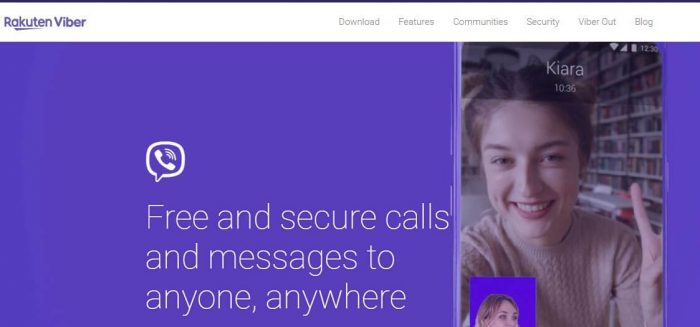 Viber is another tool that allows you the ability to make secure calls, and message anyone.
The software also provides customization and a fun twist with the ability to share stickers and GIFs.
Features:
Ability to make audio and video calls in high quality
You can like and reply to messages in group conversations
Share videos, music, and other files
Pricing:
Viber is free to download
Rating:
4 stars on Trust Radius
3 stars on Capterra
17. HeySpace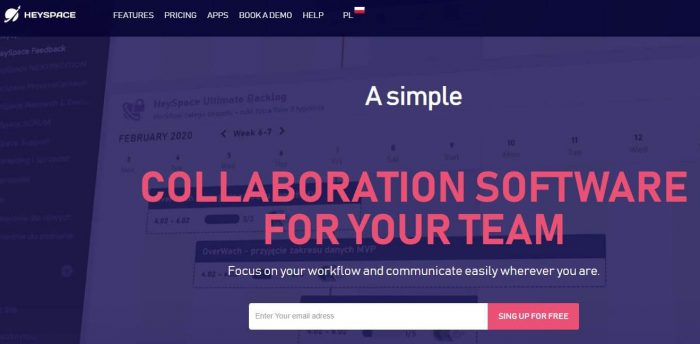 HeySpace is predominantly a task and project management software, while also providing communication and collaboration features.
We have included in our list of possible alternatives to Discord due to its mix of project management software and a dedicated communication tool.
Features:
You can send messages to your team members and different spaces
You can view tasks and conversation changes which are all laid out
Get notifications when you receive a message or use the @mentions feature to get someone's attention
Send image attachments
Pricing:
Sign up for free
Or upgrade to premium for $5/month on a monthly plan
Or $45/year on an annual plan
Rating:
6 stars on GetApp
6 stars on Capterra
18. Troop Messenger

Built for real-time communication and top-notch communication, Troop Messenger is a highly recommended tool.
It looks like Slack but maintains a unique style through an intuitive interface and plenty of features to help agile teams with their work. And of course, if you have been in the online stratosphere for a couple of years now, you may remember Troop Messenger as one of the hottest tools available online.
Back then, we didn't have Slack or Discord. So, people used to rely on Troop Messenger a lot more than they do now. Since then, TM has added new features, enhanced functionality, and introduced an overall polished look for online users.
Features:
The latest version introduces Burnout; a private chat system to keep confidential information: "Confidential."
As usual, you can highlight a particular someone or an instance by using Shout Outs.
Use the Jumper feature to select multiple chat participants and move them to a private channel.
Lastly, the Fork-out feature broadcasts any message to multiple team members regardless of the rooms they are added to already.
Pricing:
Premium plan at $2.5 per user/month
Enterprise plan at $5 per user/month
Rating:
19. Ryver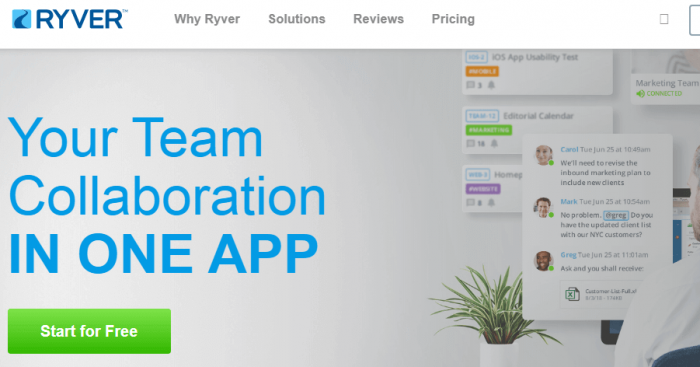 Ryver is heard of because it was launched back a few years ago. However, the program has been faring well compared to Discord.
Some time ago, Ryver called it all out against Slack and Discord, using Twitter Ads. Strategically speaking, it may not have been the perfect decision because Ryzen's integration is a little tough to work with.
To integrate a third-party app, you're going to have to test it on Ryver and see if it shows up any errors, etc.
The process takes a bit of time on the users' end, but people use Ryver, regardless, for a variety of reasons.
For starters, the user experience with Ryver is a blend of Trello and Slack. Teams can have communication and task management in a single tool. Both elements are important when it comes to productivity.
Moreover, you can upload and manage your data in Ryver Cloud easily. The app also integrates with more than 500 other applications.
Features:
Create teams to handle multiple processes and people.
Create channels for public and private conversations/ chats!
Works seamlessly on a variety of devices.
Includes a global search function to pull up your most important data touchpoints.
Pricing:
Free plan allows usage for up to 6 people.
Ryver's paid plans start at $49 per month.
Ratings:
Captera rating of 4.4
G2 rating of 4.4
20. RaidCall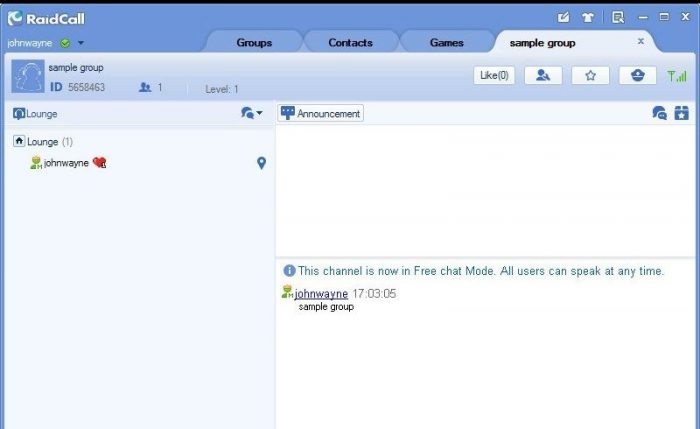 Another great discord alternative that we have on the list is RaidCall. The application supports some huge groups and polls which have made it quite familiar to millennials. The software is a VoIP application that is set up inside the game that the users are playing.
The application has a massive feature set like voice recording for all those twitch streamers out there, poll announcements for the users to see what's popular nowadays, file sharing, and noise reduction, among many others.
Let's take a look at some of the features that the software has to offer to its clientele.
Features:
The application user experience is very simple and intuitive, which makes it a perfect application for kids and other gamers that don't have the time to learn a tedious app
The application itself is very lightweight and very easy to set up on your device
It supports voice and text chat features, and you can have over 100,000 users on a single RaidCall group
You can share your gaming content and all other YouTube videos that you like, via RaidCall groups
You can also chat within different RaidCall groups while watching different embedded 3D streams and Twitch content
You can also discover many new gaming communities within the application based on specific criteria like similar interests with the other gamers, specific games that you might share in your arsenal, and other activities that you may perform similar to others
You can also sync your RaidCall account with your Facebook account, which will allow you to expand your clan population, and you can easily find more people to play games with and collaborate on the platform with
Pricing:
The application is free to use, which is quite unbelievable, depending on the number of features that it offers
Rating:
Alternative.me rating of 4.2
Software informer rating of 4
21. Proofhub


Proofhub is another great discord alternative that helps you to plan, organize, collaborate and deliver all your projects effectively. It is one of the most powerful tools to help teams stay on track.
Moreover, it comes with a variety of features like time tracking, Gantt chart visualization or task management, and many more. It is great for on-time project delivery as well as easy to understand and use as well.
Therefore, use Proofhub to help your teams work together in the easiest, fastest, and smartest way with all the right tools. The group chat and discussion function are what make ProofHub stand out from Discord.
Key Features
Client discussions in one place
Assign tasks
Table view
Kanban boards
Gantt charts
Multiple calendars
File sharing
Custom roles
Proofing
Timesheets
Reports
Request forms
API and app integration
Group chat
Pricing
The pricing plan depends upon the number of users your company has. However, the lowest price for a minimum of 1-5 users is $45 per month.
Rating
4.5 stars on G2
4.5 stars on Capterra
22. Confluence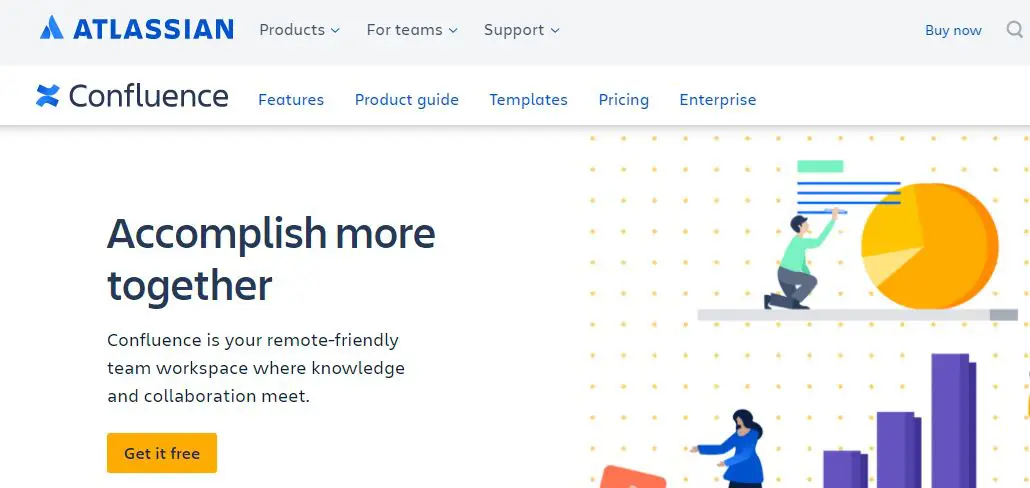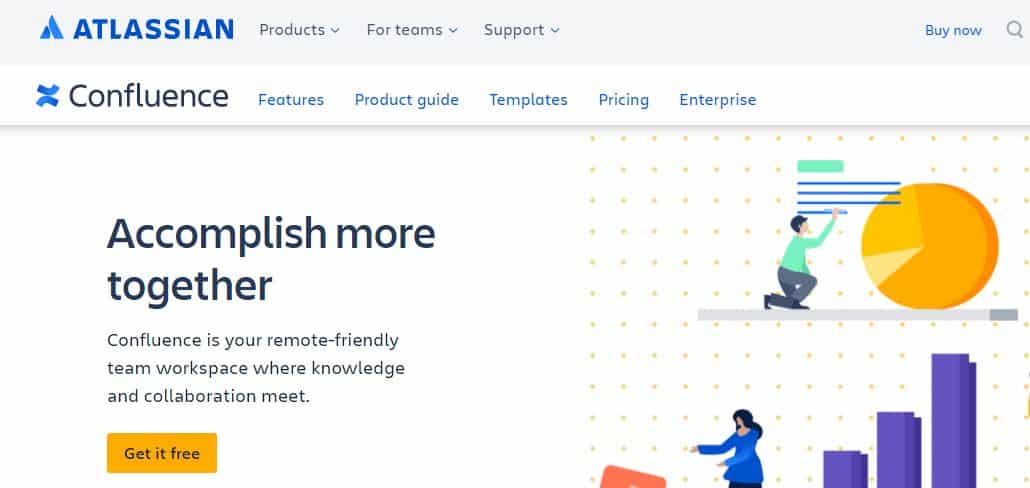 Confluence by Altissan is another great Discord alternative to use in 2023. It provides a powerful solution for collaborating, creating, and organizing work under one roof. 
It is great for breaking down team silos and turning the conversation into actions as well. Additionally, it provides an ultimate solution for building a culture of open teamwork as well. The best part of Confluence is that it allows users to integrate third-party applications for easy streamlining of operations. 
Therefore, use Confluence to organize, collaborate and create all your work in one place. Moreover, stay collaborated and connected with your team at all times as well.
Key features
Flexible workspace
File sharing
2GB file storage
Unlimited space and pages
Inbuilt templates
Apps and integrations
Real-time editing
Commenting
Notifications
Advanced search and page tree
Jira integration
Pricing
A free plan for up to 10 users. It is best for small teams.
A Standard plan that starts at $5.50 with up to 20,000 users. It is best for growing teams.
A Premium plan that starts at $10.50 with up to 20,000 users. It is best for organizations with advanced content control.
The Enterprise plan and prices are to be discussed with up to 20,000 users. It is best for enterprises on a global scale.
Rating
4.1 stars on G2
4.4 stars on Capterra
23. Steamchat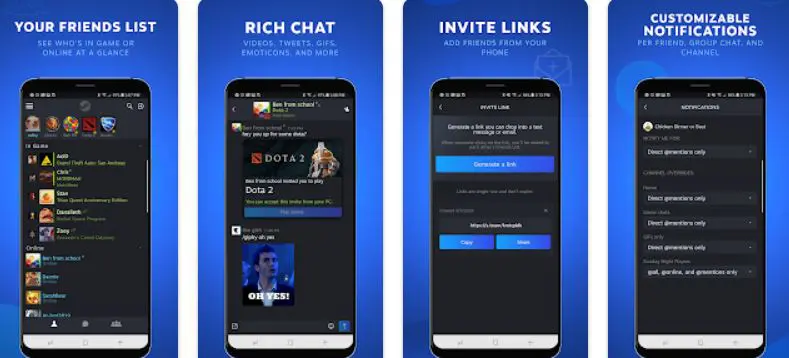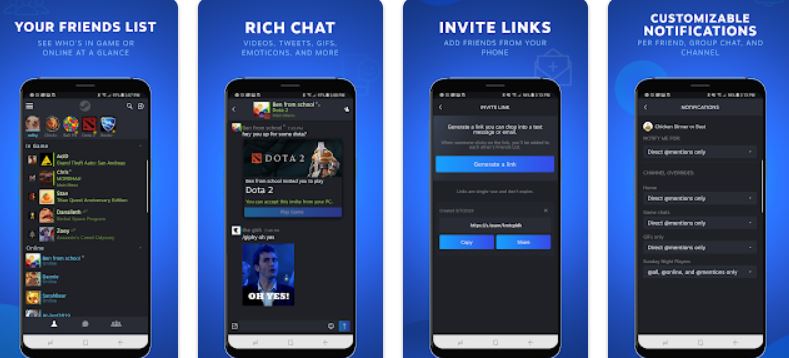 Steam Chat is a messaging and audio chat service with a user interface similar to Discord, making it a great Discord alternative. Steam Chat allows you to create your own groups of friends with whom you may connect via text and voice chat.
Like Discord, Steam Chat allows you to exchange unique URLs with others so they may join a pre-made group.
The app allows group admins to delegate tasks to group members and administer the group and its contents.
Features
Allows the exchange of URLs
Auto-moderation is supported
does not require installation on the system
Pricing
Rating
G2 rating: 4.7
GetApp Rating: 4.8
24. Mattermost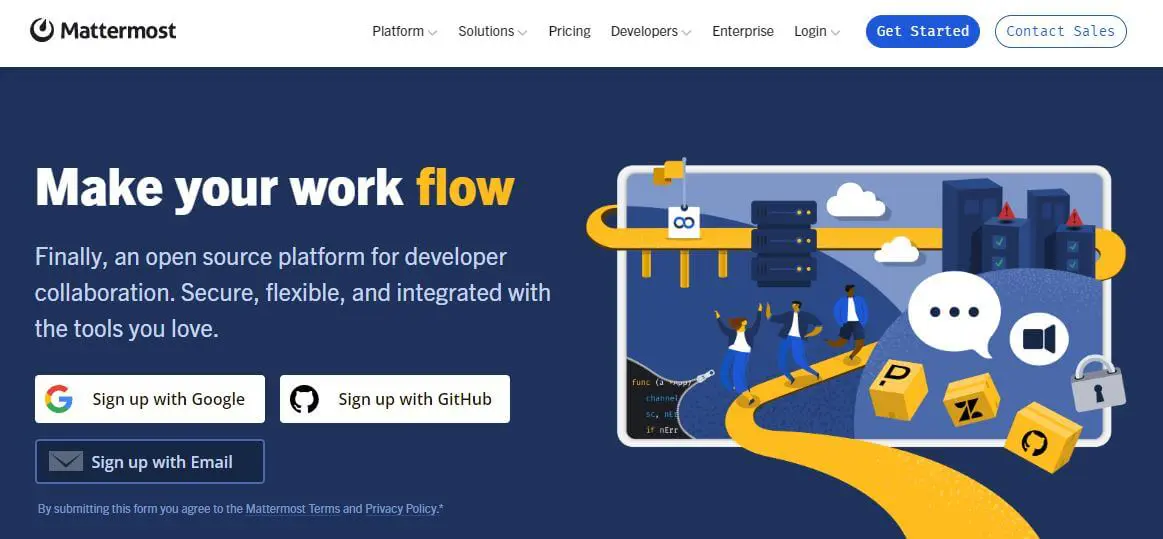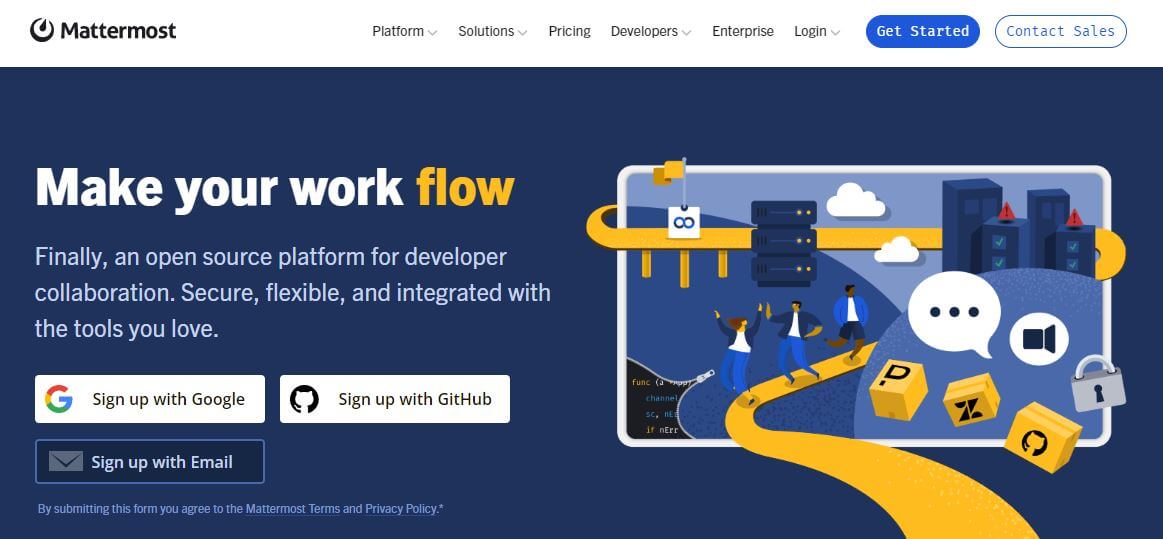 Mattermost is an open-source communication platform that enables team collaboration while maintaining security and data privacy.
You can have total control over your data, combine your favorite tools, automate your work, and even customize its design to match your individual needs with Mattermost.
Features
Collaboration Tools
Commenting/Notes
Client Management
Client Management
Content Management
Discussions / Forums
Customizable Branding
SSO (single sign-on), advanced permissions, and MFA (multifactor authentication) are all included in the Mattermost Enterprise Edition, as well as performance monitoring, compliance reporting, bespoke branding, and enterprise search.
Pricing
Rating
GetApp-4.4
G2 rating- 4.2
25. Jitsi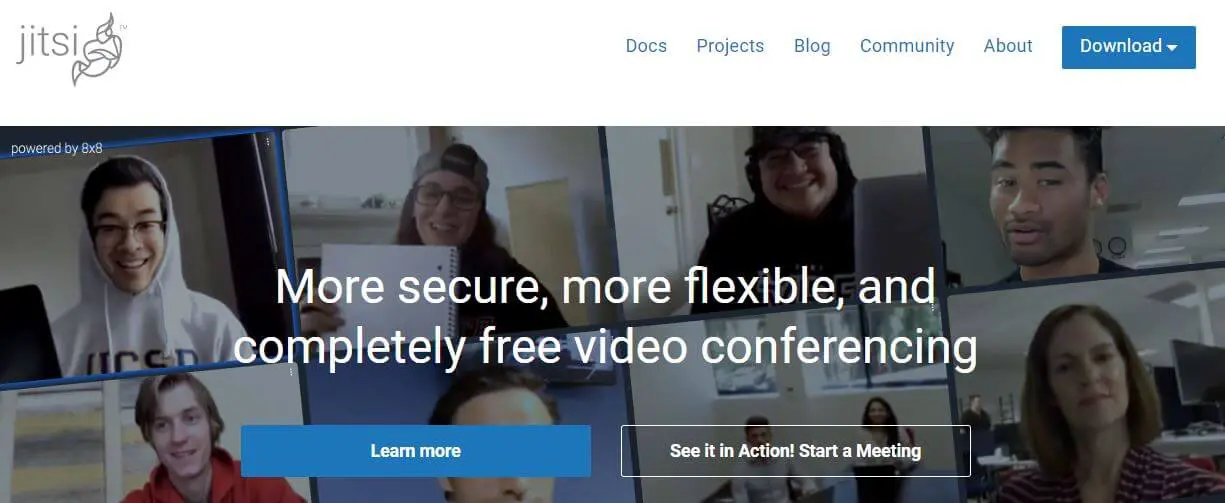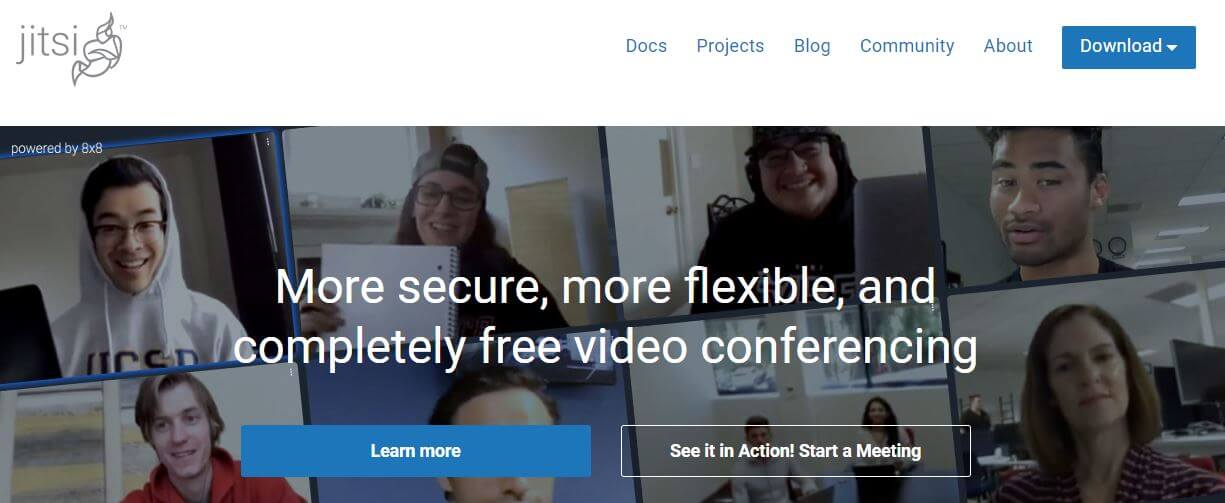 Jitsi is a completely free collection of open-source projects that enables you to build video conferencing solutions for your business. You can take video calls to the next level with this technology.
Jitsi operates on both web and mobile devices and supports complicated video routing principles such as bandwidth estimation and scalable video coding.
Features
Jitsi Video bridge sends all participants' videos and audio without first combining them.
You will get better quality, lower latency, and a significantly more scalable and cost-effective solution if you run your own service.
Jitsi uses WebRTC, an open Web communication protocol.
Advanced video routings functions such as simulcast, bandwidth estimation, scalable video coding, and many more are supported.
Ubuntu and Debian packages are available for easy installation.
Pricing
Ratings
26. Kakao Talk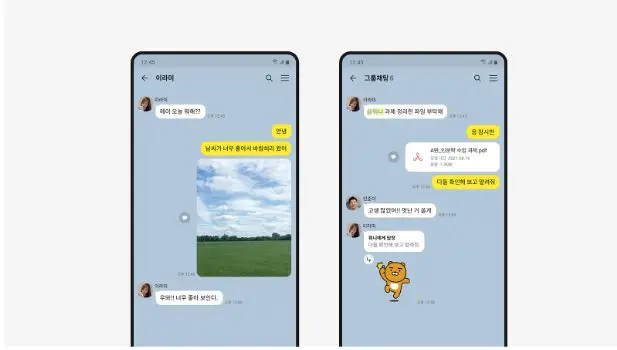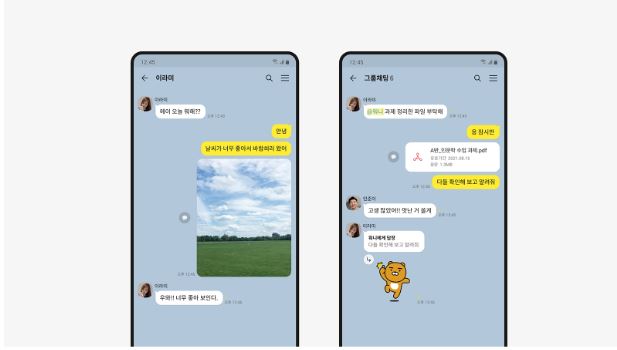 You can send messages and conduct video and audio conversations with as many users as you wish with KaKaoTalk. You will be asked for your phone number and a verification code on registration.
KaKaoTalk is accessible for both mobile and desktop platforms. You may use voice to exchange files, start a live chat, and organize meetings in your calendar.
Features
Free voice and video conferencing
Instant messaging
Sharing of place
Gameplay
Scheduling
Pricing
Ratings
27. Riot


Say goodbye to worrying about data breaches and hello to secure conversations! Riot is the perfect alternative to Discord, allowing users to create, share, communicate, chat, and call without putting their privacy at risk. With end-to-end encryption, Riot ensures that your conversations stay between you and your intended recipient – no one else! So why wait? Get secure today with Riot!
Features
Hold one-to-one conversations or a group of users
Join or drop ongoing group calls in a room without needing to disturb it
Send, receive and view files while in line with the conversation
Quick drag-and-drop feature for fast sharing
Pricing:
Ratings
What can apps like Discord for PC do for your business?
Discord is a voice and text chat app that has gained popularity for its role in gaming and geek communities. However, it can also be used for business purposes.
One of the main advantages of Discord over other chat apps is that it's extremely easy to use. Anyone can start using it within minutes, no matter their technical expertise or experience. This makes it a great choice for businesses that want to create a more unified and interactive workspace for their employees. Let's take a look at a few other reasons, 
It's free – It's always hard to beat free, but compared with the other plans, it's easy to appeal to Discord for your business.
Its audio first – Discord was built with voice-over-internet protocol, which means that it has one of the best audio qualities. 
Tiny-file upload limits – Comes with 8MB for the free plan and 100MB if you pay for the Discord Nitro for easy file-sharing.
FAQ's
Why use a Discord alternative?
Discord is a popular chat application that can be used for gaming, voice and video chats, and more. While it's been heavily marketed as an excellent platform for gamers, there are many other reasons why people might want to use Discord instead of other chat applications.
For example, Discord is Excellent for team communication only, then other features of data-sharing, collaboration, task progress, etc.

Do people still use Discord?
Discord is still one of the most popular chat applications on the internet, and for good reason. It provides a user-friendly platform that allows users to communicate with each other easily and seamlessly. Additionally, Discord has an intuitive voice and video calling feature that makes it perfect for meeting new people or joining online communities.

Another advantage of Discord is its scalable infrastructure. This means that you can use it to scale up your business without having to worry about stability or performance issues. And last but not least, Discord offers fantastic customer support that can help you resolve any issues quickly and efficiently!

Is Discord worth using?
It depends on your individual needs. Discord can be a great tool for connecting with friends, family, or colleagues and coordinating activities. With its array of features, it is well suited to both casual conversations and serious discussions. That said, you should take into account the potential effects of using such a platform before making a decision about whether it is right for you.
Is nTask a better tool than Discord?
Discord is a conversation-based tool, which can be good for team collaboration. However, on the other hand, nTask is a project management tool – all in one. It is great for the teams as well as the project managers. 
Conclusion
And there you have it, our top picks for Discord alternatives. If you have a personal favorite that isn't mentioned on the list, feel free to ping us on our support channels. We would love to know your feedback.
Good luck, and have fun communicating with your team.