It's the year 2021 already and most of the businesses all around the world are becoming less hardware-dependent and focusing on attaining cloud-based storage solutions for their endeavors.
The concept is quite simple. You store all of the files you need in a remote server instead of an in-house data storage, which can go, rogue, whenever it feels like.
These remote servers went mainstream a while back when Amazon popularized their server S3. Google data shows that the interest and the need for cloud storage have been increasing consistently for the past decade. So much so that people just call it online storage now.
The market nowadays has the most diverse options for everything out there and cloud storage is no exception to that. But when there are so many variants, you have to choose wisely before spending your money.
In this article, we will let you know about our 7 top picks when it comes to the most affordable and efficient cloud storage available on the market right now. Let's dive right in.
7 Best Cloud Storages to Use in 2021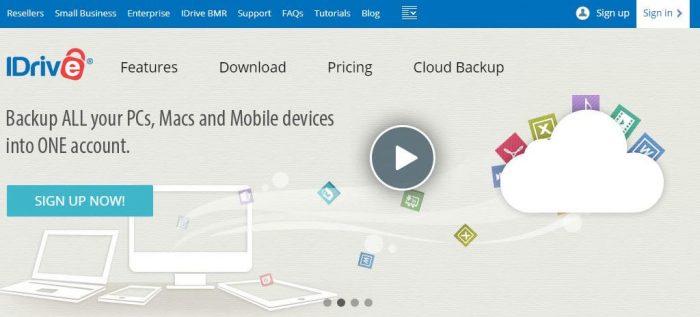 iDrive is an amazing cloud storage option available in the market right now that allows you to continuously sync all of your data. Through the web interface, you can share files via Twitter, Facebook, and email.
Another good news for those not so tech-savvy employees of yours is that, if they delete something very important by accident, the files are not permanently deleted from the server automatically, so there's less chance of an accident.
To secure their claim, the server will store up to 30 different versions of your files that have been backed up to your account.
Another thing that will intrigue your IT admin is that they will have access to the Thin Client application provided by the company iDrive that lets them configure all of the computers connected to the server, through a centralized dashboard.
Key Features
Simple Setup process
Folder Syncing
Bulk Uploads
Fast Uploads
Disk Image backup
Pricing
Basic: Free
Personal: $52.12
Business: $74.62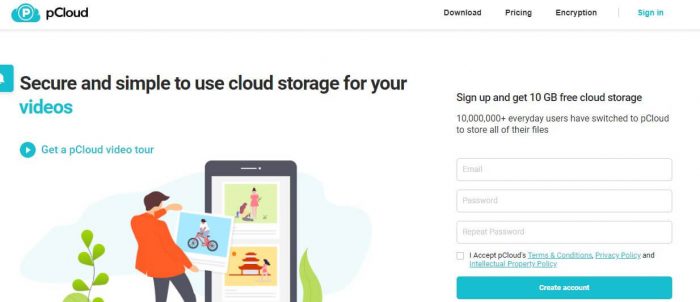 When it comes to uploading any amount of files onto cloud storage, the name pCloud always comes to mind. There is no limit to the size of the files being upload so if your work requires you to store large files onto the server, choose pCloud.
This incredible storage option is available for all mobile and desktop platforms. The most attractive feature offered by the company is a lifetime subscription. This is a very rear feature in the cloud storage market.
Key Features
Great value for money
Shared-file security
Multimedia playback
Fast file sync
Network drive
Pricing
Free
Premium 500GB: (1-Month Plan: $4.99 or if you want to get the Lifetime Plan then it's $4.86/month, paid over 3 years)
Premium 2TB: (1-Month Plan: $9.99 or if you want to get the Lifetime Plan then it's $9.72/month, paid over 3 years)
Also Read: 
The 27 Best Task Management Software for Startups in 2021

Zoolz is an incredible cloud storage service that has features that are valuable for both personal and business use. The interface is quite easy to use, and it provides excellent web management options in addition to an amazing integration of cloud operators with local external storage.
The Service is amazing and with over 20PB of data being stored for millions of users for more than 10 years, it has an amazing reputation in the market.
Key Features
Faster Data transactions
Incredible Security for your Data
Easy to use
Great Customer Service
Pricing
Family: $39.95
Heavy: $99.95

Coming out of Sweden, Degoo is not a household name, but still, it has crawled itself to the list of one of the most incredible cloud storage services available on the market right now.
With only two offerings in their whole catalog, they have still attracted more than 15 million dedicated users all over the world. According to statistics, more than 20,000 people join Degoo every day.
When it comes to security, Degoo has a lot of services beat, even on this list. It uses encryption and two-factor authentication that encrypts the stored files and disperses them over 4 different continents.
Key Features
100GB Free Backup for all of your files
Good referral program
Connects multiple devices
Android and iOS backup
Pricing
Free
2TB Plan (Monthly): $9.99/month
2TB Plan (Annually): $ 7.99/month

vBoxxCloud offers a wide range of technical features to both private and business users. The Dutch cloud solution is easily accessible and can be installed on different platforms.
With data centers located in Amsterdam, vBoxxCloud is the perfect solution for those searching for a secure and GDPR Ready cloud solution.
vBoxxCloud differentiates itself from other cloud solutions by focusing on high-quality and personal support. Every customer has an expert available to answer any questions, or conduct one-on-one support sessions from the moment they start a free trial.
Key Features
GDPR ready
Maximum personal customer support
Granular File Permissions
Unlimited Sync Apps (computer & mobile)
Free guest users
Unlimited backups (file versions)
Pricing
Pricing: €8 per user – €3 per 250 GB

With an incredible drag-and-drop interface, Mega is one of the strongest heavyweights in the world of Cloud Storage Services. It has an insanely handy mobile application that allows the users to upload files and photos of various shapes and sizes, which they can later sync to a wide variety of devices.
The company claims that all of the data uploaded to their servers is encrypted even before it reaches the firm. They have even gone and made their source code to its sync clients so that storage experts can monitor the whole file transaction and check if there are any vulnerabilities in the process.
Key Features
Encrypted link sharing
Zero-knowledge sharing
Excellent User Experience
Pricing
Free
Pro-Lite: $5.69/month
Pro II: $11.38/month


Coming from Microsoft's line of Services, OneDrive is an incredible cloud service that is natively integrated into Windows's File Explorer. You don't have to download any third-party application and it's right in front of you when you start using the firmware.
All of the Windows native applications like the Photos App or the Videos App can directly access the relative content from all of your devices running Windows.
With the help of timely updates, applications like AutoCAD has also been integrated with OneDrive, which is good news for everyone using the software's drafting tools.
Key Features
Good for Collaboration among the team members
Multimedia Playback
Office 365
Great Family Plan
Fast Syncing Capabilities
Pricing
Free
50GB: $1.99/month
Office 365 Personal: $6.99/month
Conclusion
As there are so many options in the market out there, you have to browse the whole catalog and find the perfect service that fits your needs and requirements. Start Researching. You can also fill us in on your favorite cloud storage application through the comments section below.