In this article, we have highlighted the best knowledge management software you can get started for free today. 
Businesses deal with a vast amount of knowledge every day. The data collected exceeds the limits of gigabytes and terabytes, it has been estimated that the data generated every day exceeds over 2.5 quintillion bytes.
Storing such an enormous amount of data is a hassle in itself, but organizing, sharing, and managing this data on top of everything can be an impossible feat to achieve.
Enter Knowledge Management Software
Knowledge sharing software tools are specifically designed to help you store, analyze and share knowledge. The organization of data can help you better your business processes and devise improved strategies for the future.
The Best knowledge management software can unify all your data and store it all in one place, the data can then be accessed by your team members any time they want.
The efficiency of knowledge management has enchanted companies. 74% of organizations believe that knowledge management increases productivity by 30-40%. The figures indicate the rising popularity of these tools.
Whether you are a startup or an international organization, the best knowledge management software can level up your business and take it to new heights of success. If you are thinking of signing up for a similar tool, you will find that there is not one but many options waiting for you to be explored.
Finding the best knowledge management software among the options available can be a Herculean task. But you can rest assured since we have gathered information from various sources and compiled this list of the best Knowledge management software.
What Are the Advantages of Knowledge Management Software for Your Business?
A knowledge management software basically functions as a database of knowledge beneficial for the enhanced productivity of your team and the profitability of your business. Here are a few of its most enticing advantages guaranteed to add to the success of your business:
Time-efficient: It can be difficult for employees to go through large amounts of data when looking for something specific. Knowledge management tools cut down the excessive time spent sifting through data by offering a unified database where employees can easily search and gather the information needed.
Better decision-making: The knowledge gathered from past experiences can help make informed decisions for the future.
Employee learning: With an easily accessible knowledge management tool, employees can extract useful information and incorporate the knowledge gained in their work.
Better productivity: The availability of data at hand can help employees save their precious time which they can then send on the completion of their tasks.
Unified platform for organizational data: Knowledge management tools can help companies store valuable organizational information in one place.
Better service: The availability of good knowledge management tools can help you provide better services to your employees as well as your customers.
Quick innovation: The data managed in these tools can help you come up with innovative strategies that will drive your business in the future. You can eliminate the outdated and inefficient and employ the newer, more creative solutions for your business.
All the above-listed benefits, in conclusion, increase the profitability of your business.
Let us now move on to the list of the best data management software.
List Of the Best Data Management Software:
We pointed out the need for data management, we will now look at the tools useful for the purpose:
nTask
Confluence
Document360
Bitrix24
HubSpot Knowledge Base Software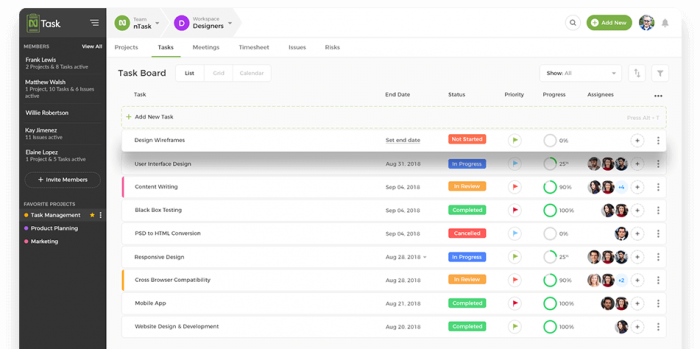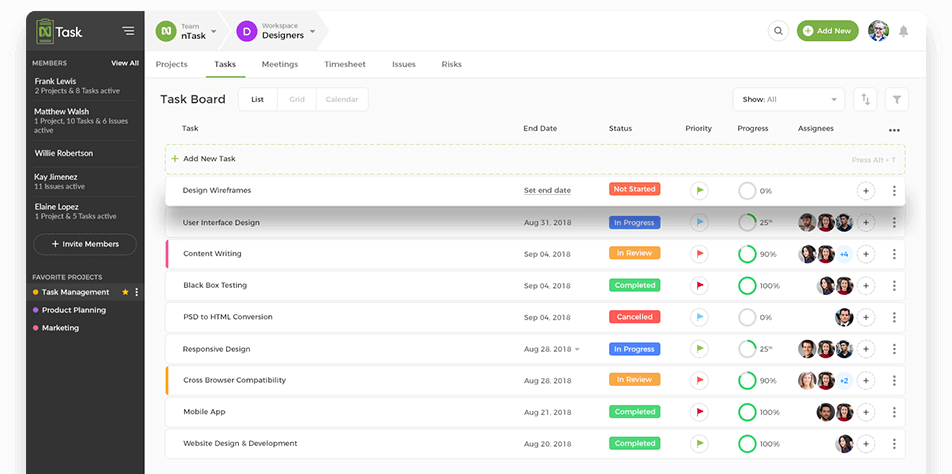 Starting with the best and most efficient tool of all – nTask. nTask is a project management tool that offers various management solutions for all the management processes taking place in your company.
Its various advanced features along with its affordable pricing plans contribute to its growing popularity all across the world. nTask helps 250,000 big and small countries in over 155 countries and has received positive reviews from its users.
With its 7 management solutions, you can manage projects, tasks, teams, and meetings. You can also keep an eye on potential issues and risks with time tracking, issue management, and risk management modules.
The tool allows you to gather information and create workflows for your projects. With its customization features, you can personalize your workspace according to your personal preferences and the needs of your business.
One of the most enticing features of the software is that before you make your final decision, you can request a demo or sign up for a trial of 14 days free of cost.
Key Features:
Helps you organize your workflow by dividing projects into smaller tasks
Tasks can be assigned to different resources with specific deadlines, start and end dates
You can share documents, images, videos, etc. with your teammates.
Helps you communicate and collaborate with your colleagues with comments
Customization features help you transform your workspace in accordance with your brand
Kanban boards can be used to display the workflow
Allows you to track your performance via visual tools such as Gantt charts and Kanban boards
You can turn your comments into tasks and the tasks can be moved to your project board
Activity log helps you keep an eye on the progress of your team members
You can set priority statuses for tasks and even customize statuses to keep everything organized
Pre-built templates can help you quickly turn the acquired knowledge into tasks
You can create a to-do list to keep the data ordered
1000+ third-party integrations
iOS and Android mobile apps
Two-factor authentication provides foolproof security
Pricing:
Basic plan – available for free forever
Premium plan – $2.99 per user per month
Business plan – $7.99 per user per month
Enterprise plan – Custom pricing
nTask is the best knowledge management app.

Manage tasks, resources, documents, projects and timesheets easily. Sign up today!
2. Confluence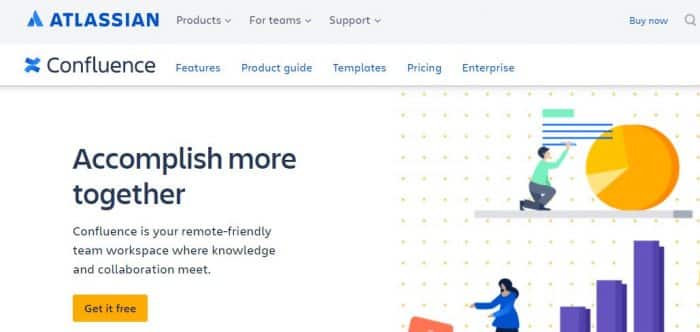 Our second pick for knowledge management is Confluence. The software has garnered 60,000+ customers all over the world with its wide-ranging advanced features.
Confluence's efficient knowledge management features smooth team collaboration and knowledge sharing. The tool is cloud-based software available on Android, iOS, Windows, and Linus. It's a unified space where you can not only store information but also organize it in such a way so that it is easily accessible for all team members.
Key Features:
Organizes knowledge into pages and spaces:

Pages refer to documents where users can create, edit and discuss their work
Spaces are areas where pages are stored for the projects.

Advanced search helps you quickly find the pages you need
Offer 75+ customizable templates
Allows you to edit documents in real-time and the changes can be tracked and highlighted for reference
You can improve team communication and collaboration with in-page comments, images, GIFs, etc.
Send notification to alert team members whenever a new task is assigned to them or whenever they are tagged
You can control the access to information with Permissions
Pricing:
Free – $0 for 10 users
Standard – $50 per user per month
Premium – $100 per user per month
Enterprise – Enterprise plan pricing is available when you enter 801 or more users above
3. Document360

Document360 is another one of our favorite knowledge management software. The platform offers efficient team collaboration features along with a text editor that allows you to view changes and edits made by users.
One of the most unique features of the tool is that you can make multiple internal and external knowledge bases and add team members with different roles. You can also make different knowledge databases for different projects.
With Simple Markdown editor, new users can easily edit documents using various commonplace technical tools. This makes it easy for new users to familiarize themselves with the tool and use it quickly for their work.
Document360's AI-powered search tool helps customers find solutions to their problems instantly. To learn more about the tool, you can book a demo or sign up for a free trial of 14 days.
Key Features:
Knowledge Based Portal, designed for writers, editors, and reviewers, features category manager, analytics, editor, and more.
Knowledge based Site, created for customers and employees, helps create a customized database with a specific home page and domain.
Knowledge Based Assistant, designed for SaaS products and websites, connects your site with your database so that customers can get answers to their queries without any hiccups.
Offers multiple integrations and extensions to keep work running smoothly.
You can connect your workspace with Document360 via REST API so that you can write and edit directly in your database.
Pricing:
Startup – $49 per project per month
Business – $149 per project per month
Enterprise – $299 per project per month
Enterprise Plus – Custom pricing available on contact
4. Bitrix24


Bitrix24 is an all-in-one tool that offers various solutions for management processes in your company. As a free knowledge management software, it is loaded with advanced features that allow you to streamline all your work and improve your productivity.
With over 9 million users worldwide, Bitrix24 has established its standing as a reliable knowledge management tool.
You can not only store, manage and retrieve information but also, build your employee directory with vital information. The free knowledge management software offers free registration for its users and a free trial too.
Key Features:
Offers multiple knowledge bases for different teams and projects.

Company Knowledge Base (to store and manage data of the whole organization).
Workgroup/project knowledge base (for specific team or projects).

You can use pre-built templates and customize them according to your requirements.
Allows you to control access permissions.
You can create and customize a mind map with extended features including creating tasks, assigning resources, etc.
Allows you to import and export the mind maps.
Offers 5GB free storage
Can be accessed via iOS, Android, MAC, or PC.
Searchable chat and history make it easy for you to access information quickly.
Allows audio, video, video conferencing calls.
Pricing:
Free – $0 forever
Start+ – $24 per month for all users
CRM+ – $69 per month for all users
Project+ – $69 per month for all users
Standard – $99 per month for all users
Professional – $199 per month for all users
5. HubSpot Knowledge Base Software

HubSpot is a one-shop-stop when it comes to knowledge management solutions. With the help of this tool, you can customize your knowledge base to include topics and themes most frequently searched by the users.
You can create a library of searchable articles that can be accessed by users whenever they have any queries. Its user-friendly interface makes it easy for you to quickly create and use your knowledge base.
Perhaps the most attractive feature of the tool is that it comes with SEO capabilities to make sure your library can be searched and found easily.
Key Features:
Helps you create a knowledge base of articles helpful for the customers.
Customization features allow you to personalize your knowledge base around your brand.
SEO features ensure your articles rank high in Google and are easily discoverable.
Makes knowledge easily accessible and searchable so that teams can focus on their work.
The data obtained in the built-in reporting dashboard can help you improve your knowledge base.
Search analytics can help you identify the gaps in your knowledge base.
Pricing:
Starter – $45 per month
Professional – $800 per month
Enterprise – $3200 per month
Conclusion
We have just given you a detailed overview of some of the best knowledge management software. All the options listed above are packed with unique features designed to help your company store, organize, manage, and retrieve knowledge.
The creation of a knowledge base can make it easy for your employees to collect important information. At the same time, it can be helpful for your customers to search for answers to their queries.
Which tool is the best for your company? Well, only you can identify the answer by comparing the features and pricing plans of these tools with the requirements of your company and your budget.
We hope you found this article helpful.
Until next time, bye!
---
Further Readings: