The world is a fast-paced machine right now. You never really know how much time you have before it slips away from you.
Quite philosophical, but it's true.
Time and project management go hand in hand these days. If you don't complete the project development process on time, or if you don't provide the service to your client on time, you are going to be in trouble.
But if we don't talk about big professional projects, and focus on our personal lives for a second, then we are going to realize that time is a big part of that too. And if we don't have a solution for managing our time, everything is going to waste real soon.
This is where Toggl track comes in. What's that? Let's begin.
What is Toggl Track?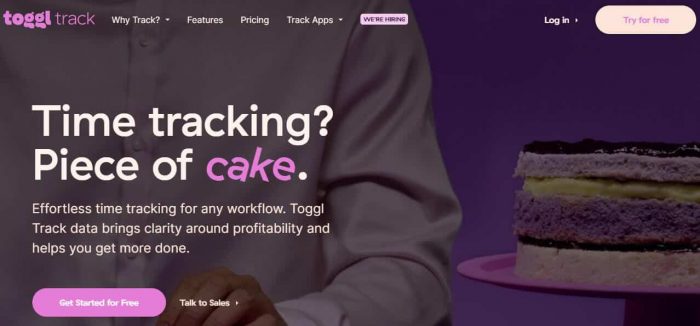 Previously known as Toggl, the application is an incredible time-tracking and time management application that allows you to make sure that all of the tasks and activities that you plan for your day or your whole project development process, are time tracked and managed accordingly.
The application has an incredible free version that provides you with some amazing premium features that are not present in most of its competitors.
The application has beautiful desktop applications and a browser plug-in that monitors the time you spend online and finds that perfect balance for you which you need between your online and offline time.
The application also has mobile applications that help you track the time on the go and also the time you spend having meetings with people online.
These features are perfect for micro-businesses and freelancers because they can get a lot of work done with the help of this application without paying a single dime.
Interface and Applications
The application is incredibly intuitive and fun to use. The interface is a beauty to look at and the functionality is not thrown at you at the first glance, rather it expands according to your needs and requirements.
When you first open the application, you see just the Toggl timer. Start the timer and it starts counting the seconds and the overall time that you want to record. Pretty simple.
When you end this timing session, the amount of time that was recorded by the application is automatically saved into your Toggl account, which you can access from any device that is running the application.
These timing sessions are extremely useful as you can record the time you spent performing various tasks for your project development process or other tasks that you had to do in your workday, and show all of this timing data to your employer as proof for the invoice that you are charging them.
Another functionality that you get in the interface is that when you access your Toggl account, you can easily create clients and projects related to those clients. Also, you can create different teams that are going to be working on those projects and for those clients, while also creating workspaces for them.
All of these classifications can easily help you track your time in a structured way.
Moving on, the application also has incredible desktop and mobile apps that make it easier for users to access them on their devices from wherever they want. You also have browser extensions and a web app for using Toggl.
That means that you have more than enough ways to use the application. Just pick one and start using it.
While the web application is quite detailed, the other apps that Toggl provides have some unique use-cases.
For example, when you use the desktop application, your data will be collected when you are offline.
This will help the application to gather all of the required data that you want for your account, and when you reconnect to the application, it shows you exactly what was gathered and when was it gathered.
Toggl Features

Let's take a look at some of the other amazing functionality that Toggl has to offer to its clientele around the world. These features are:
Time Tracking
Pomodoro Chrome Extension
Creating Teams and Workspaces
Creating Sub-Projects
Custom Time Logs
Let's take a look at all of these Toggl features in detail and find out how they can be beneficial to us as users.
1. Time Tracking
When it comes to time tracking, it'll be hard for you to find an application that puts more laser focus on the task at hand than Toggl. The application has an incredible timer that displays the time that you spend on a single task right down to the second.
You can also choose to round up or down this time, and you can also choose the range to round up the time.
Related:
37 Best Time Tracking Software to Improve Team Productivity
2. Pomodoro Chrome Extension
As we have mentioned above, the application provides some amazing desktop and mobile applications with a browser extension to make sure that its users have access to their time tracking data wherever they are or whatever device they are using at that time.
The chrome extension that we haven't talked about much is an absolute gem to have in all of those options. The extension was designed on the famous Pomodoro technique for power users which uses that time management method for their workdays or other time-tracking activities.
The extension also installs a start timer on productivity-related websites like Google Docs and Google sheets, and the best part is that you can also choose the websites on which that button appears.
3. Creating Teams and Workspaces
The application also helps you to create teams and workspaces to better organize your work, and the work of your team members, so that no task is left without being time-optimized by this amazing application.
You can also track time, and classify those time entries according to the tasks, projects, and clients that you and your business are working for, and also you can select certain tags for those time entries to further classify everything accordingly.
4. Creating Sub-Projects
The application also lets you create sub-projects so that you can divide your big projects into smaller chunks and track the time you spend on the tasks related to those chunks easily and effectively. This can be helpful in activities like separating the research material from the actual content generation.
The application also helps you to estimate the amount of time it is going to take you to complete a specific project, according to the number of sub-projects that you create for it.
5. Custom Time Logs
Another great feature that is perfect for project managers is the ability to change the time logs of a specific user in your team.
The application lets you edit the time logs of other users. The feature is for paying customers, but trust me, if you are a manager and you are managing your team's time logs on Toggl Track, you are not going to regret it.
Toggl Pricing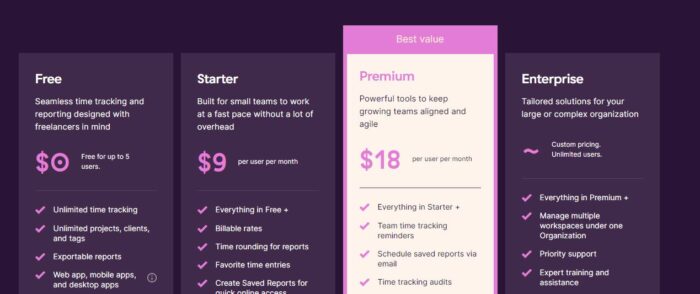 There are a few different pricing plans that Toggl Track offers to its clients.
The first pricing plan is free which consists of all of the different basic functionalities that you can ask for, is a time tracking application
The second pricing plan starts at $10/person and it has some extra features which are not present in the free version like billable rates, saved reports, time rounding, and calendar integration
The premium pricing plan starts at $20/person which has all of the features that the free and the starter version had to offer, but it also contains some extra features like time audits, rescheduled reports, project dashboards, etc.
Conclusion
This was a beginner's guide to the Toggl track and how it works for its users in the real world. If you think that we missed something important in the guide, then write to us and we will make sure to add it to the blog the next time.