Kanban is king. Well, if 'king' in your language means an incredible workflow management method that can foster continuous improvement and help you visualize all of the tasks and processes that you have to perform as a part of the project development process. It doesn't? Thought so (Lol).
This workflow management tool is a Japanese word that literally means a card or a visual signal to make your work easier. So, when it comes to understanding it in detail, we should first understand the different terminologies associated with Kanban.
In this article, we are going to do just that. Let's begin.
10 Different Kanban Terminologies to Know About
Here is a list of the different Kanban terminologies that we are going to talk about in this article.
Board
Contexting
Kanban System
Process Map
Visual Management
WIP Limit
Blocker
Bottleneck
Hidden WIP
Process
Let's describe all of these different terminologies and find out how they
1. Board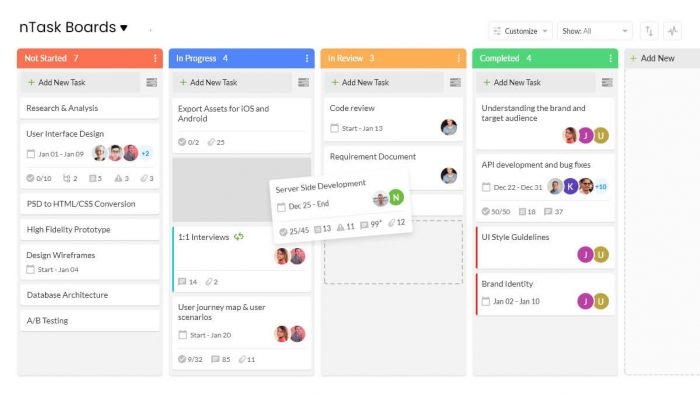 Kanban board is the most common type of Kanban terminology that we are going to discuss in this list. These boards refer to one entire workflow of an individual or a team, which is further divided into a set of lanes that join together to represent a development process.
It is up to the team members or the project managers to choose one shared Kanban board so that they can easily manage their work, or if they think that they need separate boards to work independently, then they are most likely to avail themselves that option.
Signup to nTask Kanban Board Now!
2. Contexting
Contexting is also known as multitasking or task switching because of how we stretch our time, focus, brainpower, and attention across many different tasks and activities that we have to perform throughout the day.
This is not a good approach to do things, because when we juggle too many different projects at the same time, all of these useful resources at our disposal get utilized and without any real results to show off. Why? Because your mind constantly switches between different tasks and nothing gets done completely.
3. Kanban System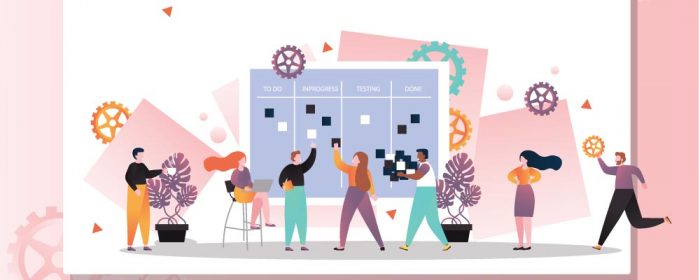 A Kanban system is an amazing system of visualization that describes the entire workflow of the activities that you and your team members have to perform.
This Kanban system doesn't have any limitations, which means that if you want to see the workflow of one Kanban board or of 10 different Kanban boards, you can.
So, that means that all of the work that is connected or visualized on a Kanban board or a whole bunch of them can be called a Kanban system.
4. Process Map
A process map is an incredible visual representation of the steps that you and your team members have to take in order to complete a piece of work.
And don't worry you know about a process map because if you manage your work on a Kanban board, you should have started it by creating a process map.
5. Visual Management
There is a philosophy that says that all work or the tasks included in the project development process, is done more effectively through visual systems.
This is because visualization of the project helps in an earlier diagnosis of the problems associated with the project, leading to lower-cost solutions.
6. WIP Limit
WIP limits are the different factors or constraints on the work items or the cards on your Kanban boards that are being worked on at any given time.
This means that they can easily be executed at the team, individual, or even on organizational levels, even though they are more commonly used to manage capacity or storage on team Kanban boards.
7. Blocker
When you put your work activities on a Kanban board, you expect those activities to traverse seamlessly from one process step to the other until those activities are fulfilled.
While working on a Kanban board helps you to improve workflow, you also need to note that sometimes you are going to face some unforeseen circumstances, either internal or external, which are going to hinder project progress.
These circumstances that can block or stop the flow of activities are called blockers.
8. Bottleneck
As we discussed above, a blocker is something that stops the flow of activities that are happening on a Kanban board, but when we talk about bottlenecks, things get slightly interesting.
Why? Because bottlenecks can be fixed through a strategy of redistributing all of the work activities.
9. Hidden WIP
For the teams that are practicing Kanban in their daily work cycles, WIP is critical for accurately managing the workflow of the manager and their team members. Hidden WIP is the work that someone is working on but hasn't been added to the Kanban board in question.
10. Process
A Kanban process is the different series of steps or actions that a team performs in order to complete the project.
Conclusion
These were some of the terminologies related to Kanban that you and your team members should be familiar with. If you think that we missed anything then write to us and we will make sure that we review them and make some changes.
---
More Resources: