ProofHub is project and team management software that, among other things, allows users to define workflows, measure time, and build and manage a document approval process. The platform includes tools like team communications and project templates to save you time.
While ProofHub is a good choice for certain businesses, it may not be suitable for yours. Trying to pick a proofhub alternative might be difficult because the market is currently saturated and overwhelming with so many options.
That is why we have compiled this list of tools that can help you better plan, manage, and monitor your projects.
But first, let's go through some of the proofhub limitations.
Why Should You Look for an Alternative to ProofHub?
Simply put, ProofHub is a useful platform with various functions. But nothing in this world is perfect, and ProofHub is no exception. Here are some of the reasons why you should go with one of the ProofHub alternatives we will go with later in this post.
1. The lack of product variety
ProofHub, although having so many useful features, nevertheless lacks product breadth. Instead of improving existing features, the team behind this tool is focusing on introducing new ones.
Simplify project management
with nTask today!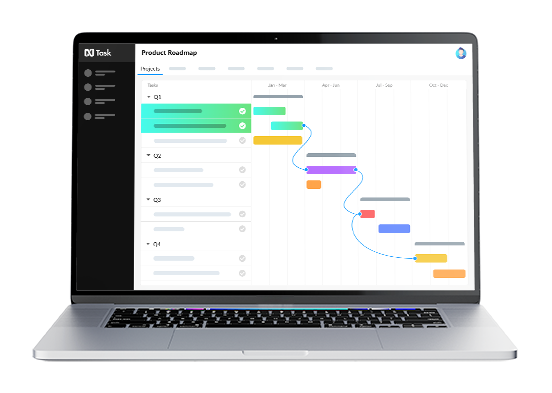 2. Extremely simple Interface
Proofhub claims to have a simple user interface. When paired with the difficult UX, though, it becomes excessively simplistic. ProofHub is quite simple, making it appear outdated.
Moreover, the interface soon becomes cluttered with many elements that are difficult to follow, use, and navigate.
3. Learning Curve
ProofHub has a steep learning curve that takes considerable time to learn. Due to the constant introduction of new features, utilizing ProofHub daily necessitates continual learning and upkeep.
4. Integrations are limited
In contrast to other competitive software, ProofHub offers very few integrations. Dropbox, Google Drive, Box, Onedrive, Outlook, Box, and iCal are all supported.
Most teams require the list to be significantly larger so they may tackle other activities like proofreading documents, scheduling meetings, storing and uploading data, etc.
5. Lacks Automation
ProofHub, unlike many of its competitors, currently lacks automation. Automation reduces manual tasks and errors, saves time, and boosts productivity, which is why it is on the list of must-have user features.
6. Expensive for Small-Budget Teams
Proofhub offers free plans
But, after witnessing their premium version, you might want to rethink. It is hard to determine whether this is a cost-effective tool for everyone, especially small teams.
Proofhub offers a 14-day free trial period after which you must choose one subscription plan.
The Essential plan in our opinion, is not worth a shot. This is because it lacks several important features, such as a project manager, priority support, and custom workflows.
6 ProofHub Alternatives you must Try in 2023
If you are looking for a less expensive platform or a better match for your firm, you can consider these ProofHub alternatives.
1. nTask – An All In One Project Management Software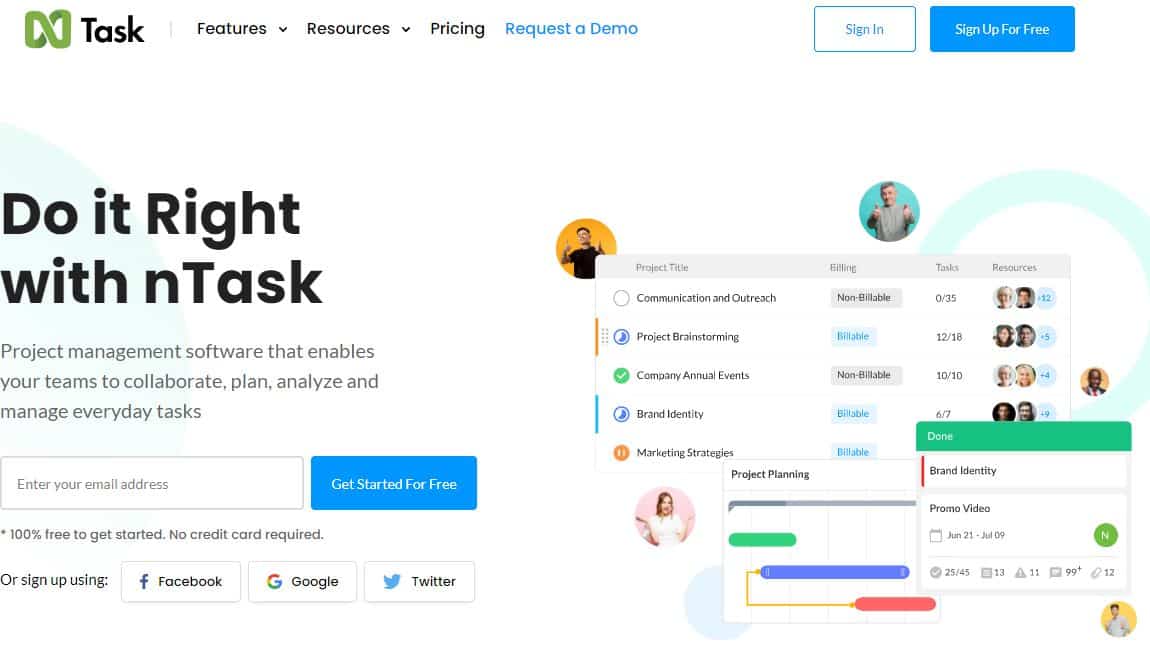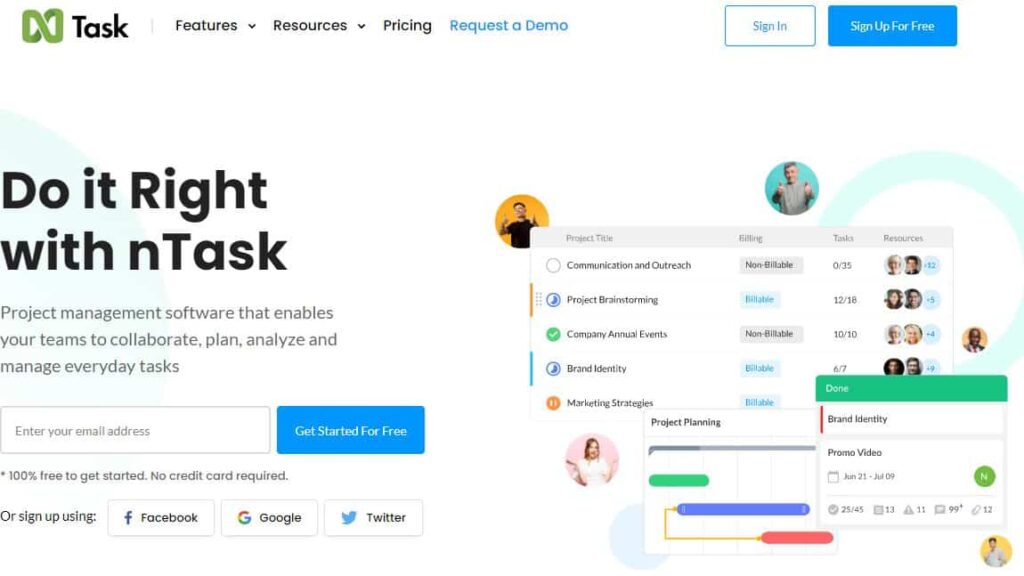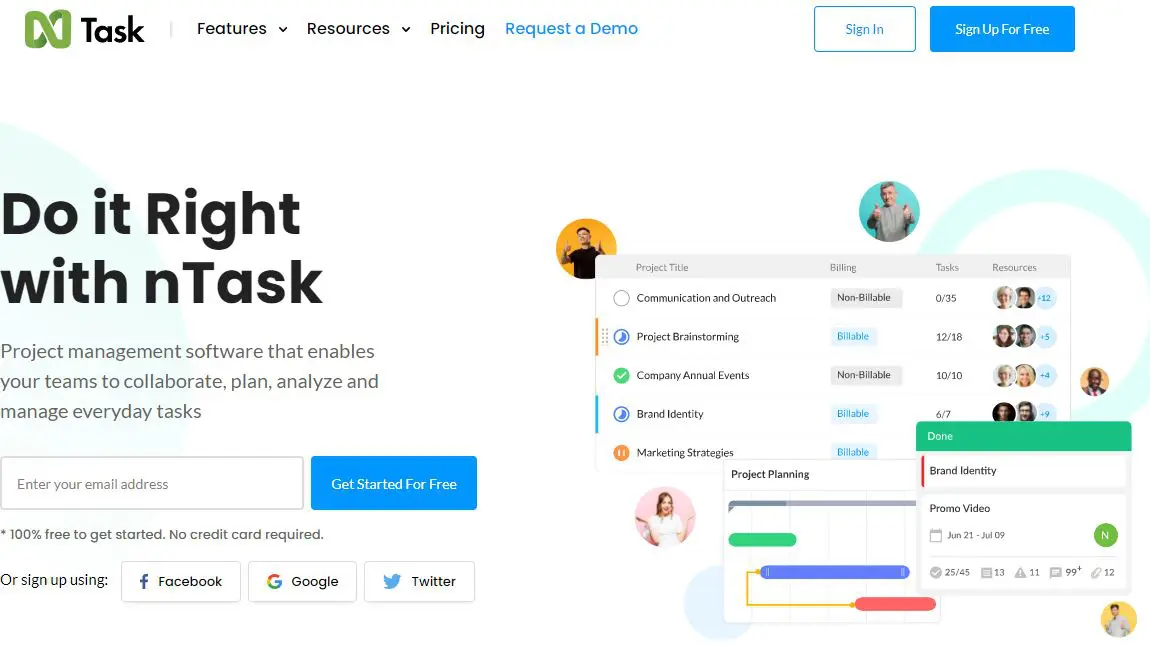 Starting off with one of the best Proofhub Alternatives right now, we've got nTask.
It's an all-one project management software with an emphasis on task management, deadline-oriented project completion, and much more.
nTask's built-in interactive Gantt chart view allows users to easily keep track of upcoming tasks, set due dates, and include reminders so nothing gets forgotten. Tasks can be assigned directly to team members or delegated to entire teams – which also makes it easier for managers to assign tasks and monitor progress.
The robust dashboard provides a quick overview of all tasks, so users can identify areas where they are lacking or need assistance from other team members. Additionally, there are multiple ways to view task data such as Kanban boards, lists view, calendar view, and more. This way, users have flexibility in how they choose to organize their tasks.
Moreover, nTask provides detailed analytics so users can measure productivity over time and gain deeper insights into completed projects with advanced reports. This helps to identify problems early on before delays lead to costly consequences down the line; giving teams proactive visibility into any issues that might arise during long-term projects.
For added convenience and collaboration within the app itself; integrated chat keeps group conversations going without ever needing a separate window or application open. All chats related to specific tasks can be viewed together for easy reference too!
Finally, nTask also comes with integrations with popular tools such as Dropbox Paper & Google Drive – providing seamless access between your favorite apps whilst working on projects from within the same platform!
Features
Create and manage tasks on a central platform with due dates
Allow users to customize task status and progress in real-time
Facilitate organized collaboration between multiple users with role assignments
Generate comprehensive reports to track performance metrics within the team
Set up automated notifications for assigned tasks or date milestones
Utilize advanced data filtering capabilities to create custom views of tasks
Integrate with existing platforms, cloud storage, and workflows
Interactive Gantt charts
Interactive Kanban boards
Create task dependencies on the go
Built-in risk management tool for active risk mitigation
Pricing
Premium plan starts at $3/ per user/ per month
Business plan starts at $8 per user per month with advanced features
Contact nTask's sales team for details on the Enterprise plan
2. Basecamp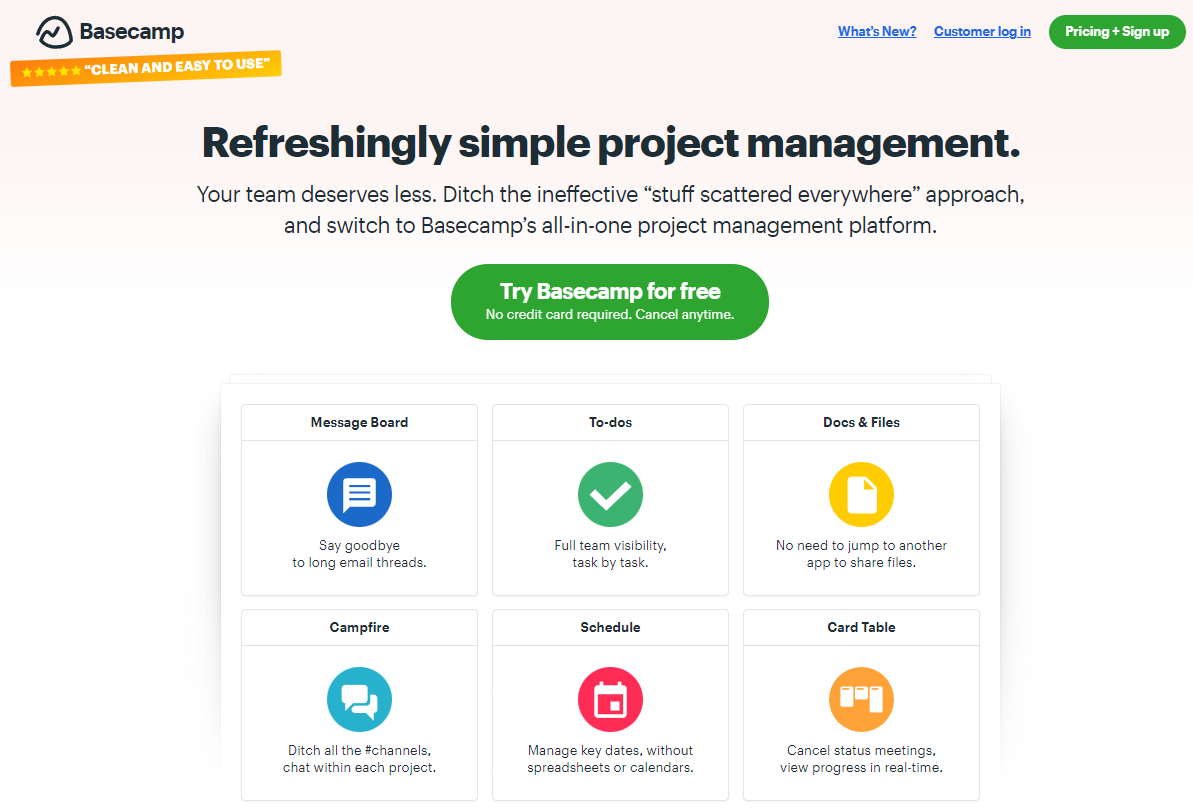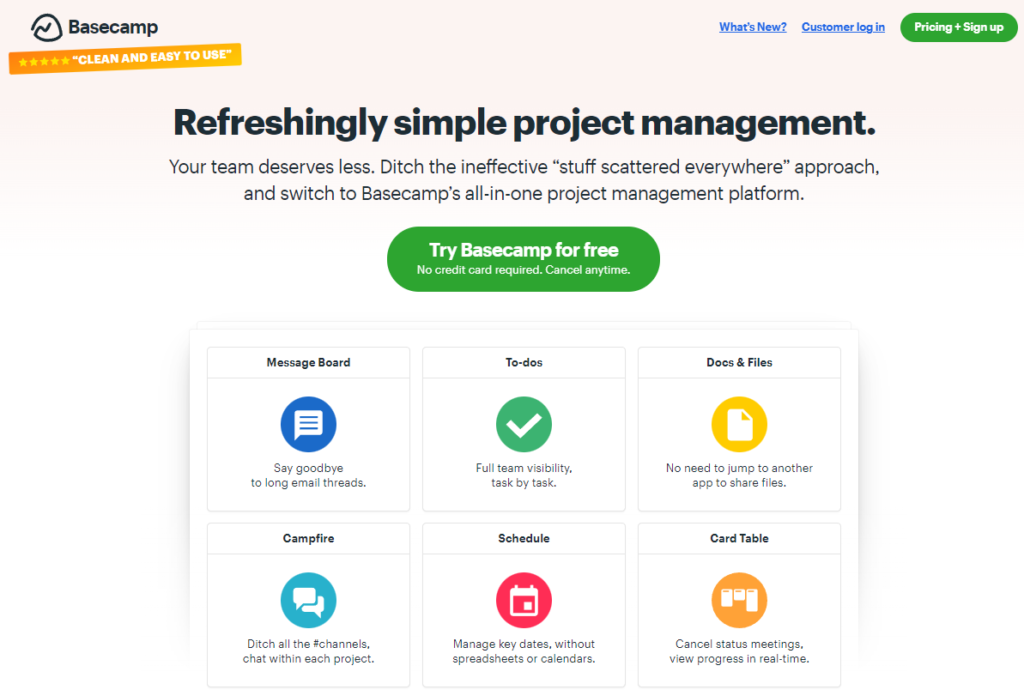 Basecamp is a tool created to bring order to your turmoil and assist you in organizing and tracking activities inside your organization, even when you are not physically there.
Basecamp contains to-do lists, allowing you to comment on these lists and tasks, and tracks progress with Hill Charts on which coworkers can comment. ProofHub can also be used to track progress, but Basecamp makes it more fun.
While ProofHub's notifications can be unpleasant, Basecamp enables you to temporarily disable them or schedule when you want to receive them. This might be useful for focusing on key tasks and maintaining a work/life balance.
Since Basecamp knows the importance of communication for remote teams, it includes a variety of communication and collaboration features like message boards, real-time group chats, check-in questions, and alerts. ProofHub's communication features are excellent. However, they miss the mark of those offered by Basecamp.
Features
It lets you create tasks or subtasks, assign them to team members, and set deadlines for them
Real-time group chat in Basecamp is perfect for quick queries, casual talks, and basic file sharing
Quick grasp of any assignment or team member
Basecamp's Hill Charts allow you to track project progress in real-time. They may be used to keep track of large projects and decrease the need for daily meetings.
Offers unlimited projects and users
Check-Ins in Basecamp allows project managers to regularly ask their teams questions, with all replies aggregated into a single, easy-to-follow thread
Pros & Cons
Pros
Cons
Simple collaborationExcellent for organizing simple tasks

Effective research

Data Replication Security And Privacy
No Gantt charts

Inadequate Task Prioritization

Absence of Time Tracking
Pricing
Free
Basecamp Business- $99
3. Asana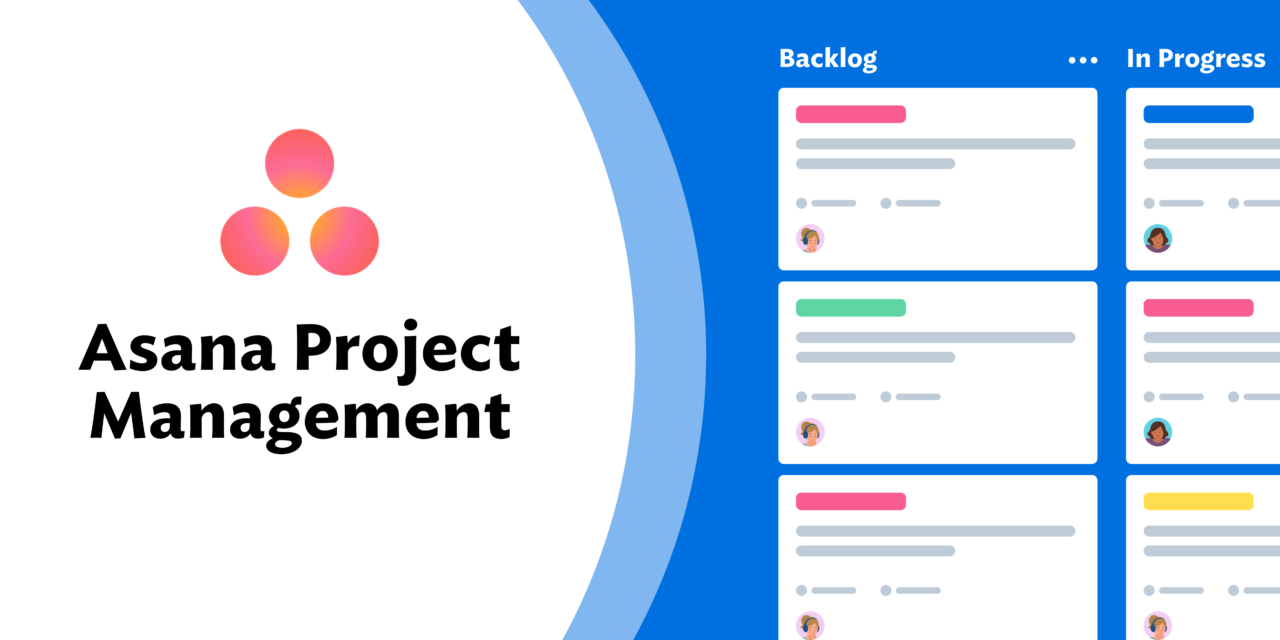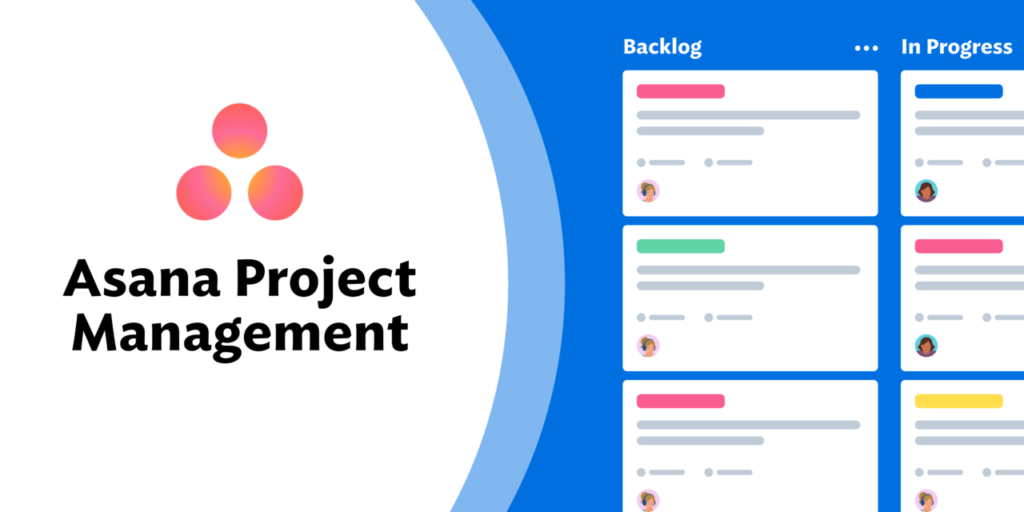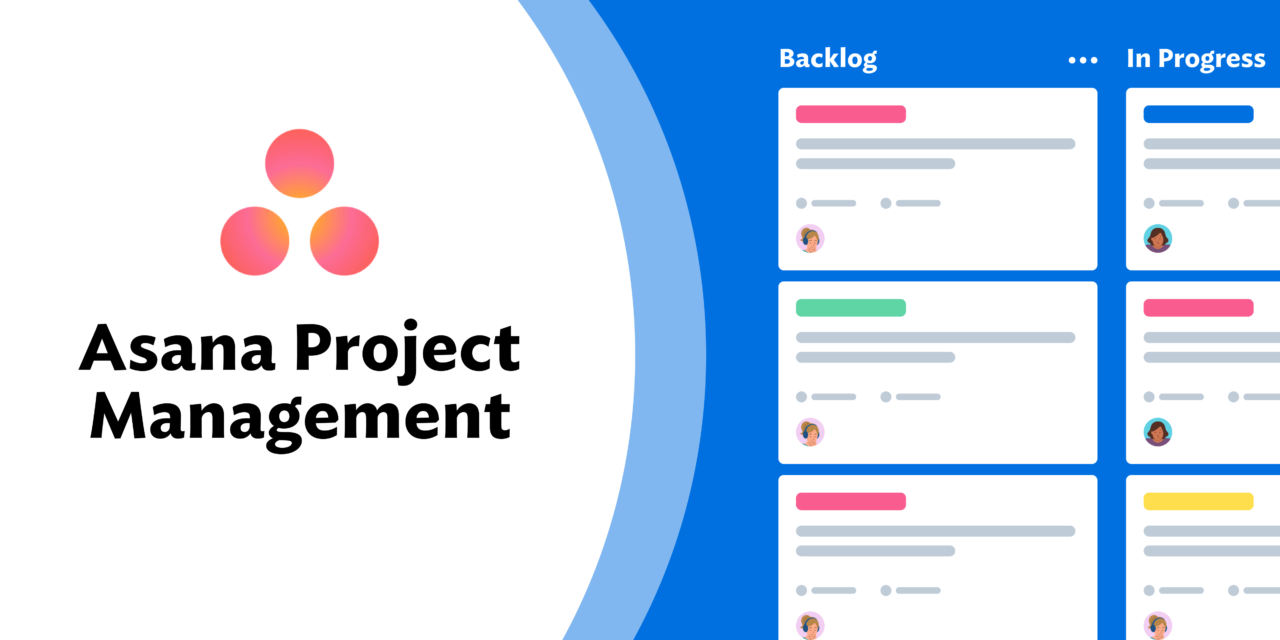 Another great ProofHub alternative is Asana.
It's a project management software that allows teams to sketch out each stage of the process, keep in sync and execute each project successfully.
It features boards on which you may observe where your work is at and plan your next activities. You can easily create a timetable to keep on track and figure out what to do if the situation change.
Asana's ubiquitous reporting provides real-time insights into your projects' progress and data on the underlying projects and tasks. On the other hand, problem-solving does not have to be a hassle. Asana's automation saves manual effort and gives you more time to focus on key tasks.
Moreover, this distinguishes Asana from ProofHub. Although the latter offers many useful functions, such as white labeling, proofreading, and live chat, it lacks automation, which greatly simplifies life and work.
Asana integrates with various platforms in the domains of communication, finance and human resources, marketing and design, sales, and productivity. ProofHub, as described earlier integrates only with a limited number of apps and lets you create custom connections.
Features
Customizable Dashboards
Activity feed
Separate Task Lists and Concentration Mode
Task Prioritization
Personalized Calendar Email Integration
Notifications & Reminders
Automated Updates
Project/Task Development
Permits for the Project
Views that have been searched for
Establishing Priorities and Deadline Dates
Mobile HTML5 website
Integrations
Pros & Cons
Pros
Cons
Task segmentation & prioritization

Easy communication

Data security

Customizable dashboard
If members are deleted, there is no way to trace them through alertsAdditional non-premium/free features

Minor technical errors
Pricing
Free
Premium- $13.49
Business- $30.49
4. Zoho Projects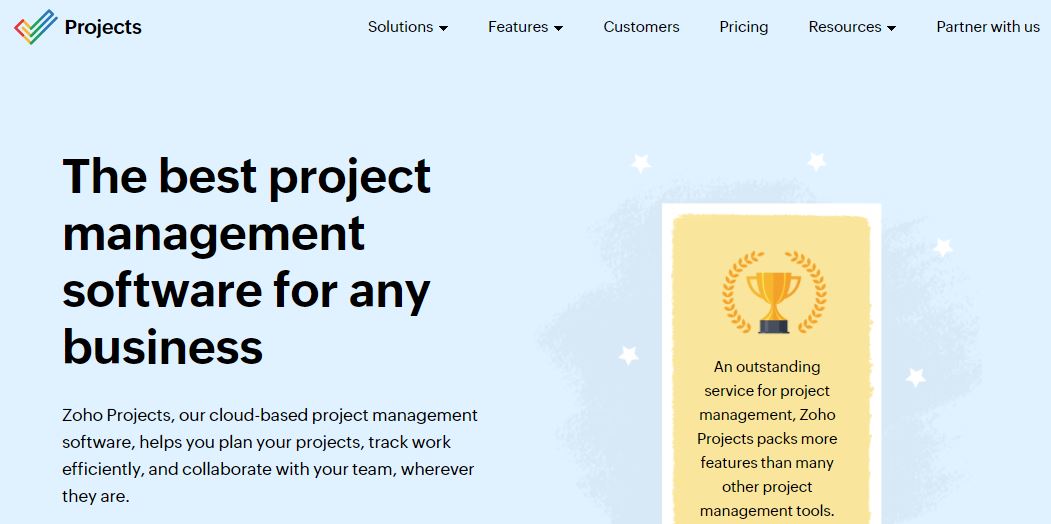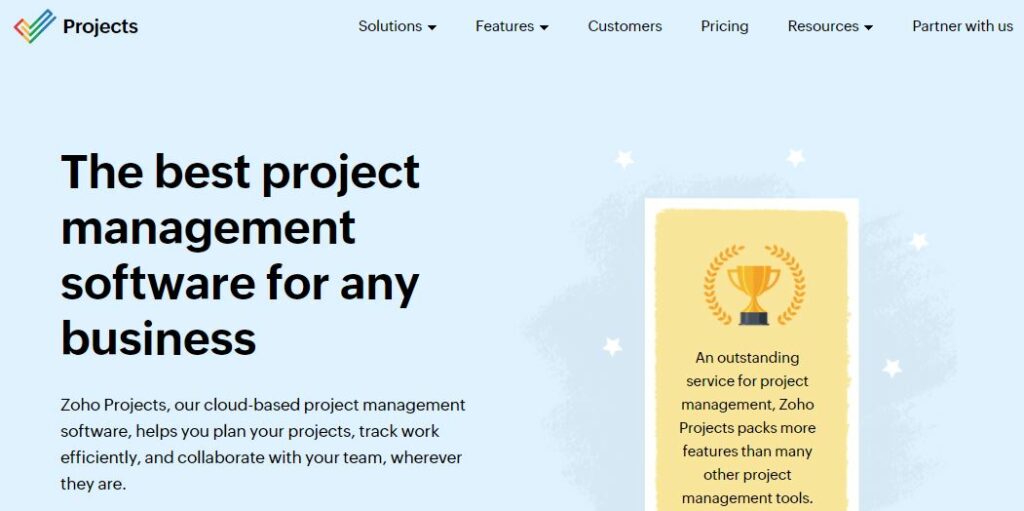 Zoho Projects is a cloud-based program management and completion program. This tool provides various options for customizing your workflows, connecting with the team, controlling time, and providing reports.
Beginning with the customization features of Zoho Projects, you can create and use layouts, views, fields, statuses, and even functions. ProofHub allows for some customization, however, Zoho outperformed ProofHub this time.
ProofHub is recognized for its collaboration tools, but Zoho takes it a step further. You can interact with the team, mention individuals or entire teams, track conversations on the feed, and use Zoho to create dynamic forums.
Furthermore, you can use webhooks to automate tasks, set business rules, and workflow rules, and even send notifications to third-party apps in Zoho Projects. ProofHub lacks all of these features that might improve d work and aid in simplifying things while working on complicated projects.
In addition, unlike ProofHub, Zoho Projects offers budgeting and billing tools.
Features
Task Automation
Gantt Charts show how your tasks are going
Zoho Projects enables you to break down large projects into small chunks
Track KPIs that are important to you
The Chat Functionality in the Zoho Projects integration allows you to interact quickly
Detailed reporting
Planned vs actual cost
Pros & Cons
Pros
Cons
Plan for up to five users is free

Zoho with Google applications integration

Time tracking for Hourly billing
Gantt charts are difficult to use

Reporting tools are not suitable for large companies
Pricing
Free
Premium-$5
Enterprise-$10
5. Infinity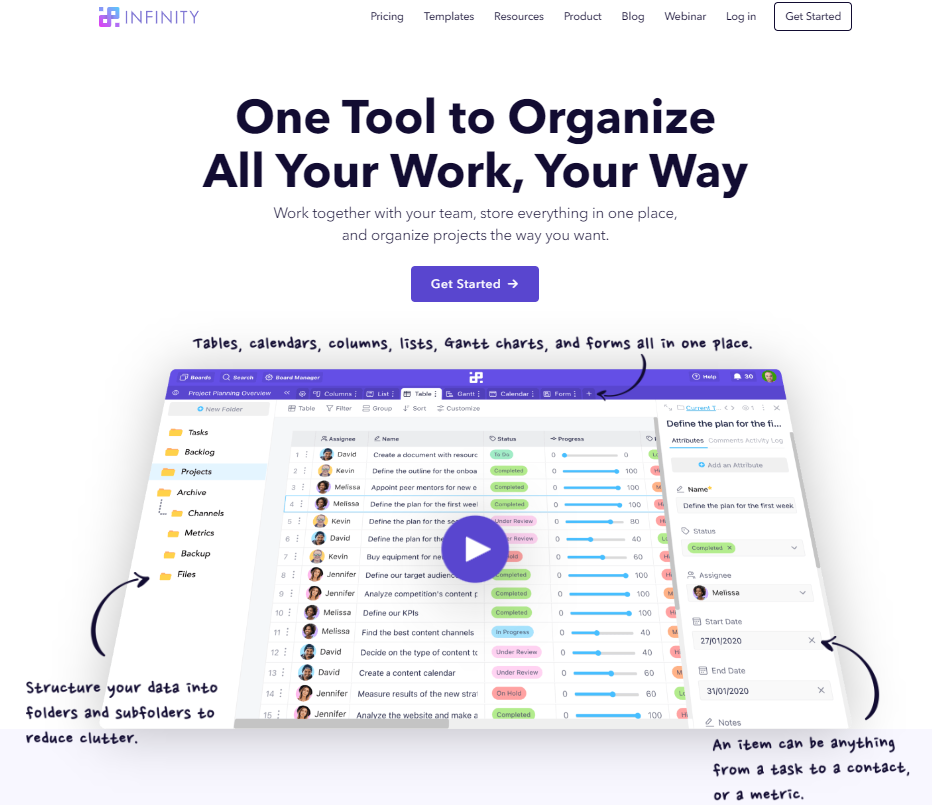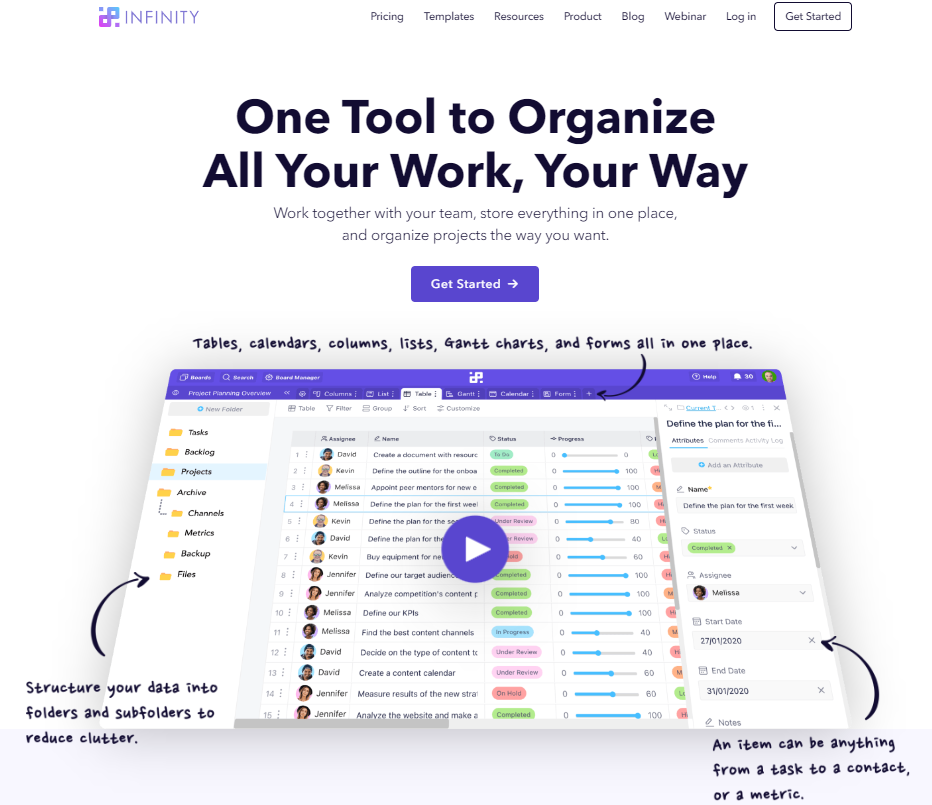 Infinity is a robust ProofHub alternative that lets you organize your processes in a number of ways, several whenever you want, and free yourself from clutter.
With Infinity, you can easily visualize activities by switching between 6 views—columns, lists, tables, calendars, Gantt charts, and forms—and observe your work from numerous perspectives. In contrast, ProofHub only provides four views: Kanban, table, calendar, and Gantt, giving you fewer options for simply and concisely showing your work.
Infinity also has features that you can apply to make each task on your to-do list more interesting. ProofHub lets you set start dates, assign assignees, attach files, name them, and track progress by percentage.
Infinity goes a step further, making it simple to create checklists and checkboxes, rank the priority of each work, link items across boards, calculate between numeric variables, and more.
Features
Create one or more workspaces, then organize them with boards, folders, subfolders, and items. Infinity offers an unlimited amount of options to organize your work
To save time and accelerate your projects from the start, use the pre-built project management, product development, HR, and other templates
Examine your work in six different manners
You can make your projects more purposeful, identify duties, track progress, and much more by utilizing Infinity's enormous diversity of attributes
Customize your task view by filtering, grouping, and sorting them by whatever attribute you choose, color-coding boards and tasks, and bulk editing tasks
You can stay on the same page with your coworkers by using Infinity's comments and mentions.
Infinity makes sure you do not miss anything. The tool will alert you whenever there is a big update
Automations enable you to automate portions of your process, trigger actions, and keep track of daily and recurring tasks
Pros & Cons
Pros
Cons
Excellent communication tools

Effective resource management

Automation Useful insights
Limited integrations

Lack of features

No webhook support
Pricing
6. ClickUp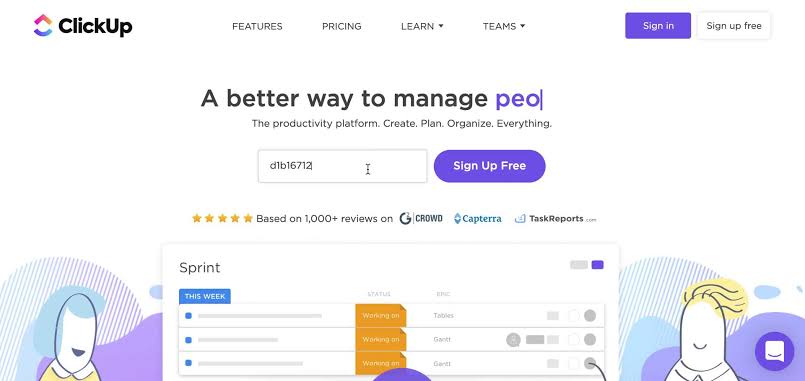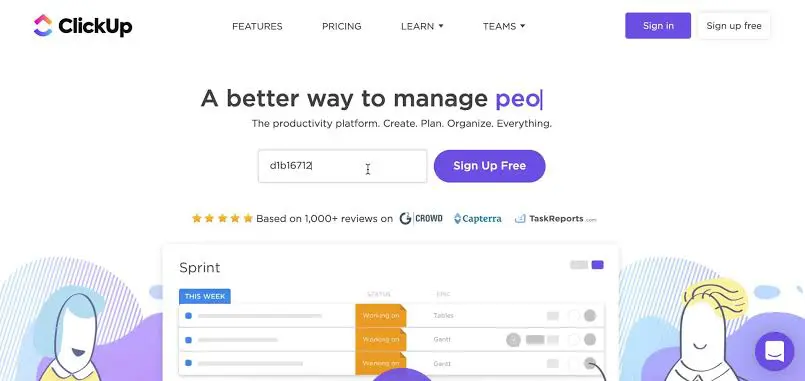 ClickUp is a team collaboration tool for project management, design, development, sales, and marketing. It's a one-stop solution that incorporates all of the functionality required to do tasks in an appealing, user-friendly interface.
ClickUp has a slew of intriguing templates for a variety of use cases to help you save time and kick-start campaigns (CRM, hiring, law, marketing, and more). ProofHub also includes a variety of templates, but they are not as widely applicable or as visually appealing as the ones supplied by ClickUp.
Automations are one of the most powerful aspects of ClickUp. Use them to reduce busy work and streamline your processes. ProofHub is a good tool, yet it lacks automation. ClickUp can also be used offline and on any device, although ProofHub does not have this functionality.
Features
Customizable workflows
Time tracking
Task management
App integrations
Team collaboration
Detailed Reporting
Pros & Cons
Pros
Cons
Link tasks, projects, and documents

Kanban boards for viewing linear task

High degree customization
Limited time tracking

Reporting can be improved

Dashboards are busy Too many notifications
Pricing
Free
Business -$5
Enterprise-$9
Conclusion
While ProofHub is a great task and project management software, several more products provide advanced features that can help you better plan and supervise projects as well as achieve goals.
Your search is over if you have been seeking a great ProofHub alternative that can provide so much more! We recommend that you select the best Proofhub alternative based on your needs from the five options