Some experts say that data or information is the most expensive thing in the world right now. Why? Well, the more you know about a certain entity or an individual, the more you can do something about them.
In business, data is important, but what's even more significant, is the way we handle that data into something meaningful, which can bring more value to the company and increase growth.
If you are in need of an application that can collect and analyze data, and then perform operations on it to make it work in favor of the business, you came to the right place.
In this article, we are going to talk about 7 of the Best Business Intelligence Tools that can help you grow your business and keep all of the information regarding your company, in check.
Best Business Intelligence Tools (*Updated 2022 Guide)
Let's discuss the incredible BI applications in detail and find out how they can be beneficial for you in terms of data analytics and business growth.
1. Dundas BI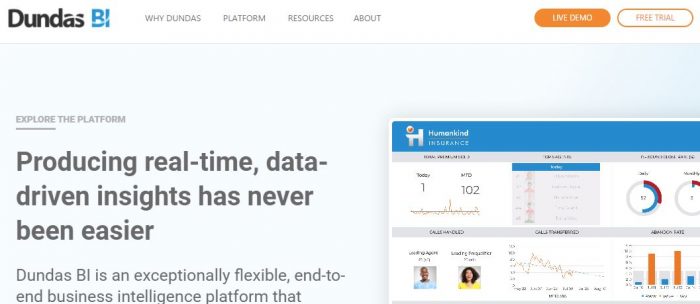 Dundas BI is an incredible Business intelligence tool is a platform that allows different businesses around the world to analyze and visualize all of the data related to their company's growth and success.
Using this software, you can transform all of the raw data that you collected from all of your sources and convert that data into actionable insight in the form of different elements like reports, dashboards, and visual data analytics.
Also, this software can help you connect all of the existing systems that you have, all of the web portals and the administration portals, so that you can white-label the data within a single interface.
Key Features
There are drag and drop tools available on the interface so that you can customize the data according to your needs and requirements
There is also real-time data analysis to measure and counter different business strategies
You can also personalize different visualizations of data and their reports
The application also helps you integrate different forms of data from many different sources
Pricing
You can use the 25-day trial of the application for free if you want to check it out before buying it
If you want a price quote based on your specific needs and requirements, then you should contact the company
2. Sisense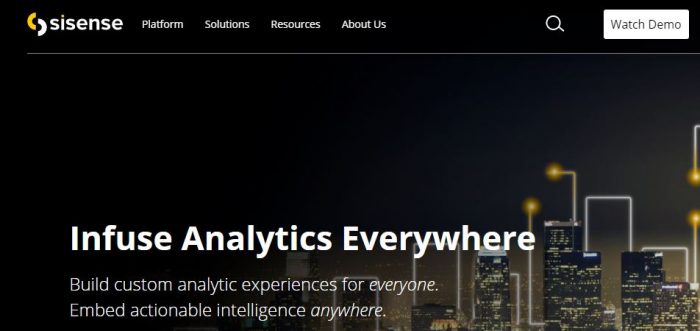 Another great example of a business intelligence tool that can jumpstart your data analytics regime, is Sisense.
The application uses powerful Artificial Intelligence to make sure that all of your data analysis activities are broken down into biteable chunks and to create analytic apps for users to embed with their business systems.
The application can help you to integrate many different forms of data, which have been collected from many different sources, into a single interface. And the best part is that the software doesn't require extensive user training to specialize.
Key Features
The application provides you with Ad hoc reporting
It also provides you with an incredibly interactive business intelligence dashboard, so that you can visualize all of the data in a single interface
The application also helps you in handling Big Data
Data transformation and modelling is also provided by this incredible application
Pricing
There is a free trial if you want to check out the software before buying
If you want a paid subscription for the application, then just contact the company and they will create a custom plan for you according to your needs and requirements
3. Zoho Analytics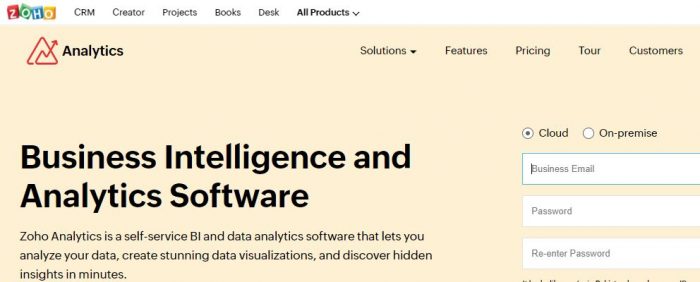 You might have heard about some other applications that Zoho offers. It is an amazing line of applications that can help you increase your business's value and performance. The application in question here is Zoho Analytics.
Basically, what this application does is that it provides the users with an amazing visually attractive dashboard that supports the collection of different forms of data from different sources, and displaying it on an elaborate interface.
The application helps users to easily and effectively blend all of the data through a simple interface and makes sure that the data can be exported to multiple ecosystems like Dropbox, Google Drive, QuickBooks, and Zoho.
Let's take a look at some of the other features that Zoho Analytics has to offer to its clientele.
Key Features
You can have your data visualized in many different shapes and forms on the interface
There is a unified analytics system provided by the application that helps to monitor your data easily and effectively
The application provides the users with easy integrations with a lot of different tools and databases so that they are not left empty-handed if they are using some other tools for your business from the start
The application is incredibly interactive and easy-to-use
Pricing
There is a free trial available if you want to see what's happening with the software
The paid plans for Zoho Analytics start from $22 per month, and if you want to add some additional users to your plan, then it will be an extra $8 per user
4. Oracle BI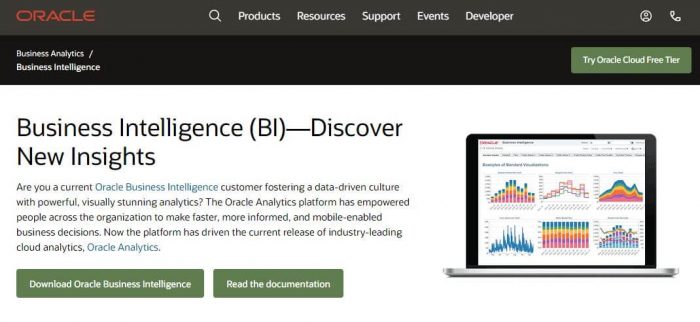 The next item on the business intelligence tools list is Oracle BI. The application is a part of the Oracle family of applications and allows its users to uncover new insights, and make more informed and faster decisions about the business.
The application also has different Business Intelligence capabilities like mining different forms of data, sending different alerts and notifications to the users about the activities happening in the interface, and much more.
Let's take a look at some other features that Oracle BI has to offer to its clientele.
Key Features
The application is incredibly easy to use and is a very collaborative workspace
The application helps its users to generate in-depth insights about their business
Oracle BI helps its users in Agile data discovery
The interface helps the users to easily access all of the data analytics
Pricing
If you want to purchase the subscription, then you need to contact the company so that they custom create a subscription model for you according to your requirements
5. Tableau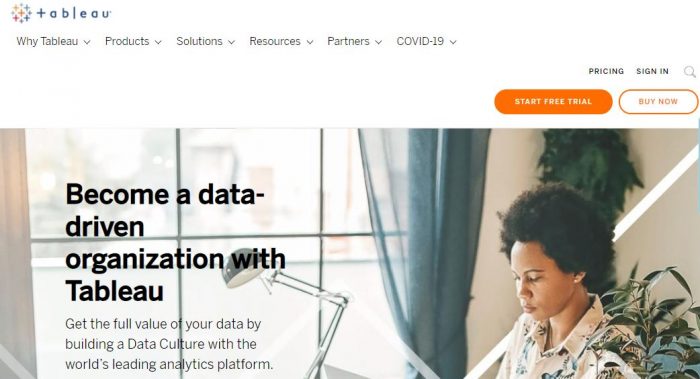 Another amazing Business intelligence tool that you can use to better monitor and visualize your business is Tableau. The application helps small business owners to monitor, analyze and visualize all of their business activities and data, easily and effectively.
The interface has a very interactive drag-and-drop functionality, which allows users to customize the whole dashboard according to their needs and requirements. This feature also helps different users to spot changing market trends immediately.
Key Features
The application supports mobile BI strategy to better facilitate its users
The tool provides an in-memory architecture that helps you to visualize data better and facilitates in exploring different forms of data
The application can be easily integrated with Microsoft SharePoint
Provides one-click reporting to save time and energy
Pricing
The application provides a helpful free trial that is perfect if you want to check out the software without paying a single dime to the company
The paid plans of this incredible Business Intelligence application start at $70/month
6. Scoro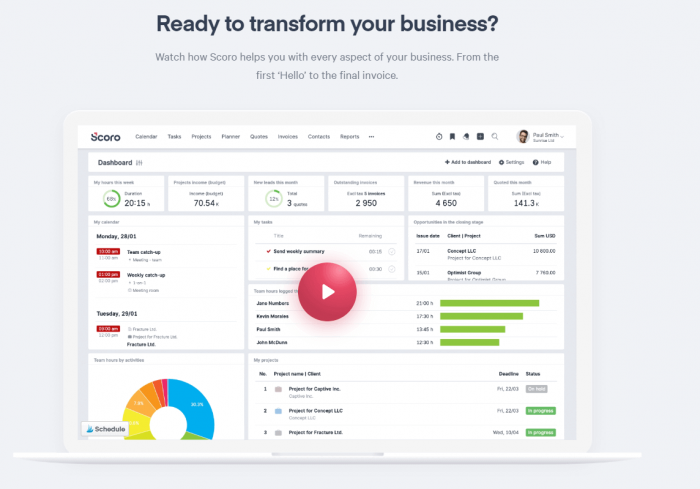 If you are looking for an application that is not only a business intelligence tool, but also helps to manage all of the data of your entire company in one place, then all you need is Scoro.
The application is an all-in-one solution that allows you to manage your customers and sales, keep track of all of your business results in one place, plan your team's time and projects, and also helps to perfectly set up your business for success.
Let's take a look at some of the features that Scoro has to offer to its clientele.
Key Features
The tool provides its users with a real-time KPI dashboard, that allows them to stay focused and increase productivity
It provides its users with a full overview of all of your projects and also helps to manage your clients and all of the finances related to the business
The application can be integrated with a wide range of different business tools that can help the growth and effectiveness of your business
The tool also gives you automated reporting
Pricing
If you just want to check out the software with limited functionality and don't want to pay for the service, then you should try the free version of the application
The paid plans for this incredible software is $26/user/month
Bonus Tool: nTask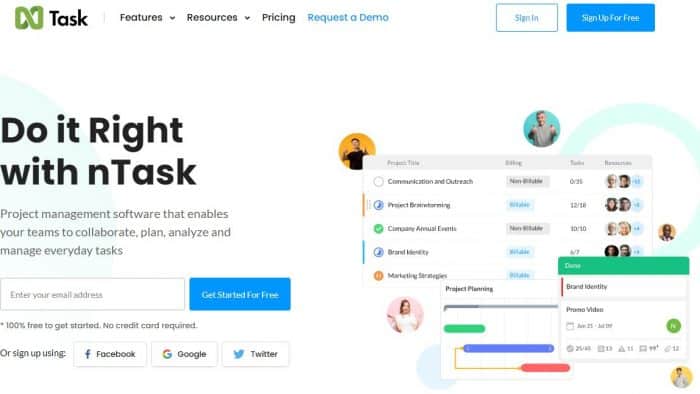 If you want an application that is a Business intelligence tool, but also an incredible project management and task management champ, then you have to check out nTask.
The application is an incredible platform where you can monitor all of the tasks and processes being performed as a part of the business development process, and also helps you to visualize all of the activities being done, on its Gantt chart.
Conclusion
These were our top picks for the best Business Intelligence tools that you can use right now. If you think that we may have missed something, or if we mentioned something that was not factually incorrect, then write to us, and we will get back to you ASAP.