The world has now become a competitive place, and to stay on top teams are swamped with trying to give their best in everything that they do. Whether that be to market their product, convince clients to buy their software or a number of other things.
With schedules being cramped and a long list of things that need creativity and full attention, often the mechanical elements of work can take away valuable time that can otherwise be applied elsewhere.
This is where automation and integration come into play. By integrating software that teams use, workflows can be automated to save valuable time to be used in more creative ways that require more attention to detail.
Tray io and Zapier are leading platforms in the world of integration and automation. But deciding which one is best suited for your team is a dilemma in itself.
Therefore, to settle the battle of Tray io vs Zapier we have put them head-to-head and highlighted what each solution can offer you and your team.
To find out who wins Tray io vs Zapier for your team, keeping reading below.
What is Tray.io?

Tray.io is an Enterprise-scale solution that provides integrations that facilitate companies to automate complex processes and connect their entire cloud software stack.
The platform is designed for sales, marketing, and customer support teams. the software is perfect for both medium-sized companies as well as large enterprises.
What is Zapier?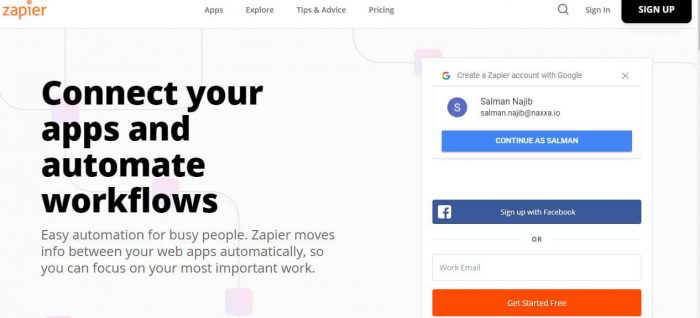 Zapier is a popular cloud-based integration platform. The solution offers its users the ability to connect different web applications and systems.
The platform is used to transfer data among applications and to enable software to speak to one another so that users can automate their workflows.
Tray io vs Zapier
So, let's kick off this battle of Tray io vs Zapier battle and see what sets the two software solutions apart from each other and which specific capabilities and characteristics give each platform the upper hand over the other.
Let us begin by diving into what both Tray io and Zapier's platforms can be categorized as.
What are Zapier and Tray.io?
Both Zapier and Tray.io can be categorized as iPaaS. iPaaS stands for integration platform as a service.
These types of software allow users to build and deploy integrations that allow them to connect applications that reside within the cloud or even on-premises, therefore, allowing users to skip the installing and managing of such software.
When we consider Tray io vs Zapier, there are certain categorizations of the two platforms that set them apart.
Apart from being categorized as iPaaS, Zapier can also be categorized as an API (Application Programming Interface) Marketplace, an SAP (System Application and Product Processing) store, and also as a Productivity Bot.
On the other hand, Tray io can be categorized as a Lead-to-Account matching and routing, an API Management system, a Business Process Management solution, and an ETL (Extract, Transform, and Load) Tool.
How Do They work?
Both Zapier and Tray.io offer you the ability to connect two tasks or applications in order to automate your workflow allowing you to free up your time that can be more wisely spent on valuable efforts.
In Tray io, you have a trigger that starts the movement of data between two applications. These triggers are scheduled either by the time of day or on the change of an application.
Tray io then uses source data which is key information in workflows. This data is gathered from the application you are integrating or even from CVS files, spreadsheets, corporate databases, or emails.
The platform then uses logic to decipher which steps the workflow takes next and what to do with the source data gathered.
Tray io formats the data, or in other words change the data into the form that is needed to accomplish the final action.
And finally, Tray io conducts an action, which is the final destination of your data and fulfilling the connection between the different applications that have been integrated.
Zapier alternatively, uses what they refer to as 'Zaps' to help you be up to date and know instantly, track anything, and connect to customers and automate your workflows without having to code and without the manual effort it would otherwise take.
A 'Zap' is an automated workflow that allows you to connect different applications or services together. Each Zap consists of both a trigger and an action.
A Zap in Zapier can include one action or more than a single action. When you use Zapier and turn on a Zap you have created, it runs the necessary steps to complete the final action you desire once a trigger event occurs.
Available Integrations
Arguably one of the most important features that both Tray.io and Zapier can offer their users is a range of integrations with other apps to help automate workflows.
Each software offers users a wide range of available integrations with Zapier outshining Tray.io with their over 3000 available integrations to Tray.io's 377.
Some of the bug names that both Zapier and Tray.io allow users to integrate with include the following:
Dropbox Business
Facebook
Google Drive
Microsoft 365
Slack
Zendesk
If you are a current nTask platform user or are considering adopting the nTask software for your team, you should note that the platform offers integration with Zapier but is not integrated with Tray io.
Pricing
Another common and important consideration that you need to keep in mind when deciding which tool is the right fit for you and your team is the available pricing plans to adopt the software.
Let's go over each platform's available pricing plans in turn.
To start we have Tray.io. This platform offers four pricing plans starting at $695. The four plans offered by Tray.io are the Standard plan, the Standard Plus plan, the Professional plan, and the Enterprise plan.
With the Standard plan, users of Tray.io are billed $695 per month. The plan offers universal connectors, modern usability features, automation templates, and access to quickstarts.
The Standard Plus plan costs $1450 per month. This plan allows users to automate together with sharable auths, custom connectors, and sharable components.
Tray.io's most popular choice of plan is the Professional plan. This plan costs $2450 per month. This plan offers connector SDK, roles-based access, SAML 2.0 SSO.
Each different pricing plan offered by Tray io provides its users with the availability of a diverse range of features. To view in detail which exact features are available in each plan check out Tray io's pricing page here.
Tray io offers a 14-day free trial for its users to be able to see whether the software and the pricing plan chosen is the right fit for their team. You can also opt to get a demo of the software in order to enable your onboarding to be smoother and more streamlined.
Zapier differs from Tray io by offering five different pricing plans as compared to Tray's four. The five plans offered by Zapier are the Free Forever plan, the Starter plan, the Professional plan, the Team plan, and the Company plan.
Zapier offers a free forever plan which can be used by anyone to automate their work. The plan is limited to what is referred to as 5 'zaps', a 15minute update time, and 50 tasks per month.
Zapier also offers a Starter plan which is available for $19.99 per month for 750 tasks or $39 for 1,500 tasks per month. The starter plan offers 20 zaps and the same15 minute update time as the Free Forever plan. The starter plan also has additional features such as connections via Webhooks, filters, etc.
Next up is the Professional plan which starts at $49 per month for 2,000 tasks, $89 for 5,000 tasks, $129 for 10,000 tasks, all the way to 2,000,000 tasks for $3389. The Professional plan offers unlimited zaps with a 2-minute update time. Apart from this with the professional plan users have additional features such as auto replay, unlimited premium applications, and more.
Zapier's Team plan starts at $299 per month for 50,000 tasks all the way to $3,499 for 2,000,000 tasks per month. This plan is aimed at allowing teams to collaborate on automation together. The Team plan offers unlimited zaps with a 1-minute update time. Users also have access to formats, folder permissions, shared connections, and more.
Finally, Zapier offers a Company plan which starts at $599 for 100,000 tasks per month and can go up to $3,599 for 2,000,000 tasks per month. Similar to the Team plan, the Company plan offers unlimited zaps with a 1-minute update time. The Company plan offers advanced admin permissions, account consolidation, etc.
Zapier and Tray io both offer free trials, however, Zapier also offers a free plan. People may view Zapier to be more expensive with plans that are overall more costly than the ones offered by Tray.io, however, unlike Tray io Zapier provides a range of plans for all different user types including ones cheaper and more expensive both than those offered by Tray.
Also, see:
Task Automation Tips for Professionals in 2021
Security and Compliance
When using such an integration tool, you have software that has knowledge as to the inner workings of your company and possible access to privileged information. You also rely on the software to be protected.
What Zapier and Tray io's security and compliance policies are is very important.
Tray io ensures that it takes data security very seriously. Therefore, it provides multi-step and multi-level security systems which are completely transparent to its users.
Tray io follows these security measures to ensure the safety of your data:
Encryption of all data, authentication, and tokens.
Network security through HTTPS encryptions of communications between user's browsers and Tray io's website.
Flexible log data retention policies are available.
Data that is held on servers is not open to the public by virtue of virtual private clouds.
Session management abilities to help prevent unauthorized access to your Tray platform account.
Two-factor authentication
Password prompting that prompts a user to re-enter their password on any major account action.
Tray io also uses technology to build models of user behavior to be able to detect unusual activity.
Zapier in comparison follows these security measures:
Third-party auditor certifications including SOC 2 Type II and SOC 3
Zapier has an information security program
Two-factor authentication
SAML integration with external identity providers
Zapier uses 256-bit AES encryption at rest and TLS 1.2 encryption for data in transit.
Change management with peer code reviews, regular code audits, unit testing, and regular penetration testing.
Threat detection software and threat modeling exercises
In Summary
To sum up, both Zapier and Tray io offer a comprehensive solution for your integration and workflow automation needs.
We hope by highlighting the main characteristics between the two platforms highlights who wins Tray io vs Zapier for your organization.
---
Resource You Might Like: