Whenever you are constructing a building or a structure of any kind, you always need to ensure that the foundation of the building is the strongest.
The same goes for a construction business. When you are starting a construction business, you need to have the best construction project management software that is going to track and manage all of the tasks and processes related to your construction processes.
No matter what type of building or structure you are trying to build, construction project management software is going to help you manage all of the goals, milestones, and deadlines related to the project while staying within the agreed-upon budget.
A construction project is a very complex task to deal with. The key processes in construction project management include; proposal creation, accurate cost estimation, design, approval, team collaboration, clear communication of roles, scheduling, time tracking (for payrolls), budget tracking, and so on.
To be completed efficiently, all of these processes necessitate the use of skills and a significant amount of your time. The best construction tracking software can provide all of the features that make these processes extremely quick, simple, and efficient. As a result, the process takes less time and is more profitable.
What to Expect from a Construction Project Management App?
The following are typical top features of construction management software:
Proposal creation tools that look professional.
Scheduling.
Cost estimating feature: Simply choose from the pre-built templates to get cost estimates in seconds.
Sharing and viewing 2D and 3D files
Uploading and saving files digitally in a single location.
Payroll time tracking software (or open APIs for integration with other platforms).
Mobile applications for data access at any time and from any location.
Insights into data and reporting
So, if you are in need of such software, here are 5 of the best construction tracking software that you can use in 2023.
5 Construction Project Management Applications for You Right Now
Here is a list of the software we will discuss in this article.
Let's discuss them in detail and find out how they can benefit you and your construction business.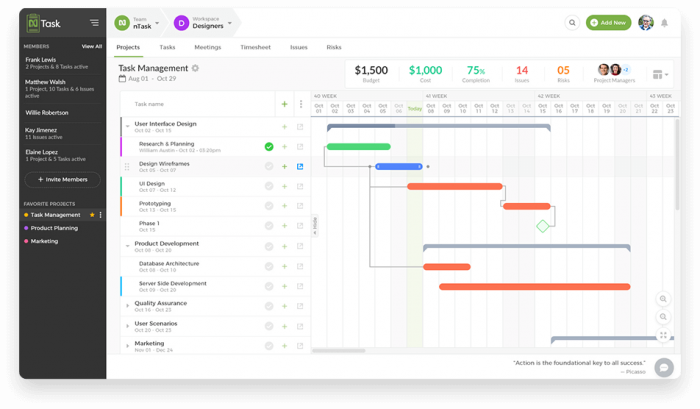 Being a project management application, nTask is the perfect software for you if you want to ensure that your various processes and tasks related to constructing your buildings or structures are properly monitored and looked after.
The application provides features like Gantt charts, different dashboards, timesheets, and task lists that ensure that every facet of the work you and your team perform is appropriately monitored and catered to; otherwise, you will lose a lot of money daily.
The application also offers mobile apps for Android and iOS platforms, which help you stay in touch with the data you put on the app, even when you are off the grid.
Key Features
Project cloning
Cost Estimating
Deadline tracking
Team performance reports
Due date tracking
Calendar sync with Google
Project budgeting
Data export
Task filters
Timesheet management
Calendar management
Checklists
Pricing
Basic: Free Forever
5 Members per Team
Unlimited Tasks
Timesheets
100 MB Storage
Unlimited Workspaces
Meetings
Issues Tracking
Premium: (Priced at $3/user/month)
Everything in Basic
Projects
Kanban Board NEW
Custom Filters
5 GB Storage
Gantt
Bulk Actions
Best Construction Project Management Software

Manage projects, teams, tasks, financials, and issues in single app. Sign up now!
2. OrangeScrum
If you need an open-source construction project management software that helps your team with dealing with time management, collaboration among all of the team members, managers, and stakeholders, and to help you with resource allocation, then OrangeScrum is the software for you.
The application is a phenomenal tool that lets you manage many different projects with the free plan, but if you want to spice things up and want the extra features that come to you like document management and many different project templates, then you will have to buy the subscription.
Key Features
Work-flow management to let you know what work has to be done and what has been performed previously
Time tracking to track the time taken by the team to perform their tasks
Hosting included
Activities
Conversation threads
Ticketing
Unlimited projects
Calendar integration to let you know about all of the important company events that you have to attend
Custom Task Status to highlight the difference between the tasks that have been performed and what remains to be performed
Pricing
Free Plan
Unlimited projects
Dashboards
Server-based
Unlimited tasks
Cloud Version: (Contact the company for a price quote)
Gantt charts
Task reminders
Cloud-hosted
Custom task statuses
Enterprise Version: (Contact the company for a price quote)
Self-hosted
Project Milestones
Task Scheduling
Time Reporting
Resource Reporting
3. OpenDocMan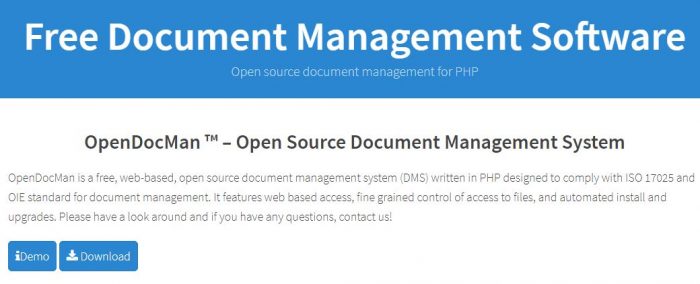 One of the great qualities of construction project management software is that it is great at documentation management. Why? Well, if you have ever worked in a construction firm, then you would know how important and overwhelming document management is.
If that is the case for you, then the construction tracking software OpenDocMan is the tool for you. The application is an open-source document management system that allows you to store all of your construction documents, manuals, and other texts in a centralized interface.
Key Features
The software allows you to easily and effectively manage all of the documents that you have entered into the dashboard and also helps you to track the changes being done to them
The tool helps you to assign different user permissions to different users so that there is no privacy breach
It also lets you assign different departments or different categories to the files being added to the interface
There is also a feature called revision history that lets you see all of the changes being done
Pricing
Community: Free
Unlimited users
Custom meta-data
Self-installed
File locking
Enterprise Version: (Contact the company for a price quote)
Automated install
File locking
On-premises
Unlimited users
Cloud Version: (Priced at $79/month)
Custom workflows
30-day free trial
Cloud-hosted
Audit reporting
On-Premise: (If you want this subscription, contact the company for a custom quote)
Performance dashboard
Software audit trail
One-click updates
Annual subscription
4. Methvin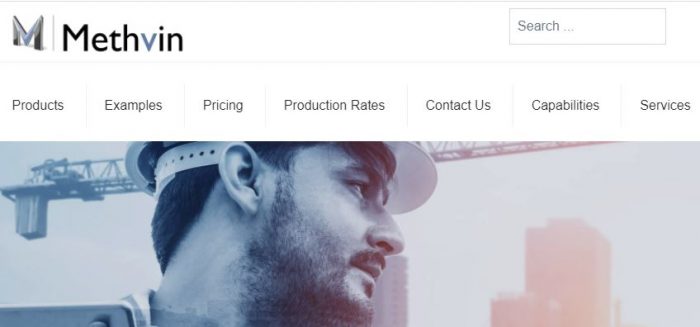 Another great example of construction project management is Methvin. The software is a construction estimating software that allows you to get your projects from the ground up to the top level in no time.
The application estimates all of your schedules, and sub-schedules, and all of the variables that need to be tracked are looked after in a single interface. It also provides different reports to measure project progress and resource allocation so that nothing goes to waste.
Key Features
Compliance Tracking
Contractors
Cost Database
Cross Section Creation
Electrical Estimating
Electronic Plans
Elevation Checking
HVAC Estimating
Kanban Board
Proposal Generator
Quality Management
Risk Management
Pricing
There is a free trial of the software available for you if you don't want to buy it but want to see how the application works and how it can be beneficial for you
The Single User Plan is also free, which allows one user to use the application and all of the free features that it has to offer
The Business Plan is priced at $27.50/month and allows up to 5 different users to use the application and the features that it has to offer at that price point
The Enterprise Plan is priced at $165/month allows an unlimited amount of users to use the application and all of the features that the application has to offer
5. ClickUp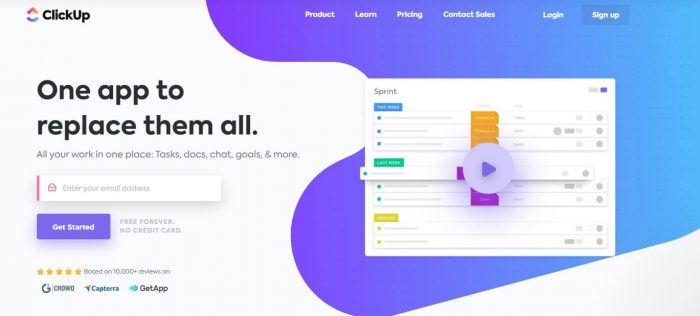 Last but not least is ClickUp. Being one of the best project management software on the market right now, the application is an incredible tool that allows you to manage all kinds of projects in all kinds of companies, big or small.
The application offers unlimited tasks, users, and many other features that you can use to manage your work.
Key Features
The application has a powerful free version that allows powerful support for unlimited users
The application ensures that your construction crew or any other construction-related projects are done at the right time and in the right order
The application also helps you create and track all of the goals and milestones that the company may have regarding its overall company strategy or a specific project
There are over 50+ automation that can help you streamline your workflows and help you cut your work in half
The application supports different platforms like Windows, macOS, and Linux
You can also use the feature called Time Estimates which allows you to predict the time it will take to complete a specific task or a bunch of different tasks
The application also offers a feature called Mind Maps that helps you to visualize all of your construction projects workflows
Pricing
Free Plan
Unlimited Members can be added to your application interface
100MB storage
Unlimited Tasks
Unlimited plan (priced at $5/month per member):
All of the features that are in the previous plan are also included in this one
Unlimited Integrations
Portfolios
Unlimited List, Board, and Calendar views
Goals
Business plan (Priced at $9/month per member):
All of the features that are in the previous plan are also included in this one
All Dashboard Widgets
Extra Guests
Advanced Time Tracking
Goal Folders
All Automations
Time in Status
Mind Maps
Enterprise plan (If you want to purchase this plan then you have to contact the company for a custom quote):
All of the features that are in the previous plan are also included in this one
Dedicated Success Manager
White Labelling
Advanced Workload Management
Advanced Permissions
Custom Onboarding
Extra Automations
Conclusion
These were our top picks for the best construction project management applications you can use in 2023. If you think that you have used another great application of this category or if we mentioned something incorrectly, then write to us and we will look into it.
---
Further Readings: