Box vs Basecamp? Sounds like a tough one? Right?
Well, in this article you will get to know everything about the two software that you should know. Therefore, if you are confused about the functionality differences between the two, you have the right spot to clear it all up.
Collaboration software is a great way of working with your team in an organized manner. Whether it is assigning tasks or sharing files, collaboration tools are the answer to that. Unfortunately, the pandemic has elevated the need to have one more than ever. Thus, it is predominant to have the best of them is predominant.
So, let's dive into the depth of box vs basecamp!
What is collaboration software?
It is software that helps in sharing, processing, and management of files/documents among several systems or users.
Why do we need collaboration software?
It allows users to join and work remotely for enabling the most effective collaboration between teams. Moreover, collaboration software help to increase productivity within an organization or multiple users.
With collaboration software, users can create a workspace and share data and workflows on it. This data is viewable and accessible by all team members. Moreover, the changes made to it are also synced on all devices. Thus, as the name suggests, collaboration software is a great means of collaborating and communicating within an enterprise.
Before we get into the comparison of box vs basecamp, it is necessary to see both of them separately as well.
What is Basecamp?

Basecamp is a daily collaborative project management tool for team communication, daily task tracking, and coordination. It lets teams manage work and keep track of all tasks, reminders, deadlines, etc.
Basecamp was developed in 1999 under the name 37signals. Over the years Basecamp spread itself to 26 different countries with more than 16 million users worldwide. It is an all-in-one application for project management as well as document sharing.
It uses a simple visual user interface to help individuals and teams to manage their tasks effectively. Moreover, Basecamp provides one of the best team collaborations as well as project management solutions for internal team and client projects.
Also, See:
The Top 16 Free Basecamp Alternatives To Use in 2022
Key features of Basecamp
Basecamp comes with a wide range of features to let its users effectively manage tasks and documents. The key features of Basecamp are:
Document management
Basecamp allows you to manage your documents effectively by sharing, editing, renaming, etc.
Task management
Organize, assign and manage tasks using its task management feature.
Calendar and scheduling
Basecamp allows you to set reminders using its calendar view and schedule meetings.
Interactive Gantt charts
Increase visualization and keep up with the progress of your project with the help of Gantt charts.
Reminder and to-do-list
Like all other famous project management apps, Basecamp also allows you to create to-do lists, assign tasks, and set deadlines or reminders.
Issue history and RSS feed
You can track your issue history as well as use the RSS feed to get the latest updates on a project in the feed reader.
Instant messaging
Collaboration is also enhanced through instant messaging with teammates.
Resource allocation and forecasting
Optimize your projects through effective budgeting and forecasting techniques available in Basecamp.
Project templates
Create templates for each project from scratch or reuse the old ones with the project template feature.
What is Box?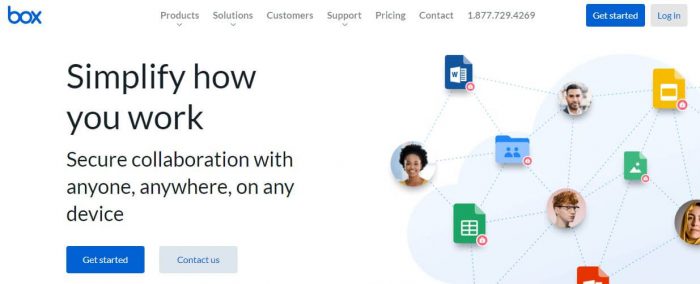 The Box is a content cloud software. It is a single source to secure, file creation, sharing, co-editing, signature, and retention. You can secure, manage, share and collaborate your digital files using the box. It has over 41 million users.
Box software is an integrated software for securing your digital assets in the most agile manner. The key safe box allows the users to save their encryption keys. Moreover, it is also integrated with several third-party applications. Thus, it is one of the best collaboration software to effectively manage, organize reports and analyze your digital assets.
Related: 
How You Can Use the Message Box Communications Tool to Your Advantage?
Key features of the Box
The box is bombarded with a box full of features for its users to secure their digital assets most effectively. The key features of the box are:
Document sharing
Share documents and files effectively with the box document sharing feature. You can simply "drag" and "drop" feature or you can generate code to embed the shared link into a certain website or blog.
Effective collaboration
Collaboration is also enhanced through instant messaging. Moreover, while using a Microsoft document online you can simply use the "Box edit" feature to add any comments or recommendations within the document. Later on, share the file with the concerned person.
Secured file sharing
Document access can be secured by setting permissions for access. Moreover, you can also custom generate a URL or set up a password-protected link.
Workflow automation
Workflow automation can be increased by automatically assigning tasks and setting reminders for the completion of tasks.
Integration with other applications
The collaboration with Box is also enhanced through its integration with other famous applications like Salesforce.
Data protection
The multi-layered encryption and Enterprise Key Management (EKM) allows protecting all types of clients as well as team's data on Box. Moreover, the Box admin console allows you to set alerts or notifications for any unusual activity or file sharing.
Content management
The Box allows you to manage, organize and store all your data in one place for effective content management.
Customer support and management
It enables effective customer support and management to cater to the customers' needs efficiently.
Box vs basecamp: Side-by-side Comparison?
Box vs Basecamp Similarities
| Box | Basecamp |
| --- | --- |
| It is a collaboration software | It is also a collaboration software |
| It is Cloud, SaaS, Windows, web-based, Mac iPhone app and android app support. | It is also It is Cloud, SaaS, Windows, web-based, Mac iPhone app and android app supported. |
| Project management | Project management |
| Document management | Document management |
| Most common customers are freelancers, small businesses, mid-size businesses, and large enterprises. | Common customers are freelancers, small businesses, mid-size businesses and large enterprises. |
| Task management | Task management |
| Instant chat | Instant chat as well |
Box vs Basecamp Differences
Box
Basecamp
Rating: 92/100
Rating: 98/100
Cost: US$ 15 per user/month
Cost: US$ 99 per user/month
Users: 41 million
Users: 16 million
Integrations: 1500+ apps
Integrations: 50+ apps
Type: Document management
Type: Project management

Basic reports
Data import/export
Backup
Version control
Online customer support
Version control
Document indexing

Resource management
Scheduling
Task management
Calendar management
Document management

Major industries are: Healthcare and life sciences, media and entertainment, financial services, retail and wholesale, advertisement and marketing, and others
Major industries are: Computer Software, Marketing, and Advertising, and Higher Education.
Box vs Basecamp – Conclusion
To conclude, each software has a lot in common. However, the differences between the two still stand ahead. The choice between the two today depends on the type of your business and its needs.
In case you are looking for software to the bulk of data and keep it ultimately secured then the box is your answer. on the contrary, if you need a project sharing as well as document managing application then basecamp is the correct choice.
Thus, the choice is all about your needs. Hope you had a good time reading on box vs basecamp. In case you have any suggestions, do let us know!