The organizational culture is shrouded in chaos. Managers are usually on top of their game but are blindsided if they do not use the proper tools to manage a certain critical situation or project. The reason for this blind sidedness in the first place is that the projects in the company's roster are so diverse and spread all over, that the managers can't tame them down without resource scheduling software.
Resource scheduling system lets the manager run things smoothly and seamlessly. This makes this software a very important entity in the development of the project.
When the stakes are this high, you must really know how you can choose the best resource scheduling software to better facilitate your work.
In this post, we will help you find out why you should use software like that, what software is the best fit for your needs and requirements, by telling you how it works and how it differs from other options on the market right now.
Benefits of using a Resource Scheduling Software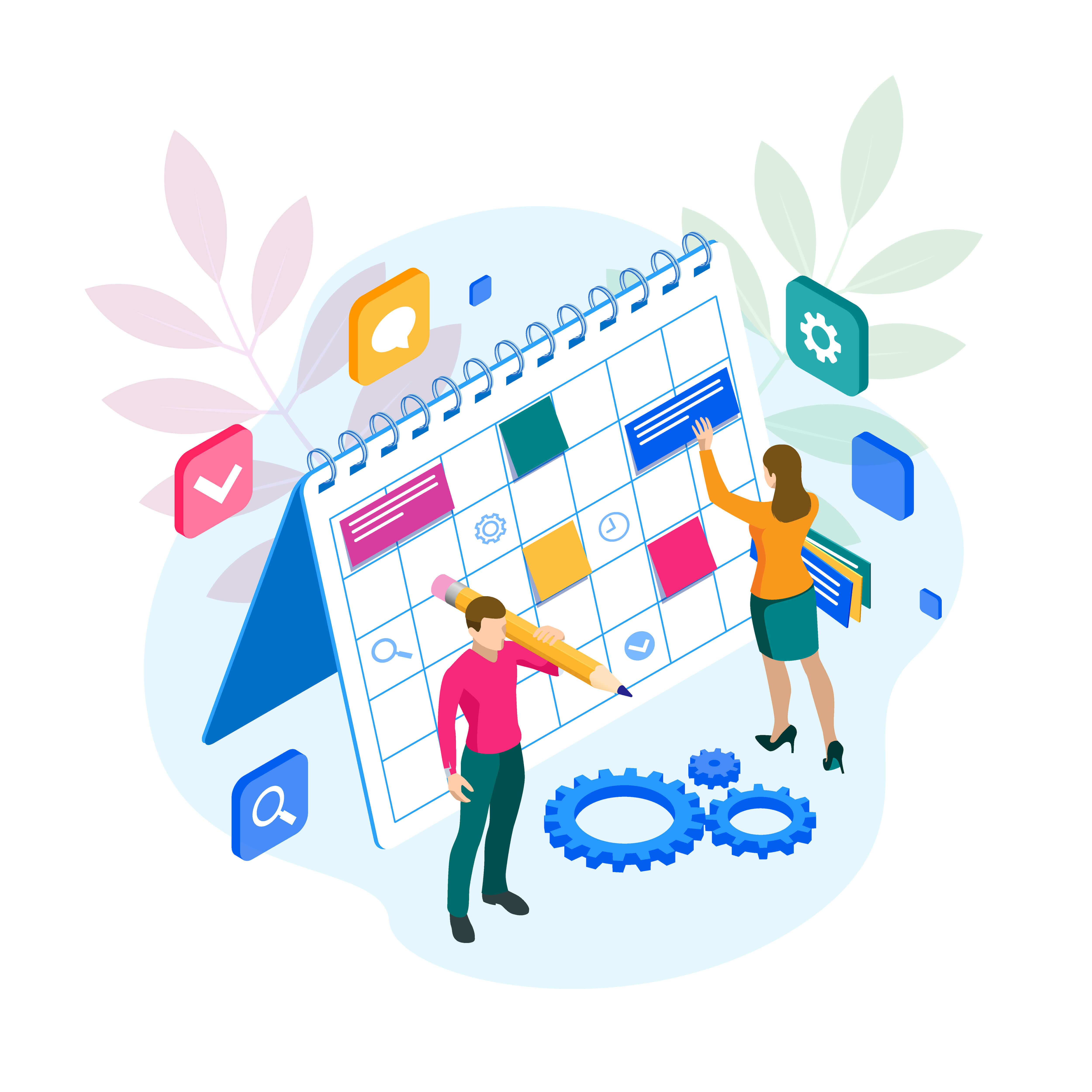 The companies nowadays are constantly scaling from time to time, and if your company is among them then you really need resource scheduling tools. Here are some of the benefits associated with resource scheduling system:
The main thing that this software does is that the project managers are able to define a proper workflow that will highlight the path forward for the team and keep them focused on just the right tasks.
Identifying and tracking the critical path of the project so that if your team needs some flexibility in the schedule, you can easily facilitate them with that.
The managers will spend less time rescheduling priorities and different dependencies that could easily be adjusted automatically.
Set proper baselines for the project that will actually give you a perspective about what the expected progress was at a certain point and what the current progress is.
Save your time by switching the deadline reminder notifications on which will let you know at once when there is a task due.
The managers can easily disperse resources after careful analysis and according to the needs and requirements of the company.
Generate different reports on organizational demand and capacity, utilization, and review trends to forecast hiring needs.
Let's take a look at 13 Best Resource Scheduling Systems of 2023.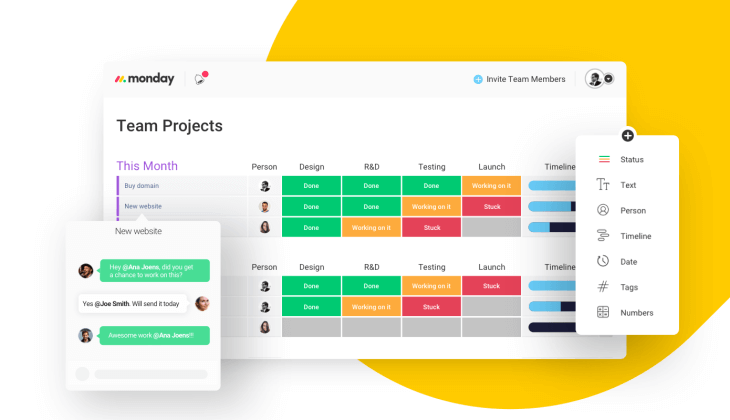 Monday.com is an amazing scheduler tool that will make your life quite easier if you are a manager and you won't even have to spend a lot of time learning it because it's quite intuitive.
The interface is very customizable, and you can easily clarify the sequence of work, see the sequence and progress of work but also the status of all of the projects at a single glance.
Using Monday.com, you can reassign tasks by simply clicking and dragging the task. You can also change the view of your timelines as lists, on a map, as spreadsheets or on a Kanban board, among many other views.
Monday.com can be integrated seamlessly with applications like Excel, Slack, Gmail, Jira, GitHub, Dropbox, Trello, Google Drive, Typeform and many others.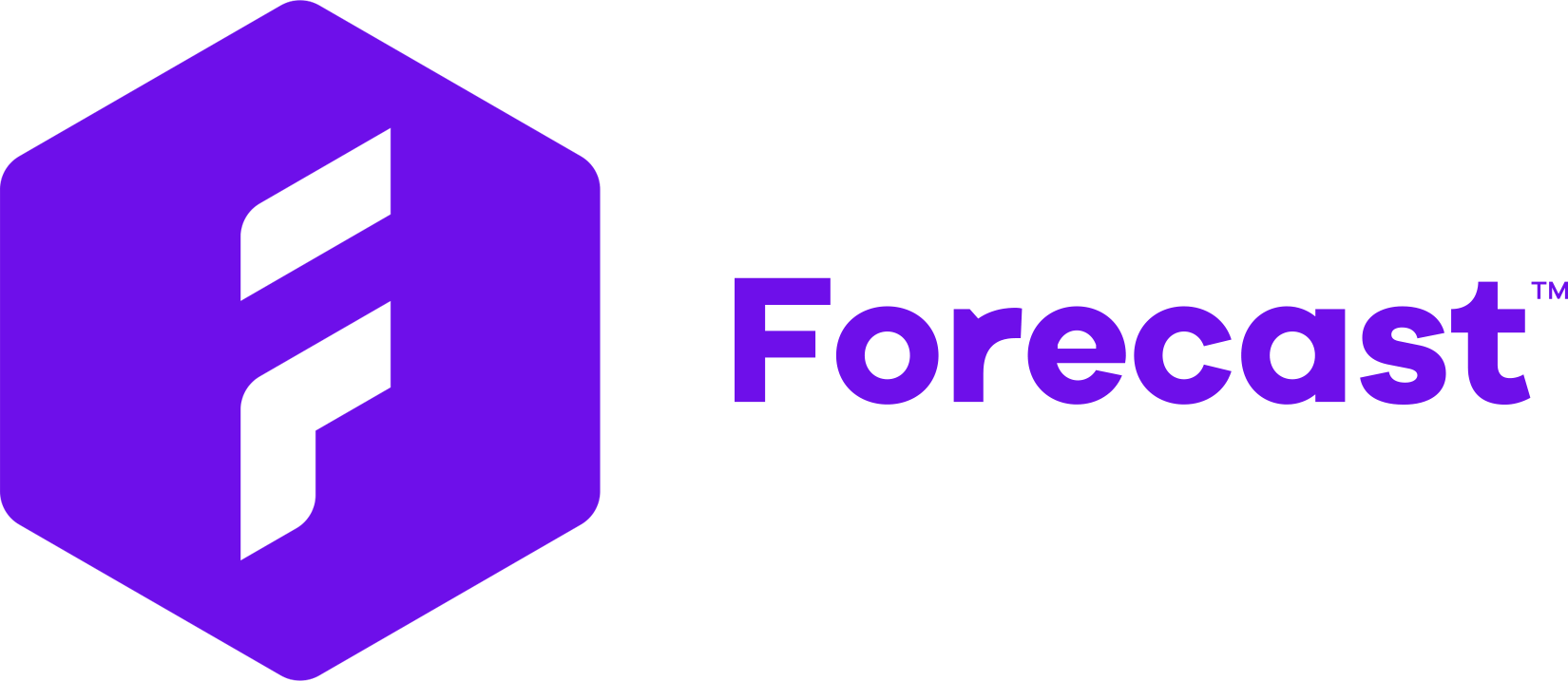 If you want an amazing combination of resource management and project management seamlessly embedded in one software for your company, then Forecast is the one for you. It is built on the idea that all successful projects require a mixture of short and long term planning strategies.
The software doesn't restrict the type of project management strategy you use, so you can mix Kanban, scrum and traditional Gant scheduling according to your needs and requirements.
The AI embedded in the software easily enables the manager to spot the critical projects that are on the edge of being marked as delayed or if they are getting off track.
Using this software, the managers can easily build their own dashboards that are quite powerful, create and share insights and reports that will let you put real-time information right at your clients' or teams' fingertips.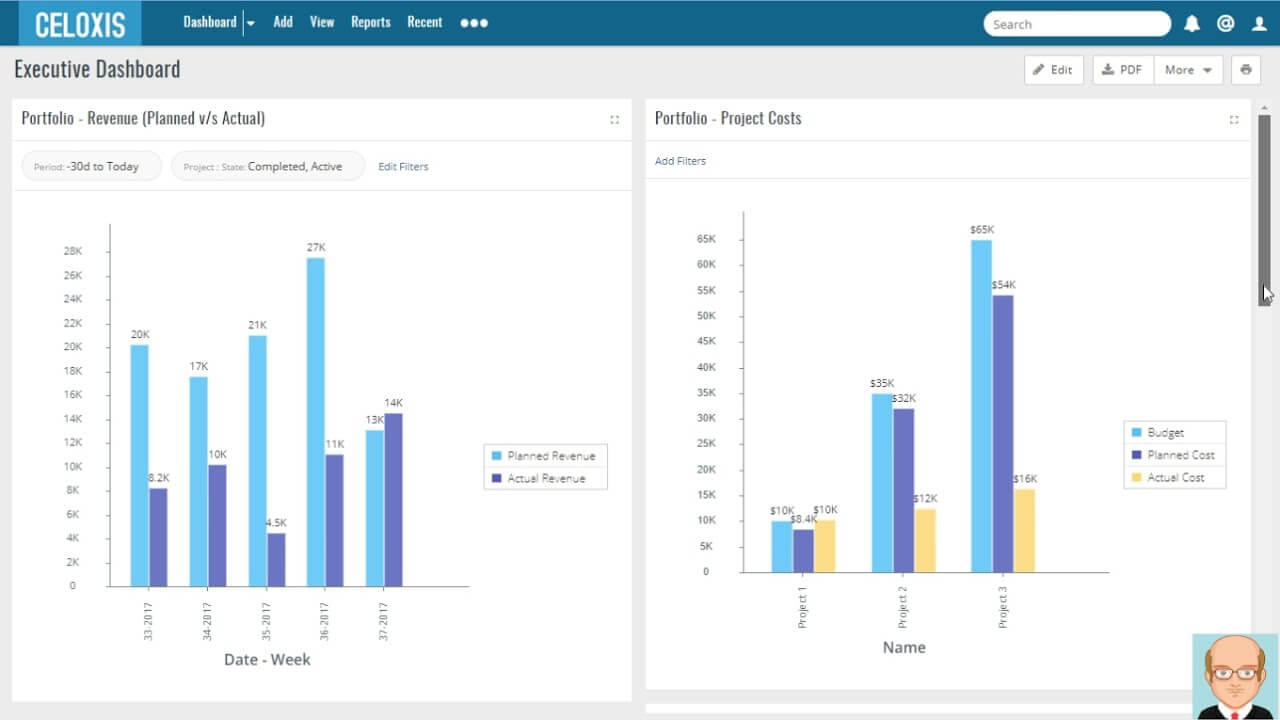 When it comes to scheduling your projects, Celoxis is a great way to go. The software comes with very capable and powerful planning and scheduling tools that help the managers build dynamic project plans.
The amazing thing about these plans is that they can automatically adjust to ever-changing real-world conditions that unfold every day.
Equipped with incredible flexibility, responsiveness, and interactive Gantt charts, Celoxis can handle a large number of project plans at once, involving different levels of sub-tasks and even multiple resources per week.
There are other features in the software like automatic email alerts that don't let you miss out on anything, RAG health indicators and critical path analysis that lets you keep track of all of your projects and the necessary critical steps to get them completed.
The project tracking of Celoxis is seamless. It will even let you see what every employee is up to and also keep track of your resources in real-time.
Celoxis can be easily integrated with all the popular apps like:
Excel
Jira
Google Drive
MS Project
QuickBooks Online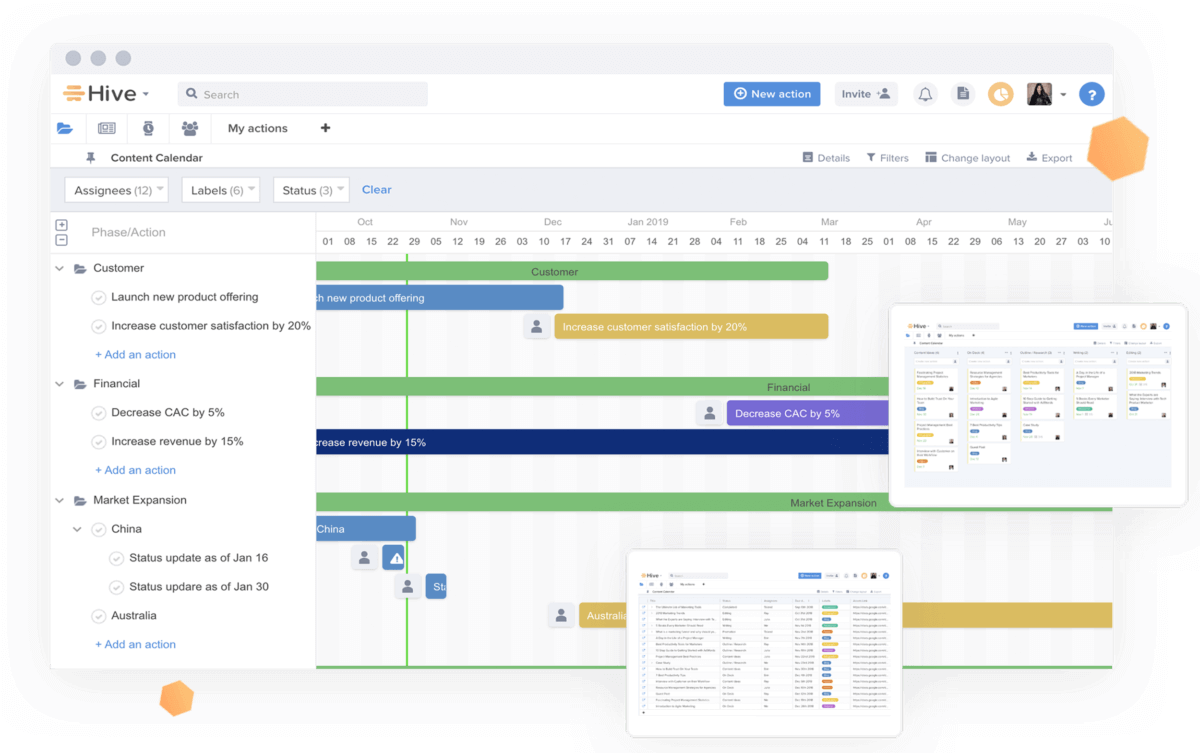 Hive is a resource scheduling platform that is being used by companies like Uber, IBM, WeWork, and Starbucks.
With analytics that is gathered through AI, flexible project views and thousands of integrations and more, Hive streamlines all of your work in one centralized platform that makes your project completion much easier.
Hive is an amazing software that is used by teams that are diverse with different work styles. It can be used to facilitate a team of 10 to 1,000 people.
The software has further incredible features like time-tracking, flexible view capabilities, and analytics. All of these features allow the managers and the team members to be crystal clear on each other's work and upcoming projects to be undertaken by the company. These activities can be tracked through action cards.
So, if you have a team whose needs and requirements change from time to time, and they need a comprehensive management tool which also is a resource scheduling system, choose Hive.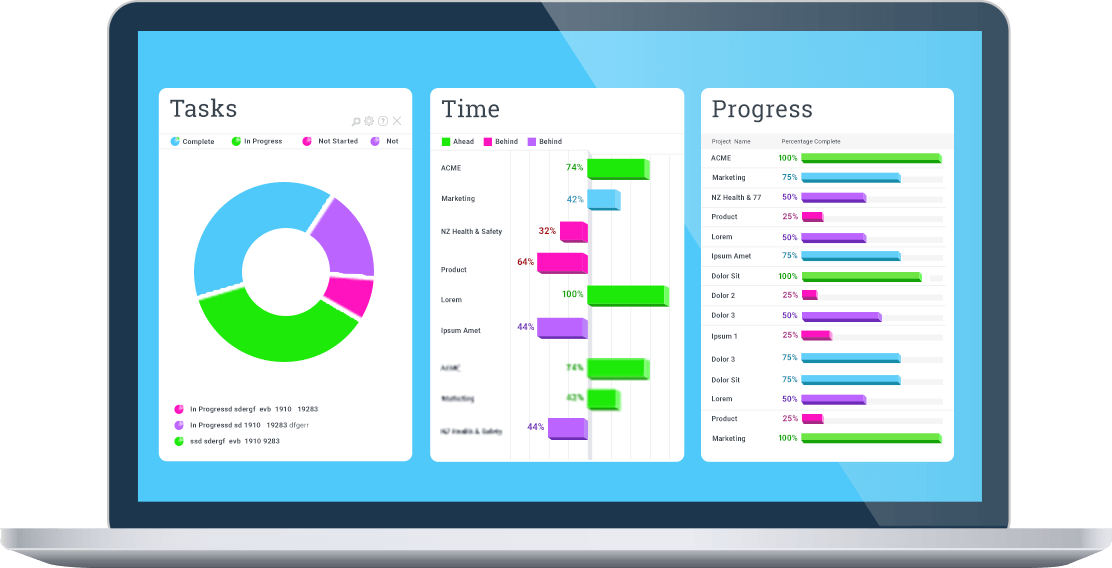 ProjectManager.com is award-winning software that is currently being used by some very big names like NASA, Ralph Lauren, Volvo, and Brookstone. This is a software that the managers use because it is an amazing tool if your company is working on quite a lot of projects at once.
ProjectManager.com has an amazing list of resource schedule features that help the manager complete the tasks more easily. Using this tool, managers can easily create project plans, create reports, manage tasks and manage timesheets and workloads.
You can also switch between different views like Gantt chart, Kanban board views, and task list. Also, there are a lot of in-app communication features that will let you communicate with the team and comment on tasks.
ProjectManager.com is integrated seamlessly with different apps from Google like Drive, Gmail, and Calendar, etc. and with apps from Microsoft like MS Office and MS Project.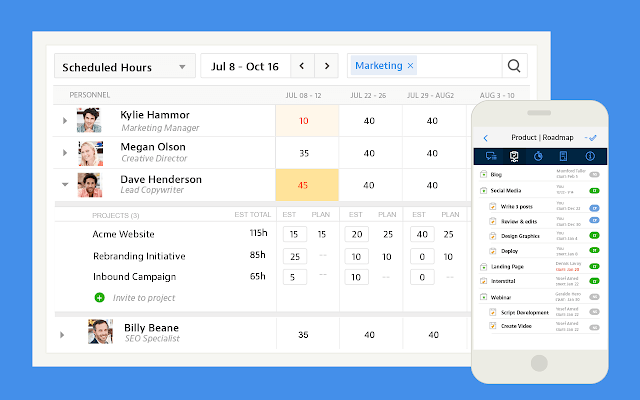 This is an incredible tool with different modules for resource scheduling, resource management, accounting, team collaboration, and business intelligence, all embedded into one software.
Apart from all of this, the software offers a system of dashboards that sets it apart. You can also keep track of live time and track your expenses in addition to a documented management system.
Mavenlink is not just a regular resource scheduling software, it's a full suite that demands your attention when you try to learn it. Also, the streamlined UI of the software really shortens the learning curve drastically, but it still is tough.
Features that Mavenlink comes loaded with are:
Real-time utilization
Resource forecasting
Capacity management
Built-in reports
Custom reporting
Trend analysis
Project costing
Budget management
Invoicing
Mavenlink can be seamlessly embedded into the following software:
Expensify
Xero
G-Suite
Salesforce
NetSuite
Jira
Slack
Concur
Dynamics 365
QuickBooks
Sage Intacct

Do you want a complete resource scheduling solution for your company? If yes, then Workfront is the way to go. It is a complete package that includes all of the different features that you may require like file sharing, workflow automation, customizable reports, resource management, collaboration tools, and capacity planning.
A major feature of this app is the help desk feature that is equipped with an effective issue tracking tool to identify any potential problems and solve them.
Workfront has another amazing feature which is the ability to sync all of the other business apps you might use every day. The software integrates incredibly with applications like Dropbox, SharePoint, Google Docs, Jira, Jive, Salesforce, and AEM.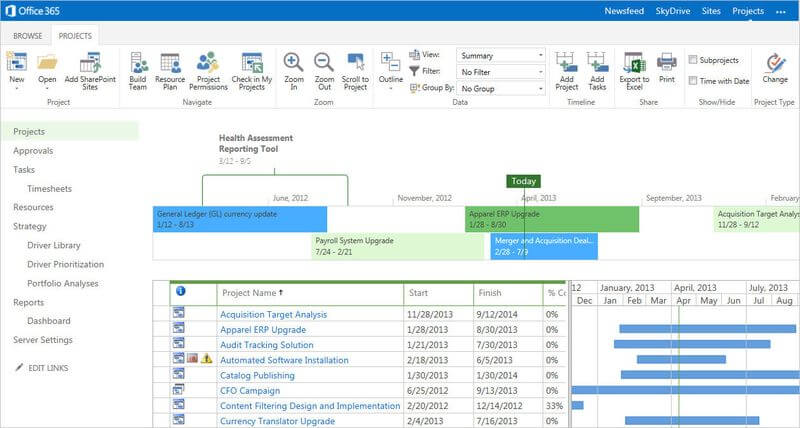 Belonging to the family of Microsoft products, Microsoft Project Online is a portable version of their famous Microsoft Project software. MS scheduling software is already being used by many multi-million dollar companies.
MS Project online allows you to work from anywhere around the world as long as you have an internet connection. You can collaborate with your remote teams from anywhere and also collaborate with other stakeholders.
This online software is also useful if you want to plan projects, plan and allocate budgets for different project activities, allocate resources with Gantt charts and create different diagrams to visualize project data.
You can color-code all of the activities that you perform so that your critical data can stand out and keep track of the progress which won't let you miss any deadlines.
This software will only work on Windows Platforms.
Check out more apps like Microsoft Projects:
Top 20 Microsoft Project Alternatives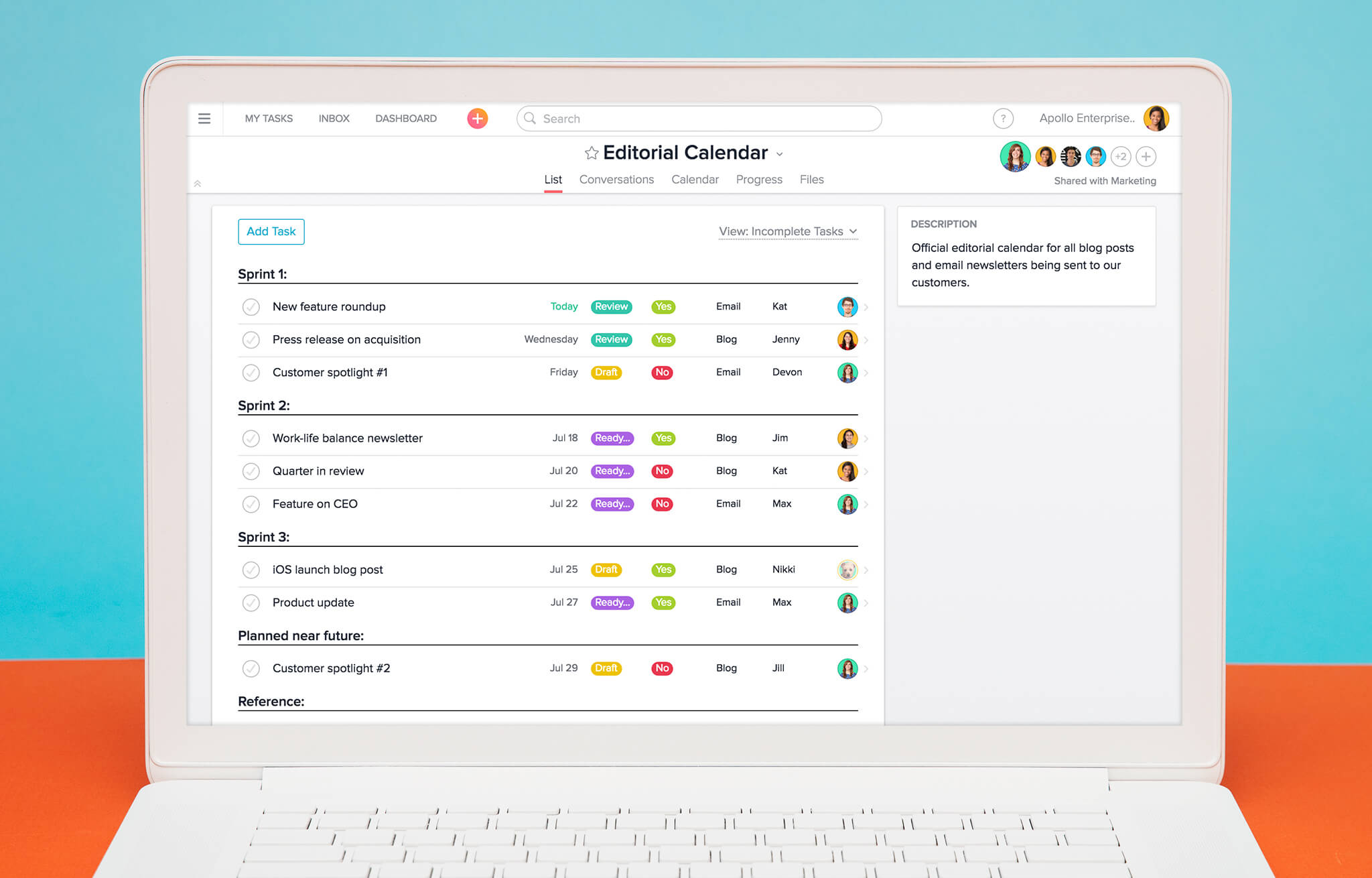 Asana is an incredible resource scheduling software with a separate legacy in the market now. It has been present longer in the market than a lot of the other options in the market. All of this makes it the sweetheart of many multi-million dollar companies when it comes to project management and resource scheduling.
Using Asana, the project managers can organize all of the project data and information into a single place. This will help save time that would have been wasted making emails, spreadsheets, and sticky notes. Among different other options, Asana is the easiest to use and the breeziest to learn.
Asana is an incredible application that can be integrated with over 100 applications. Not every software has this many applications in its embedding directory. So, it is an amazing choice for managers and teams alike who are using a handful of tools already.
The applications that you can easily integrate Asana to are Slack, Gmail, Glip, MailChimp, Bitbucket, Jira, Phabricator among many others.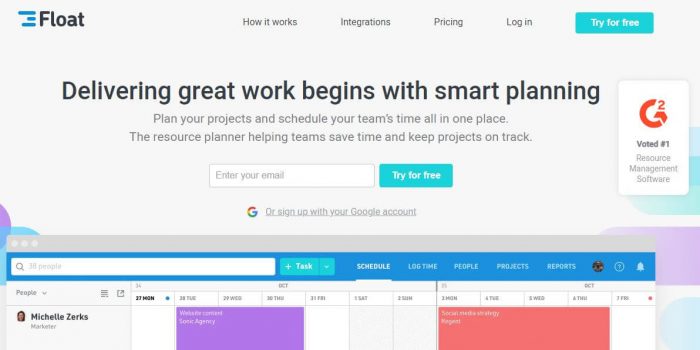 For over 8 years now, Float has been one of the most flexible and handy software in the market when it comes to scheduling different project management related activities or some simple resource scheduling tasks.
It is an amazing application that managers all of the workload that your team has going on, and more. To start using the application to handle your tasks, you simply have to click on the schedule which will be highlighted in the application and start appending tasks to your milestones.
Let's look at some other features that this application consists of.
Key Features of Float resource scheduling software are as follows:
Free 30-day trial on all accounts
Holiday and personal time off tracking
Personal schedules delivered to your team's inbox
Project tags to track your project types
Schedule your team from one screen
Admin and Super Admin rights
Duplicate task allocation
Fully hosted, safe and secure
Overtime tracking
Plans to suit your team size
Reporting on team utilization
Skill tags to track your team capabilities
There are two tiers of pricing for Float app:
Free Trial is available
Subscription starts at $5 per active user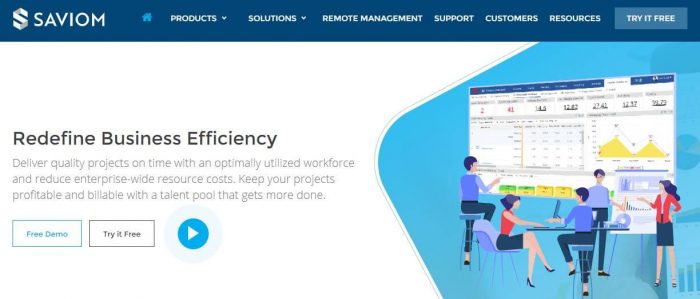 Saviom is an amazing resource scheduling system that deals with large enterprises. One of the most brilliant features of this application is that it has a Gantt scheduler that helps you sync all of your business resources to the project schedule of your choice.
One other feature that this application consists of, is its ability to provide the managers who use the application, access to all of the complex data that helps track and resolve different business concerns like delays, resource crunches. Project disruptions of any kind and surpluses.
Let's look at some other features that this application consists of:
Time tracking
Personnel planning
Capacity management
Drag & drop
Filtered search
Activity tracking
Email notifications
Group calendars
Pipeline management
Real-time updates
Activity dashboard
Action planning
Absence management
Saviom pricing and trial information are as follows:
Free Trial of the application is available
If you need a subscription to the application, then you will have to contact the company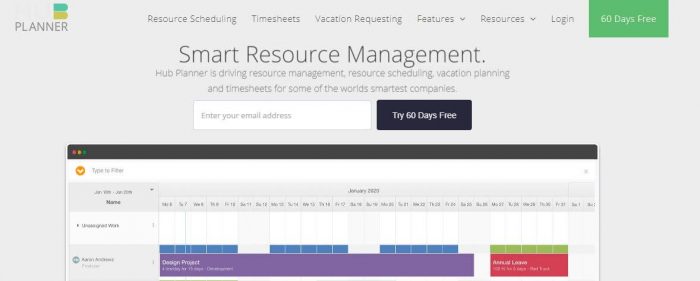 Hub Planner is an excellent management and resource planning software that the managers working in the market can use to track, schedule, plan and book all of the teams they require to bring value to the company.
The application focuses heavily on resources from a high-level view. It checks out their utilization potential and capacity.
The software also provides incredible power to the project managers that lets them dive deep into the projects, they are working on, and track the profitability and overall progress.
Here are the key features of Hub Planner:
Per cent-complete tracking
Product road mapping
Risk management
Timesheet
Budget management
Prioritization
Project/product planning
Skills / location matching
Pricing of Hub Planner is as follows:
Free Trial for the application is available
Subscription starts from $7/ month/ resource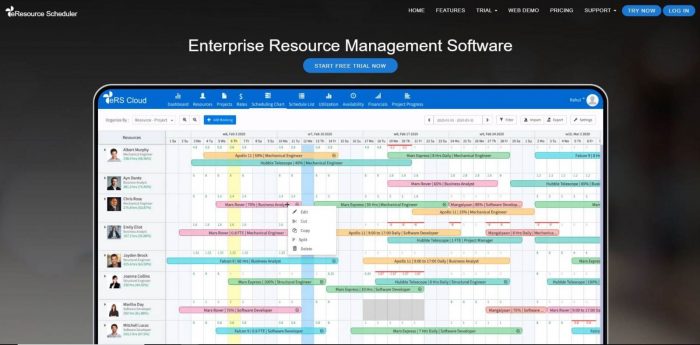 eResource Scheduler is a complete resource management solution that is powered by artificial intelligence (AI). Not only does eResource Scheduler streamline all your resources in one centralized platform, but it also comes in handy for a lot of other tasks. For example, for creating detailed project plans, planning, and scheduling resources, measuring utilization, time-tracking, etc.
This Cloud-based tool's client-server architecture enables its users to collaborate and share all their data in real-time. This multi-user, network-based tool is designed to get optimal resource utilization and productivity for a business. eResource Scheduler is also a beneficial tool for coordination in organizations that have distributed teams operating from various locations, thus enabling real-time visibility.
This top-rated resource management tool is currently used by global organizations like
Emerson
GE Healthcare
Honeywell
Corning
Ericsson
An incredible software with multiple modules for
Resource Scheduling
Allocation
Accounting
Business Intelligence
Team Collaboration
And lots more, all embedded into one tool.
nTask is a Free resource scheduling tool

Use it for project and team scheduling. nTask is free and includes unlimited tasks and checklists.
What Is Resource Scheduling?
Resource Scheduling is the process of assigning resources, such as machines and personnel to tasks in order to complete projects efficiently and effectively. It involves creating a schedule that layers multiple activities and optimizes the efficiency of each resource assigned.
Resource scheduling typically includes allocating individuals or groups of people or machines to specific tasks in an organized manner over time. Examples can include assigning employees to the right roles, booking spaces for meetings, or finding machines online.
It helps optimize workloads while minimizing human error through automation and ensuring everyone knows their role within a project at any given time. This helps organizations reduce waste since they aren't using more resources than necessary or holding back progress due to a lack of resources. Good resource scheduling helps retain high productivity with minimal stress on team members by streamlining workflows and allowing teams better manage projects from start to finish seamlessly.
Why Is Resource Scheduling Important In Project Management?
Resource scheduling is an important factor in project management as it helps to determine how available resources, including manpower, materials, and budget, are allocated throughout a project. By accurately scheduling resources in advance, a manager can ensure that no resource conflicts arise during the course of the project and that everything is running as efficiently as possible.
Resource scheduling also increases communication between team members by providing them with a clear picture of what they need to do and when so they can work together to meet deadlines and push their projects forward on time.
Furthermore, it allows the manager to better gauge how much additional funding or labor may be needed at each stage of the project which ultimately reduces any risks associated with over-allocation or under-allocation of resources down the road.
What Should You Consider Before Creating a Resource Schedule?
Creating a resource schedule requires an analysis of the project, its tasks, and the resources available. Before creating a resource schedule, it is important to understand the scope of the project and all its related tasks. This includes understanding what resources are needed to complete each task, as well as how long each task will take and when it needs to be completed.
Additionally, it is important to consider which resources can be used for multiple tasks or objectives within the same project and identify any dependencies that rely on other activities or people being completed before certain parts of the project can begin.
Finally, you should review holiday schedules or upcoming absences that might affect availability or timelines for certain tasks so those can be factored into your resource schedule accordingly.
Conclusion
So, there you have it. These are some of the best scheduling applications you can work with in the year 2023.
Mind you, every application has its strong points and you can't easily narrow down the one application which will be perfect for you. And for that, you should use all of the applications so that you can get a clear idea about the application and if it fits all of your needs and requirements.