Standup meetings are the daily booster shots for any organization!
Most companies use stand ups for increased productivity and motivation. However, many people fail to follow the best practices for stand up meetings.
So, how to keep these meetings focused? Well, in this blog we have shared the best practices for stand up meetings. However, for those of you who are new to this term, let's first understand what it really is?
Stand up meetings are a type of Scum meeting held daily for a short period usually lasting for 10 to 15 minutes. The meetings are held to get an update on the work being done by the whole team as well as to keep everyone in loop.
Stand up meetings have been an integral part of the agile Scrum and Extreme Programming methods. The idea behind it was to improve communication in software projects.
However, now that agile project management is used in every field, daily stand-ups have also become an integral part of most organizations. Nonetheless , one should not take it lightly and waste those 15 mins every day.
Now you must be wondering the need to have stand ups in the first place. Right? So, here is why!
Stand up Meeting? Why?
When using an agile methodology, projects are always changing. Right? Thus, it becomes hard to keep the whole team on board with everything. Hence, the daily stand up meetings are the best way to do that. Stand up meetings have proved to be a great practice to stay on track.
Moreover, stand ups help your team to do the following
Stay up to date
Maintain focus
Increase motivation
Come up with new ideas
Collaborate
Stay organized
Increase productivity
Engage the whole team
Identify the blockades
Thus, for any organization that wants to have a well-focused and motivated team, daily stand up meetings are a good start. 15 minutes every day = productivity throughout the day. Sound easy right?
However, you must keep in mind the best practices for stand up meetings for achieving successful 15 mins every day.
7 Best Practices for stand up meetings
While stand up meetings might sound simple to handle as all it takes is 15 minutes of your whole day. However, the shorter the meeting the more focused it should be. It's not at all a walk in the park.
Thus, let's get into some of the best practices for stand up meetings. These practices will help you meet the agenda of having a stand up in the first place.
Following are the best practices for stand up meetings:
1. Keep It Standing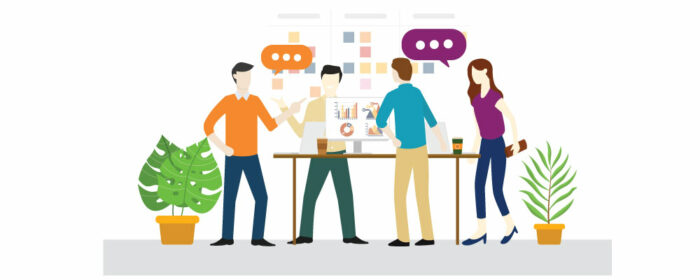 Sounds bizarre? Right! Well, it is called stand up for a reason. Therefore, to preserve the true essence of the meeting one should follow the first rule in the best practices for stand up meetings. DON'T SIT! AND STAY STANDING!
Standing through a meeting keeps you more focused and vigilant. Sitting through the meeting might make you feel relaxed and thus cause you to increase the meeting time infinitely. It won't only waste time but also deviate you from the whole purpose of the meeting. Therefore, stick to the word and KEEP STANDING!
2. Ask Yourself 3 Questions
Stand up meetings revolve around three questions. Before the start of every meeting, the goal should be to be able to answer these three questions
What have you accomplished since the last meeting?
It helps you to keep a check on your productivity and progress rate.
What are you working on at the moment?
It is to help you identify your ongoing tasks.
What challenges are you facing or what help do you need?
It is to help you identify any issues that you might have faced and need help with.
Being able to answer all these will help you stay on track and focused. Most of us fail to keep up with productivity as there is no check on us.
But imagine, someone keeping a daily check on your progress rate! Well, I think in that case procrastination will get buried in no time and productivity will take the course.
"Productivity is never an accident. It is always the result of a commitment to excellence, intelligent planning, and focused effort." – Paul J. Meyer
Thus, three simple questions for you to lead your way through stand-ups and your job.
3. Keep It Short and Simple
Daily scrums are not supposed to be those long boring meetings. Therefore, the next thing you should keep in mind while holding a stand up is to be as precise as possible. The idea is not to find solutions but to pinpoint where the problem is. It's less talk and more work. Therefore, don't go on and on with your ideas.
Try to keep it as simple as possible. Follow the agenda that you set for each stand up and wrap it up in 10- 15 mins.
4. Stick to Time
Don't miss the routine, unless or until there is an exception. Once you make stand ups your routine, skipping a day will throw your team off guard.
Time is the scarcest resource and unless it is managed nothing else can be managed." — Peter Drucker
Thus, set a schedule for your stand-ups and follow it religiously. This will help your team to remain focused and organized throughout the entire project.
5. Make use of the Scrum Board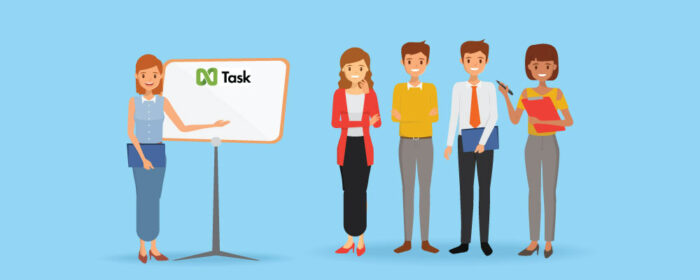 Use scrum boards to get your daily updates. A visual representation of the daily tasks and their progress rate helps to keep the team focused. When your team member knows that their work will be shown every day, they are motivated to finish it within the set deadline. Focus and productivity level increases consequently as no one likes to be called as the last one.
Therefore, scum boards are an effective way to do that. Trust me they won't be on their phones or jammed up in their thoughts when their progress report is just in front of the whole team.
Related:
What are Task Boards and How We can Master them in 2021?
6. Brainstorm Together & Brainstorm More Often
The booster meeting is all about teamwork and collaboration. So, another best practice for stand up meetings is to brainstorm as a team. Listen to what your teammates have to say. As they say, no question is a dumb question and no idea is a bad idea.
Regular brainstorming is as critical to an organization as regular exercise to your health. it creates a responsive and innovative culture –  Tom Kelley
So, follow that and speak up in those 15mins. Don't feel overpowered or under pressure by others.
7. Be Kind and Gentle
Don't be overly bossy and strict. The idea is not to have an authoritative attitude towards your team. The idea is to keep your team and projects organized and in sync. Therefore, try to remain as gentle and kind as possible.
If any member of the team is behind the schedule, don't shout or scold. Rather try to find out the reason behind it.
"The challenge of leadership is to be strong, but not rude; be kind, but not weak; be bold, but not a bully; be thoughtful, but not lazy; be humble, but not timid; be proud, but not arrogant; have humor, but without folly." – Jim Rohn
Thus, it is one of the essentials in the best practices for stand up meetings.
Top 3 Things to Avoid When Using Best Practices for Standup Meetings
Now that you have understood the Do's of the meeting it is also necessary to understand some of the Dont's. There are certain things that you should try to avoid in a stand-up meeting.
1. Finding solutions
Don't try to look for solutions in a stand up. Since 15 mins time span is more about finding the core issues not the solutions to the problems. However, use a problem board or assign someone to jot down all the problems. Arrange another meeting later on to come up with the solutions.
2. Having Unified Leadership
Scrum meetings should be flexible and fun. It boosts up morale not to build in pressure. Therefore, the scrum leader doesn't always have to be the facilitator. Switch the facilitators in each meeting and give everyone the chance to hold the stage. This won't only help the team members build confidence but also leave more room for ideas and innovations.
"Talent wins games, but teamwork and intelligence win championships." ~ Michael Jordan
3. Low Morale
A good team is a motivated team. Therefore, it is necessary to build up the morale of your team. Don't pull them down with a lot of tasks or it can even lose the vibe if people are unprepared. Therefore, make sure they are prepared and ready for it.  Moreover, give them incentives and use slogans like "Go team" or "Let's do this" to ignite their energy.
Conclusion
To conclude, stand ups are a great way to keep things organized and well-managed. However, they need to be done right so that they go off track. Thus, follow the 7 best practices for a stand up meetings to keep your train going smoothly.
Let us know if you have anything to share and if we missed out something. Moreover, if you are already having stand up meetings, how was their outcome for your company. Feel free to write us at info@ntaskmanager.com
---
You may also like: