When working within an organization, you have to keep regular checks on the employees and their work. Not only that, but employers also have to keep an eye on payroll systems, employee scheduling, onboarding, tracking, and much more.
Since managing the workforce is such a complex and demanding job, one cannot simply rely on manual efforts to accomplish the impossible. Having workforce management software has become the need of time considering the overwhelming amount of work one has to do for planning, scheduling, and tracking employees.
Having workforce management software entails that you are in complete control of business operations and have a firm hold on the optimization of the workforce in the organization.
In this post, we will walk you through some of the best workforce management software out there in the market. But before we jump onto that, let's take a quick look at some ideal features that a good software must-have.
What is Workforce Management?
Workforce management is a process that helps to identify and manage the skills and resources needed by an organization in order to meet its current or future needs. It includes tasks such as recruiting, training, recalls, employee benefits (such as health insurance), labor relations, and performance evaluation. Workforce management app also involves strategies for managing change, including improving communication among employees, supervisors/managers, union representatives/negotiators, and customers; developing flexible work arrangements; and making changes in organizational structure or processes.
It is essential that an organization have a well-designed workforce management system in place if it wants to maintain optimum productivity levels while meeting customer expectations. By providing accurate information on employee skills and abilities; monitoring trends affecting recruitment conditions; maintaining records of courses taken (and rates of success); setting up systems for recording injuries sustained at work; tracking hours worked each day/week etc., an organization can effectively allocate workers based on their specific needs without any misunderstandings or conflicts arising.
WFM Software Comparison Criteria
There are many different software comparison criteria that you can use when performing a software comparison. Some of the most popular include: features, pricing, ease of use, customer reviews and ratings, and support options.
There are a few key factors that you should consider when comparing WFM software. These include features, price, ease of use, and support.
When it comes to features, you need to make sure that the software has all of the essential functions required for managing your business properly. This includes things like scheduling tasks and appointments, tracking sales online or in real-time, creating invoices and billing clients quickly and easily, and more. Make sure that the software has all of the features necessary for efficient operation!
Must-Have Features of a Good Workforce Management Software
Workforce management software are special tools designed to help businesses with the management of the workforce. This includes a variety of tasks such as tracking, scheduling, reporting on employees' efficiency, timesheets, performance management, and much more.
Following are the core functions of such a tool:
Keeping a record of employee attendance
Keeping employees informed about the company policies regarding leave, pay, etc.
Creating and assigning schedules to employees
Tracking the efficiency and productivity of employees
When on the lookout for suitable software for your business, you will notice that there is no definite answer to your question. You will have a hard time choosing a tool considering the vast variety of options available in the market.
To make the excruciating process a little simpler and easier for yourself, make sure that whatever tool you choose has the following key features:
1. Easy To Use
Remember you will not be the only one using the software. All the employees and the HR team will have access to the software and will frequently use it so it has to have a clean-looking, and friendly user interface so that everyone can easily find their way through the software.
2. Foolproof Security
You will be trusting the tool with a lot of your company's data, some of it might even be confidential so it is absolutely necessary that the tool offers foolproof security. It should guarantee that there is no breach in data, and everything remains safe and secured at all times.
3. Third-Party Apps Integration
Working in isolation with one app is simply not possible at present. any tool that you choose must have the ability to integrate with other tools so that you can bring everything on one platform and work without any distractions.
4. Mobile Apps
Although most of your employees and you will be using your PCs or laptops to access the software, it wouldn't hurt to have a mobile app that can keep you updated on the go. Having a mobile app for the tool means you can instantly check the status of processes and always stay informed.
5. Customization Features
One simply cannot do without personalizing the area they work in and that means digital spaces too. Customization features, then are absolutely necessary because they help you transform the tool on your lines and add a personal touch to the overall vibe of the tool.
6. Automation
Since we are talking about ease, the tool should provide as much relief to you as possible and that means a relative amount of automation in all operations. With automation features, you can shake a lot of the burden off your shoulders and save your time and efforts as well.
7. Cost-Effective
No matter whether you are a small startup or a big enterprise, you cannot mindlessly invest your capital in an over-priced tool. While choosing a tool, make sure that it fulfills your requirements and is well within your budget.
The presence of all these features means that the tool is good enough to be used in an organization and that it will certainly add to the efficiency of your employees. Now let's look at the best workforce management software that you should know of.
9 Best Workforce Management Software in The Market:
Table of Contents
Top Workforce Management Software For 2023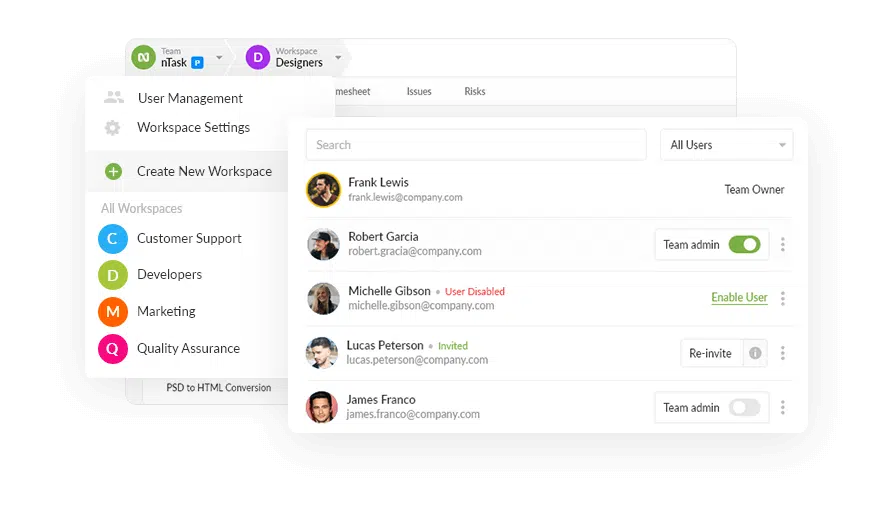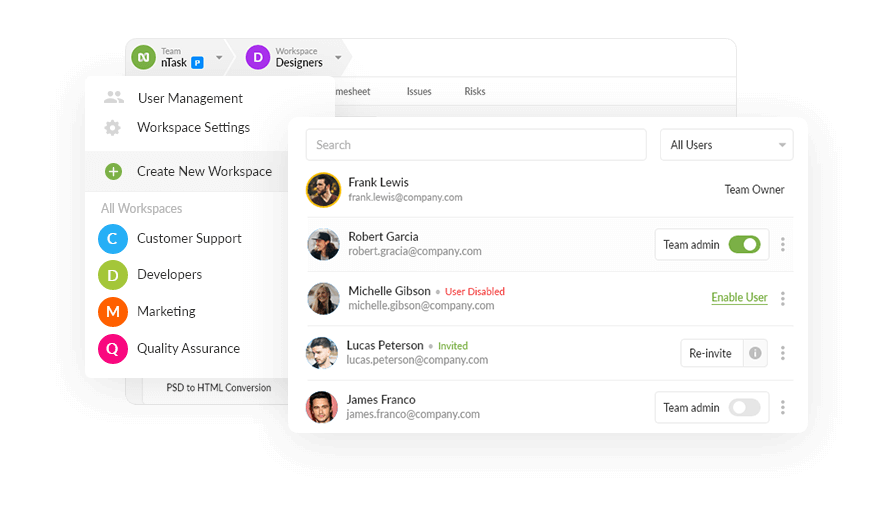 nTask currently reigns on the top in our list of the best workforce management tools. The project management tool has only recently emerged on the scene but has quickly garnered the praises of the business world. It now supports over 250,000 teams in over 190 countries.
It has a clean and crisp user interface that allows users to navigate through the tool without any hindrance. Moreover, the tool offers a wide variety of management solutions rife with competent features that add to its functionality.
It also offers visual management tools so that teams can easily get an overview of their progress in the project. You can use the tool for the simplest tasks or complex projects and manage everything from the very onset till the completion.
Key Features:
Task management
Resource allocation
To-do list
Time tracking and timesheets
Customization features
Two-step authentication security
Multiple integrations with third-party tools
Progress tracking
Financial summaries
Budget management
Pricing:
Basic plan – Available for free forever
Premium plan – $3 per user per month
Business plan – $8 per user per month
Enterprise plan – Custom pricing
Manage Your Workforce With nTask

Assign tasks, create projects, manage teams, and clients efficiently. Sign up today!
2. Oracle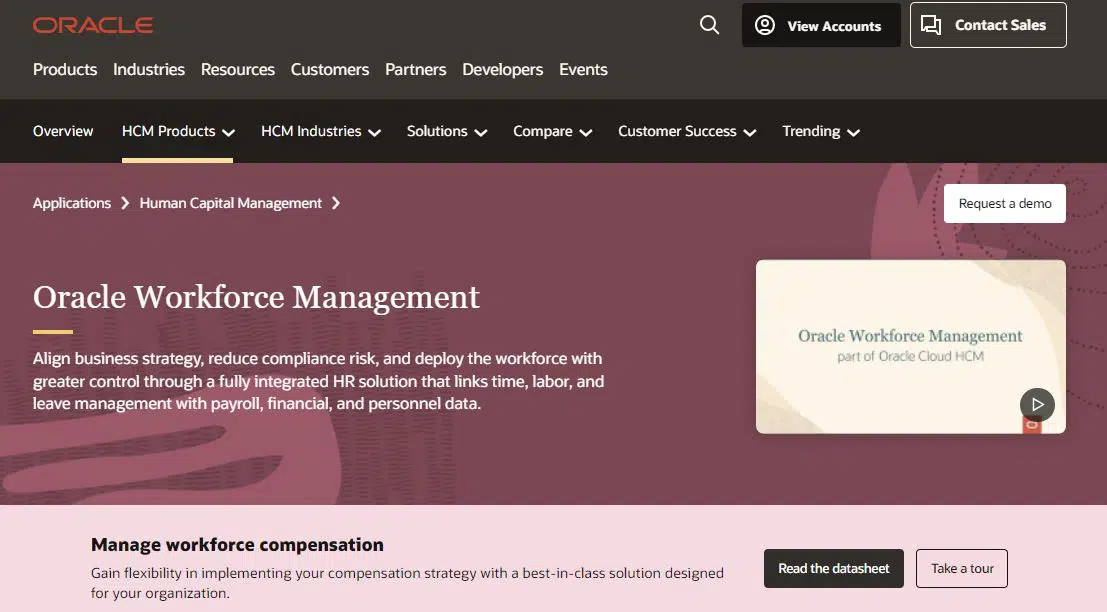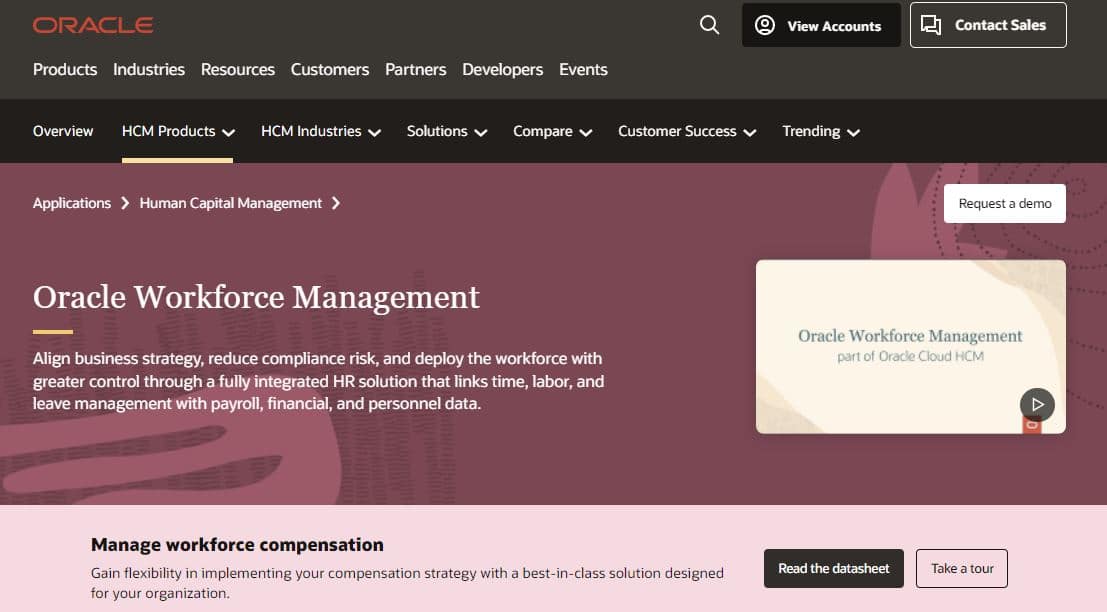 Oracle is another workforce management solution that allows you to integrate the best business strategies with optimal workforce plans. It offers automation in a variety of areas that can ultimately help you save time and effort and can add to your efficiency and productivity.
Besides workforce management, the tool also offers various other functionalities in HR, talent management, learning, and much more.
Key Features:
Absence management
Easy configuration
Track absence trends and areas of low productivity for optimization
Quick and easy data entry
Robust hourly worker support
Flexible scheduling
Workplace protection
Incident reporting and management
Safety dashboards and KPIs
Pricing:
You can contact the Oracle sales department for pricing details.
3. UKG Workforce Central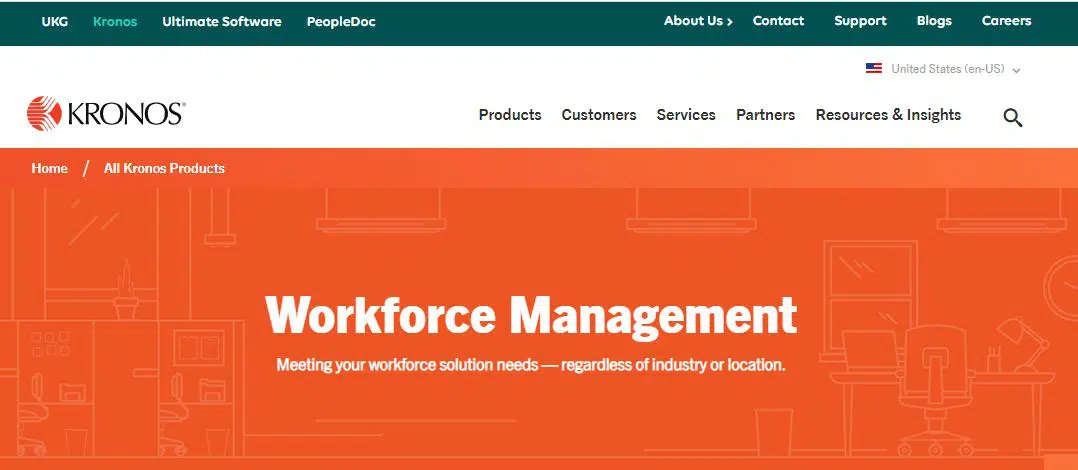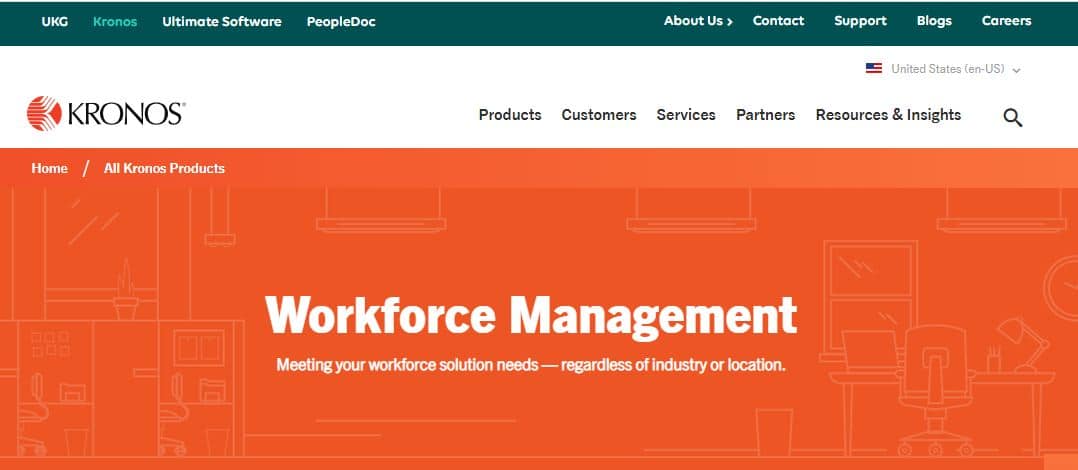 UKG Workforce Central is another renowned name when it comes to workforce management solutions. The software helps manage all the workforce-related operations with its comprehensive set of features. It helps in a variety of areas, be it attendance management, payroll, tracking, or anything else, UKG Workforce Central has the solutions to all your needs.
Key Features:
Absence management
Time and attendance
Labor activities
Analytics
Data collection
Forecasting
Collaborative scheduling
Pricing:
You can visit UKG Workforce Central's official website and get a quote by getting in contact with their team.
4. ADP Workforce Now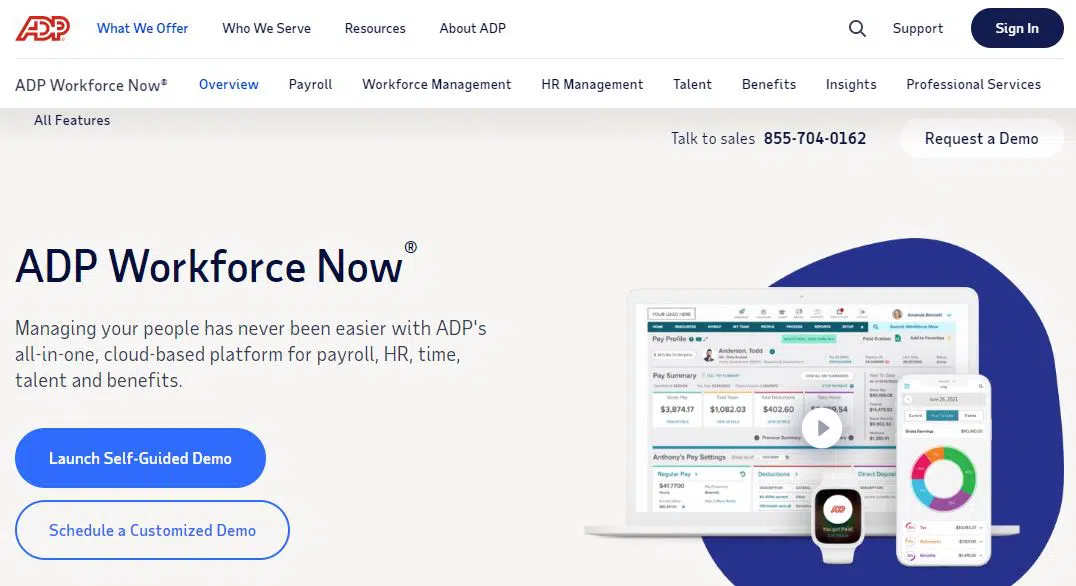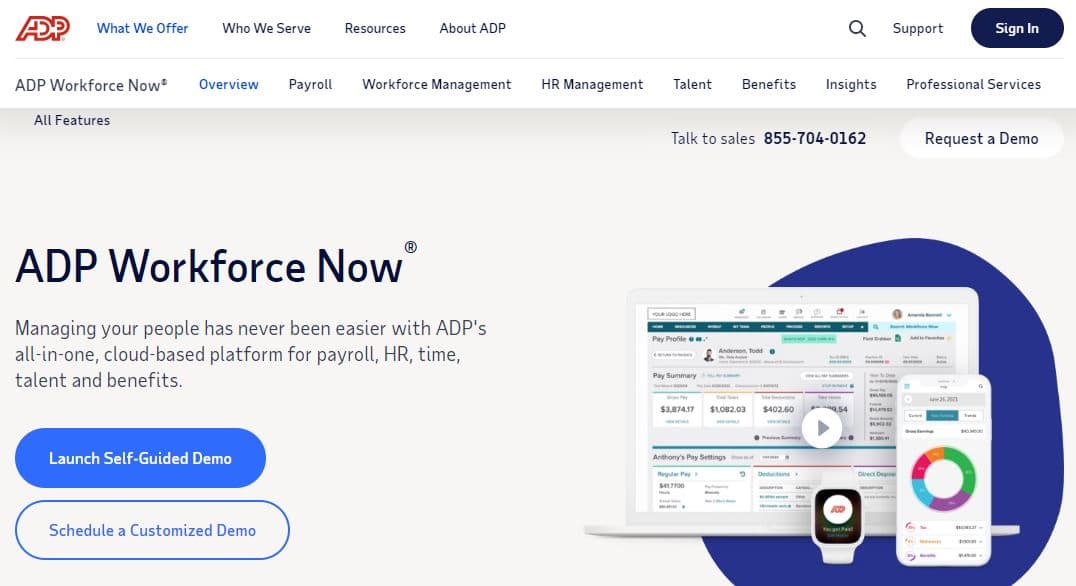 ADP Workforce Now is another renowned name in workforce management tools. The tool has been around for some time and has made a name for itself in the business world with its efficient features. The tool is regarded as especially beneficial for enterprise-level businesses.
ADP Workforce Now is an all-in-one, comprehensive workforce management solution that offers a variety of functionalities such as talent management, payroll, benefits, human resource management, learning and analytics, time & labor management, etc.
Key Features:
Mobile access
Ai-assisted decision-making and forecasting
Dashboards with real-time visibility
Expert consultation on wage and hour compliance
Time and attendance
Data collection
Scheduling
Absence management
Analytics and reporting
Compliance
Pricing:
You can learn about the price of the tool by getting in touch with their sales team.
5. BlueYonder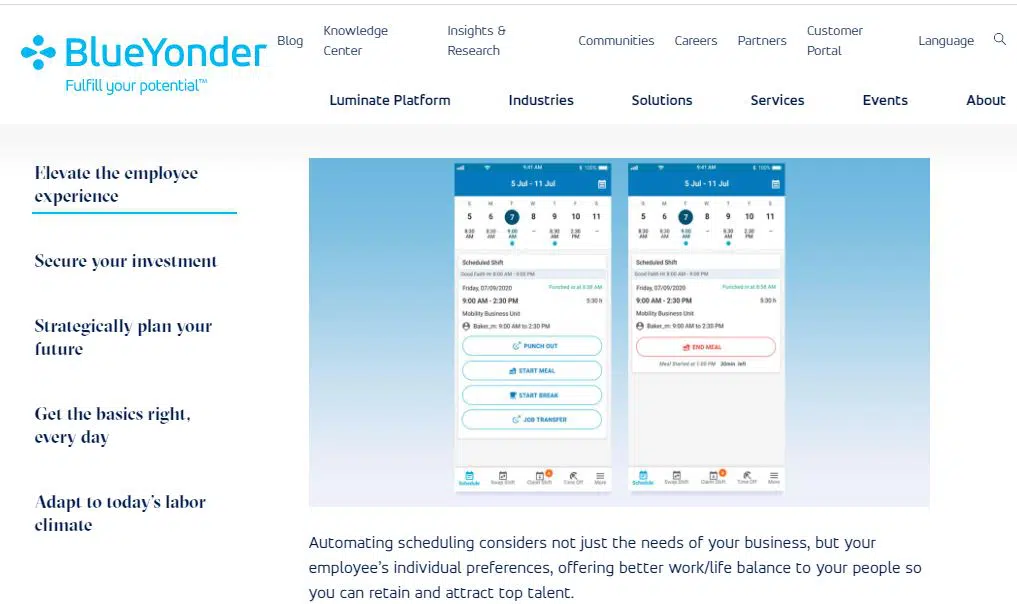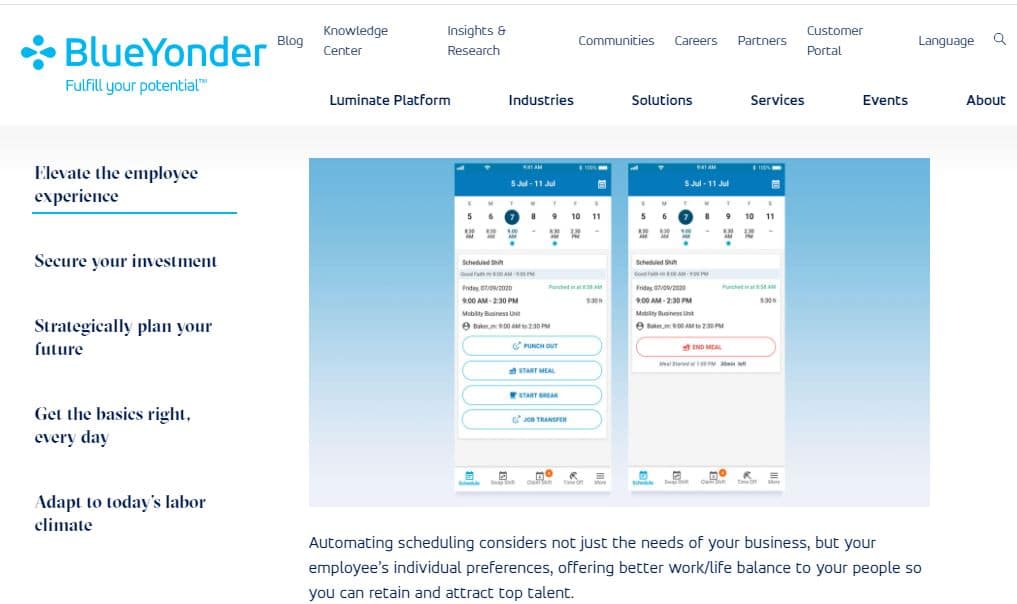 BlueYonder is number 5 in our list of best workforce management software. The digital tool is a user-friendly solution that makes work a lot more with its intuitive interface and colorful outlook. Improving efficiency and enhancing the productivity of the employees is at the heart of the tool and it achieves this feat with its robust features.
Key Features:
Flexible scheduling
Time and attendance
Labor compliance
Long-range planning
Multi-layered security protection with Microsoft Azure
Track and validate punches
Pricing:
Blue Yonder offers a free trial of 30 days and you can get a quote by contacting Blue Yonder's sales team.
6. Paylocity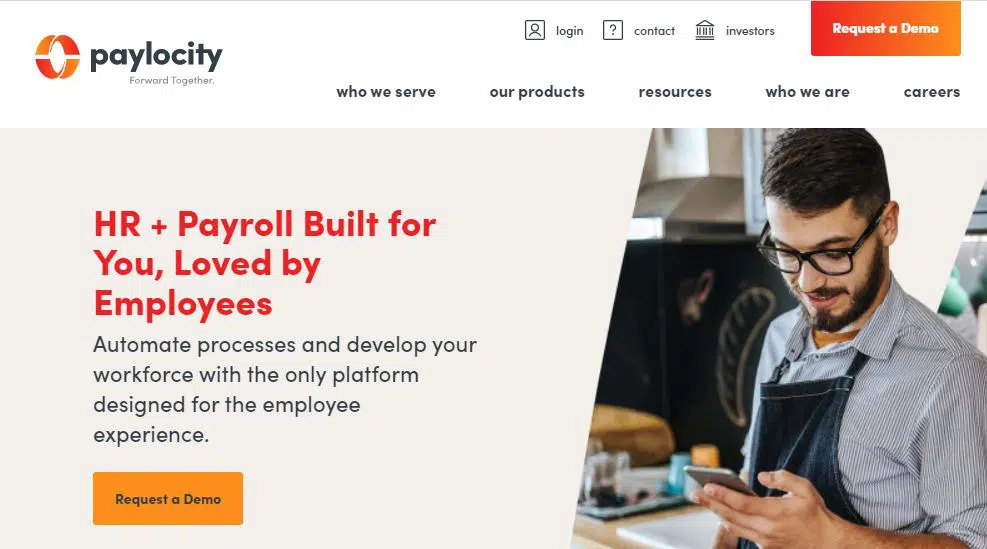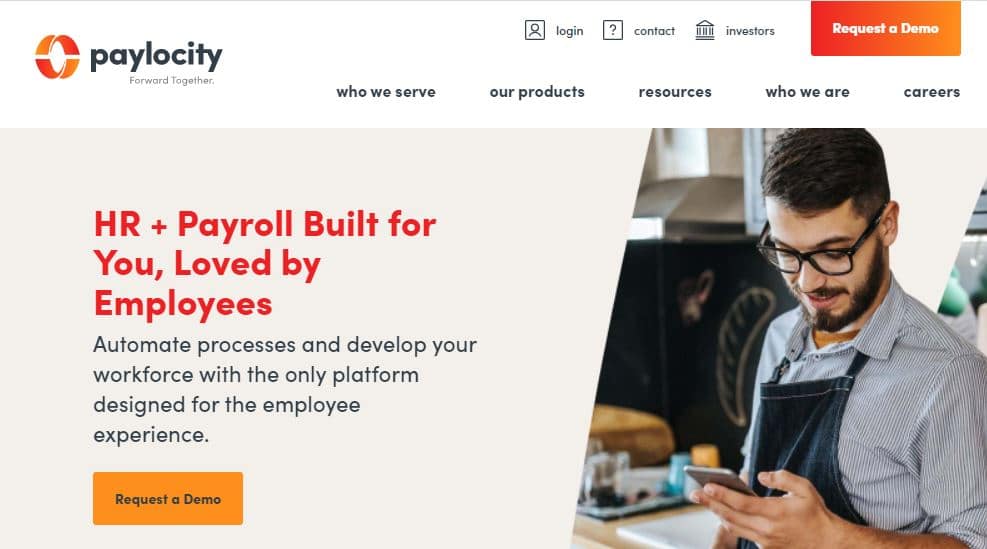 Paylocity gives a social media spin to usual ways of working making work more interesting and fun. With the ability to praise someone on their work, the tool creates a harmonious, integrated work environment. The tool offers features for payroll management and human resources management.
It helps companies manage core functions of Human resource management with relative ease.
Key Features:
Smart automation
Robust reporting and notifications
Scheduling
Time collection
Shift claiming and swapping
Built-in templates
Pricing:
You can fill out a simple form and request a demo to learn more about the tool and how it works.
7. Infor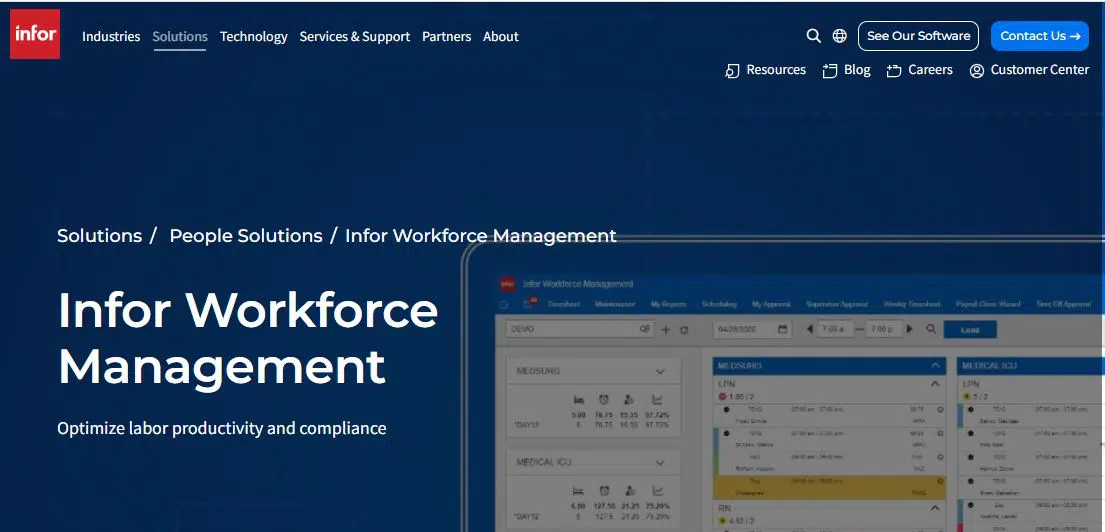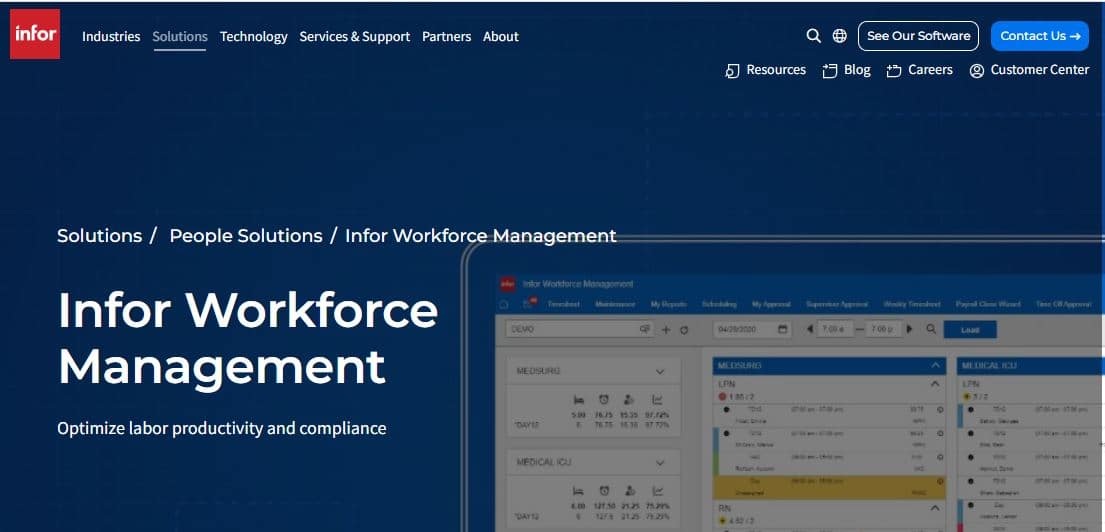 Infor has landed on number 7 in our list. The toll I another one of workforce management solutions with one-stop-shop capability. It is basically a labor-management solution helping companies keep a record of their labor force.
Key Features:
Attendance management
Real-time pay categorization
Balances and accruals
Leave management
Employee contact tracing
Multi-view scheduler (MVS)
Central staffing
Labor forecast and schedule optimization (LFSO)
Fair scheduling
Labor demand planning
Budget solicitation
Labor forecast
Pricing:
You can get in contact with Infor's business development representative to learn more about pricing details and more.
8. Bamboo HR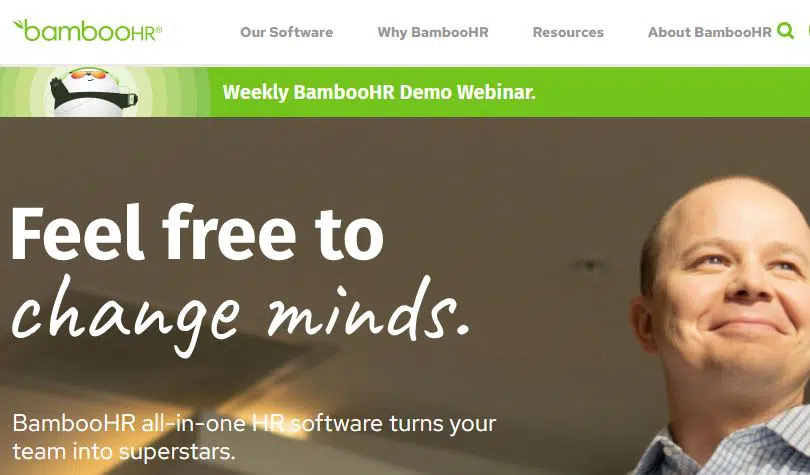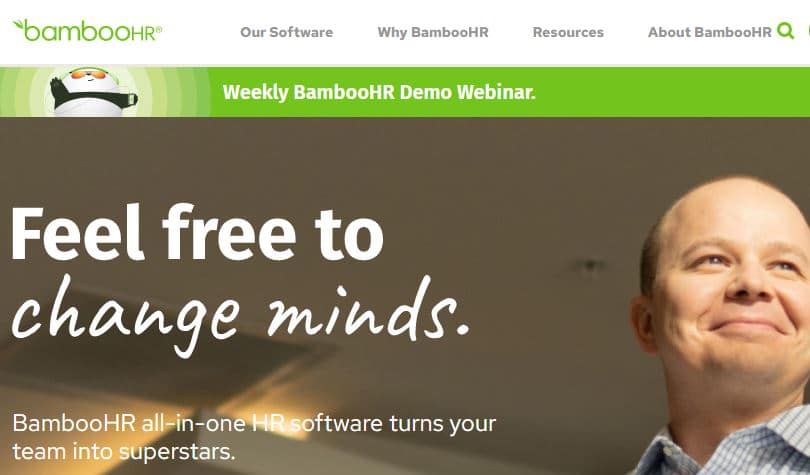 Bamboo HR is our last pick for this list. The tool is one of the best for small and medium-level corporations. It is an intelligent Human Resource Information System (HRIS) that helps teams manage all aspects of the workforce.
Key Features:
People data & analytics
Hiring
Onboarding
Compensation
Performance management
Payroll
Reports and analytics
Pricing:
Bamboo HR offers a free trial for its new users. For further details on pricing, you can contact the Bamboo HR team directly.
9. Alvaria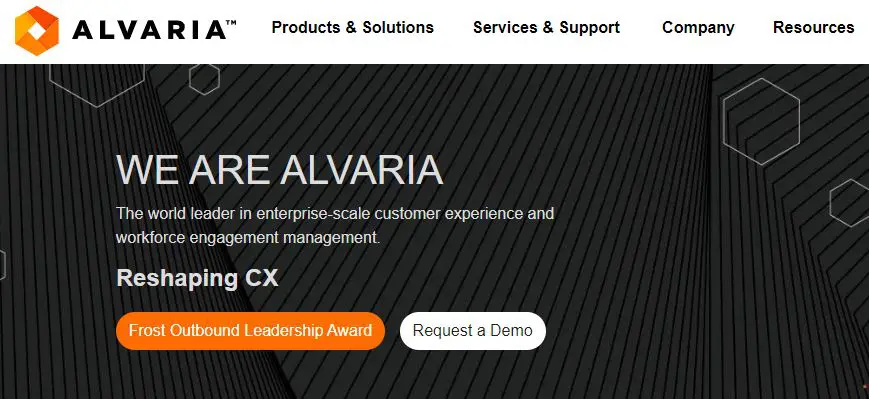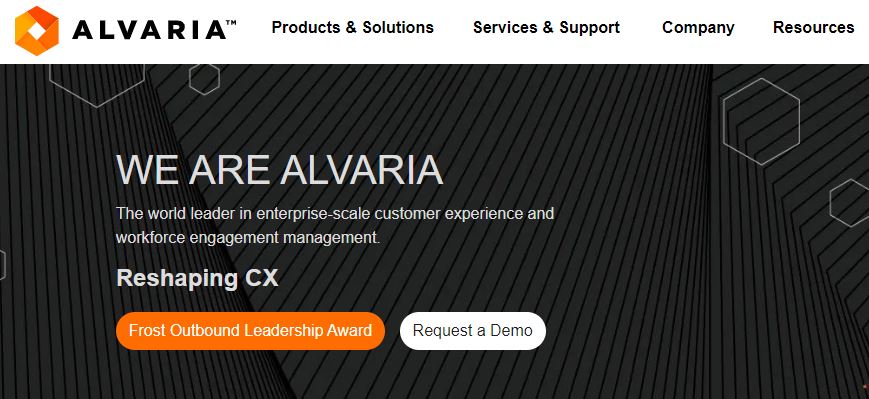 Another project workforce management solution for your labor management needs is Alvaria. It helps you to bring engagement at work with simpler workflow approach to address complex problems using desktop analytics and Robotic Process Automation (RPA).
This labor and people management system helps in workforce planning, staffing management, and self-service employee portal. The dashboard of this platform shows all the relevant information in simple design format. It makes use of AI to improve productivity of the labor and agent management. The Alvaria mobile apps make it easy for the users to access the work schedule information from anywhere.
Key Features:
Voice and omni agents
Compliant outreach
Real-time optimizer
Employee experience management
Forecasting, scheduling and workforce tracking
Fraud detection
Bulk shift scheduling
Pricing:
Free demo of the product is available
Custom pricing
FAQs
What is WFM software?
WFM software is a comprehensive marketing automation tool that can help you to automate your email, social media, and DMP campaigns. This program enables you to track the performance of your emails, posts, and conversations in real-time so that you can make informed decisions about which messages are working best. Additionally, WFM's tracking features make it easy to analyze how customer behavior changes over time. This allows you to fine-tune your marketing campaigns based on results rather than guesswork.
Who uses workforce management software?
Workforce management software is used by businesses of all sizes to ensure efficient and accurate employee tracking. This software can help you identify the right employees for your business, manage wages, forecast staffing needs, and more. Many businesses also use workforce management app to improve communication between managers and employees. By sending notifications and updates in real-time, you can keep everyone informed about what's going on at work without having to worry about scheduling conflicts or misunderstandings.
Why is the WFM tool is important?
WFM software is important because it allows business owners to manage their entire workflow in one place, from marketing and advertising through to sales and customer service. This makes it easier for them to keep track of what is happening across all departments, which can save time and money. Additionally, WFM software enables you to automate tasks so that they are done automatically by the right people at the right time.
Conclusion
Each solution in the above list has something unique to offer to its users. We will suggest requesting a demo or trying the free trials before formally investing in a specific tool. This will allow you to understand if a tool is compatible with your team or not and if it suits your organization or not.
Once you have found the best workforce management software for your company, you can invest capital in that particular tool and enjoy the benefits it has to offer to you.
Do you think we missed a tool? Let us know by writing to us at fwilson@ntaskmanager.com. We will be more than happy to hear from you.
Good luck and Goodbye!