You can't deny that any company in the organizational paradigm can't function properly if it doesn't have an effective HR department.
From finding noteworthy recruits to hiring them for the right jobs, and making sure that the onboarding process goes smoothly, there are many different tasks and processes that the HR people have to perform, and it is high time that they get a modern ticketing system to assist them in their work.
But seriously, why a modern HR ticketing system? Well, as you know that in a single working day, the HR people have to answer a million phone calls, conduct interviews, and also perform hefty administrative work that can break a person mentally and physically.
So, to eradicate some of the load off of their shoulders, the companies in the organizational paradigm need to hook up their HR personnel with a modern ticketing system, so that they can get more organized in conducting their daily tasks.
Modern HR ticketing systems are an amazing class of tools that helps professionals reduce the amount of time that a single HR personnel spends on those administrative tasks, so they are perfect for modern HR departments.
The beauty of our time is that the technology around us in our daily personal and professional lives has evolved so much that we have amazing software tools and even physical robots available to assist us, but that beauty has a menace hidden inside it.
That menace is that we are spoilt for choice.
That's right. We have so many different software and physical tools to help us that most of the time we don't know which one to choose to help us in our daily lives.
This is why, when it comes to choosing the best online ticket management system to help our HR departments, we are confused and simply can't choose wisely.
If you are having this problem too, then you came to the right place, because in this article, we are going to talk about 5 benefits of online ticket management systems which can conveniently be the 5 different reasons why your HR department needs a modern Hr ticketing system right now.
Let's go.
5 Benefits of Online Ticket Management Systems
Here is a list of the benefits that we are going to talk about in this article.
Improved Communication Channels
Coordinates Procedures
Increased Productivity
Keeps Track of Response Times
Adds More Value to Your Professionalism
Let's take a look at these benefits in detail and find out how these online ticket management systems can help our HR departments reach more heights.
1. Improved Communication Channels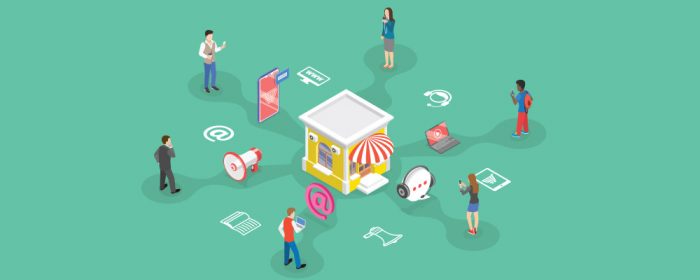 We all know how annoying technical issues are. Whether internal or external, they require more than one person to tackle them.
Also, when there are technical issues, you have to face the customers as the number one priority, and inform them about the situation, and how close you are to solving it.
This is where an online HR ticketing system comes into play which allows the smooth flow of internal messaging between all of the relevant departments of the company.
This cohesive flow of information between the team members helps in the speedy eradication of those technical issues.
2. Coordinates Procedures
In the organizational paradigm, it is a very big issue that when no system creates an action plan to solve the problems of the company, you are going to manually track and solve thousands of little issues related to your project or company.
This is why modern ticketing systems are incredible. They help you in keeping an organized list of all of the tasks, issues, and processes related to the company.
And with that system in hand, the employees and all of the support agents that are working for the company are going to be very happy, because they will know what to answer when the clients ask them about the problems that they are facing with your company, product or project.
3. Increased Productivity
Online ticketing systems are excellent organizational tools that allow you to organize a whole variety of different problems and issues related to your company or project, all in a single place.
As these systems work at an organizational level, they require a lot less effort to answer all of the different requests from the clients.
Also, these systems are going to take a lot less time to answer these different requests, because it doesn't need approval for every single thing from upper management.
This automated system is also very accurate, as it involves minimal human interaction, resulting in fewer mistakes.
Related:
Task Automation Tips for Professionals in 2023
4. Keeps Track of Response Times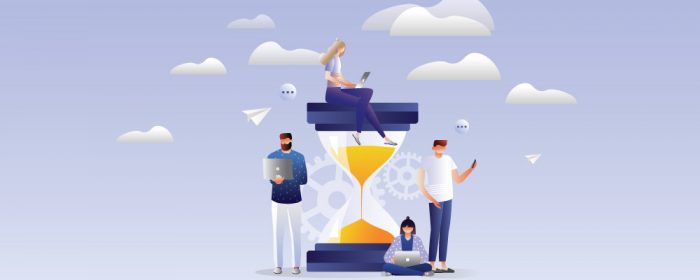 These HR ticketing systems are amazing when it comes to keeping track of the issues that the customers have been having with the company or the product.
And that this tracking ability is highly needed by the support and HR people because maintaining customer issues organized without a tool can create many difficulties for the team and the company in the long run.
The online HR ticketing system helps to track the time that is spent on every single step of the problem-solving process. This makes sure that everything is moving at a steady pace and your clients are taken care of quickly and efficiently.
5. Adds More Value to Your Professionalism
Most of the time we see that the representatives of a company just have a contact info section on their website or contact page, which is a bit unhelpful, as many a time those contact points are unavailable.
A ticket management system dedicated to problem-solving right on the webpage is a whole different ball game. First of all, it looks highly professional, because whenever there is a ticket management system embedded in a website, clients know that they are going to get some answers.
Secondly, when you provide an option like this to the client, they feel heard and this is what makes them believe you and to choose to contact you for all further communications about their issues as well.
Some other benefits of online ticket management applications are as follows:
They are incredible when it comes to prioritizing requests
The tools are experts when it comes to providing solutions as quickly as possible
They keep track of everything for you
Quickest ways to provide support
You can delegate some of your work to the application
Using nTask as an Online Ticket Management System
The application is an incredible platform that allows its users to merge different platforms into its interface and helps them to collaborate between those different platforms in order to generate more value for the clients and the overall business.
Let's take a look at how nTask can be the best ticket management solution for all the customer support professionals and HR personnel out there.
Creating a Dashboard to Manage all of the Incoming Tickets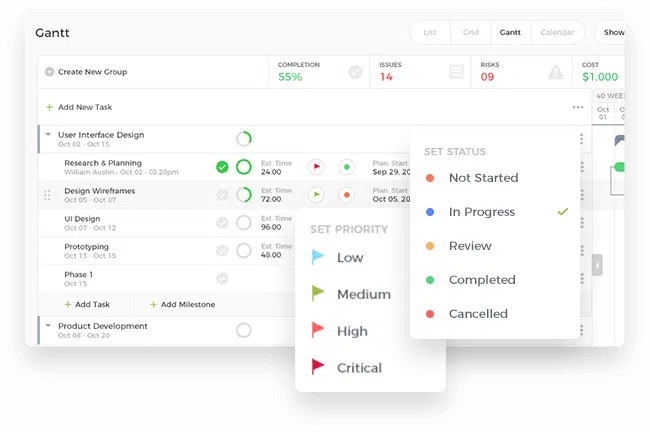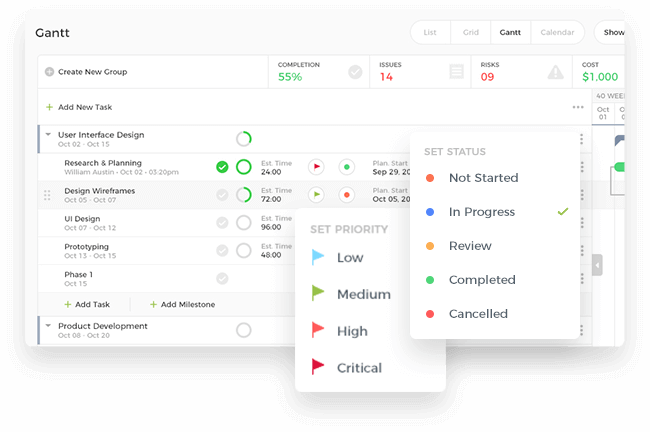 The first thing that you have to do in regards to manage your tickets via nTask, is to create an interactive dashboard on the nTask interface so that all of the tickets which you have to monitor are right in front of your eyes.
These tickets can be created as tasks in the app dashboard and then you can simply assign them to any specific customer support specialist on your team. You can even change the status of the tickets from 'pending', to 'in progress', all the way to 'completed'.
These changing statuses will tell you all about the ticket's position and whether or not your team should work on it right now or in the future.
Depending on your needs and requirements, you as a manager can categorize the tickets in many different forms, and of those main ticket categories, you can create sub-tasks that can represent the tickets in that category.
There is also a date column in the interface that you can use to mark the date on which the ticket has been answered and for whenever the ticket has to be answered if it is a late date.
The application is also an incredible time tracking tool and provides a time tracking column that can be highly beneficial for you to track the time it took to answer a ticket when it was received.
All we're saying is that the software has a lot of different options to take care of your support engineer and HR personnel when they need them.
Conclusion
This was a short guide on how the latest HR ticketing systems can help our HR departments to work more effectively and to improve customer satisfaction. If you think that we missed something worth mentioning, contact us and we will make sure that we check it out.
---
Further Readings: