Digital asset management for nonprofits is an up-and-coming endeavor. Nonprofits have to poach to a wide range of audiences and that demands engaging people through any and every means.
Digital assets such as presentations, digital ad campaigns, graphics, written content, etc. are of primary importance, keeping in mind the staggering number of people having internet access. As of 2021, a whopping 4.66 billion of our population are active internet users.  The numbers only indicate the importance and efficacy of digital means of engagement.
As a nonprofit organization, you need efficient means to store, manage and distribute digital content. This requires the use of an efficient system for digital asset management for nonprofits.
This article looks into the details of digital asset management for nonprofits and digital asset management integration to help you steer clear of mismanagement and disorganization.
Let us first take a look at digital asset management.
What Is Digital Asset Management (DAM)?

As the name suggests, DAM refers to the management of digital data. The digital assets in question can include images, videos, presentations, graphics, text files, etc.
DAM helps you store, organize and manage all the digital assets of your nonprofit organization. A good DAM system makes data easily searchable and makes it easy for members to collaborate efficiently.
A research study found that implementing a comprehensive digital asset management system can result in:
The betterment in work performance helps users save 2.96 hours each week, with which companies can save up to $5,315.44 a year for every user.
Why Is Digital Asset Management for Nonprofits Important?
Digital assets are becoming increasingly important and effective with the world's rapid technological developments. Companies, profit or nonprofit, are heavily investing in digital assets to target global audiences and attract clients.
While digital assets continue to soar in the marketing world, it is only imperative that an efficient system be created for the organization and management of these assets. This demands quick and easy access for all team members, visualization features, sharing ability, and other features.
Here are five reasons that make digital asset management for nonprofits a must-have:
1. Lack Of Storage
The importance of digital assets for nonprofits is already evident. This means that tons of data is generated every passing minute. While creating such a huge amount of data, one day or another, you are bound to run out of storage space on your PC or laptop. Only with a good digital asset management platform can you store all the data in one place.
2. Disorganization
Not only is storage a big question mark for nonprofit organizations, but organizing such huge amounts of data also poses a question. In this regard, digital asset management can be your knight in shining armor. With data organization and management features, it can easily sort out all the content for you and make it readily available with indexing and searching features.
3. Security
Making sure that all your digital data is safe and secure is also important since any breach can lead to disastrous outcomes. An ideal DAM platform, however, will relieve you of this burden by offering a safe and secure platform for data storage.
4. Sharing Information
Sharing information among all the teams and team members in an organization can be a big headache. Extracting important files and sharing them with relevant personnel consumes a significant amount of your time. But, with a DAM system, you can say goodbye to these time-consuming tasks and focus your energies on more important tasks.
5. Brand Image Consistency
Nonprofit organizations have a global reach. With volunteers scattered across different parts of the globe, it becomes necessary to ensure consistency in your brand image. Fortunately, you can take help from a DAM tool to handle all these tedious tasks for you.
Benefits Of Digital Asset Management for Nonprofits

Here are some of the most covetable benefits of using a DAM platform for your data:
With all these advantages, it is simply impossible to overlook the importance of a good DAM tool. An ideal DAM tool will streamline your workflow and help you improve your productivity.
Digital Asset Management Integration:
Nonprofit organizations have tons of things to deal with. This means juggling different tools and keeping up with all the processes on different platforms.
You often have to share files across various platforms or simply need other tools to make sure that the underlying processes are completed efficiently. This is where digital asset management integration comes in!
There are three main ways of integrating third-party tools and apps:
Connecting and integrating your DAM tool with other software can further help you streamline your workflow and achieve better results.
All-In-One DAM Solution – nTask: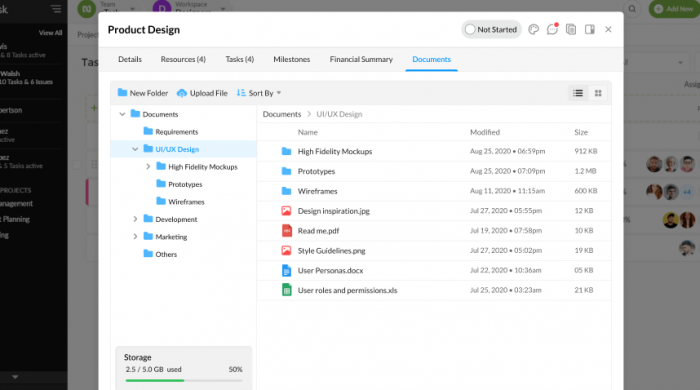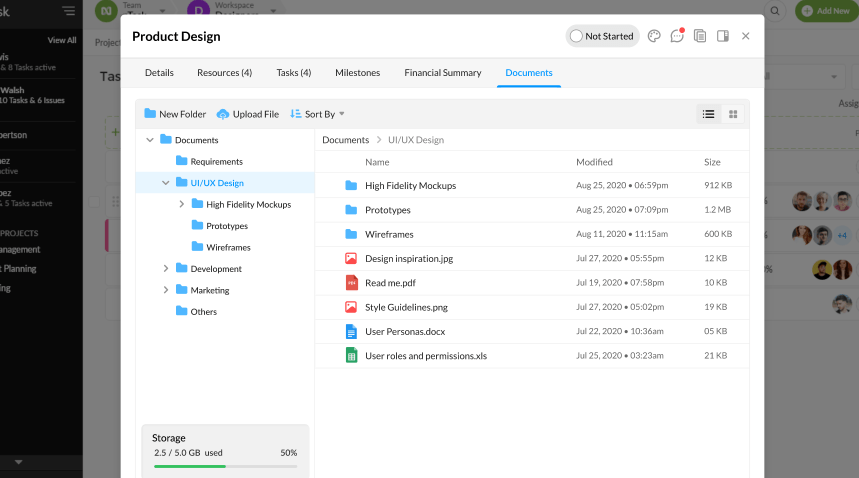 nTask is a one-stop shop when it comes to digital asset management for nonprofits. The tool offers a unified space for various different processes including digital asset management.
nTask is basically a project management software but its features far exceed regular tools. It offers seven different management modules to help organizations manage their business processes much more efficiently. The management modules include:
Task Management
Time Tracking & Timesheets
Meeting Management
Issue Tracking
With over 250,000 teams across 155 countries, nTask continues to turn heads in the business world. All of its management modules are further equipped with the latest features, ensuring a good experience with the tool.
Here are some of the things you can do with nTask:
What is even more amazing is that nTask is a budget-friendly DAM tool with the first-priced plan starting at just $2.99. You can also book a demo or sign up for a free trial of 14 days before formally subscribing to the tool.
All in all, nTask is a great tool for digital asset management for nonprofit organizations out there.
Organize your digital assets in one place

Manage tasks, resources, projects, documents, and create workflows. Sign up today!
Its Wrap!
We just gave you a comprehensive overview of DM for nonprofits and an in-depth overview of digital asset management integration. We hope that you will be able to make a smarter choice for your nonprofit organization with the help of this article.
Till next time, goodbye!