For many years, Zoho has offered its help desk solution, and it has a lot to offer some teams, especially if they also use another Zoho product. However, depending on your organization's specific needs, some Zoho desk alternatives on the market may be more suited to your use case.
The all-in-one solution
Use nTask today!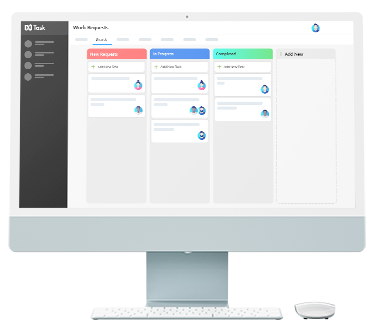 The best part is many Zoho Desk alternatives on the market are both feature-rich and reasonably priced. We selected the best options after reviewing hundreds of websites and user evaluations that would not only meet your specific needs but will also help you achieve your goal of providing amazing customer service.
But, before we get into the race, consider the benefits and drawbacks of Zoho Desk.
---



Why is Zoho So Popular?
Ticket management
The platform allows teams to manage tickets and other data in one place. Agents monitor customer demands across several channels, brands, and divisions.
The system's direct assignment and round-robin automation save managers time and energy, allowing them to focus on more important tasks.
Moreover, the tools simplify things by utilizing criteria such as Urgency, Priority, Customer Type, and Ticket Status.  
Detailed Reporting & Analysis
The platform contains tools for creating reports and visualizations to track team performance. Its built-in dashboards let teams monitor and improve service using the most commonly used data.
It creates time-based reports that include data like First Response Time, Average Response Time, and Average Resolution Time. Data may be filtered based on the date, channel, and agent. 
Time management
Managers use Zoho Desk to set up time tracking individually for each department. Customers can measure the time spent on each ticket based on departments, agents, and modules using the Insights tool. Team members can manually clock in for each ticket or have the system calculate the time for them.  
Mobility
Remote Teams can support clients from anywhere, at any time, using the Zoho Desk mobile app. The software refreshes contacts, accounts, and tickets in real-time.
In addition, support staff can use answer templates to react to queries.
The Zoho Desk mobile app is available for free download from the App Store or Google Play. 
---
Why Should You Look for Zoho Desk Alternatives?
If you are looking for Zoho Desk alternatives, you are certainly aware of some of its flaws. Even if you don't, here are some compelling reasons why Zoho Desk might not be the best fit for you. 
Basic Plans isn't Feature-Rich
Although Zoho Desk's prices are not costly, the most basic plans lack certain features.
The Standard Plan ($12/month) lacks important help desk features like
multi-department ticketing
agent collision
round-robin ticket assignment
The professional plans lack
Zia artificial intelligence
Advanced Reporting
Help center customization
To keep it short, to use all these features you need to buy costly plans which may be out of reach for small enterprises.
Features can be Confusing
Zoho is marketed as a company-wide operating system with features for sales, marketing, and customer service. The problem is that Zoho Desk includes a slew of features that your team may never utilize. You should check out Zoho alternatives if you are specifically interested in customer service and basic help desk solutions.
AI needs Improvements
Many customers believe that Zoho's artificial intelligence, Zia, is still in its early stages and needs significant growth. While Zia is good for lead generation, sales, and report production, it may not be suited for communicating with clients or responding to their needs.
Limited Customization
Although the chat widget in your help center can be used, it cannot be customized. The chat widget's overall design is dull and out of date. Furthermore, no pre-chat questionnaires are accessible to complete to better identify their issues and route talks to the relevant agents or teams.
Understanding what features to search for while looking for the best Zoho Desk alternative is vital. 
Here are some important help desk features that any alternative should have:
An intuitive interface that allows your employees to reply to client complaints or requests in minutes.
Strong ticket management tools guarantee that no ticket is overlooked
Automation can help your team do more in a time-constrained environment. Automated notifications keep agents and customers informed of ticket status.
Reporting feature to aid management in assessing performance and monitoring customer experience
---
Top 5 Zoho Alternatives for 2023
| | | |
| --- | --- | --- |
| Software | Price | Best For |
| ZenDesk | $ 49/agent | Enterprise Team |
| ProProff Help Desk | $ 10/agent | All team size |
| Fresh Desk | $ 15/user | Phone-centric Teams |
| Hubspot Service Hub | $ 45/user | Team using Hubspot |
| Help Scout | $ 20/user | Emerging teams |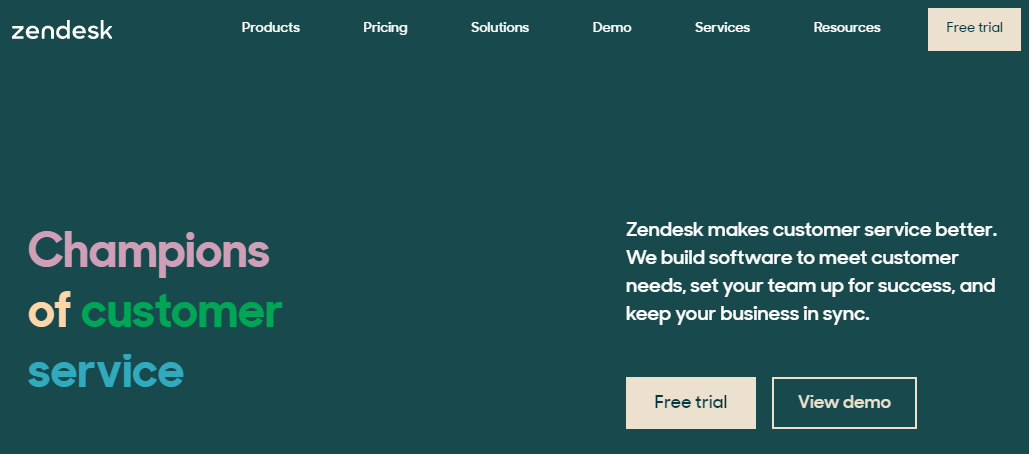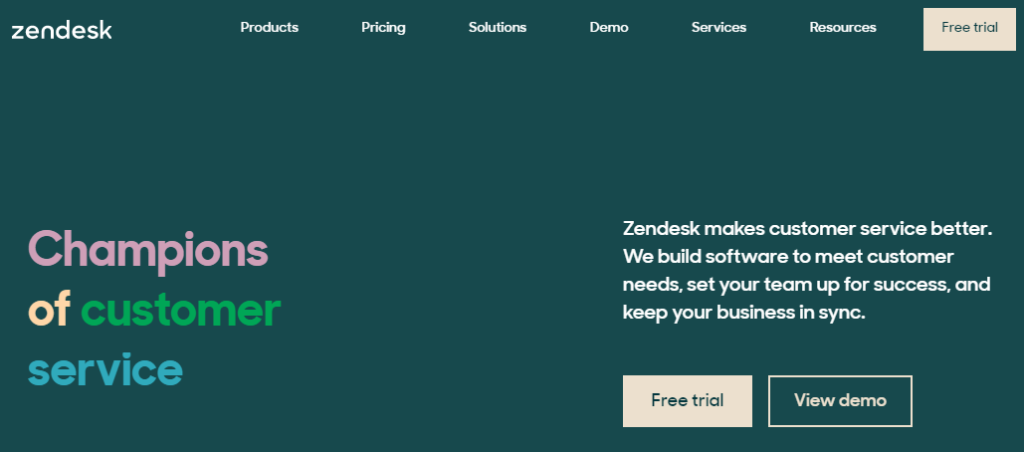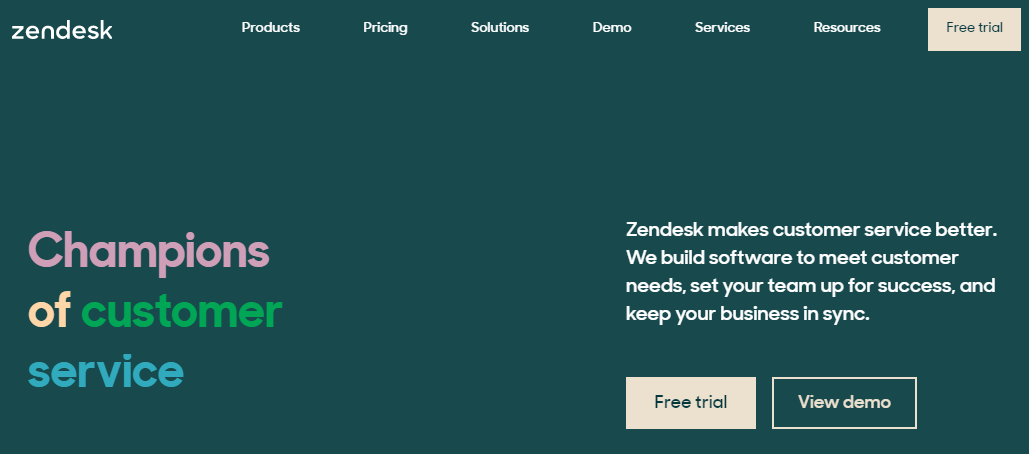 ZenDesk, a popular Zoho Desk alternative, allows employees in customer service to monitor, prioritize, and handle support requests from a single dashboard. Agents can access all customer support discussions in one place 
Features
Allow your customer care team to handle all client contacts from a single virtual workspace
Track customer history and resolve customer issues, and offer a summary of team performance to CSMs
You can finish interactions faster with pre-defined ticket responses
Bots, AI-powered processes, and content management systems for help centers and knowledge bases can assist in increasing client self-service
ZenDesk offers two pricing tiers: Foundational and Suite. While their Foundational plans provide basic support, their Suite plans include advanced analytics, AI-assisted automated responses, and the possibility of expanding customer portals.
Despite their superiority, all of these features need a longer setup time and a lengthy onboarding procedure for staff. You and your team are probably better off with anything else that requires all of those complex features. 
Why ZenDesk Can be Best Zoho Alternative?
Zendesk goes beyond ticket management to provide consumer self-service. Create an easy-to-use help center and a community forum to enable customers to get suitable support at their own pace. Customers and prospects can discuss product features, support issues, and other important topics in community forums.
---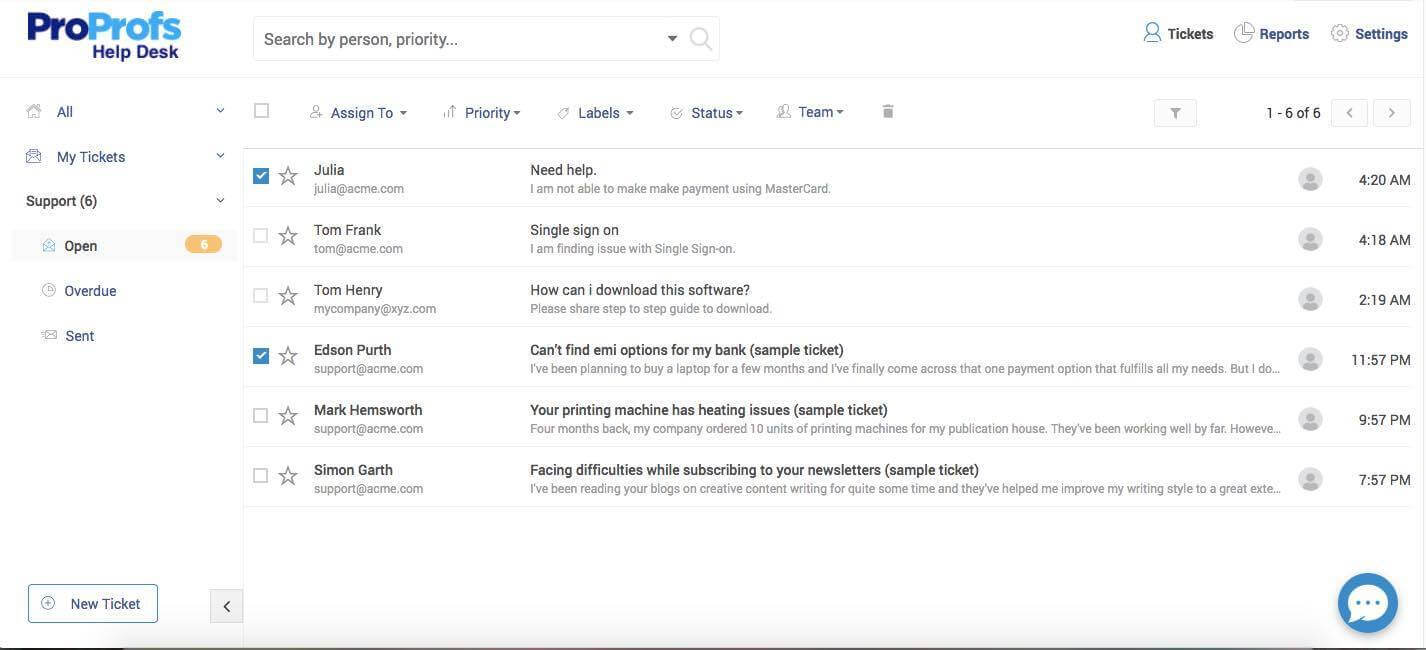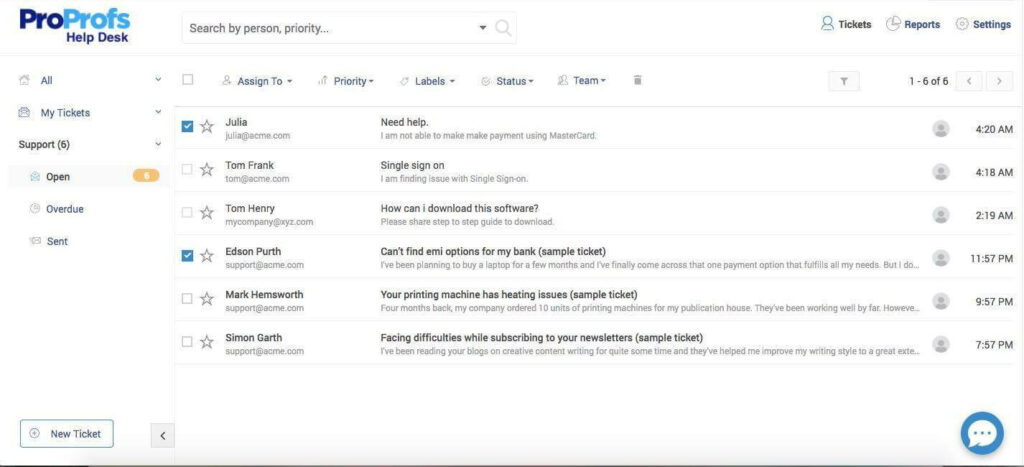 ProProfs Help Desk is a free Zoho Desk alternative that offers a solid platform for managing customer requests via email, live chat, a help center, and other essential platforms. Customized chat widgets and AI-powered chatbots also put you at the customer's disposal when they cannot find what they want. It offers two significant product lines: staff training and PM solutions to improve teamwork
Features
By offering a single inbox for all of your customer-facing inboxes, ProProfs enables you to centralize your communication
With ProProfs chat software, you can brand and customize your chat window for numerous teams
You can avoid delays by automatically assigning tickets to agents
Learn about essential help desk statistics like average initial response time and ticket resolution timeframes
 ProProfs allows you to give quick support via email, chat, and the help center
  Configure ticket priority and warnings depending on your SLAs
You may teach your agents about the ProProfs platform using ProProfs' staff training tools
Why can Proprofs Help Desk be Best Zoho Desk Alternative?
You can improve the customer experience using ProProfs, which is less expensive than Zoho Desk.
You can provide CSAT or NPS surveys to customers to better identify parts of the customer experience that can be improved.
Furthermore, help desk managers can track daily, weekly, and monthly performance using comprehensive reporting and analytics.
---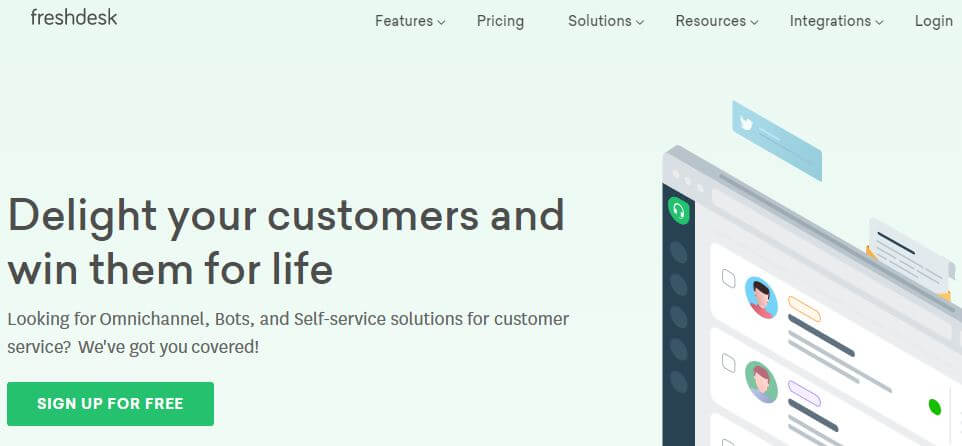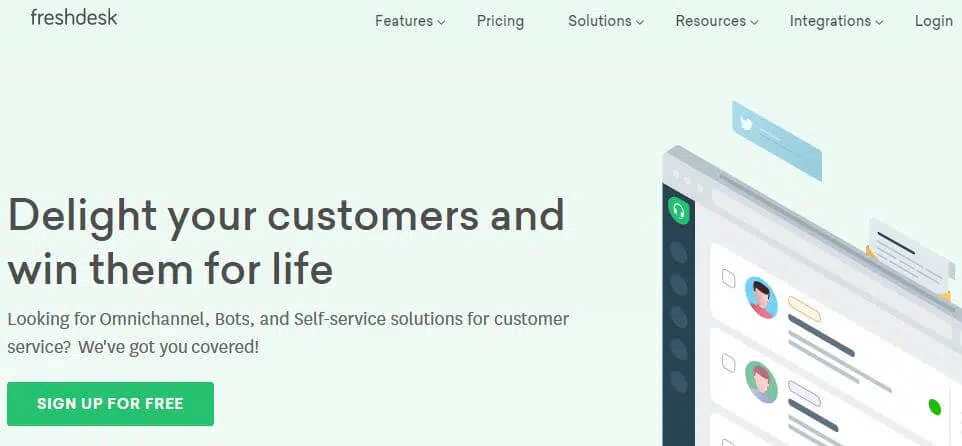 Freshdesk has a robust Team Inbox where employees can organize and handle incoming support requests from various sources such as email, chat, phone, and social media. It has a ticketing system, multi-brand self-service portals, a knowledge base, and other features, making it an excellent addition to our list of Zoho Desk alternatives.
Features
Respond to emails, online queries, phone calls, chat requests, and social media requests from a single location.
Assign the appropriate agent to requests from multiple channels automatically
Freshdesk's gamification feature allows agents to earn points and badges based on their performance
Without exposing agents or clients, test new features and settings in a secure environment
Use artificial intelligence to manage your knowledge base and optimize agent interactions
Create dashboards from your Freshdesk data for unique insights
Why Freshdesk can be Best Zoho Alternative?
Freshdesk offers a variety of automation tools to increase agent productivity and streamline support operations.
You can automatically assign tickets based on your agent's skill set, availability, or workload.
Reports can be customized to better understand how agents and teams perform and measure customer service KPIs.
---



HubSpot, like Zoho, is most known for its marketing software, but with its Service Hub product, they have just invaded the support software industry. Service Hub is a self-service help desk solution that includes a shared mailbox, live chat software, and knowledge base software.
Features
Allow your agents to see customer interactions across many channels from a single inbox
You can filter talks using forms or tickets, as well as check agent availability and assign each engagement to the appropriate agent
You can use Hubspot's VoIP software to accept and track inbound calls from customers, as well as call directly from Hubspot
Conduct customer satisfaction surveys such as CSAT, CES, and NPS
Develop a customized knowledge base to improve self-service
Create a reference, guide, and how-to library for your customer support staff
Bots and pre-programmed replies can help you reduce response times.
Using Hubspot's reporting tools, you can assess the success of your customer service
Why can Hubspot Service Hub be Best Zoho Desk Alternatives?
They have productivity features such as internal notes for cooperation and bringing context to client discussions.
Collision detection reduces unnecessary effort, and analytics provide insight into team efficacy. 
Finally, if you use HubSpot's CRM, the two seamlessly integrate, giving your staff even more insight into whom they are chatting with. 
---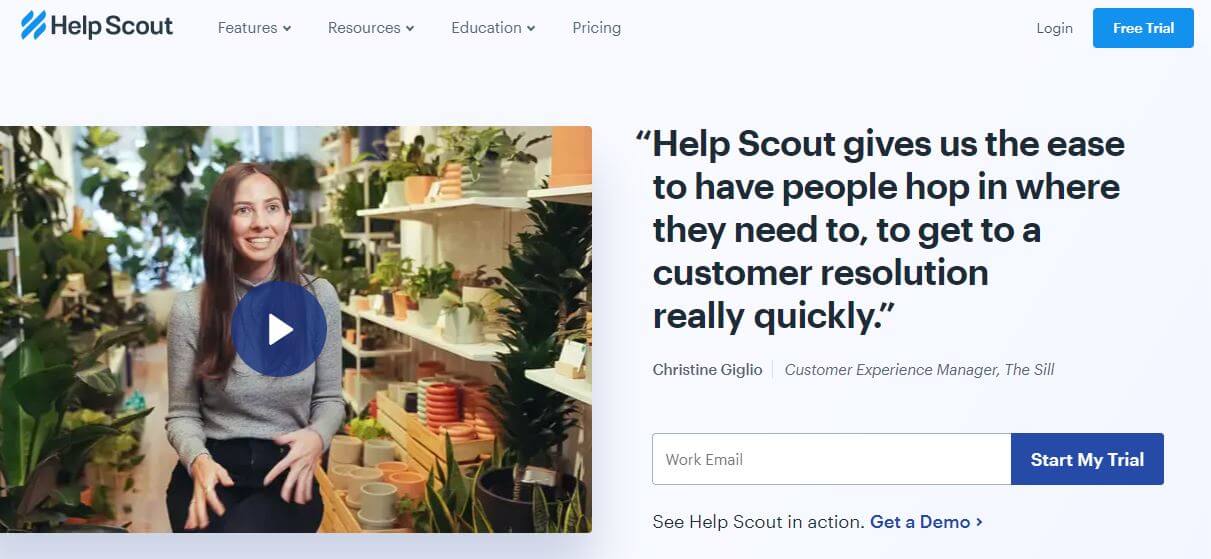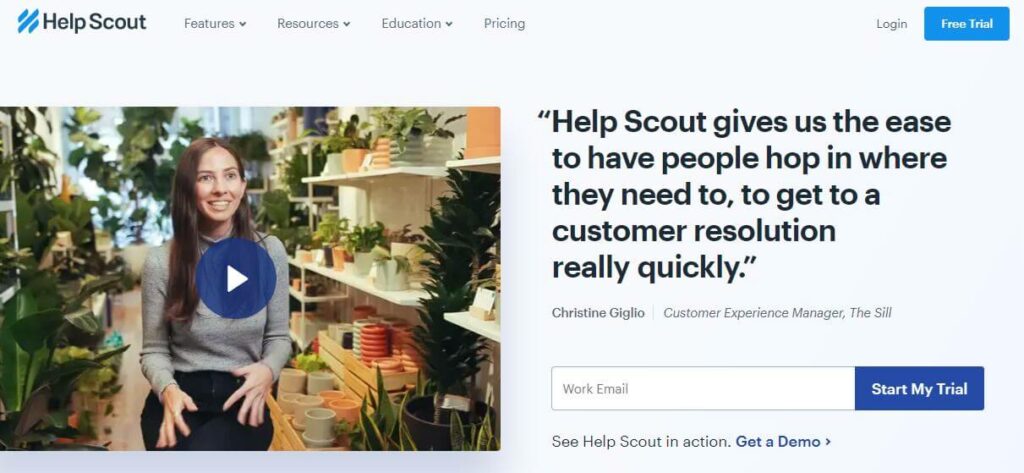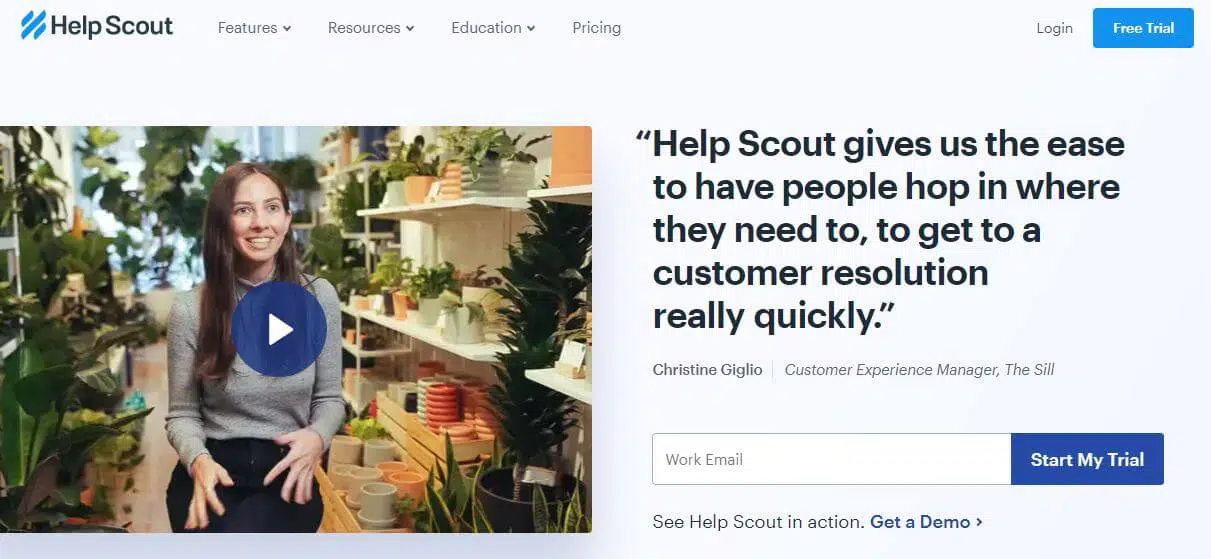 Help Scout is a customer communication solution for expanding teams looking to provide world-class customer care. When you sign up, you will have access to a properly selected collection of communication tools designed exclusively for expanding teams.
Features
Have a centralized view for customer conversations, assign to coworkers with private notes for context, and use cached replies to expedite closing
Workflows: Use if/then logic to automate repetitive tasks such as creating and sending bulk answers and organizing chats by folder
Create a customized knowledge base so that your customers may find answers to their problems without contacting assistance
Allow your agents to provide fast access to the knowledge base or join live chat mode as requested by the customer
Use the Beacon function of Help Scout to send customized notifications to consumers about product changes or new content in-app, in-store, or on the internet
Assess the effectiveness of support channels such as email, chat, knowledge base documentation, and others
Help Scout collects client data with each session, allowing you to build more tailored experiences
Why can HelpScout be Best Zoho Desk Alternative?
Help Scout is one of the most user-friendly programs, with a limited tool set and no distracting add-ons or needless features.
A ticketing system, a knowledge library, a response editor, and a Zoho CRM interface are all included.
---
Wrapping It Up
Despite the various advantages, Zoho Desk's lack of critical features in main plans, lack of flexibility in live chat, and so on, force customers to seek Zoho Desk alternatives.
All of the products in this Zoho Desk comparison post are well-known, functional, and popular among businesses of all sizes.