Are you looking for a great Trello alternative in 2023?
If so, look no further!
In this blog post, we'll be taking a closer look at nine top Trello alternatives for personal use that can help you stay organized and productive.
From project management apps like Asana to task management tools like nTask, each of these solutions offers unique features and benefits that make it an ideal choice for any individual or team.
Whether you're searching for a tool to better manage your digital life or need something to facilitate collaboration between remote teams, one app will surely fit the bill. 
We'll also discuss why each app may be the right choice for certain types of projects and how they stack up against Trello's offerings. So let's get started exploring these top Trello alternatives!
What Is Trello?
Trello is an incredibly versatile project management tool that can be used by individuals, teams and organizations to manage projects of all sizes.
It offers users a visually appealing platform with features such as boards, cards and lists to organize tasks into simple visuals. 
With its user-friendly interface and numerous integrations, Trello allows users to get organized quickly and efficiently.
Its real-time synchronization feature makes it easy for multiple team members to collaborate on the same board in different locations as needed. 
Overall, Trello simplifies collaboration and organization whether you are working on a personal project or running a small business. With its flexibility and ease of use, Trello is definitely worth exploring for any project management need!
How Do Project Management Solutions Work?
Project management solutions are software tools that help you keep track of your projects, tasks, and resources, from the initial tasks all the way to completion.
These solutions can be used by teams of any size, from a single person to an enterprise-level organization. 
One feature common among project management solutions is task tracking. This feature helps you organize each task into its own card or bucket that allows for quick sorting and easy viewing of them all at once.
You can also assign these tasks to team members so everyone knows what they should be working on.
Additionally, most project management systems allow users to set start dates and due dates for each task. This ensures that everyone works together with a timeline in mind so nothing falls through the cracks.
Another helpful component of most project management solutions is resource tracking. This feature allows you to monitor the amount of time spent on certain tasks as well as any needed supplies or materials needed in order to complete them successfully. 
Allocating resources wisely will help maximize efficiency while keeping costs down as much as possible throughout your process.
Finally, many project management systems provide reporting features too so teams can analyze how their work has been going over time and if there have been any bottlenecks or areas where improvement is necessary based on performance metrics like throughput times etcetera.
Overall, project management solutions are invaluable tools for streamlining complex processes and ensuring efficient delivery outcomes – even across multiple projects at once!
Examples Of How Trello Can Be Used For Personal Task Management?
Trello is a great tool for managing your personal tasks. It can be used in a variety of ways to keep track of different goals and projects. Here are some examples of how Trello can be used for personal task management:
Track To-Do Lists: Create lists for each day or week that contains the tasks you need to complete. Assign due dates, add notes and attachments, and organize priority items on top of the list. Use color coding or labels to further categorize tasks, so they're easier to identify at a glance.
Break Projects Into Steps: Create boards dedicated to larger projects with cards representing individual steps necessary for completion. You can assign deadlines, attach documents or images, label the card by category (e.g., research), and delegate tasks if needed via checklists within cards.
Plan Events & Holidays: Set up boards specifically dedicated to planning parties or events (like birthdays). You can create detailed shopping lists such as ingredients needed, decorations required, and RSVPs from guests with cards that include due dates within categories like "Food" and "Decorations". This will help ensure nothing is forgotten before the planned event date arrives!
Manage Home Tasks/Chores: Keep everyone organized by creating boards outlining household chores that need completing each week/monthly with specific instructions attached directly on each card detailing who should do what task when it needs doing (e.g., mowing the lawn every Monday). Trello's mobile app makes it easy and convenient on-the-go too!
Benefits Of Using A Project Management Software For Your Personal Use
One of the most important tools needed to be successful in today's world is project management software.
It can be incredibly beneficial to use project management software even for personal purposes, as it helps you keep track of deadlines, budget your finances, and work more efficiently.
Here are some of the benefits of using project management software for your personal use:
Time Management: Project management software allows you to create tasks and assign deadlines so that nothing gets forgotten or overlooked. You can easily organize tasks into lists or timelines and set reminders for upcoming due dates. This will help ensure that all of your necessary tasks get completed on time and perfectly within schedule.
Budget Tracking: Many project management software offers the ability to set budgets and track spending so that you don't go over budget when completing projects or planning events around your home life.. You can also assign estimated costs to each task and quickly view how much money is being spent overall on a specific task or on an entire project at once.
Improved Productivity: By using a project manager, you can increase productivity since everything appears in one single location instead of scattered across multiple locations like emails or documents folders, etc. Also viewing what needs to be done on either a day-to-day basis or a week-to-week basis makes it easier rather than relying just on memory which would end up wasting time trying to recall what exactly has been undertaken already!
Enhanced Collaboration: Project Management Software provides an online space where everyone who is part of the team could come together with ease from wherever they are situated either at work or business meetings away from home…also keeping communication open between team members through discussion boards which enable constructive dialogues about the timeline & scope for various projects running simultaneously!
Moving Further Ahead Planning Wisely: With quality, the data field lets users forecast future plans accordingly taking into account potential scenarios ahead allowing them enough reaction/preparation time thereby benefitting massively when working in an agile work environment where changes occur often & need quick resolutions, by having this data readily available would make many heads turn while thinking up new strategies & ideas.
9 Trello Alternative For Personal Use In 2023
These are 9 different Trello alternative options that can help you get things organized and on track in 2023: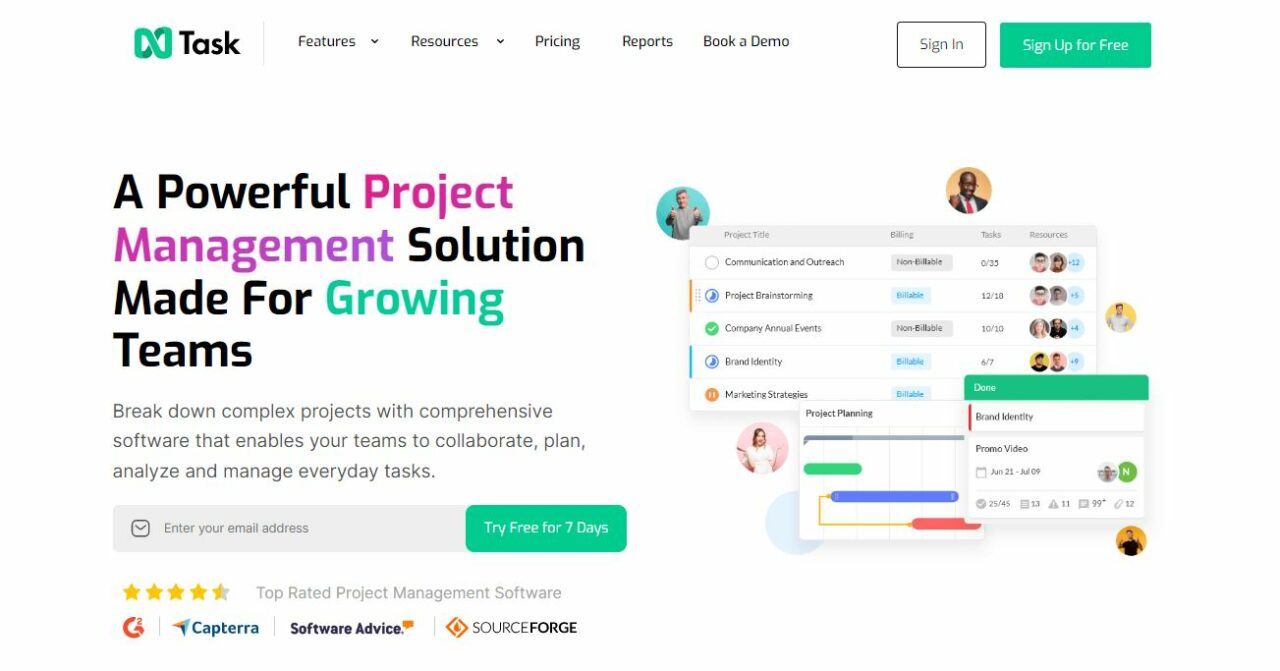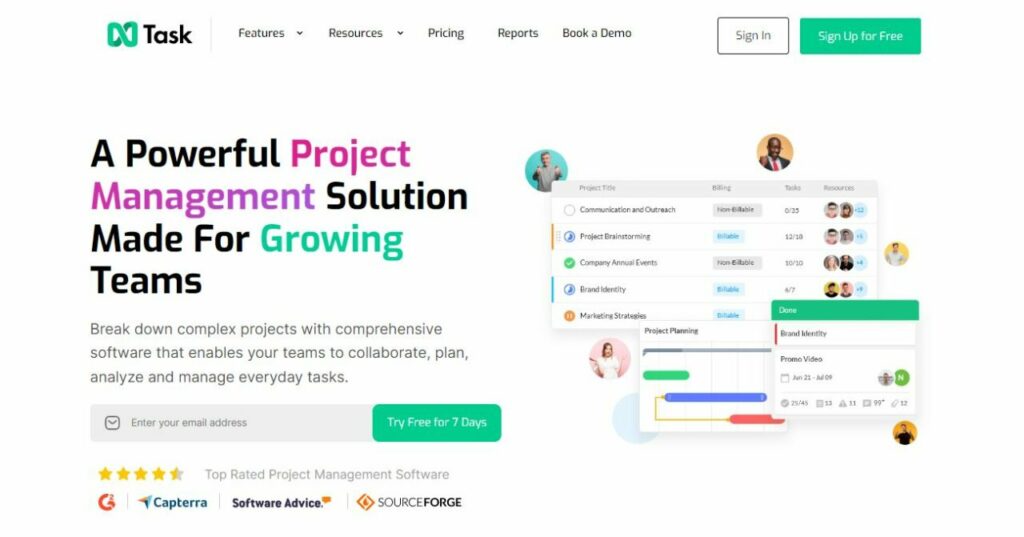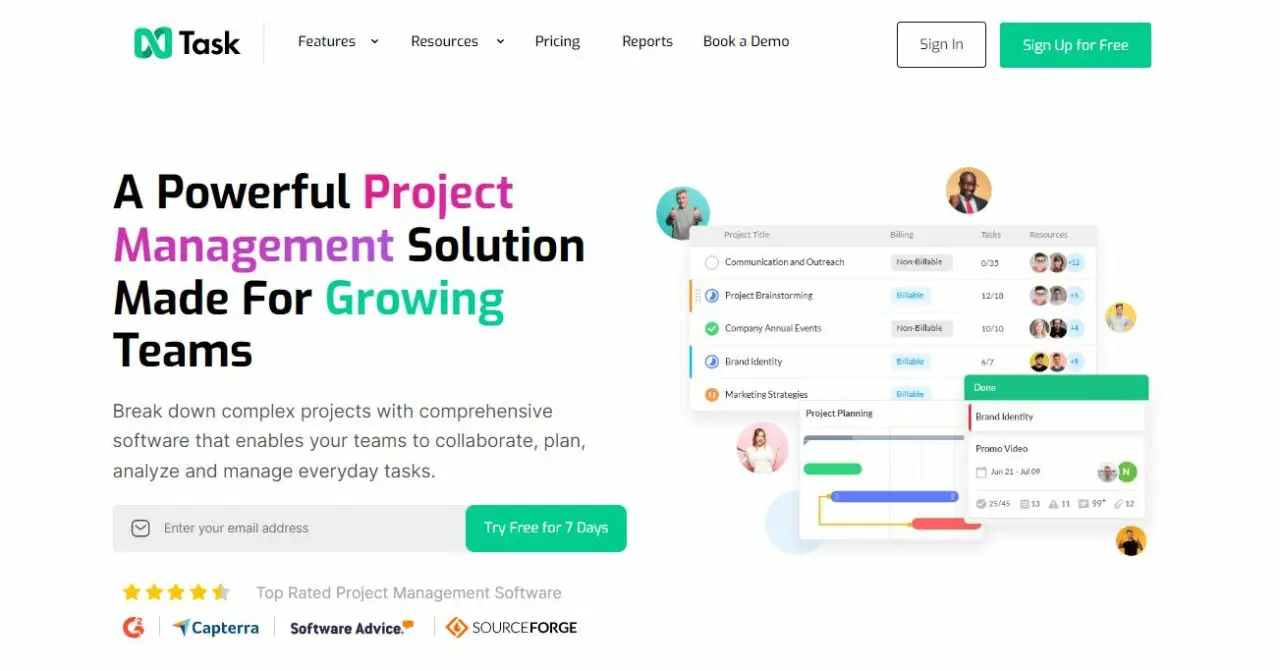 Having a task management system can make your life much easier. nTask provides you with the tools and features to help manage your tasks and projects easily.
Whether you're an individual working on a personal project, or a team managing their work, nTask has useful features for both of these scenarios.
For individuals, nTask offers plenty of features that will help simplify the way you manage your day-to-day tasks.
With its intuitive user interface and easy navigation menus, it's easy to find what you need when it comes to tracking progress on jobs and assignments.
You can also customize your dashboard with reports and charts that visualize how much work is left to be done in any given project or task list.
Additionally, there are customizable reminders that will alert you when something needs attention so nothing falls through the cracks!
nTask also provides team planning capabilities so collaborating with others is effortless no matter where they are located.
Its online workspace allows teams to collaborate quickly by sharing documents, files & discussions while providing visibility into who's working on what – from anywhere at anytime with its mobile app integration options like iOS & Android devices.
And if there ever needs to be revisions made during any process all changes will automatically reflect across all members immediately thus keeping everyone up-to-date at all times!
No matter who you choose to use it for – whether for personal use or as an organization – nTask is the ultimate solution for getting organized & staying efficient longterm!
So don't wait any longer – give nTask a try today and experience first hand why millions have already chosen this popular application!
Features
Create and assign tasks to yourself or a team member.
Track task progress, comment on tasks, attach files, set due dates and receive real-time notifications.
Use boards for maximum visibility of project progress and for easy drag & drop task management.
Keep all communication related to a task in one place – with threaded comments feature.
Automate workflow with powerful rules engine, Zapier integration and an API for custom automation setup.
Create recurring tasks to ensure recurring work doesn't get forgotten about regularly.
Get detailed reports and analytics to better understand team performance over time.
Pros of nTask:
Easy to use platform for both individuals and teams
Offers a variety of tools such as task tracking and project management
Automates routine tasks, such as time tracking and invoicing
Includes features like real-time collaboration, calendar sync, data security and more
Cost-effective solution with plans starting at just $10 per month
Cons of nTask:
Does not offer a free plan
Rating:
2. Asana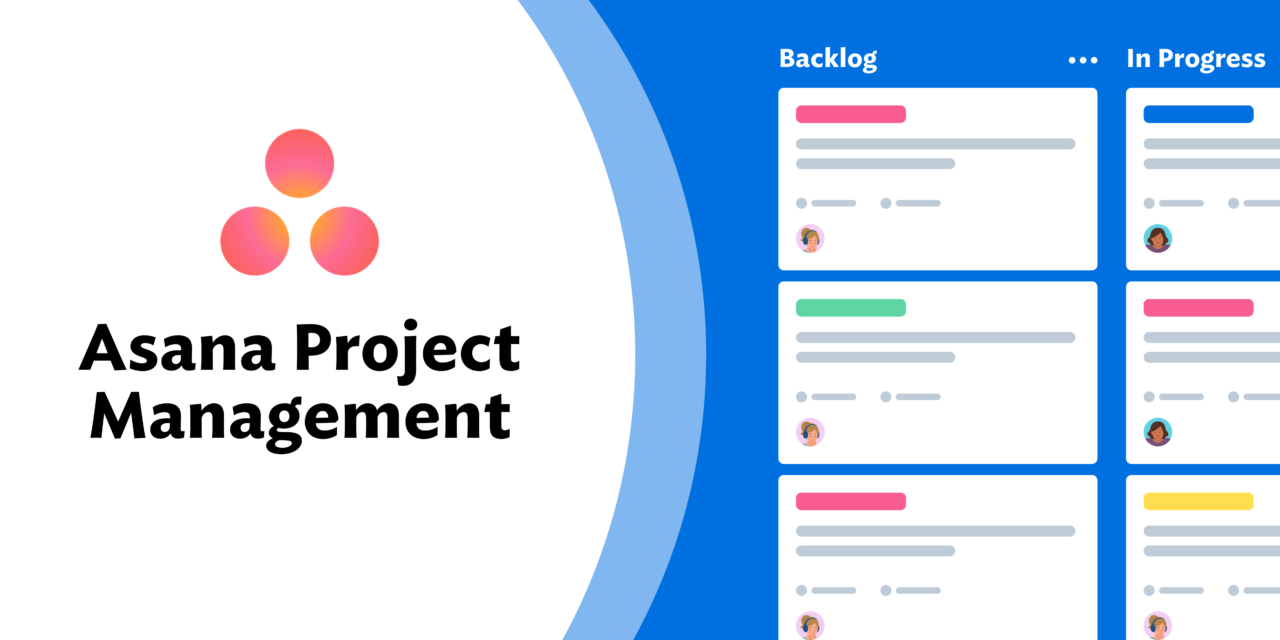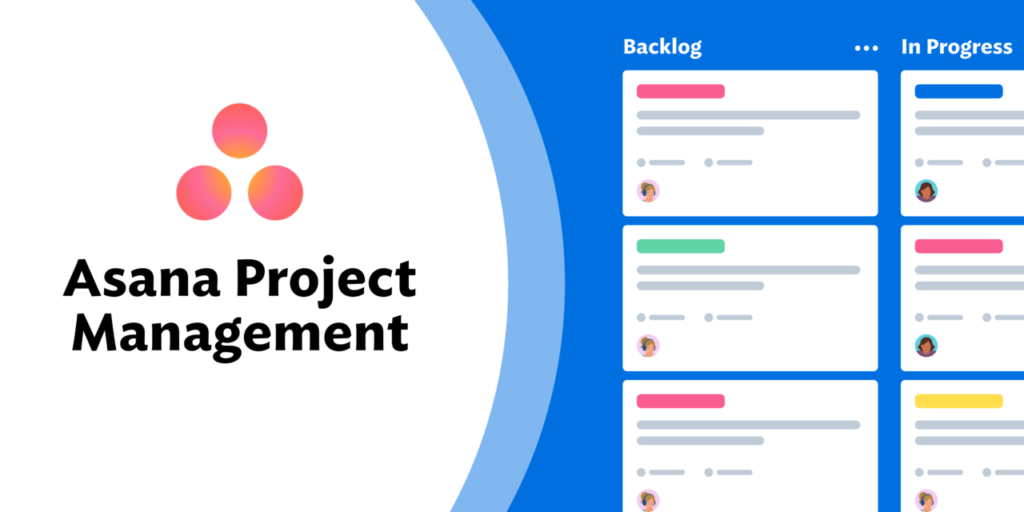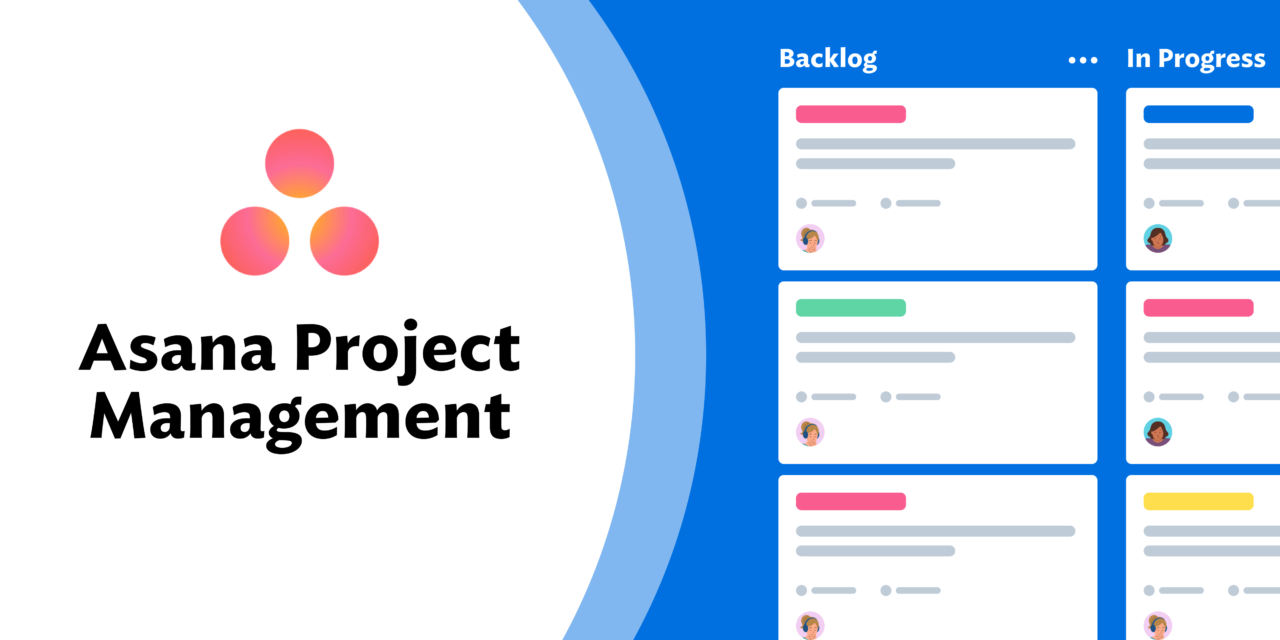 Asana is a great tool for organizing both your personal and professional life. The app helps you create tasks, set deadlines, assign tasks to others, and keep track of progress on different projects. 
You can add subtasks to each task, attach files or documents related to the task, track time spent working on tasks, and comment with team members within the platform.
Using Asana for personal use can help you stay organized and manage your tasks better.
You can create multiple workspaces in Asana depending on how you want to organize your information.
For example, if you wanted to use Asana as a digital planner or calendar for yourself then you could set up a workspace dedicated just for that purpose with separate boards or sections tracking things like reminders and appointments.
You could also have another workspace dedicated specifically for tracking any projects or activities that you're currently involved in outside of your usual job obligations so that everything stays organized in its own place instead of being mixed together in one area where it may be harder to find what's important when needed.
Features:
Easy to Use Interface: Asana features an intuitive and user-friendly interface designed to make managing tasks simple.
Team Collaboration: Asana offers collaboration tools for teams to work together efficiently and effectively.
Multiple Projects & Tasks: Organize multiple projects, assign tasks, and easily track progress with Asana's project management capabilities.
Automation & Reminders: Automate processes with triggers and reminders, so nothing falls through the cracks.
Reporting & Analytics: Get reports in just a few clicks – no complex spreadsheets or manual data entry required!
Customizable Workspaces: Personalize your workspace by adding custom fields, colors, tags and task statuses.
Task Tracking & Priority Settings: Easily prioritize tasks based on priority level or due date so you can focus on what's most important first.
Pros of Asana:
Easily allows collaboration between team members
Includes a wide range of features and integrations to customize the user experience
Easy to use and intuitive design makes it simple for new users to get up and running quickly
Streamlined communication encourages team members to stay in touch
Cons of Asana:
Lack of customization options when creating tasks, which can make it difficult for advanced users who prefer more control over their workflow
Can be time-consuming to set up tasks with multiple instructions or complex sub-tasks
Does not offer free file storage, although this is available at an additional cost.
Rating:
3. KanbanFlow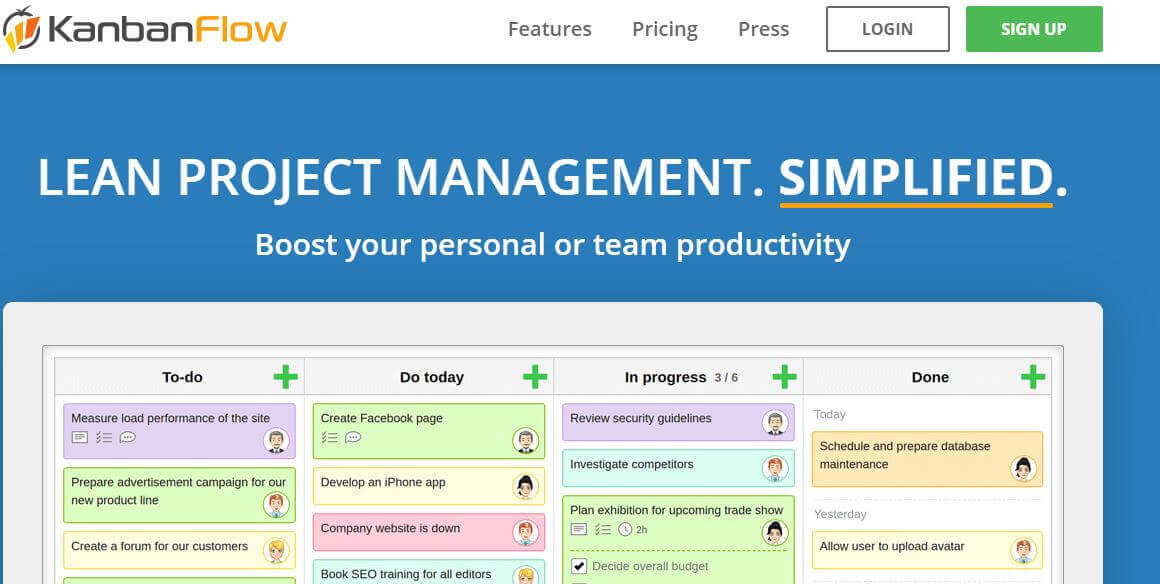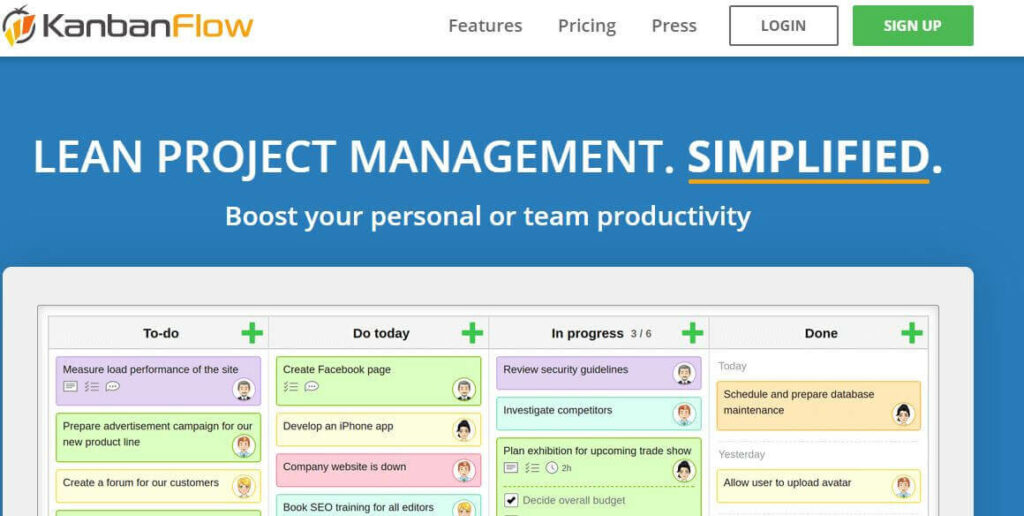 KanbanFlow is a flexible task and project management system that allows users to prioritize and manage their workloads with ease.
The system works on the premise of 'Kanban cards' which allow users to break down their tasks into smaller chunks, visualizing them in an intuitive way.
They also enable users to set deadlines, add comments and attachments, assign tasks, track progress easily, and move them between columns quickly and easily.
KanbanFlow is great for personal use as it is free, simple to use, and mobile friendly so it can be accessed from anywhere at any time.
It also features advanced features such as:
Pomodoro Timers which allow users to measure how long they spend on their task
Subtasks where each card can have multiple items listed
Collaboration where team members can work together on projects
Time Tracking & Reporting options allowing them to more accurately track how much time they are devoting towards specific tasks each day/week/month etc
Tags & Filters enabling filtering by tags or even building custom views with new filters
Labels & Color Customization so that important cards stand out from other mundane ones etc.
Features:
KanbanFlow is an online work management platform designed to help teams achieve their goals through visual project management.
It enables users to create task boards, set up tasks, assign them to the right people and track progress in real-time.
It also allows users to use powerful labels and filters, add notes and attachments for tasks, as well as monitor team performance with built-in reports.
Additionally, KanbanFlow offers collaborative features such as chat channels that allow discussion of specific tasks or topics within the board.
The platform has a Pomodoro timer which helps users stay focused on their tasks and quickly break down large projects into small manageable chunks.
Finally, it integrates with other popular tools such as Slack, Google Calendar, Zapier and Trello for further collaboration capabilities among teams.
Pros of KanbanFlow:
Easy to use, user-friendly interface
Offers an intuitive view of project progress
Automated alerts keep users informed and organized
Tracks upcoming tasks and deadlines
Can be used across multiple platforms and devices
Allows collaboration between teams in different locations
Integrates with third-party apps such as Slack, Dropbox, and Gmail
Cons of KanbanFlow:
Free plan offers more limited features than paid plans
Not suitable for very large projects with lots of tasks
May require some learning to take full advantage of the features
Rating:
4. Airtable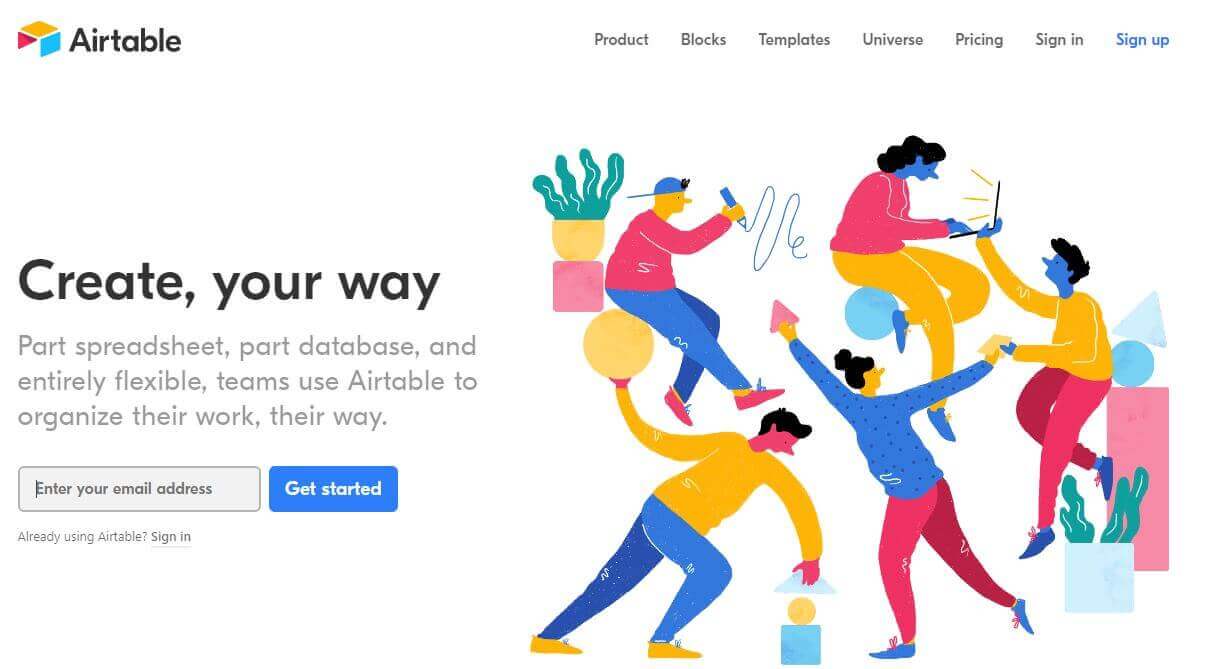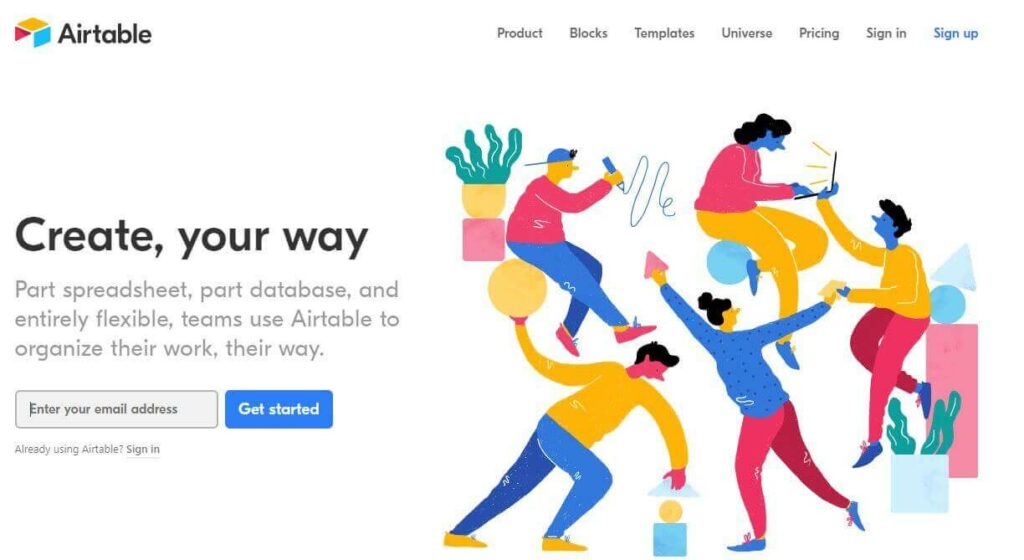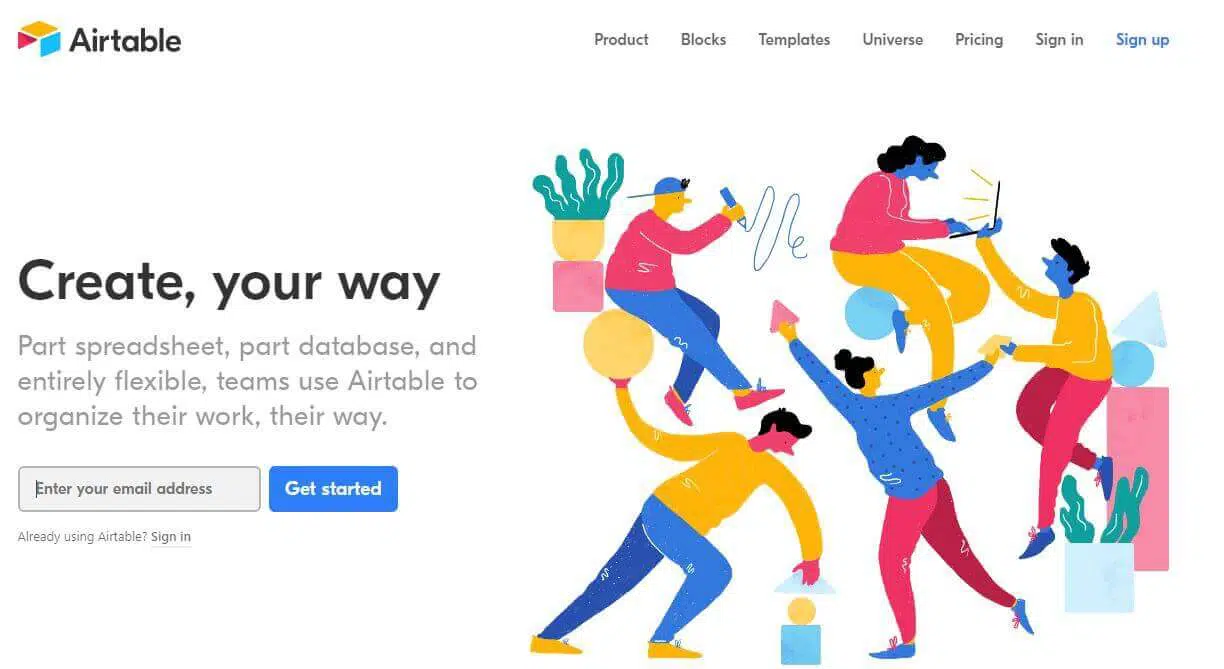 Airtable is a powerful cloud-based tool for organizing and managing your personal projects. It's flexible, user-friendly, and intuitive—perfect for people who don't have a lot of experience with databases or complicated software. 
You can use Airtable to manage anything from workflows and tasks to finances and budgets.
Airtable provides an easy-to-use interface that allows users to customize their own fields, forms, views, reports, and more.
With the ability to add images and attach documents, spreadsheets can be so much more than just numbers on paper! And since it's cloud-based access all of your information whenever you need it – no matter where you are located in the world.
The best part about Airtable is that its customization capabilities ensure everyone can make it fit their specific needs without having to know any coding or programming languages.
Whether you're tracking freelance projects or planning events with friends – Airtable has created an unbounded space for creativity in productive potential!
For added convenience, all your records are automatically backed up as soon as you save them ensuring there's never any fear of losing data due to human error or computer malfunctions. 
On top of that Airtable also supports collaboration by allowing multiple people to access the same project at once – ideal for working together on important deadlines and tasks which require cooperation between individuals. 
Last but not least Airtable also offers useful integration options with popular apps like Slack, Google Calendar & Gmail which makes transitioning projects even easier!
Features:
Easy to use and intuitive drag and drop interface for the organization of projects or data
Automated workflows that generate efficient processes for tasks
Ability to collaborate with multiple stakeholders and keep updated with new changes
Comprehensive search capabilities to quickly find needed information
Variety of templates, add-ons, and integrations available to customize Airtable according to the needs of your project
Pros of Airtable:
Highly customizable – users can create and customize their own tables, fields and views to build their desired database.
User friendly UI – Airtable has an intuitive interface that requires minimal setup to get started.
Integration with third-party apps – data from Airtable can be easily integrated with other services such as Google Sheets and Slack.
Automation capability – users can set up automation rules in order to automate tasks like data input or notifications.
Security – Airtable uses bank-level encryption for added security when accessing databases remotely or managing data in the cloud.
Cons of Airtable:
Limited support for large datasets – while there is no limit on the number of records that can be stored in a table, performance may suffer when dealing with too many records or complex processes within a single table.
Relatively pricey pricing plans depending on usage requirements – plans start at $12/month for 5 GB and increase quickly from there as more features are added.
No native reporting capabilities – reports must be generated manually through exports to another program such as Microsoft Excel or Google Sheets for further analysis and visualization.
Rating:
5. Wrike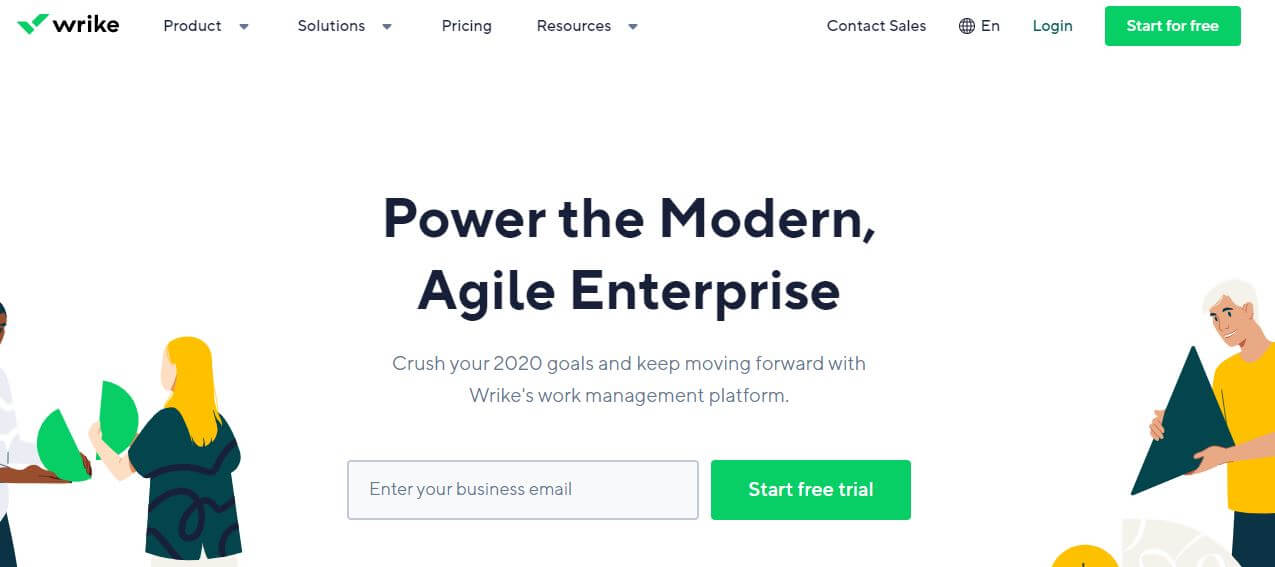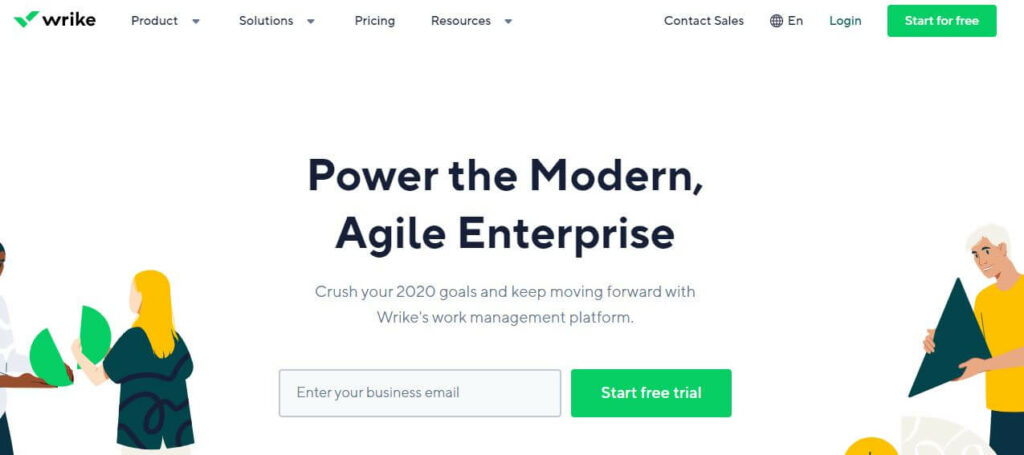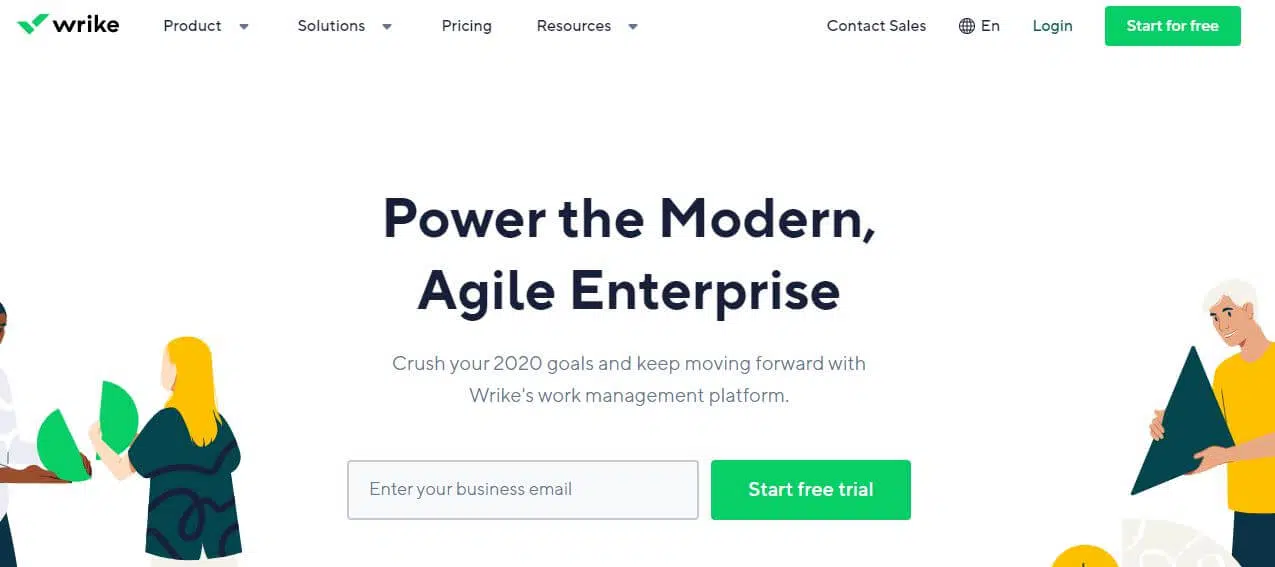 Wrike is a project management and collaboration software designed to streamline your personal productivity. Wrike provides users with the ability to easily plan, organize, and track work across teams and individuals. 
It can be used for both complex projects and everyday tasks, so you can stay on top of whatever needs to get done.
With Wrike, you can manage projects from start to finish in one place.
You'll be able to create task lists within a given project timeline, set deadlines for tasks, assign ownership of each task, share documents or links related to each task, add comments throughout the process for further clarity about tasks that need completing or for any other notes related to the project's progress.
Plus there's an easy way to check on progress at any point during the project: Gantt charts give a visual representation of any current or past tasks' statuses as they proceed through their lifecycles.
Wrike also enables users to keep track of their daily routine as well – creating reminders such as one-time events or recurring events (such as taking medicine) will ensure that no important task goes forgotten during busy times.
You can even set up integrations with Google Calendar and Microsoft Outlook so all your calendars are synced together into one convenient location where it's easy see what's on your agenda in real time!
Notifications alerting you when a new comment has been made regarding a certain task help make sure nobody misses an update either!
With these notifications up-to-date communication is ensured no matter how quickly things change while working on projects with others; ensuring everyone remains informed throughout every step of completion process!
Features:
Real-time task updates: Wrike allows users to collaborate effectively with colleagues, track progress in real-time, and ensure tasks remain on schedule.
Automated reminders: With automated reminders and notifications, you can be sure that deadlines will be met and important tasks won't slip through the cracks.
Dashboards and reports: View an up-to-date snapshot of your project from customizable dashboards, or generate comprehensive reports for use in planning future workflows.
Time tracking: Keep track of how much time is spent on each task for improved cost estimates and more accurate billing.
Document sharing and storage: Easily store documents within a project so all team members have access to the most up-to-date version at any time.
Pros of Wrike:
Easy to use and intuitive interface
Extremely scalable, allowing users to customize their own workflow
Highly collaborative; allows team members to easily communicate on projects in real-time
Includes a library of customizable templates for common tasks
Comprehensive suite of project management features including task tracking, Gantt charts, time tracking and more.
Robust reporting capabilities that allow teams to easily track progress and make adjustments as needed.
Integrates with many other popular productivity tools such as Salesforce and Dropbox.
Cons of Wrike:
Pricing can be expensive for larger teams or advanced features
No native mobile app available for iOS or Android devices
Limited customization options for creating custom fields and views in the platform
Many third party integrations are only available in paid versions
Some customer service issues reported regarding responsiveness
Ratings:
6. Basecamp



Basecamp is a great resource for anyone looking to get organized and stay productive. It's an all-in-one project management platform designed to help teams and individuals stay on track with their work. 
Whether you're working on projects at home or within an organization, Basecamp can boost your workflow and efficiency.
With Basecamp, you can set up tasks, schedules, to-do lists, messages between team members, and more. You can also store files within the app such as documents, photos and videos that are easily accessible by everyone in your group or individual workspace.
On top of that, Basecamp integrates with over 300 other business apps so you can easily move information from one app to another quickly and hassle-free. 
Using Basecamp for personal use could be quite beneficial if have multiple tasks that need to be completed each day – it gives you an easy way to keep track of them all in one place! 
Arranging projects into what they call 'campsites', makes viewing upcoming tasks easy as well as keeping notes on progress made throughout each project separately. 
Plus when working with a team or even just friends; using this application allows quick communication via messages without having to switch back & forth between email accounts which may not always be convenient when trying to take care of important items right away!
Features
Secure: All Basecamp accounts are password-protected and feature bank-level encryption.
Real-Time Chat: Communicate quickly with Teammates using real-time chat messaging.
To-Do Lists: Easily create and assign tasks to team members for collaboration.
Project Scheduling: Set project timelines, milestones, or deadlines for accountability.
Group Chatrooms: Create private spaces for teams to communicate in the larger organization.
Calendar & Notifications: Keep track of important dates, events, and timeline updates on a shared calendar.
File Storage & Sharing: Store documents securely in the cloud while sharing them easily with colleagues as needed.
Progress Tracking & Analytics: View progress reports in real time to track each team member's performance and progress towards deadlines or goals set ahead of time by administrators.
Pros:
User-friendly platform with intuitive navigation, allowing users to quickly become acquainted with the site's features.
Offers a wide range of collaboration tools, including task management and file sharing capabilities.
Provides easy communication between team members, with a centralized messaging system as well as individual chat rooms.
Mobile app for monitoring project progress in real time from any device.
Highly customizable notifications settings, allowing users to stay informed about important updates or changes in their projects.
Cons:
Doesn't offer full calendar integration so that events can be tracked easily across different platforms.
Limited customization options when it comes to branding the project page according to company standards or preferences.
The basic plan does not provide access to certain advanced features which might make collaboration more efficient (e.g., time tracking).
Ratings:
7. Workzone



WorkZone app makes it easy to keep track of appointments, deadlines, project updates, and more – no matter where you are. 
With the integrated communication tools available in the app, users can collaborate with teammates or respond to emails quickly. Additionally, they can create daily schedules straight from their device and manage each task with built-in checklists.
The intuitive design of WorkZone helps its users build better habits such as spending less time on low priority tasks or staying on top of urgent ones by setting reminders throughout the day.
Through artificial intelligence functions like auto-scheduling according to priority levels or providing trend analysis based on user performance, this tool ensures that all goals get accomplished efficiently.
WorkZone makes organizing easier for individuals and teams; it provides an overview about progress metrics over time so that management functions don't take too much effort. 
For example, managers can use convenient reporting tools to get an understanding of how well each team member is performing against set targets quickly – making sure everyone stays productive even when working remotely.
Features:
Easy to use interface: The Workzone app has a simple and intuitive user interface, making it easy for employees to quickly find the information they need.
Task Management: The Workzone app allows employees to manage their tasks efficiently by creating assignable checklists and tracking progress in real-time.
Team Collaboration Tools: The Workzone app includes features such as group chat, file sharing, and online whiteboarding tools which make it easier for teams to communicate and create projects on the go.
Automated Reports & Alerts: Employees can set automated reports or alerts through the app that will keep them informed about project statuses or changes in their task lists.
Time Tracking & Billing Features: The Workzone app also tracks employee time spent on tasks and generates accurate invoices with line items for each project component.
Pros:
Easy to setup and use
Comprehensive project management tools
Offers excellent communication options
Plenty of customizable workflows, reports, and templates available
Comprehensive resource managing capabilities
Cons:
Advanced features may require an additional fee to access
Occasional syncing issues between mobile and desktop versions
Searching through aging projects can be time consuming
Can be difficult to manage large-scale projects with many users
User interface may appear clunky or outdated compared to more modern competitors
Ratings:
8. JIRA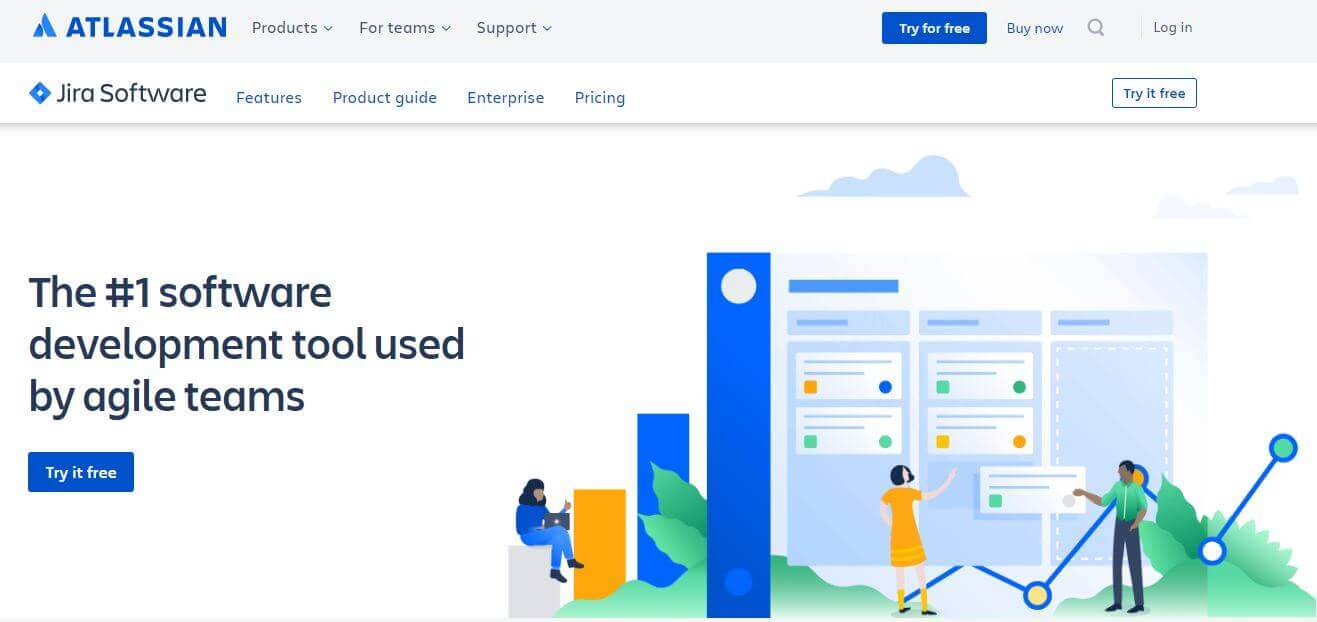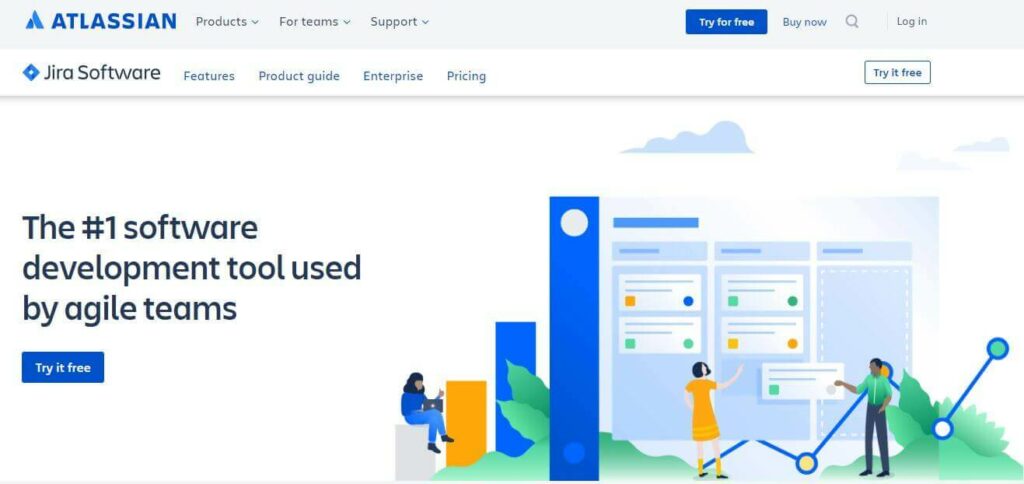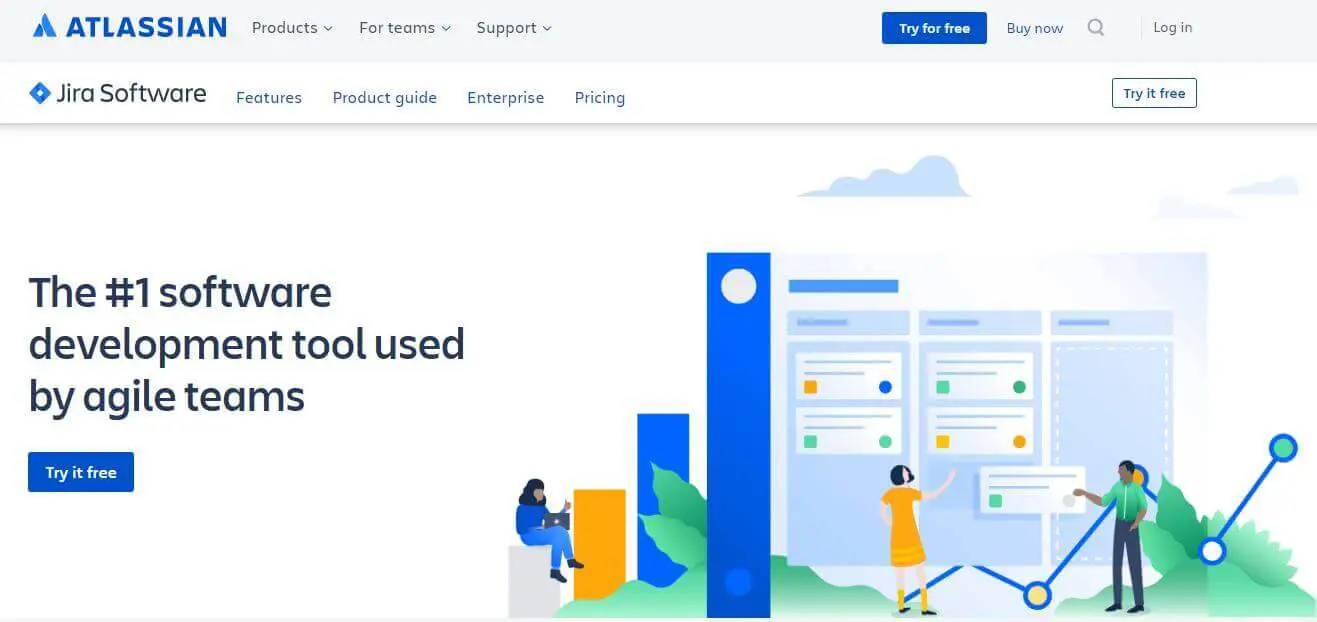 JIRA is widely-renowned project management software developed by Atlassian. It's used for bug tracking, issue tracking, and other types of project and task management—especially in software development teams. 
While it's primarily meant to be used by larger organizations with multiple members collaborating on projects at once, JIRA can also be useful for individuals who are managing their own personal tasks and projects.
For individual use, you don't need a large team or any complex setup. Any personal user can easily sign up for a free account and start using the features to track their own tasks.
You'll find tools like customizable dashboards that let you see your progress at a glance—perfect if you're trying to stay organized while working on a big project like creating an app or learning data science.
Features:
Supports Agile project management: JIRA offers a suite of agile project management tools to help teams manage their workflow and visualize progress.
Powerful Dashboards & Reports: Users can create interactive dashboards with real-time data from multiple projects, helping them make informed decisions quickly.
Automation Capabilities: JIRA supports automation for a wide range of tasks, including automated notifications, approvals and more.
Integrations & Plugins: Various integrations and plugins are available for JIRA for various development environments including GitHub and Bitbucket.
Issues Tracking & Bug Fixing: JIRA provides comprehensive issue tracking capabilities that allow teams to track bugs, feature requests and other tasks in an organized way.
Customizable Workflows & Schemes: With its flexible workflows, users can design custom media-rich forms while schemes determine how different types of issues will be handled.
Security Controls & Access Controls :JIRA provides security controls such as role-based access control to prevent unauthorized data access and ensure information integrity.
Pros:
Easy to setup and use
Comprehensive project management tools
Offers excellent communication options
Plenty of customizable workflows, reports, and templates available
Comprehensive resource managing capabilities
Cons:
Advanced features may require an additional fee to access
Occasional syncing issues between mobile and desktop versions
Searching through aging projects can be time consuming
Can be difficult to manage large-scale projects with many users
User interface may appear clunky or outdated compared to more modern competitors
9. Sortd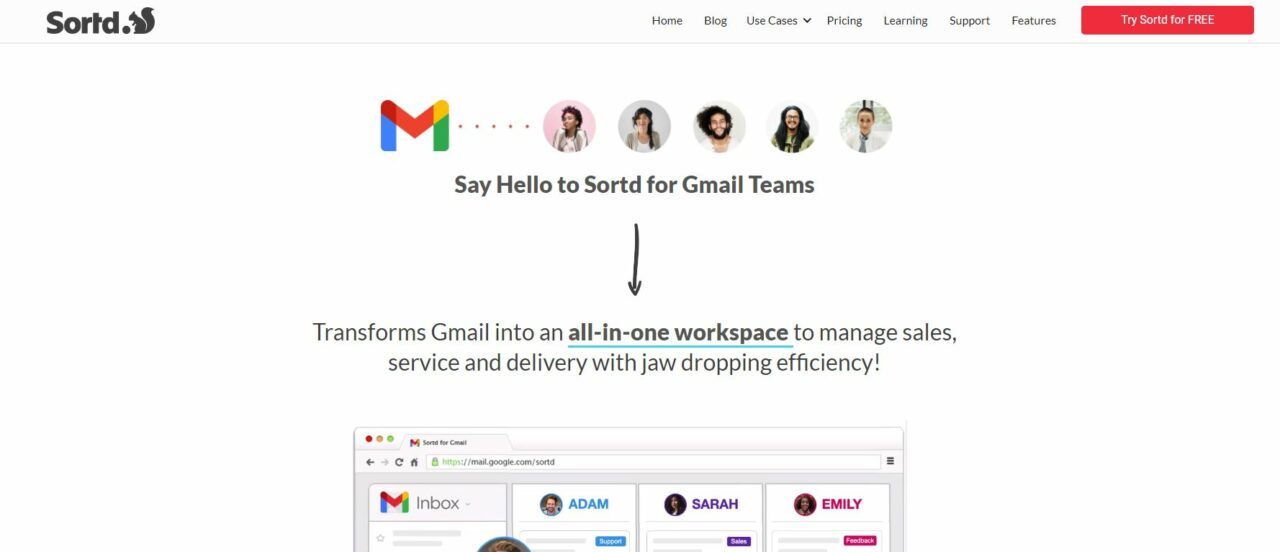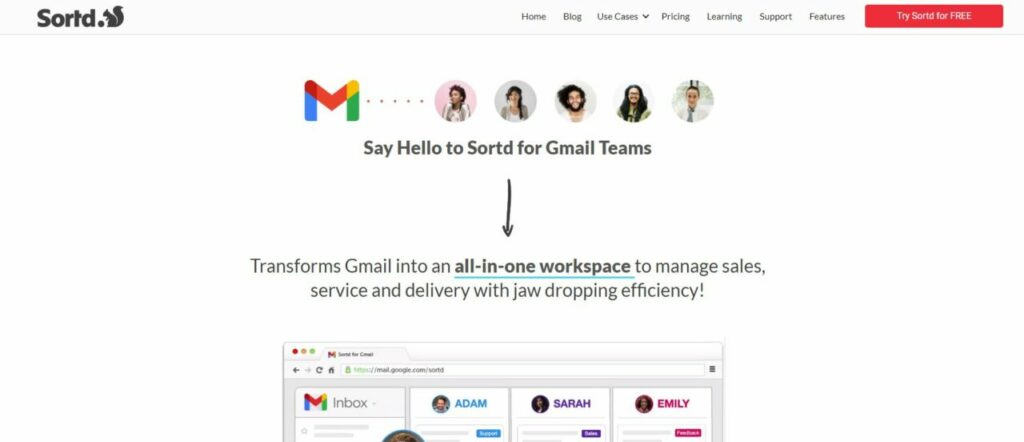 Sortd, the revolutionary new personal productivity tool! With Sortd you can organize your emails, tasks, lists and more all in one place. We believe that Sortd will revolutionize how people use email to get more done. 
Here on our blog, we discuss the many different ways that Sortd can help you stay organized and productive. 
With Sortd you can easily group related emails together and manage them as tasks or projects. You can also create lists of specific items related to a task or project.
This makes it easier to quickly find what is most important while sorting through emails and other items in your inbox.
You can also stay on top of deadlines with reminders and notifications that remind you when something has been due or when an action item has been completed or delayed.
Keeping track of everything in one place ensures you never miss an update or deadline again!
In addition to organizing your emails, tasks, and lists, Sortd also helps you manage time more effectively by allowing you to set aside blocks for specific activities throughout the day so that nothing gets overlooked amidst all the chaos of your daily life—an invaluable tool for anyone who works from home!
Features:
With Sortd you can easily group related emails together and manage them as tasks or projects.
You can also create lists of specific items related to a task or project. This makes it easier to quickly find what is most important while sorting through emails and other items in your inbox.
You can also stay on top of deadlines with reminders and notifications that remind you when something has been due or when an action item has been completed or delayed.
Keeping track of everything in one place ensures you never miss an update or deadline again!
In addition to organizing your emails, tasks, and lists, Sortd also helps you manage time more effectively by allowing you to set aside blocks for specific activities throughout the day so that nothing gets overlooked amidst all the chaos of your daily life—an invaluable tool for anyone who works from home!
Pros of Sortd:
Provides a better way to organize emails
Easily prioritize tasks
Increases productivity by allowing users to focus on the most important task first
An easy user interface allows for the quick learning curve
Powerful reports and data analysis features enhance user experience
Cons of Sortd:
Requires extensive setup time to configure tasks and views
Has a limited feature set compared to other competing products in the market
Integrations with other services are limited
Dashboard display can be confusing for new users
Does not have native support for mobile devices
Ratings:
What Is The Best Alternative to Trello For Your Personal Use?
 nTask is the best alternative to Trello for personal use. nTask is a free visual task-tracking software that makes managing tasks intuitive and easy. 
With its advanced features and simple design, it's the ideal tool for freelancers, remote teams, entrepreneurs, students and small businesses.
nTask offers an array of user-friendly tools to help keep track of projects in one central place. It has customizable boards that can be used to create plans and assign responsibilities quickly.
These boards are highly flexible too; they can be sorted by priority or timeline depending on individual needs. The platform also allows users to collaborate with colleagues or teammates through single or multiple tasks from any device with internet access — making remote collaboration much easier!
Additionally, nTask includes unique features like time tracking capabilities which enable users to monitor their task progress easily as well as keep better tabs on team members' productivity levels.
This feature helps identify where people need more support so managers can provide feedback in a timely manner.
Here at nTask we understand that clear communication is key when it comes to successful collaboration; therefore our powerful chat system ensures your team stays connected even if they're far apart!
With its sleek interface and wide range of tools available at no cost, it's easy to see why many are choosing this software over Trello for their personal use! Get started today with nTask — We guarantee you won't regret it!
Conclusion
The Trello alternatives discussed in this blog can provide individuals with the perfect solution to their project management needs. Each of the options provides something unique and can be utilized to create an efficient system for tracking tasks and goals.
From focusing solely on personal use to providing extra features, these alternatives have a variety of potential applications.
Whether you need an intuitive and easy-to-use platform or more complex features, one of these apps will help you get your projects organized and completed successfully.
With so many choices available in 2023, there is sure to be a solution that fits your particular needs – it just takes some research and testing before committing to one solution over another.
FAQs
What is the work breakdown structure in project management?
The work breakdown structure (WBS) is an essential part of managing any project. A hierarchical diagram represents the tasks and subtasks involved in completing the project. The WBS allows for more accurate estimates of time and resources needed to complete each task and provides a clear understanding of how all the pieces fit together to form the whole project. The WBS also enables team members to stay organized, by providing an easy way to visualize progress, identify potential issues, and make necessary adjustments in order to keep the project on track.
What are the features to look for when choosing project management software for personal use?
When choosing project management software for personal use, there are numerous features to consider.  It is important to evaluate the project's scope and goals to determine which features best fit your needs. Here are some basic features that you should look for:
1) Task Management – A primary feature of any good project management software should be its ability to create, organize and track tasks so that work can be completed on time. Look for task-specific tools such as checklists and reminders, as well as task categories like milestones or backlogs.
2) Resource Planning – Having the right people with the right skills assigned to the right tasks can make a big difference in how efficiently a project is completed. Project management software should enable users to plan resources accordingly by allocating tasks according to availability and skill level while visualizing resource utilization rates. 
3) Communication Tools – Being able to communicate effectively is an essential part of completing any successful project. Good project management systems will have communication tools built in such as team chat or video conferencing that facilitate faster collaboration between team members from different locations. 
4) Time Tracking – Keeping projects on schedule relies heavily on accurate time tracking capabilities within a system. Look for a tool where you can easily enter time worked per day/week/month, compare actual vs planned times, export reports into spreadsheets, or view cumulative data over longer periods of time across multiple projects or departments.
5) Reporting & Analytics – Solid reporting capabilities are key when it comes to evaluating past performance and predicting future trends; this helps teams stay ahead of potential roadblocks before they arise while fostering better decision making at every step of the process. Look for a system that offers flexible reporting options with customizable dashboards so you can get meaningful insights quickly and easily
What are critical success factors in project management?
Critical success factors (CSFs) in project management refer to the key areas which must be addressed in order for a project to be successful. These CSFs help guide a project manager's decisions and ensure the completion of their objectives. Generally, these CSFs can include elements such as: 
1. Effective communication between all parties involved in the project, including stakeholders, team members, and any external resources; 
2. Regular and effective monitoring of progress to identify any possible issues early on; 
3. Establishing clear roles and responsibilities for each team member/stakeholder involved; 
4. Keeping up-to-date with changes that may affect the success of the overall project;  
5. Ensuring adequate resources are allocated to each task/stage of the project; and 
6. Setting realistic goals aligned with desired outcomes and adjusting as necessary amidst changing conditions or demands throughout the course of the project's timeline.