If you have not heard about reverse mentoring in the workplace, you need to have a word with the HR department.
It is one of the most beneficial techniques to increase organizational productivity. Reverse coaching breaks the myth that reportedly suggests that experienced employees are better at everything.
Due to the increased use of social media and technical support systems in organizations, top-down learning is not entirely effective, but instead, reverse mentoring is somewhat considered a more effective approach.
What Is Reverse Mentoring?

A comprehensive reverse mentoring definition would be establishing a professional relationship between younger employees and older colleagues to mentor them about relevant strategies, skills, and knowledge.
In other words, reverse coaching aims at building mutually beneficial partnerships between employees.
Unlike most of the senior-junior work relationships, reverse mentoring isn't just a one-way street; two-way communication is the cornerstone of this type of mentoring.
Junior team members have the upper hand in the know-how of the latest tech.  Through reverse mentoring, the young blood disseminates this knowledge to the older employees.
The company can save a lot of money which would otherwise be spent on training the executives on technology usage.
This approach has been credited to General Electric's Jack Welch. In the late 1990s, he acknowledged his lack of technical expertise. He claimed that the youngest people who entered the company were much more educated about emerging innovations than their managers were.
From among these new joiners, he asked 500 of his top executives to seek out mentors.
Why is it Awesome?
In a nutshell, it enables the company to get the best of both worlds. The industry expertise, coupled with advanced technical knowledge, results in amazing synergies.
Reverse mentoring can play a vital role in bridging the existing gap between the generations currently in the workforce: the baby boomers (born 1946-1964), Generation X (born 1965- 1976), and Generation Y, also known as millennials (born 1977-1998).
Such groups have encountered very different social and cultural environments contributing to a variation of work practices, beliefs, and behaviors.
Use this guide when working with Millennials: 
Expert Tips and Facts about Working with Millennials
The Benefits of Reverse Coaching

Modern research reveals that CEOs and executives are rewarded with mentoring. 71% of CEOs with official mentoring programs said that their performance improved. Also, 69% said that it helped them make better choices.
Moreover, this method saves a lot of money, time, and effort for the organization. On-the-job training is the best type of training.
The young employees get insights on being a leader. They acquire leadership qualities from the mentors, which greatly benefit them in decision making, conflict resolution, etc.
Motivate your team with these quotes: 
The 100 Best Teamwork Quotes to Celebrate Collaboration & Motivation
Disadvantages of Reverse Mentoring
Here are the major disadvantages of reverse mentoring that can cause some morale problems in the senior members of your company.
One thing you need to understand is that the senior employees of the company have worked on many different projects, and have seen the marketplace evolve while facing many different issues and fatalities. So, when you ask them to attend a learning program by some of the younger employees, they naturally think that they have done something wrong or the way that they are doing their job is wrong which can cause a decrease in morale.
One other disadvantage which is up for debate that the senior employees of the companies find it 'beneath' their station is to learn from the millennials that have been recruited by the company, not so long ago. This can demoralize the senior employees and damage their confidence.
If you look at these disadvantages, they show the exact problem that the organizational paradigm has been having for decades now, that the senior employees know best, and the newly hired employees should be mentored by them.
This is not entirely true, and with each passing day, more and more recruits are coming into the organizational paradigm, that is well-equipped to learn and understand the new and even the older concepts of the professional paradigm, at an alarmingly quick pace.
So, the statement that the "the senior employees of the companies find it 'beneath' their station is to learn from the millennials that have been recruited by the company, not so long ago", shows more of an ego problem than actual disapproval of reverse mentoring.
The Obstacles in the Way
The key obstacle to introducing an effective reverse mentoring system is persuading executives that mentoring or taking advice and learning from someone younger than they are is worth their time.
HR needs to clarify the advantages and benefits of reverse mentoring and ensure everyone in the company recognizes them.
7 Ingenious Steps to Create a Successful Reverse Mentoring Partnership
Now that you know everything about reverse coaching, here is a complete guide on how to set up a reverse mentoring partnership:
1. Identify Good Potential Partners

A successful mentoring partnership requires excellent compatibility between the two partners, so don't consider someone "just because they're young."
Instead, your preferred employee should have the skills or experience you need and be willing to develop a partnership with the senior employee. You can do a personal SWOT analysis to determine strengths and shortcomings that they can tackle.
As an executive, you may also build a relationship professionally with someone who has different experiences in life and work.
If you do so, be careful not to reveal confidential details about your organization and first obtain the necessary permission.
HR departments should prefer to prevent imposing mentoring relationships on people who are essentially not interested in interacting with them, or who do not value the person with whom they are paired.
2. Improve Communication Skills
It is a fact, folks! Interaction with someone from a different generation can be challenging.
For example, younger people may feel more comfortable using email or direct messaging to communicate with others. At the same time, their older colleagues may prefer to talk on the phone or meet face-to-face.
So, make sure they are receptive to the personal preferences and needs of each other.
3. Be Open-Minded

You and your reverse mentoring partner both should be open to learning from each other. So, remain polite, and consciously listen without any prior assumptions.
Do not get upset if your partner does not grasp the skills that you want to communicate. Rather, connect with patience, and provide positive input without challenging his expertise.
Make use of facilitative feedback to help him understand your point of view.
4. Measure the Progress
As an HR person, check-in regularly to ensure that both 'partners' are content with the partnership and are getting the necessary knowledge and understanding.
If they are not, arrange a strategic discussion and consider new ways of attaining the goals.
For example, they can share technical skills and generational insight, improve their leadership and interpersonal skills, and acquire new perspectives.
5. Encourage Executives to Embrace Technology
The rise of workplace reverse mentoring may be tied to the growth of the internet. There is no denying that technology moves the companies. Ignoring this fact will get you in hot water.
Executives and senior staff members can learn from younger, tech-savvy workers about social networking, mobile devices and applications, and other facets of new media and technology.
6. Train the Young Employees to become Leaders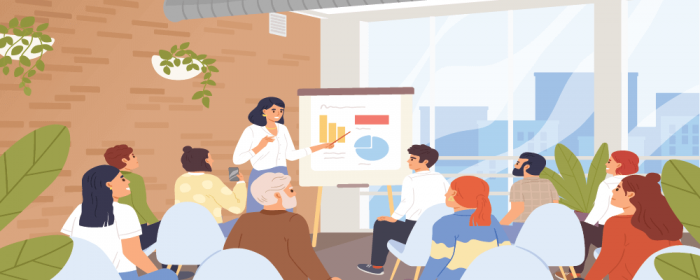 Baby boomers are beginning to leave the workforce, and GenXers simply isn't enough in number to take their roles.
Millennials will soon be the working population's most-represented generation, and they will have to fill the gap.
Reverse mentoring gives executives an exposure to these young people and offers them the ability to improve their leadership skills.
This will help manufacturing and engineering firms bridge the existing gap and nurture key talent to step into older leaders' shoes when they retire.
Use these training materials to help your employees to learn:
7. Increase the Engagement of New Hires

According to the Gallup study, 70 percent of US workers are not engaged at work. This signifies the issue of employee disengagement in many businesses.
Reverse mentoring does not fix all of the disengagement problems in a business, but it will make a big difference for young workers who are tuned into mentoring executives.
Having direct interaction with company decision-makers will help empower young workers and inspire them.
A lot of you might be related to HR. Even if you are not, an excellent guide will help you implement this method at your workplace. And that is precisely what we are going to do!
Steps to Set Up Your Reverse Mentoring Program

The HR department at an organization can take the following steps to ensure this new take on mentoring.
1. Mentoring Agreements
Most relationships with mentoring work better with official mentoring contracts. The HR department should build a template that can be used as a structured arrangement to keep mentors and mentees on the same page:
The frequency of meetings: Due to the significant workload, busy executives may not want to meet more than once a month, but they should be required to make a regular schedule.
What are the goals for the relationship: What do mentees specifically want to get out of the relationship? For example, they may be searching for different skills or fresh perspectives on problems.
Length of the relationship: Some relationships of mentoring last a couple of months, and then end. Others may last much longer, depending on the needs of their employees.
2. Consider How Mentors and Mentees Will Be Matched
Your institution can motivate mentees to connect with potential mentors on their own or create a more formal program — the mentors and mentees can match up with your HR department.
If you doubt your employees won't feel convinced or comfortable taking the lead to build a relationship with a potential mentor by themselves, the formal program system may work better.
HR members must first develop a mechanism to determine strong candidates to be mentees and candidates to be mentors to match mentors and mentees successfully.
Good mentor candidates should be supportive, truthful, and compassionate, while appropriate mentees should be open to new ideas and interested in improving themselves.
3. Establish Accountability and Evaluation Measures
When you have made every effort to set up your reverse mentoring program, do not forget to focus on accountability and evaluation.
This allows you to monitor progress and evaluate the program performance. Regularly conduct surveys or interviews with mentors and mentees to assess what they are learning to strengthen their mentoring relationships.
Give it a try!
If you enter a partnership for reverse mentoring, make sure to choose the right colleague who offers the skills and training you lack. Be sure to add value as well – these relationships are built on mutual dependence.
Once you have found the right person, you need to set specific goals and objectives and arrange daily meetings. You will need to show good communication skills and stay open-minded to make sure you have the right people to mentor junior team members.